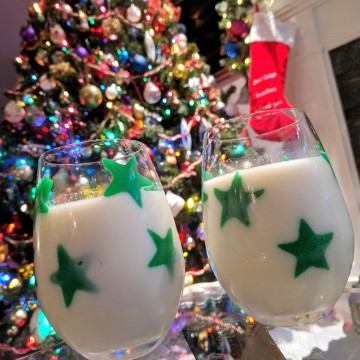 Santa is coming! My mom will soon start putting the finishing touches on her Sri Lankan Christmas cake and I see Breudhers in our future. When Chris and I got married, we merged the customs we liked from both sides of the family. We alternate years between spending Christmas with his parents and mine, but no matter where we are we open presents in the morning and spend most of the day eating and drinking. I truly am a kid on Christmas Day and if you've been following my social channels you know how MUCH I love Christmas.
Disclosure: This post is in partnership with Dairy Farmers of Canada but, as always, opinions are TOTALLY ours!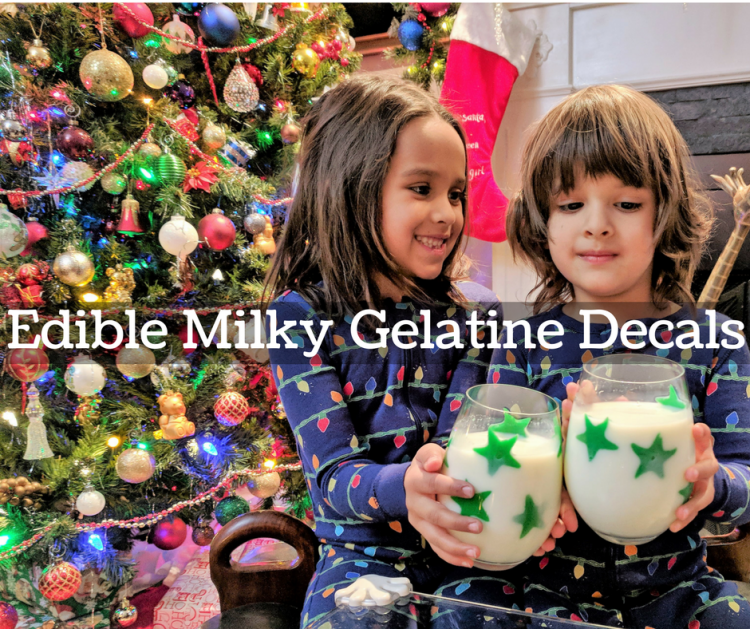 On Christmas Eve the kids dress up in their Christmas PJs and put out a plate of cookies and carrots along with a glass of milk for Santa and his reindeer (given my mom's love of all things milk, I'm surprised my brother and I didn't grow up with this famous Santa tradition). Once the kids are in bed, the parents mix up a few adult beverages and ensure that there are telltale signs of Santa's visit. Alright, so I eat the cookies and drink the milk leaving a few crumbs and drops of milk (I make Chris eat the carrots)! I think it's safe to say that my anticipation of Christmas Day rivals the kids'. This video by Dairy Farmers Canada truly captures my own excitement on Christmas Eve.
On Christmas morning, we have a big breakfast and the adults celebrate with White Russians and Espresso Martinis, while the kids toast Santa's arrival with their special glasses of milk. My kids love the taste of Canadian milk. If we allowed Little Monkey to have as much milk as she wants, she'd finish a bag of milk a day. EASY. I'm trying to encourage her to develop a taste for water but it has been an uphill battle. During our travels, we noticed that they weren't fans of the milk we found in certain countries and that made us realize how lucky they are to be growing up on Canadian Quality Milk at home.
Growing up in Dubai I wasn't a fan of the taste of milk and it wasn't until I was pregnant with Little Monkey that I started drinking milk again. I had given it up during my college and university years and never realized how different the milk in Canada tastes. Canadian milk is so fresh, refreshing and delicious versus the powdered and tetra pack versions I grew up with in the Middle East. I got hooked on drinking milk during both my pregnancies so it's no wonder both kids are milk guzzlers! Whenever we entertain guests, the kids get excited because they know they can "cheers" with everyone and 9 out of 10 times, they ask for a glass of milk to do so. Needless to say, Christmas time is filled with a lot of "cheers" and milk is part of our holiday moments. Given all the chocolate and candy they eat during the holiday season, I'm grateful that they're getting their milk intake without any work on my part!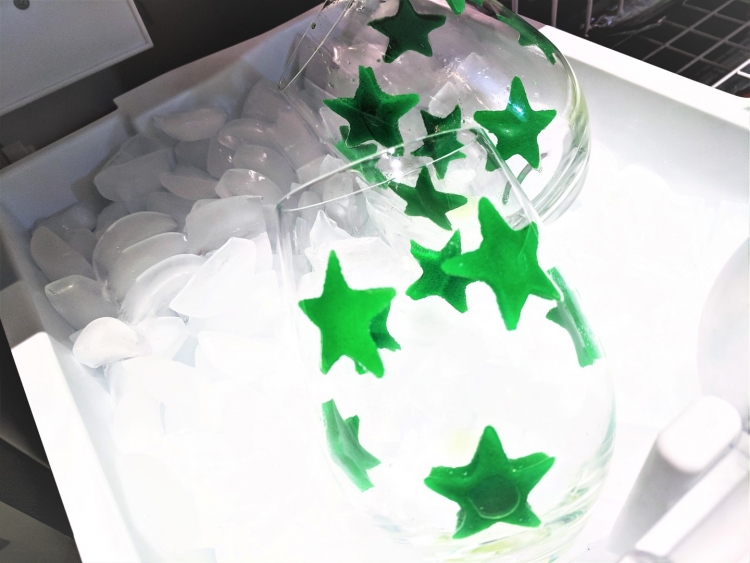 I used to fancy up their milk glasses by giving them sprinkle rims for their glasses, but this year I came up with a new idea! Edible Milky Gelatine Decals! Tell me these don't look super cool! I wasn't sure it would work but I knew I had to try once I saw Little Monkey playing with the Christmas decals her Grandmother had bought her. Luckily this works quite well and the kids absolutely love having their glasses of milk decorated despite it being a different type of Jell-O than they're used to. Edible Christmas decals for their glasses of milk are going to be very popular at our place and is yet another new tradition I can add to our list!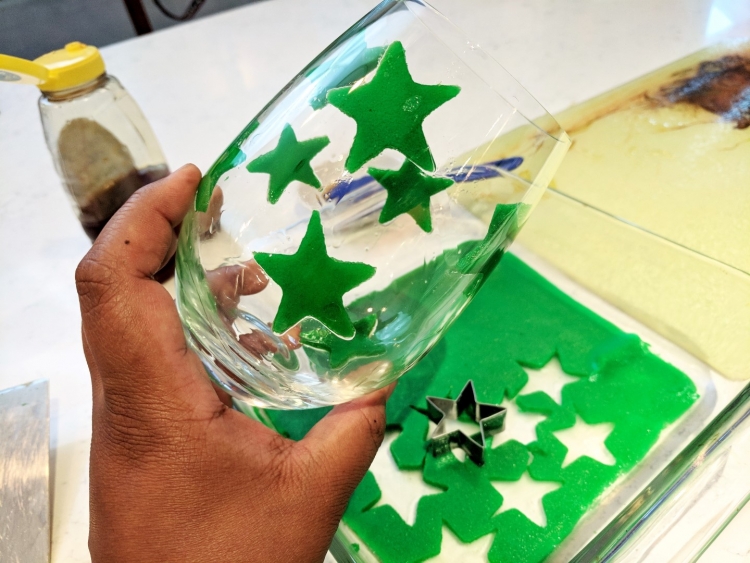 Edible Milky Gelatine Decals
Ingredients
1 pack of  powdered gelatine
1/4 cup hot water
1/4 Canadian Milk
Food colouring – green (you can use any colour you want)
1 tablespoon of honey (optional)
You will also need a mini cookie cutter ( you can use any shape you want)
Mix the pack of powdered gelatine in the cold milk and slowly add in the hot water. Stir until mixed well. Feel free to use your hands to blend any clumps that may have formed. Stir in the honey if you plan to use any. Add in the food colouring until you're happy with the shade. Pour the mixture into a large tray or flat pan that has been buttered. You ideally want it to form a thin layer so choose a pan that won't make too thick a layer. I used a 9 inch baking dish and it was perfect. Chill the gelatine mixture in the fridge until it is firm (at least 4 hours).
When it has set and is firm,  use the cookie cutter to cut the decals. Place the cut shapes on a flat surface and brush some honey on them. I found it easy to drop the honey into a bowl so I could easily dab the honey on the pieces of jello. You will find that side that was exposed to air is a bit more fibrous and that's the best side to brush the honey on. Next take your glass and gently stick the honey side on the inside of the glass. Once you're happy with the placements allow the glass to chill in the freezer for 10 to 15 minutes. Don't worry if the glass is frosted or if the gelatine freezes. Once they have chilled in place, pour your drink of choice and you're all set! My kids love their milk so that's what we poured and the edible glass decals stayed in place for the 20 minutes they took to finish up their glasses.
I can't wait to try this again very soon. There's endless possibilities with the colours and shapes. I like adding milk because of the colour it yields but you could also try adding other beverages.
Visit the Dairy Farmers of Canada's YouTube page to learn more about Dairy Farmers of Canada's commitment to making milk so delicious and refreshing, and for new ideas on how to incorporate milk throughout the holidays.
We'll be toasting Santa with milk and White Russians, what will you be toasting his arrival with?