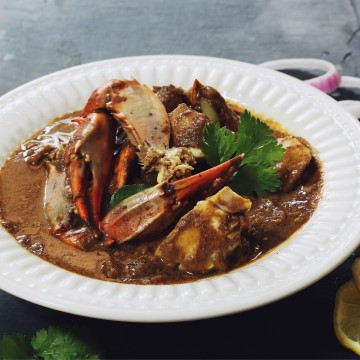 There's something unique about the Sri Lankan Crab Curry that has my mouth watering at the mere thought of the authentic recipe. Luckily for us Sri Lankan restaurants in Toronto, like Cucini Express, make it easier for us to enjoy this delightful curry at home without having to put in the hard labour. I have fond memories of my grandmother plucking fresh murunga (drumstick) leaves for the Sri Lankan crab curry she'd make on the days my dad would bring fresh mud crabs from the market. I struggle when it comes to cooking seafood at home so I reached out to my friends at Cucini Catering (whose serves up some of the best Sri Lankan fish Pittu in Toronto) to see if they would share their crab curry recipe. Lucky for us, they agreed! For days when you want to get in the kitchen and not order Sri Lankan delivery from these guys, I hope Mirna's recipe below is helpful for you!
Jump to the Sri Lankan Crab Curry Recipe
About the Chef | Mirna

My brother, San, and I have two things in common: parents and passion for food. San has been working in the restaurant industry for 14 years. And I, his younger sister-Mirna, have a life-long passion for cooking. I enjoy trying new foods and creating my own recipes.
Growing up in Sri Lanka, some of our favourite childhood memories are of our widowed mother and us spending a good deal of time cooking in the kitchen. Nothing like cooking as a family and creating treasured memories! During this pandemic, we started to experiment in our kitchens again. Initially, starting a restaurant from scratch felt like a daunting task so we started with Sri Lankan take-out and delivery for Cucini Catering and will be opening our new Sri Lankan restaurant Cucini Express in the next few months.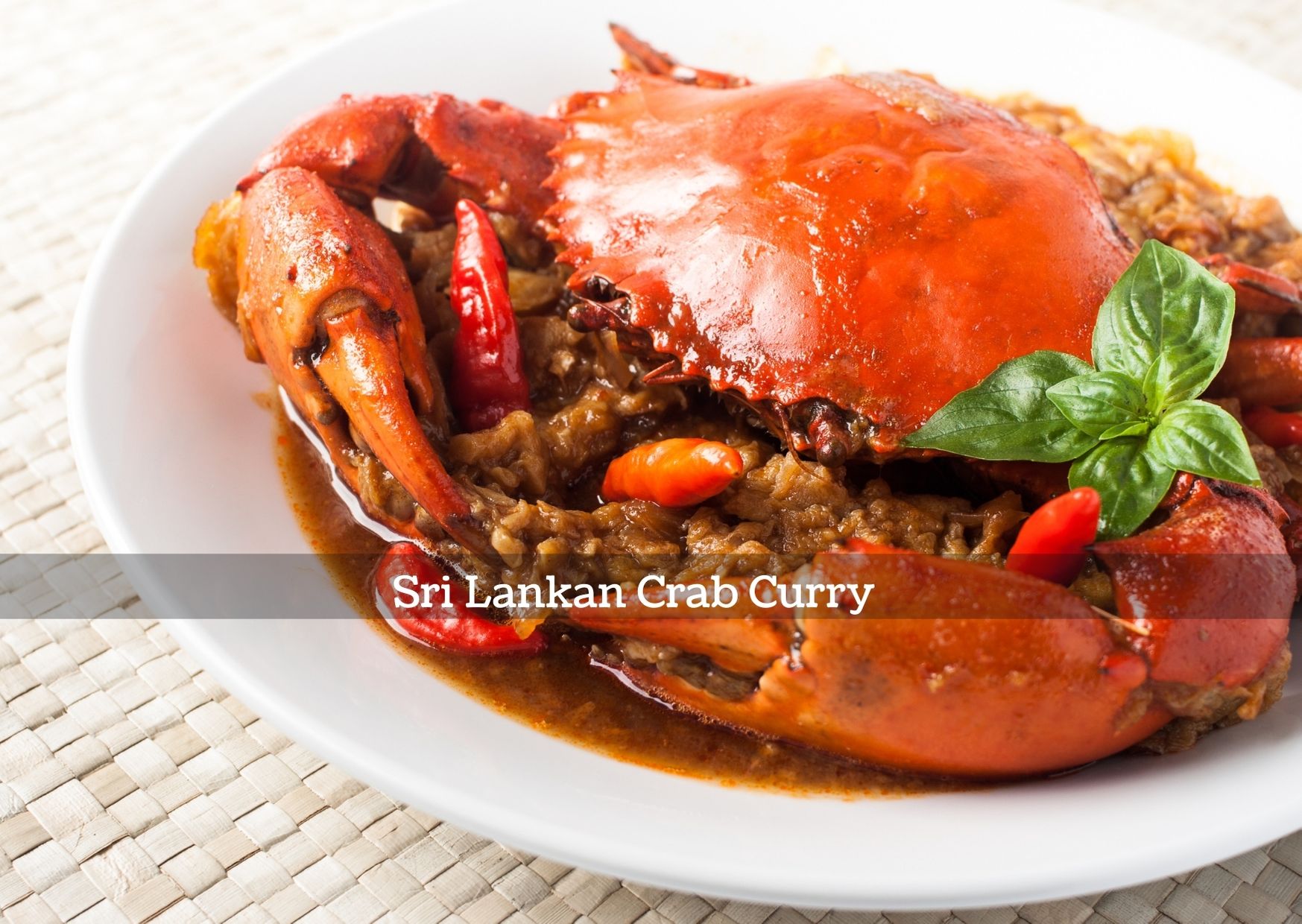 My mom, a full-time homemaker made sure to always have a home cooked meal on the table for our family growing up in Sri Lanka. Her touch is nostalgic and delicious; made with love. My mother influenced my love for food and I learned to cook from her. She taught me that a unique touch to cooking creates memories for life and she inspired me to cook from the heart. In fact this Sri Lankan crab curry is one of my favourite recipes from my mom. Please try this recipe and enjoy.
Sri Lankan Crab Curry Recipe Tips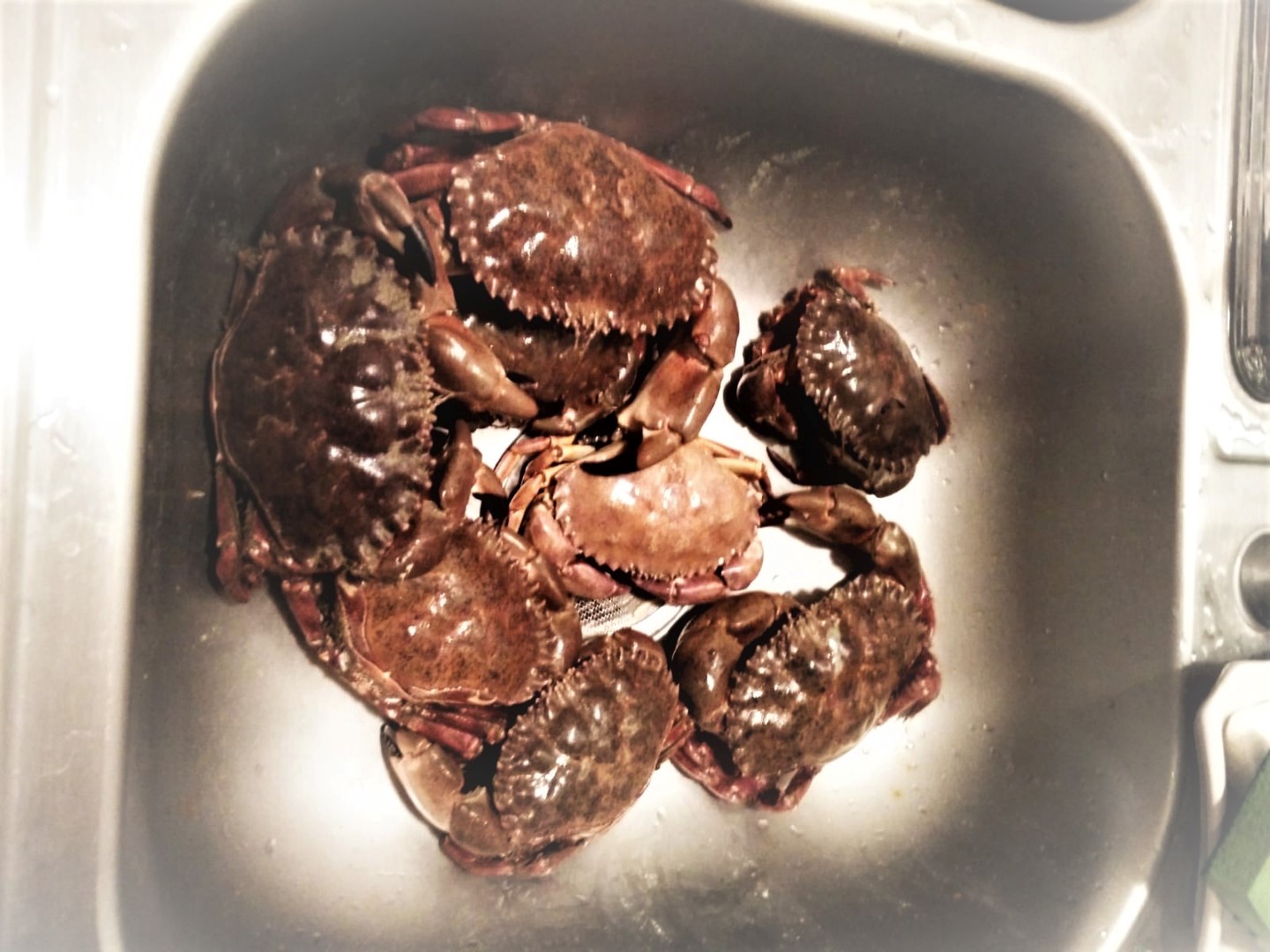 Mud crabs are best for this recipe as it is what's usually used in Sri Lanka. However, blue crabs will also work as they have softer shells and it's easy to cut through them.
Cleaning your fresh crabs is probably the most daunting task. With the Sri Lankan crab curry, you do have to remove the various body parts but you end up cooking with the shells on. If you're looking for tips on how to clean crab for curry, I found this article very helpful. You can cut the crabs in any way you want or keep them whole if you prefer.
Drumsticks are essential for this recipe (in my opinion anyways) and so you may want to visit your local Sri Lankan grocery store (in Toronto our go to options are on Parliament Street – Ambal Trading and Yaal) and ask them for the roasted curry powders and drumstick (murunga) leaves if you aren't familiar with these traditional Sri Lankan spices. Cooking crab curry isn't an easy task but you'll get many compliments and Chef Mirna's Sri Lankan Crab Curry recipe is a solid one.
This is a spicy curry and if you're not used to hot dishes, reduce the chili powder as you make this recipe or have a glass of warm milk nearby!
How to Eat Sri Lankan Crab Curry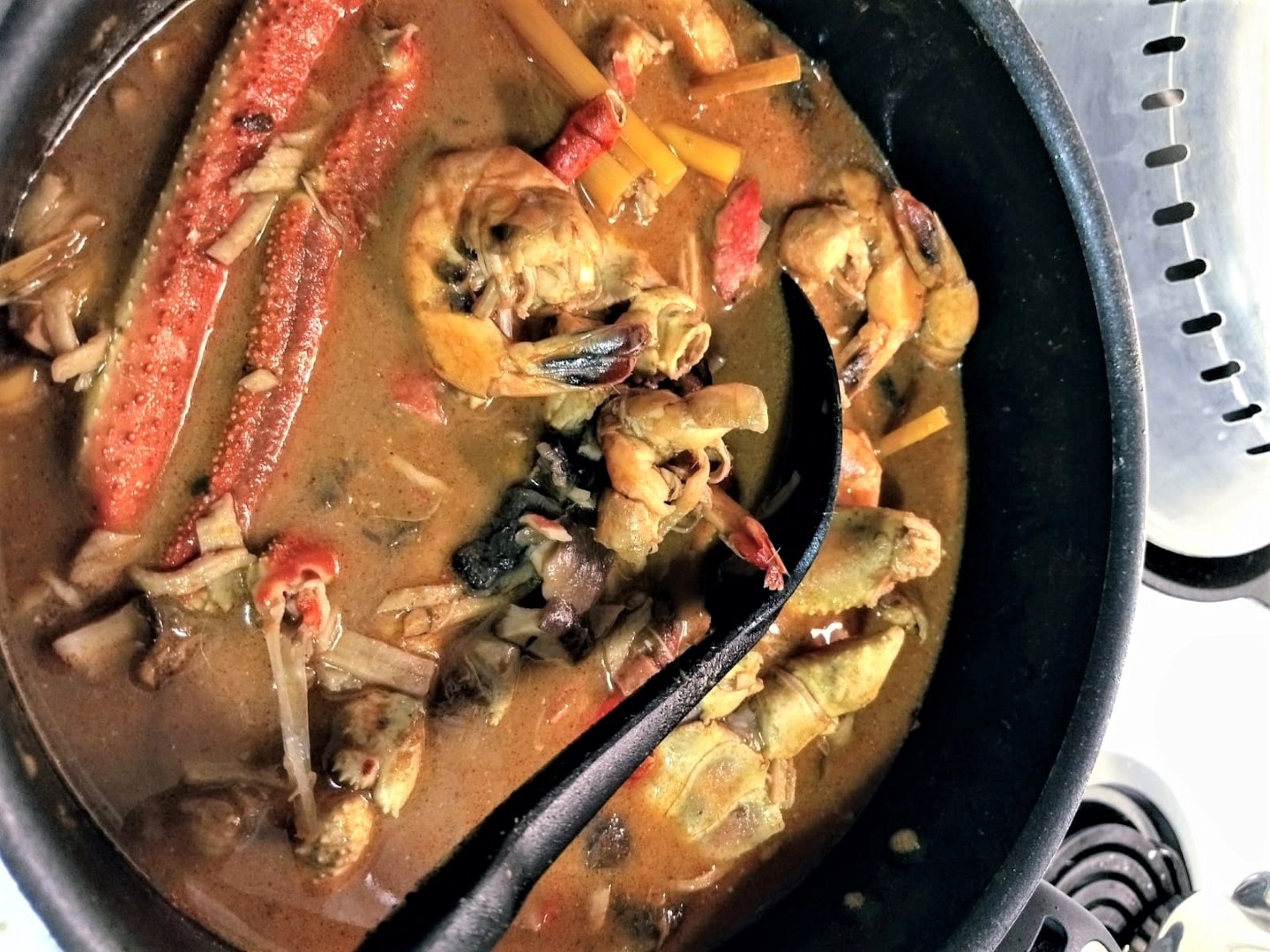 Crab curry is often found on menus throughout Sri Lanka and it's mostly served with white rice. However, you can enjoy it with pittu, string hoppers and even bread. Most times it's served along side other dishes like Wambattu moju (Eggplant), Mallung (greens with coconut) and potato curry. Heck you could even add in some cashew curry if you wish!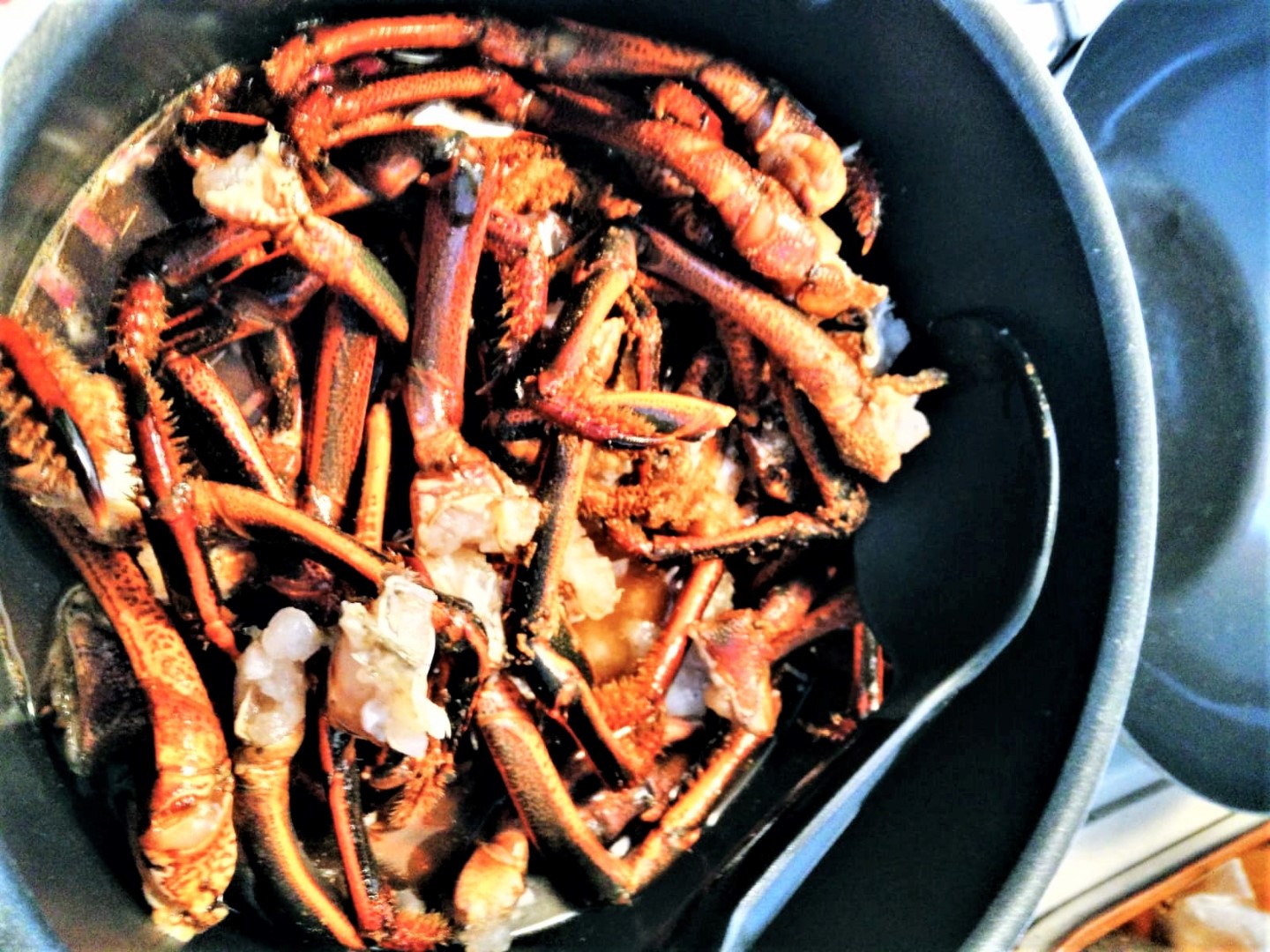 Sri Lankan Crab Curry Recipe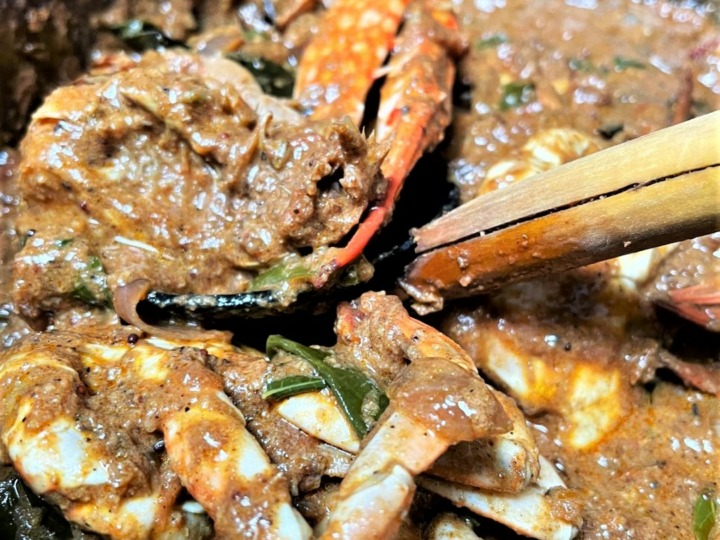 Yield:

3
Sri Lankan Crab Curry Recipe
Additional Time:
30 minutes
Total Time:
1 hour
20 minutes
Authentic Sri Lankan Crab Curry
Ingredients
3 cleaned crabs
1/2 cup freshly grated coconut
3 teaspoons cumin (ground)
3 teaspoons black pepper (ground)
1 golf ball sized tamarind pulp
4 large tomatoes cubed
1 cup coconut milk 
4 tablespoons coconut oil
1 teaspoon black mustard seeds
10 small red onions sliced
1/4 cup garlic and ginger (blended into a paste)
Handful of curry leaves
5 green chillies finely chopped
1 tablespoon roasted chilli powder
1/4 teaspoon turmeric powder
2 1/4 cups water
Murunga leaves (handful)
Salt to taste
Instructions
Clean the crabs- pull off the top shells, pull of the spongey grey gills and remove the guts. Chop each crab into 6 pieces
In a dry frying pan over medium heat, toast the cumin seeds, coconut and pepper until the coconut is golden. Grind to a smooth paste
Combine the tamarind and coconut milk in a small bowl and mix until it forms a thick paste. Extract as much liquid as you can and discard any solid pieces. Set aside
Heat the coconut oil in a large pot over high heat, add the mustard seeds, fenugreek and fennel seeds. Cook until they are lightly toasted. Add the onion, curry leaves, chilli, ginger and garlic paste. Cook for a few minutes or until the onion is golden
Add the chopped tomatoes and saute for 5 to 10 minutes
Add the curry powder and turmeric. Mix in and add the crab. Cook for 5 minutes
Add the coconut paste, stir and add water. Cover and simmer for 15 minutes or until the crab is just cooked through and the sauce has thickened
Add the tamarind liquid, stir through and bring back to a boil
Remove from heat, stir in the drumstick leaves and season with salt
Nutrition Information
Yield
3
Serving Size
1
Amount Per Serving
Calories

957
Total Fat

52g
Saturated Fat

37g
Trans Fat

0g
Unsaturated Fat

9g
Cholesterol

148mg
Sodium

1416mg
Carbohydrates

88g
Fiber

13g
Sugar

42g
Protein

45g