After a glorious 13 month hiatus from a lifestyle I previously thought I could do without, I am grudgingly heading back to work today. Last year around this time I kept saying how I would be dying to get back to work within 4 months time… hah! Clearly not the case. We've had such a fabulous year filled with lots of travel (15 cities in 6 countries!!), lots of family time, catching up with friends and exploring new ideas (blogging, Dishcrawl, reporting…). So today's post is divided into two parts; early morning thoughts as I head back to the office and then a follow up after my first day.
I know there's lots of great advice out there about what to do before you head back to work from maternity leave… doctor's appointments, relaxing, prepping food for the week… guess what? I did none of that. Instead we were in Mexico last week and just landed last evening. So as I head to work today I have nothing prepped except for some burnt Biriyani my mom had lovingly made for our return dinner. I have no qualms about leaving the Little Monkey (though I will miss our random antics and snuggles during the day) because she's in very capable (wait for lots of crazy stories in the following weeks!) hands of my mom. Today I'm even luckier because Sandy has delayed my in-laws' flight back home and not only will the Little Monkey have her dad and Archchi home, but she also has her Papa and Nana to entertain her.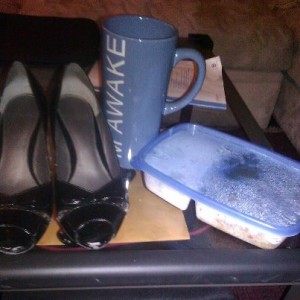 As for me.. I packed my lunch, my shoes and my trusty big mug and have been informed that I have to be in for a meeting at 9 a.m with brand owners. Ah! Lovely ain't it? While I'm looking forward to connecting with some co-workers and receiving hugs from friends at work, I also am going in with a bit of a bull in a china shop attitude. In my absence my peers have been promoted and my replacement is only doing half of my daily tasks. I'll have to remind myself that a lot has changed and that I cannot just expect old processes and ways of working to be in place…and I will have to take advice from those I'd much rather not! So… will I be a big fish in a small pond or a tiny fish in a crazy ocean? Let the day unravel…
Follow up 
So the day went by in a blur. A year off meant about 2000 emails awaited me and I deleted them all because let's face it, surely there was nothing important in there. A meeting took up more than half the day and the rest of it was spent walking around getting hugs and receiving a lot of 'welcome back's. Oddly enough I even got a "wow the first person to return from maternity leave" ! This could mean two things, I'm crazy to go back or I'm privileged to be allowed back. I guess only time will tell which one applies to me. Between the project updates and a standard pizza and salad lunch, it was almost like I wasn't gone for over a year. One thing I will admit is that the welcome band wagon was friendly and genuine.
Despite everyone asking me if I was having separation anxiety, I did not. I did however get bored with an hour left to the end of the day…I know I should be thankful that I had the chance to ease in to the chaos but to be honest, I've been keeping very busy (even when on vacation) and I like the hectic, fast paced life. Things will pick up without a doubt and there's tonnes of exciting projects in the pipeline but at the same time… I'm a short fuse at this stage. I have my eyes set on the prize and if things don't happen I know I've made the best of the last year and have plenty of options to evaluate when (and if) the time comes. One thing the past year has taught me is that I can do stuff I enjoy and make a living of it, so I should pursue what my intellect desires and not sit around and take crap from anyone. Fab attitude eh? 
Tomorrow's another day. Today was a breeze, almost like the first day of school. I lucked out by being home by 5:30 which meant time to make dinner and chill with the family. Let's hope that the next few days stay smooth as well.. after all my guess is that the withdrawal symptoms would usually pop up after a few days of constantly being apart. One thing for sure… I do love getting a steady paycheck!