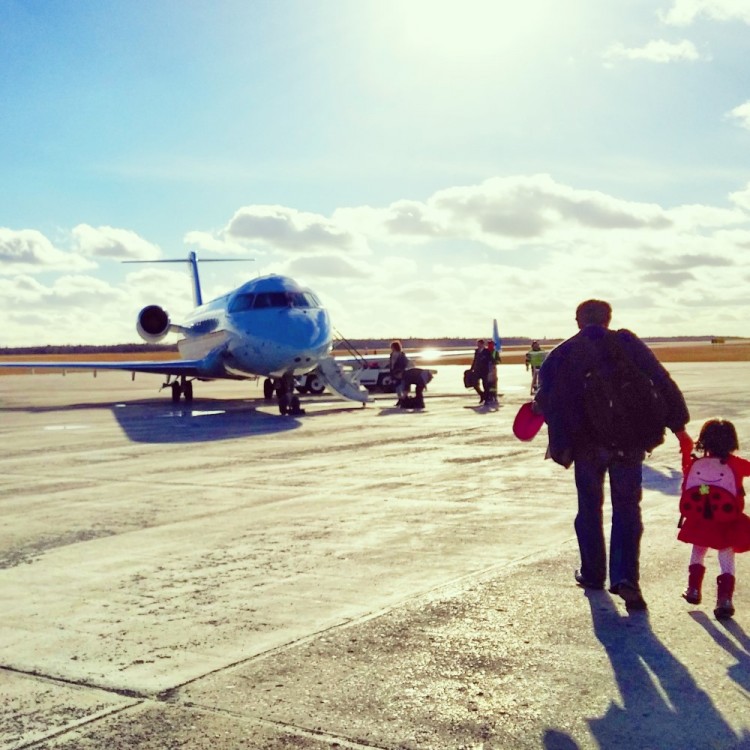 Last month saw us flying Air Canada with the kids on a couple occasions, first to Belgium and then back to Nova Scotia. What's it like flying Air Canada with young kids? Just swell! We took two very different airplanes for each of our journeys and both flights were comfortable.
Our flight to Brussels was the most spacious of course, especially since we traveled during the off-season and not only had plenty of empty seats, but very friendly staff members as well. They do offer priority boarding for those with young kids and of course we loved that. In addition we had the nicest thing happen to us… you know those guys wearing the orange vests right before you hop through the plane doors? Well one of them surprised us by scooping Little Monkey who was having a fit during our connection in Montreal and showed her the twinkly lights through the window so that the hubs and I could fold the stroller and get Baby Boy strapped into the Bjorn. I was shocked that Little Monkey went to him and that he took the initiative. LOVED it!
Flying to Brussels was a bit of a workout for us. We had an hour to catch our connecting flight in Montreal but there was a bit of an issue with another flight hitting a bird on the runway and so we were shifted to a different gate and we were a bit late (obviously). What this meant was that we had to RUN through the Montreal airport between single digit gates to 86…. that's a lot of running! I was SOAKED in sweat by the time we got to the gate and honestly thought we missed the flight and that Belgium would turn into a weekend in Montreal – luckily it wasn't so. We made it! 🙂
Little Monkey enjoyed the in-flight entertainment and Baby Boy slept in an empty seat thanks to the CARES safety system. The stewardess checked in with us often, offered us extra bags for dirty diapers and was kind enough to bring me milk on numerous occasion. Yes there's plenty of change tables aboard! Food and booze were also included on our international flight and we enjoyed those creature comforts, especially on our way to Brussels! It was a late night flight and Baby Boy took a while to settle down and cried a fair bit before he called it quits and took a long nap (no I didn't drug him-promise). We were all exhausted on the way back so we conked out for a good portion of the flight (again lucked out with plenty of empty seats!). We enjoyed the middle row which had 4 seats so we were all together.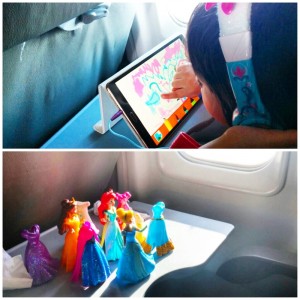 Our flight to Nova Scotia was a bit smaller, an Air Canada Jazz flight and so there wasn't much room for Baby Boy to stand without pushing the seat in front of me- so he took to the aisles instead. The seating configuration is 2 by 2 so I was stuck with both kids while the hubs sat right next to us separated by a tiny aisle. This was a quick flight though and so it wasn't much of an issue at all. Even the tiny Air Canada Jazz flight had a change table on board. The only issue with  our Air Canada Jazz flights was the fact that there weren't any personal TVs. However, we had our Samsung Tablet and so Little Monkey and her princess had an entertaining flight both ways. One of the perks of flying into the small airport in Sydney, Nova Scotia is the fact that we get to step out of the plane and onto the tarmac. LOVE that! I got some awesome photos that way!
We also timed our flight to perfection… a 10 a.m. flight meant that we had plenty of time to make use of a few Maple Leaf Lounge Passes that a friend had shared with us. Seriously, this is the civilized way to fly and reminded me of the way I used to travel growing up in the Middle East. The breakfast was much appreciated by the hungover hubs (we had our 12 Pubs of Christmas the night before!) and we were temped to make ourselves some Caesars but it was well before 11 a.m. (Ontario rules) and Baby Boy and Little Monkey were eager to munch on some croissants, yogurt and eggs. The lounge at Pearson is definitely worth a visit, especially if it isn't a busy day.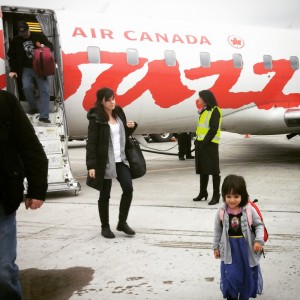 Air Canada, as much as I hear rumours of losing baggage more often than not, did not lose any of our bags ( I did fly with just our hand luggage to Brussels but checked in plenty of bags for the rest of the flights). In addition, there were never any issues with handing over our stroller at the gate. The stewards and stewardesses have been nothing but friendly and helpful during our December flights and so we're looking forward to our next flight!