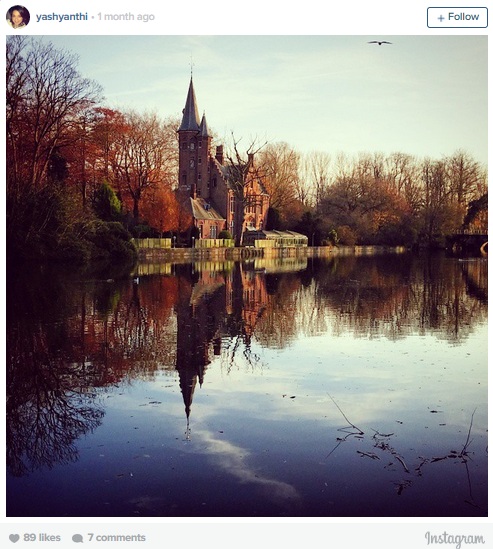 During our recent visit to Brussels we managed to sneak out on a day trip to Bruges and I fell in love with that little town that's often referred to as the Venice of the North. My love with Bruges began when I first watch In Bruges the movie (It's on Netflix now!! I even watched it again on our Air Canada flight over to Brussels),  and there was no way I was going to be SO close to its medieval architecture and not visit. We took a Rail Europe train in the very next day after landing in Brussels and the hubs, kids and I spent a day meeting friends in the fairy tale town of Bruges.
For the locals Bruges is just an hour drive away but we knew we wanted to sample the many fine brews on offer here and didn't want to deal with car seats and all that jazz which is why we took the train in for our day trip. Our visit in early December was gorgeous because it was their fall season. We needed to bundle up but the foliage was showing off the only way she knows how, with different hues. We have some great pictures of Little Monkey running around picking sticks and throwing stones.
There's plenty to do in Bruges with kids or without but what we found most satisfying was simply walking through the town. The weekend we visited the tourist centre was closed and so our friend popped by the bookstore to buy a map and that was the best 2 Euros we spent that day! Along with the map came the advice on how to walk through the external trails to get to the historic centre of Bruges which has been a UNESCO World Heritage Site since 2000.
We brought our umbrella stroller and as you may recall from our Brussels articles, we wish we brought our heavy duty stroller. There are cobblestones everywhere but we had no issues bringing our stroller, even a less sturdy one. Having the full stroller would have made it more convenient for nap times and the extra goods that came along on the day trip. HOWEVER the shops and bars here are quite small so maneuvering inside with anything more than an umbrella stroller would have proved to be difficult. Our group was large enough that we could have taken turns  going into the shops but this is one place I'd stick to a smaller 'vehicle'. The cobbled stoned streets were busy with tourists and horses and cars -never in my life did I expect Bruges to be that busy! Mumbai yes…Bruges no.
The town has many heritage buildings and but what it's perhaps famous for is the Bell tower, the Church of Our Lady (was so serene in there!) and the sculpture of Madonna and Child. Our day was mainly spent meandering around the town popping by  Markt (Christmas markets!) but most importantly, eating fries, drinking beer and enjoying the chocolate stores. There's plenty to eat and drink but this is an expensive city so keep that in mind. We went back to Brussels for dinner but not before we enjoyed a few pints at the 2be bar (cash only!) where the limited beer selection was fabulous but the highlight was their picturesque patio overlooking the canal. We even managed to bring two strollers and three young kids in here on a busy night! Change tables are lacking but they have a cool bathroom with a fish tank sink. Ask no more questions!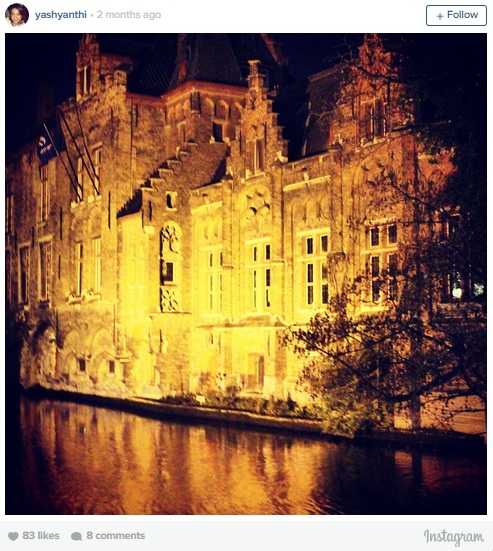 Keep in mind that the town shuts down at 6 p.m and only a few bars are open after that so get there early if you're only planning a day trip. Whatever you do, do not leave Bruges without walking around the city at night. There's a charm that descends after dusk that will leave a lasting memory for years to come.
I will be back and I plan to spend an entire weekend in Bruges and get that canal ride through the town….just like In Bruges!