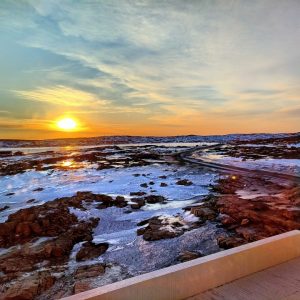 I married into a Newfoundland family that welcomed me with song and dance open arms. I first met a few of them 9 years ago (well before the hubs and I were engaged), and so I thought I knew exactly what people mean when they say "Oh. People from Newfoundland are the friendliest". Yet, it wasn't until I met a group of strangers, locals, on my third visit to the island that I truly understood the depths of that statement. During my second to last week at work (remember, I quit my corporate gig for the second time to go travelling with the family), a couple colleagues and I visited Fogo Island, together with a talented group of people from all over Canada.
Anyone who followed my InstaStories would know about the trials and tribulations I encountered getting OFF the island, but despite all of that, I left the island with a new found respect for the people and their way of living. Talk about life goals!  They are by far the kindest folks I've encountered during all my travels around mother earth. Fogo Island, the largest island off Newfoundland and Labrador's vast coast, is home to 11 communities and the moment you hear about this charming place, you'll put it on your bucket list. It may take nearly 24 hours to get there (depending on flight and ferry connections), but I'm here to tell you that it's worth making the trek there if you love meeting new people and embracing one of a kind experiences.
My first local encounter occurred while grabbing snacks at the Shoppers in Gander when someone lovingly called me "my duckie" and an older gentleman insisted on asking how I was doing. Mind you, I've been to Newfoundland a couple times, so I'm well aware that they aren't used to too many South Asians walking through their stores but there were truly welcoming smiles on their faces. Even the cashier was friendly, something us big city girls aren't used to encountering during a quick drugstore run! We weren't in Gander for too long and drove an hour to find a ferry to Fogo Island which is home to under 2500 inhabitants and 3 policemen. It's true, everyone knows everyone on the island.
I was there for work and our days were long and busy but between all that, I had a chance to meet the locals who work at Fogo Inn (click here for details of my luxurious 5 days at the Inn!), including the ladies who quilt down the road and the gents who take city folks like me out bird watching or snowmobiling. I even met a cute couple who run a shed. Yes…I even attended a shed party.

Newfoundlanders are always amused when they discover that my official name is Mary Murphy, being a common name on the island and even the name of the hubs' great-grandmother. I became a Canadian citizen in 2011, but it was in 2017, on Fogo Island, that I was able to embrace the Canadian experience. On one packed day, I went snowmobiling, hung out in a winter cabin eating moose and stew, tried my hand at ice fishing, watched Caribou roam in the wild, and ended the night at a Newfoundland shed party…it was all oh so Canadian.
The people of Fogo made it one of the most treasured experiences EVER!
One of my colleagues is Irish and no matter where she went, everyone immediately gravitated to her. After all, there's a strong Irish heritage on the island. Once people found out that I am originally Sri Lankan a few started sharing stories of their grandparents who were stationed in Ceylon/Colombo during the war. Truth be told, when I first met the hub's extended family, I heard these stories as well. On my first visit to Newfoundland, I received hugs and was pulled to the dance floor, just like I was on Fogo. Yet, those folks were family. On Fogo, they were strangers. No matter where you come from, you'll always be welcomed with a smile, a hug and a drink.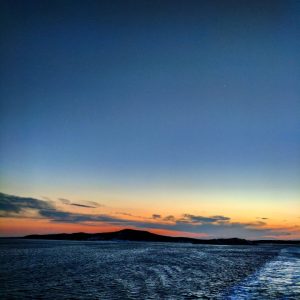 I have yet to see "Come From Away" but having visited Gander on my way to Fogo, I know I will have a deeper appreciation of the play and the many local accents it highlights! The endless array of Newfoundland accents, the authentic hospitality and the local zest for life are things to cherish, like the warm embrace of a long lost friend. This, my friends, is why everyone should make it out to Newfoundland's Fogo Island, home of stunning sunsets, if ever they have a chance. Next up, I need to bring the hubs and his dad here! Fogo Island has all the feels of home for me. Don't worry, I couldn't live there though!