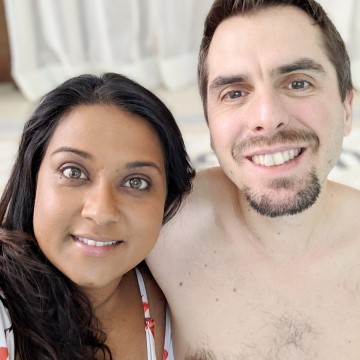 We're actually doing it! A vow renewal in Mexico!! Ten years ago Chris and I had an amazing wedding spanning two countries and at least 4 official ceremonies and two additional parties thanks to the generosity of our parents. I remember telling friends who couldn't attend our Sri Lankan and Cape Breton weddings that we'd throw a ten year celebration so that we could party like we did at our Mehndi. Well, ten years arrived and I started toying with the idea of a wedding vow renewal last year but Chris wasn't fully convinced. Even to me, it did seem a little silly but if life isn't about living in the moment and celebrating EVERYTHING, what's the point? So, I decided that we were moving ahead. Especially because this summer we were in PEI for our actual anniversary and I wasn't feeling the best so celebrations were minimal. A month later I hatched a plan with our friends at Air Transat to visit The Fives Beach Hotel & Residences to renew our vows. Good news is that Chris is fully on board now! Or at least, he's going to Mexico and turning up for the ceremony! Leading up to our vow renewal next week (be sure to follow along on Instagram) I thought I'd share what I've been doing to prepare for the vow renewal vacation.
Booking a Vow Renewal Vacation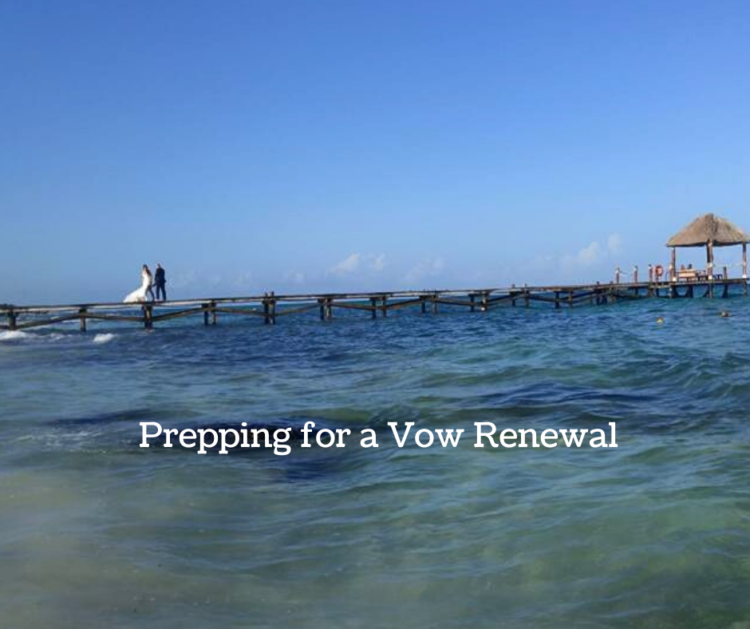 Needless to say, choosing a location was the first step and while I should have done this step 6 to 12 months out to ensure that our friends and family could join us, I only got around to it in September. Destination wise, I wanted an all-inclusive because of the convenience factor of doing minimal planning and enjoying maximum levels of fun. Our wedding had so many moving parts due to long distance, multiple functions and 400+ guests that I want to just turn up and magically enjoy a small but meaningful ceremony. To that end I wanted a resort that focused on food and had a kids club (the kids weren't there when we got married and always asks questions so they're joining us), which is why we're returning to a family friendly Mexican resort where we spied on many South Asian wedding three years ago. With less than two months notice we've gathered seven to join us who have easily booked their packages through the Transat all inclusive vacation packages and I'm looking forward to spending a relaxing week at The Fives Beach Hotel and Residences in Mexico. With the exception of purchasing a "I Still Do" cake topper and some spices for the ceremony (more on that next week), all I've done to date is hop on a quick call with the Wedding Planner on site to secure our date, time and vow renewal location, I plan to figure everything else out once we land. See, easy breezy!
Fitting into a Vow Renewal Outfit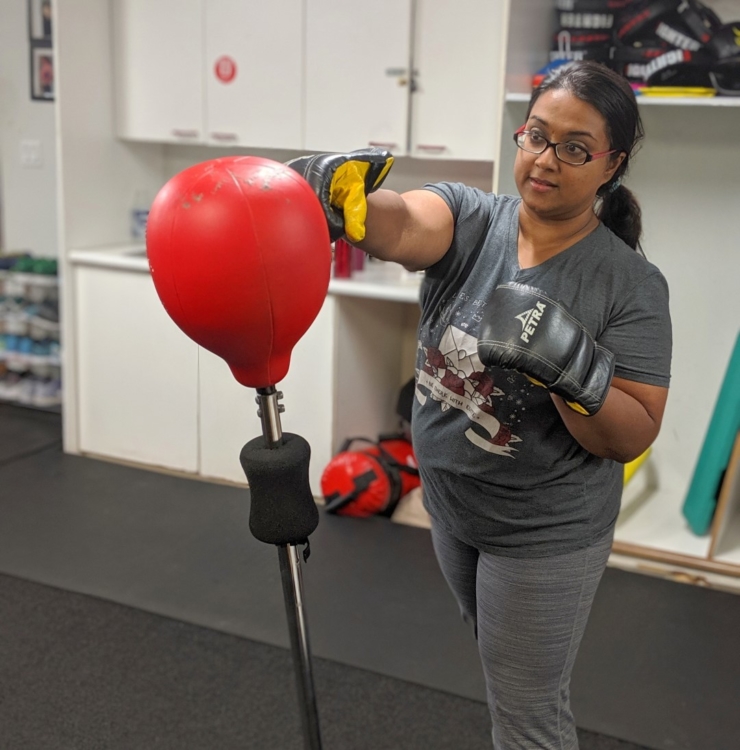 Once we'd chosen our location and booked our Transat holiday, I moved on to "what are we going to wear for the vow renewal?" Since I didn't want to spend a lavish amount and am planning to keep things simple, I dug through my wedding trunk and tried out the three wedding outfits to see if I could use my super power of squeezing into the most random clothes (seriously, I have grade school clothes I still wear). Everything was tight. The Mehndi out was the only one I could MAYBE alter. Chris of course fits into everything he ever wore so there was no issues there.
I made it my mission to take things up a notch in the workout realm of my life. I'd already been attending my boot camp five times a week so I added in three yoga classes on top of that. My mission was to lose 2 inches on my arm and my bust line. I can do that in two months, right? I was up for the challenge. Under the guidance of the instructors at Gordy's Boot Camp, I also did the unthinkable and reduced my carb intake from 70% to 20 %. That was the hardest part for me and the one that seems to be making the most difference. I was about 194 pounds last year around this time and in September I was about 184 pounds. Here we are on the 1st of November at 177.5 pounds. Eating salads occasionally and only having two cheat days a week definitely has helped. My mom was also able to easily let out the seams of the blouse so the outfit is super comfortable now. Of course, I'll be eating every delicious thing on site at the resort, so I don't see me staying in the 170s for too much longer.
Vow Renewal Nails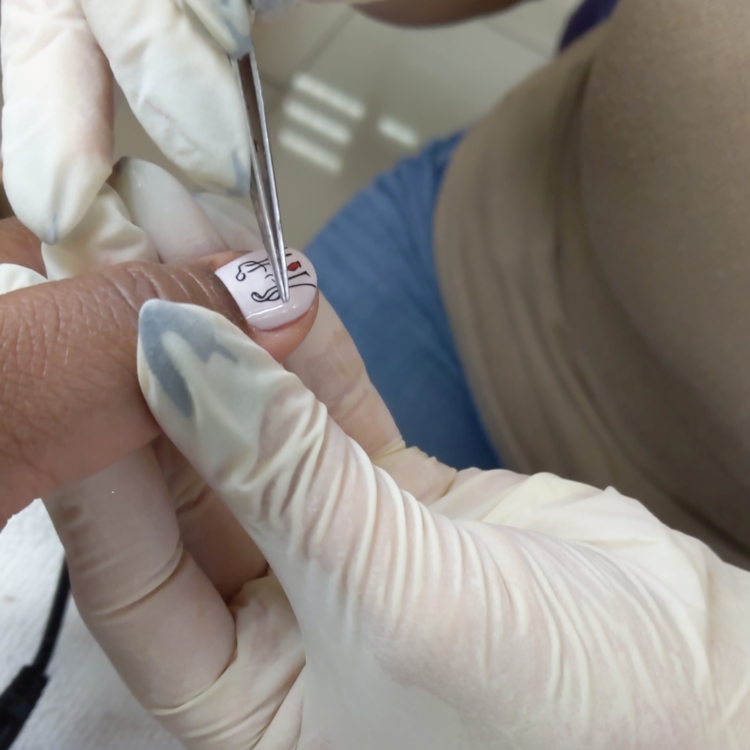 With our guest list secured, our outfits mostly sorted and our vow renewal date secured, this past week was all about focusing on the minor details. Like getting my nails done. In addition to the regular vacation nails, I NEED to have something fun for the vow renewal. There's always close ups of the hands at these ceremonies I feel, don't you agree? I went in search of a spa in downtown Toronto that does amazing nail art and discovered Book Beautician. Not only do they offer a Russian style manicure (aims to clean your cuticle to perfection with an electric drill), but they also offer a full suite of services, including full face threading, waxing and even make up. What I immediately thought upon entering the salon was "wow, my mom would love it here because everything looks so hygienic". My mom is not a fan of most nail salons in downtown Toronto because she doesn't believe that they pay attention to the finer details but with Book Beautician, I think she'd be pretty happy. While the kids were in school I went in for my manicure and the nail art choices were overwhelming. We opted in the end for an image of a couple and a tinge of red to match the scarf Chris will be wearing (if he remembers to bring it). It had been quite a few months since I had a professional manicure done so my cuticles were in dire need of some major TLC. After my Book Beautician visit I've been oiling the cuticles and praying that I don't stain my light pink nails with curry!
Our Air Transat flight departs tomorrow and we're so excited. It has been years since we've actually flown with my parents (they always seems to follow a day or two before us- remember Sri Lanka?) and to top it off, my maid of honour (at both our weddings) is flying into Toronto tonight so that we can take the same flight tomorrow. We'll start the party on the plane, obviously! Now, it's time for me to really think about the vow renewal ceremony and what all I want to do….if you have tips, share them with me!