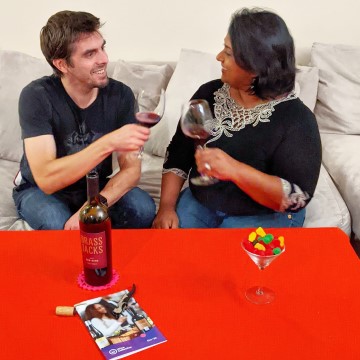 I am a HUGE fan of Canadian subscription boxes as gifts. It truly is a gift that brings smiles month after month! Over the last few years I've struggled to find Canadian subscription boxes and so I've been on the hunt for everything from the best Canadian wine subscription boxes to the best Canadian socks boxes. To kick off our holiday gift guide I though we'd share some of the best Canadian subscription boxes we've discovered over the years. Many of these are ones I have personally tried and a few are ones that I am ordering for friends this year. Given the year we're having, gifting things like Canadian wine subscriptions and monthly beer clubs isn't a bad idea huh? Don't worry, I have ones that are suitable for the whole family too! So, sit back, sip that drink of yours and take a read. Getting your gift shopping done this year is easy and you can avoid the crazy delivery fees from international subscription kits!
Disclosure : This post is in partnership with WineCollective but, as always, opinions are TOTALLY ours!
What Are The Best Canadian Subscription Boxes?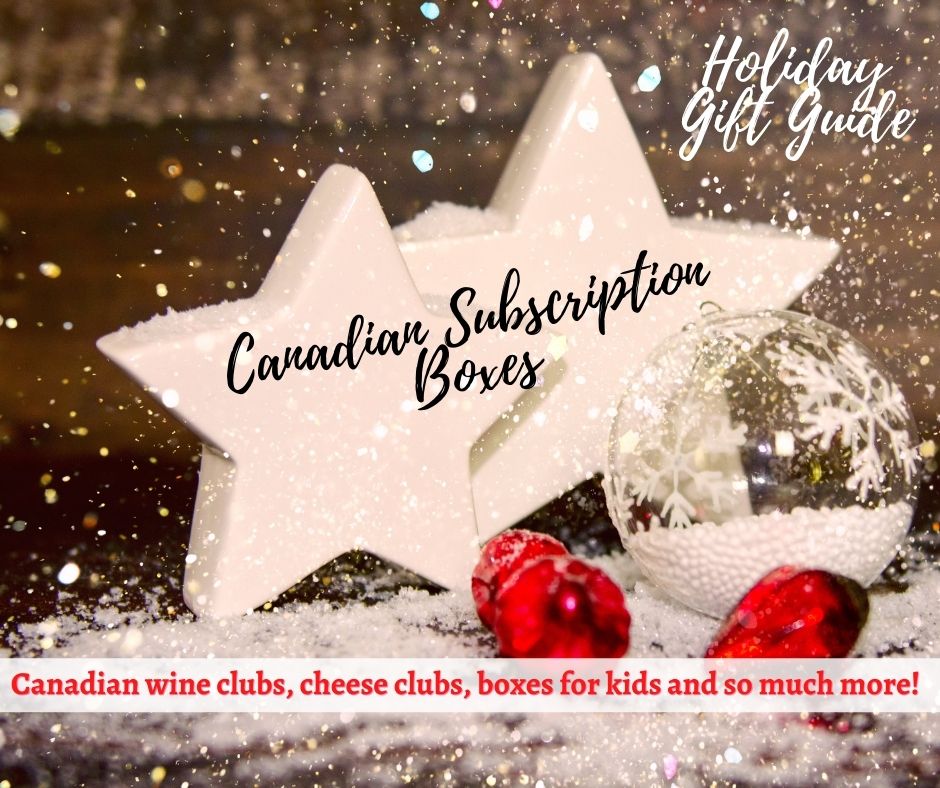 We've rounded up a list of the best Canadian subscription boxes with all the details to help you pick the right one for yourself or to send as a gift. The convenience factor of monthly subscription kits are probably my favourite. We click buy once and choose the months we want deliveries to be made, and then you keep receiving them without having to lift a finger! That's my kinda lazy giving! Best of all, your friends and family cherish the monthly deliveries and think of you as the most thoughtful person EVER because you remember them each month (hah!). WIN! WIN! WIN!
Canadian Wine Subscription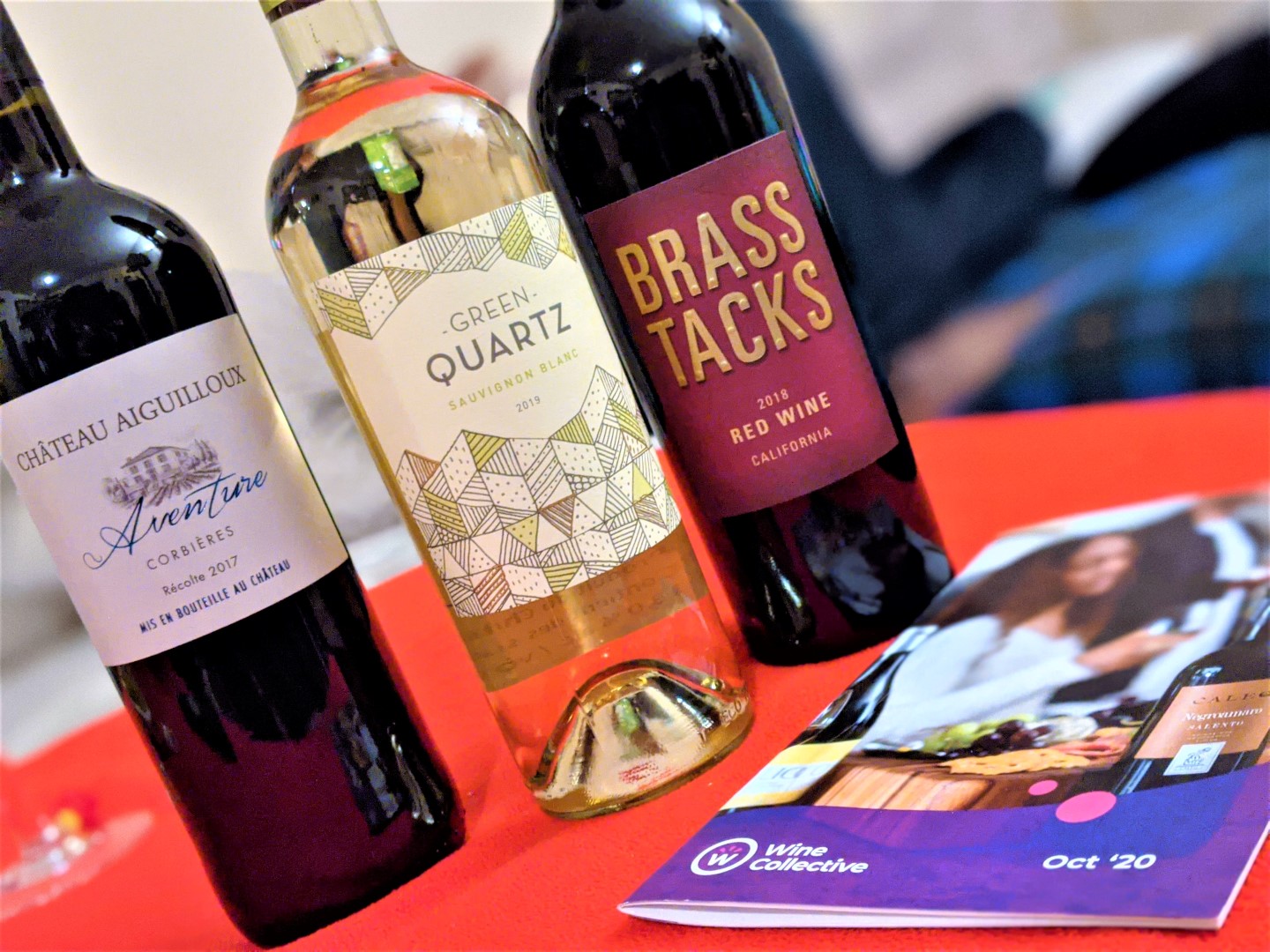 For wine lovers in your life, a holiday gift from WineCollective is a great idea. This Canadian company began in 2009 and has been spreading the love for wine ever since. They believe that learning about wine should be fun, inclusive and experiential-all things I agree with (as you know). In addition to free shipping and the use of sustainable packaging, the reason I like WineCollective is because they give you options. MANY options. You can choose how long you want your subscription for and you can also choose the number of wines (2, 3, 4 or 6 bottles). In addition you get to customize your order by choosing a selection of red, white or mixed wines. Like I said, truly customizable! WineCollective has no initiation fees, no membership fees and no contracts to sign. They also offer a 100% guarantee so if you are not completely satisfied with the quality of the wines you receive, you may request a refund within 60 days of the transaction date.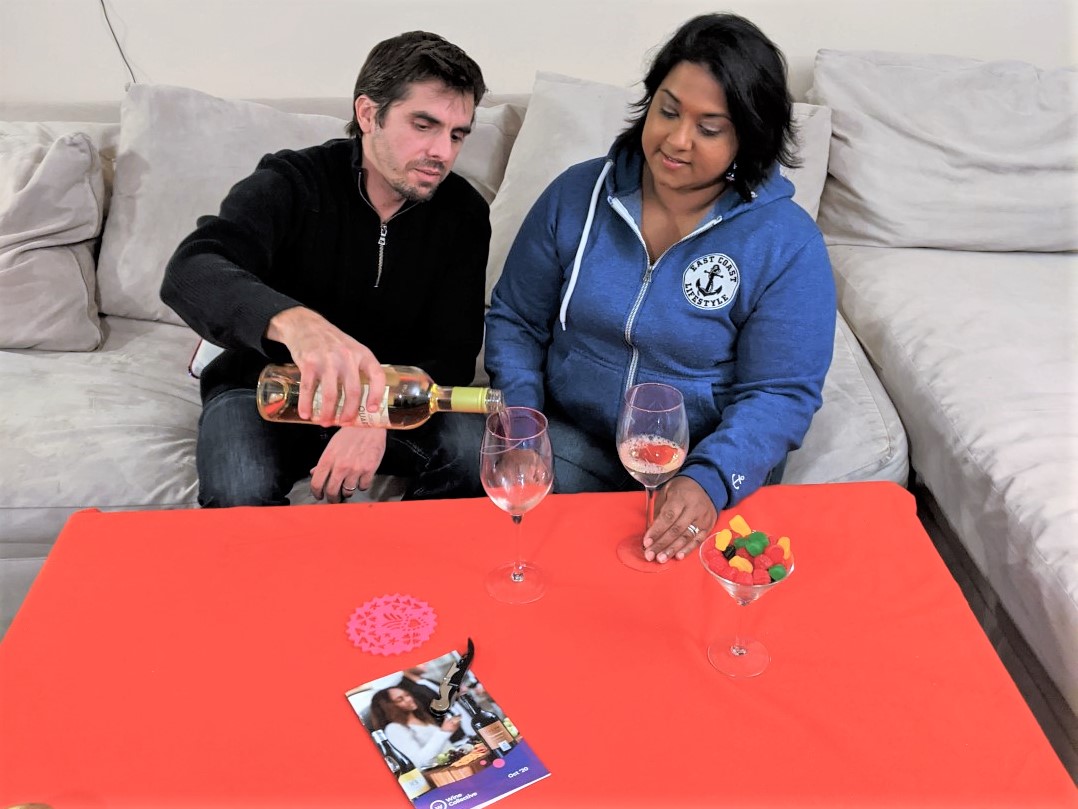 For the holidays, this Canadian wine club has made it super easy for you by offering a special on the 3 bottle wine gift subscription. You can choose between all red or mixed wines and if you want to gift an Essentials or Premium subscription. The Essential collection features expertly-curated wines sure to please the wine connoisseur or those just starting their cellar. The Premium (at a slightly higher price point) features cellar-ready wine selections for an elevated tasting experience. The holiday gift edition comes with a holiday card as well as a wine tasting guide and a $25 credit to their online wine store. If you (or your friend – ahem!) really enjoyed a bottle, as a member you have special access and pricing to their online store. I think this is a great way to discover wines from all around the world. For wine lovers, this is one of the best wine subscription boxes you can find in Canada! The first shipment will arrive in January. This means gifts can be purchased up until December 31st and they'll provide you with a printable gifting letter so you have something to handout during the holiday season.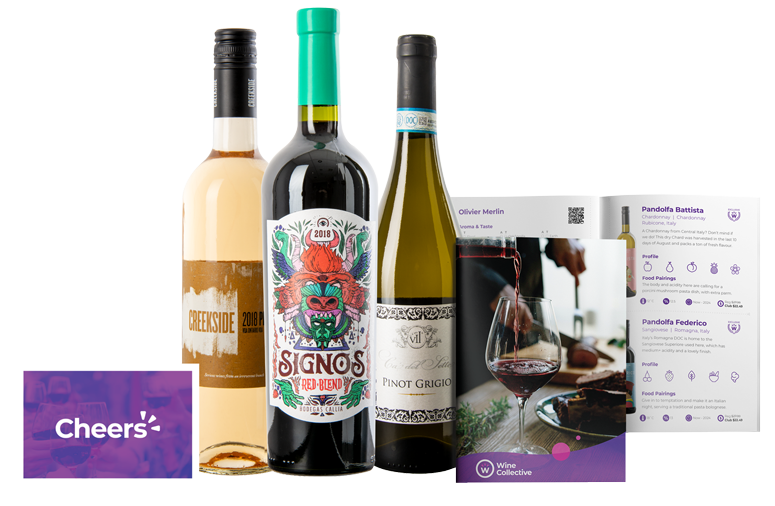 In addition to having shipping included in the cost of the Canadian wine subscription, they also use sustainable packing which is very important. Especially during the Christmas season when I find that we have a lot more going into the garbage than the blue bin!
Cost : $68+/month (depending on package and number of months)
Ships to most provinces except a few select ones where it's illegal to do so
Please remember to enjoy responsibly and never drink and drive.
Canadian Beer Subscription Boxes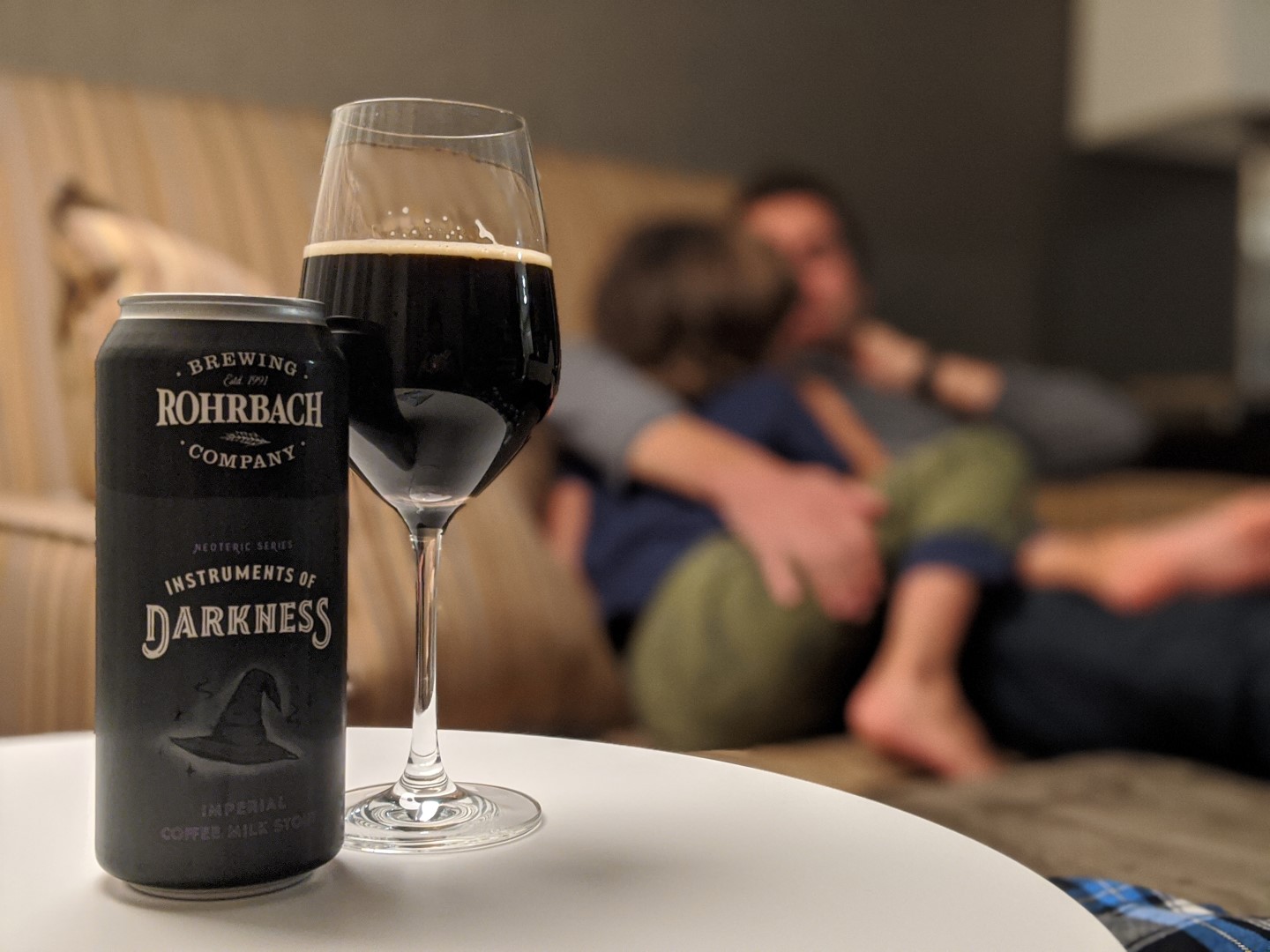 Beer subscriptions is a topic we have covered extensively over the years because Chris made it his mission to try various ones. Our favourite has been the Canada Craft Beer Club for various reasons. Namely, they offer a decent selection of craft brews from around the world. This Canadian craft beer subscription company seeks the best beers available within the Alberta liquor wholesale market and work with importers to bring in exclusives, customs and brand new to market beers. Chris was impressed when I gifted him with a 3 month subscription and since it doesn't look like we'll be travelling to Europe anytime soon. I may be gifting this to him again this year!
This Canadian Craft Beer Club now offers three different options – the all Canadian, Feature and Full pack. The latter two also includes international beers which is usually what Chris looks for since he can now get a great selection of Canadian craft brews at the LCBO. The shipment comes with an information card describing the beer's style and history on one side, and providing the necessary beer geek information on the reverse. Including the recommended glass type, as well as the malts and hops used in the recipe. Beer geeks like Chris will LOVE this.
Cost : $40+/month (depending on package and number of months) and shipping is included
Ships to most provinces except a few select ones where it's illegal to do so
Please remember to enjoy responsibly and never drink and drive.
Canadian Non Alcoholic Wine Subscription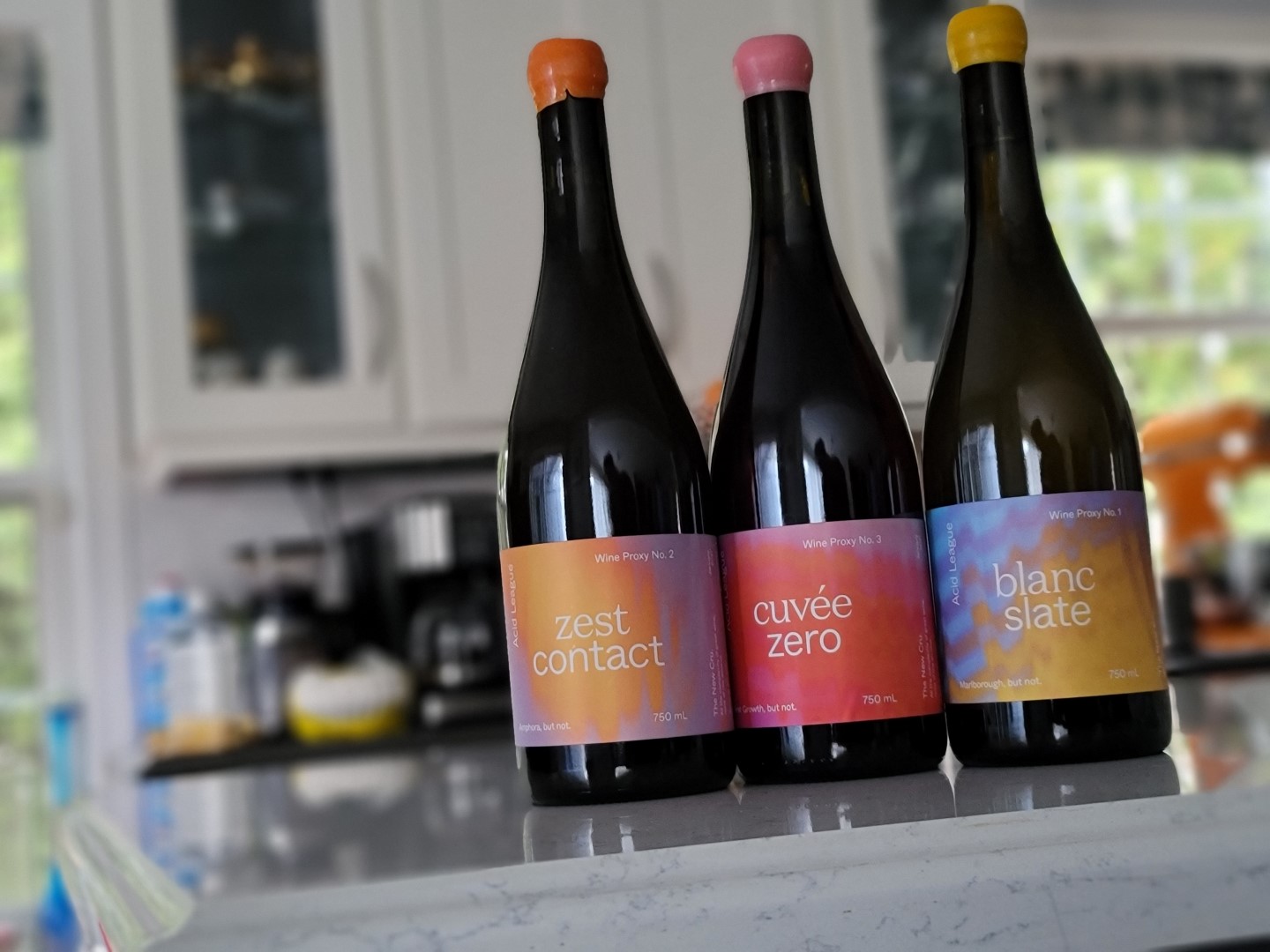 Although I still drink alcohol, I have been mixing in some wine proxies from Acid League into my weekly rotation on nights I want to sip something over a Zoom call but not consume alcohol. Wine Proxies are layered blends of juices, teas, spices and bitters designed to be paired with food and enjoyed in your finest stemware. Proxies don't necessarily taste exactly like any specific wine, but they're made to look, feel, and drink like wine. They have acidity, texture, tannin, and spice. Each month you will have 3 750ml bottles in your kit and the flavours keep changing. I've sampled the January box which brought Proxies my way that reminded me of Orange wines, Rose and Sauv Blancs…but without the alcohol! This is a great for your sober curious or non-alcohol consuming friends and family.
Cost : $65+/month (depending on package and number of months)
Ships throughout Canada
Canadian Cheese Subscription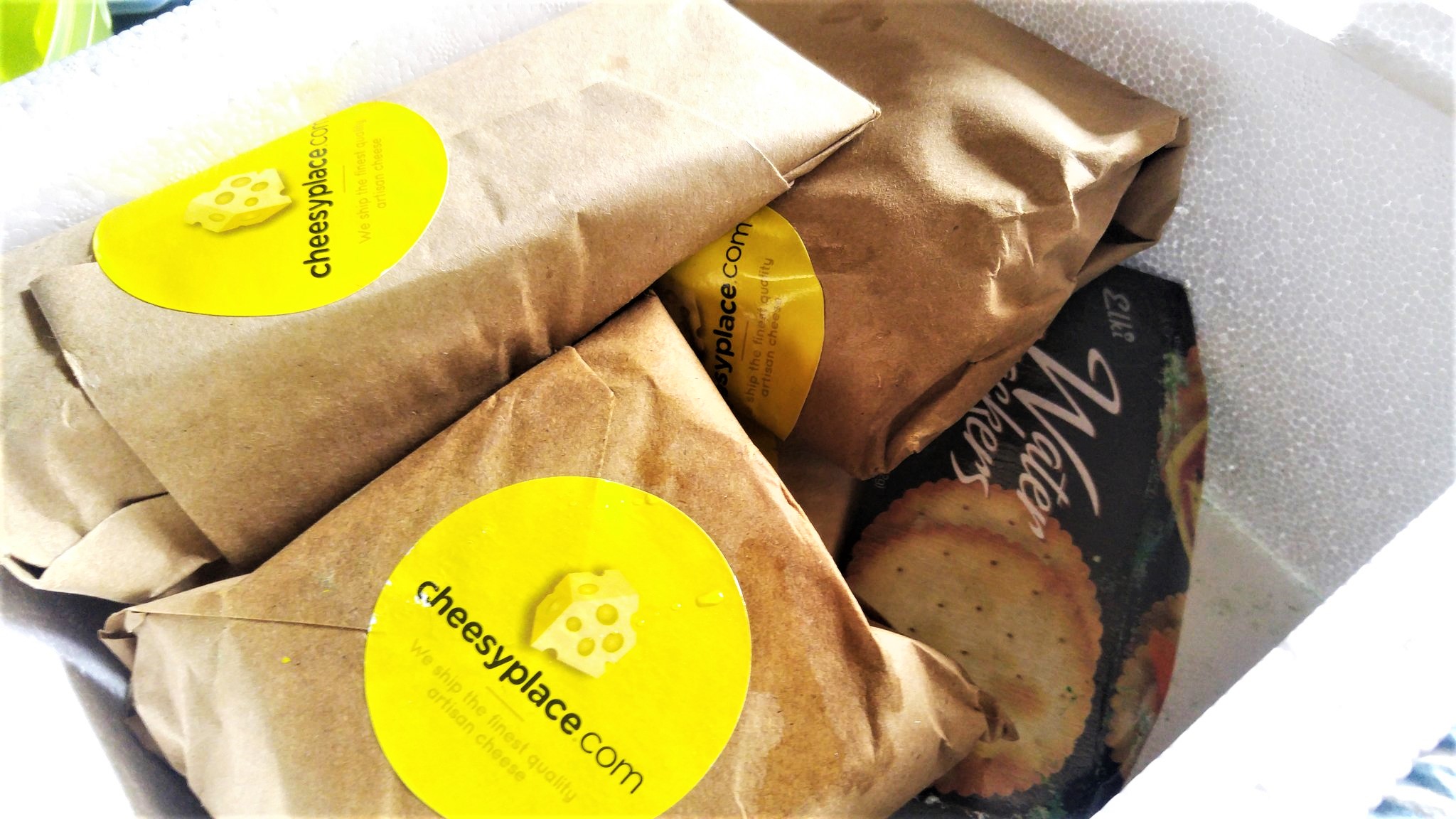 I do love cheese, no denying that. It also pairs beautifully with the above wine and beer subscriptions – just saying!! Couple years ago friends gifted me with a Cheesy Place monthly cheese subscription and I truly loved it. This Canadian cheese club subscription comes with 3 gourmet cheeses (700 grams/1.5 pounds or more), up to 3 extra bonus items (eg. extra cheese, condiments, etc.) and a fact sheet with descriptions and pairing notes. This gets delivered monthly and is the one my friends gifted me with a few years ago. You can expect to receive some hard-to-find, small batch cheeses from all over the world, including artisan selections from local Ontario and Quebec farmhouses. Hopefully Chris reads this post because I'd love a WineCollective and Cheesy Place subscription under the tree this year. Just sayin' y'all!
Cost : $65+/month (depending on package and number of months) and you have to pay for shipping
Ships throughout Canada (remember that shipping costs are extra with this one)
Canadian Baking Subscription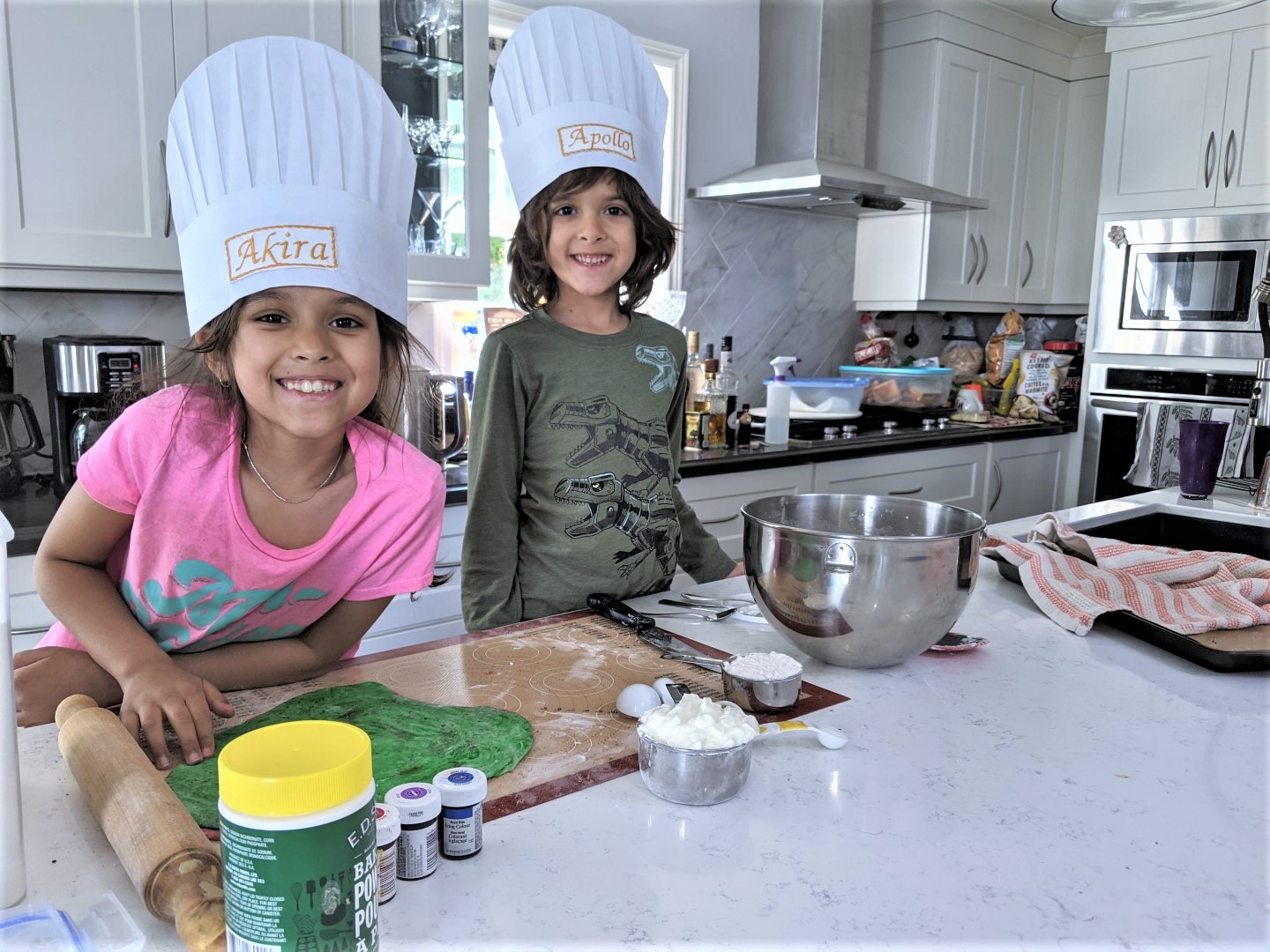 For the baker (or the wanna-be baker) in your life, a subscription to Innocent Baker is a great choice. I can see kids having fun with this one too. They supply all the necessary shelf stable ingredients you will need for each month's recipe and give you a shopping list for all the perishable ingredients (if any) as well. There's usually a special surprise that will assist you in bringing your baking creations to life. I feel like this subscription totally sets you up for baking success because they carefully test out recipes and choose ones that will razzle and dazzle but are still easy to make.
Cost : $45+/month (depending on package and number of months) and you have to pay for shipping
Ships throughout Canada (remember that shipping costs are extra with this one)
Magazine Subscription for Kids
A couple years ago an aunt gifted the kids with an Owlkids subscription. They publish entertaining, unique, high-quality books and magazines that nurture the potential of children and instill in them a love of reading and learning — about themselves and the world around them. With numerous books and three magazines covering various age groups, Apollo and Akira looked forward to their magazines arriving each month. What I liked was that they have a variety of options Chirp (for those aged 3-6), Chickadee ( for those aged 6-9) Owl (for those aged 9-13). We took these on our travels and road trips because there were activities and comics in each magazine to keep the kids busy and entertained.
Cost : $30 for 10 months and shipping is included
Ships throughout Canada (free shipping)
Healing Crystal Subscription
Over the years I've struggled to find a Canadian crystal subscription but a friend referred me to Little Box of Rocks recently and I'm excited to place some orders this holiday season. Little Box of Rocks is a for-purpose online crystal shop that allows you to build your own healing crystal collection when you sign up for their 6-month subscription to Intention, (crystal collector's box). Set your intentions every month with a surprise assortment of 4 healing crystals sent to your door, Muslin LBOR sachet for your collection's safekeeping, 4 keepsake note cards outlining the meanings and healing properties of each of your crystals and an unique secret message of inspiration! Subscribers enjoy free delivery and 20% off, however you can do month by month (but no discounts or free shipping). While this is focused on adults I can see 9 year old Akira really enjoying a subscription like this because she's constantly looking at rocks and crystals during our travels.
Cost : $35+/month (depending on package and number of months)
Ships throughout Canada
Monthly Canadian Toy Box Subscription
If you have kids under 10 years of age, YourFamBox is a great idea! Every month, their expert professionals handpick fun and educational toys, games and/or books to deliver an ultimate unboxing experience for kids 2-9 years old. I know my kids would love to receive a box of monthly toys (and perhaps this will be incentive for them to donate the previous month's toys when possible). This Canadian toy box subscription customizes the boxes for each age and gender which I really like. You can easily cancel the subscription at anytime, similar to most Canadian subscriptions listed in this article.
Cost : $39+/month
Ships throughout Canada
Monthly Wellness Subscription
If you're looking for more than only crystals, Crystal Crate may be a good option for you. They offer a quarterly subscription service delivering a curated selection of high vibrational, quality crystals, spiritual goodies and wellness products, right to your doorstep. A box for each season until next Christmas!! You can definitely purchase one box if you don't want all 4. Each box includes a guarantee of at least two unique crystals and 3 to 5 handcrafted products, supporting Canadian artists. Subscribers will also receive access to an exclusive guided meditation and an affirmations track.
Cost : $75+/month (depending on package and number of months) and there is a flat $15 shipping fee
Ships throughout Canada (remember that shipping costs are extra with this one)
Monthly Escape Room Game Subscription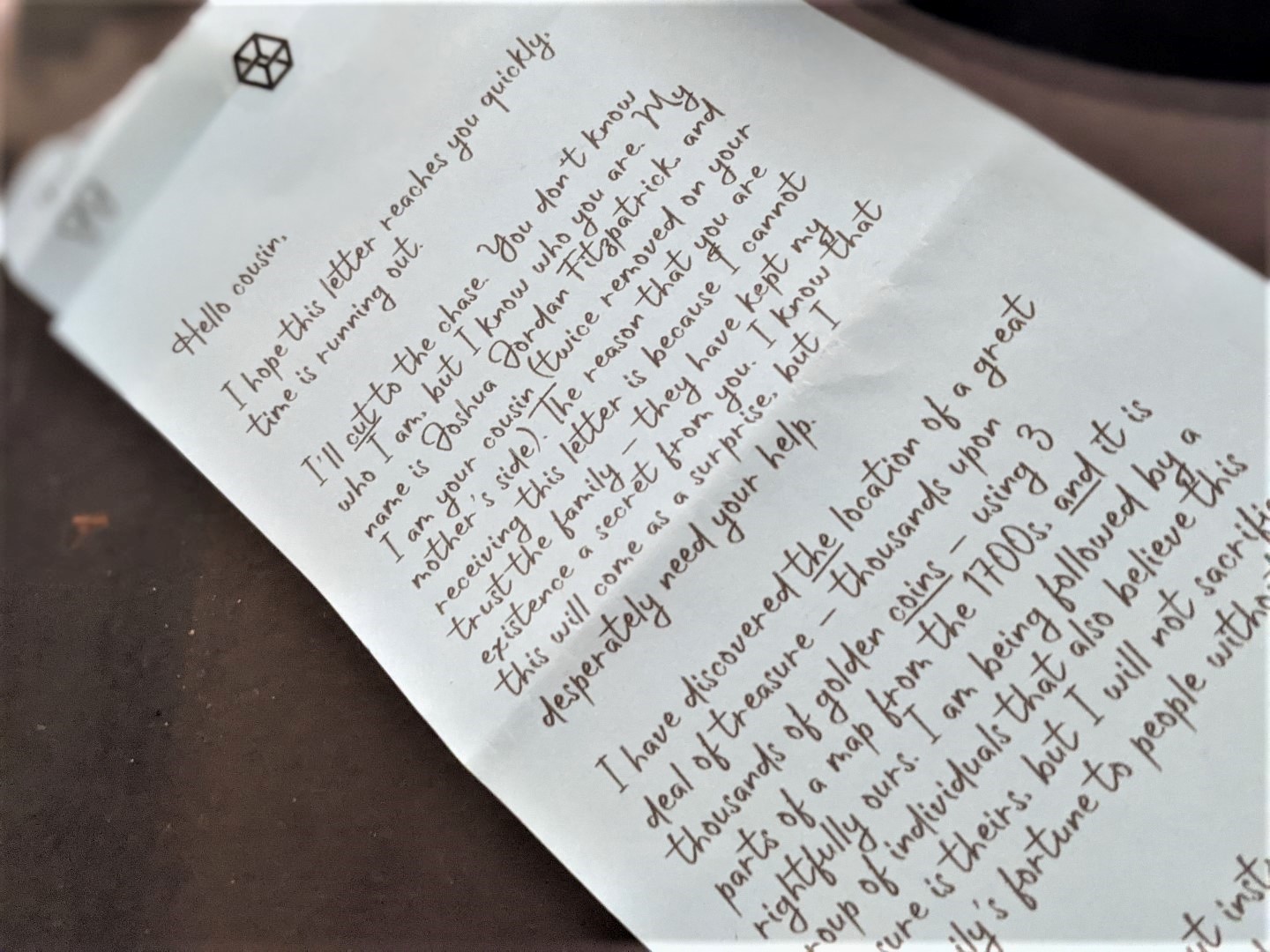 We received a letter last week and it looked like spam when Chris opened it so he nearly threw it out! I'm still laughing at this!! Mobile Escape features at-home escape games that families can subscribe to. They have one season out which has 12 episodes and it's an awesome gift for game lovers. We spent an hour on this and had to cheat by looking online for the answers – I KNOW!! We're the worst! What I like about this is that you can buy one episode, all of them at once or on a monthly subscription so that each month you can solve the mystery. In addition you can choose your difficulty level (easy, hard or regular). Easy is appropriate for kids up to 10 (with adult supervision), Regular is appropriate for kids 11 to 15, and Hard is great for 16+. If you get stumped they have a website with some clues!
Cost : $13+/month (depending on number of months) and shipping is free
Ships throughout Canada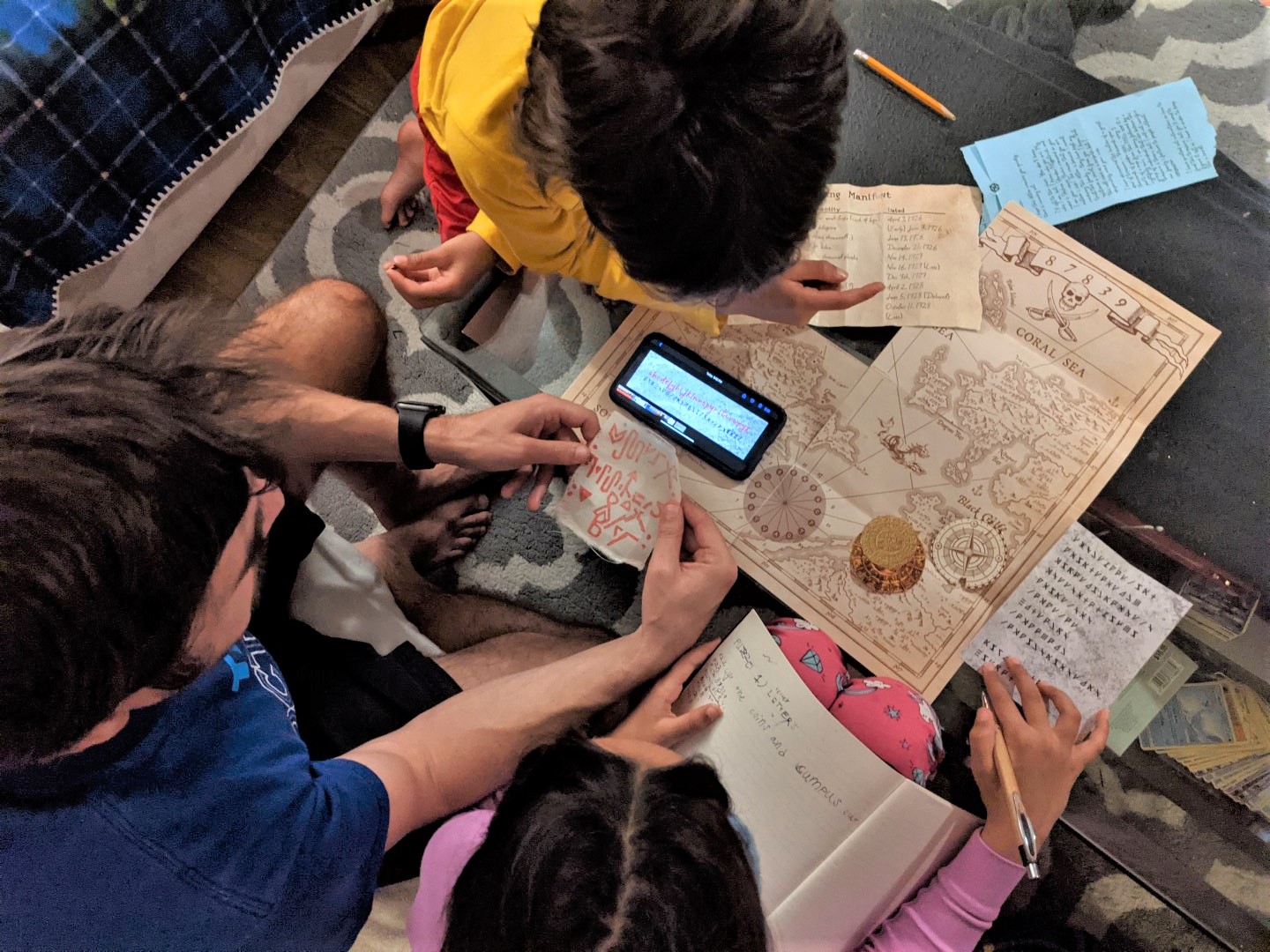 Monthly Canadian Sock Subscription
Although I prefer to prance around bare-footed, not everyone does. This Canadian monthly socks subscription will bring joy to those who want to stay cozy and warm this winter season. I was actually surprised by how many Canadian companies there were! If you're looking for kids sock subscription, FridaySocks is who you want to order from. They are also quirky and are Canada's first and only mismatched sock subscription (YES you read that right). For adults, I like the work Sock Rocket is doing because with every single pair of socks sold they also donate three pairs to one of many agencies in Canada putting clothing donations to good use. If you're looking for high end socks, Yo Sox not only has many designs but they also feature antimicrobial and reinforced heels.
Cost : $15+/month (depending on package and number of months) and you have to pay for shipping with a few of them
Ships throughout Canada (remember that shipping costs are extra with certain sock companies)
Crafting Subscription for Kids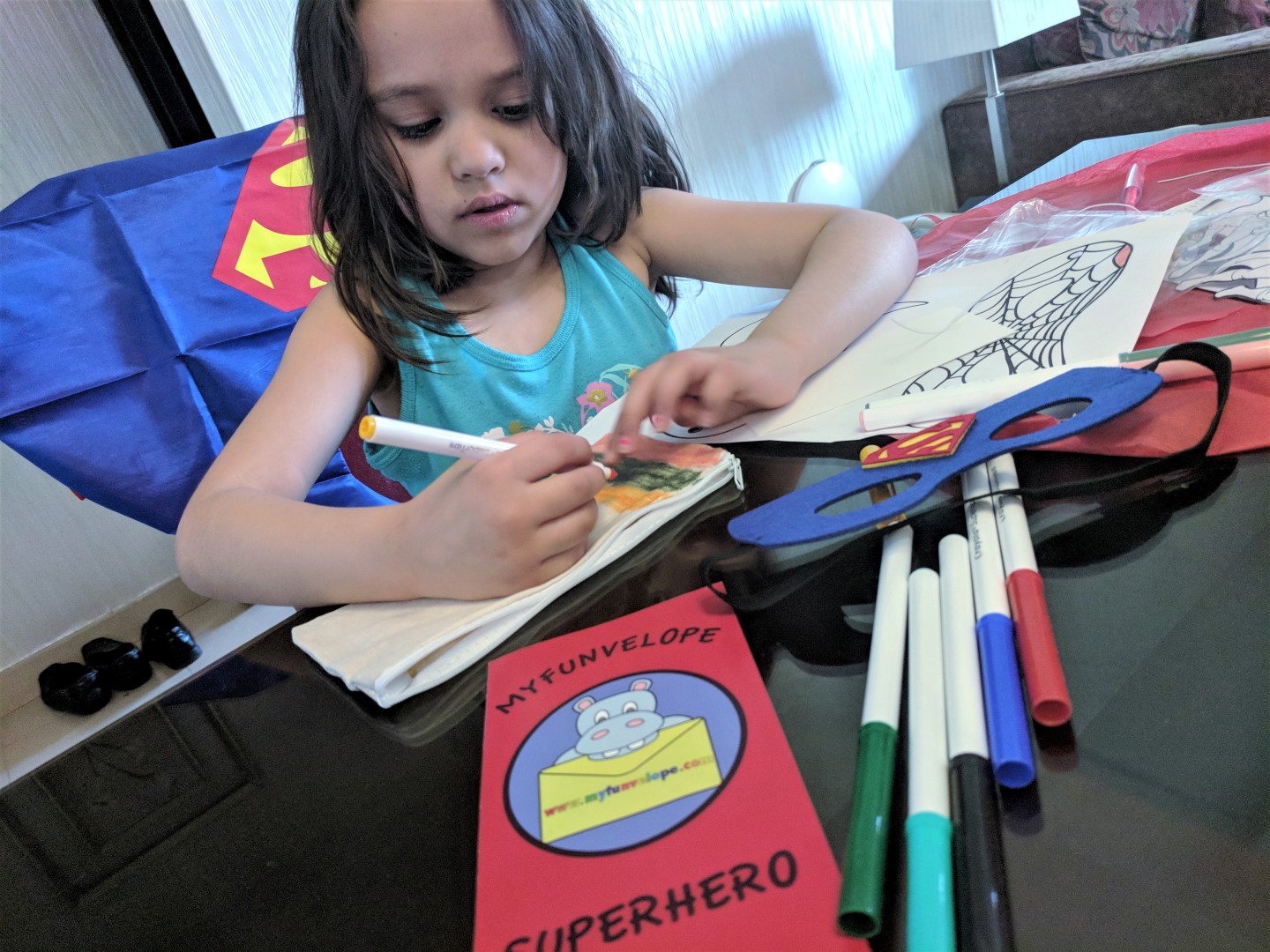 We tested this Canadian subscription kit for kids back in 2018 and the kids still have the capes and use them often. The quality of the MyFunvelope subscription kit is amazing and you can read my full review here. Targeted at kids aged 3 to 9, Myfunvelope is available in both French and English. Every month your child will discover and have fun with FOUR unique craft projects that follow a fun monthly theme. They will also receive a STEM (Science, Technology, Engineering, Math) activity/idea for hands on building that is fun and sometime hilarious! I also think this is incredible value for your money and shipping is free! Hands down the best Canadian subscription boxes to keep kids crafting.
There you go! These are ones that excite me this year and I hope to keep this updated as I discover new ones. If you have one you truly love, please comment below and let me know of them.