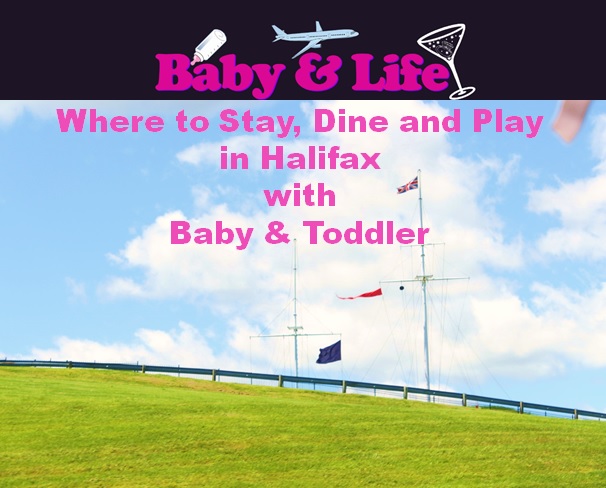 I finally got the chance to explore Halifax and while it seems we always visit this city with water-views mainly for weddings, there' s plenty on offer for those with babies and toddlers. The hubs worked and studied in Halifax so he has plenty of memories and even he took the opportunity to explore some new areas of Halifax. Halifax is the perfect spot to start your East Coast expeditions from and having spent four days here I think it's the perfect way to soak in the small city culture and prep for the smaller towns that your East Coast adventures would take you towards.
Where to Stay
Every Halifax visit has been spent at the Lord Nelson Hotel and Suites and this time we stayed here with Baby Boy and Little Monkey and they had a great time. The location can't be beat as it's in the center of it all and we were able to walk everywhere. Every staff member we met was very friendly and we had all the basics such as crib and high chair available for us. Every room has a fridge and there are family friendly suites as well. Click here for a full review.
Where to Dine
Please note that kids are not allowed at most restaurants and bars past nine p.m. so plan your dinner plans accordingly!
Stillwell : When the local group knew we were heading into town they told us we had to meet at this beer spot. Craft beers on tap and tapas style dishes on offer, this is a great meeting spot. The space is small but they didn't mind us bringing in our double stroller. I hear it has some connection to Bar Volo in Toronto and I was surprised to see quite a few beers taps being changed during our two hour visit. It's a popular spot so be sure to drink your 'must samples' first as they may run out before you're ready to head home!
Brooklyn Warehouse : We loved our meal here. It is a bit out of the downtown core but we walked here on a sunny evening and had an enjoyable meal. The menu constantly changes to reflect the season's bounty and of course we enjoyed many a seafood dish! Only one high chair so be sure to reserve it if you can. For a full review click here.    
Your Father's Mustache : Honestly I don't know how or why we end up here.. but we always do. It's like that local hot spot that everyone loves to hate. I must admit that they have a lovely patio and Baby Boy and Little Monkey were taken care of as we brunched one sunny Sunday afternoon. They have plenty of high chairs and I've always brunched here. Not by choice necessarily…but it just happens. I've decided not to fight it the swing of things!
I had a huge list of spots to explore and as always I've left them for our next visit : Ednas, Bicycle Thief, Chives and the Wooden Monkey. Now that I got the tourist hot spots in my next trip can focus on the culinary side!
Where to Play
Halifax has plenty to do with young ones and everyone we met was very kid friendly and always ready to lend a hand. This city is bustling with students during the scholastic year and the summer months tend to be less busy which makes it the perfect summer destination for families. We pushed our double stroller up and down the hilly streets and got quite a work out (which makes up for the eating we did during our Nova Scotia visit). During our visit many of the sidewalks would abruptly cut off and we'd have to cross the street, something to keep your eyes open for as you explore this city.
Maritime Museum of the Atlantic : If you've watched Titanic a million times or have a budding seamen on your hands, you'll want to pay a visit to this museum. We spent an hour perusing through many Titanic displays and even had a chat with Merlin the Macaw. This stroller friendly place is perfect for those rainy days and I highly recommend getting here first as they have good washrooms and the tickets are good all day long which means you can pop into during the rest of the day.
Waterfront : The Halifax Waterfront is definitely a key attraction. We spent an entire day here as there's plenty of activities for kids and adults. Not only was the Harbour Hopper and Martime Museum housed here, but there's playground and big wave for some free play. There's also plenty of food and drink options and again, we only popped into a fish and chips joint but perhaps on our next visit we'll eat our way through the Boardwalk! By the way you MUST pop by and grab a rumball pop from Rum Runners Cake Factory.
Harbour Hopper : Extremely touristy but a great way to get a good lay of the land. I liked this tour for a couple reasons ; we got awesome photos of Halifax (tip is to sit towards the back of the Hopper), Little Monkey napped during our tour which put her in a good mood for the evening and we got a good overview of the history behind the city. They will stow away your stroller in their shop down on the board walk so that's very convenient! No better way to get a view of Halifax from land and sea…yes you do go into the water, just like a boat or should I say amphibian?
Walks : From shopping down on Spring Garden to exploring the Halifax Public Garden, there's so many little spots to let the little ones loose and for you to stretch out or grab a pint on a patio. We enjoyed quite a few timeouts as we lazed around and really took in the maritime culture and air.
Citadel Hill : The hill is the landmark of Halifax and from every point in the city you have a view of its clock…there's four faces for the clock tower with reason! We timed our visit to catch the noon firing and neither Baby Boy nor Little Monkey were freaked out by the noise. The space is fairly stroller friendly though it can get a bit tight in certain spots as you roam around the top. You'll have to take turns to visit the small boutique as well.
Shakespeare By the Sea : I have to toss this one in because the hubs used to work here back in the day. We didn't get the chance to catch a production this time but we did try to take the Little Monkey to see Alice in Wonderland when she was around nine months. I suggest taking kids to select ones (some Shakespeare plays can be quite violent) and only for those performed outside. The ones inside during rainy days can get quite hot and sticky for the smallest visitors.
Halifax is so rich in history and there's quite a few art galleries that one could explore. It's a very artistic town with enough attractions to keep a family busy for a weekend. Their culinary scene is exploding and one that I urge you to explore on your next visit.