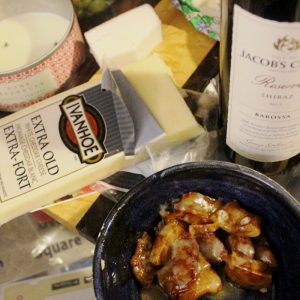 Last weekend we had an impromptu girls' night in when I had three lovely ladies agree to keep me company while the hubs was at his monthly game night. He forgot to put the date in our calendar so I was caught off guard when he mentioned it to me on Thursday that he'd be out on Friday night. Luckily for me, I always have people ready to drink and eat with me! The kids were out of hair because they were too busy with the iPad and so we were able to relax and enjoy the charcuterie board I had put together. Next time you're wondering what to serve for wine and cheese night, I've got you covered with a deliciously Cheesy Korean BBQ Pork dish!
Disclosure : I am part of the Gay Lea Ambassador Campaign and I receive special perks as part of my affiliation with this group. The opinions on this blog, as always, are totally ours!
Earlier that day I had found a pack of uncooked Pork Rinds in my freezer…clearly an adventurous purchase I had made months before!! I figured I'd see what I could do with it for the girls because one of them LOVES her pork. What I ended up with was deliciously Cheesy Korean BBQ Pork Rind Bites. If you love bacon and cheese, I can guarantee that you'd love this one! It's easy to make (especially if you cheat on the Korean BBQ sauce!) and if you've never had Korean BBQ sauce before, know that it's sticky, sweet and delicious. Closer to soy sauce than North American BBQ sauce.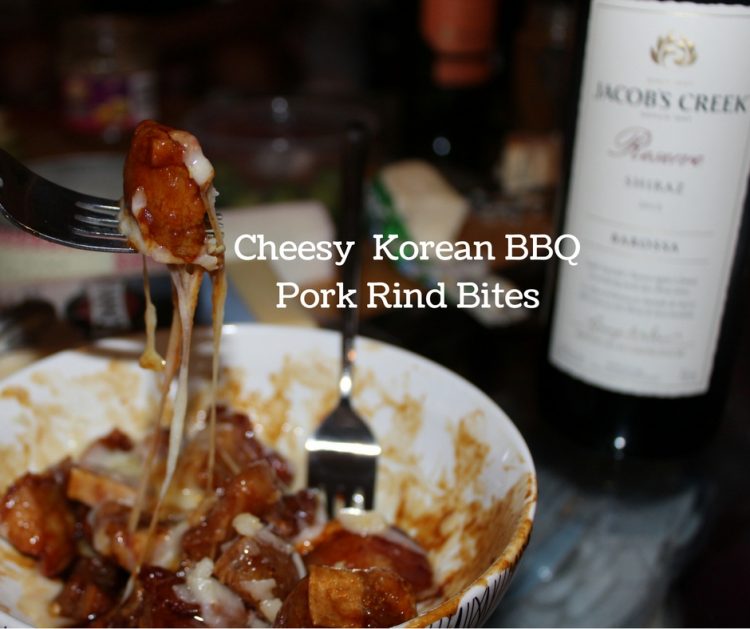 I started out by cutting the pork rinds into bite sized pieces (1 inch in length), layering them on a baking sheet and cooking them in a pre-heated oven at 375F for 30 minutes. You want to ensure that you flip it half way through and that both sides are nice and crispy brown. If you over cook it, it'll be come very hard (but still delicious). Under cook it and you'll find yourself with very fatty pieces. When you take out the tray you'll notice that there's a LOT of fatty oil…I tossed them out but it could be used for future dishes! If you have an ActiFry, it works well there as well, just an FYI.
While the rinds were baking away, I put the following in a saucepan and brought it to a boil for 15 minutes to thicken up (you can EASILY cheat and look for Korean BBQ sauce at your supermarket as well!).
1/2 cup Brown Sugar, 1/2 cup Low-Sodium Soy Sauce, 1/4 cup Water, 1/2 tablespoon Rice Wine Vinegar, 1 teaspoons Sesame Oil, 1/4 teaspoon coarse ground Black Pepper, 1/2 teaspoon fresh grated Ginger and 3 cloves of finely chopped Garlic.
While it's boiling whisky together 1/2 tablespoon Cornstarch or flour and 1/2 tablespoon Water and then add it to the boiling sauce. You want the sauce to coat your spoon and that's when you know it's ready. Sweet, sticky, DELICIOUS Korean BBQ Sauce.
This recipe makes a small jar of Korean BBQ sauce so save half of it as you only need half for the dish!
Remember that you can add your favourite hot sauce into the mix if you like a bit of spice. I have a habanero peach hot sauce that worked well with this and I know a couple dashes of Sriracha would have worked as well.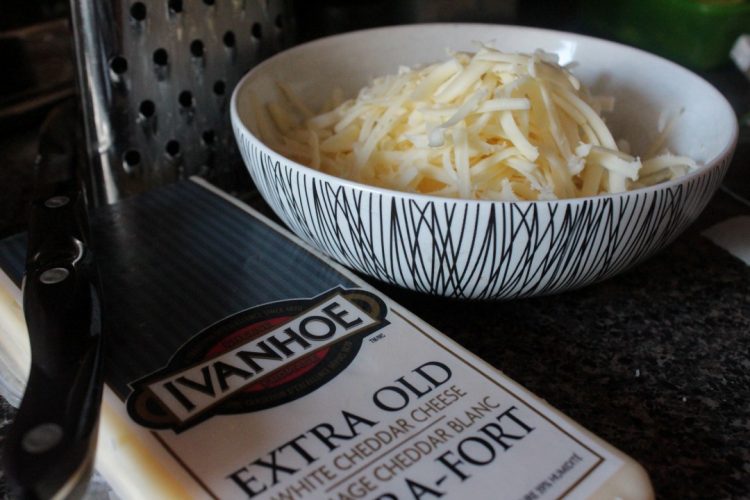 Next up pat dry the Pork Rinds to take out any excess oils and then mix it in with the sauce. Go as saucy as you like, I used half the amount I made. Now comes the best part, while it's all still hot, place the pork in a serving bowl and grate some delicious Ivanhoe Extra Old White Cheddar on the top. I went with Gay Lea's Ivanhoe Extra Old White Cheddar as it's been a favourite of mine for a good while now. My girlfriends made me add it to the "fancy" cheese board half way through the night once they tasted it in the dish! The cheese is aged 8 to 10 months and has a nutty taste that paired well with the Jacob's Creek Reserve Shiraz we were having. I've been meaning to visit the Ivanhoe plant in Madoc, Ontario and watch the cheese being made live from inside their Ivanhoe Country Store. One day soon I hope!! I like that Ivanhoe offers a Smoked Gouda (Little Monkey's favourite type of cheese!!) and that they also make a spicy Horseradish Cheddar. Some may be interested to learn that they also offer Kosher and Halal varieties. My main challenge is trying to stock up on Ivanhoe cheese in downtown Toronto as our regular Metro supermarket doesn't carry it. Luckily Sobeys does!
If you're looking for an easy dish to serve at your next wine and cheese night… keep this one in mind because it VANISHED the moment I put it on the table!