Looking for a quick and easy girls getaway idea? Look towards a Miami girls trip if you're looking for sunshine, great food and carefree vibes. Miami is a quick 3.5 hour flight from Toronto and I chose to meet two of my college roomates there for a winter escape. February in Miami? I have no regrets. It's just what all three of us needed. With a fair number of direct flights from Toronto to Miami, it's an easy girls weekend getaway from Toronto!
Things to do in Miami on a Girls Getaway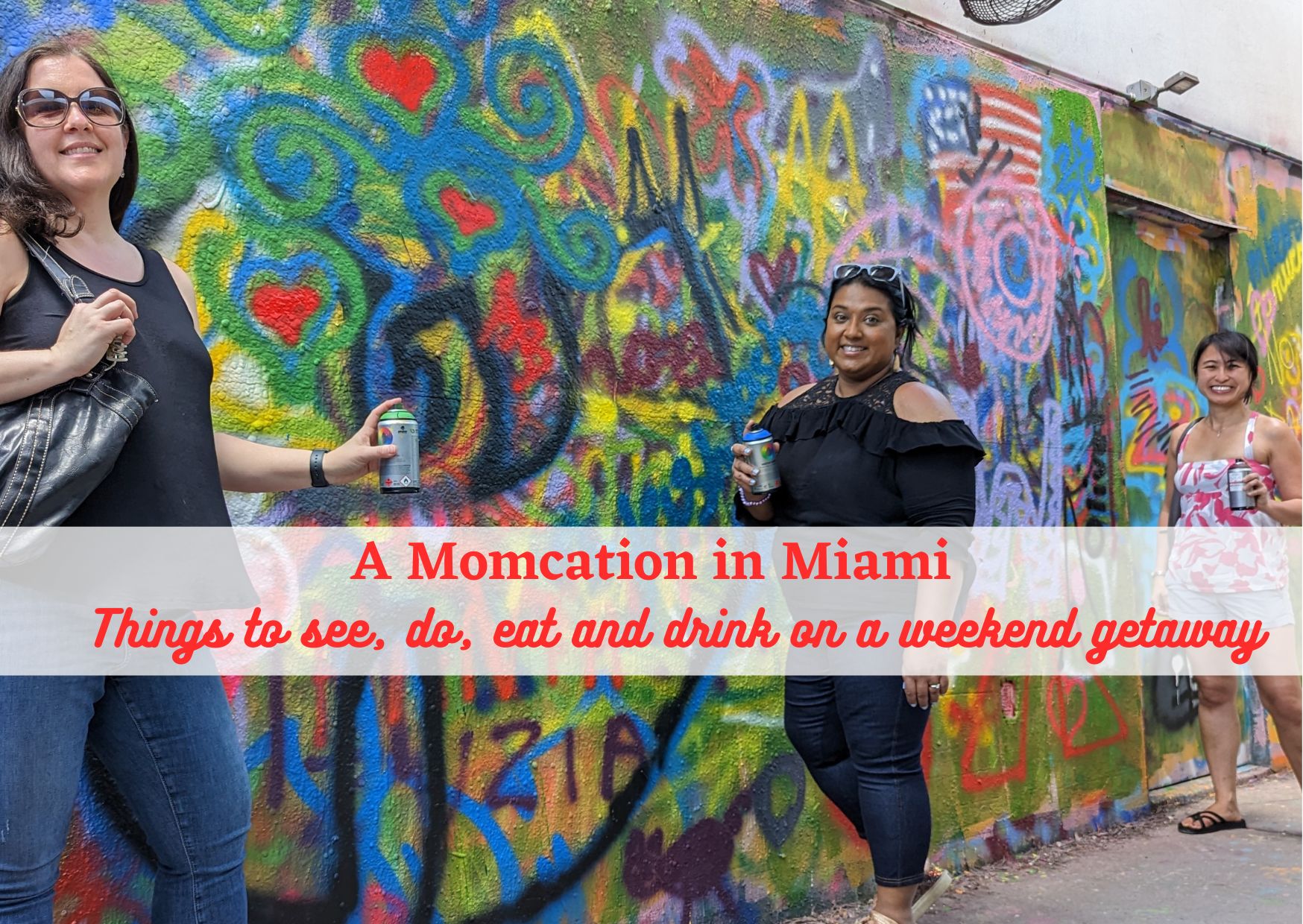 I had perfectly timed my girls weekend in Miami because Chris and the kids had to deal with a major snowstorm during my abscense – oops! The reason my friends and I chose Miami for our girls getaway was not just because it offered sunshine during our dreary East Coast winters but because the city is known for its fun experiences and relaxing vibes. The last time I was in Miami was when I was a tween and my memories of Miami were fuzzy so I was thrilled that our Miami girls weekend was filled with fun experiences, beautiful hotels, good eats and drinks and loads of laughter. Read on to discover all that we got up to in Miami.
A Miami Momcation
Where to stay during a Girls Trip to Miami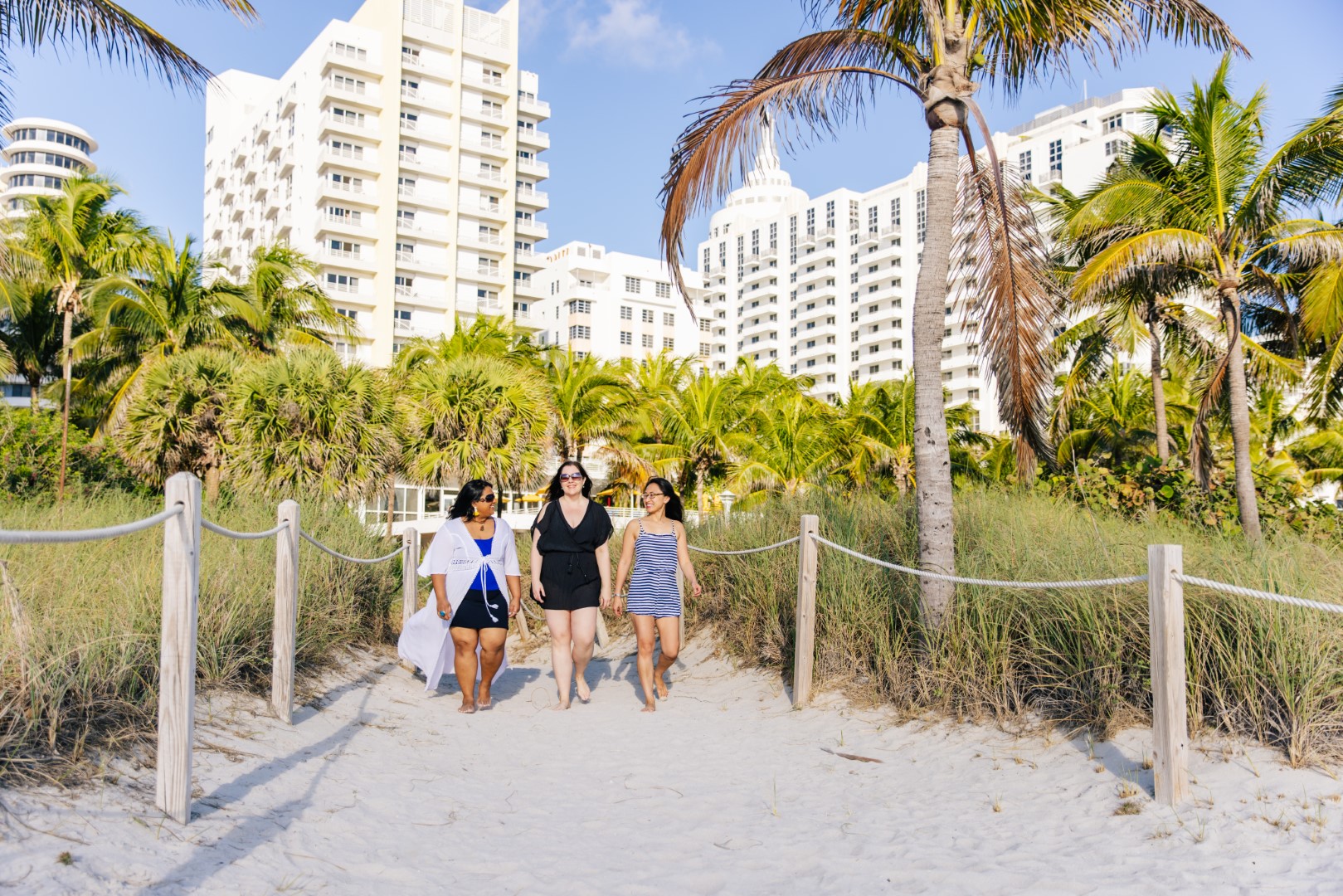 My friends and I hummed and hawed over where we should stay – action packed South Beach? Artsy Wynwood? Happening Little Havana? Well in the end we actually split our time between South Beach and Coral Gables and whenever I travel without Chris, I prefer the safety of a hotel (vs. apartment rental) and so that's just what we did.
Disclosure : We were guests of the Loews Hotel but, as always, opinions are TOTALLY ours!
Best Hotel in South Beach for a Miami Momcation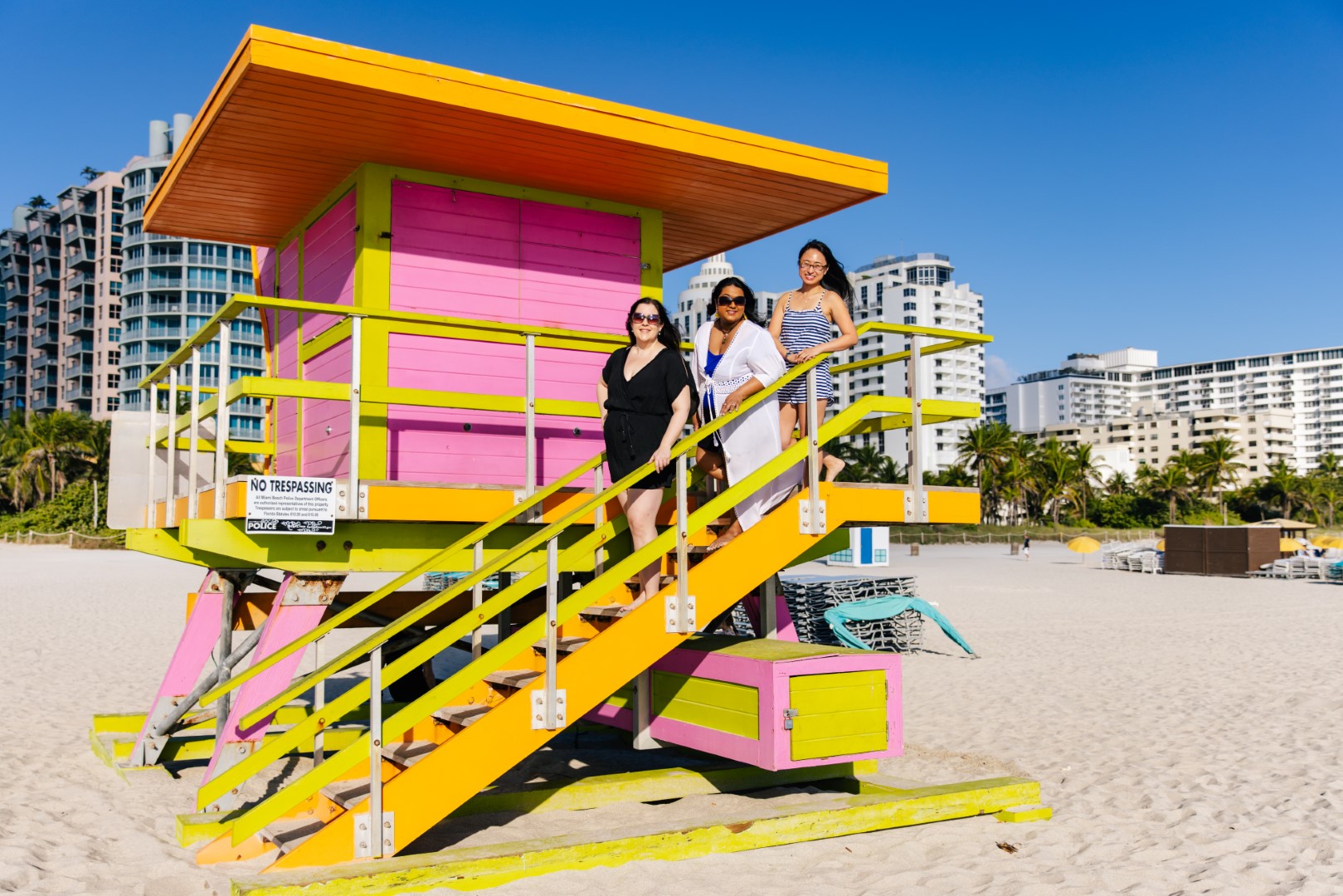 We really wanted a beachfront property and the Loews Miami Beach hotel looked like an awesome spot for us. After spending two nights at this South Beach hotel, I know that I WILL be returning and have already had a few Instagram friends book the property! This hotel is conviniently located right by the beach and close to the South Beach action so that we could relax during the day time and then enjoy the nightlife within walking distance. When it comes to location and convenience, the Loews Miami Beach cannot be beat!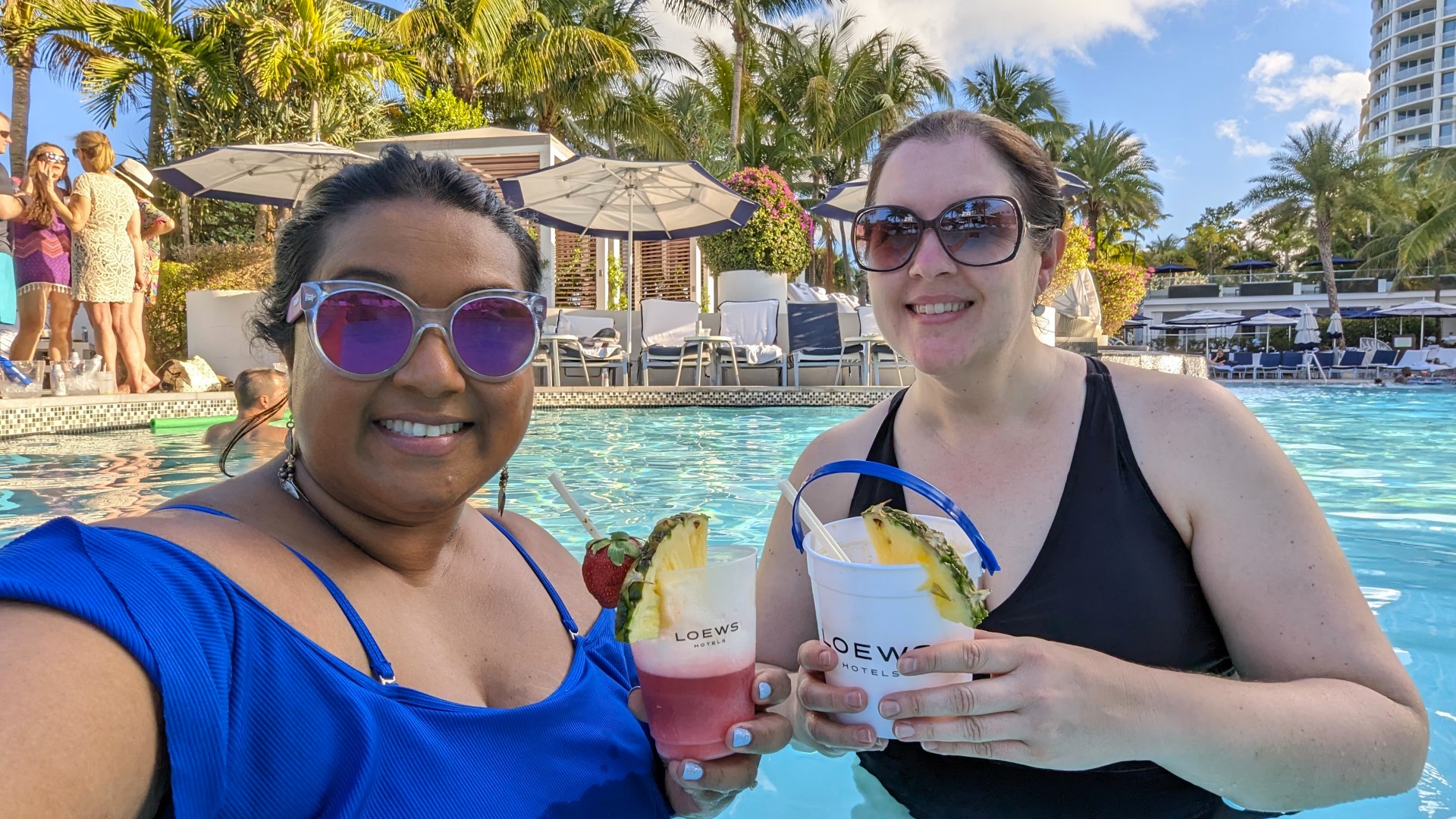 This Miami hotel was fabulous for a girls getaway in Miami because they offer a wonderful selction of ammenities that we enjoyed. The coolest feature is that all guests receive a complimentary photoshoot – yes! How cool huh? Our photographer turned up at our convenience and spent an hour taking our pictures. They will give you a print out of one image and you can purchase more if you'd like. It was nice to have group shots taken and it is a great free service if you aren't used to lugging a tripod around for group photographs. We even bumped into another group of ladies who told us that their photographer gave them the best posing tips – my friends and I clearly could have used some of those tips! hahah.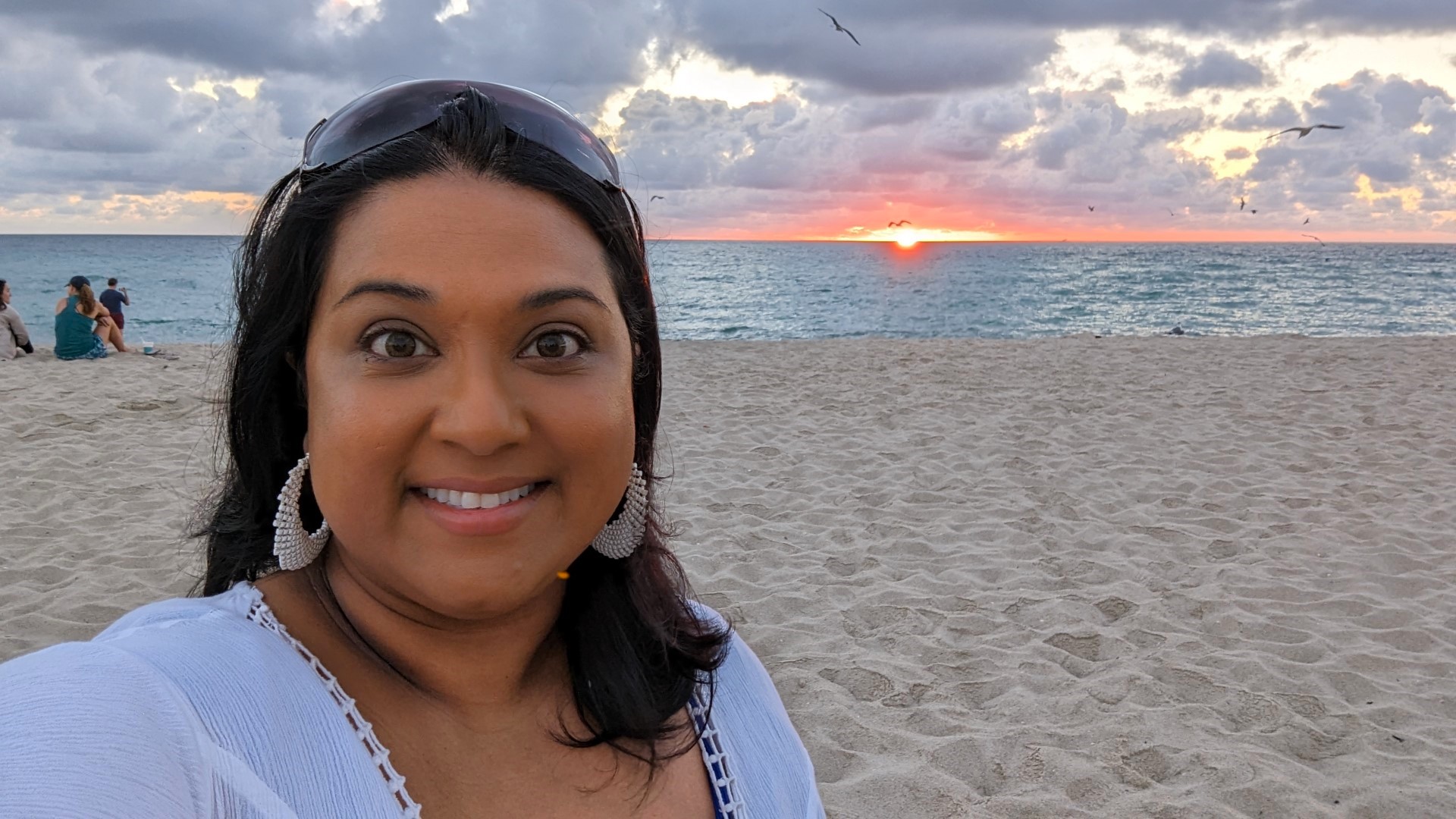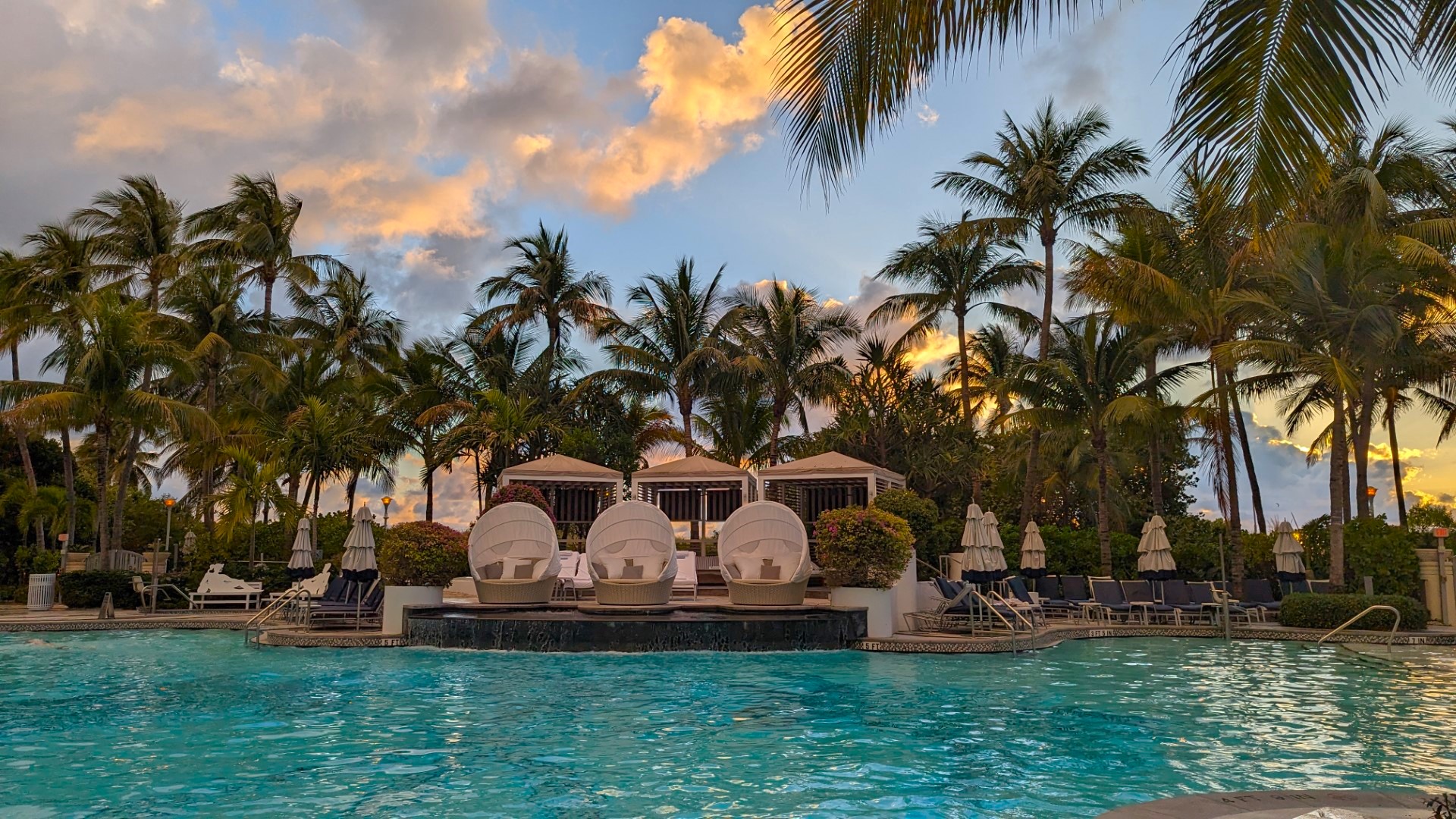 The Loews Miami Beach has private cabanas in addition to the many free lounge chairs by the beach and pool. A private adults only cabana (they have a section for families too) for an afternoon is definitely a worthy splurge during a luxury Miami girls trip! We lounged around at SOAK and enjoyed the sunshine and the pool while our dedicated server helped us order some refreshing and fun cocktails.
We also enjoyed quite the spread for a late lunch and it was the perfect meal in-between our morning SUP session and our evening salsa classes. Do yourself a favour, order the Foie Gras Burger if you see it on the menu! The salads were hearty and delicious too and there's no going wrong with fun cockatails – especially when they come in buckets and coconuts!!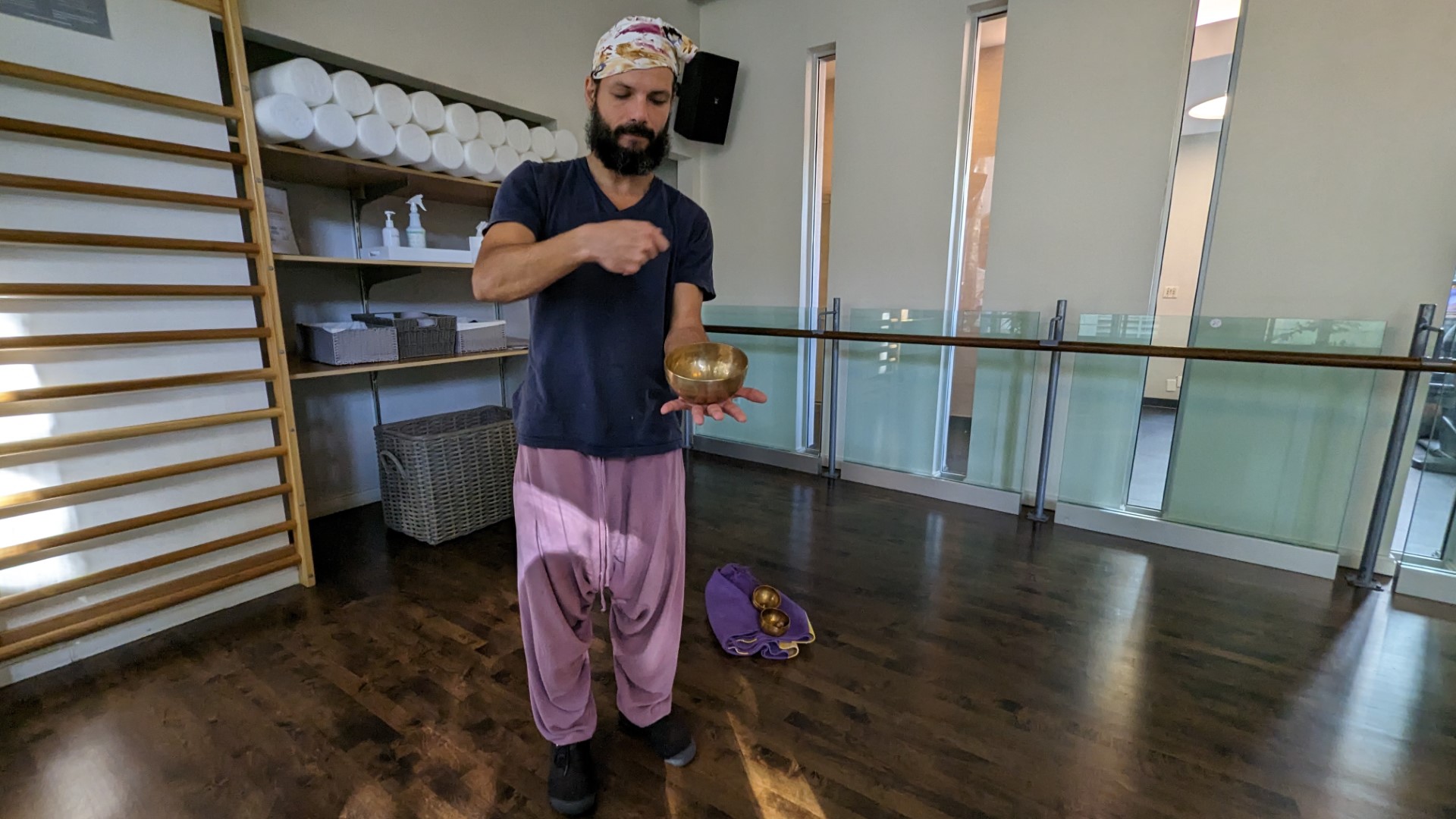 This Miami Beach hotel also offers complimentary morning meditation classes, water sports and a banana boat ride for hotel guests. I turned up slightly hungover for that morning meditation class but the sound bath righted all my wrongs and I was grateful for that. I was not ready to toss my body around on a banana boat ride but one day soon I'll return with the kids who will ensure that I experience it!
I know this was a Miami girls getaway but I couldn't help but pop into the kids club and see the awesome space and even got to chat with the welcoming staff who informed us that they offer childcare option (at a fee) that include all day programing and evening babysitting services as well.
When it comes to rooms, they have standard guest rooms and suites on offer. Each of these provide ocean front, city or partial ocean views. Our room had a balcony which allowed us to catch sunset/sunrise views of the city and the ocean….imagine hanging there with a glass of wine at sunset. Yup. Bliss.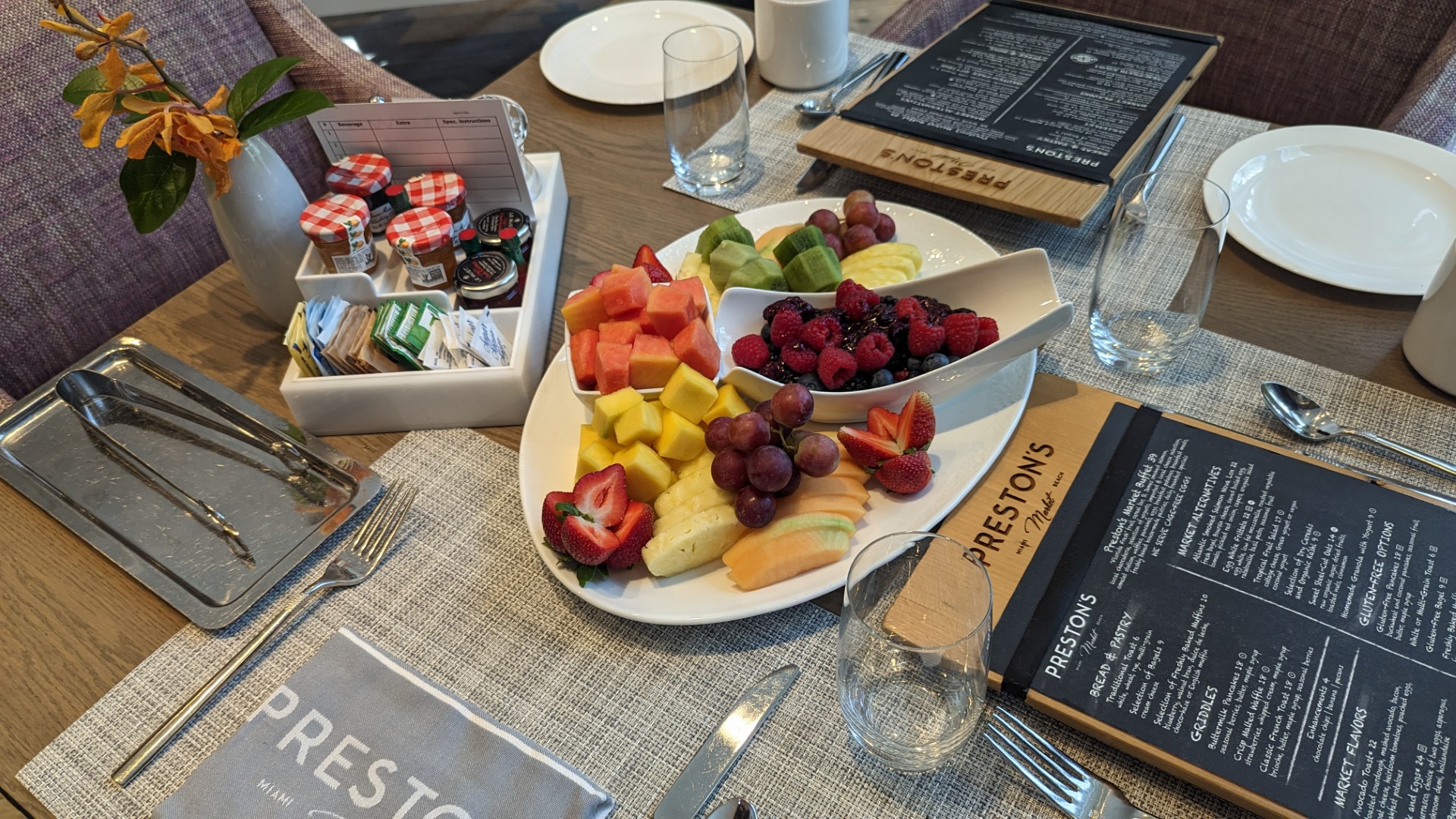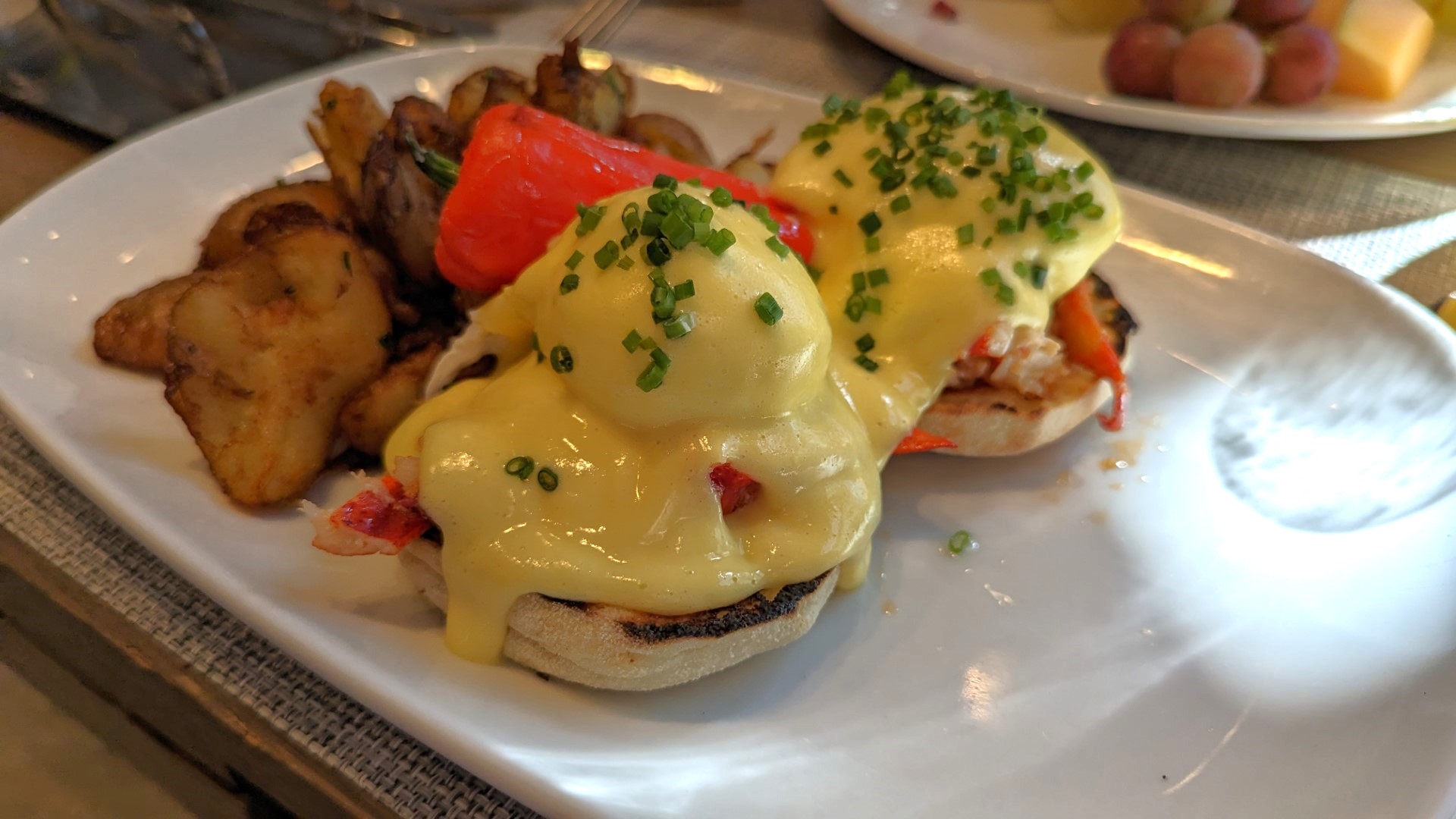 I have to mention is how lovely the staff are here. Each one went out of their way to answer our questions and the meals we had here were fantastic! The breakfast buffet at Prestons looked like quite the spread but one of my friends and I opted to order from the a-la carte menu (after our meditation session) and the fruit platter was so fresh and my eggs benny, made to perfection. The pastry chef here did an amazing job on our welcome platter too, which was quite the lovely surprise!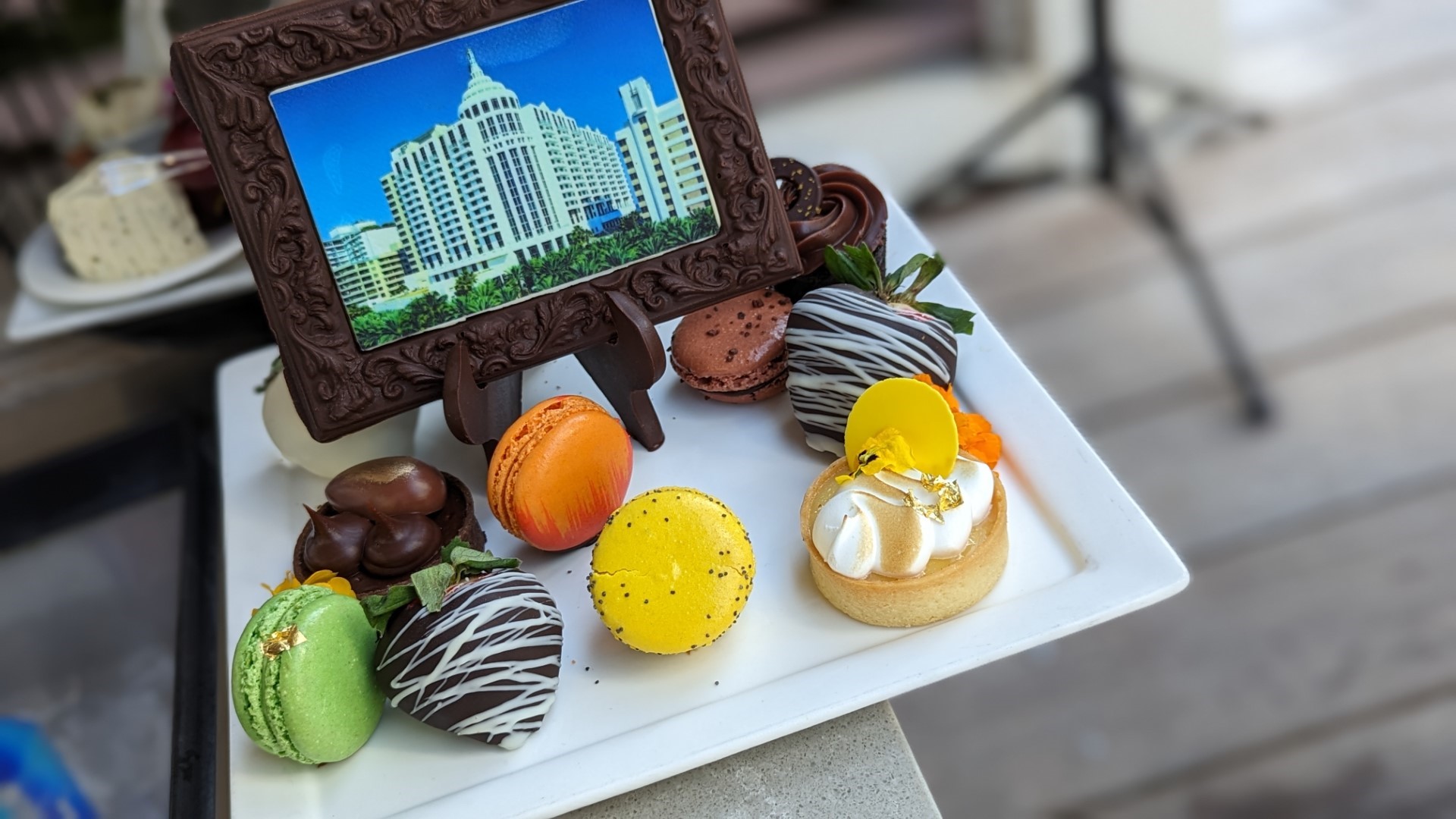 One tip I have here in regards to room service is to be prepared for a bit of a wait. We got everything from fans, a room fridge, stemware and a shaver at various points of our stay but it took anywhere from 45 minutes to 2 hours to get the goods. They will arrive, but may take some time as the property has 790 guestrooms and can be busy with demanding guests such as us! I will also mention that if you are sharing a room with a snorer (sorry friends – it's me!), the box fans they have here are amazing at drowning the noise and helps ensure that everyone gets a good night's rest.
If you're looking to be right by the action and within walking distace to the South Beach night life, there's no going wrong with this SOBE hotel. We even ended each night with a quick walk by the beach via the private and guarded entrance from the hotel. Pure bliss.
Best Coral Gables Hotel for a Girls Weekend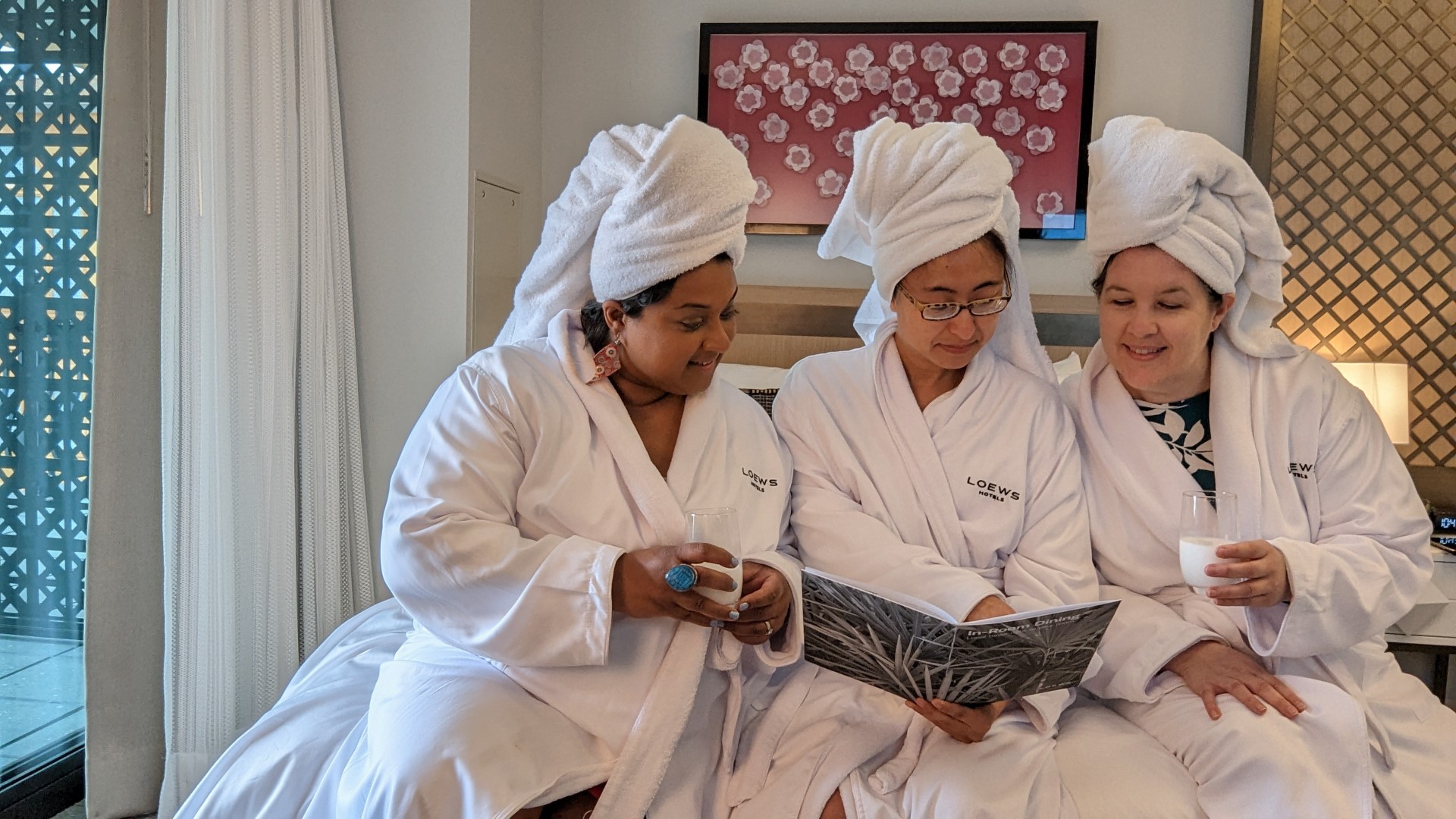 If you're looking for a secluded and relaxing girls getaway in Miami, then the newly opened Loews Coral Gables is where you may want to stay at for a luxury girls getaway. This Miami hotel is about 20 minutes away from the South Beach action (we spent about $25 on Uber rides each way) but it's within walking distance to Miracle Mile and the tree-lined avenues named after Spanish and Italian towns. I loved the Mediterranean vibe here because the plazas, fountains and buildings all paid homage to Mediterranean architecture.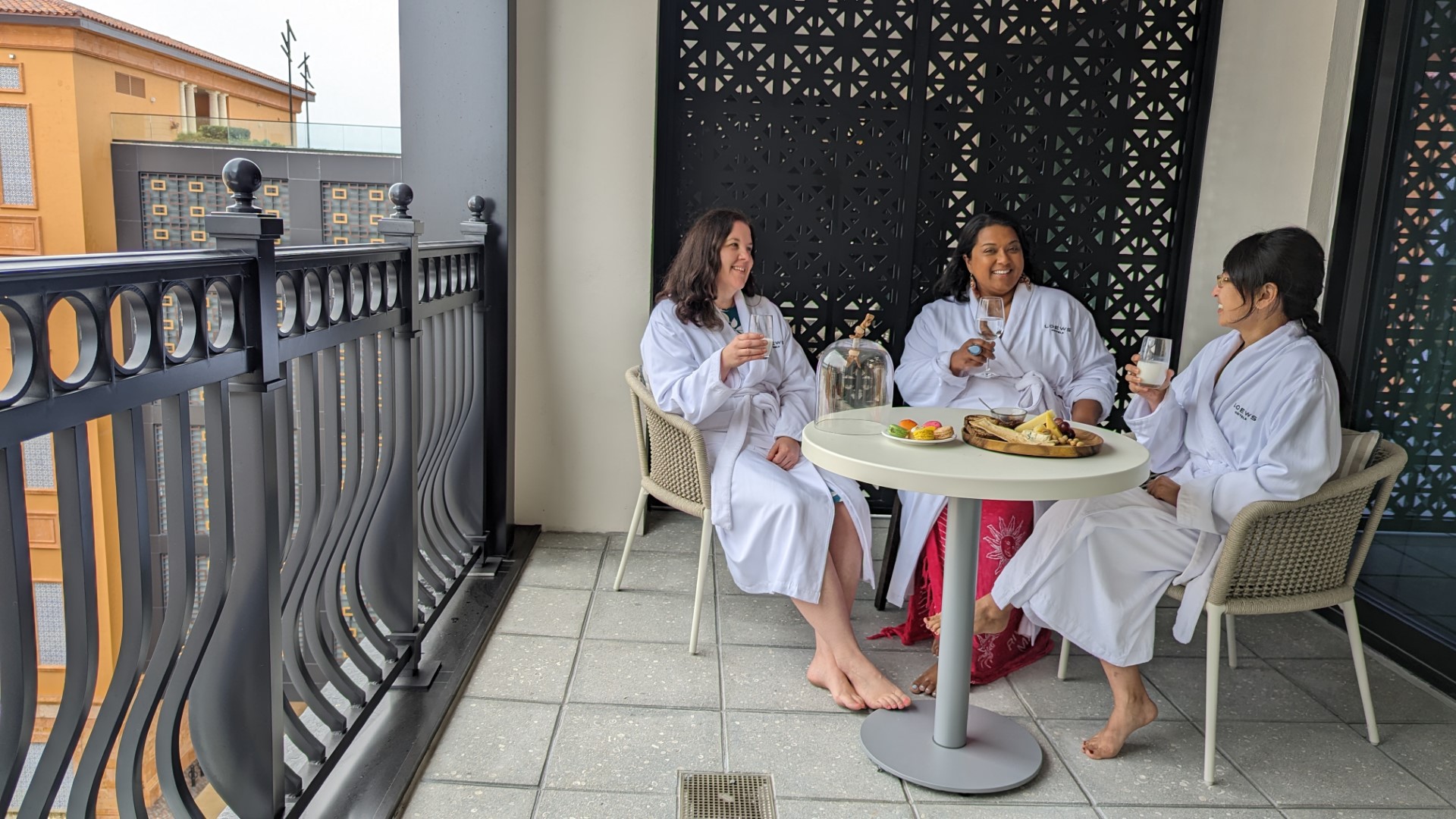 Loews Coral Gables has 242 rooms and we loved the balacony here because it had a table which allowed us to have a fun photoshoot (we took our own photos this time even though the hotel does offer the free photographer program here too). The rooms were very modern and we loved the design and aesthetics here.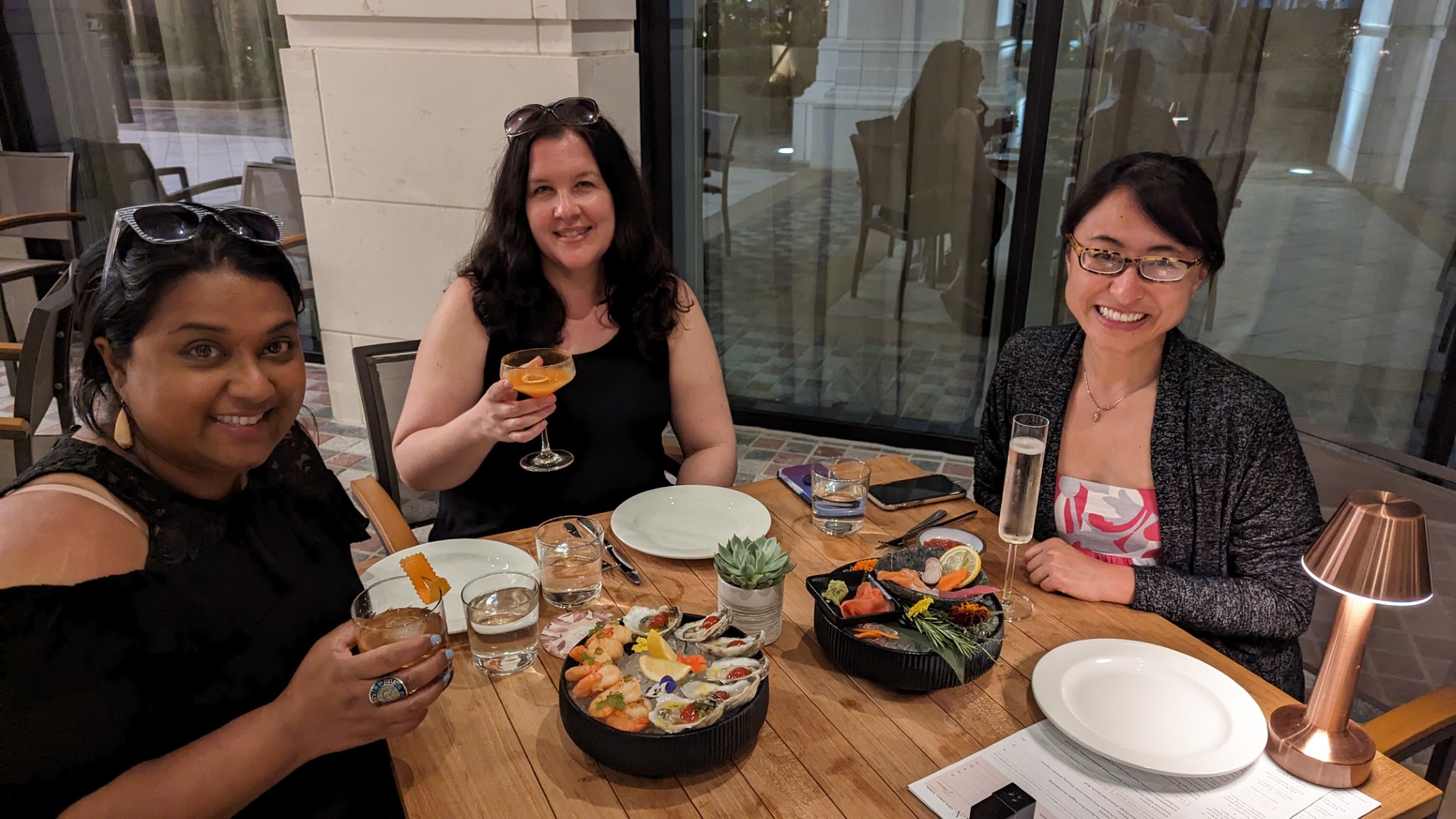 There is a spa onsite but we unfortunately did not have time to visit it but we did get to taste the incredible drinks and dishes at their Americana Kitchen. Chef Ricardo Jarquin has curated a fantastic menu which continues to evolve and if you don't dine here at least one, you're missing out. Sit in the courtyard or sadle up to the bar, either way you're in for a good time. Order the lamb chops if it's on the menu and know that all the cocktails are well made here.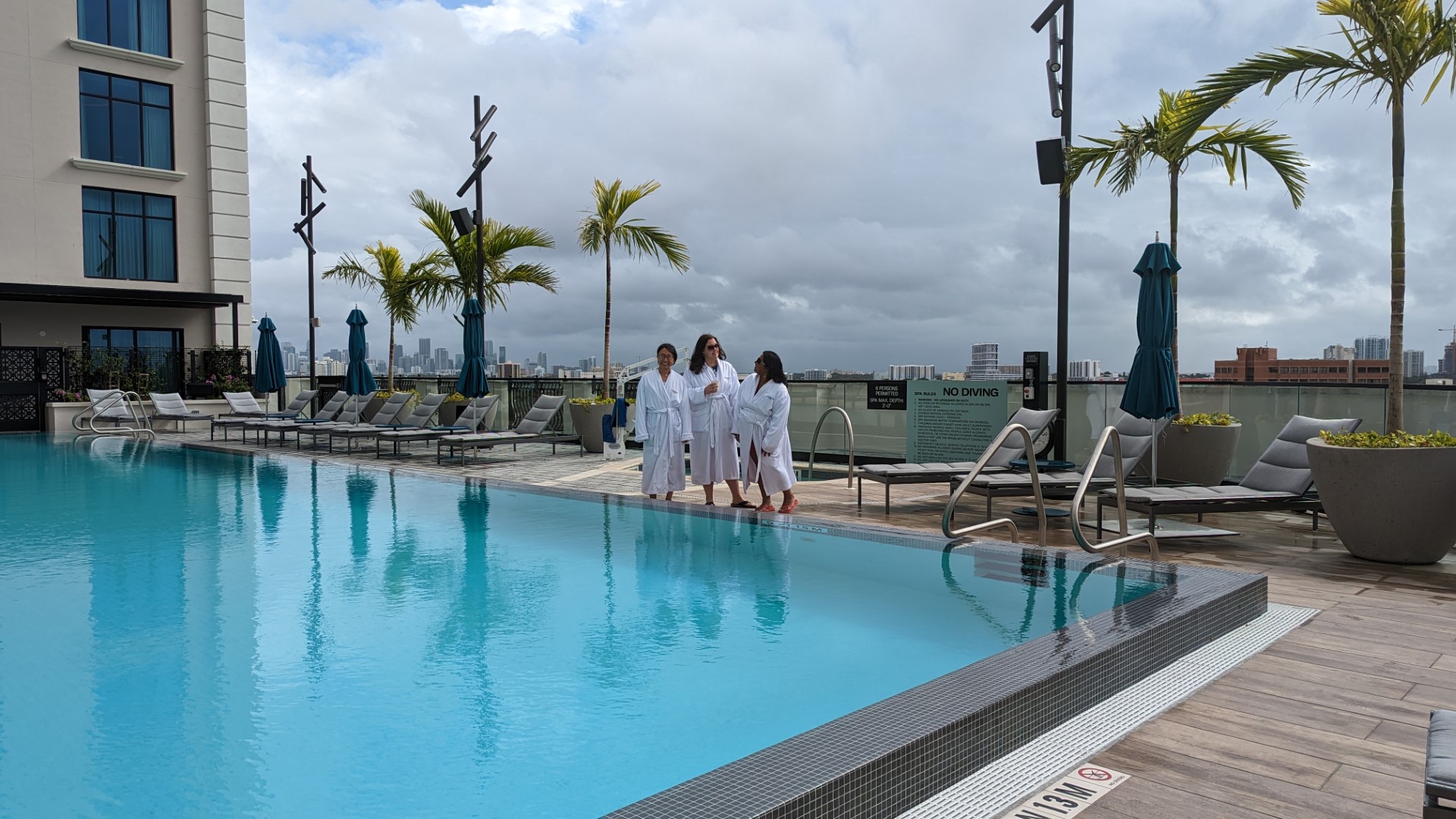 During our visit the hotel was busy but we still had the pool all to ourselves when we visited one afternoon (as soon as the rain stopped). The hot tub and pool were relaxing and the Phineas bar staff were friendly. We also enjoyed the cabana life here but it was more of a laid back vibe here compared to the high energy at the Loews Miami Beach. If you want to relax, read and enjoy some peace and quiet, Loews Coral Gables is the best option for you.
Remember that snoring problem? Well this new hotel doesn't have any fans on offer (they do have Dyson heaters though) so you will have to use your own white noise machine.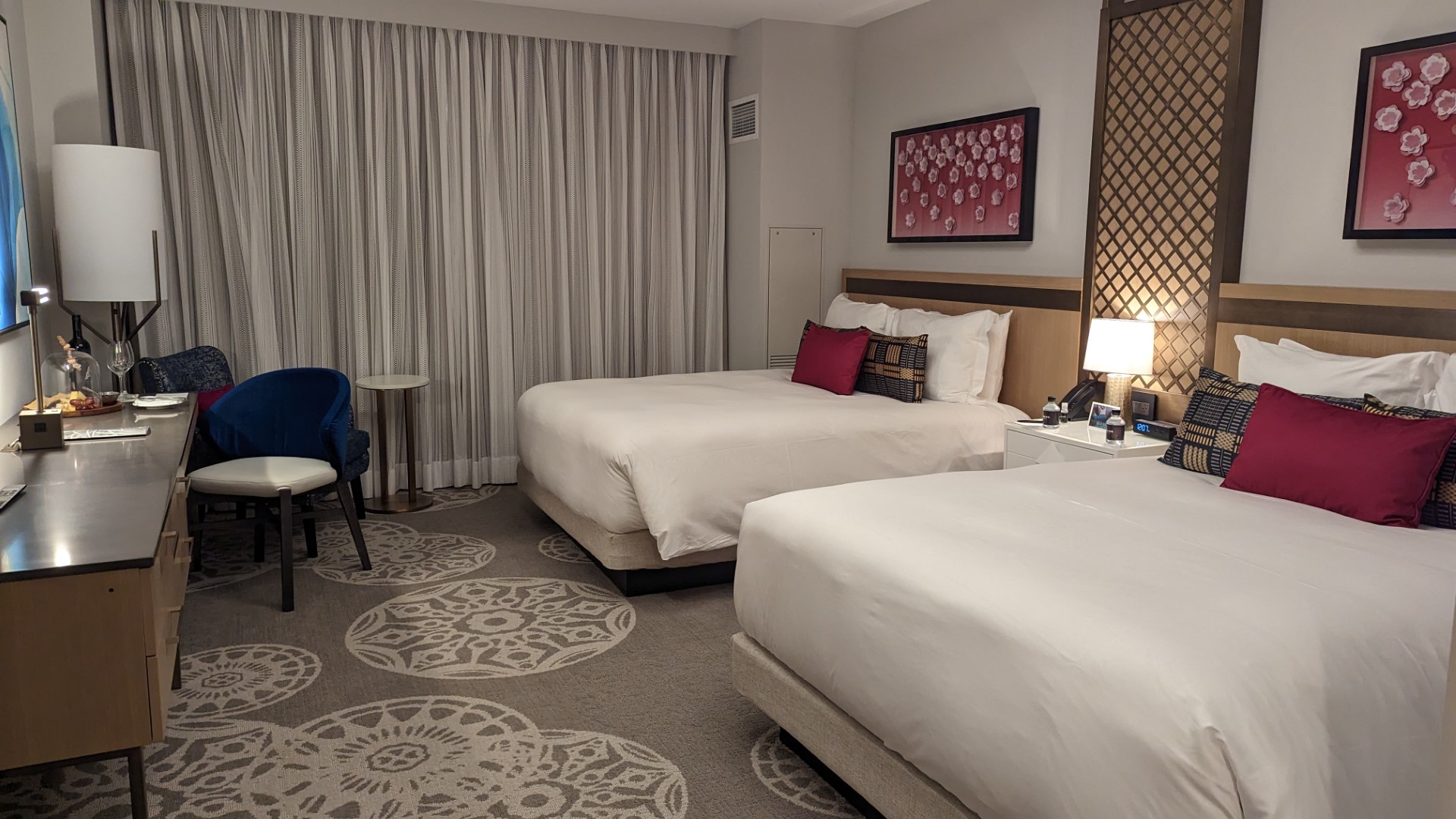 If you're looking for things to do in Coral Gables, this website has all the ideas! I was sad that the Ventian pool was closed during our visit because it would have been so fun to lounge there one afternoon.
Fun Things to do in Miami | Girls Weekend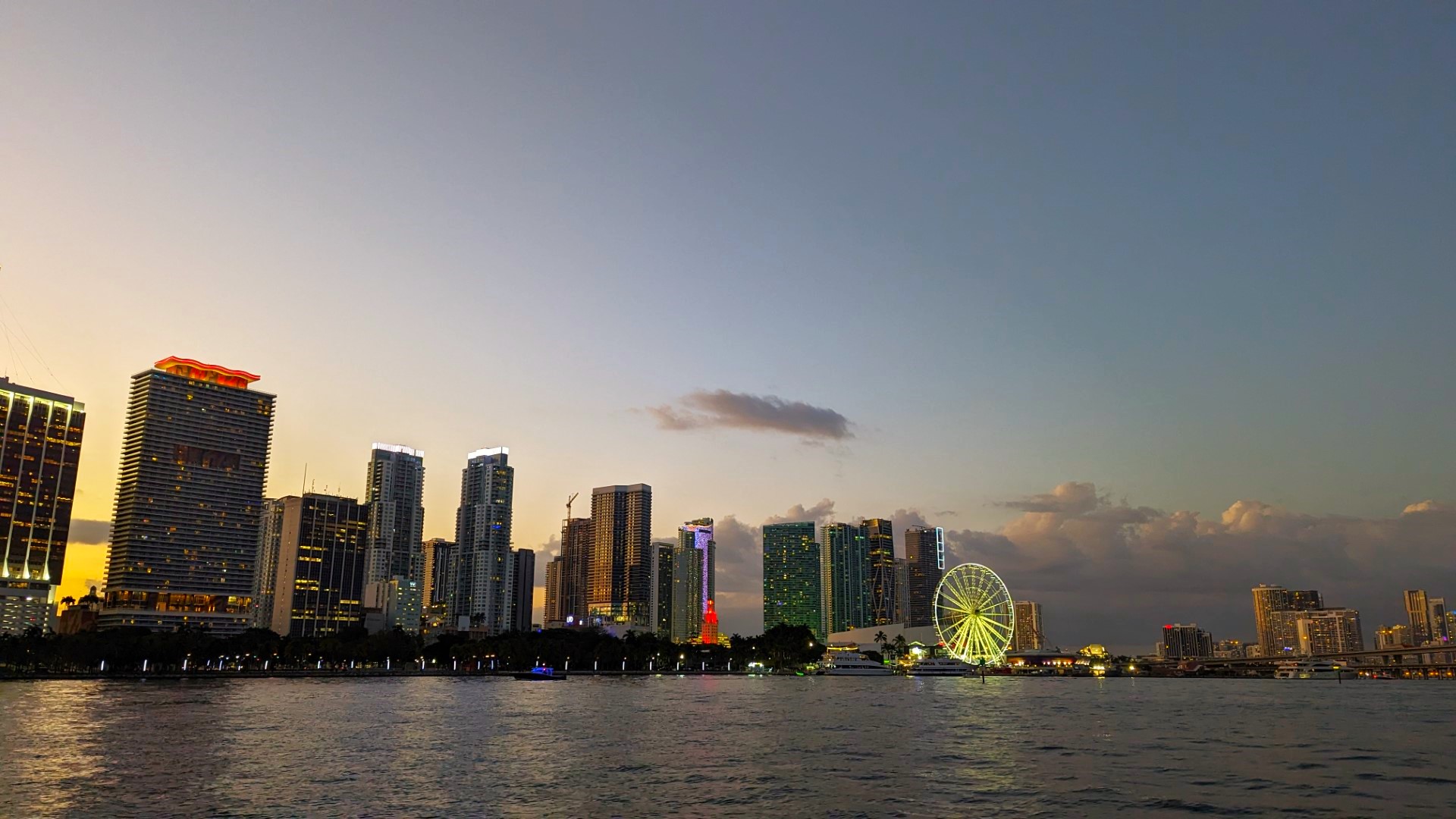 As you plan your Miami girls trip, know that it might be hard to narrow down the options because there's so many things to do in Miami on a girls getaway. Whether you're looking to dance the night away, soak in the culture or shop to your heart's content – you can do it all in style here! We were looking for a balance on our three night Miami vacation and so we snuck in some culture, a good dose of drinks and some fun activities to keep us entertained yet not over scheduled. We were here to relax, away from the daily tasks and commitments, after all.
Salsa Lesson Dancing and Show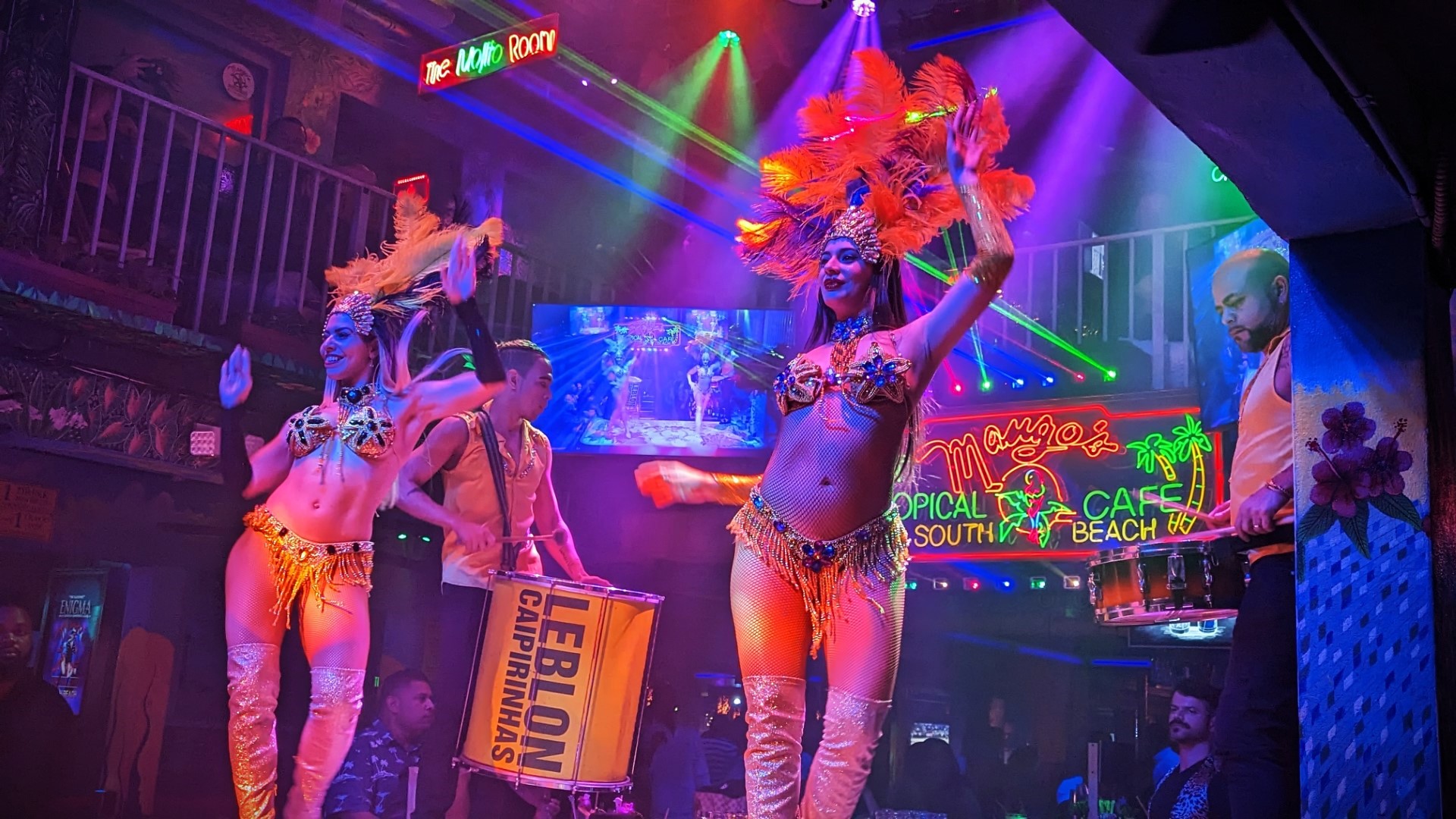 This was by far one of the funnest things we had done in a while. I was skeptical at first when my friend said she wanted to try a salsa lesson and I had read a few Mango's Tropical Cafe South Beach reviews that said it was very cliched. Well, I'm here to tell you that if there's one cliched thing you're going to do, it should be an evening at Mangos and a Salsa Mia Sip & Salsa lesson!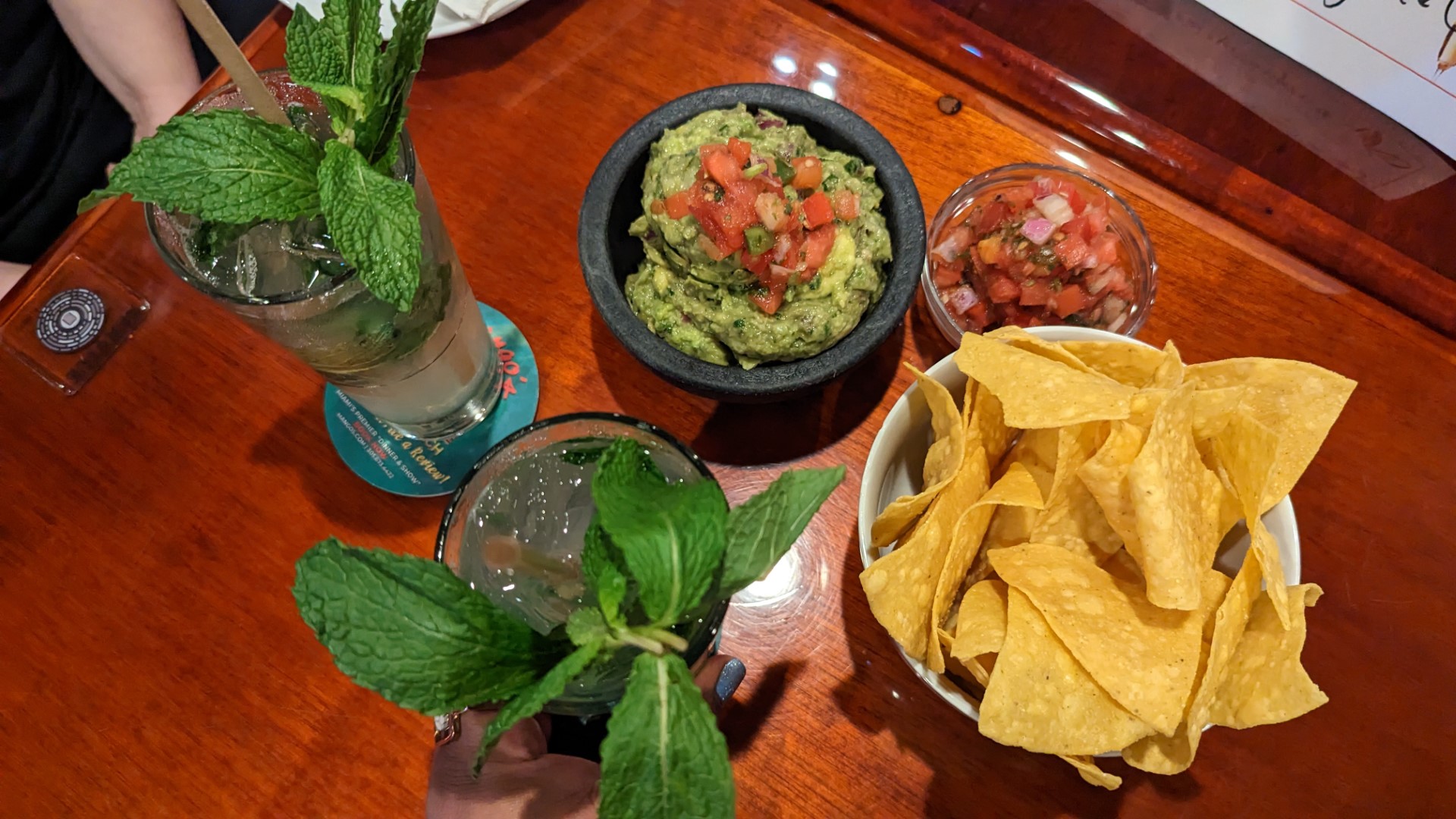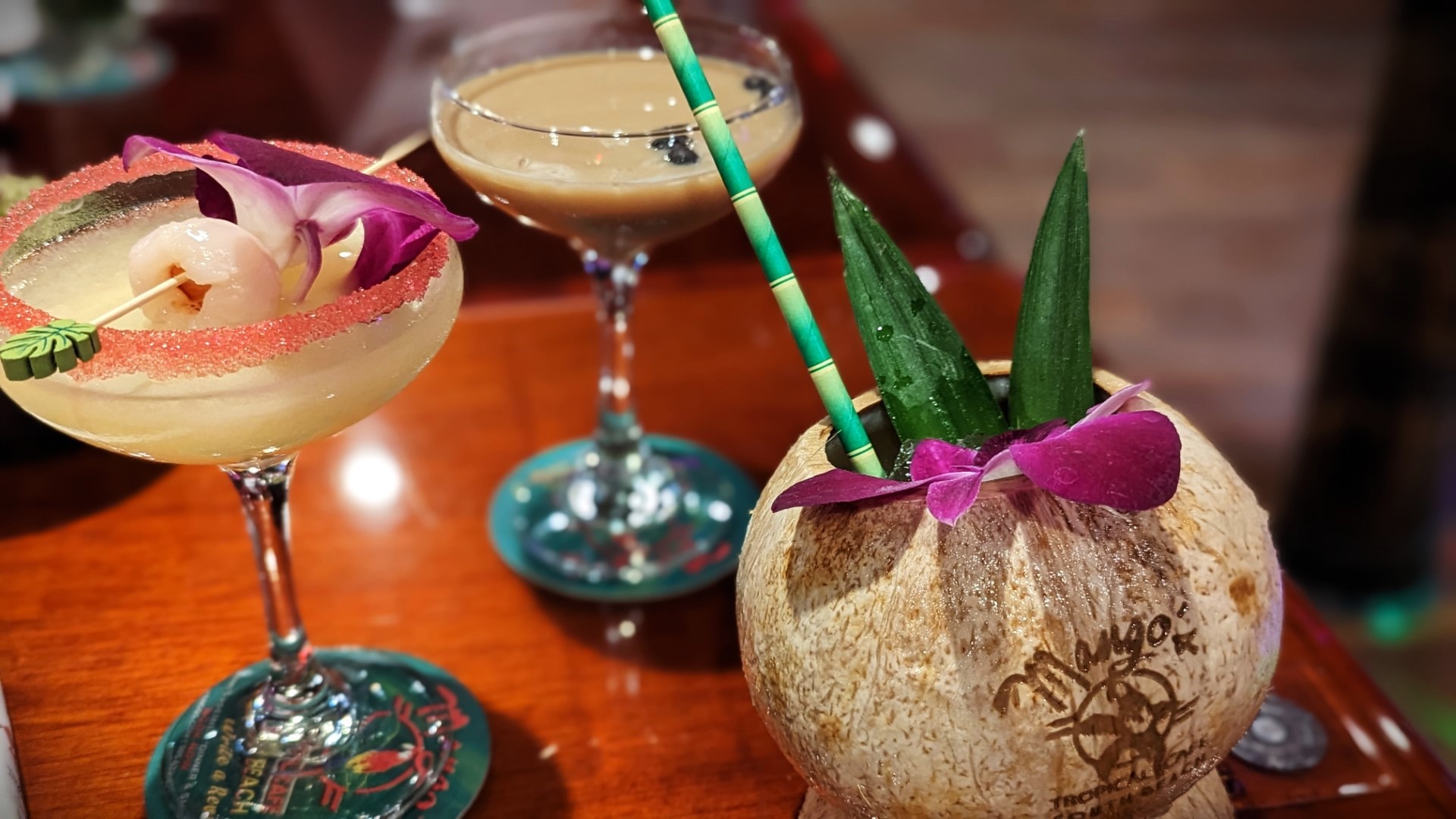 Upon arrival we were welcomed with a quick introduction and we soon realized that we'd be dancing with everyone over the course of the next three hours. While we waited for things to start, we ordered drinks and some nachos from the a la carte menu to loosen us a bit for the dance floor. The drinks here are on theme and have all the thrills and frills… including glow in the dark, coconuts and even smoky bubbles!
It doesn't matter if you're visiting solo or as a couple, you'll always have a dance partner. Our instructors were engaging and ensured that we had fun and learned how to salsa and bachata over the course of the evening. We enjoyed a Mojito and some buffet style snacks in between which was included in the ticket price but I definitely encourage you to try more drinks off their menu because they're fun!
After the lesson we continued dancing through the many rooms at Mango's Tropical and made a full night of it. If you're skeptical and don't want to take a salsa lesson (seriously do it!!!), then there's also a dinner and show option available where you can watch the dancers on stage and enjoy a 3 course meal. We caught a bit of the perfomance (there were a variety of performers) and enjoyed it thoroughly as we continued to sip on the fun Miami cocktails. If you're looking for a good time, it can be had here. At the end of the night we ventured towards the R&B/Hip Hop room and made some friends along the way but we were too old to stay out until 5 a.m. so we made our way back to our hotel close to 1 a.m. (yes we still enjoyed a beach walk that night before bed).
Enjoy a Miami Cruise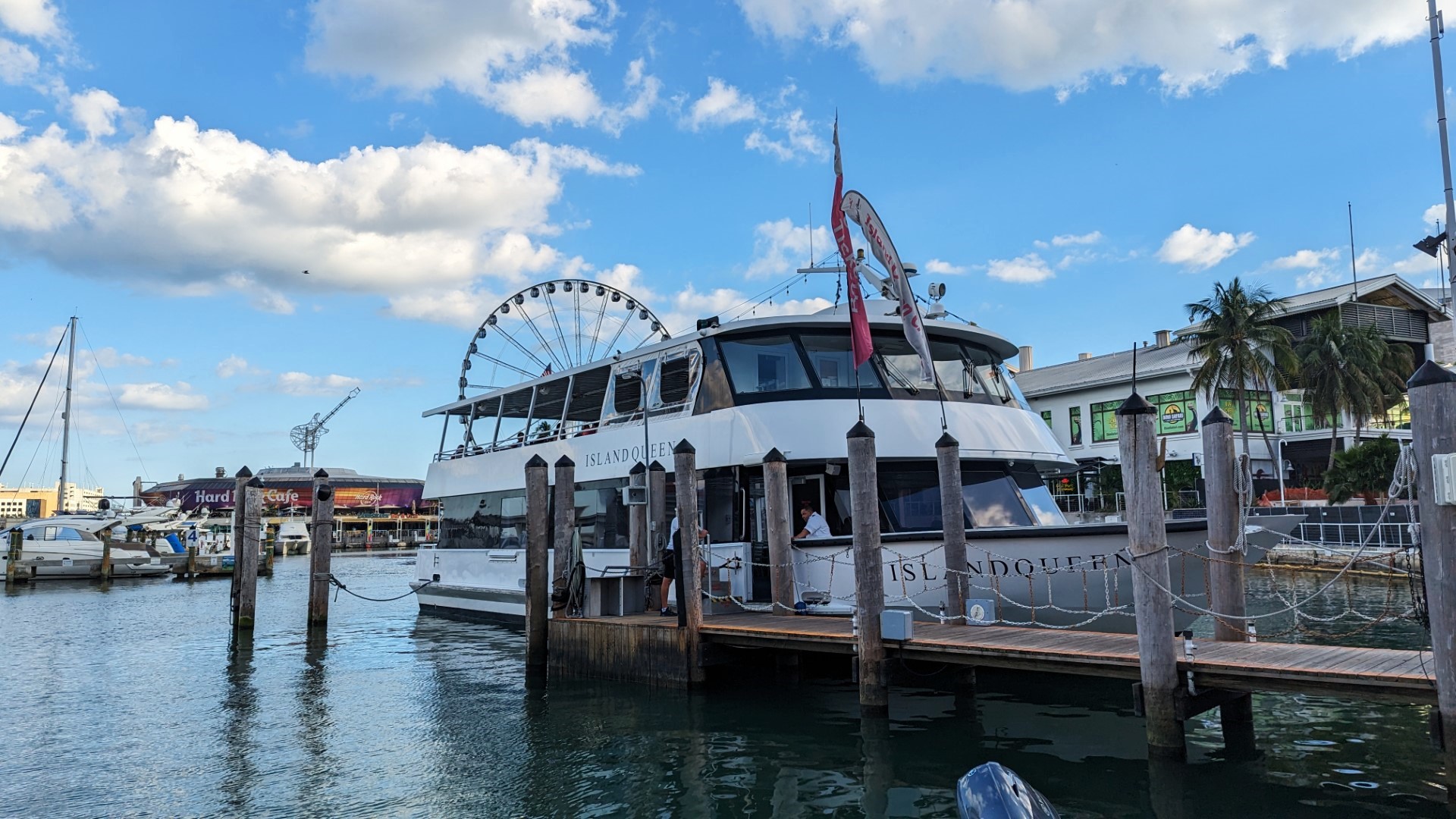 If you're visiting Miami, you must get on the water. There are many cuise and yatch companies that offer various day and private tours but we decided to do the BigBus hop on hop off Miami bus tour and it came with a Millionaires Row sunset cruise. This was the perfect way to wind down a beautiful sunny day in Miami. Over the course of 90 minutes we learned about the famous folks who live nearby and the history of the area.
The narration during the Island Queen tour was fantastic and definitely more informative than the BigBus tour. We may have seen P Diddy hanging out in his outdoor area but we're not really sure! You just never know who might be lounging around their holiday home!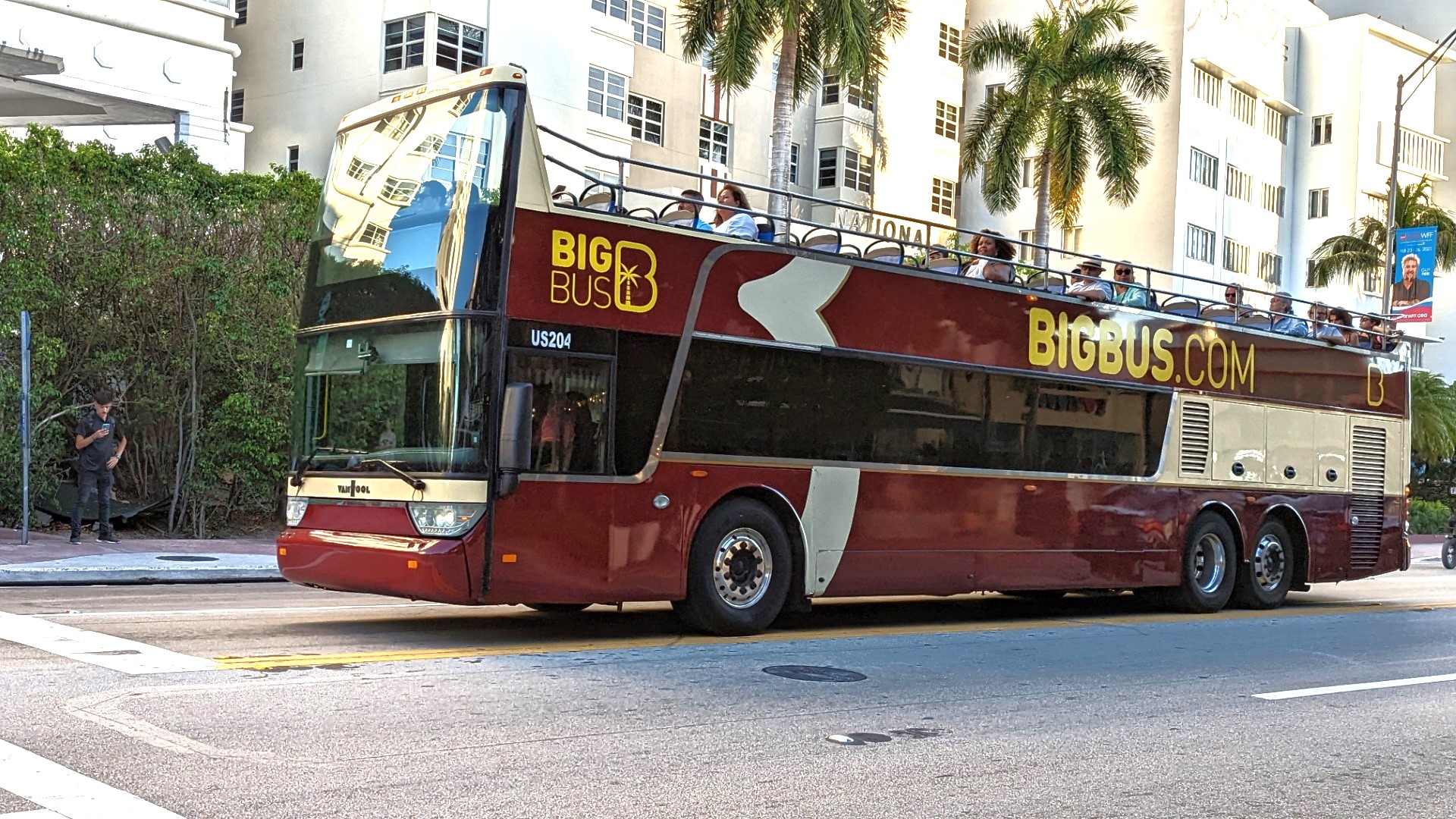 We didn't have time for the Everglades tour so the Premium ticket was sufficient for us as it included the hop on hop off bus (which we used to get around to various neighbourhoods – saving additional uber expenses) and the Millionaires Row cruise. They also have stand alone options and a deluxe package that includes the famous Everglades tour as well. Definitely spend some time on the water at sunset because those Miami sunsets can be quite magical.
Have fun in Little Havana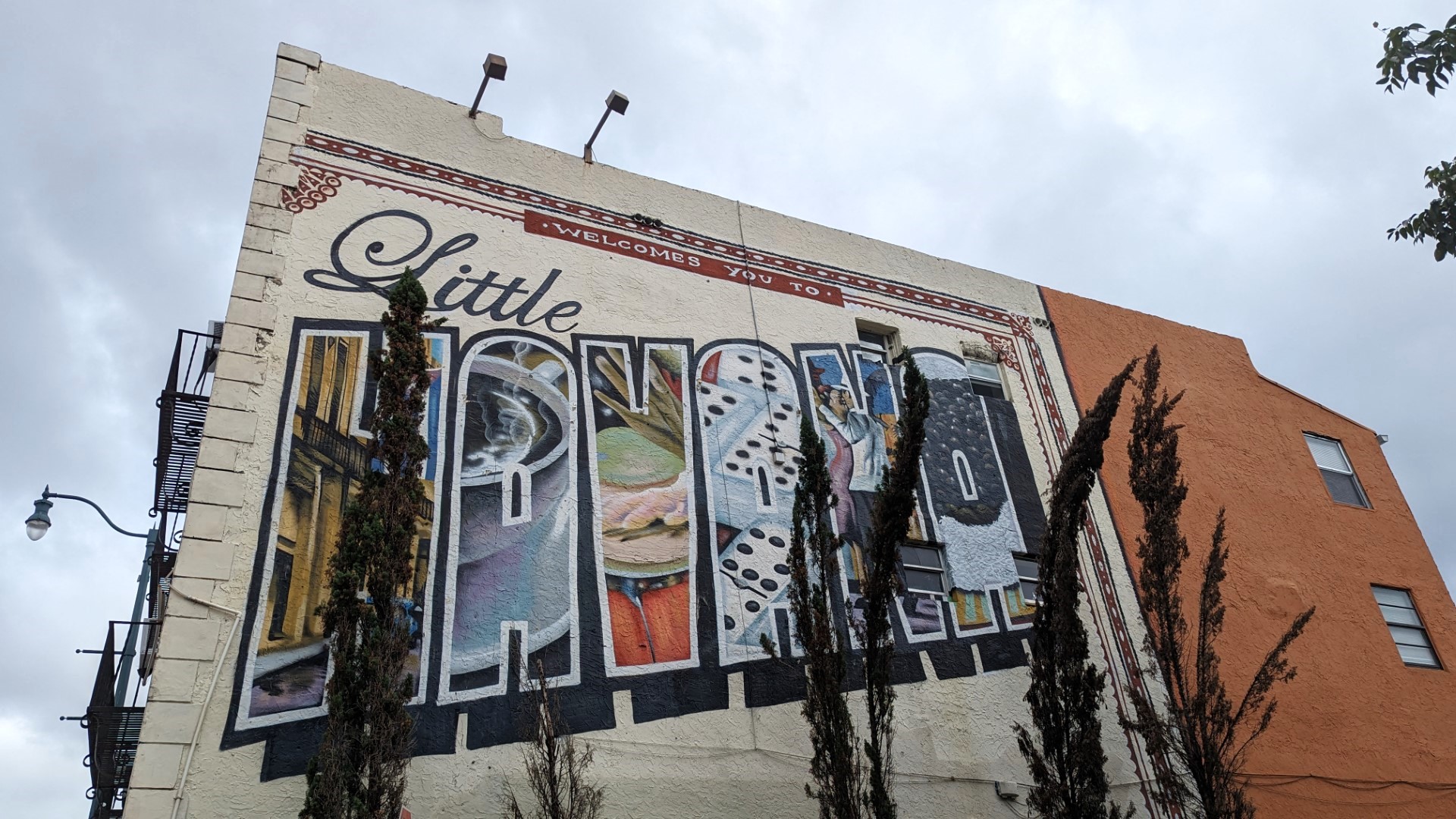 I didn't realize how much fun we'd have in Little Havana. Originally I thought we'd spend an hour or two here but once we got there on a Saturday in February, we soon realized that we were there for the entire day. There are cute cafes and restaurants along Calle Ocho that have live muscial performances and since we'd already had our salsa lessons a few nights ago, we totally joined in the dancing. People walking the street will pop into various bars and restaurants and enjoy a couple dances before moving on. It's totally a vibe and totally acceptable.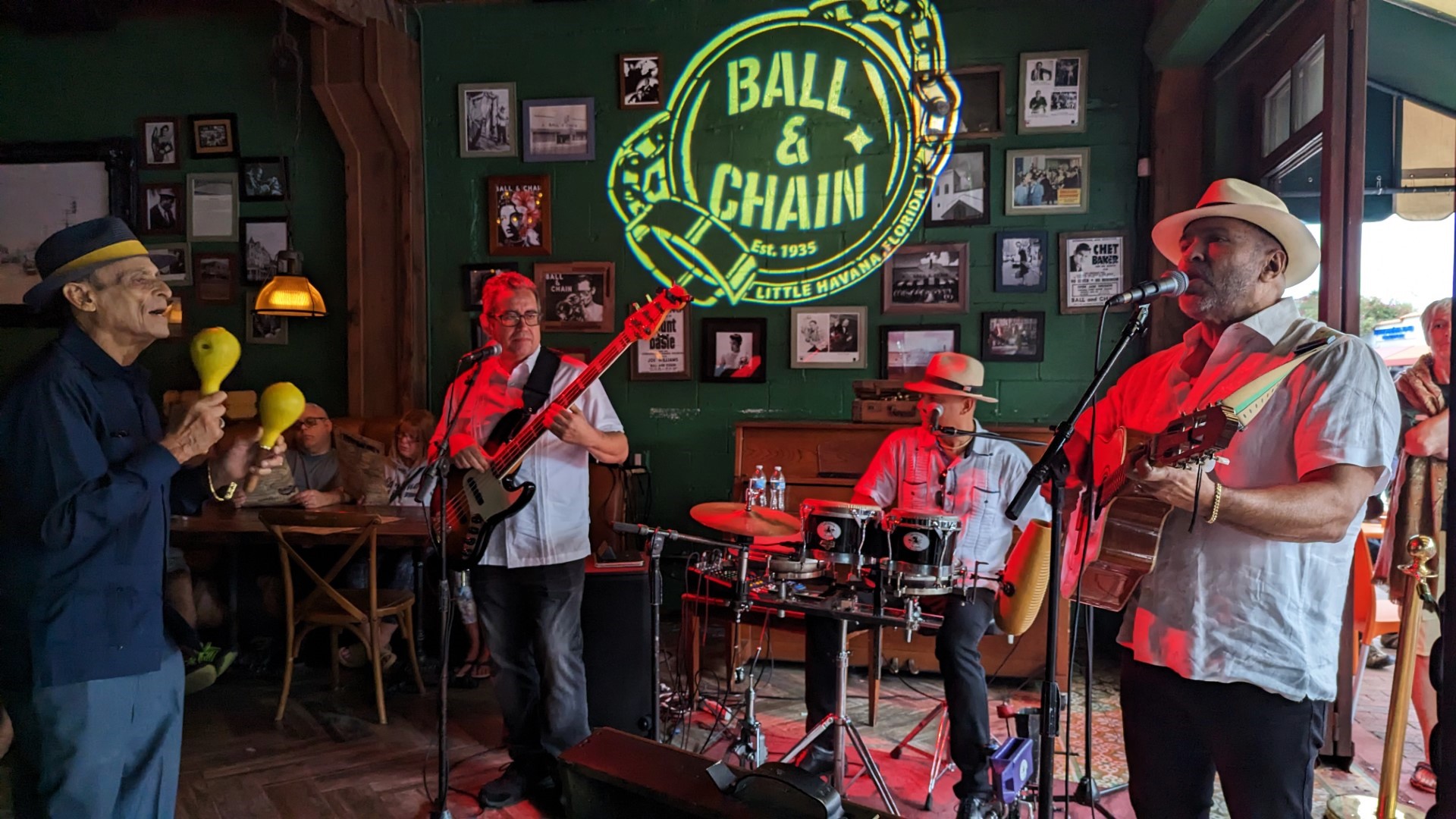 Your time here will be spent sipping Cuban coffee, drinking fun cocktails and taking bites of dishes like Guayaba pastries (guava pastries) from Versailles, drinks at Ball and Chain, happy hour drinks at 80s themed Cafe La Trova, Pastilitos and Azucar ice cream. Pop into a cigar store and see the folks rolling and be sure to visit the various art and trinket stores as well.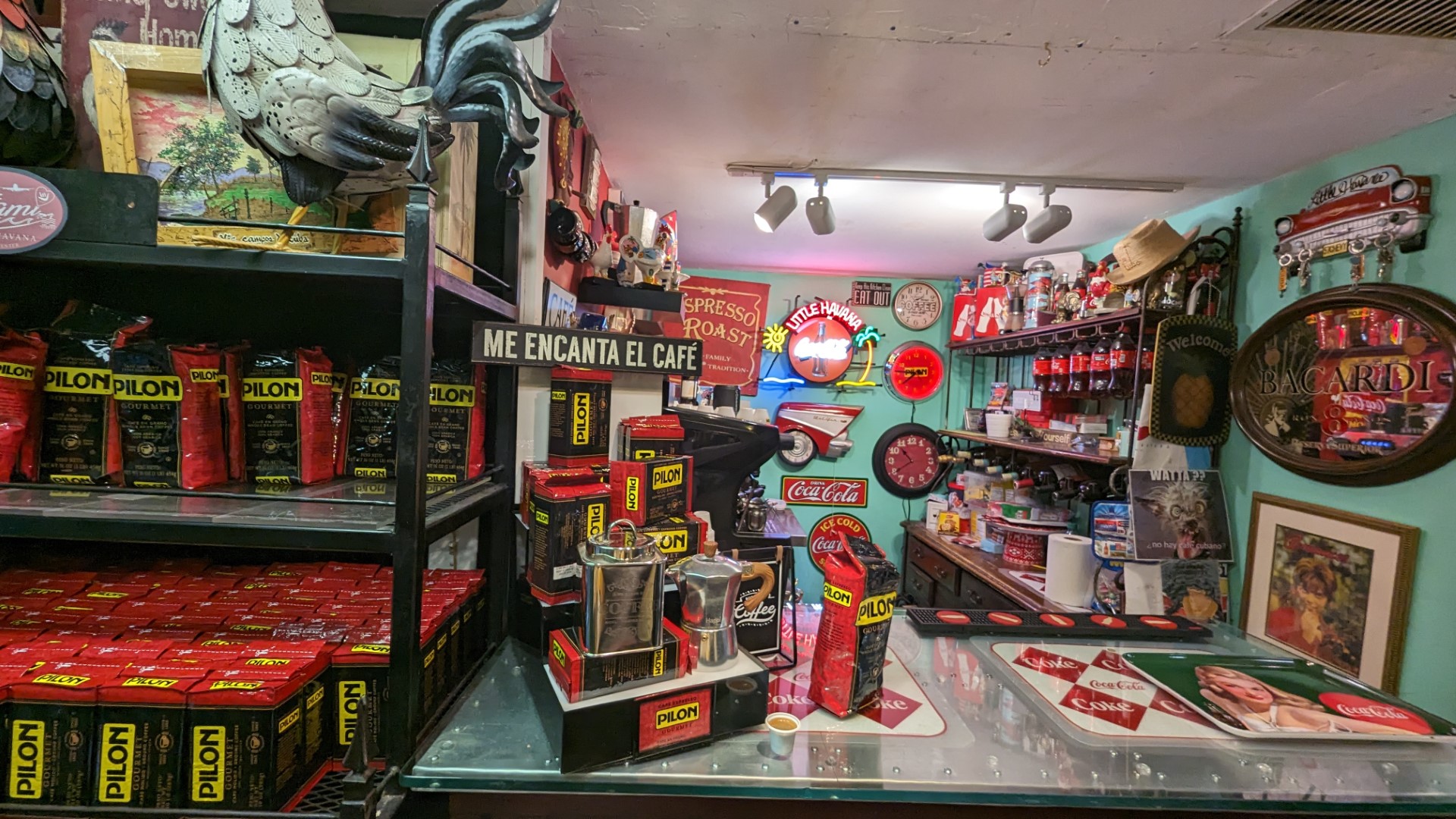 Here's a tip, when you're near Calle Ocho and 16th street, keep an eye out for a store selling souvenirs (it doubles as a Visitors centre from what I recall and there's a fancy hat store attached to it as well), walk all the way to the back and sample some Cuban coffee at no cost!
Oh and be sure to buy some gifts at Exuisito Chocolates because they have fun flavours that were fabulous (they will let you sample stuff too). Their chocolate is hand-crafted and made in store and they only use ethically sourced cacao beans which they roast and grind themselves. A true art and passion.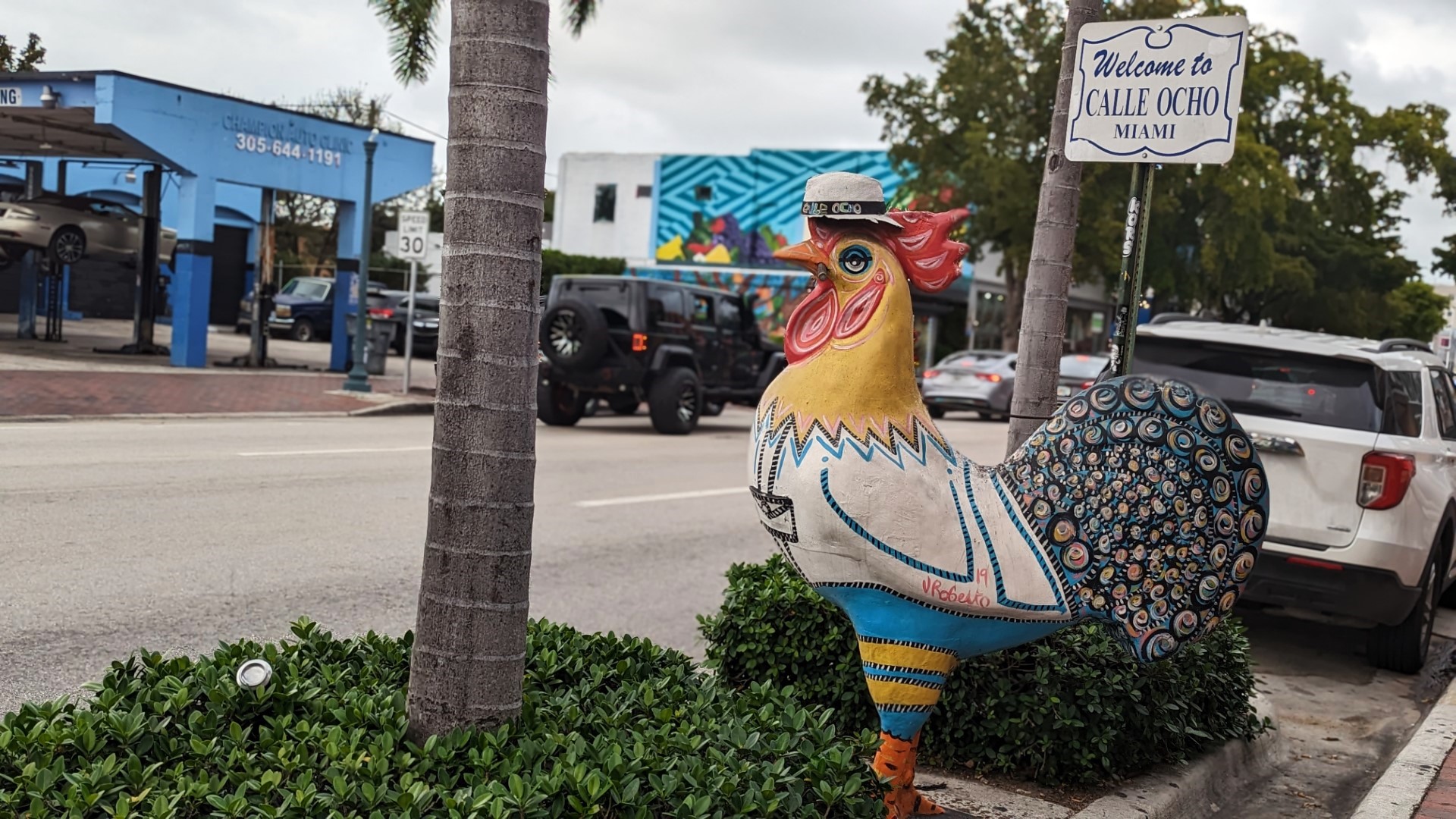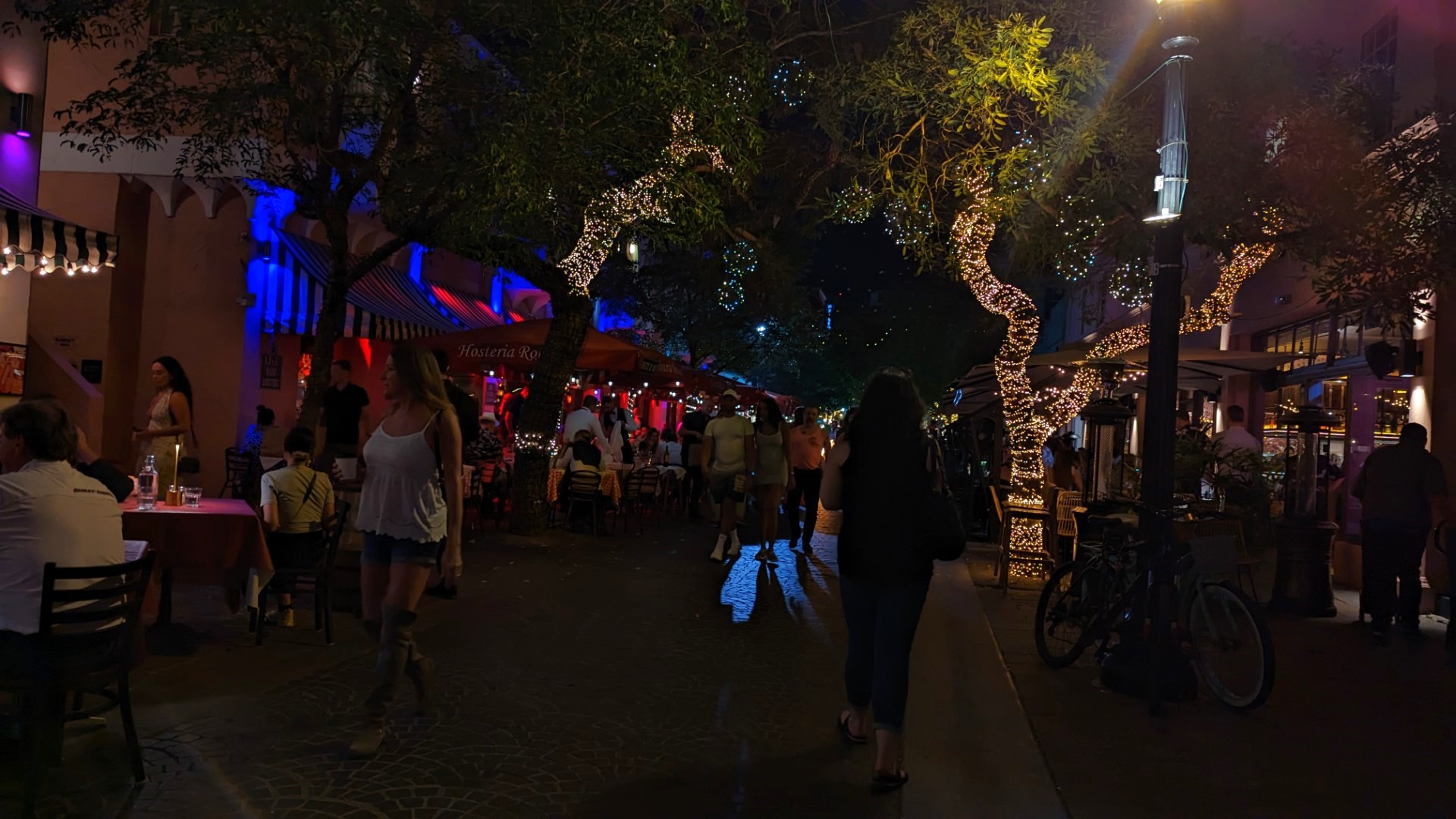 Give yourself an afternoon to explore this area and keep your evening flexible so that you can hang around for longer if you wish to do so. That's what we did and I'm grateful for that. If you want to dine at some of the great looking restaurants on Espanola way (it doesn't look like the set of Encanto – much to my surprise and dismay), definitely make reservations because they all looked busy when we walked by. One day I hope to return and bring Chris along with me because I know he'd be a fan of the vibe in the Little Havana area.
Go in search of Manatees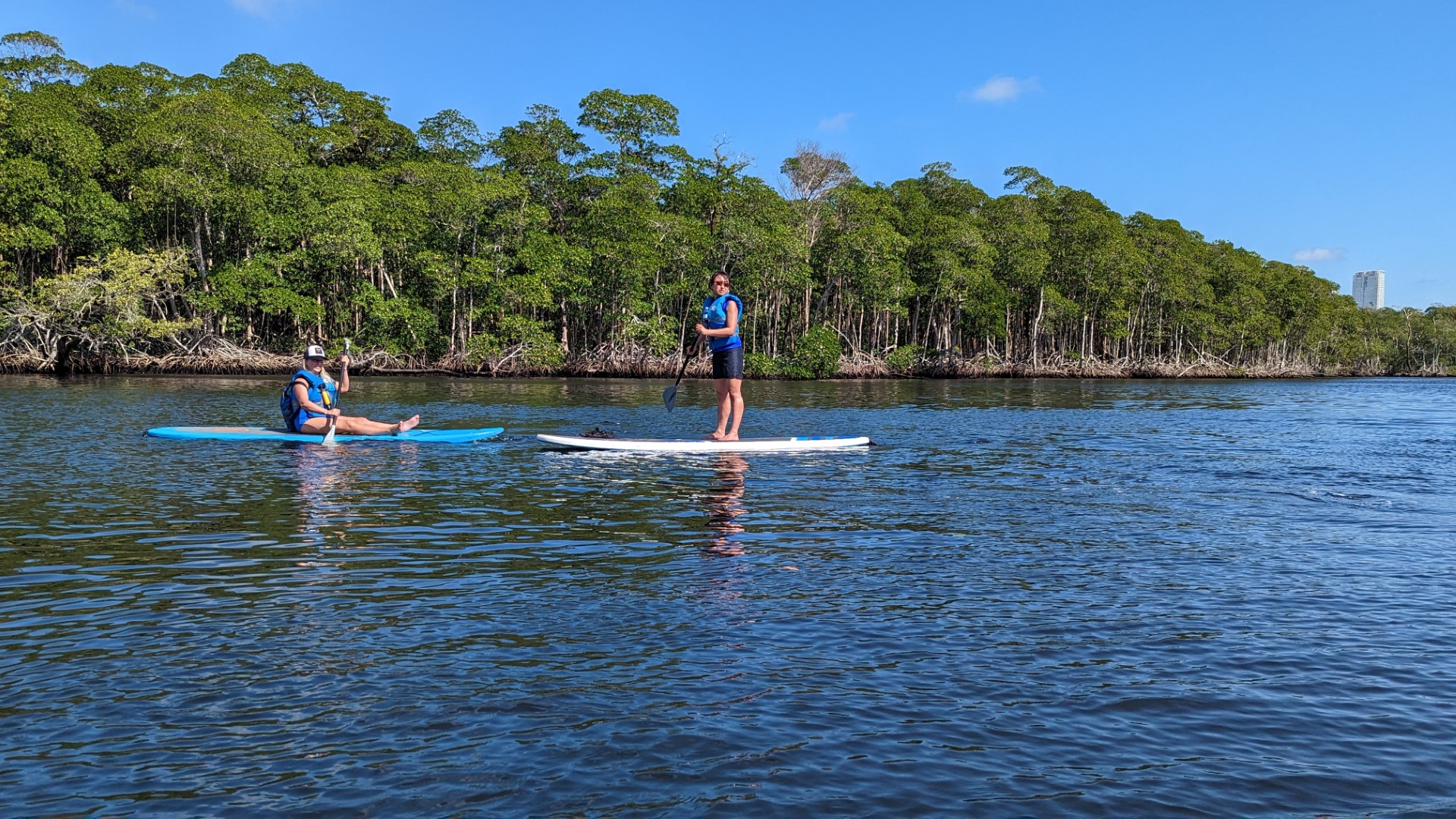 When we saw a picture of a person on a SUP with a manatee next to them we were smitten and knew that we HAD to try this experience. Of course, no one can control mother nature and I'll tell you right now that I left very disappointed at not seeing any wildlife beyond birds. The tour company we used (So Flo Adventures) were great but they changed the location on us (giving us full freedom to cancel but stating that there was a possibility of spotting manatees as per usual) and while we enjoyed 2.5 hours on the water, we did not see anything beyond a few birds. It certainly was disappointing but one of the tour leaders mentioned that he'd been working there for 2 months and had seen manatees 5 times. So those are your odds. I know we always like to take a chance but know that going in.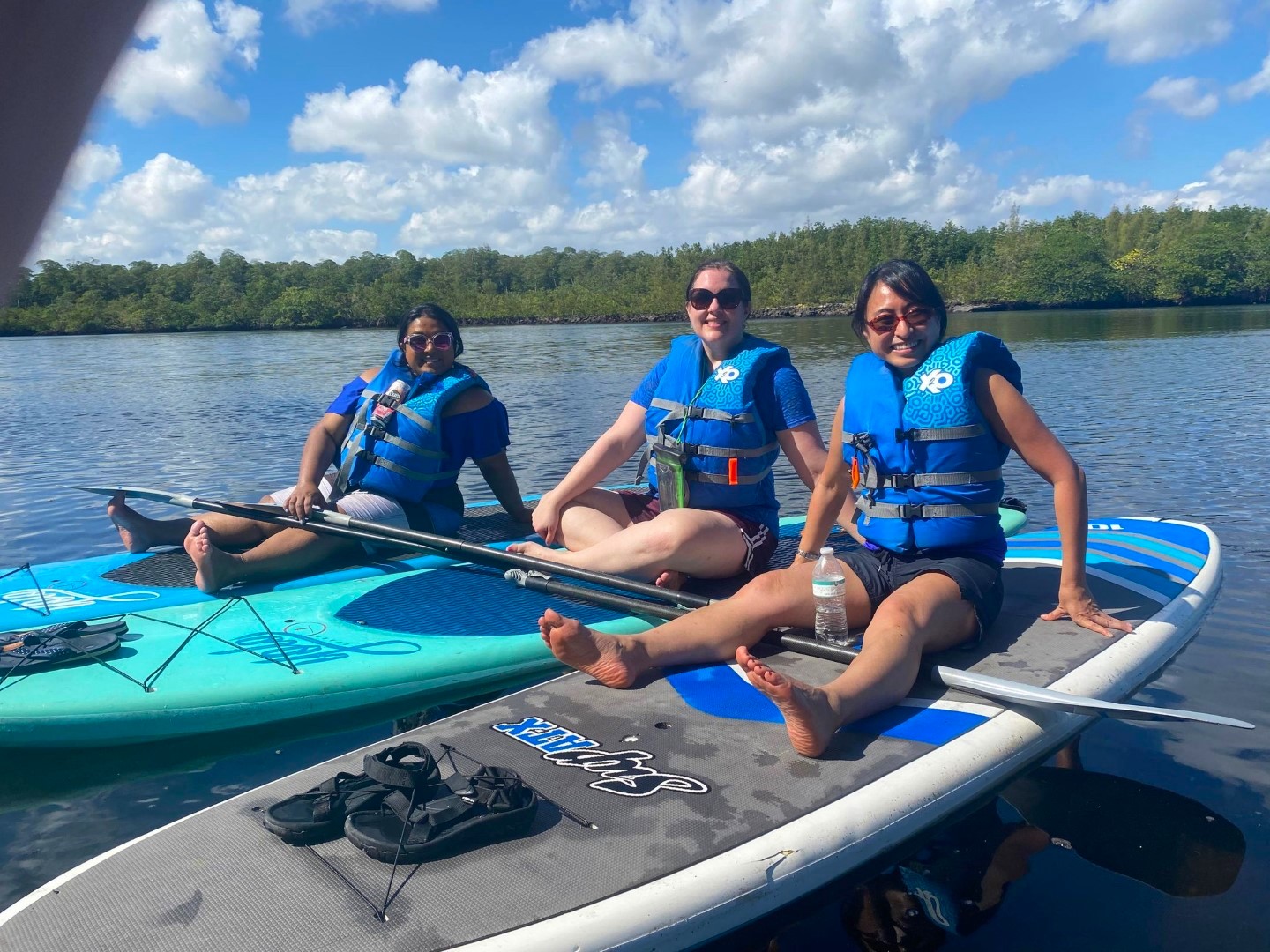 The tour itself was fun (but hard if you're not used to standing on a SUP for long) and I did sit for most of the tour but we got to relax in the mangroves and enjoy unlimited drinks (alcoholic and non alcoholic) as well as a fruit break. The guides were entertaining and happy to answer all our questions and the group of visitors on the tour were also fun, which made for a memorable afternoon despite the lack of manatees.
Take in the Street Art at Wynwood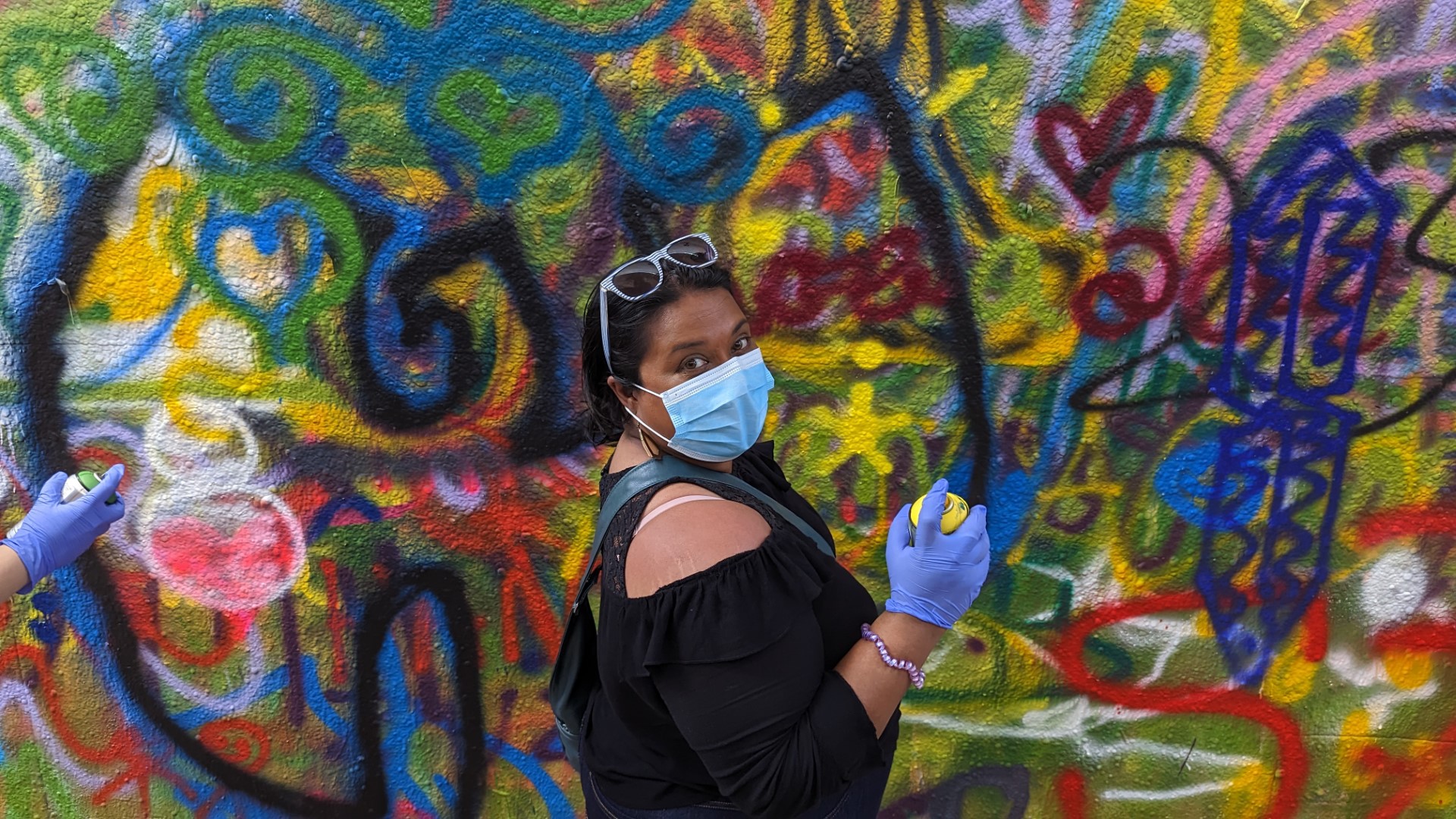 I was told that we'd love our time in Wynwood and would want to spend a few hours here and while that's true, I didn't need more than two hours in this neighbourhood on our Miaim girls trip. Wynwood is a mural filled district and you know how I love my street art! You can walk around popping into bakeries, breweries and restaurants here while taking in the street art but I highly recommend paying the $12 to visit Wynwood Walls. We even had a chance to see how good our spray painting technique was! I was told that this particular paint your own wall section isn't always open but it was when we visited and it was included in the ticket price.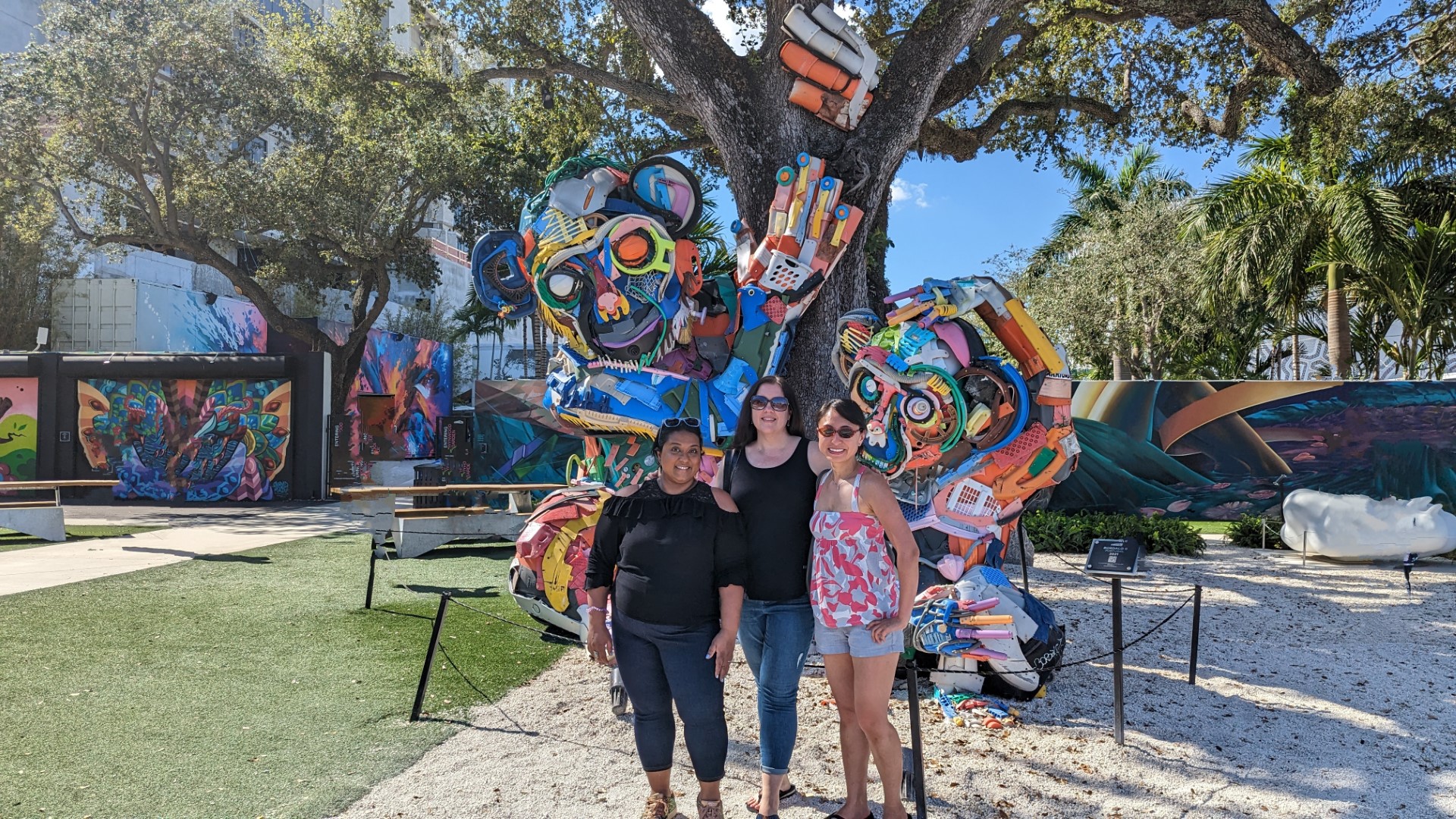 If you're looking to take some fun pictures, this would certainly be a great spot. We only spent two hours here but if you're looking for more things to do in Wynwood Miami, this site can help!
Explore South Beach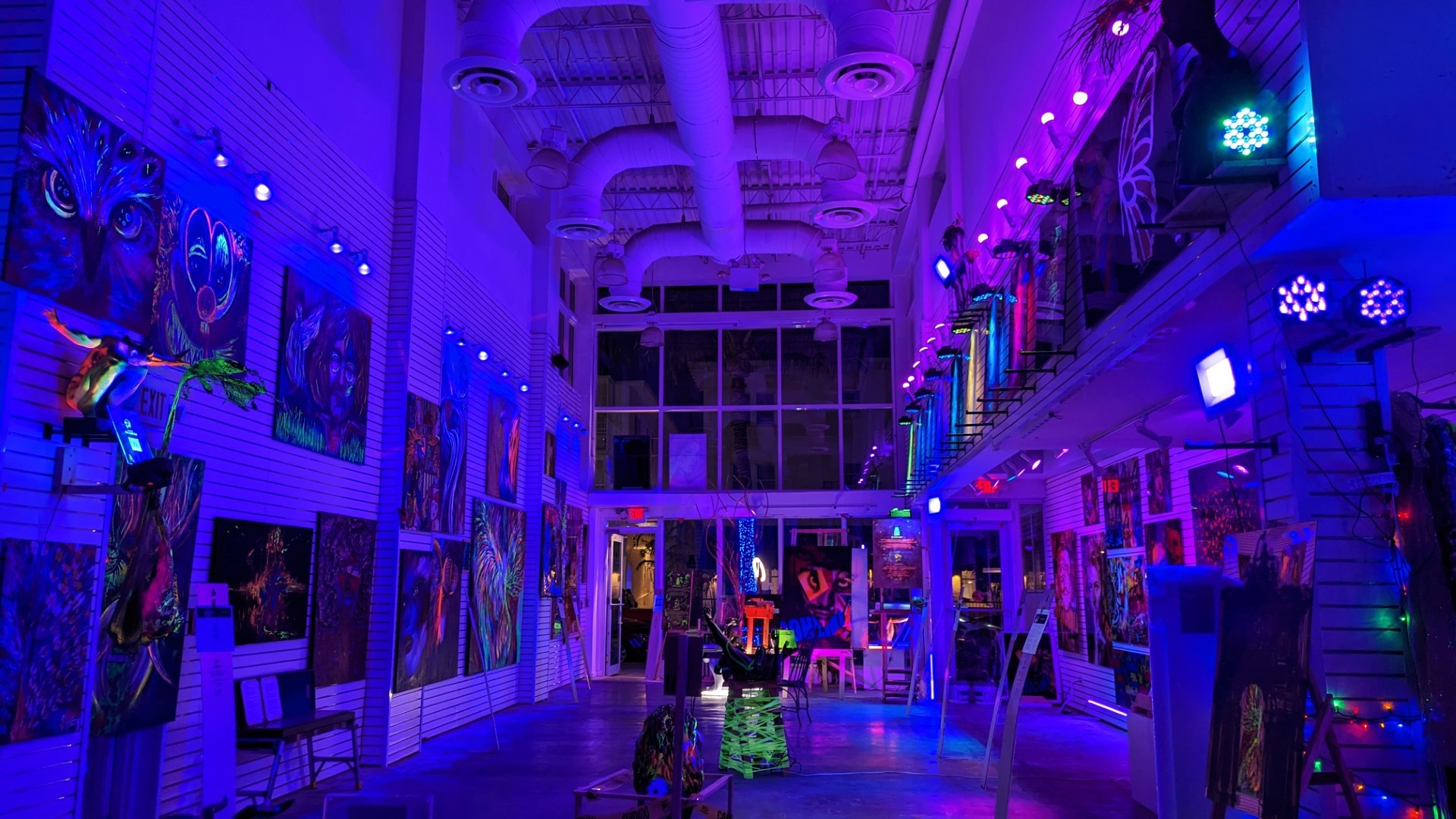 Miami has quite the energy and vibe so be sure to soak it all in by exploring the area on your Miami girls trip. We wandered around South Beach dropping into the various stores that run parrael to the beach and this is how I stumbled upon psychedilic artist, Roy Recanati's gallery. It was free to enter and a wonderful space to embrace the art and elements of unknown. I hear he provides art theraphy classes to kids – I wish we had someone like that here in Toronto because Akira would be into that!
The streets are lined with stores selling souvenirs (buying white linen outfits totally count as a souvenir!) and bakeries selling treats that make your stomache rumble the moment you sniff that sweet aroma. We had grand plans of hitting up Lincoln Road Mall for Happy Hour but we never did time our visits there properly. You'll also disover random bars by veering to side streets like we did with Kill Your Idol. This bar looked funky with the astornaut dangling off the ceiling that we had to step in to take a look before quickly realizing that it was ladies night (Thursday) and that all ladies received 3 free drink vouchers. Sadly our old bones couldn't handle more than one drink, despite the DJ spinning our favourite old school tunes, and so we passed on the vouchers to our younger selves at the bar and headed to bed at 11 p.m. that first night.
Take in Miami's Skyviews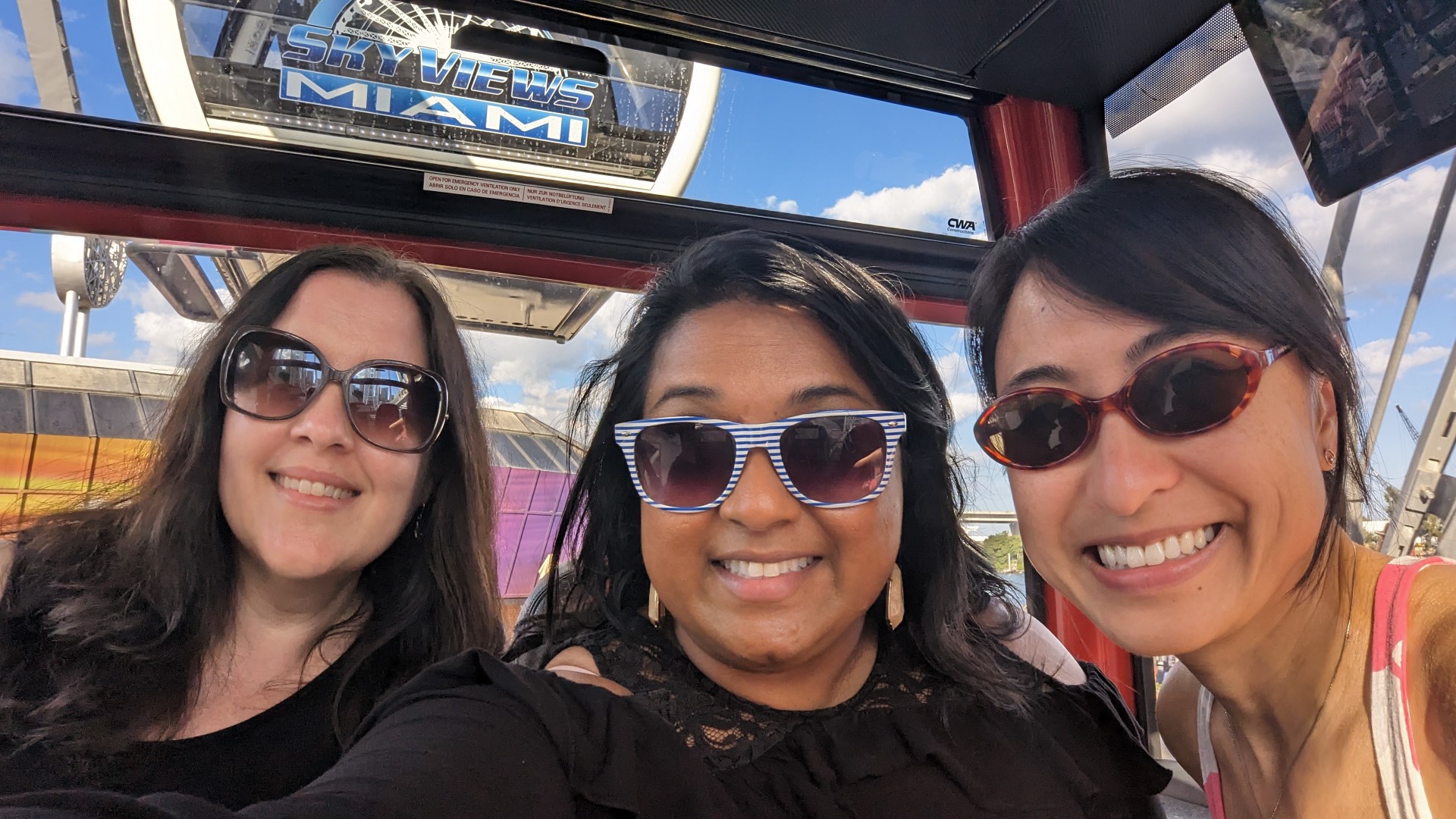 Take in the views from Miami's newest attraction, the Skyviews Miami Wheel. If you're looking for aerial views of Biscayne Bay, Bayfront Park and that iconic Miami skyline, this attraction is your best bet. There are 42 completely enclosed and climate-controlled Gondolas and each ride is about 12 to 15 minutes. They also have one VIP Gondola which had comfy leather bucket seats and best of all, a glass bottom floor!! We were in the VIP one and was able to control the music and there were empty champagne flutes in the gandola as well.
I'll also mention that you may want to explore the nearby area as there are cute bars and cafes (with great happy hours) by the waterfront.
Here's a suggestion for a European girls getaway!
Where to Eat and Drink in Miami on a Girls Trip
Miami's culinary options are numerous and varied. As with any major city, you really have to know where you're going but if you're looking for happy hour deals, this is certainly the city for that. I was surprised by how reasonably priced our food and drink bills were -mind you we mostly hit up happy hours and then splurged on a few meals but overall, very reasonable. I'd love to return with Chris and check out some of their Michellin star spots but on this girls getaway to Miami, we mostly hit up bars.
Where to eat in South Beach Miami – South Beach Restaurants and Bars
Birdcage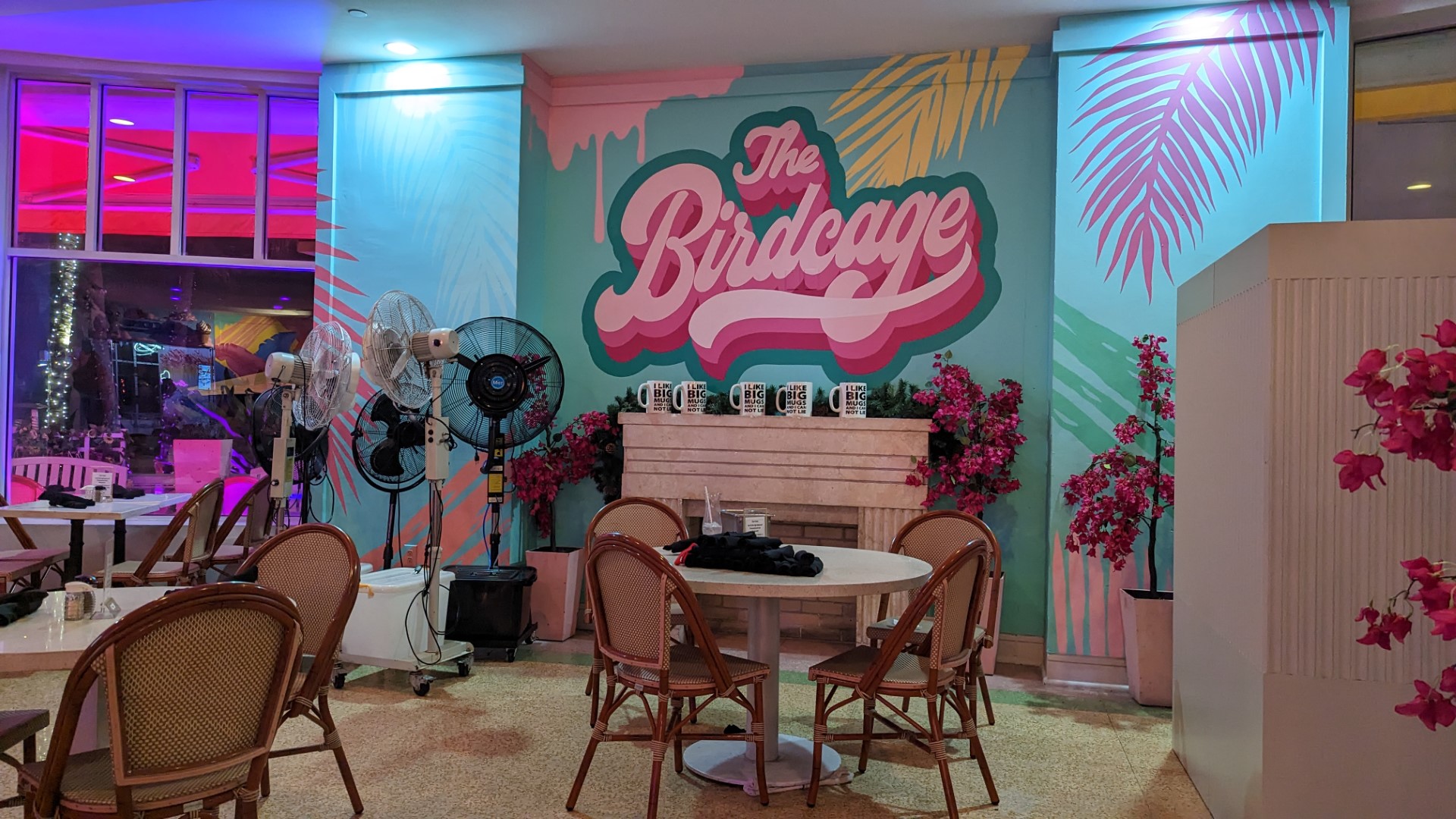 Our first meal after our late night arrivals were at Birdcage (housed at the Carlyle hotel). One of my friends really wanted to visit this spot and they had fun drinks and good eats (we got flatbreads but I later heard that I should have ordered a Cubano here).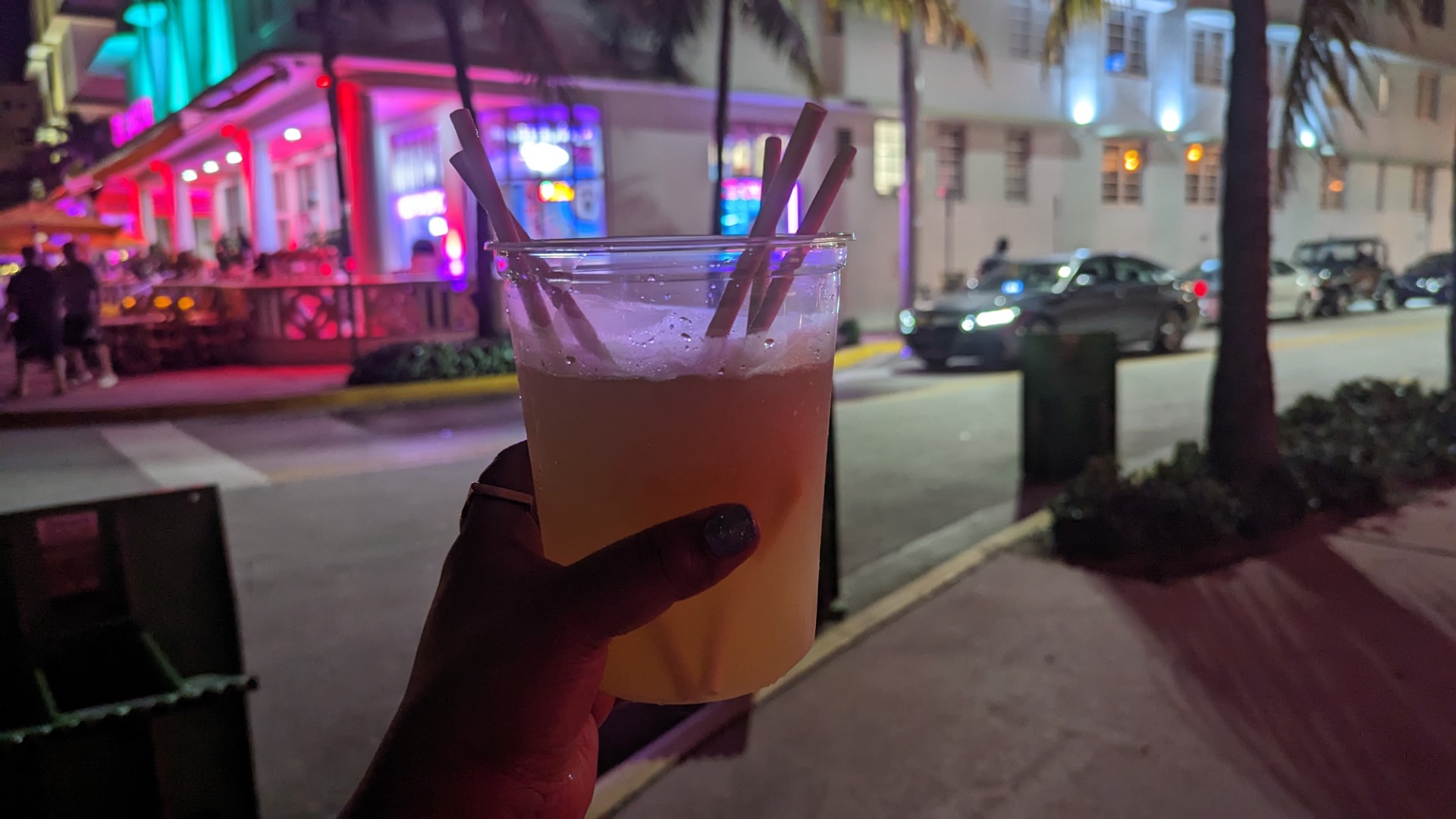 We couldn't finish the mammoth margaritas and they gave us to-go cups!!! This would never happen in Toronto!
Front Porch Cafe
If you're looking for a classic breakfast spot in South Beach that serves up the usual breakfast dishes, this is your spot. There's nothing fancy here but they make some damn good eggs and avo toast at this Ocean Drive restaurant.
Bodega Taqueria y Tequila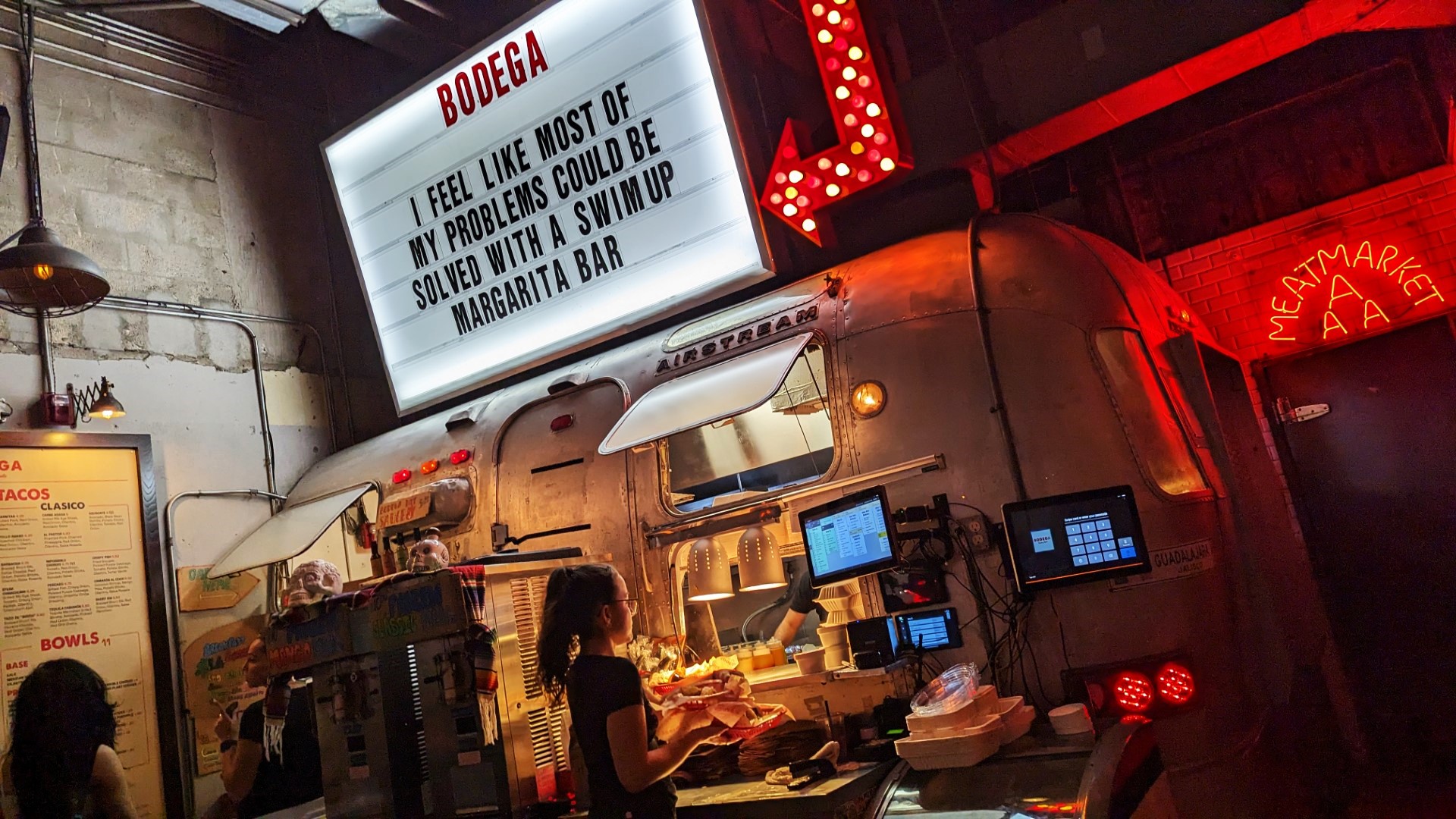 This is a South Beach bar that I highly recommend visiting. Their tacos are amazing as are their cocktails. It's also a speakeasy (albeit one many know about) because you walk into what looks like a small shop with a taco airstream inside and then end up in a cool space. How you ask? You'll want to walk into the spray painted urinal hall (I know .. I know… just go with me here) and you'll come into the awesome bar space via door.
If you time your visit (accidentally in our case) with happy hour, you'll be very HAPPY.
Where to eat in Wynwood Miami – Wynwood Restaurants
Cayo Tacos
When you're in the Wynwood area and feeling hungry, swing by here for a delicious meal. They serve up Mexican streetfood and had some options that aren't always common (at least here in Toronto). I know that they have a couple locations so if you're not in Wynwood, you'd still be able to have a bite here when in Miami for a girls trip.
Where to eat in Little Havana Miami – Little Havana Restaurants
Ball and Chain
I loved the vibe here and highly recommend a visit when in Little Havana. We ordered a few snacks (the guava cheese -Pastelitos de Guayaba, was YUM) and sipped on drinks as we listened to the live band and watched passerbys come in for a dance and pop right back out. It's a vibe. You should experience it. Getting a table can be hard here but we lucked out at this Little Havana live music bar.
Versailles
This was on of our list of top places to eat in Miami on this Miami Momcation and we ensured that we started our day here. What we didn't realize is that there are (at least) three different places here. There is a restaurant (which is quite busy but lines moved quickly and there's a nice plaza area to sit and wait for your turn), there is a bakery (the line was long and it deterred us from going in initially but later on we realized that the lines move quickly here too and we regretted not going there as there's a better selection of items) and then there is a window cafe (La Ventanita) with a limited menu. We ordered takeout coffee and empanadas to start our day and have no regrets. I only learned about Ventanitas recently but these window coffeeshops are very popular and the ideal spot to catch up on local gossip and sip cuban coffee no matter what time of day it is. There's less chitchat between customers these days but the ladies working there definitely enjoyed good banter with their locals.
Cafe LaTrova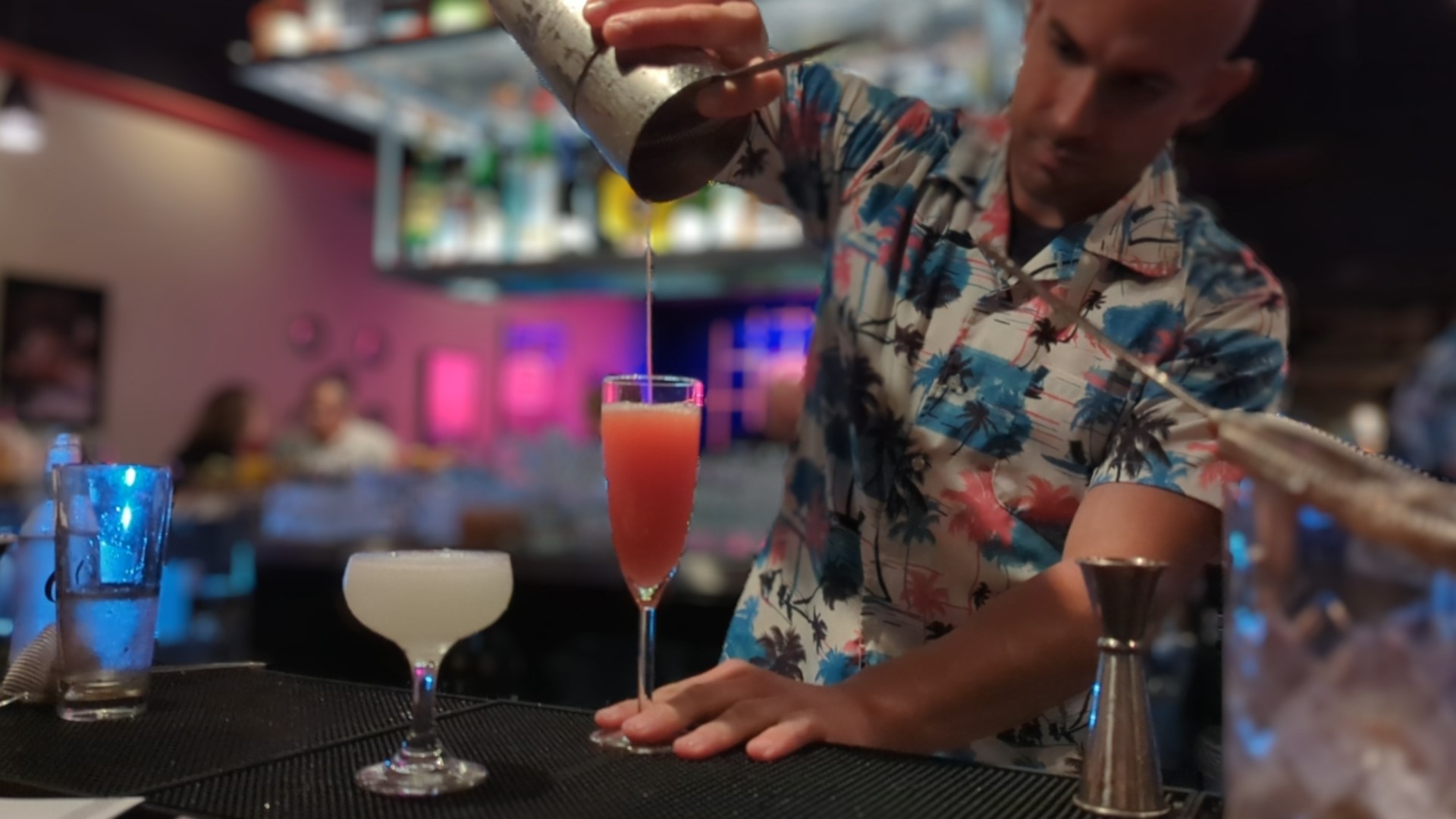 Our original reason for going in was to see if we could catch the bartenders dancing but what we stumbled upon was a very busy restaurant with a cool 80s themed back section. We sat by the bar, watch the fantastic bartenders shake all sorts of drinks and enjoyed some happy hour drinks here. They didn't dance though.
The main restaurant was packed and there was live music as well as a front bar area – it is a happening Little Havana restaurant! This is one of the Miami bars that I will be returning to on my next visit!
Where to eat in Coral Gables Miami – Coral Gables Restaurants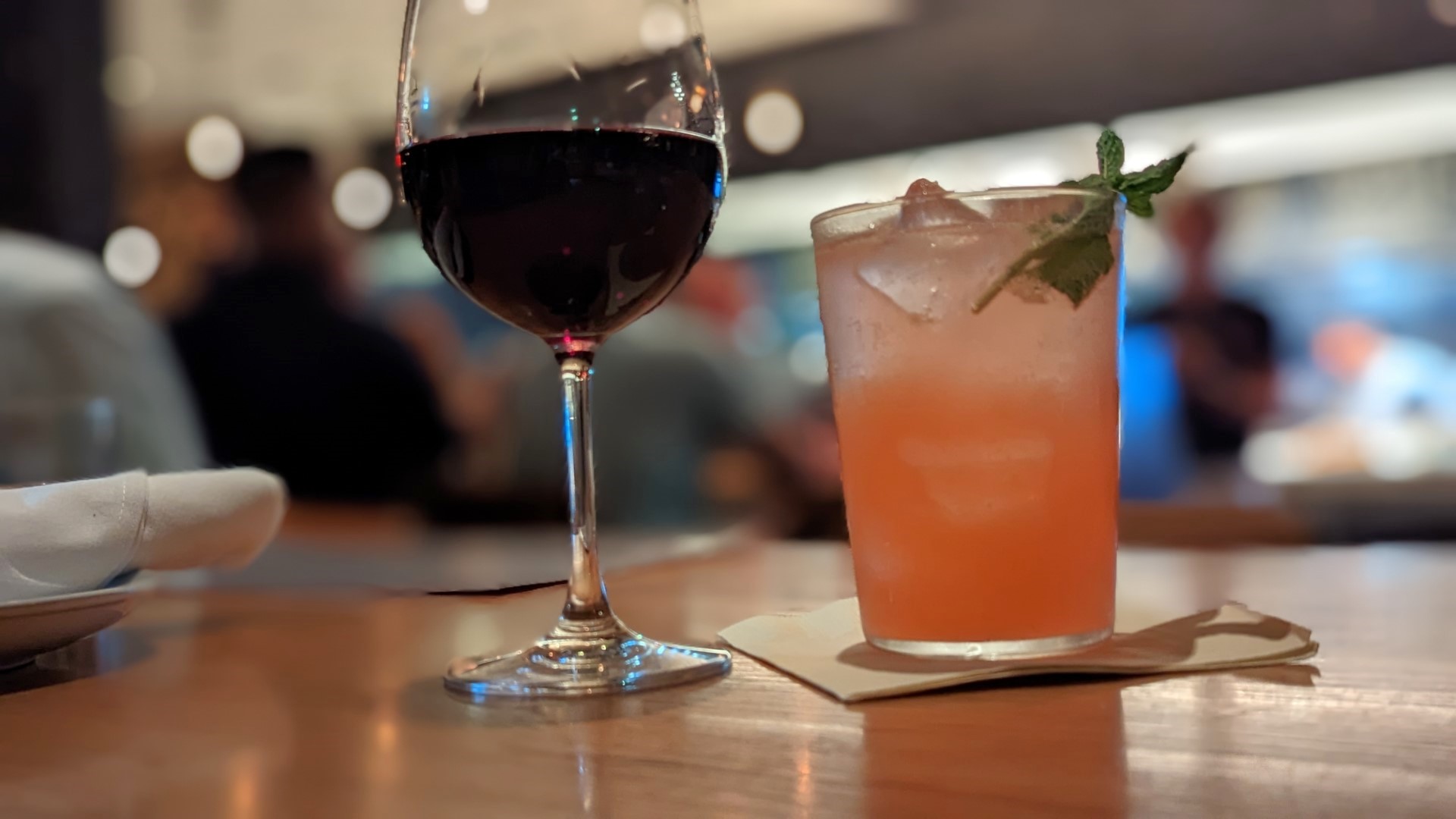 Miami offered way more than I thought it would and I had such a fun time that I'm contemplating heading back that way. It certainly is very different to the hazy memories I had from my visit there as a teen. The city is spread out but there's easy transport between each neighbourhood and know that there's a mix of taxi/uber, public transit and free trolleys you can leverage to move around. I even took the 150 bus from the airport to South Beach and it was very easy to buy tickets and make my way to the bus stand. We used uber and the BigBus hop on hop off tour to get around for the most part. I did get on the free trolley (only once though) that goes around South Beach but it can be a bit confusing to figure out the stops.
If you're looking for a breakdown on how to spend a weekend in Miami, below are my thoughts.
Day 1 : South Beach and Mid Beach
Day 2 : Wynwood, Downtown and Design District
Day 3 : Little Havana and Coral Gables
Obviously there's loads more one can do in Miami on a girls trip but this is how we spent our long weekend in Miami and we had a great time. If you need some motivation to call your girlfriends and plan that girls weekend away, I hope this is the sign you need!