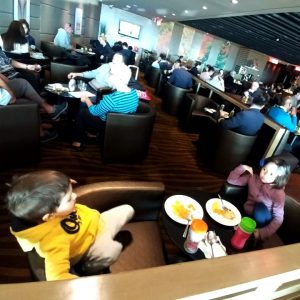 Travelling with young kids can be daunting as we all know, but having done quite a few trips with our two kids, I thought I was adequately prepared for our flight from Toronto to China and then onward to Sri Lanka.  When a fellow Travel Massive member invited us to swing by the Plaza Premium lounge prior to our flight, I agreed but knew we'd only have a few minutes if were able to swing by at all. Let me tell you, accepting that invite was definitely a very smart decision on my part. The Plaza Premium Lounge saved the day ONCE AGAIN.
Our flight from Toronto to Shanghai was scheduled for 3:25 p.m. and because we weren't able to pre-select our seats, we decided to be at the airport at noon in the hopes of getting seats together. That strategy worked for us and the four of us were seated together. However we were informed at check-in that we couldn't interline our bags (we had called China Eastern's Toronto office when we bought our tickets and they told us that it wouldn't be an issue) and that we'd have to take all our bags out for the overnight stay in Shanghai. Not the best news but a quick Google search told us that the Pudong airport did indeed have lockers we could store the bags at (we had 6 suitcases-my  mom insisted  she send  loads for family back home!). With one hurdle dealt with, we were then informed that we wouldn't be allowed to bring our Diono car seat onboard and that we would have to gate check the item. Luckily I knew the rules and informed them that we'd deal with it once we got to the gate (it worked out in our favour, though we met with a lot of questioning throughout!). Just when I thought nothing else could go wrong, at security I was informed that I would have to dump the milk and juice I brought for the kids as the youngest was now 3 years old. I thought it was 5 years and over but not so. After an extra half an hour delay here, I was eagerly looking forward to visiting the lounge even if it was only for twenty minutes, mainly so I could stock up on milk and juice (as you recall I had VERY LOW expectations for our flight). Truth be told, the flight was just fine, it was just the airport drama that caused the stress. I'll be sure to share about our China Eastern flight experiences once we return back to Toronto, because who knows if the kids will be as well behaved as they were on the way here! At least I get to bribe them with Santa's appearance as we head back on Christmas eve!
Not only was I able to stock up on milk and juice but our flight was delayed by two hours and instead of waiting and sweating it out at the gate, we were able to spread out, relax and de-stress after the pre-flight shenanigans we had experienced. We had visited the Plaza Premium Lounge when we received the Priority Pass with our credit card and so I knew what to expect but I didn't realize how different each of the Plaza Premium Network lounges would be at each terminal.
In terminal 3, the food selection was just as great but there was an even larger selection. I couldn't believe how good the Laksa was! I also enjoyed dim sum and the kids loved the fresh fruit, cookies, beef and the cupcakes on offer. They too were relaxed and enjoyed watching the planes land and take off in-between the colouring and puzzle playing they engaged with.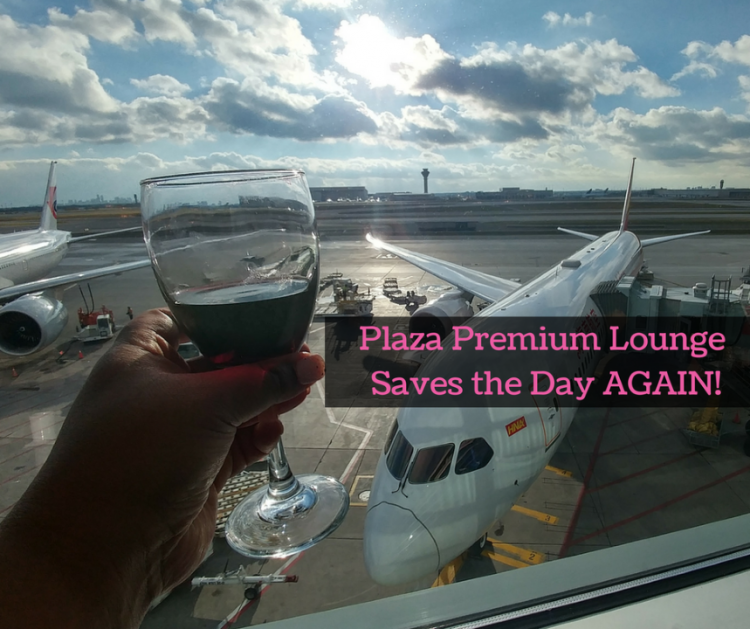 With each visit to a Plaza Premium lounge, I grow more fonder for the brand. I even checked out the shower room and learned that you have to ask for the key (as you may recall last time I assumed someone was in there for the whole two hours!). The hubs and I were thanking our lucky stars that afternoon as we sat sipping on wine realizing how stressed out we COULD have been. For families who travel frequently, applying for a pass that provides lounge access should be a no-brainer. It's worth the small cost associated especially when you think about stocking up on liquids and snacks for the flight. I know technically we probably shouldn't be filling up the 3 cups of milk and juice but it really did help immensely as China Eastern (like quite a few airlines) did not have any milk on board. There was no way  Little Monkey and Baby Boy were going to survive the 15 hour flight without milk, that's for sure. If you're travelling soon, be sure to check out the Plaza Premium Lounge at the airports you fly through, you will be impressed!
Come back and let me know about your experience!