"Where's my money?"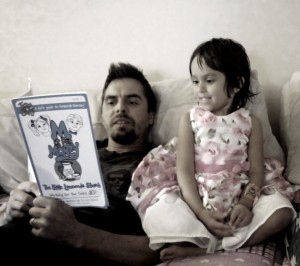 Kids say the strangest things sometimes. On this occasion, the Little Monkey was one of several kids on hand at Carters in First Markham Place filming a promotional video for Osh Kosh B'Gosh. In exchange for waking up early and forgoing a morning of TV and coloring, Yashy told her that she would have a chance to earn her own money and would then be able to use her earnings to buy some princess toys once the video shoot was finished. After getting a little too excited before the finish, she started demanding pay, amusingly, but Yashy suppressed a smile and got her to stick with it. In the end, she was rewarded, allowing us to empart the first among many future lessons about the meaning of money.
Growing up, I always had a tough time understanding the true value of money. My family and I lived up in the small city of Sydney, NS, where my father was a family doctor. I sensed early on that we had a little more disposable income than most of my classmates and their families. Our house was larger than most in the city but also located in a neighborhood where there were dozens of other residences of a similar size. A few of our neighbors had pools, and for years, that was the only indicator of wealth that I knew. We didn't have mansions in Sydney, or private schools, or even high end restaurants. All of the kids in my neighborhood went to the same elementary school, and eventually, we all attended the one high school in the city, like everyone else.
Disclosure : This post is in partnership with M is for Money, but as always, opinions are totally mine!
When I moved away to start university, I still had no appreciation for money. My parents had been investing into an RESP during my childhood and I was fortunate not to have to pay for my undergraduate education. Upon graduating, I lived in a series of houses in Halifax, paying as little as $220 a month in rent. When it came time for me to become more serious about my career, I took out a loan and moved to Toronto to obtain an MBA. By the time I left school, my debt ballooned to $80,000. Up to that point, I never had any serious financial responsibilities. I was aware that my position was a privileged one, but still grew up treating money irresponsibly. I now want to redeem myself by making sure that my children have a thorough understanding of money.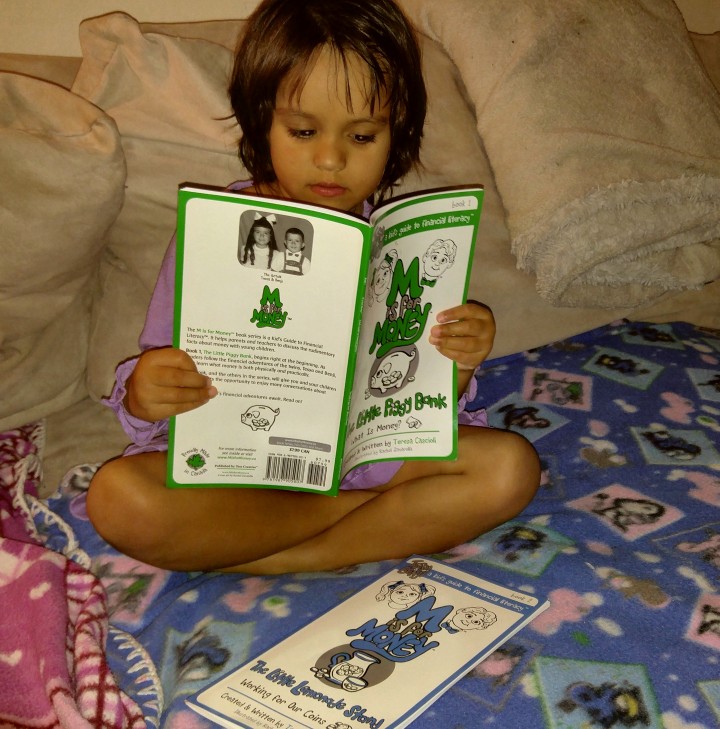 Recently, I discovered an invaluable tool to teach my kids the basics of money, the "M is for Money" book series, a 9 volume set of kids stories that follows the adventures of seven-year old twins, Tessa and Benji. For the past two weeks, The Little Monkey and I have been reading volumes 1, 2, and 3 in the series every night. She's hooked. In volume 1, Tessa and Benji are first introduced to money as payment for helping their Dad weed the garden and clean the car. They later earn more money from their Mom for helping to tidy up the house and then receive cash as a birthday gift, and the first volume ends with the twins each receiving a new piggy bank, where they learn to store and protect their earnings. In Volume 2, Tessa and Benji learn how to earn money by setting up a lemonade stand on a hot day, and, in volume 3, the two are taken to the bank, where they open up bank accounts. The series is aimed at children aged 5 through 9, but the lessons are simple enough, and 4 year old Little Monkey has taken to the story and seems to sense that there are important lessons to be learned. She cherished the cheque she received for her birthday last weekend!
As Little Monkey gets older, the "M is for Money" series is going to be a big help. In addition to the 9 volumes, parents can purchase a "Fun Stuff" package at the M is for Money website that includes play money parents can use to reward their children for helping out around the house (while also ensuring that no 'real' money goes missing). Each book also contains a number of activities in the back to reinforce the learnings from the stories. The site even has a section for parents and kids to submit their own money story. I think the most important function of the book series is that it provides parents with stories they can use to associate with everyday situations. Referring to the adventures of Tessa and Benji, I can help Little Monkey understand that we are all working together in our household and that good efforts reap rewards.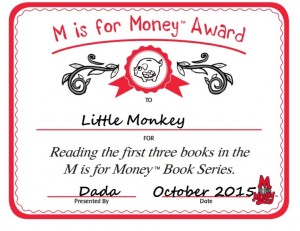 At every opportunity, I try to teach my daughter the function of money. From explaining why I need to be at my computer during the day to ensuring that I remind her that we need to bring money when we leave home to buy stuff we need for the house, I have been very focused on teaching her the importance of treating money responsibly. When she made money that morning at Carters, we told her to spend some of her money on the toy and to save the rest for later, a lesson that the "M is for Money' series covers very well, as Tessa and Benji learn the implications of saving versus spending. Both are important.
I suspect that there comes a point in almost everyone's life when they have an epiphany about the meaning of money, billionaires included. Bill Gates and Warren Buffett see that their earnings represent hope for millions of people in the third world, and not a new house in the Hamptons. For me, it was as simple as paying off a big loan, which allowed me to prove my independence and focus on starting a family. I now believe that fiscal responsibility is one of the most important traits a person can have. As my kids grow up, in addition to stressing that they need to treat others with respect and to always challenge themselves, I'll always be reinforcing the need to treat money responsibly. The "M is for Money' books series has been a great place to start and they can be downloaded online or purchased through Indigo.  November is financial literacy month, so why not discuss money with the little ones?