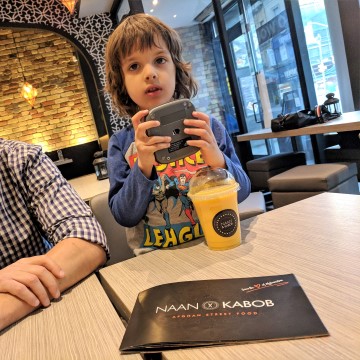 If you're looking for Afghan food in Toronto the option was to head out of the city but we now have a great spot for authentic Afghan street food in downtown Toronto! Naan and Kabob has locations in the suburbs but have finally opened on Yonge Street near Bloor and we were invited to bring the kids over for a meal. I grew up in the Middle East but never had Aghan food until I visited Vancouver about 11 years ago and since then I've made it my mission to enjoy Afghan food every chance I get. Also, having just returned from Dubai I was craving my grilled meats and flavourful rice dishes so this was the perfect way for us to wind down our Friday evening before spending some time with our downtown Toronto condo neighbours.
Disclosure : We were guests of Naan & Kabob but, as always, opinions are TOTALLY ours!
Naan and Kabob is a quick service restaurant but what I loved most about it was how nice the decor inside was. Baby Boy has been acting up and we have been avoiding restaurant meals after a full day of school because we know he's not capable of behaving the way we expect him to. So I was a bit anxious dining out on Friday but the ambiance at Naan and Kabob was perfect! Kids got to chill at the table while we went up and placed our order and then the buzzer alerted us that our food was ready for pick up.
Wait time between ordering and pick up was about fifteen minutes and the kids were thirsty so we grabbed some Mango Smoothies from the fridge and kept them happy with that while they waited. There is a Tea Room upstairs and it will be open soon is what I was told.
Appetizers at Naan and Kabob
Naan and Kabob promises healthy, wholesome and fresh fast food which they definitely delivered during our visit. The appetizers all sounded amazing and what I loved about it was how they have small and large plates which they offered to customize the spice levels on! Afghan food has always been flavourful and rich in spices but I never had SPICY (as in chili) Afghan food before and this was a real treat to spice lovers like Chris and I.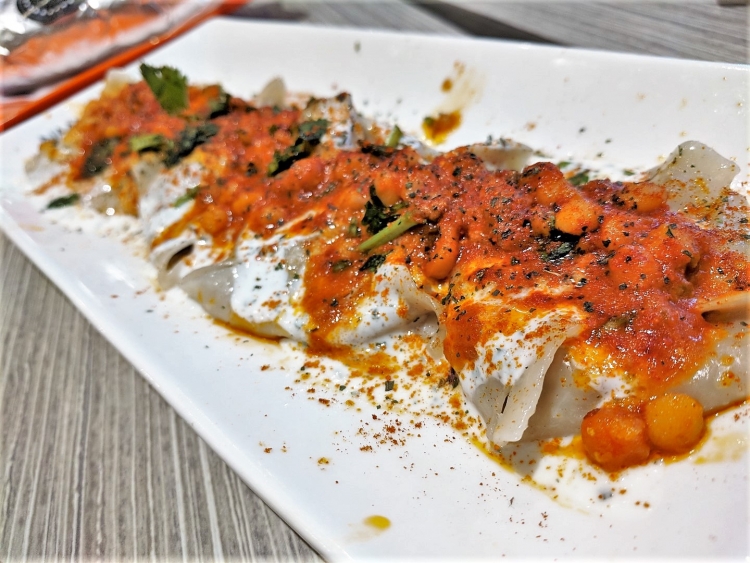 My favourite dish was the Mantu which were ground beef dumplings drizzled with yoghurt and  veggies. I got these extra spicy and they were PERFECT! Quite possibly my favourite form of dumplings!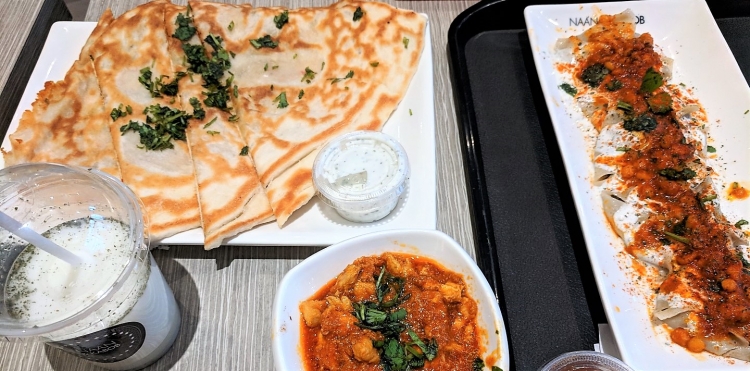 I wasn't sure what to expect with the Bolanee but it was the thinnest yet fluffiest naan I've ever had. Stuffed with potatoes, this just melted in my mouth and despite being mostly gluten free I had to cheat on this one.
Oh by the way, they are expected to have Gluten free options launching soon and their menu outlines the vegetarian, vegan and dairy free options too! 
Sadly they didn't have the Eggplant Borani during my visit but this is just another reason for me to swing by there again in a few weeks!
A Trek Through The Spice Route from East to West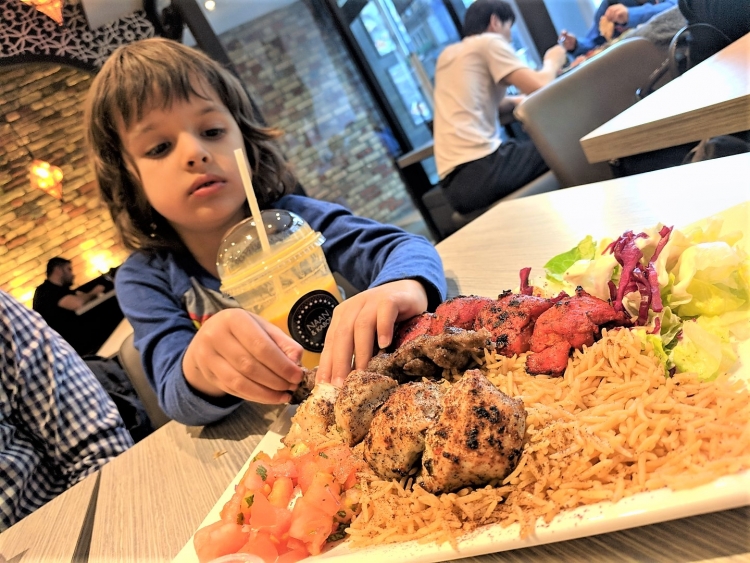 The menu is said to be inspired by the family's travels from Afghanistan to Canada and the dishes are a lovely combination of flavours.
Baby Boy and Little Monkey LOVE  kebabs and so they were happy to dig into their dinner plate of N&K Grill but they only really wanted the kabobs and not the  chicken (tandoori was a bit too spicy for them). What I was surprised by was how Baby Boy gravitated towards my Lamb Shank. I am shocked at the amount of meat and rice I received with this dish. It also came with chicken curry and all of this was under $15!!! I couldn't finish it all and should have just shared it with one of the kids, for sure. I should also highlight that the meat on the menu is antibiotic free and Halal.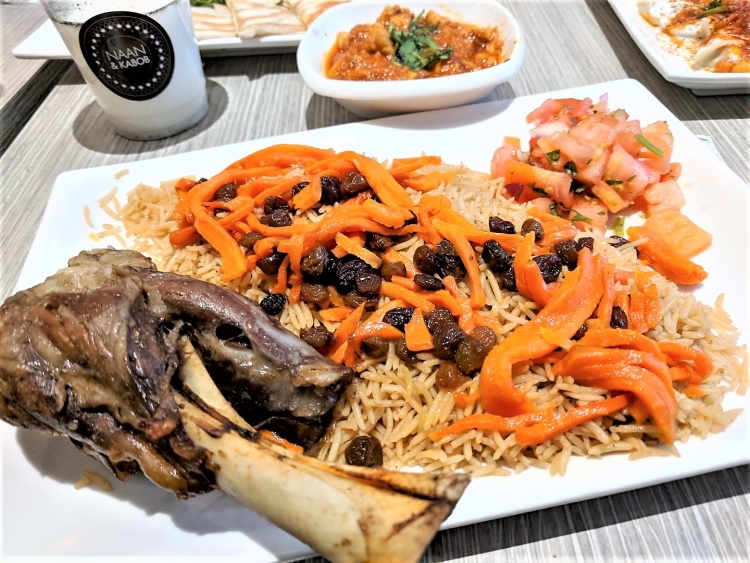 I highly recommend adding the Quabli topping if your rice dish doesn't come with it. The sweet carrot and raisin combo was a hit with my kids and they actually ate cooked carrots without complaining!!! As always, the Afghan rice dishes are packed with flavour and delicious for kids and adults!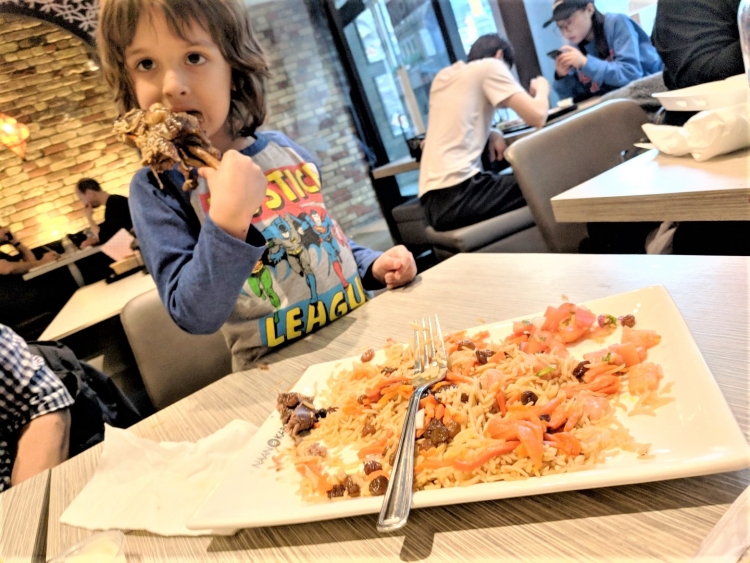 Chris decided to get the Chaplee Wrap and not only was it flavourful, it was also perfectly spiced and very filling. I can see him craving this one every other month and of course, I forgot to take a picture of it before he started chowing down.
Sweet Ending 
Little Monkey whined and Baby Boy was a bit cranky but they weren't too bad (though I did threaten to take Little Monkey out of the restaurant once). We decided to share ONE dessert due to their behaviour and so we ended our meal with the sweet Firni pudding. I've had this numerous times and really should learn to make this one at home!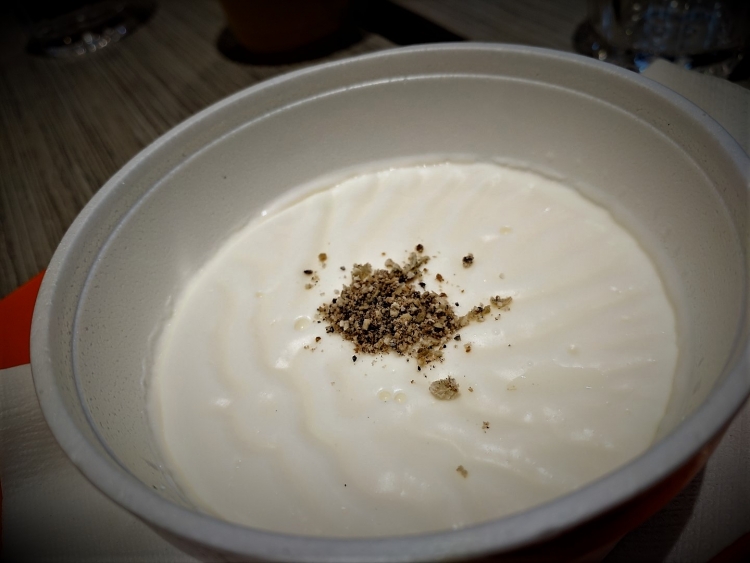 If you're in downtown Toronto and looking for some quick and flavourful Afghan eats, be sure to check out Naan & Kabob. They do have other outlets if you're outside of the city and we spotted strollers in the downtown location.