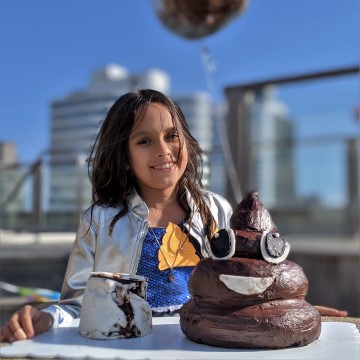 We're still in the middle of a pandemic and in Toronto we've had to scale back some of the activities we're allowed to partake in. Yet, here we are celebrating the kids' birthdays! Akira's wish this year was for a poop emoji party theme and while we did not throw a big party as usual, we still celebrated keeping the guidelines in mind. If your kid is as obsessed with the poop emoji as ours is, you may get a chuckle out of the ideas I came up with to help her celebrate.
As always, we're very mindful of the current COVID situation and since we've continued to hang with my parents and brother, they were around for the celebrations. We lucked out with good weather and at the very last minute I was able to invite two of Akira's closest friends from school to join us. Mind you, we kept this a secret from Akira because I really wasn't sure if weather would cooperate and we're still not entertaining indoors. Luckily for everyone, the sun was shinning despite it being a semi-windy day and so we had 3 hours of poop-filled fun our rooftop.
Poop Themed Party Games and Decoration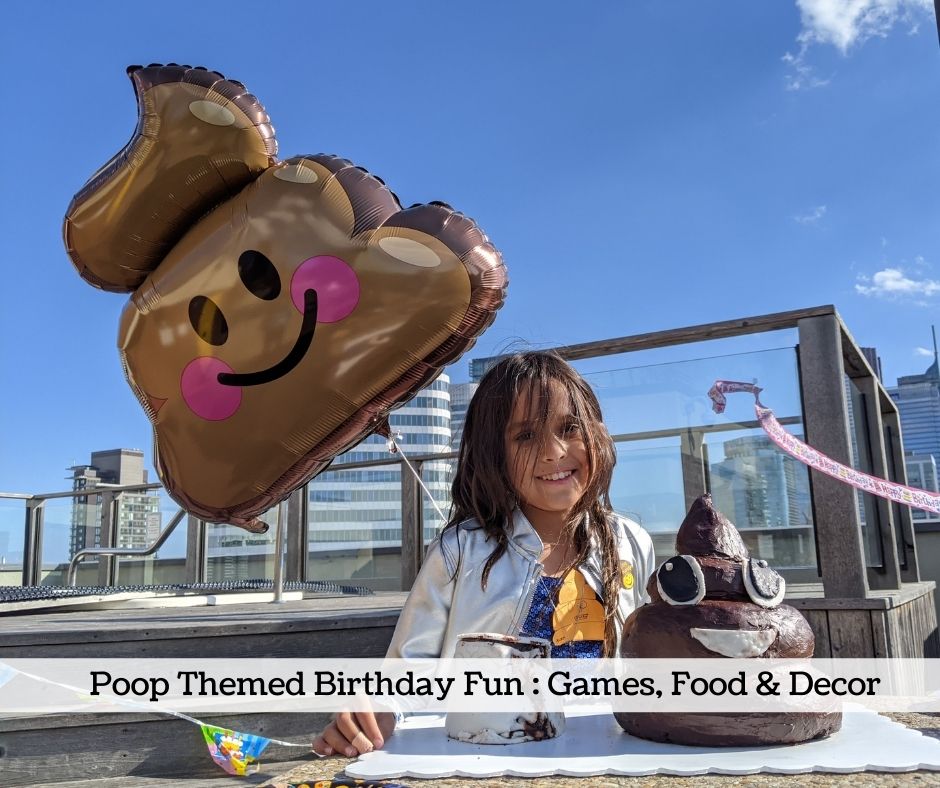 Given that we have easy access to websites like Amazon and Party City, you can easily find Poop decorations. We kept it simple with some plates and my brother bought her a large poop balloon. I'm glad I took some pictures as soon as we got to the rooftop because that Poop emoji balloon flew away pretty quickly. Somewhere in downtown Toronto people were looking at shit flying right above them!!
We decided to do a pin the poop game. Keeping COVID protocols in mind, each child had their own blind fold and poop cut outs. I had them sanitize their hands before placing their piece on the toilet as well. Chris did a pretty good job drawing that toilet huh?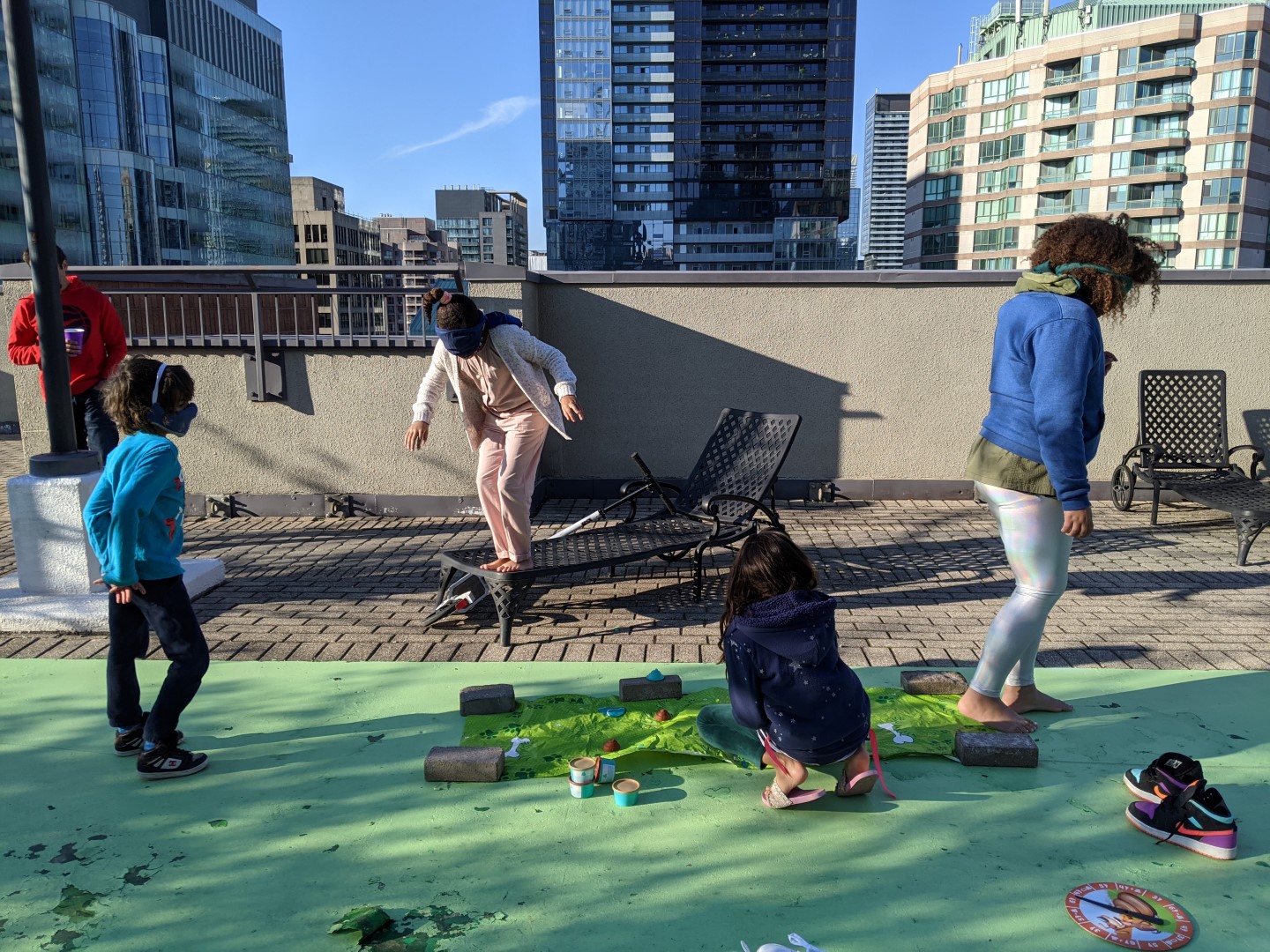 A few years ago my brother and his partner had gifted the kids a "Don't Step In It" game which was all about stepping on poop and so we brought that along with us to the rooftop. The girls use their previous blindfolds and had quite the laugh with the game.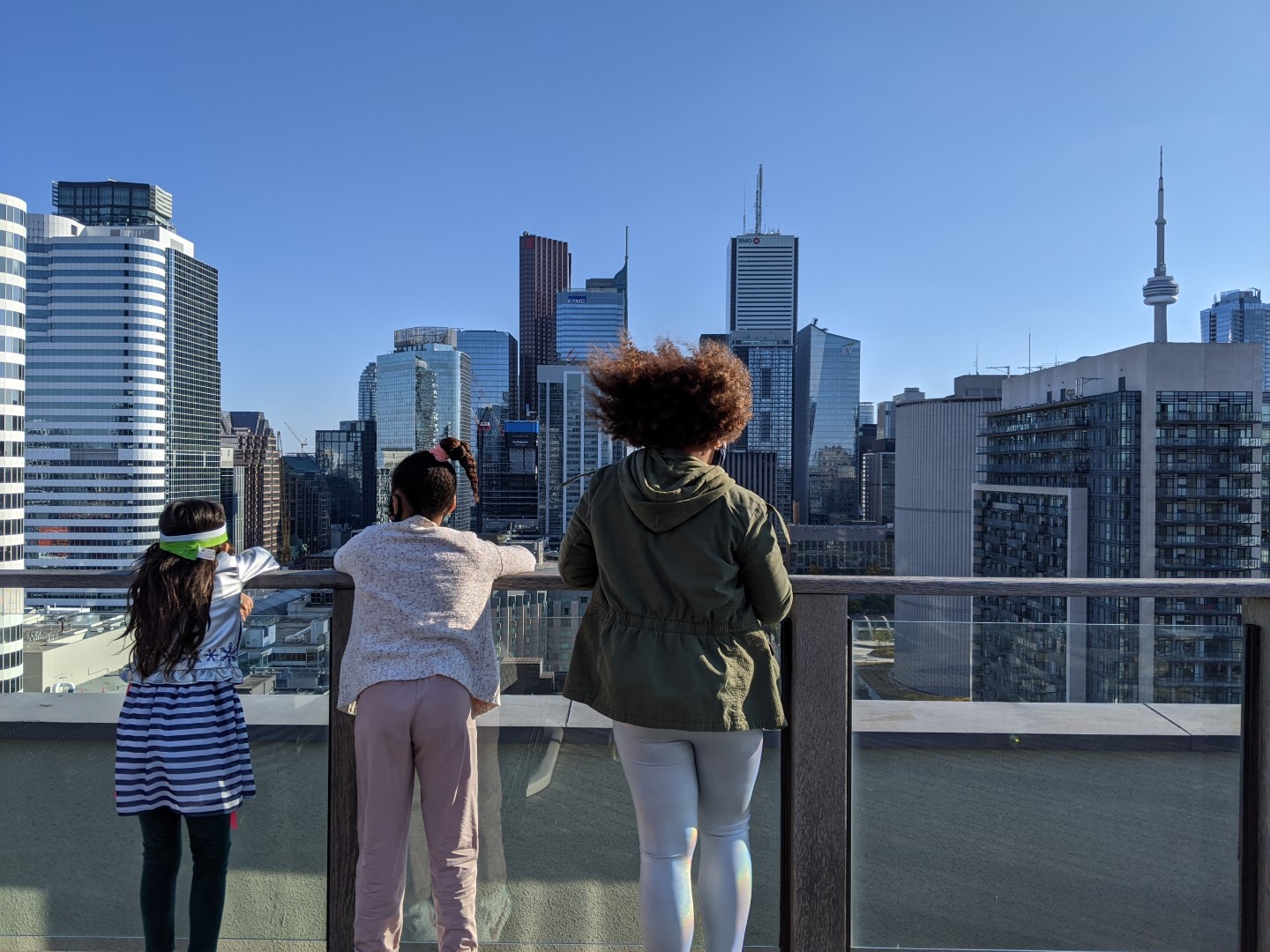 It was heart warming to witness them playing and laughing whilst wearing masks the entire time. With the weather getting colder, outdoor playdates may not be possible so we're doing our best to embrace the safe opportunities as they come.
Poop Party Food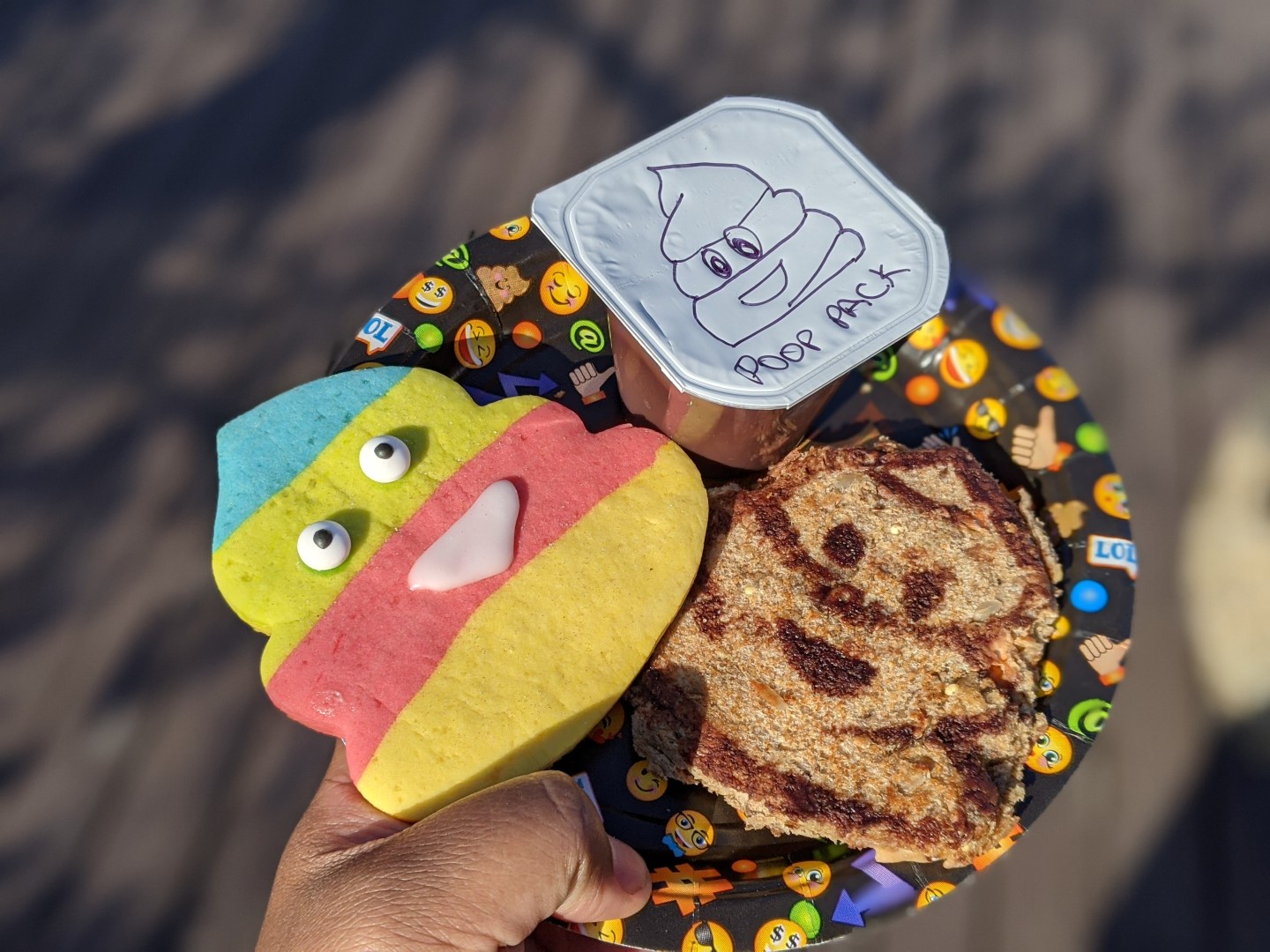 Even typing the words "poop party food" is gross but I knew I had to have some fun with it. Given that we only had to make enough for 4 kids I decided to experiment with a few ideas.
I used Nerdy Nummies' unicorn poop cookie recipe and cookie cutter for some unicorn poop cookies. Her instructions were simple and the cookies were shockingly delicious.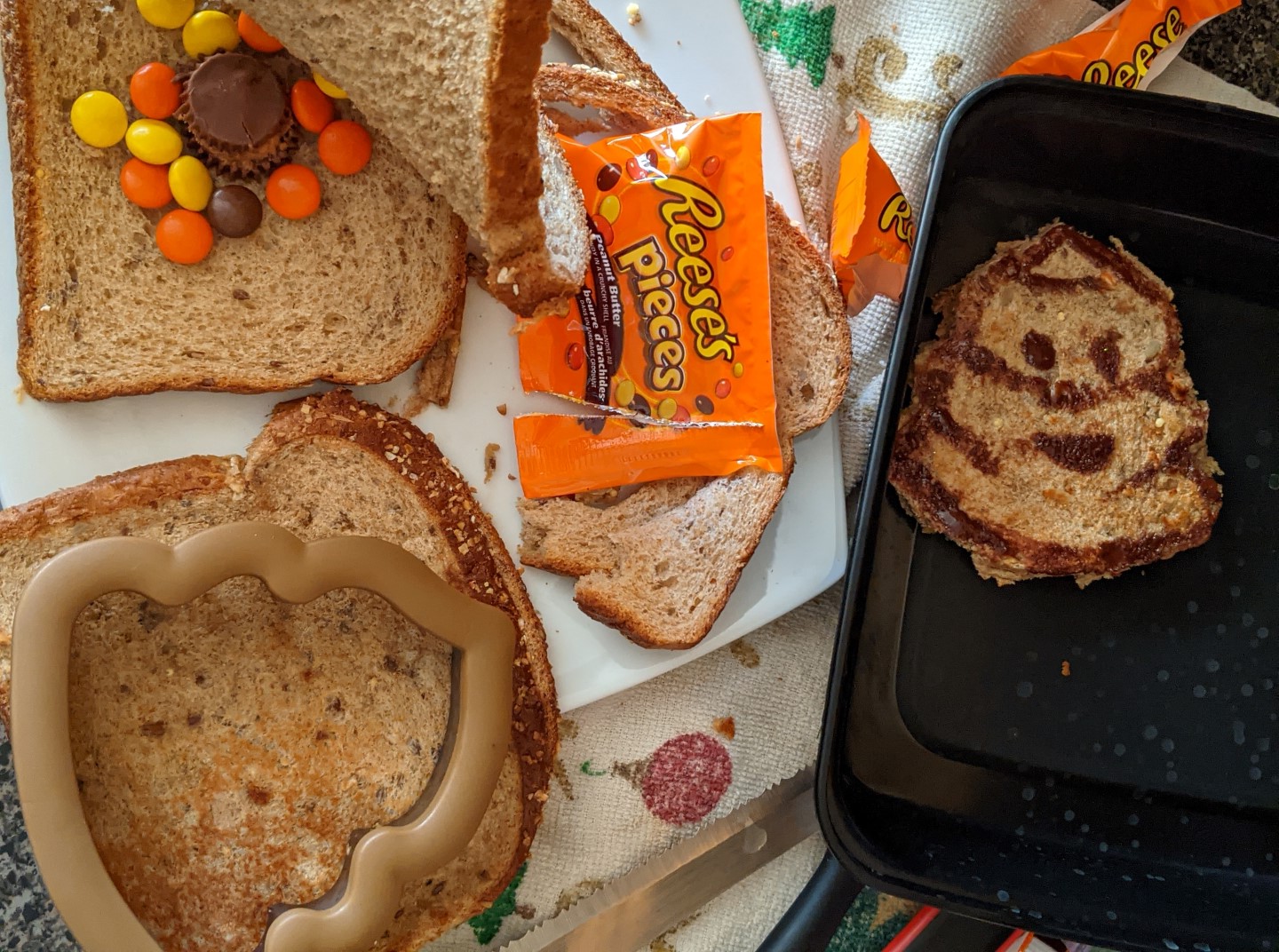 An impromptu decision to make poop sandwiches turned out brilliantly! I simply employed the techniques I use when creating grilled cheese sandwiches but swapped chocolate for cheese and then used the cookie cutter once it came out of the pan. For some additional imprints, I used a paintbrush and melted chocolate to get the outlines in. Brilliant huh?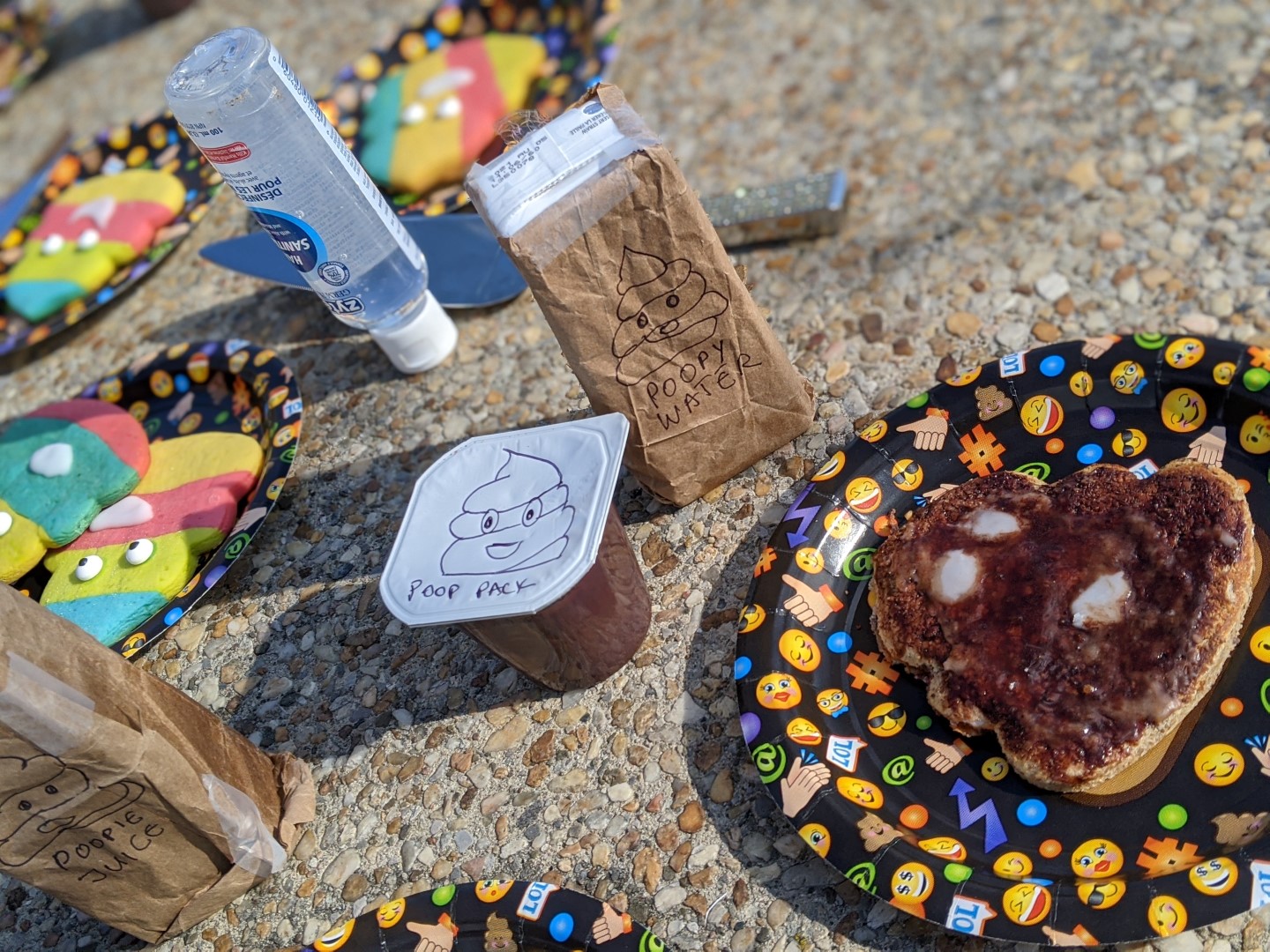 Snack packs were made into Poop Packs by simply drawing the Poop emoji on it.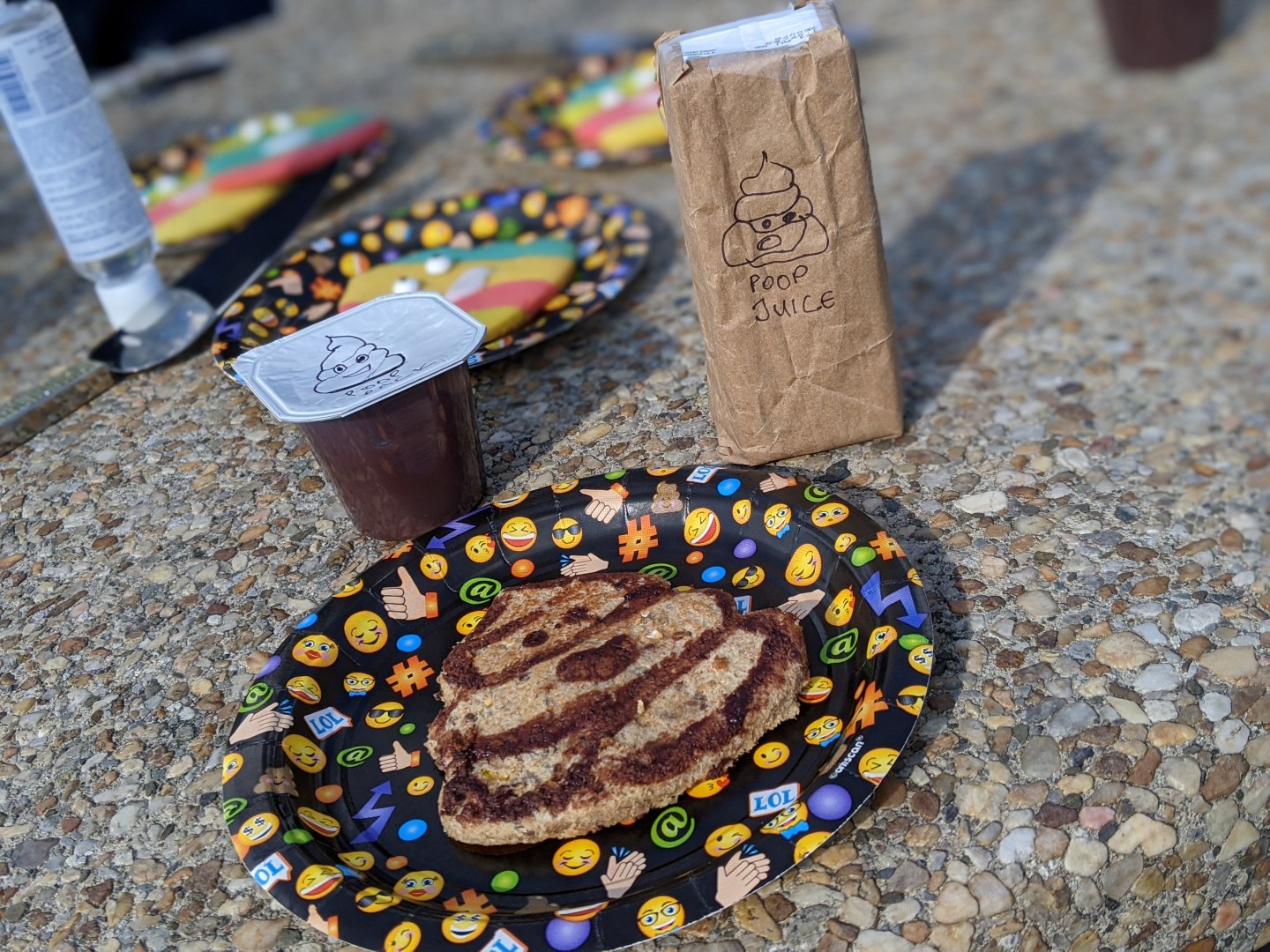 As for the Poopy drinks? That was easy. Brown paper around juice boxes enabled me to have fun with the drinks! I ensured that the kids had their own space and were distanced when it came time for them to eat and since our rooftop is quite large, it was easy to spread out.
Poop Themed Cake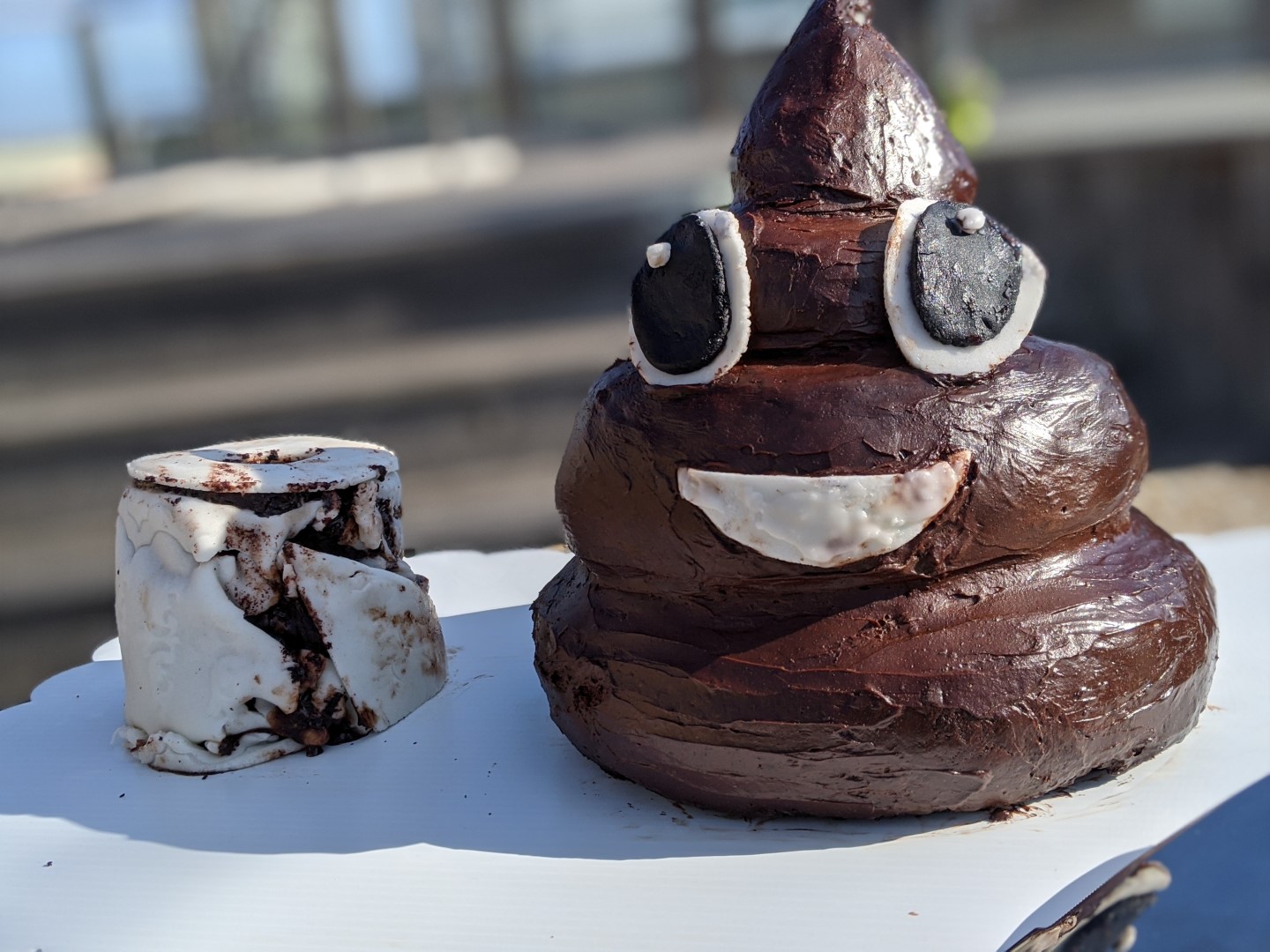 As always, my mom was in charge of the cake for this Poop Party! She wasn't really onboard with the idea of a Poop themed birthday party but she came through even though she wasn't a fan of the theme. That toilet paper roll has definitely seen better days, huh?
If you're planning on hosting a party during this pandemic, I hope you won't let the weather stop you. However, I do hope that you will keep the recommended safety guidelines in mind. We brought extra layers, had plenty of sanitizer to go around and kept food to individual portions. We also ensured that the kids wore masks during playtime and we kept our party short to ensure that no bathroom breaks were required (our condo does not offer public washroom access during these times and we're still avoiding having people in our condo). We're still creating memories and having fun whilst keeping the pandemic guidelines in mind and it honestly wasn't hard to do.