If you're looking for a fun but short Ontario road trip idea, then Peterborough & the Kawarthas should be on your list of things to do in Ontario! Peterborough County is fun no matter the season and for our annual end of summer/my birthday Ontario cottage trip, I booked us a spot near Sandy Lake in the Kawarthas. We were a group of four kids (ages between 4 and 10) and five adults. What we discovered was a good mix of relaxing vibes, new experiences and plenty of day trips within the region. As we head into fall, the area will be lit in orange, yellow and red hues making for quite the picturesque road trip! If you're looking for a weekend itinerary for Peterborough and the nearby area, I have a solid suggestion for you, whether you're with kids or with friends!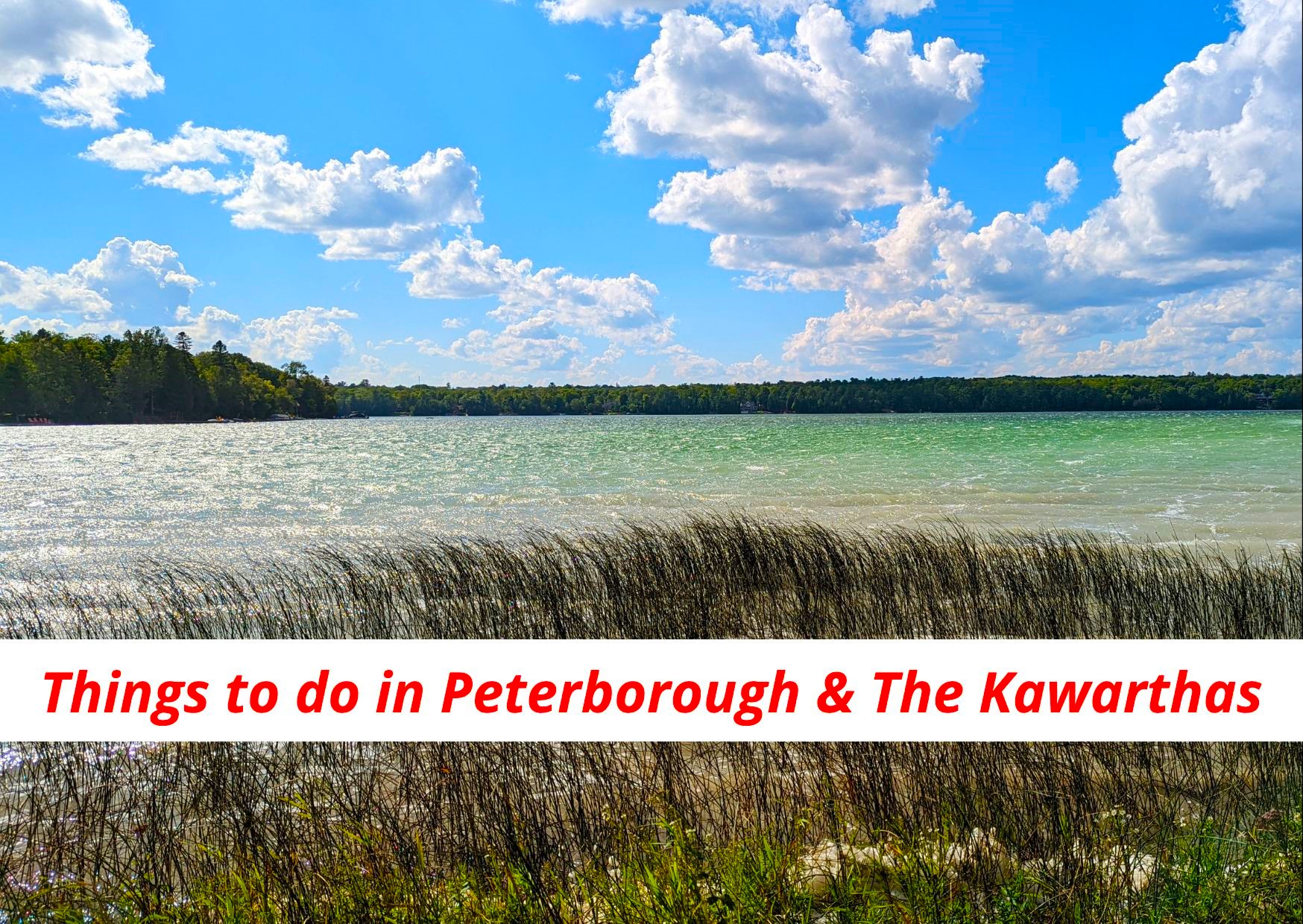 Disclosure : This post is in partnership with Peterborough & The Kawarthas but, as always, opinions are TOTALLY ours!
A Family Friendly Ontario Road Trip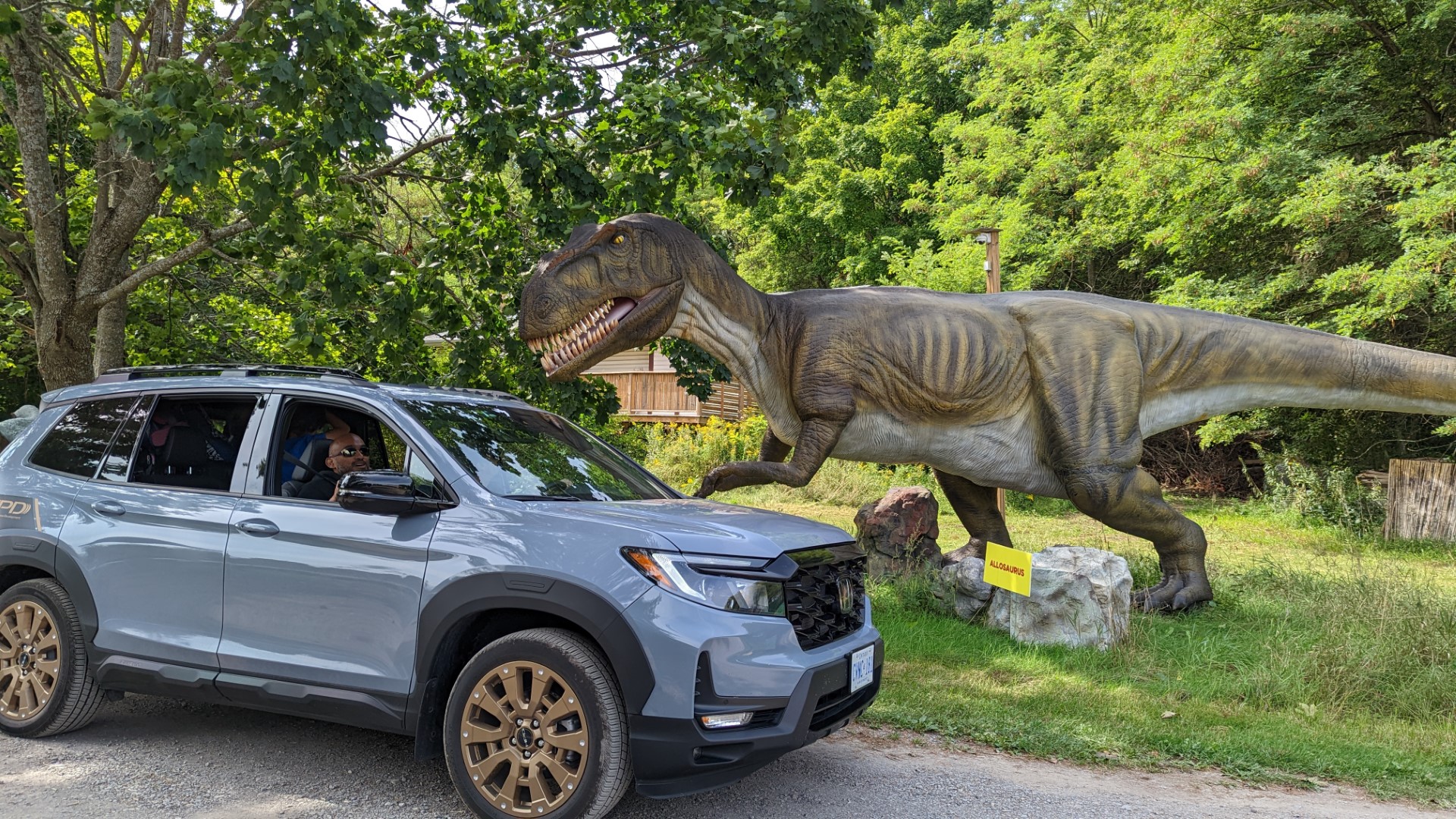 For this year's much anticipated cottage getaway we booked a place in Peterborough County because it looked perfect for our group of friends. With a mix of outdoor activities and farm experiences, Peterborough & the Kawarthas in Ontario, are only a two hour drive from downtown Toronto. During this road trip we enjoyed the comforts of the 2022 Honda Passport Touring we were invited to test out. The seats were comfortable, the adjustable moonroof came in great use at the Dinosaur Park and we had plenty of storage in the back for our luggage and my friend's dog. The Honda Passport Touring also had childproof rear door locks, adaptive cruise control, lane keeping assist system and heated seats throughout, which were all very useful on this Ontario road trip with kids.
This mid sized SUV was perfect for our family adventures around Peterborough and the Kawarthas. We spent a leisurely week, buying local produce to cook at the cottage, dining out on occasion and partaking in new experiences. I hope the below ideas will encourage you to visit the area no matter the season!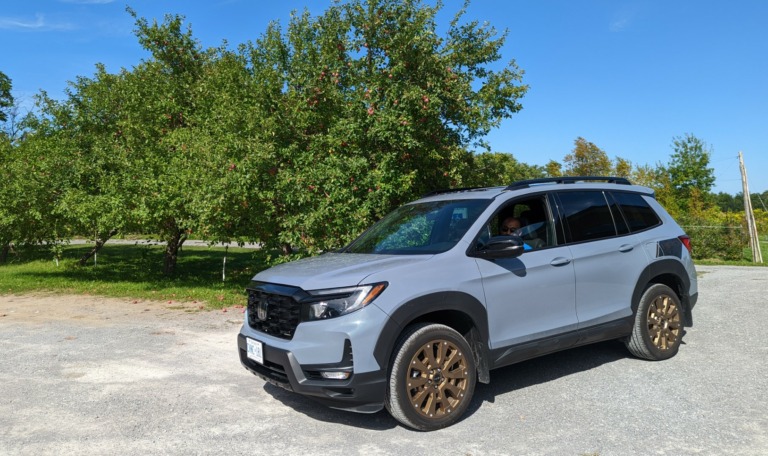 As you travel around Peterborough County, I encourage you to take the O'de Piitaanemaan Pledge. The Pledge is about respect: respect for the land, respect for each other, and respect for those who will come after us. And by taking the Pledge, one commits to protect and preserve this incredible place, its heritage and culture, as well as the welcoming spirit of its people
Peterborough | Things to Do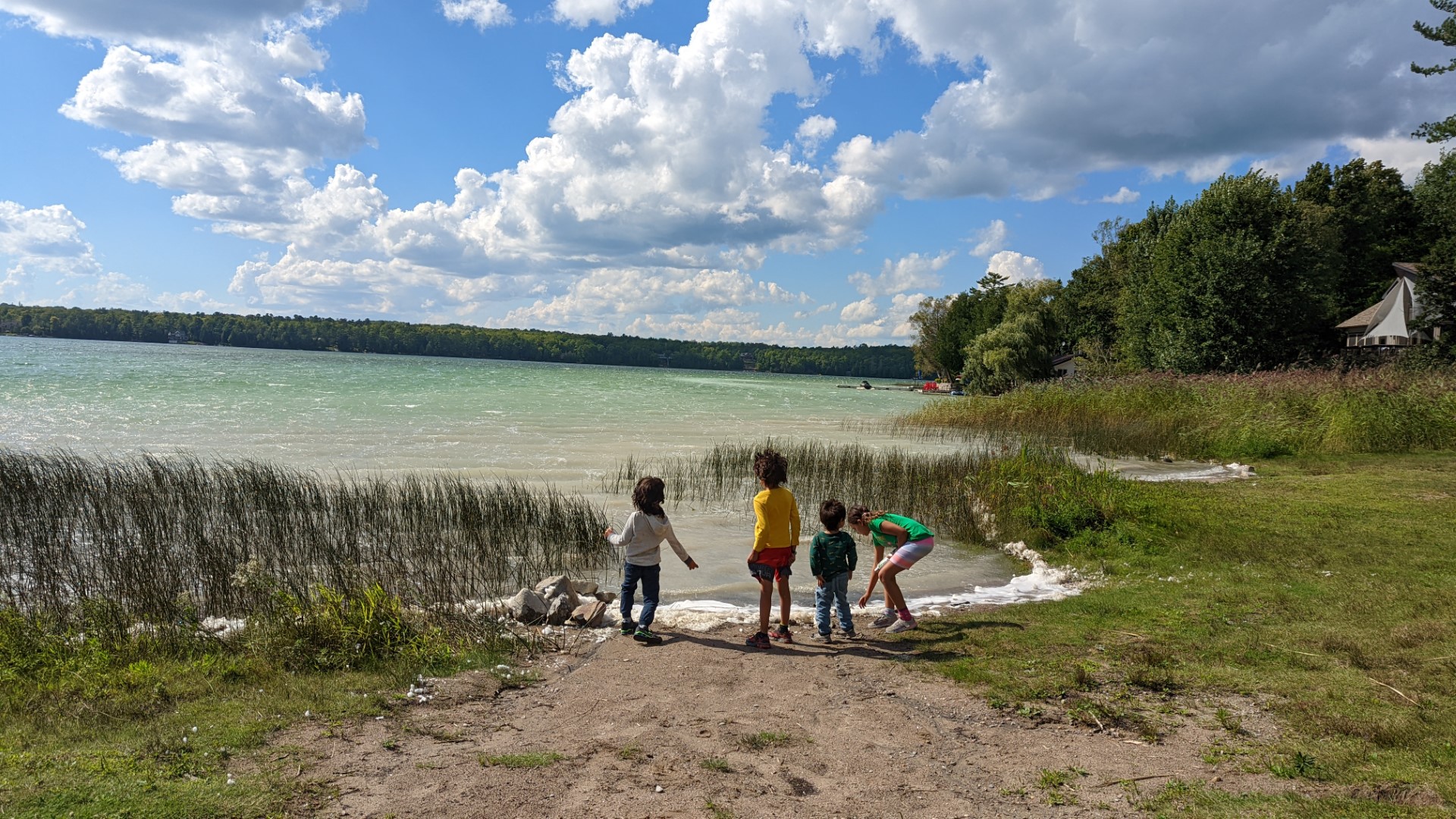 You'll want to plan your road trip to this Ontario city because you can find unique experiences, delicious eats and family fun in Peterborough and the nearby area. When making your list of things to do in Peterborough, leave some room to go off the beaten path because that's how we randomly discovered quite a few things during our visit to Peterborough & the Kawarthas.
Visit Farms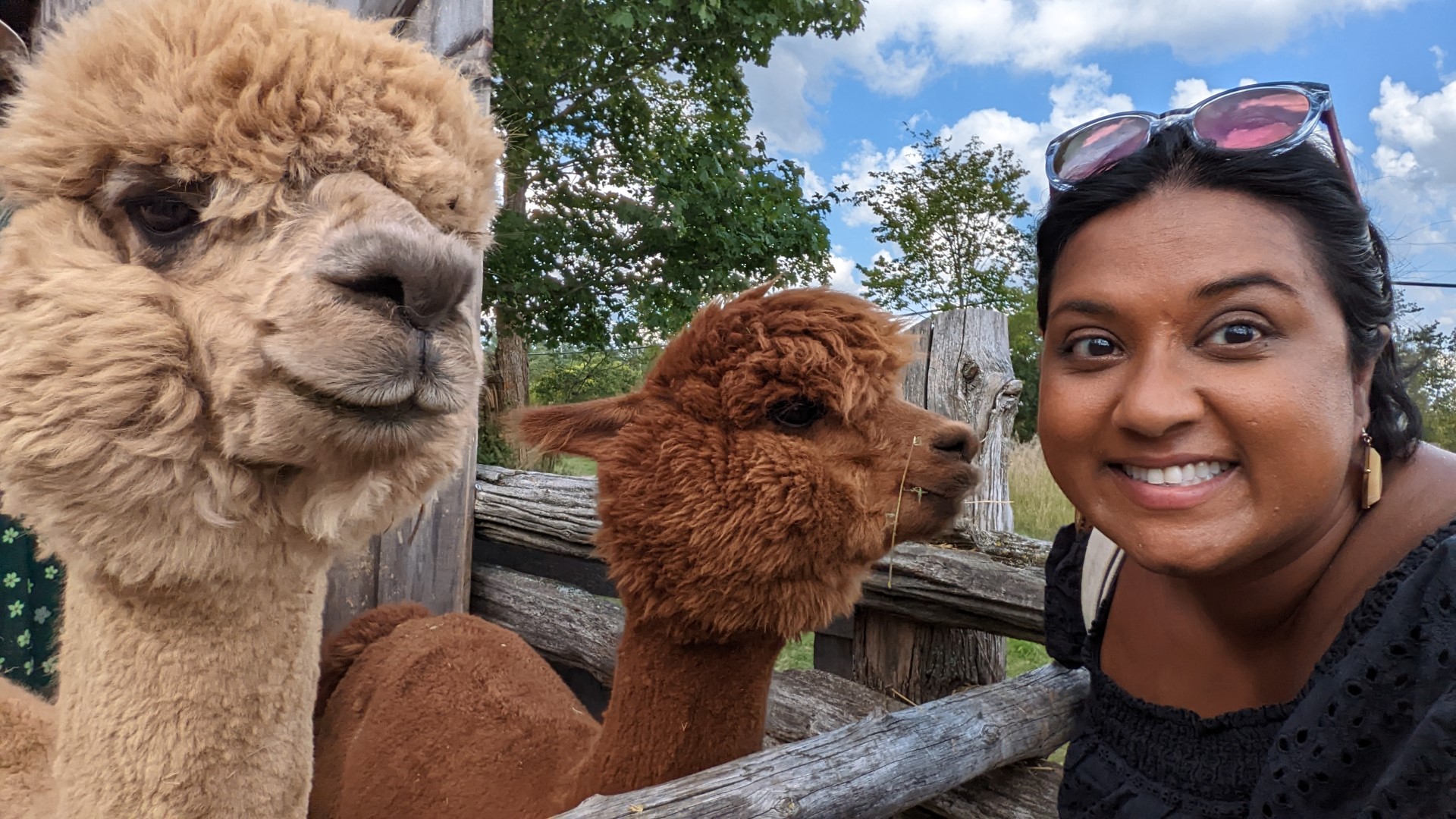 Ontario is home to some amazing farms and whether it's summer or fall, I always make it a point to swing by a few of them on every trip. Peterborough has a 'farm-tastic' list of farms and we swung by two during our travels through the area.
I initially stopped by McLean Berry Farm to pick up some veggies and saw that they had some buttertarts too. Glad I grabbed a couple because they were delicious with the perfect ratio of filling to pastry! They have a variety of pick your own options (including pumpkin in October!!) and also host annual events such as Pumpkinfest in October and Maplefest in March.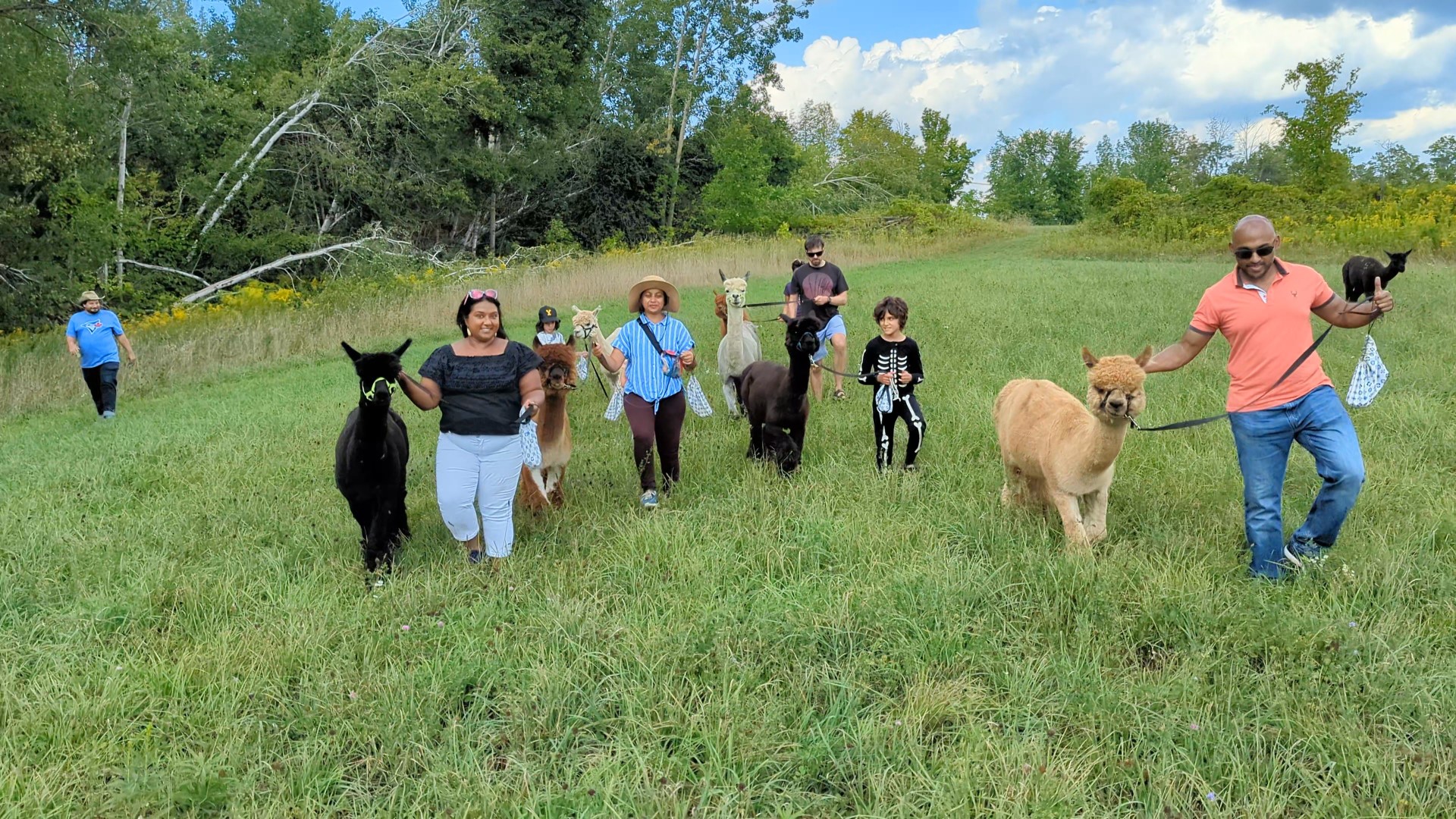 If you have little ones with you, book a visit to Wanderlight Alpaca. Owner Katie only offers a few tours per week because she wants the Alpacas to roam freely for most of their days. During our Alpaca walking tour we were greeted with bags of treats for the animals and each of us chose an Alpaca to walk.
Kids under 5 should share an alpaca with an adult. Akira and Apollo at 8 and 10 years old, had their own Alpacas and we walked through fields for an hour, asking questions and learning all about Alpacas. It was quite educational! If you plan to visit other animal farms or zoos, please note that due to the facet that there are communicable diseases between animal species, they request that you not wear footwear worn at farms or zoos in the last 48 hours. They host during all seasons so dress appropriately for the weather. Also, remember to take a water bottle because I forgot ours and Akira was nearly ready for a meltdown because she was thirsty and there was nothing in the immediate vicinity.
Take a Dip in the Lakes and Beaches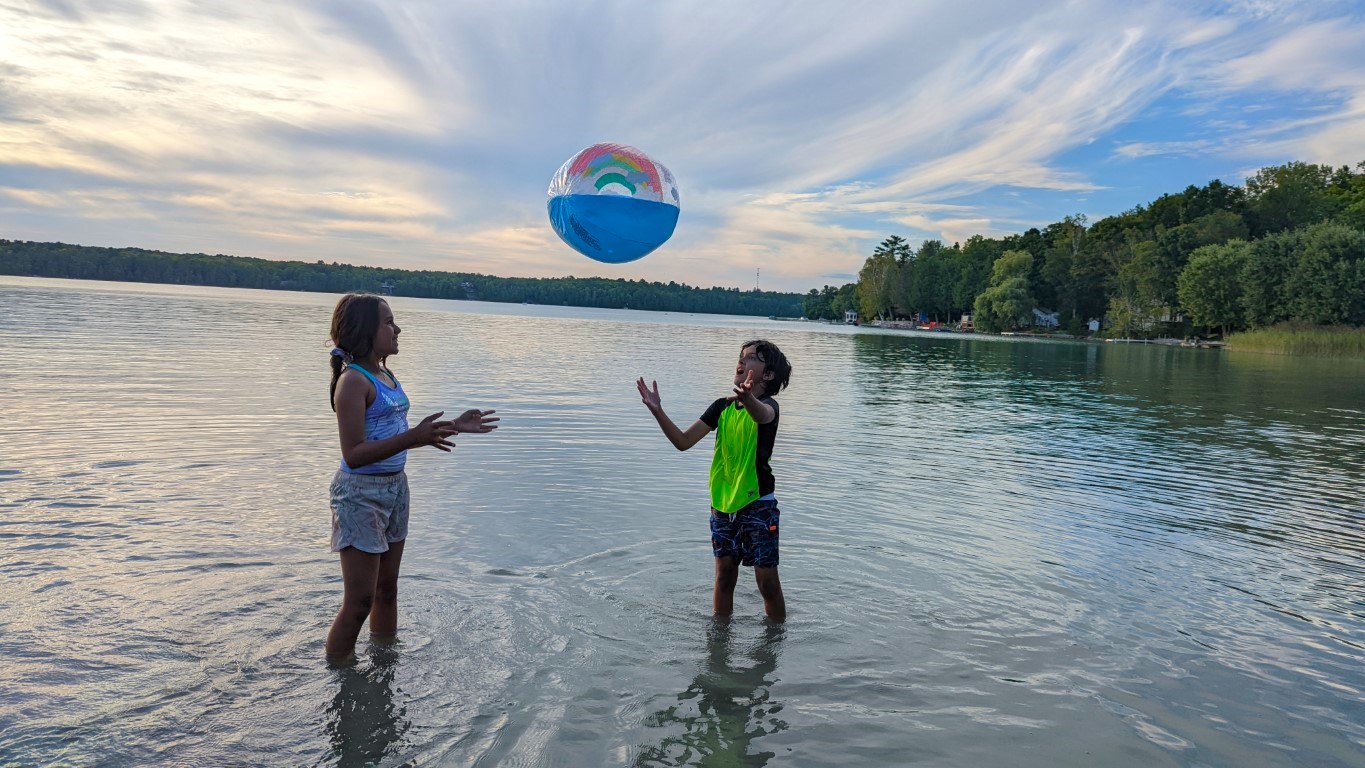 There are quite a few lakes in the area and we were lucky to live across the road from Sandy Lake Beach in the Kawarthas. With a shallow entry, it was great for kids even during the fall-like temperatures during our early September visit. The beach area is quite small but sunsets from here were really pretty and I would swing by even during the winter months.
Another spot we visited in the Kawarthas thanks to a local tip was to Stoney Lake and Burleigh Falls. The kids and I got in the water (wear water shoes if you plan to go) but weren't brave enough to get close to the falls without Chris. There's a little parking lot by Old Burleigh Road and some small side streets which gets you close to the falls where you can float in the rushing water. I had to save that for a future visit even though it looked super fun because I didn't feel safe doing it without life jackets.
Learn about Indigenous Cultures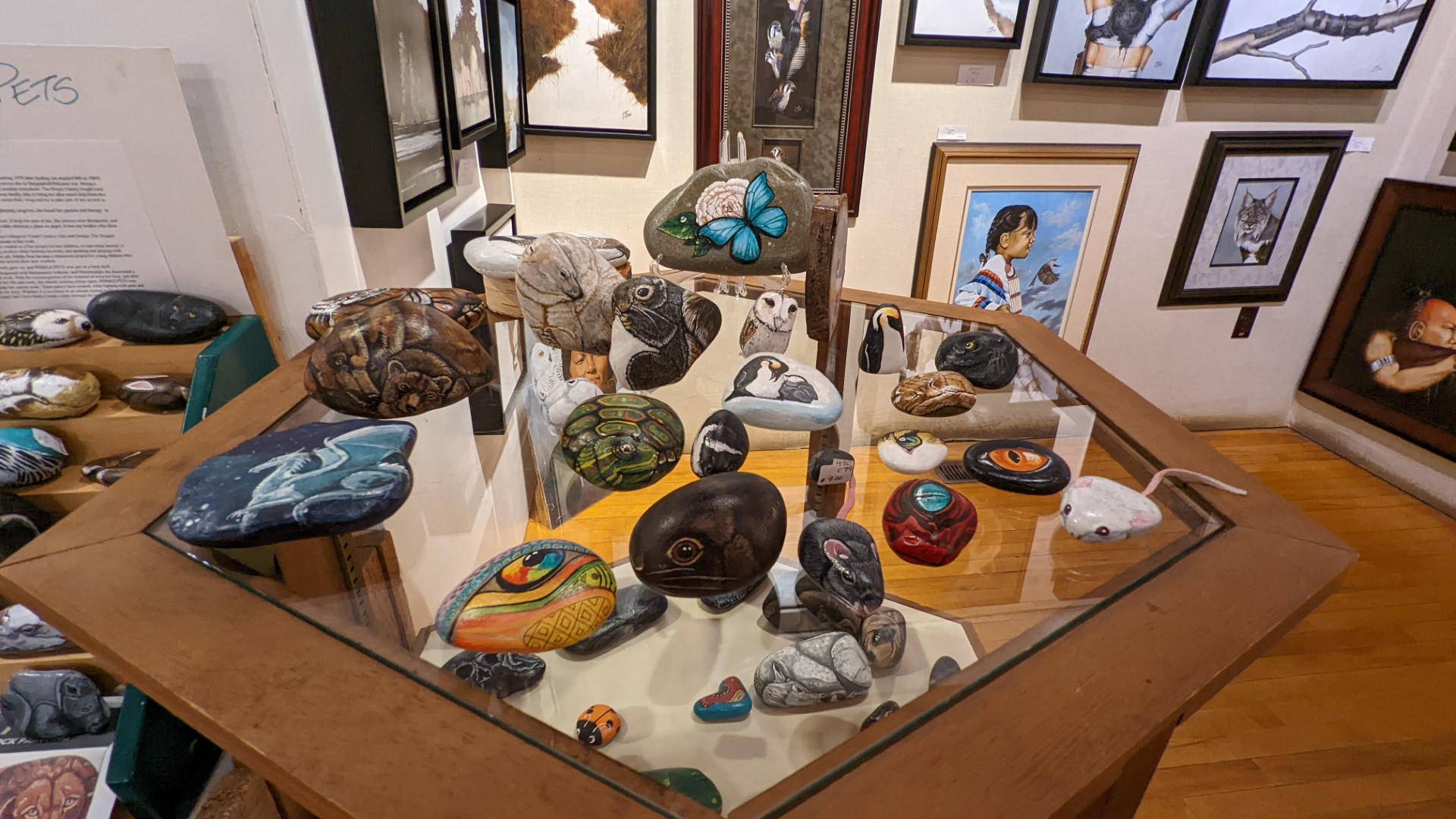 You know that I'm constantly seeking out Indigenous culture learning opportunities for myself and the kids so I was delighted when I heard that Peterborough County has a few options. First up, my friends and I took the kids to Petroglyphs Provincial Park while Chris worked one day. This Ontario Park is home to the largest known concentration of Indigenous rock carvings (petroglyphs) in Canada and there's plenty to do here that you can easily spend a few hours to an entire day!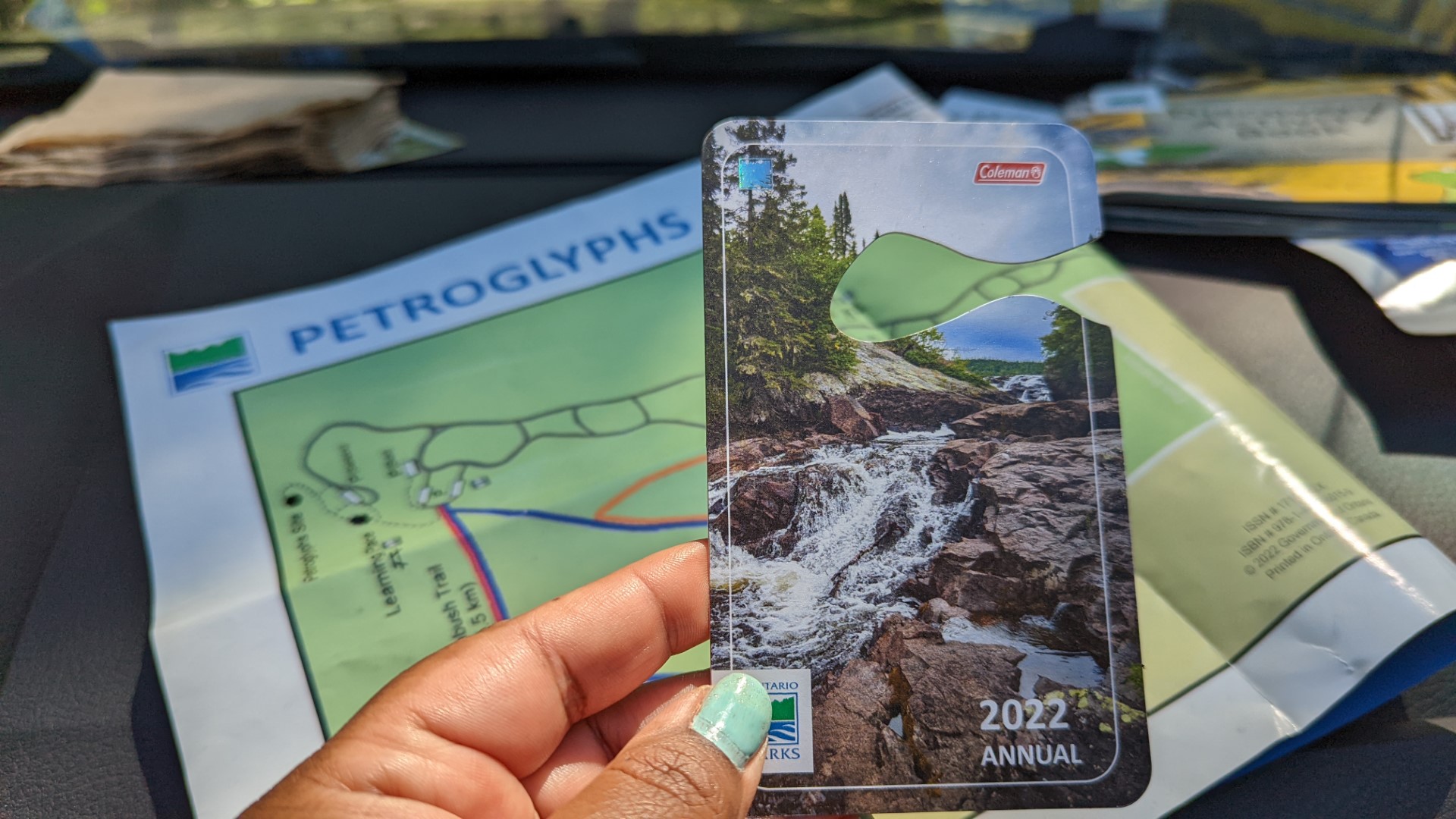 Please note that the park is usually closed on Mondays and Tuesdays during the spring and fall but open daily in the summer. If you have an annual Ontario Park Pass you can enter for free or you can purchase tickets on arrival. Either way, remember your license plate details because you'll need it when you go inside to the Learning Place Visitor Centre. We started our day here and walked through the space discovering the traditions of the Ojibway (Nishnaabe) people through the teachings of the medicine wheel. It was a calming space with a few interactive elements.
My best tip for you here is to grab a pencil and an activity book at the entrance to keep the kids busy. All four kids followed the activities in the book which meant that the whining was kept to a minimum! We only spent about 30 minutes at the Visitor Centre before heading to the sacred site known as "The Teaching Rocks". No photography is allowed here so you'll have to visit in person to see the drawings and learn about the symbolism. I hope you have the same park ranger we had because they were so knowledgeable, answering all our questions and sharing local stories with us. We spent an hour even though it was a small space.
Definitely pack a picnic and drive towards the bright blue/green McGinnis Lake which is also in the Petroglyphs Provincial Park. This is one of only a handful of meromictic (layers of water that don't intermix) lakes in Canada and the view was pretty so I suggest adding this to your list of of things to do in the Kawarthas. We enjoyed a picnic lunch here on a crisp pre-fall day.
In an effort to learn more about the local Indigenous artisans, we swung by the Whetung Ojibwa Centre located on Curve Lake First Nation. Even if you're not a big shopper, I highly recommend a visit to this Indigenous shop that's part art gallery, part community gathering space, part giftshop. I was fascinated by the history of the place and during my visit, I even met Michael Whetung himself! The space we see here today has evolved from a fishing lodge opened by Michael Whetung's great grandfather in the early 1900s. Today Michael's daughters mostly run the day to day activities from what he told me but he was very helpful and found the perfect pair of Moccasins for my mom's birthday gift. This is a great place to buy unique gifts for nearly everyone in your life. I grabbed animal bones for the kids, a gorgeous wallet for my grandma and even found a handbag to put on my own Christmas wish list. My friend nearly purchased some original artwork for his new place as well. Like I said, something for everyone!
Try New Experiences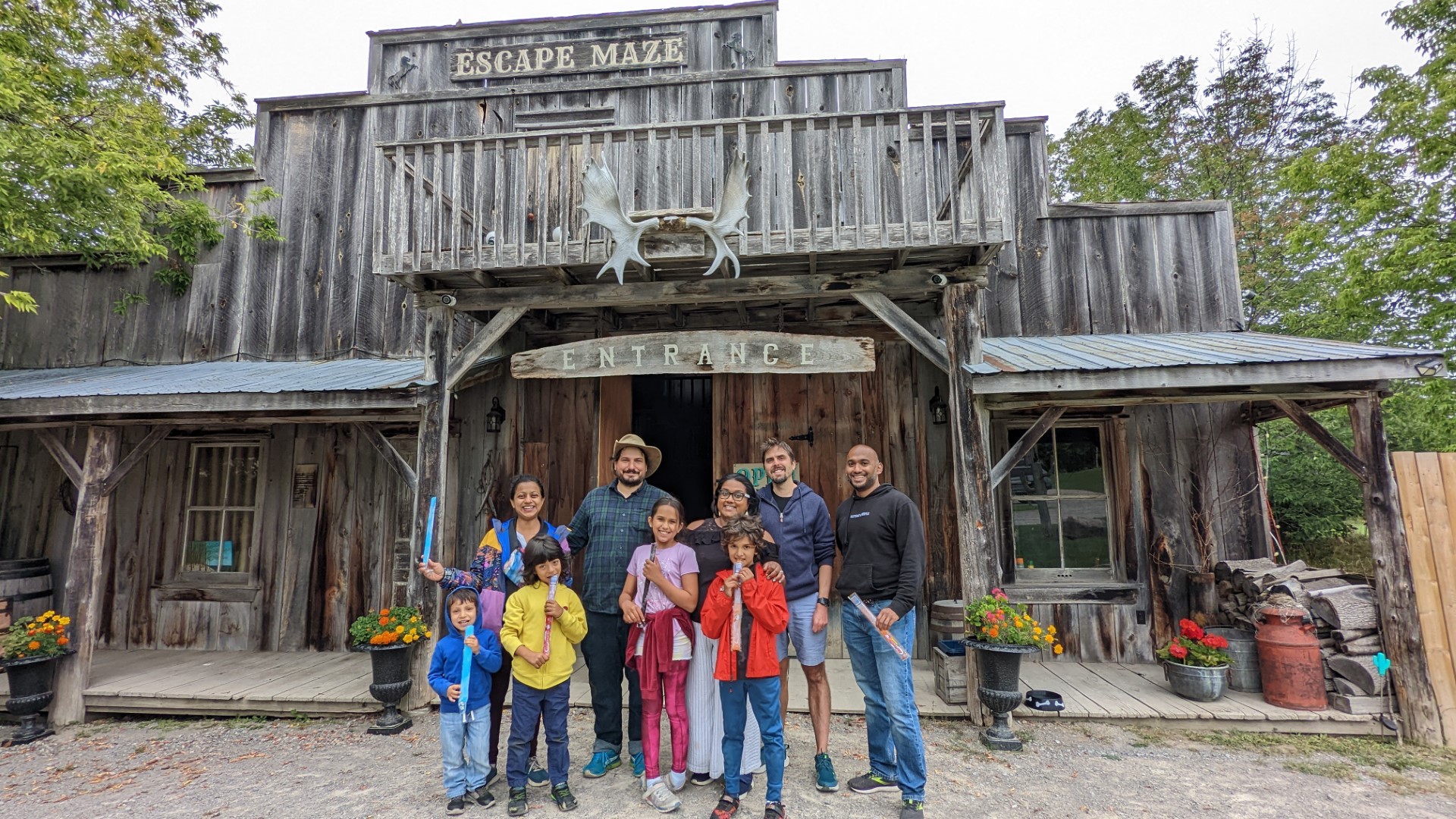 I love experiencing things for the very first time and so it should come as no surprise that I added a few items to our list of things to do in Peterborough and roped my friends into joining us. Not to worry, they absolutely loved the experiences too. One of the highlights of our Peterborough visit was Escape Maze's outdoor adventure games. A farm has been converted into a thrilling game space filled with indoor escape mazes and outdoor adventures that are great for group activities. We brought all the kids with us and so our entire group of five adults and four kids did the Gold Rush trail together. Keep in mind that this trail is best for those 13 years and above but younger ones can join in. It wasn't easy either!!
Armed with a map and a bag filled with items, we made our way around the farm, following the footsteps of Joseph O'Malley who was leaving home for the first time in search of gold. The owners have made it a point to leverage historical stories into their escape rooms and outdoor adventures so it's a neat way to learn some history along the way. The adults had a great time solving riddles and trying to beat the best time (we were so close too!). They have a Zombie themed one for groups of four adults for Halloween and my friends are already talking about a kid free visit!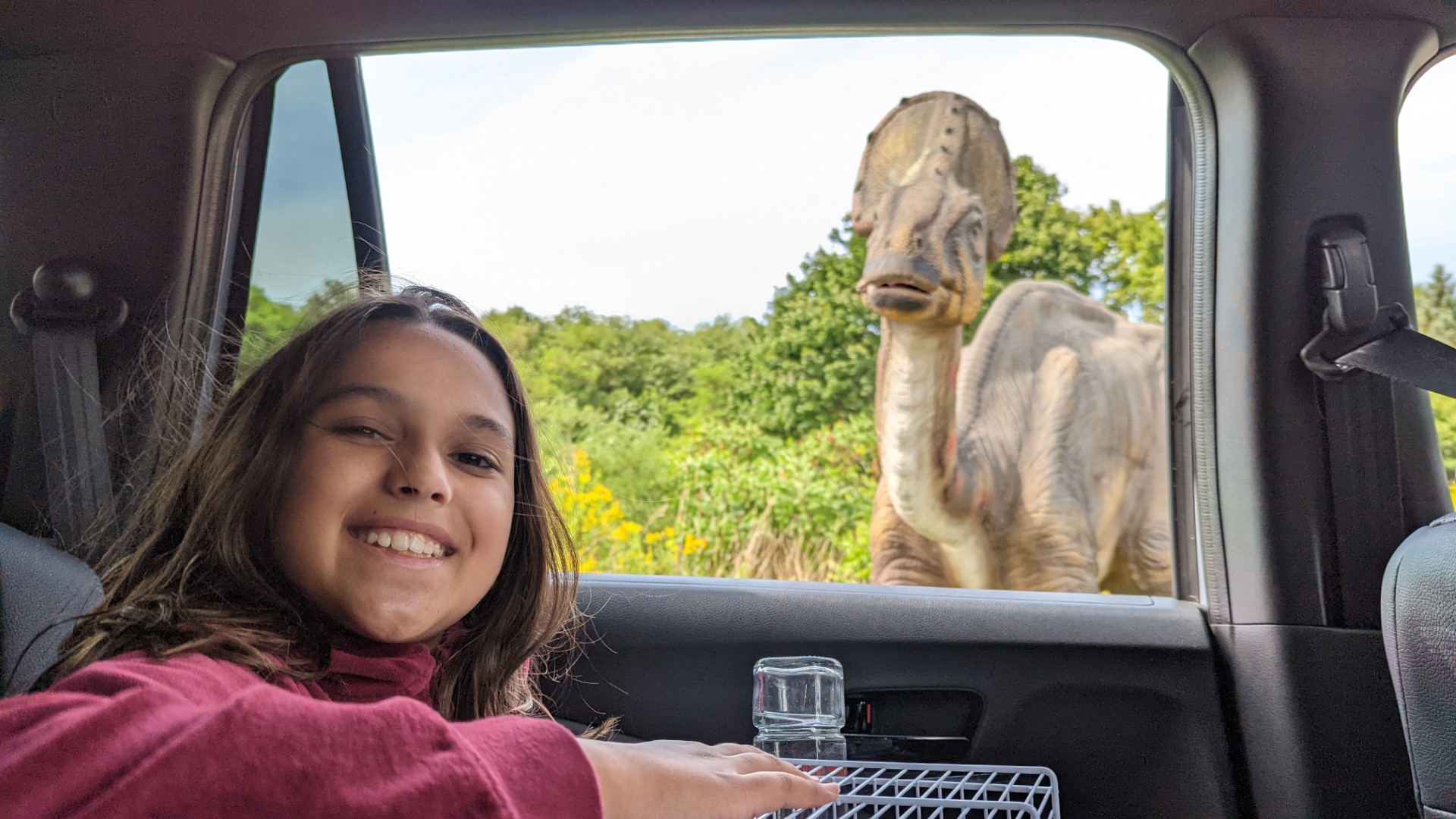 Since we had the perfect vehicle for a Dinosaur drive through we knew we had to take the Honda Passport Touring to Canada's ONLY Dinosaur Park And Reptile Sanctuary! First of all, please note that this a seasonal attraction that usually closes from mid fall to mid spring so check their timings before visiting.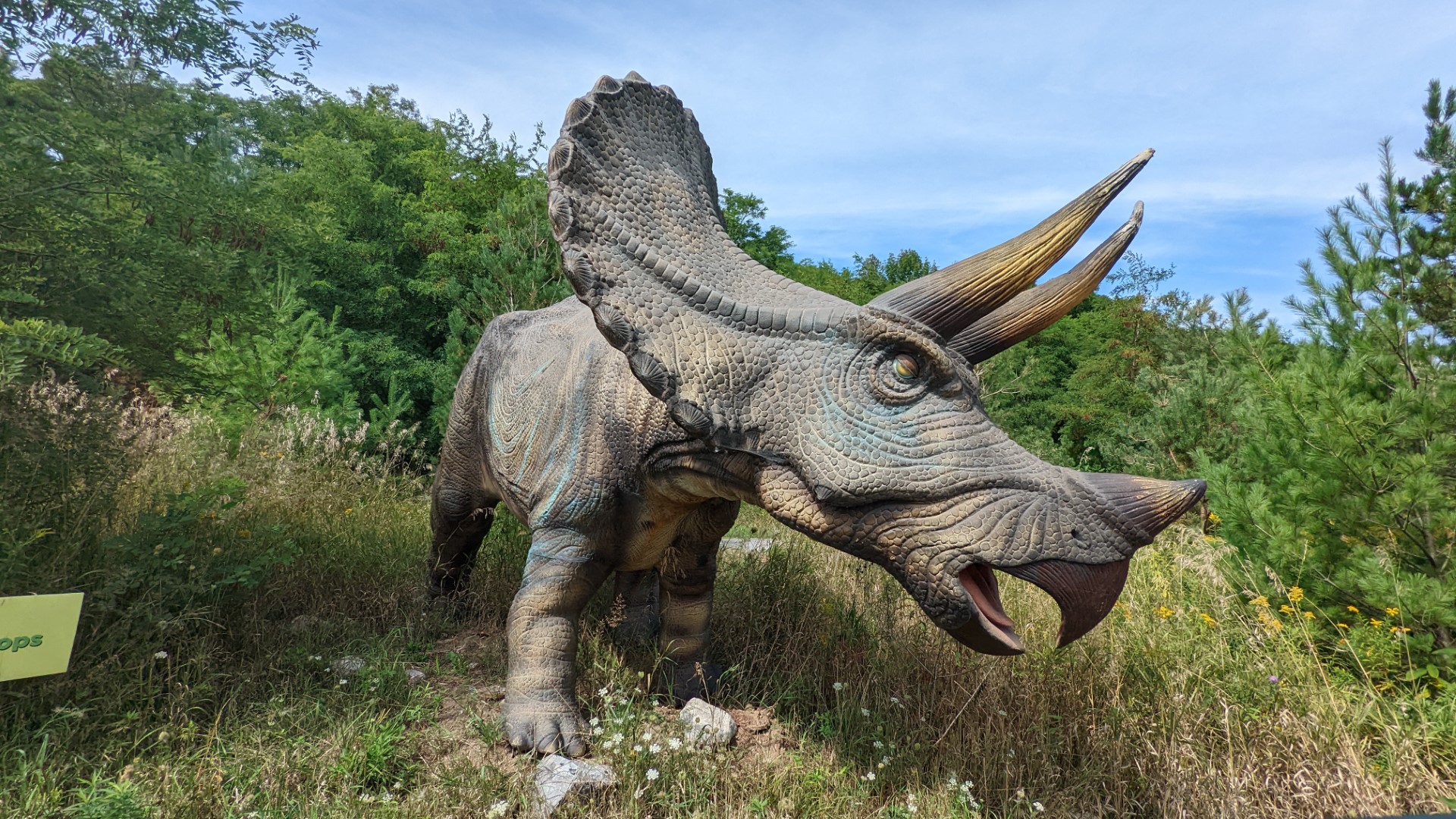 Visitors have the option to purchase individual tickets to walk through the space, play some golf and see the rescued reptiles but we opted for the drive through instead and bought one ticket for our vehicle. It was a 18 minute driving route where we saw cool animatronic dinosaurs. The kids and adults were wow-ed. This is a not for profit and all proceeds are used to support the live rescued reptiles who live onsite all year long.
Look for Pretty Rocks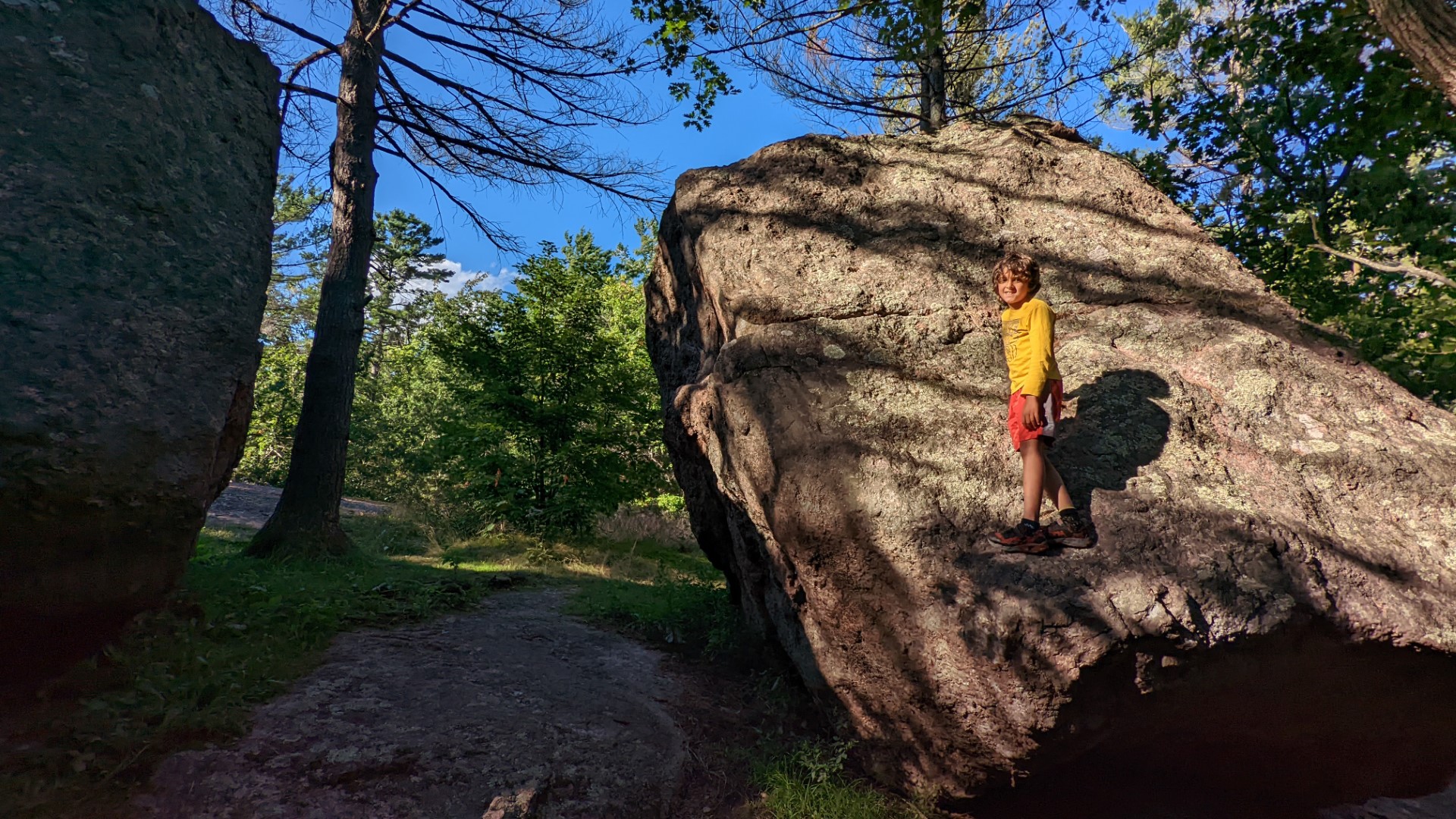 If you have kids you'll definitely want to keep an eye out when you're at places like the Adam and Eve Rocks. Sure, these rocks may be for lovers to have their relationship blessed, but go a bit beyond the rocks and there's plenty of room for kids to run and poke around.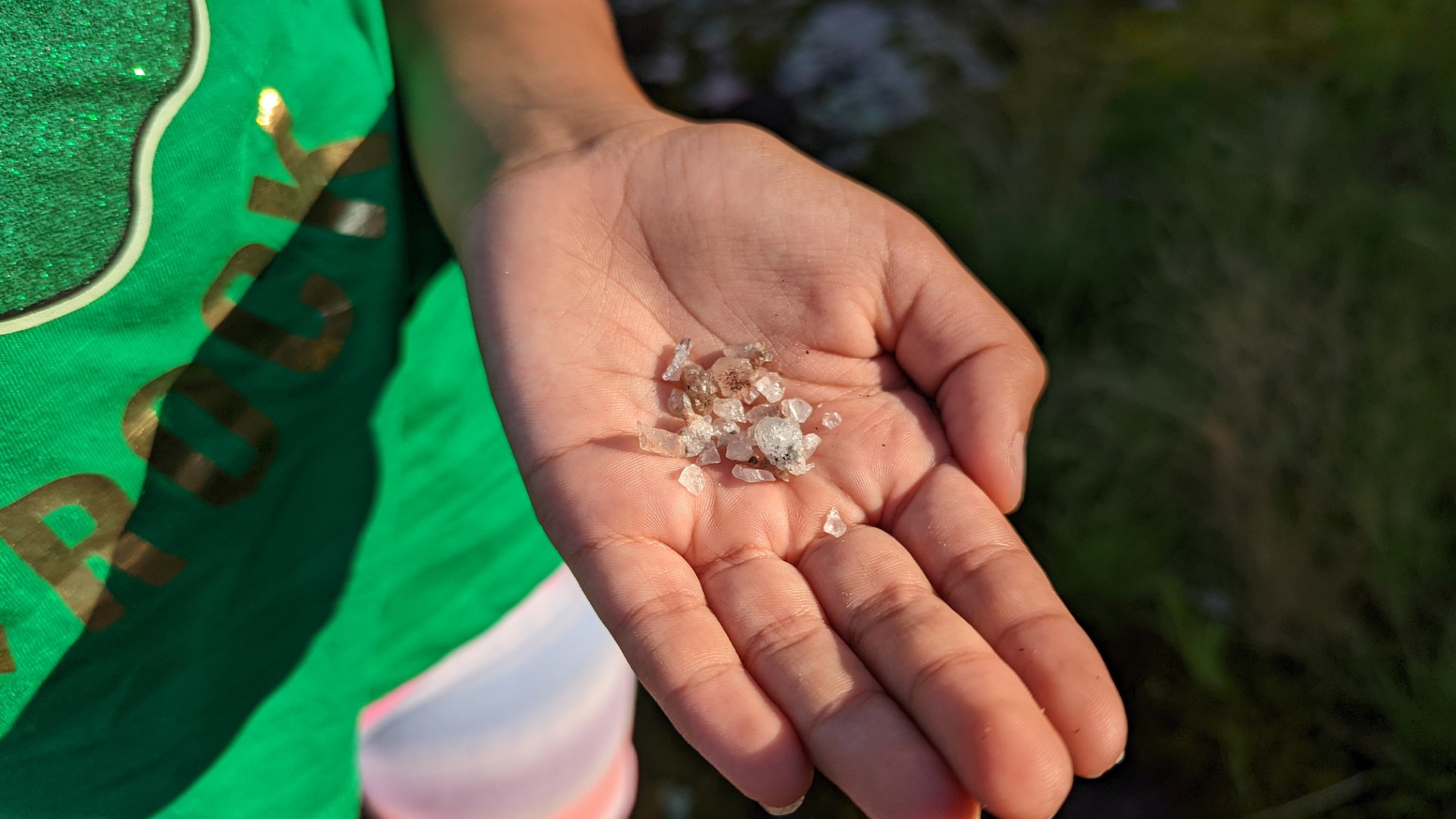 The kids had a great time clashing rocks against each other to get smaller ones to bring back home. There used to be mines in the nearby area and today, rockhounds love visiting many spots in the Peterborough & the Kawarthas to try their luck, finding minerals and fancy rocks.
Swing by Wineries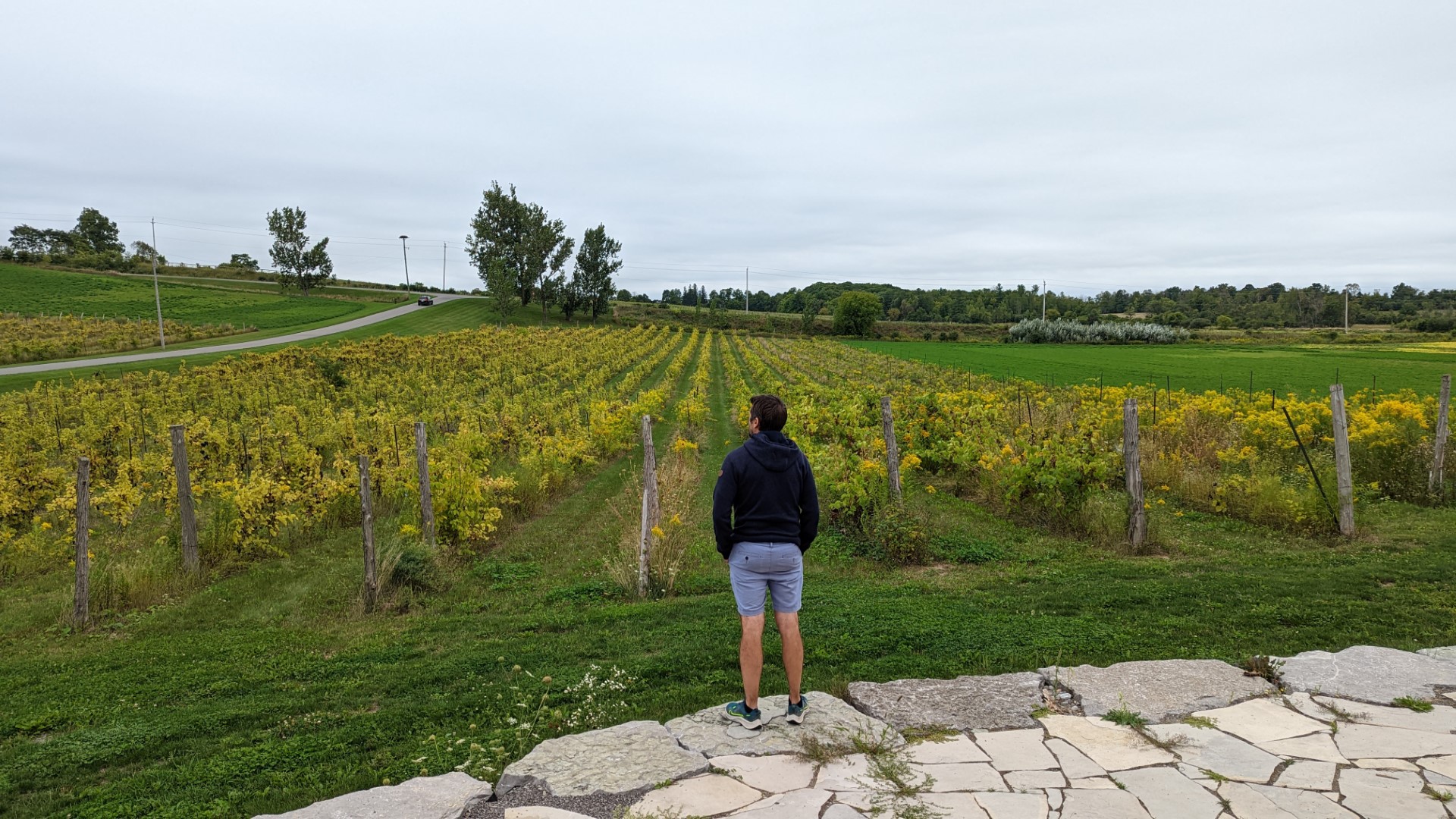 I cannot lie, visiting wineries are always high on our list of things to do in Ontario even if we have kids! There are so many family friendly wineries in Ontario and we discovered two family friendly wineries in Peterborough & the Kawarthas. They were also pet friendly Ontario wineries!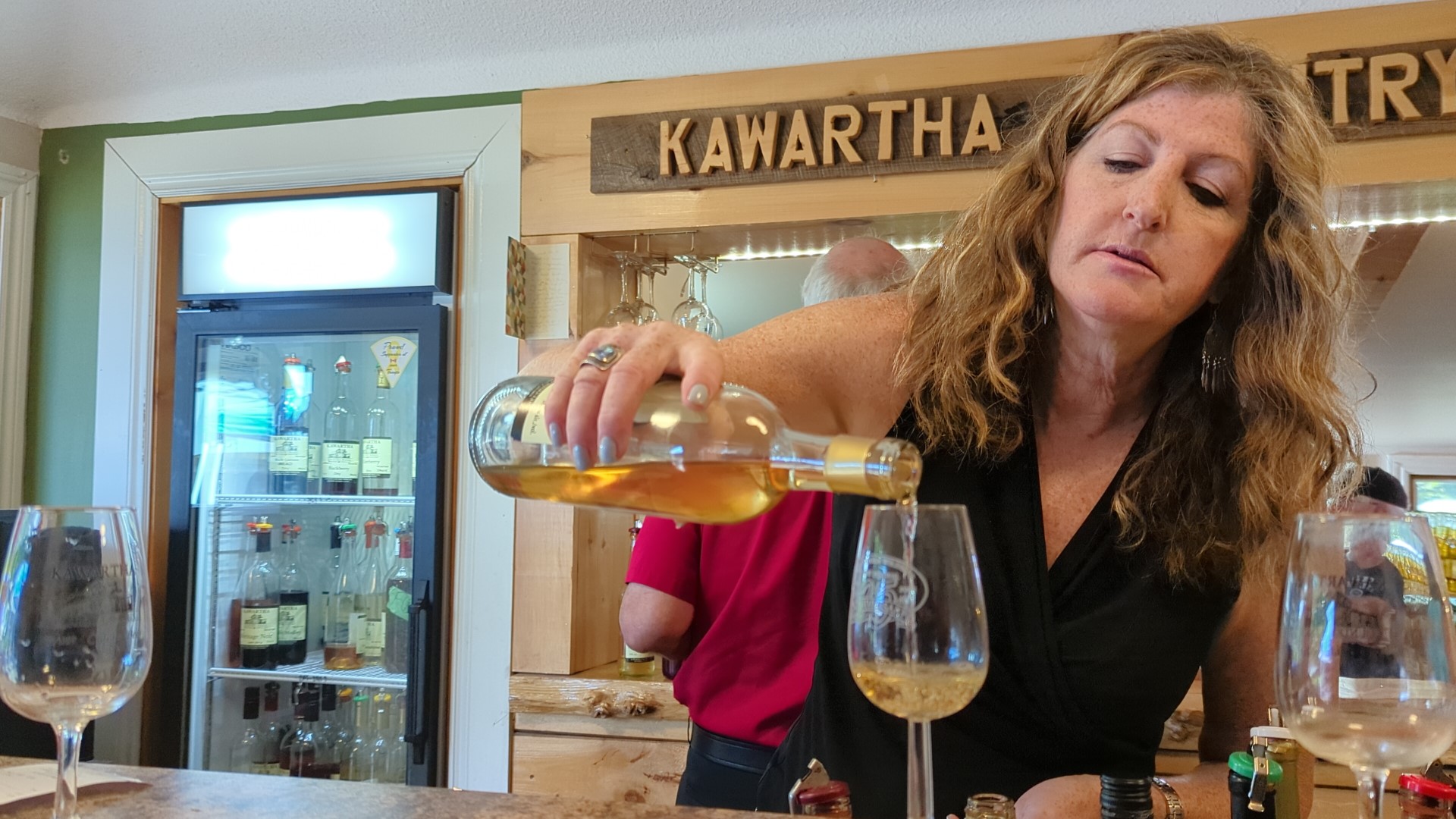 If you are a fan of Ontario ciders and fruit wines, Kawartha Country Wines is the spot for you. Not only does this family owned and run winery offer unlimited samplings of their 50 plus options but they also serve wood fired pizzas on select weekends. With picnic benches scattered throughout the backyard, the kids were happy to hang out and play while the adults enjoyed a few samples indoors before purchasing our favourites by the glass to enjoy with the pizza.
If you are gluten sensitive, they have a separate oven and this is certainly a great spot for a gluten free pizza in Ontario. IF you plan to enjoy some pizza, put that order in first and then go sample wine because it may take some time on busy days. Owner John was pouring wine during our visit and answered our many production curious questions. This is a very chilled out winery and a great spot to hang out even in the fall (pack some blankets with you for extra cozy vibes).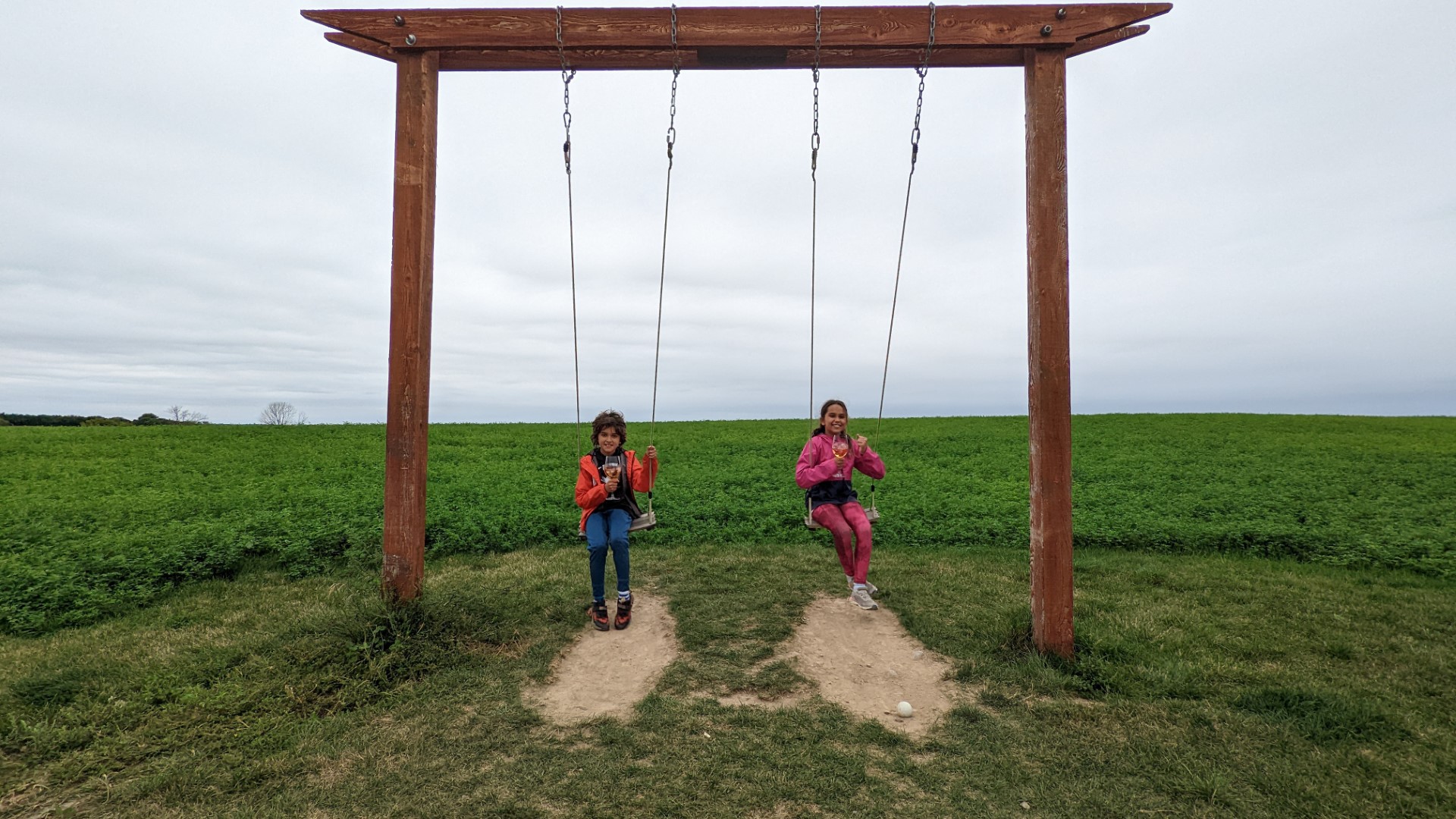 Another Peterborough winery worth a visit is Rolling Grape Vineyards. During our weekend visit there was a live performance in the indoor section and wood-fired pizza being made outdoors. The winery is located on their family farm and I loved the views of the rolling farmland from their vineyard, so we sat outdoors and enjoyed the fall vibes.
There were lawn games to entertain kids and those young at heart and there was an Instagramable swing set as well. Our group decided to order a charcuterie board – I ordered a 3 person board for our group and it was plenty for the 5 adults and 4 kids to share. These were some hearty boards! They also have a brunch board available on Sunday from 10 a.m. to 1 p.m. When it comes to wine, they have quite a few varietals and they offer sample sizes as well. Some of us decided to do the 3 glass samples while others opted for a full glass. The fun part was that they also have a mocktail for kids and designated drivers!
Take a Bite of Peterborough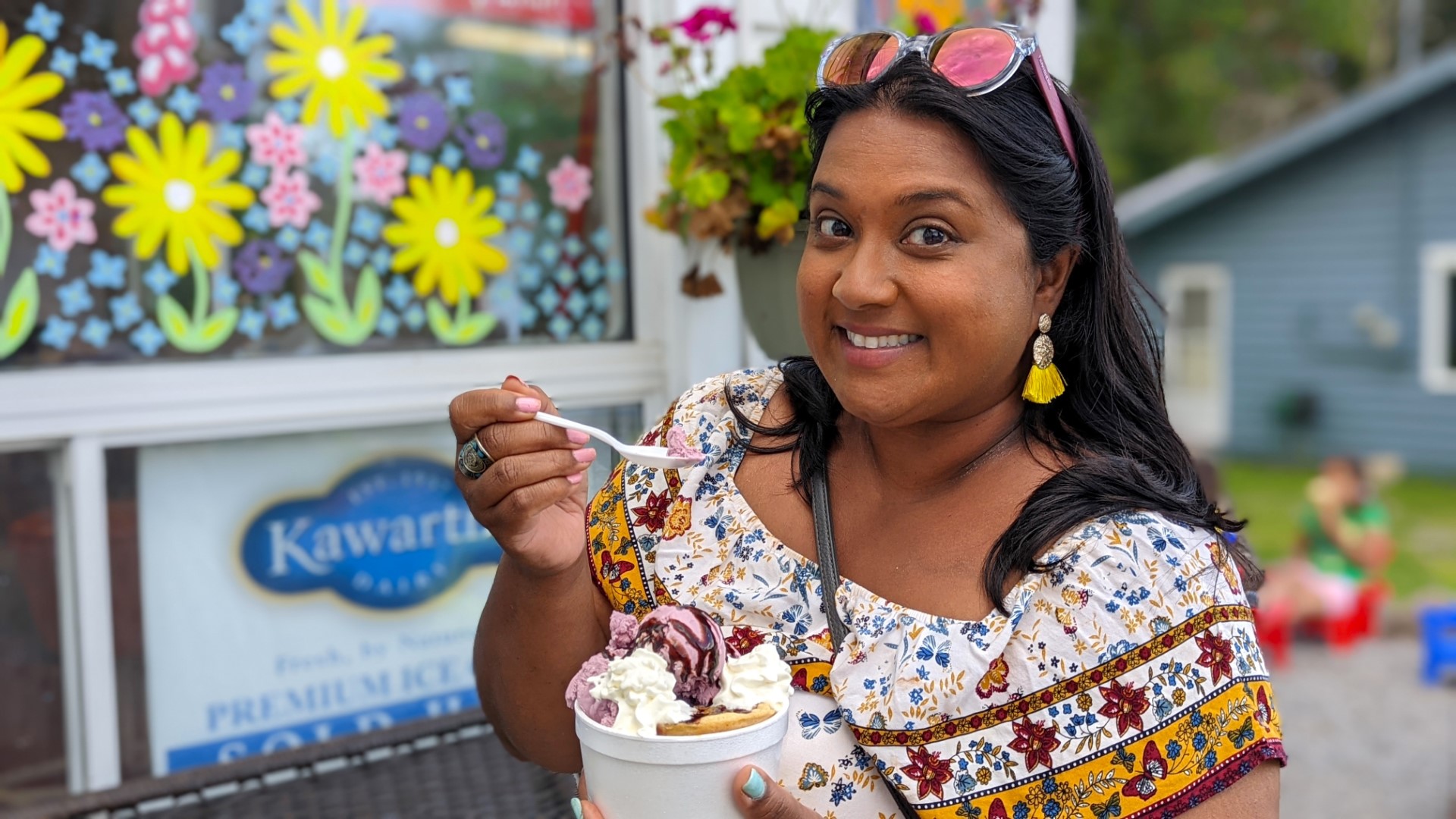 I'll start off by saying that on this trip, we had booked a cottage and so our group mostly shopped at the local stores and cooked at the cottage. However, we did get out to a few spots which I'll mention below. If you are looking for a more comprehensive list of places to eat in Peterborough & the Kawarthas, this site will help you immensely!
This ice cream shop (located across the road from the Buckhorn Ice cream shop) is usually open spring to fall and I was delighted that they were open during our visit. It's a cute spot to enjoy an ice cream at. Be sure to try their Sundae which comes with an option to layer in a buttertart!!! HOW COOL! They have a variety of Kawartha Dairy flavours and the kids insisted on repeat visits. Sadly for us, the art studio next door wasn't open but if it is, pop in to check out the gifts on sale there!
This restaurant is located at the Beachwood Resort and while you'll see resort guests who have all-inclusive meal plans there, the restaurant is also open to non-resort guests. Frederick's restaurant in Peterborough has an outdoor patio with panoramic water views of lower buckhorn lake and they have indoor cabin seating as well. Since it was chilly the night we visited for dinner, we dined indoors but still caught a great sunset by our window. Their menu features fine country cuisine and offers daily specials, your basic kid favourites and some interesting twists like Marsala and coconut stews. I was pleasantly surprised by my coconut sweet potato stew and the cheap martinis they served!
This is one of Ontario's hidden gems I feel. We need more road side pit stops like Muddy's which is located in a former woodshop in Keene, Onatrio! During the peak summer months they pride themselves on serving BBQ, Blues and Brews. The live blues band were a bit too loud for our liking but we certainly enjoyed the amazing BBQed meats here. Listen, they have some salads but don't go here if you're not a carnivore, okay? The Jerk pork tacos were my favourite and the kids loves the ribs while Chris and my friends dug the smoked briskets. Muddy's Pitt is open until December, so they're perfect for your late fall Ontario road trips too! If you're a Buffalo Bill's Fan, be sure to swing by on a Sunday for some special Buffalo wings!
Where to Stay in Peterborough and The Kawarthas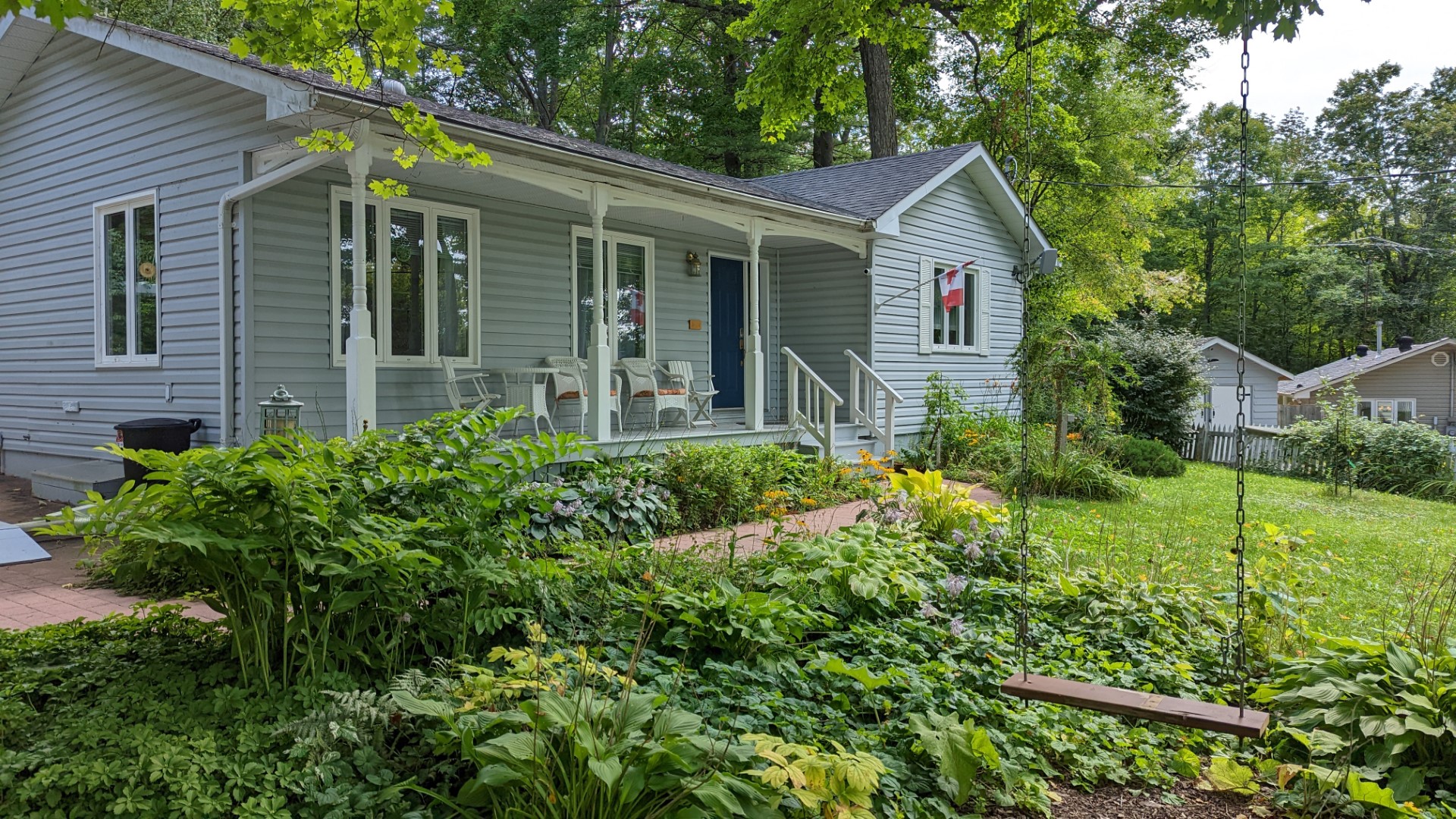 This area is home to some great cottages, beach resorts and hotels. As I mentioned, we booked ourselves into Sandy Lake cottage in the Kawarthas because it was perfect for our group. We had a hot tub, a sauna, foosball table, trampoline and fire pit in our 4 bedroom cottage. There was also a patio swing and Sandy Lake Beach across the road.
The Beachwood Resort we visited for dinner looked like a great spot for families because they had inflatable beach slides, kayaks and canoes for guests to use. I did not see their rooms so can't comment on them but did see quite a few multi-generational families enjoying dinner during our visit.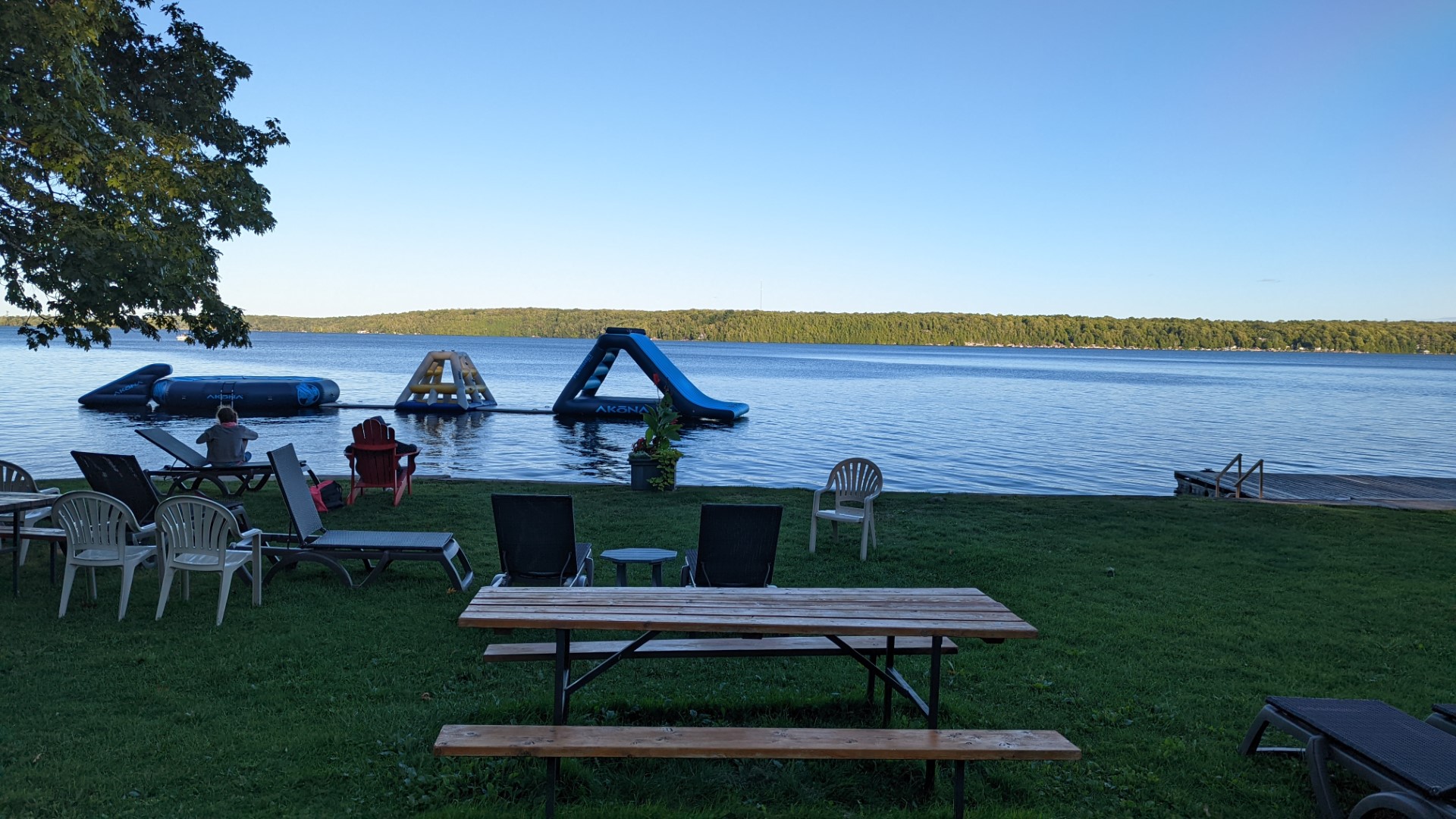 For more ideas on the best places to stay in Peterborough, check this website.
Peterborough Weekend Itinerary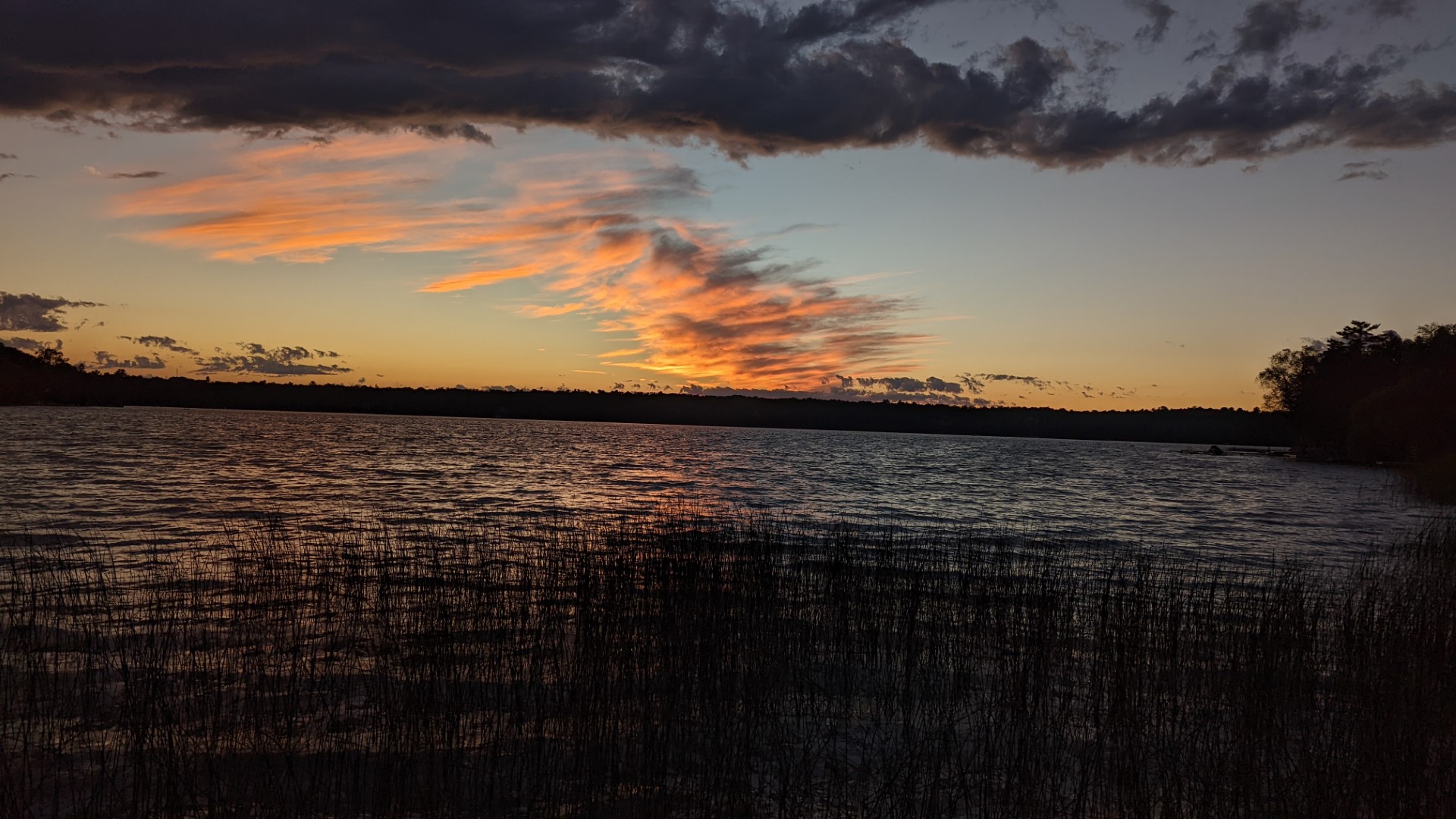 Whether you're visiting Peterborough for a week or weekend, there's plenty for you to do. I know many of you like your quick weekend getaways so below is a Peterborough weekend itinerary for that quick Ontario getaway.
Day 1
Late Morning : Rolling Grape Vineyard Brunch
Early Afternoon : Wanderlight Alpaca or Beach visit
Late Afternoon : Visit McLean's Berry Farm and swing by Whetung Ojibwa Centre and the Adam and Eve Rocks
Dinner: Frederick's
Day 2
Late Morning : Kawartha Country Wines for wine samples and pizza (grab dessert before lunch by visiting Mariloo's before getting here if you'd like)
Afternoon : Petroglyph's Provincial Park followed by a Beach visit
Dinner : Muddy's Pit BBQ
Nighttime Activity : Escape Maze for indoor or outdoor adventures