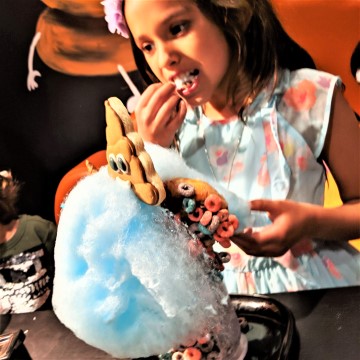 Yes folks, we went to the Poop Cafe in Toronto with our kids and had quite the laugh. Located in Toronto's Bloor West neighbourhood, this dessert cafe is not close by to the main tourist attractions but it's right by the Christie Subway station and easy to get to which is why I mentioned it as something different to do in Toronto with kids. I first heard about poop themed restaurants popping up in East Asia and was curious when one opened in Toronto about three years ago. I had attended an event there last year and had vowed to bring our poop loving kids there but it took me a couple years to fulfill that promise. With not much planned for the long weekend, it was the perfect opportunity to see their faces light up with glee as they ordered one poopy dessert after another. It's all sugar laden here so get them to eat their veggies prior to their visit!
What is the Poop Cafe?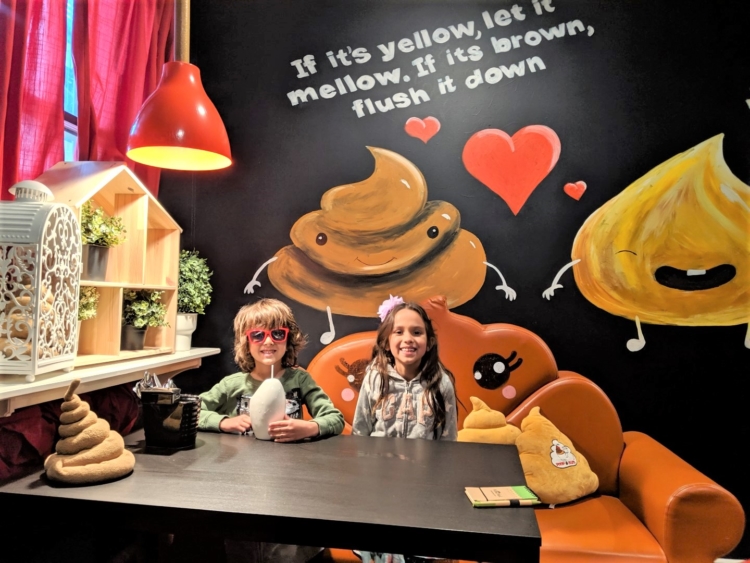 It is exactly as it sounds! A poop themed cafe that offers treats shaped like poop emojis, drinks that are mammoth and vegan ice cream in toilet bowls. Not only do you sit on a toilet bowl to eat, but you also eat and drink off urinals and toilet bowls. The actual seats are quite heavy as they REALLY are toilets (much cleaner and less stinkier than the ones in my bathroom, thankfully) and even though this spot opened back in 2016, it was still quite busy when we popped in. I nabbed the last two tables for our group of 4 adults and 4 kids. PHEW!" Is this stool taken?" oh yaaaah it is! I seem to have forgotten to take a picture of the toilet bowl seats because my kids chose to sit on the poop shaped couch instead – oops!
Is the Poop Cafe in Toronto Fun for Kids?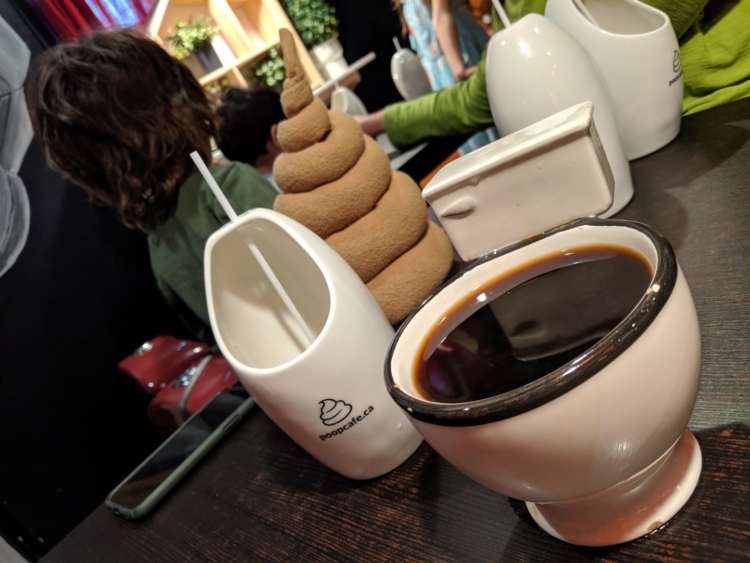 You get to eat poop!!!!
Doesn't that sound fun? No, to me neither but the kids LOVED it and I can't deny that there's complete hilarity in it all. They just reveled in the whole stinkin' mess and it was adorable seeing them crack up as they picked up poop cookies, shit-shaped jellies and lick the toilet bowls clean. So yes, it's absolutely fun for kids and worth the price points (you can find drinks for around $5 and the most we spent was $17 on the crazy milkshake).
What Should We Order at Toronto's Poop Cafe?
This is a tough one as the menu is quite large and as we found out, not all menus feature the same stuff! Be sure to peek at two menus to confirm you have all the sheets in there. We ordered a variety of items with the adults mostly ordering drinks and the kids getting the treats. The treats were VERY large that we ended up helping them eat it all and still couldn't finish Little Monkey's Milkshake – keep that in mind when ordering! Also note that our server kept loosing our order for some reason and so it took 45 minutes for our food to arrive and we only received it after the 3rd time we gave the order. They did apologize and offered us a 10% discount but that didn't really amount to much!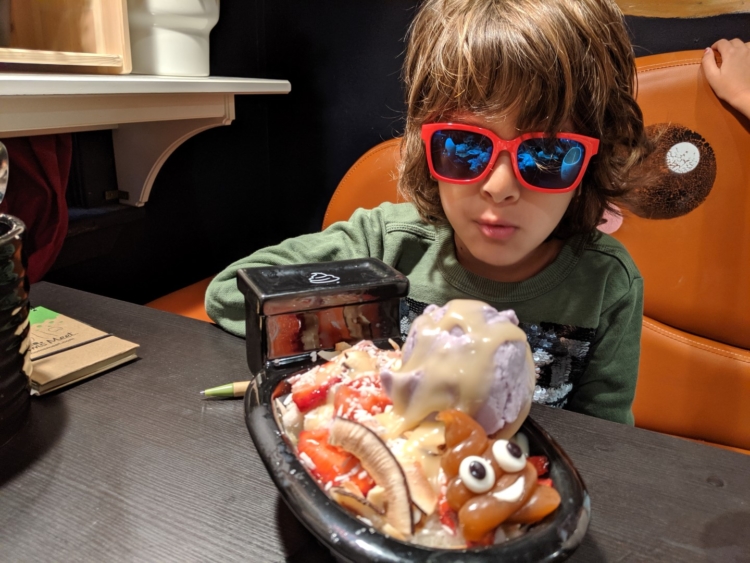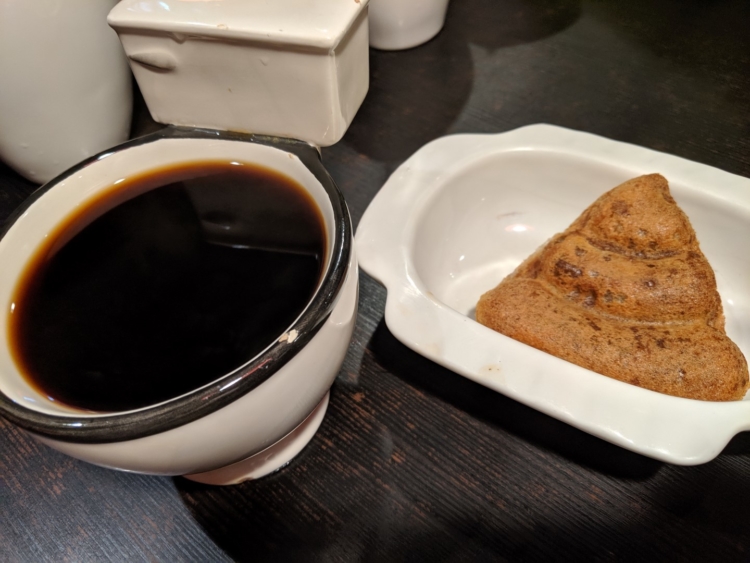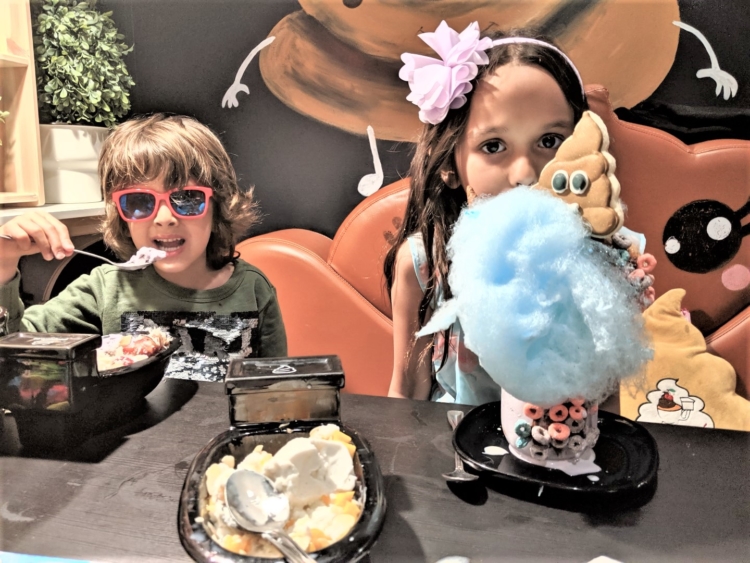 Let's be honest this is a spot for the kitsch factor. The dishes were alright but I wouldn't say this is the best ice cream in Toronto. Should you still take your kid here? Yes, because they'll have a great time and so will you. Just don't go looking for quality treats – they look fantastic and taste decent. Do go here looking for quality entertainment!