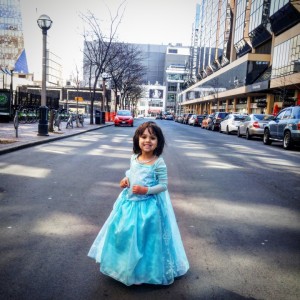 Yesterday Little Monkey and I spent a magical day at the Princess Ball we told you about a couple months back. As you may recall, the Princess Ball is an annual event organized by Wishes for Olivia and is meant to build a legacy in memory of Olivia Grace White, who died suddenly at the age of 5, as well as raise money for Make-A-Wish Canada. I was careful to tell Little Monkey about the exciting event only three sleeps before the big day and I'm so glad that I waited. She's getting more impatient as each day goes by! That girl really needs a lesson in patience but I'm not sure how to teach that to a four year old, just yet!
We woke up around 9:30 a.m. on Sunday and started getting ready for The Princess Ball. I opted for a long blue dress I had worn to a couple weddings and ensured that I blinged myself up (much to Little Monkey's delight). I was also smart enough to avoid the heels and opt for sparkly flat sandals (so glad I did that!!). That said, many moms were dancing away in gorgeous heels and I did have shoe envy for a couple moments. We went shopping the day before and bought a Princess Elsa dress from the Disney store for Little Monkey so that's what she wore.
The Princess Ball was held at the Old Mill Inn and it was very easy to get to from the subway. I couldn't help but notice how Little Monkey all dolled up was bringing smiles to most we encountered on the subway. She and I definitely felt very regal as we made our way to the Princess Ball. On arrival we checked ourselves in and Little Monkey received an autograph book (who remembers having those as kids? ME!! ME!!) to get the princesses' John Hancock and while she only got three Princesses to sign it, she took it  to school today to show her friends! We also received a recyclable bag to collect all the stuff we collected on our way in.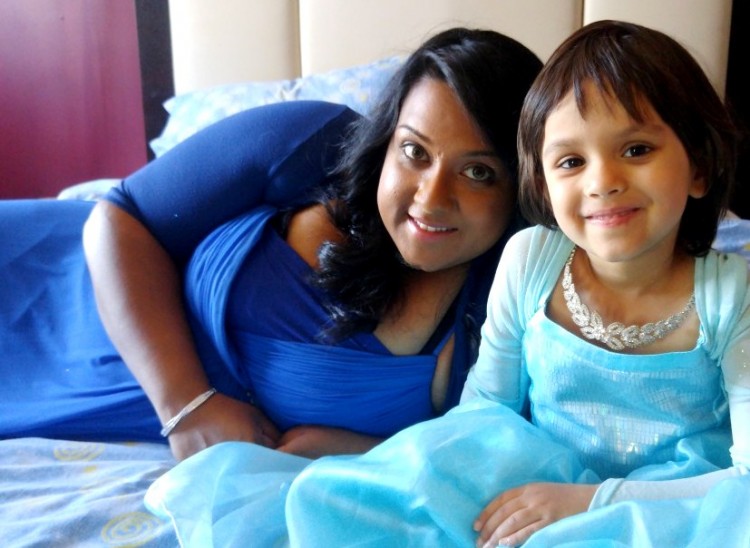 We had the chance to purchase a couple raffle tickets for some amazing prizes (though sadly we won nothing) and then made our way to main room. It truly felt a bit like a wedding, we had assigned tables and luckily for us, we were seated with the winners of our ticket giveaway so Little Monkey had a friend to dance and run around with. Our three course meal rolled in and we were allowed to roam around, meet the Princesses ( loved that the Princesses were all oh so very accessible!), dance and place our bids on the silent auction.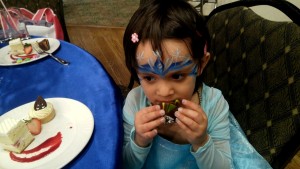 It was sensory overload because there was so much going on but the smiles on the faces told me that the kids were having an amazing time. I can only imagine how much Princess Olivia would have loved this ball. From candy stations to guaranteed win raffle stations and a cash bar, the main room (nicely decorated in Scottish "Brave" inspired decor) had something for everyone and a very large dance floor that was always packed thanks to DJ Liquid Entertainment.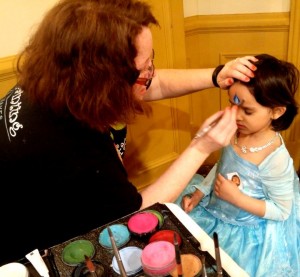 We had luckily signed up for a Spa Fastpass (it was free to do so), which meant that we had a designated time slot for the spa activities. Yes you read that right, SPA activities. It was a bit chaotic when we entered the space and Little Monkey had a whining session about standing in lines. However, the lines moved quickly and within half an hour we had her face painted by Happy Faces, her nails done at the Glama Gals Spa (you know how much we love their products!), her hair glittered by the folks at Melonhead and a glittery tattoo placed on her hand, within 30 minutes. PHEW! Right? So much to do!!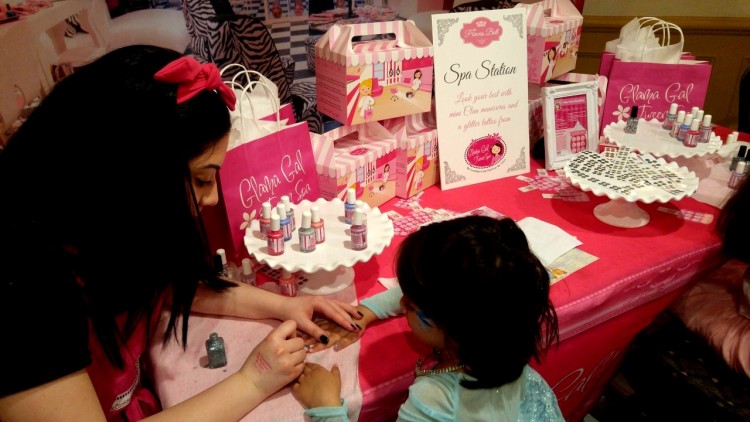 All glittered up and a permanent smile plastered on her face, we made our way to the Springfree trampoline and archery stations outdoors. Sure there were more line ups but again, they moved quickly AND we were enjoying the sunshine we had been craving all these months! Trampolining in a princess dress should be a new sport!!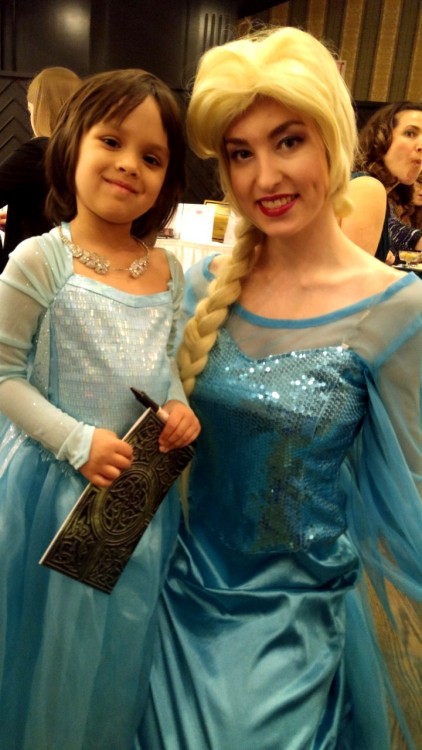 With all the activities checked off our list we made our way back to our table to rest our feet and enjoy a glass of Prosseco and trio of desserts we had left there. DJ Liquid Entertainment definitely knew the right tunes to play and Little Monkey was bopping her head the whole way through the four hours. Towards the end of the afternoon, Jennifer White took stage and there wasn't a dry eye in the house as we all marveled at the strength she and her husband has. They took every parent's worst nightmare, lived through it and turned it into a legacy and I get goosebumps when I think of their story. I just can't even imagine it and I knew I'd get emotional if I went up to talk to  Jennifer so I kept my distance. One of these days, I owe her a big hug. As I looked around the room and spotted dads, moms and the kids, I understood why Jennifer is already planning the fourth Princess Ball. There's a massive list of people and companies supporting the event and I really hope we can take a more active role in supporting this amazing event next year.
As we ended our afternoon, we picked up our swag bags (with mini toys, a personalized Mabel's Labels set and hand cream), waived goodbye to all the Princesses and Princes and made our way back to the subway which was only a 2 minute walk away. Would we go back? HELLS YES! If you're looking for ways to support Wishes for Olivia and the Make a Wish foundation there's plenty of ways to get involved and be sure to set an email alert for next year's Princess Ball, as tickets do sell out VERY quickly!