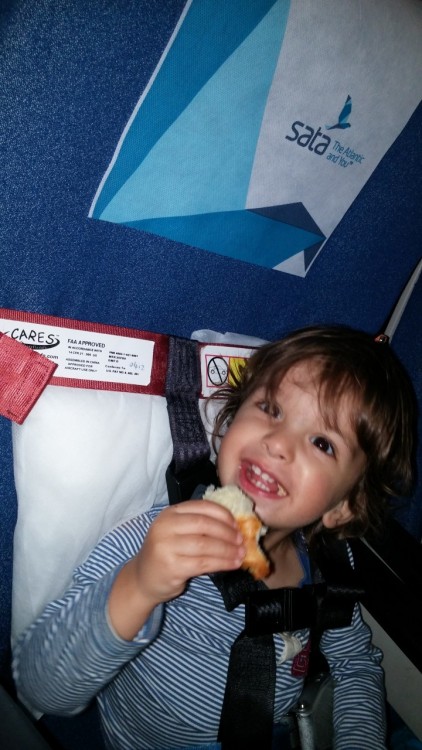 We departed Toronto on Saturday evening with the grandparents and toddlers in tow beginning our #MurphysDoPortugal travels. I had jumped on a SATA airline sale having done no research on the what the airline was or what to expect when travelling on SATA airlines because the deal to Europe was AWESOME! Blindly I figured we'd be okay with extra pairs of hands to help us when travelling on SATA airlines with kids. Upon check-in we were greeted by friendly smiles and told that they would be happy to take our car seats and check them in free of charge and so we handed over one of the two seats we had with us and made our way to the gate.
SATA does offer pre-boarding for those with young kids but as always if you're not by the gate as soon as the call is made, you will miss your turn and have to nudge your way to the front. My plan was to bring one of the car seats on board so that if there was an empty seat we could safely strap Baby Boy into it or failing which, Little Monkey would be able to sit in it in her paid seat and have a good night's sleep. That plan failed with Little Monkey refused to bring it on board saying she wouldn't sit on it and so the gate staff gladly allowed us to gate check it at the last minute, along with our double stroller.
On board the stewardesses were cordial and one of them was absolutely charming and kept checking in on us and the kids. The kids got a welcome kit consisting of sharp colouring pencils and a book which amused them for a bit. Oh also…every lavatory had a change table on board! That was a nice touch especially as there were long line ups for the bathrooms as always and Baby Boy had three too many messy diapers.
My expectations of having both of them sleep during our overnight flight was not met. Instead both kids decided to yell and scream while those around us tried to snooze away. I felt horrible as nothing we did appeased them. I'm used to 1.5 year old Baby Boy crying a bit to fall asleep but since we had an extra seat (yay!!) I strapped him into the CARES harness and thought he'd whine and fall asleep but that didn't happen. Instead, I had to strap him onto me in the BJORN and he finally conked off but not before Little Monkey and he got into many arguments and yelling sessions because they thought it was funny!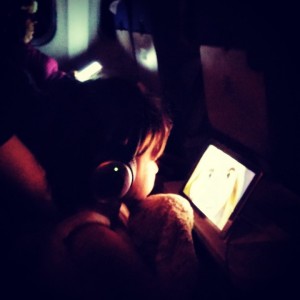 Lessons learned here include not letting these two jokers sit next to each other on flights, avoiding late night flights and bringing the car seat or buying an extra CARES harness system to strap them both in! This was our most brutal flight to date and after a hour and a half of crying they finally fell asleep only to wake up grumpy. The flight was six and a half hours long so they didn't really get a full night's sleep and while Baby Boy was happy enough to drink a bottle of milk during the cabin pressure change on landing, Little Monkey had none of it. She cried herself silly and refused to eat or drink anything which made it even more frustrating for us.
Thankfully we landed and the crying stopped. I was amazed by how friendly everyone around us was and many came and sympathized with us saying they had been through this themselves and some young fellas behind were even nice enough to say they didn't mind the crying one bit (liars!! LOL). This was prelude to the super baby friendly culture that welcomed us in Porto…everyone here loves kids and seeing kids at bars and patios is quite common.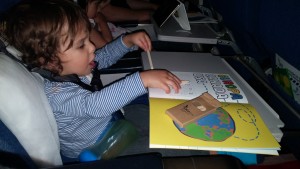 SATA was actually a pleasant surprise and my only complain would be the tiny seats with not much legroom and the mediocre menu but everything else was fabulous. They even offered infant seat belts which was a nice touch during take-off and landing when Baby Boy was about to have a fit. Luckily our return travels include an afternoon flight and so I hope for a much smoother flight when it comes to these two tiny travelers. Perhaps it's also worth upgrading to Business class which seems to have wider seats. Wish us luck!