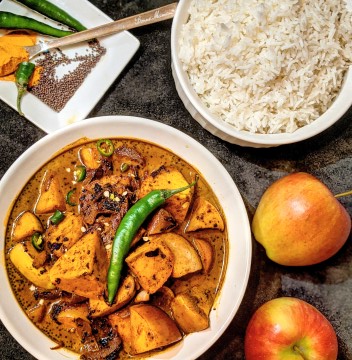 Fruit curries are one of my favourite dishes and in Sri Lanka we make apple curries to pair with the many vegetable and meat dishes that accompany our every day meals. Living in Canada, we're so lucky to have access to many different types of apples and while you may know of baked apple dishes, I'm going to introduce you to the world of cooked apple curries. If you're looking for unique things to make with apples, you may love this traditional Sri Lankan apple curry recipe with a slight twist!
Disclosure : This post is sponsored by Ontario Ambrosia. I was compensated for my time, but as always, all opinions are TOTALLY ours!
Traditionally Sri Lankan apple curries are made with green apples and I think this is for two main reasons. First one being the tart flavour of green apples and the second being that green apples tend to be firmer and hold their shape better than most other varieties. I recently discovered
Ambrosia apples
(a Canadian original) and was so impressed by the flavourful profile. Truth be told, I've always been luke-warm when it came to red apples but, I'm now a convert. Last night my mom sent over some other apples and even the kids were quick to notice the difference between those and the Ambrosia apples which are much crunchier. Ontario Ambrosia apples are proudly grown in Ontario by
Martin's Family Fruit Farm
and other apple growers in Ontario.
T
he kids and I found them to be sweet yet tangy with a crispness that immediately made me want to make a curry with it!
Ambrosia apples hold their firm texture when exposed to heat and tends to brown slower (that other red apples) when sliced. When I first cooked the red apple curry I wasn't sure if it would work out but WOW!! Was it ever good!!! So good that I have already cooked it twice and have had friends ask for the recipe!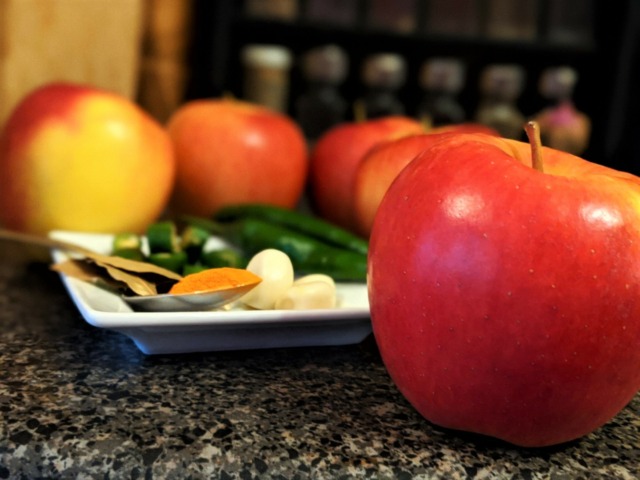 Of course you can bake with Ambrosia apples or just bite into it as our kids do,but if you're looking to take your dinner up a notch, how about trying out my Sri Lankan Ambrosia apple curry?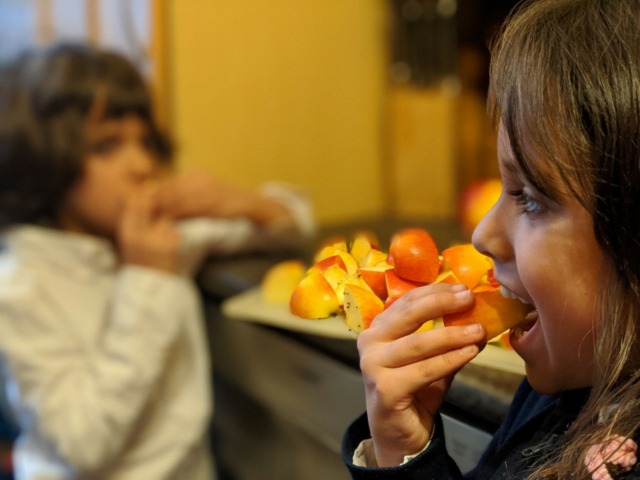 This vegan apple curry is also gluten free and you can customize the spice levels. My kids aren't huge fans of my Sri Lankan curry powders but they do eat it easily if I use the generic ones found at stores. So if you're spice averse, maybe start with a milder curry powder.
Sri Lankan Apple Curry Recipe (vegan and gluten free)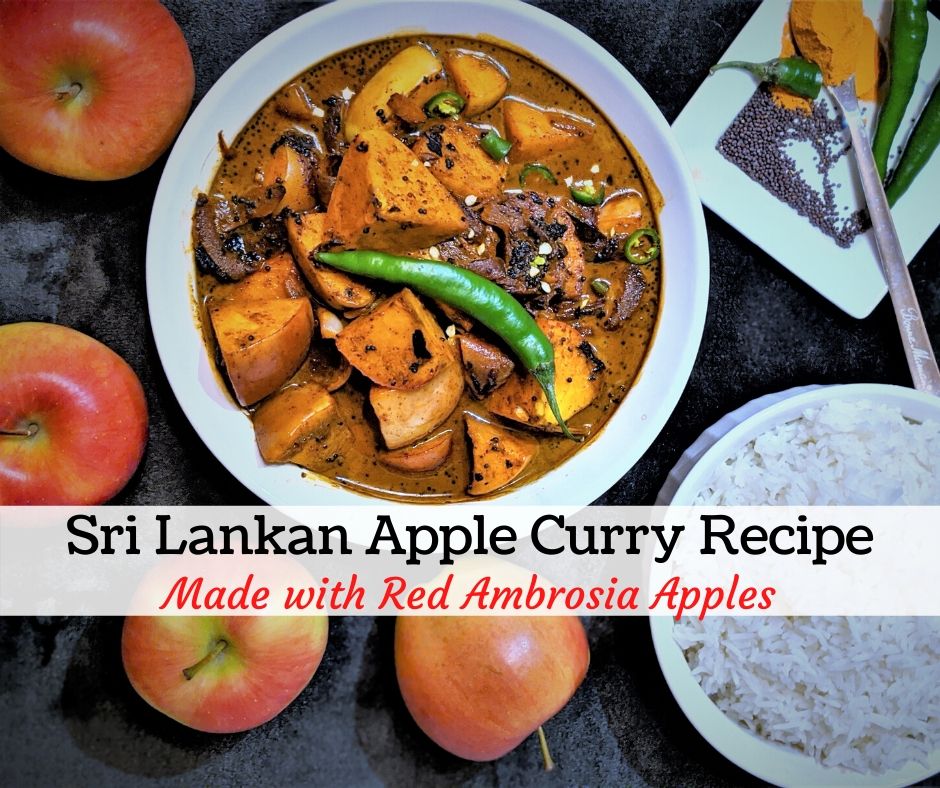 Apple Curry Ingredients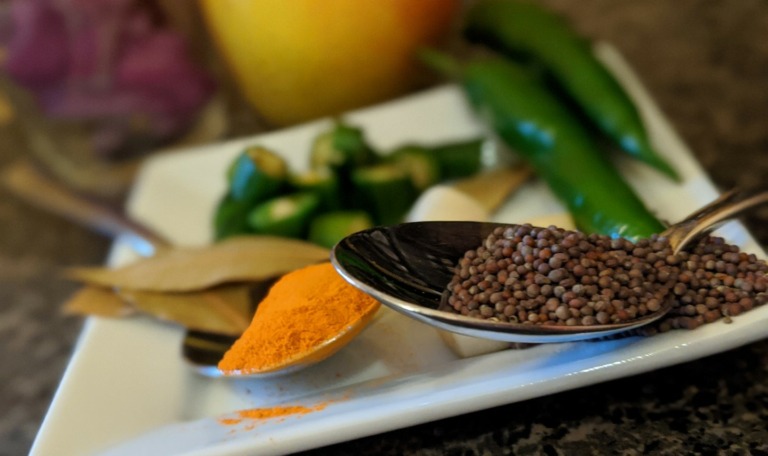 4

large Ambrosia apples each cut into quarters lengthwise and then halved across (8 pieces per apple)

3

tbsp

o

il (I like using coconut oil)

2-3

chopped

green chilies

3

tsp

m

ustard seeds

1

sliced

medium onion

4

finely chopped

garlic cloves

1

tsp

turmeric powder

2

tsp

chili powder (or to taste)

2

dried

bay leaves

2

tbsp

roasted/black Sri Lankan curry powder (you can use generic curry powder if you prefer)

1

tbsp

brown sugar ( I use date sugar at home but you can use any sugar you prefer)

1/2

tsp

salt (or to taste)

1

cup

coconut milk

2/3

cup

water
Instructions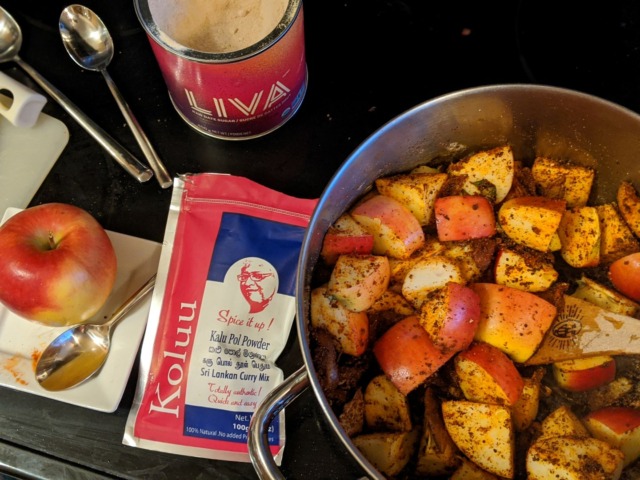 Using a large pan heat the oil over medium heat. Add in the sliced onions, chopped green chilies, finely chopped garlic and mustard seeds. Listen to those mustard seeds pop and enjoy that aroma! As the onions soften add in the curry powder, turmeric and chilli powder. You want to give it all a good stir for about 30 seconds.
Now comes the time to toss in those delicious Ambrosia apple! Sprinkle the salt and half the sugar before you stir everything to ensure that the apples are nicely coated with the spices.
Continue to cook in medium heat uncovered for about 10 minutes. I like to stir things to ensure that one set of apple chunks don't get mushy. You will notice that the apples are starting to soften ever so slightly. Toss in the bay leaves and pour the coconut milk. Stir and then close the lid and let is simmer for 5 minutes.
Now you get to open the lid after 5 minutes and do a quick taste test. Do you need more salt? How about some additional sweetness (you still have half that sugar left). I like my curries on the thicker side so I may add the water or I may opt to omit it. It really depends on how much curry you'd like.
If you're adding a few more items, ensure you give it a good stir and let it cook for a few more minutes. Similar to many curries, you can layer in additional ingredients or continue to cook for a bit longer if you want the apples to get softer. If you like a crunch like me, perhaps don't cook it for much longer (especially if you plan to re-heat the dish). This Sri Lankan apple curry gets more flavourful as the days go by so it's a great dish to pre-cook for parties. I've managed to hold on to it for a week but I tend to sneak in a chunk here and there each time I open the fridge (yes it tastes good cold too) so it usually only lasts 3 or 4 days.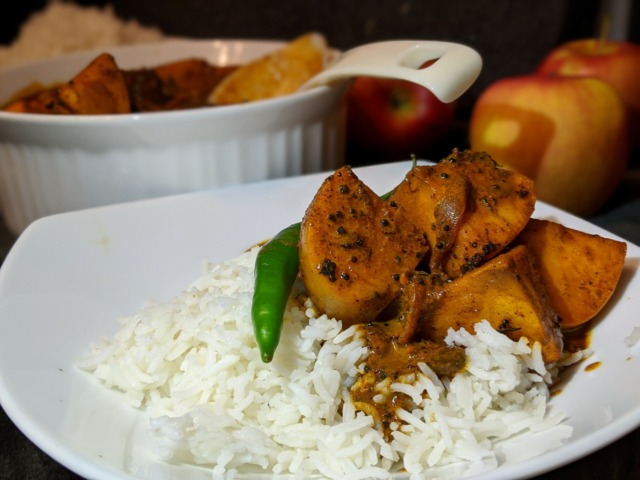 Serve your apple curry with white rice (or roti). I've even had it with cauliflower rice! We usually have a couple other meat and vegetable curries and may have a sambol or chutney to go along as well. I hope you enjoy it and would love to hear if you make it!
Additional Tips for Your Vegan Apple Curry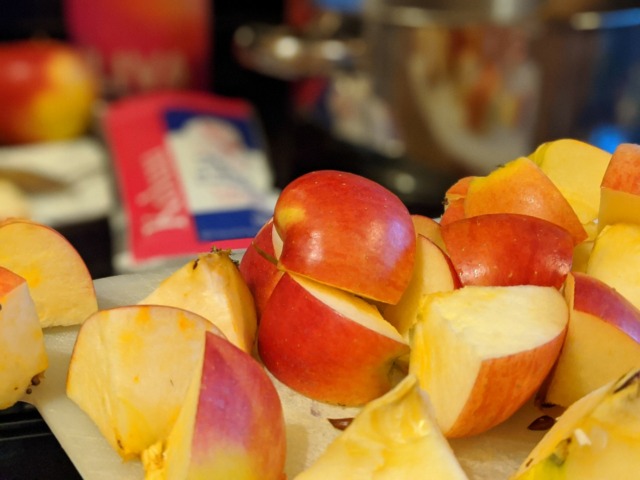 As I mentioned earlier, traditionally this curry is made with green apples but I truly loved the tangy sweetness that Ambrosia apples bring to this curry. I like cutting each apple into 8 pieces (quartered lengthwise and then each piece halved) but you can cut them into smaller or bigger chunks. Smaller means that it would cook/soften quicker.
If you are hard pressed to find roasted Sri Lankan curry powder, you can use the generic ones found at stores BUT you may want to add some black pepper and coriander powder to give it a bit of depth
I like to keep the core of the apple because I find that it helps the apple chunks keep their shape and prevents it from getting "mushy" but you can take the core and seeds out if you prefer (especially when using Ambrosia apples because they are quite sturdy)
I like crisper apples in my curry and so I only cook it for about 5 minutes in the end (especially if I'm making a large batch and plan to warm the dish a couple times). However, if you prefer softer apples in your curry, you can cook it for about 8 minutes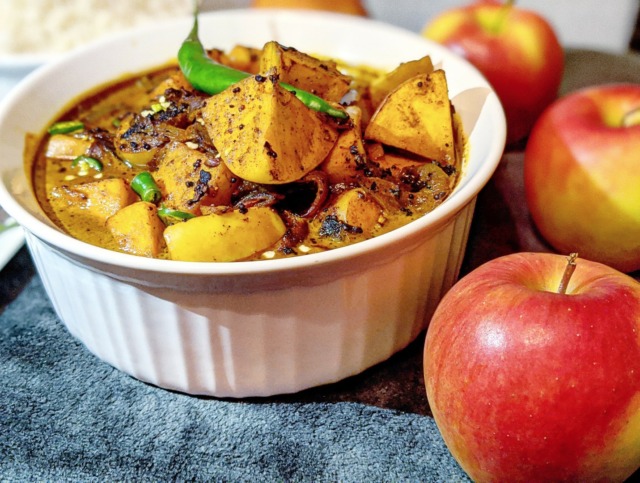 Martin's Family Fruit Farms is the leading grower of Ambrosia apples in the province of Ontario and sells them mainly through Costco and Loblaws. If you're looking for more details be sure to chat with them on Instagram and why not enter our giveaway for a chance to win a $500 VISA gift card and some Ambrosia apple treats!