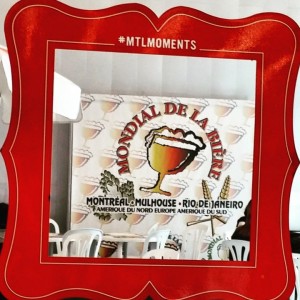 Taking kids to the 22nd Mondial de la Bière festival in Montrèal seemed like it could be one of the more perilous travel adventures Yashy and I have shared with the kids. In the past, we have debated whether particular restaurants, amusement parks, indoor and outdoor exhibits, or even red-eye flights were suitable for two small children, but this time, our plan was to bring the kids along to Canada's biggest beer festival, located in the heart of Montrèal and featuring hundreds of beers from around the world. A couple of friends, experienced in the ways of the festival, also joined us and they warned that it could be chaotic, so we took a number of steps to be prepared: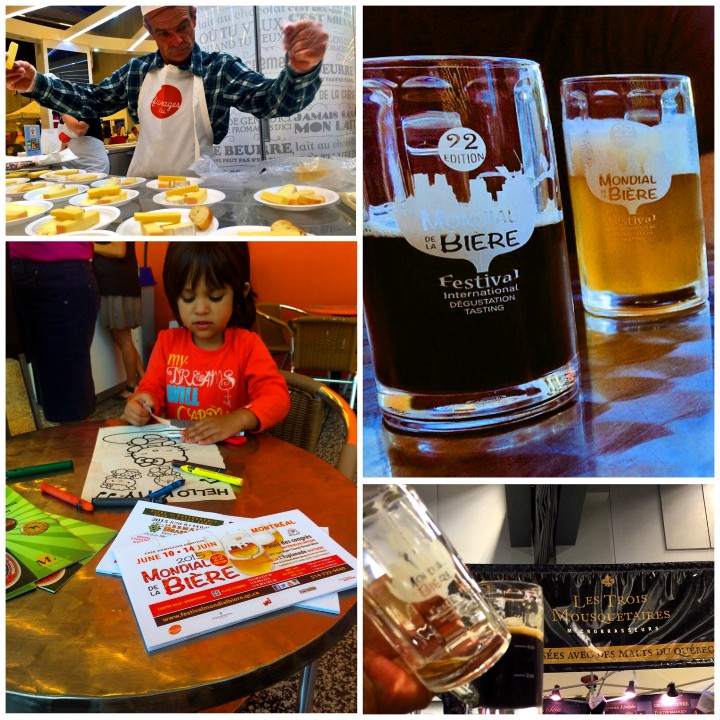 Arriving Early: We chose to attend the festival on Saturday afternoon, and following a rainy Friday evening, we expected the place to fill up pretty quickly. We arrived at 11:15 am, which was 15 minutes before the vendors would start serving, marking one of the few times we have ever been early for anything since having kids. For the first couple hours, we took advantage of the relatively empty main exhibit hall, which was filled with all of the Quebec breweries we had mainly come to visit, including well known craft brewers Dieu du Ciel, Les Trois Mousquetaires, and Trou du Diable, as well as dozens of smaller breweries and brewpubs. Up until about 2 pm the hall was easy to navigate, and we had no issues moving from kiosk to kiosk with with our trusty double stroller. We had some delicious brews, more on these below, and were fortunate to experience Round 1 in the beer hall with never more than 2 people ahead of us in line. Starting to drink at 11:30 am can be a novel adventure, and the early start time allowed us to take our time, scope out the vendors, and find the beers we were most anxious to try. Both kids sat back and took in the scenery, with the Little Man eventually conking out. Once we noticed that the crowd was getting dense, with the cues slowly growing, we moved on to phase 2 of the plan – free beer tastings. The main exhibit hall had many empty corners and we used one to do a quick diaper change. There were quite a few kids in attendance, though a couple photographers made it a point to take pictures of us responsibly enjoying our beers with kids!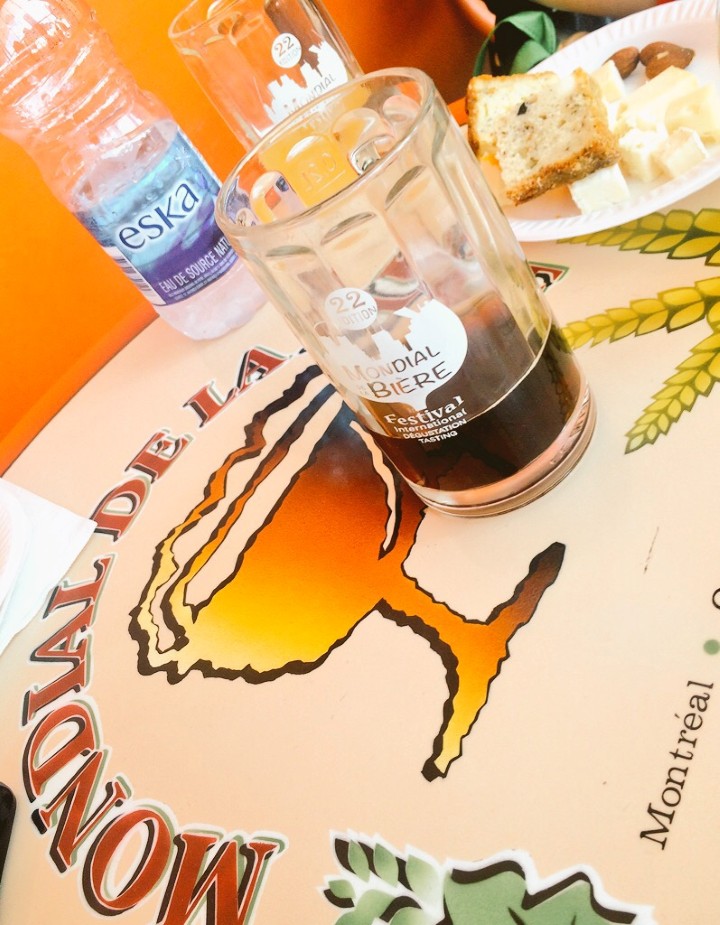 Obtaining VIP Access: Securing VIP access to the festival was a life saver. An $80 VIP pass includes 30 drink tickets ($1 each) and access to the VIP area with unlimited tastings of select beers from around the world. The Dogfish Head and Ommegang Breweries both featured a selection of beers in the VIP area, as did breweries from Belgium, Brazil, Italy, the United States, Ontario, and BC. Did I mention that these were free? And the price was not even the best part. The area contained ample seating, complimentary cheese and bread, and a private outdoor patio. We brought our stroller in and found some space to let Little Man continue his snooze. Little Monkey found her own table to practice her new found love of surgery (ie cutting out all of the figures in her coloring book with safety scissors). We next decided to head outdoors to the food trucks, but after picking up some ribs and a pulled pork sandwich, the scorching heat and thick crowd drove us back to the VIP area to sit down and enjoy the email.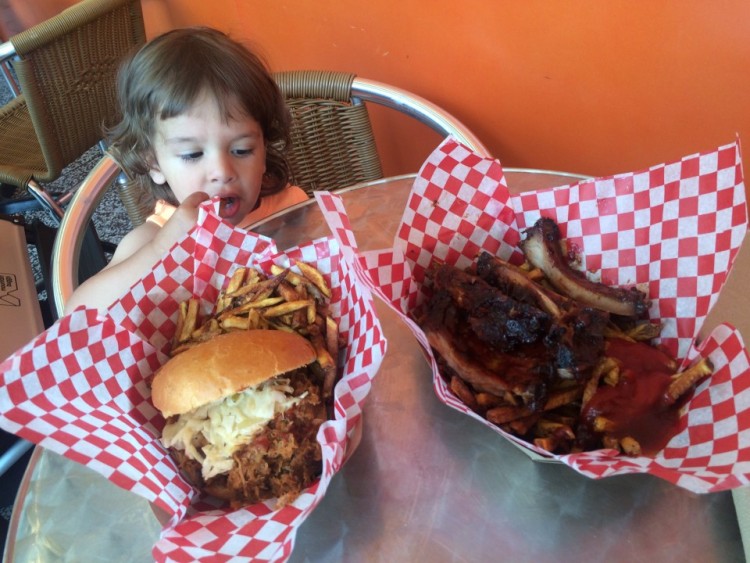 Knowing our limits: Around 4 pm we ventured back into the main exhibit hall for Round 2, checking off a few of the beers on our list that we missed during our morning rounds. By this time the hall was quite packed and we knew we were approaching our limit. After trying a cider and using up the remainder of our tickets at a few of the kiosks with shorter lines, we made our way back to the VIP section to sample the last beers of the afternoon. By this time, it was almost 5:30, and we definitely needed some downtime before the evening. We had managed to survive the beer fest with 2 small kids for close to 6 hours. Sadly, it was time to go. The variety of beer available had been so extensive that it is tough to estimate how many different brews were available – 500 seems like a low guess – and so, sadly, we assuredly missed a few great beers, but did find several highlights during the day's tastings.
Notable Beers at Mondial de la Bière
Grande Cuvée Porter Baltique – Fûts De Bourbon Et Brandy (Baltic Porter aged in Bourbon and Brandy Bottles) from Les Trois Mousquetaires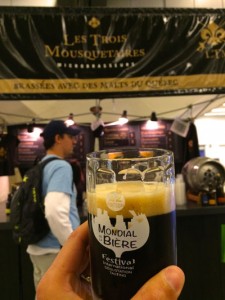 I have tasted this Baltic Porter on several occasions and even have one aging in my cupboard. Bottles can occasionally be found at the LCBO and I was fortunate to taste the cask-conditioned version at Cask Days in 2013, but I did not know of the barrel-aged variety until this past weekend, and it was every bit as good as I expected. Flavours of chocolate and coffee, with some vanilla, contribute to this beer's pleasant aroma and slightly bitter taste, and, in this case, the bourbon and brandy helped provide an excellent balance that is not too overpowering, considering the 10.5 Alcohol by Volume (ABV) the beer contains. This beer is one of Canada's best, and it's easy to find in Quebec. Here is a tip for anyone living in Ontario, sign up for a Drink Vine account and add this beer to your watch list. You'll receive an email when it's next available in the LCBO (the regular Grand Cuvee version).
 
L'Ours by Trou du Diable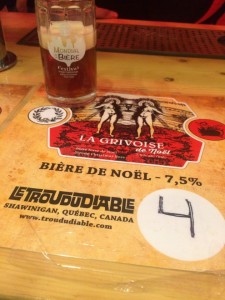 I have become a big fan of sour beers. I have Bar Volo's annual Funk Night to thank for that, as well as our recent Belgium trip, where I was able to try some of the remarkable gueuze and kriek lambic beers produced by the legendary Cantillon Brewery. I luckily spotted L'Ours just before we were about to leave the festival. A blend of young and barrel aged beers, tangy with hints of oak, L'Ours is another great beer from Trou du Diable, a brewery that is slowly becoming Quebec's finest. Like the beers of Les Trois Mousquetaires, the LCBO is usually stocked with 1 or 2 of Trou du Diables' offerings. I picked up a couple on the road back to Toronto, including a bottle of L'Ours that probably won't make it through the weekend unconsumed.
Buffalo Bill by Le Saint Bock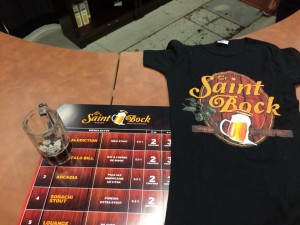 Le Saint Bock is a brewpub located in the downtown area of Montreal that features a tap list of over 40 beers, with a number of excellent varieties made in house. We didn't get to visit the pub on this trip but it's on our list for our next Montreal visit. The Buffalo Bill is a wit beer brewed with Bison Grass that our Tour Guide had recommended to me the the previous day. Refreshing with hints of lemon, this beer was a nice counter to some of the IPAs, Stouts, and Barrel Aged Beers that I had been tasting for most of the day. Yashy also enjoyed the Nux Indica, a chocolate & coconut porter, and the Melédiction, a milk stout interestingly served with a marshmallow on the rim.
Cyclone Alpha IPA by Brasserie Dunham  
My favourite IPA on the day was this hoppy, dry, and citrusy IPA from Brasserie Dunham, a brewery I had been vaguely familiar with that had been strongly recommended by our friend who had joined us for the festival. Dunham had a range of interesting beers that I would like to have tasted but had to limit myself to one beer per brewery on this day. I will be looking out for their beers on future trips to La Belle Province.
A Quick Summary of Beer in Quebec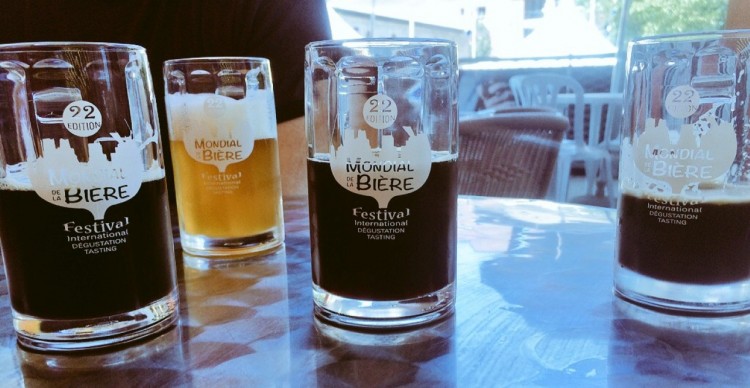 The sheer number of Quebec breweries is overwhelming. Quebec law makes it extremely difficult for craft beermakers operating outside of Quebec to sell beer in the region, and so Quebec-based breweries are only competing with each other in a beer loving market where the product is widely available in corner stores. The average corner store I walked into featured more than double the selection of craft beer as the average LCBO. The industry appears to be thriving.
I had had some familiarity with a few Quebec breweries prior to the festival. On this day, I did not get the opportunity to taste many of the offerings from Dieu du Ciel, which makes what many consider to be the two best beers in Canada, Peche Mortel, an imperial coffee stout, and Aphrodisiaque, a chocolate and vanilla American stout. I have recommended these two beers to numerous friends, who are often blown away that a beer could taste so good. The Dieu du Ciel Brew Pub is my favourite place in Montreal but we made the sad discovery that children are no longer allowed in the pub due to a Quebec law, to which I say to the lawmakers, 'Shame!'.  Luckily, Dieu du Ciel's beers are regularly featured in Toronto at both Bar Volo and Bar Hop, with the occasional tap takeover occurring at Bar Volo as well. Of course, I also have my Drink Vine account set to email me if one of these beers show up in the LCBO, and my cupboards are now stocked with Peche Mortel after it showed up in limited quantities this past April.
Perhaps the most famous Quebec brewery is Unibroue, which, like Goose Island in Chicago, is now owned by a major corporation. This does not seem to affect the quality, however, as Unibroue produces several great beers widely available at The Beer Store, including La Fin du Monde and Blanche de Chambley. The Unibroue 17 Grande Reserve is also released to the LCBO every year in the winter, and it's a great beer to pick up and age for a few years. Unibroue may be more widely known in the US than it is in Ontario. On a trip to Texas a few years ago, when a shop worker noticed the wide range of beers I was wheeling around the store, he excitedly mentioned that the new Unibroue 17 had just arrived that day. I think I disappointed him greatly when I refused the offer, on grounds of being Canadian.
One can dream that one day, perhaps when beer sales launch in Ontario supermarkets, that a wider selection of Quebec beers, as well as those from the US and the rest of Canada, will be available in Ontario. Every time I enter a convenience store in Quebec, known as a Dépanneur, I become quickly flustered in trying to make a few selections. Staring at 100s of beers lining the shelf, I want to try them all. For now, at least I'll know that the annual Mondial de la biere (June 8-12 in 2016!!) will give me a great excuse to visit Montreal and keep working my way through Quebec's bounteous beer scene.