If you're looking for a fall road trip with your Ontario girlfriends and would like to insert yourself into a town where you'll meet local artists and surround yourselves in art and history, then I have just the suggestion! A friend of mine joined me last week for a culture packed weekend in the Waterloo Region where we roamed around Elmira, Village of St. Jacobs and Kitchener. Share this with your art loving friends and get ready for fall vibes and countryside charm on a girls weekend in St. Jacobs.
Disclosure : This post is in partnership with the The Sisters Cultural Centre and Attractions Ontario but, as always, opinions are TOTALLY ours!
St. Jacobs and Waterloo: Where Art, History and Fun Collide for a Perfect Girls' Getaway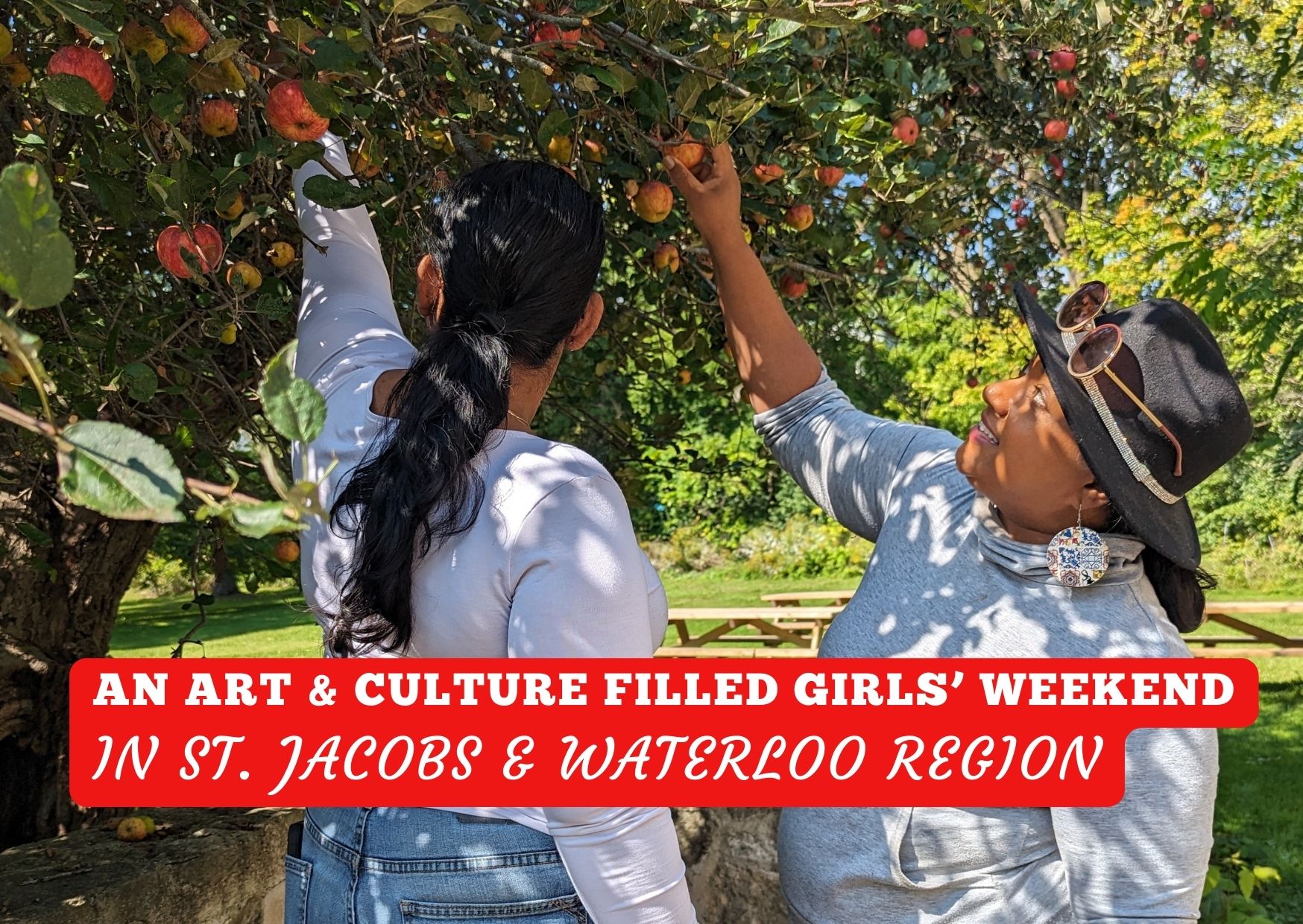 What surprised me as we planned our girls' trip to St. Jacobs was the various programs and celebrations in place this fall. There are numerous culture trails and art tours already established, making the planning of this autumn road trip from Toronto a breeze. All we had to do was show up, and there were ample opportunities to engage with local artisans, artists, and chefs. Trust me, if you're looking to indulge your passion for art and culture, you need not look any further than the Village of St. Jacobs and the Waterloo region. During our visit, the Taste the Countryside and the Ontario Culture Day programs were happening and I should alert you that the Kissing Bridge Art Tour starts soon as well!
Things to do in the Village of St. Jacobs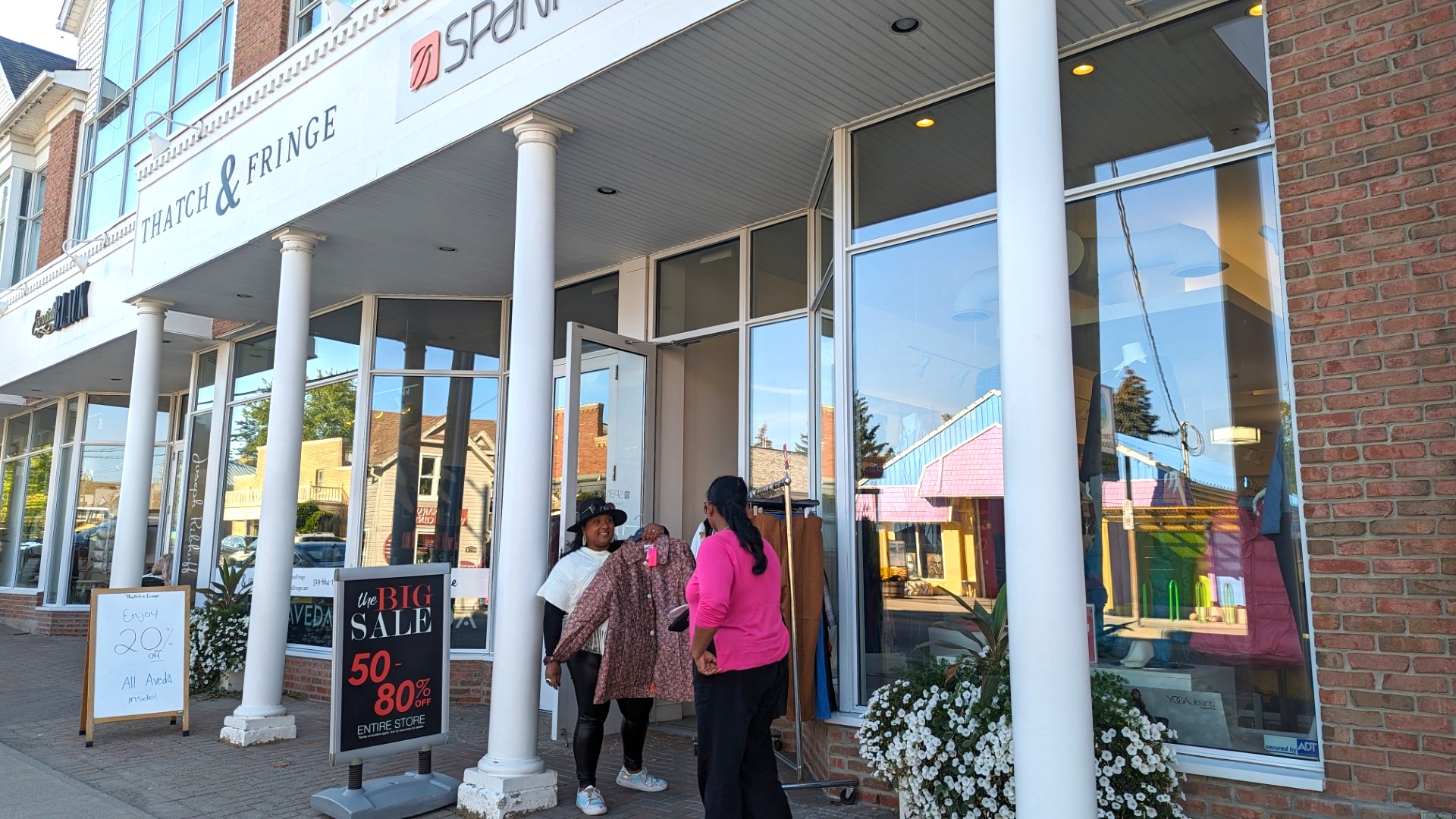 The Village of St. Jacobs is a picturesque community located in the Region of Waterloo and while you may know of its rich Mennonite heritage and fabulous farmers market, you should also know that there's a vibrant arts and crafts scene as well. It's a great spot to catch up with your girlfriends during a quick weekend getaway in Ontario.
Engage with Artists at Three Sisters Cultural Centre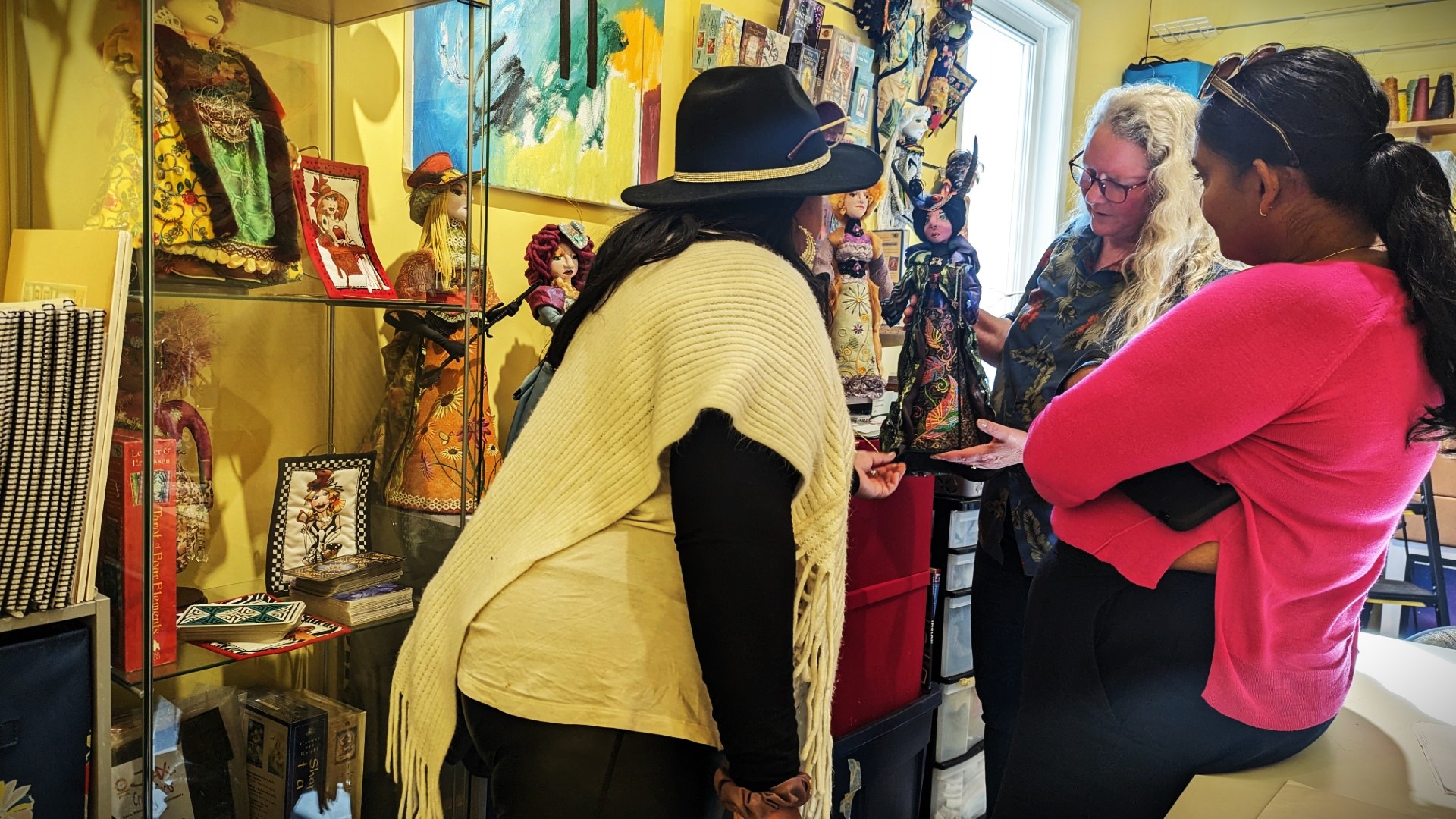 Many Ontario road trippers are already familiar with St. Jacobs, but did you know that it boasts a thriving arts hub? During our visit, my friend and I explored the Three Sisters Cultural Centre , where Ontario artists in residence not only create and sell their artwork but also host a variety of talks and interactive sessions. I was truly impressed by this new arts and culture complex situated in the heart of St. Jacobs Village. Their mission is to make art and creativity accessible to both residents and visitors.
During our girls' weekend in St. Jacobs, we had the opportunity to attend a Grand Fabrication Talk with Jax Rula, an award-winning fiber artist specializing in creating soft sculpted art dolls. Through her engaging talk, we delved into the rich history of Southern Ontario's largest watershed. Jax's unique approach involved crafting 10 dolls that personify the region's history and geography, making local history more accessible and intriguing. I absolutely cherished this experience and hope you'll find similar events when you visit. If not, be sure to swing by the Three Sisters and pay a visit to her studio, where you'll undoubtedly have the chance to chat with her!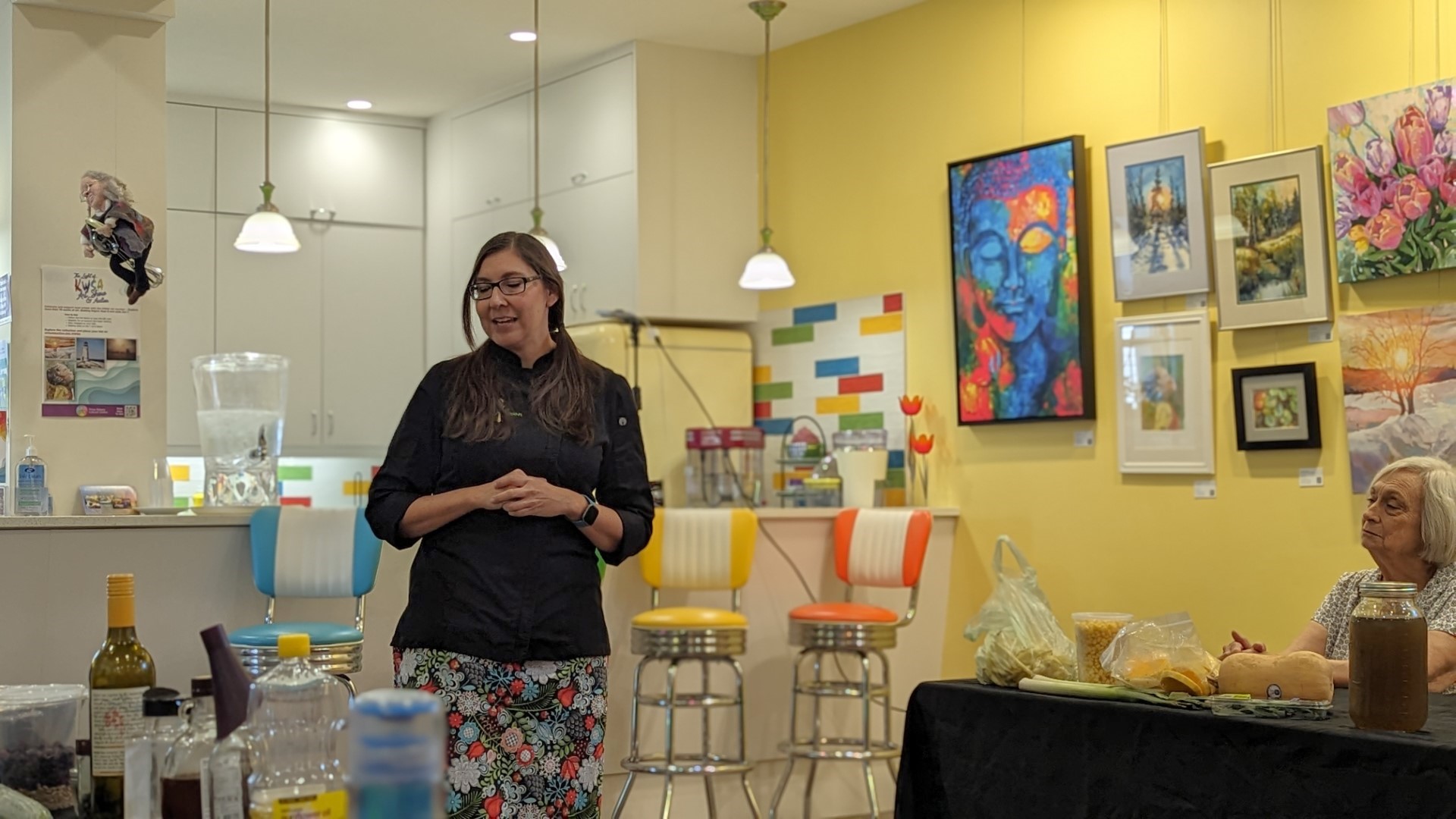 We revisited the Three Sisters Cultural Centre the following day because they were offering an Indigenous cooking class as part of the ON Cultures Day programming. If you aren't familiar with Ontario Culture Days, it's an annual festival celebrating arts, culture, and heritage each fall across the province. This year's festival is taking place from September 22nd to October 15th, 2023, and there are many free and some by donation activities in Waterloo Region. This is how we discovered Chef Destiny's Indigenous Culinary experience at the Three Sister's Cultural Centre. Not only did we learn the wisdom of the Three Sisters agricultural technique and how to better utilize local produce, but we also cooked and enjoyed a bowl of soup and wild rice salad.
Get Your Shopping and Eating On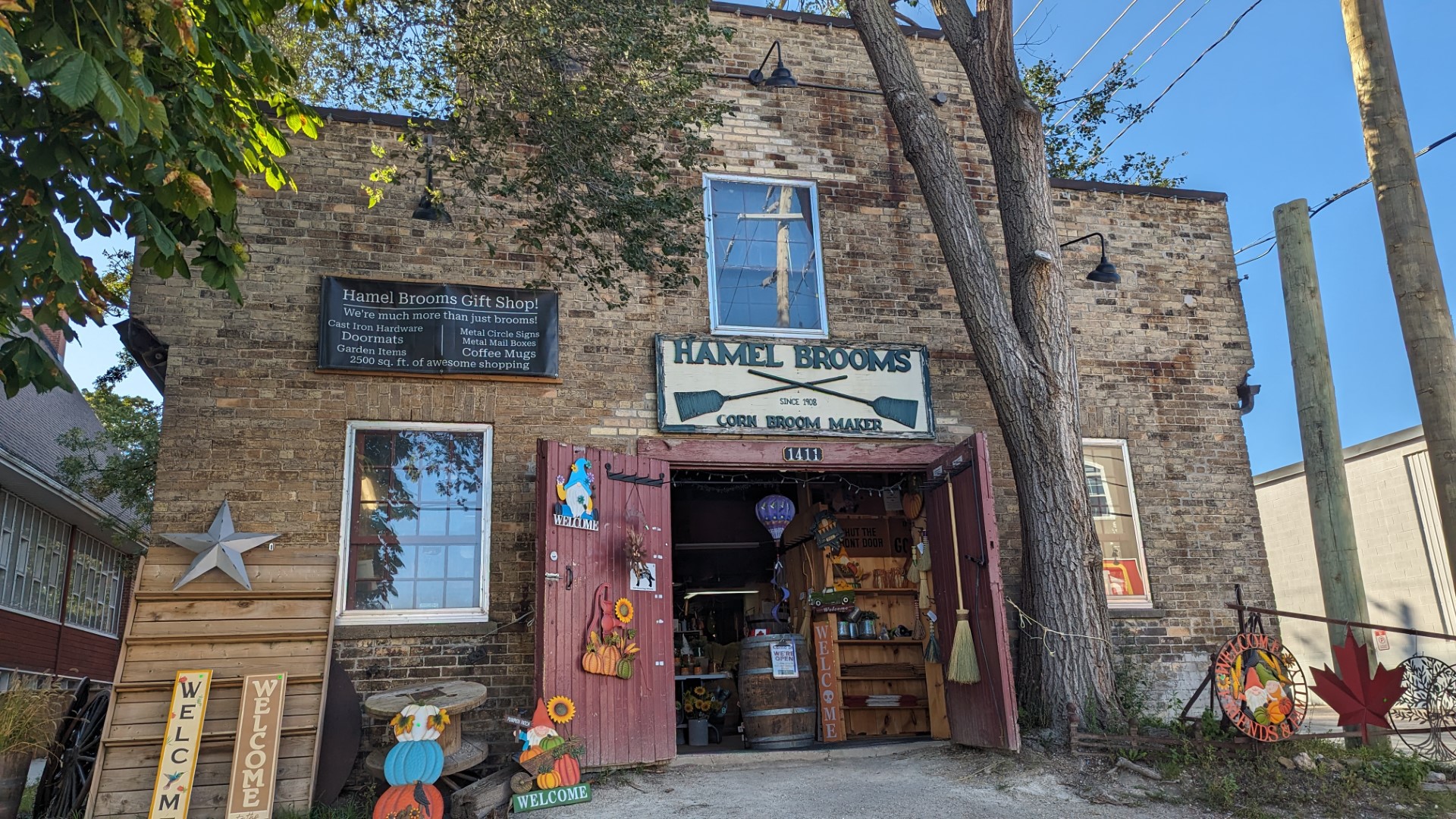 St. Jacobs Village boasts a variety of shops and charming cafes, making it an ideal destination for a leisurely afternoon stroll. Pop into fashion boutiques, visit the last corn broom maker in Canada, and make your way to The Shed Cafe. Not only do they serve excellent coffee and delightful baked goods, but they also offer Four All Ice Cream, allowing you to savor some local ice cream too. We were fortunate to visit during their Taste the Countryside menu offering, providing the perfect mid-afternoon pick-me-up.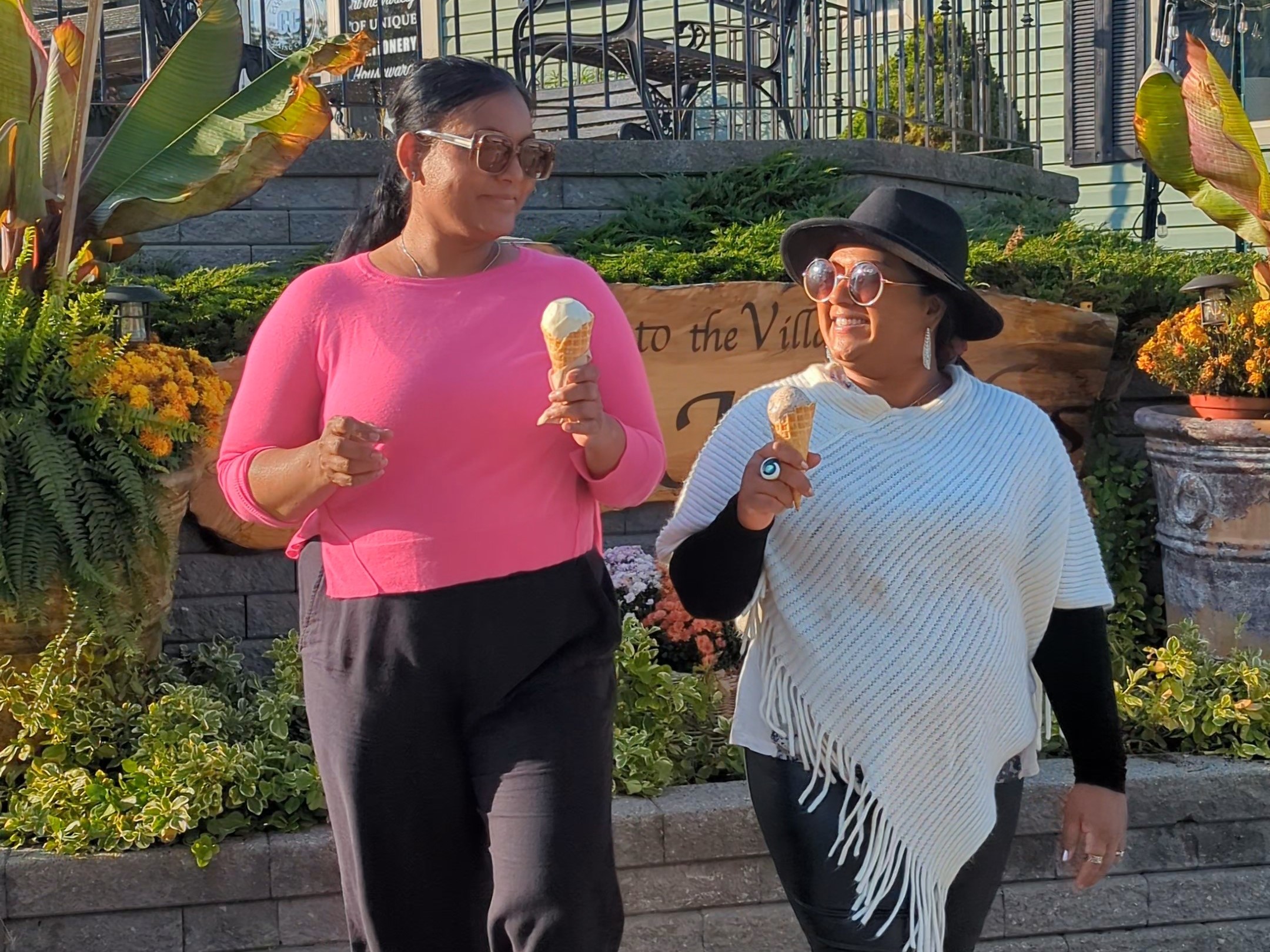 Taste the Countryside is a 10-day dining event which takes place annually at the end of September. It promotes menus incorporating local produce, prepared by food establishments located in Waterloo Region's townships (September 21-30, 2023). During our drive into the village, we also stopped at RiverSong Cafe for lunch because they were also part of the Taste the Countryside program. Chef Duff featured comfort food – heartwarming pumpkin soup, juicy turkey burgers, and a well-balanced Maple Sugar Pie.
While you're in the Village, be sure to visit the Tasting House, which also serves as a culinary visitor center. This culinary hub showcases locally made beer, wine, spirits and foods while also providing a welcoming community gathering space. Picture a blend of a traditional store and a lounge/bar, where you can enjoy a drink and engage in conversations with locals. Terry, the owner, possesses extensive knowledge about the world of spirits and wine, so if the opportunity arises to attend one of their tasting nights, don't miss out!
More Art and Culture in Waterloo Region For Your Girls' Weekend in St. Jacobs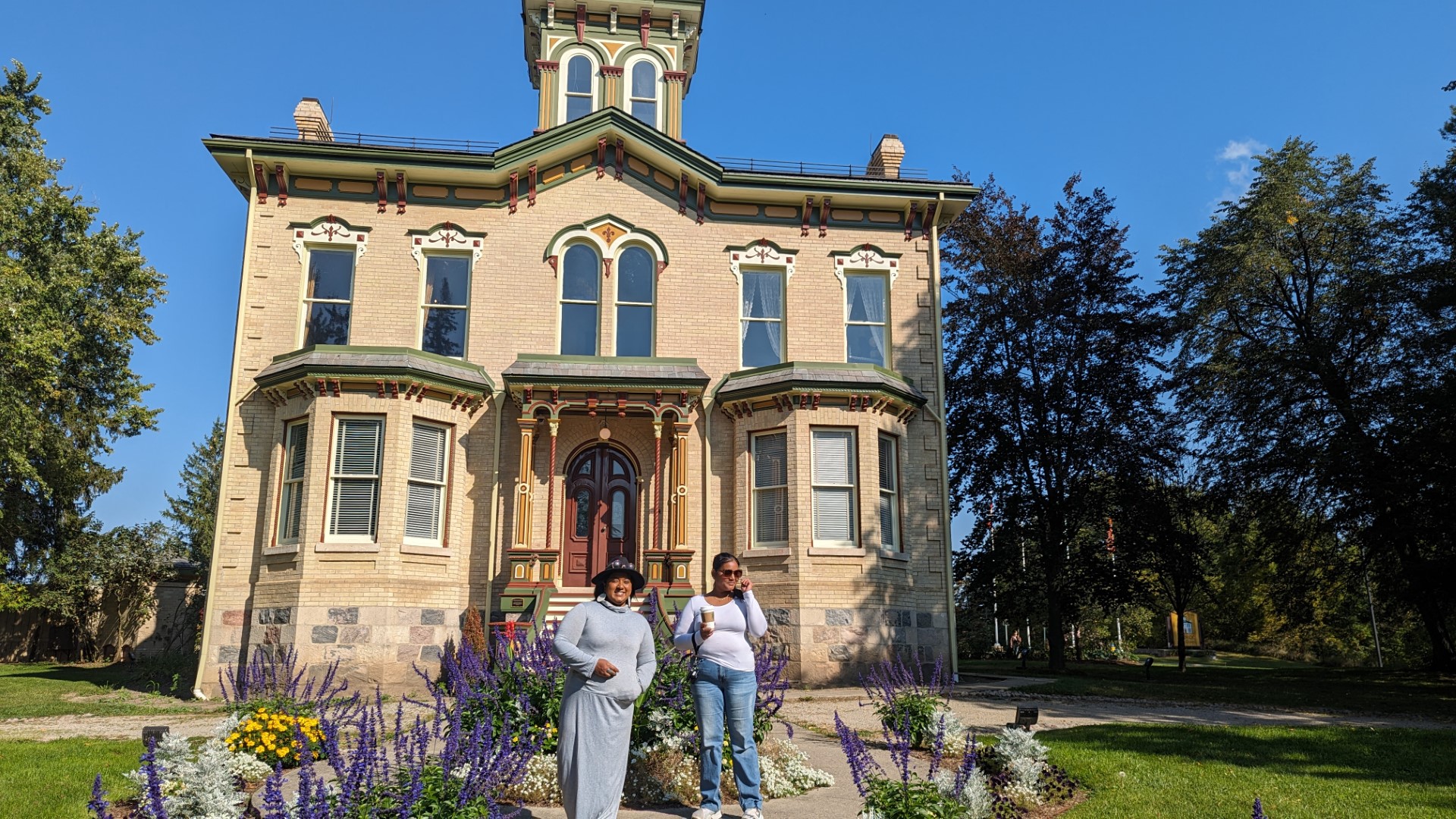 If you would like to tag on a few more cultural experiences, there's so much more on offer in Waterloo Region so you won't have any trouble planning some spontaneous stops during your St. Jacobs road trip from Toronto.
Step into Elmira's Heart of Culture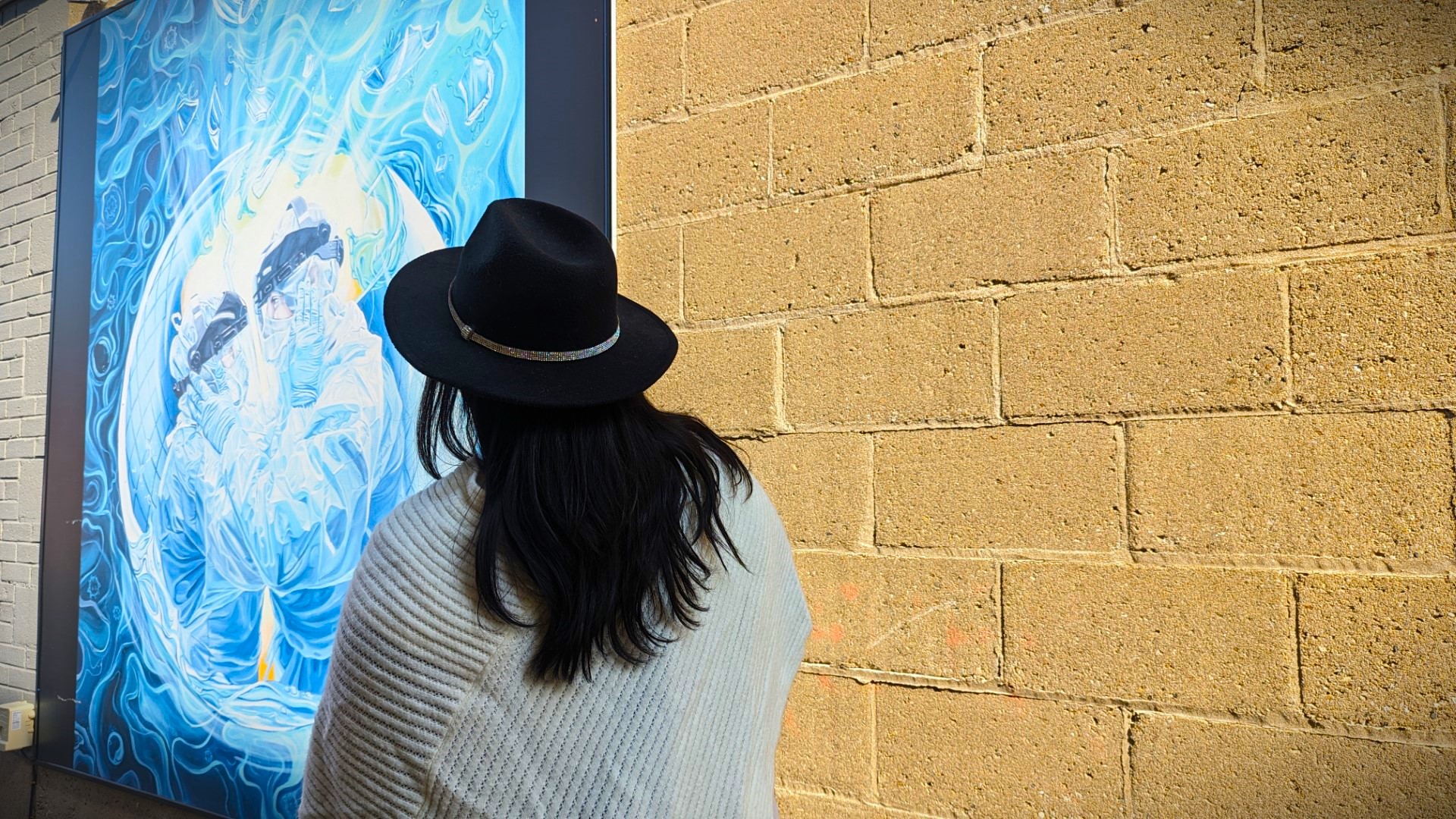 You could visit downtown Elmira and take in their art exhibit which features outdoor murals that the public can enjoy as they stroll around the downtown area visiting various shops and restaurants. There were 10 pieces by local artists and each one tells the story of what "My Elmira" means to the creator. There are QR codes so that it was easy to learn what each of the pieces were about and Carol Folino's "For Better or for Worse" certainly resonated with me.
Meet Local Artists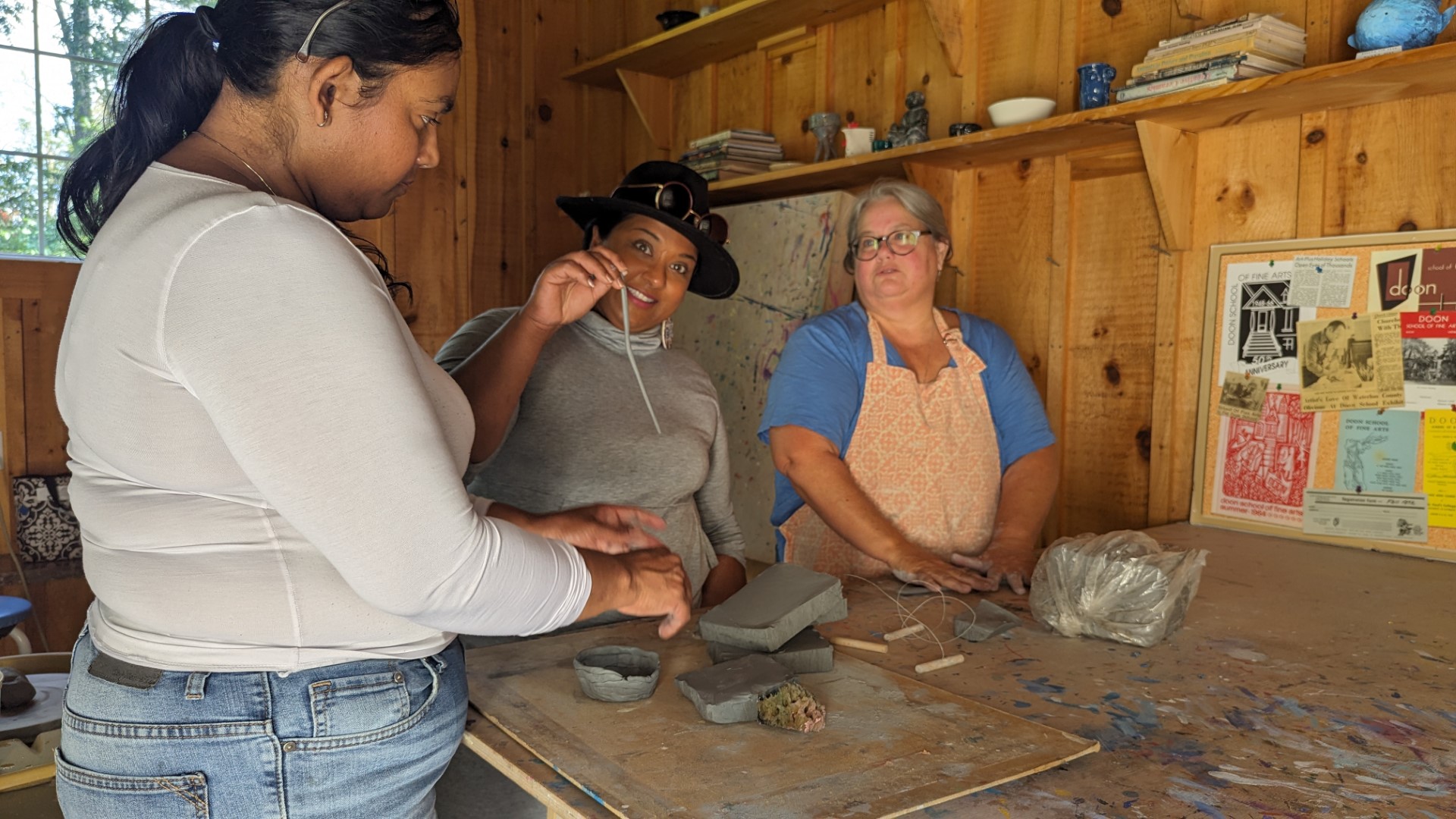 As I mentioned earlier, the Kissing Bridge Art Tour is taking place on October 21 and 22nd this year between the hours of 10 a.m. and 5 p.m. This self guided art tour will take you through the rural landscape of Woolwich Township and includes locations that vary from personal home studios to commercial spaces located in St Jacobs, Elmira, Maryhill and Floradale. This year's tour has over 50 artists sharing space in 10 different venues and during our girls getaway in Ontario this fall, we met with two artists who are on this tour. Make note that many of these artists welcome you visiting them all year-round but you may need to call ahead to plan that visit (especially the home studios).
Kristin Moore's Buy Moore Jewelry was a fun home studio to visit. Kristin not only welcomed me to her home studio, allowing me to play with the various tools, but she also told us of the jewelry making classes she offers (she will totally come to your place of lodging and conduct a private session) and taught me how to make our own rings! How cool is that?
I also chatted with Robb "Thak" Martin from THAK Ironworks Studio in Floradale and his space is one of the coolest places I've visited this year. He and his team has a distinctive style of Ironwork which joins fantasy with reality and so when you visit THAK, you get to see the blacksmiths working away at some very creative projects. Be sure to ask if you can pop into their upstairs lair where you will get to see their work. I got to play with various swords, helmets and medieval gear – honestly, I was like a kid in a dress up store!! The work here is absolutely magnificent and I was blown away – no wonder movie studios come here for their medieval gear needs! They can design anything you can imagine and invite the public to come in for a chat – I know my kids would love this place! Definitely add them to your Kissing Bridge Art Tour stop list.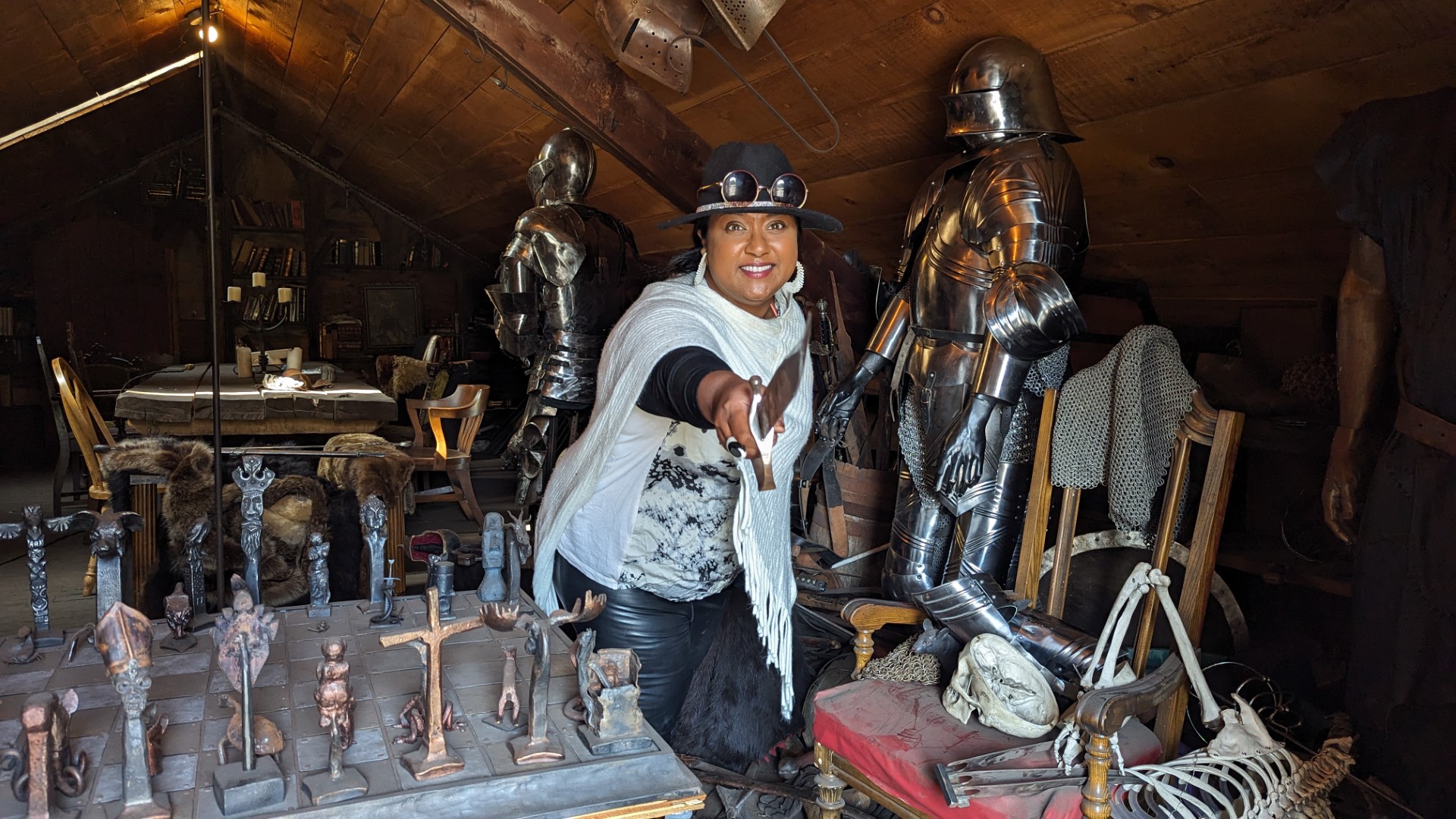 There are so many artists in Waterloo Region and each of them are happy to chat with visitors and share their knowledge with you.
Explore Museums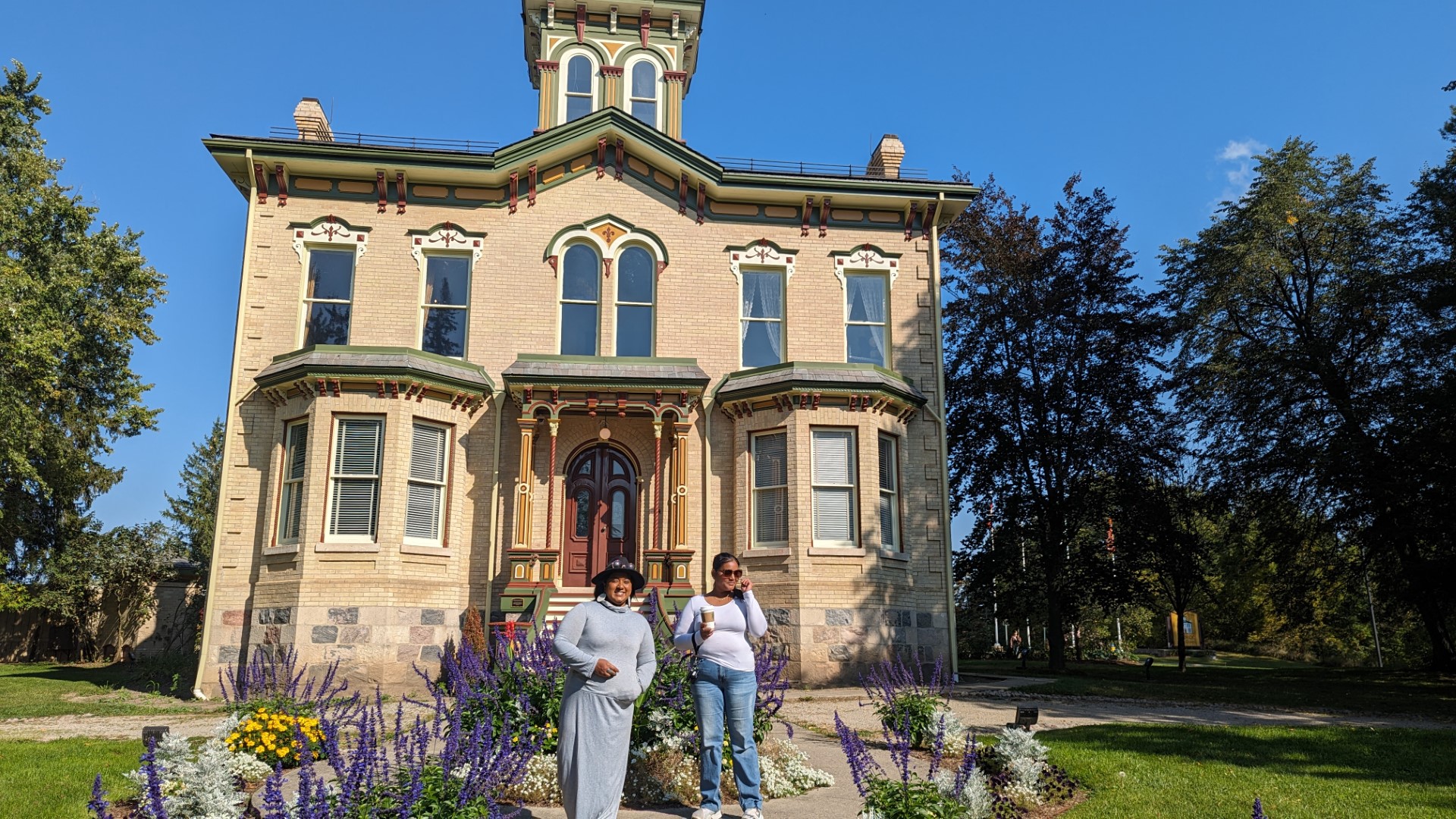 This region in Ontario is teeming with history and you can learn about the lives of the Indigenous people living in the area as well as that of the early settlers. During our visit we swung by two museums: Castle Kilbride and the Homer Watson Gallery. Both had ON Culture Days programing, which was the main reason we popped in but then quickly realized that a full tour was certainly warranted.
Castle Kilbride was hosting a free Recipe Quest Experience where we were able to roam their gardens (what a fabulous place for some cute pictures too!!) and find recipes that corresponded to places and plants around the Livingston's property. Not only do participants receive free recipes, but if we complete the challenge, we receive a discount to the museum's special exhibit "Whisked Up in Wilmot" (an educational exhibit that takes you through the various food producers in the area). I knew nothing about Castle Kilbride before our visit but I soon learned that this Victorian home built in 1877, for James Livingston (owner of flax and linseed oil mills, politician and entrepreneur) has an outstanding interior with magnificent Trompe l'oeil ceilings and wall murals that will simply wow you! If you appreciate Victorian era art and history, you can't miss this spot!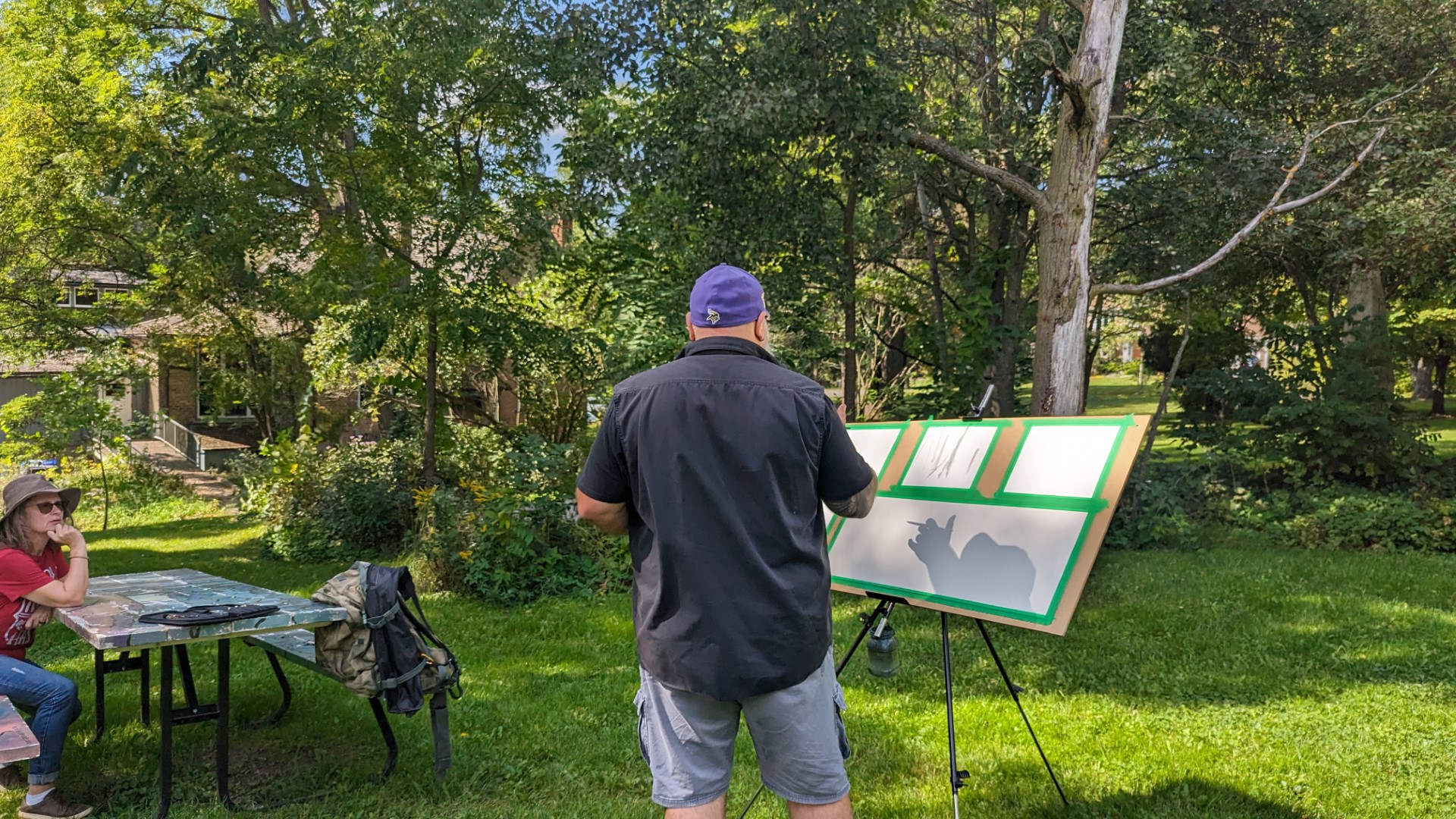 We had heard about the free pottery studio visits and the chance to watch a Plein Air artist at work, so we decided to visit the Homer Watson Gallery in Kitchener. The free gallery is open to the public (a $5 donation is highly recommended), and the team here organizes various events in alignment with the themes found in Homer Watson's work. During our visit, we had the opportunity to engage with artist Ralf Wall as he painted outdoors and to experiment with clay under the guidance of Cathy Masterson, the director, and curator of the gallery.
As you can see, a visit to this area enables you to meet with a variety of artists and you get to try some new-to-you things too. I found that very cool and a perfect way to spend a girls' trip in Ontario. Clearly there's no shortage of things to do in St. Jacobs and the nearby area! Be sure to check out the Attractions Ontario page for more inspiration and coupons!
We were also visiting during Oktoberfest season so my friend and I enjoyed a few drinks and tunes at the Bingemans Octoberfest Kool Haus event and next time I want to experience the official Kitchener-Waterloo Oktoberfest!
Visit the Farmers' Market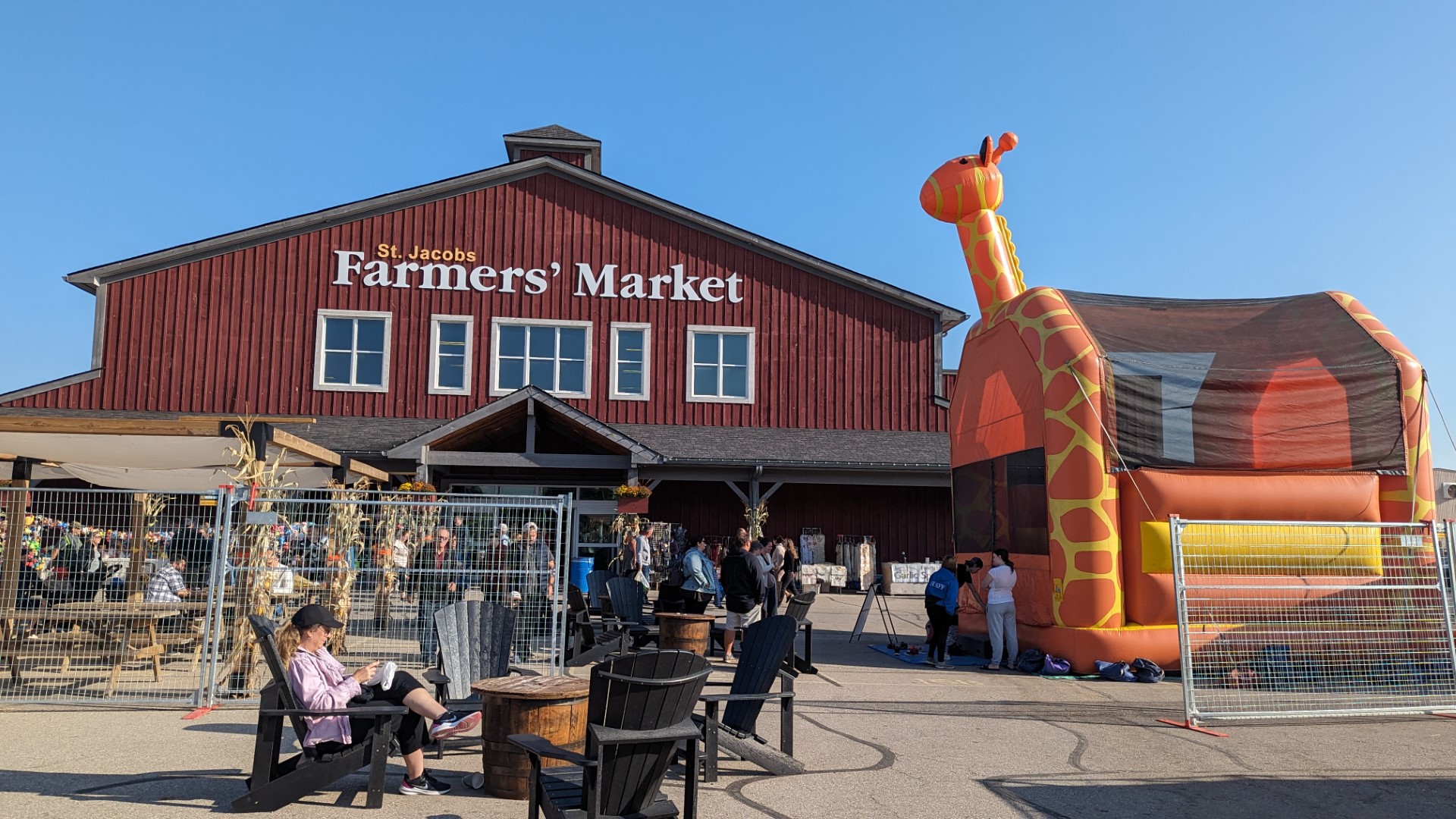 Undoubtedly, you've heard about the renowned St. Jacobs Farmers' Market, and it's famous for very good reasons! It stands out as one of the few farmers' markets that remain open year-round. There's an abundance of activity here, and you can easily dedicate an entire day to exploring its offerings (they are open on Thursdays and Saturdays). Definitely bring a cooler and ensure there's ample trunk space in your car for the treasures you'll find. Unfortunately, I didn't have the opportunity to queue up for the ever so popular Amish donuts during my visit and I was tempted to purchase all the incredible cheese, bread and jams available.
In addition to the outdoor vendors and the main farmers' market building, there's the Peddler's Village, which showcases antiques and the creations of local artisans. The market offers a remarkable array of items, including fresh, locally grown fruits and vegetables, meats, dairy products, baked goods, artisanal cheese, handmade crafts, jewelry, clothing, home decor and SO much more. It truly is a one-stop shopping destination that caters to both food and non-food lovers. During my visit, I even spotted a petting zoo for kids and a bouncy castle!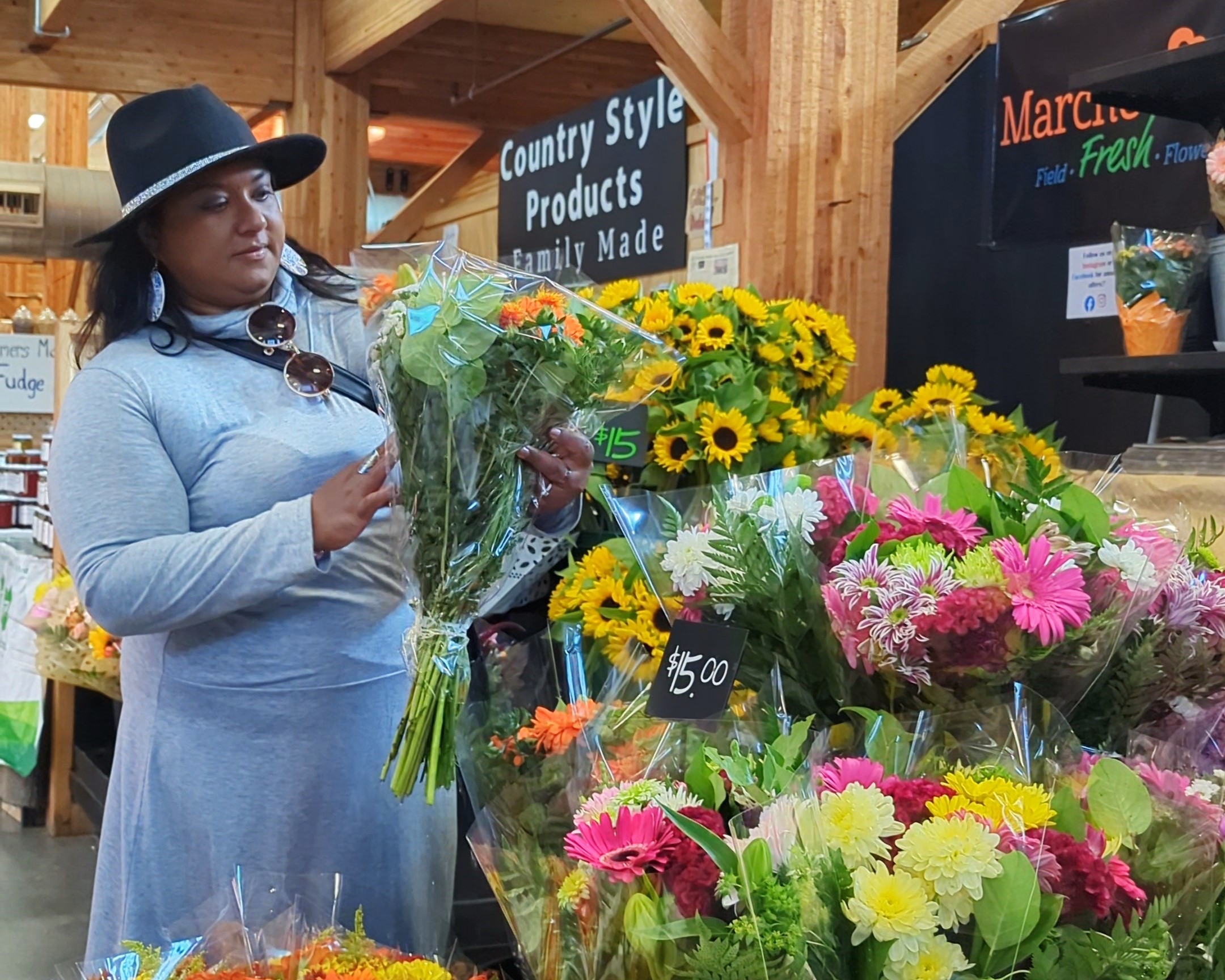 While parking is free and driving here is highly recommended if you're planning to shop… know that it does get busy and you may need to wait a few minutes to get a parking spot. Alternatively (if you aren't shopping for much), you can opt for a convenient heritage train ride from downtown St. Jacobs to the market, thanks to the Waterloo Central Railway Heritage Hopper. This service allows passengers to hop on and off at any of the stations, including North Waterloo, St. Jacobs Market, St. Jacobs Village, and Elmira.
Where to Stay in St. Jacobs and Waterloo Region
There's a
variety of lodging options
in the area and I've stayed at two of them. There are six hotels and 2 B&B's in St. Jacobs so depending on what you're looking for, you'll find something that suits your girls weekend in St. Jacobs vibes. Having previously stayed at the
Walper Hotel
, I think this is an ideal spot for those looking for something lux with a fantastic cocktail bar. On my most recent visit, the Courtyard Marriott was centrally located and offered a solid breakfast with our room rate.
St. Jacobs and Waterloo Region Weekend Itinerary
Day 1 : Drive in, stopping in Elmira for a coffee and art walk, swing by THAK Ironworks and and Buy Moore Jewelry. Stop for lunch at RiverSong cafe. Head into downtown St. Jacobs for shopping and afternoon snacks. See if there are any events happening at the Three Sisters Cultural Centre or if there are Oktoberfest shenanigans.
Day 2 : Start your morning at the Farmers' Market if you're visiting on a Thursday or Saturday. Check out any ON Culture Day activities or attend the Kissing Bridge Art Tour (there's always something happening and the Three Sisters Cultural Centre will give you some great ideas). Visit museums like Castle Kilbride and Homer Watson Gallery before heading back home.
I hope you've enjoyed my culture-lover's guide to St. Jacobs and Waterloo for your next Ontario girls' getaway!