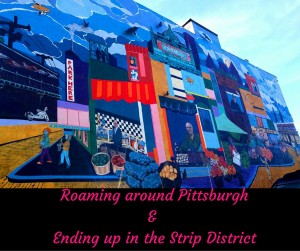 Having lived for almost 10 years in Halifax, I have come to appreciate a great walking city. Pittsburgh, with its downtown located at the intersection of three rivers in Western Pennsylvania, is just such a city. During our recent visit, we took advantage of record January temperatures, including a near-scorching 17 Degree Sunday afternoon, and explored the large waterfront around surrounding Downtown Pittsburgh. After finding some great eats in the Cultural District in the northern section of the city centre, we decided to walk along the waterfront on Saturday afternoon with no real destination in mind, unusual for us. As we made our way from Point State Park at the intersection of the three rivers, I was surprised to find both Heinz Field, where the famous Pittsburgh Steelers Football Team calls home, and the beautiful PNC Park, home to baseball's Pittsburgh Pirates, located on the opposite side of the Allegheny River, both within walking distance of downtown. I could only imagine the energy that must encompass the city on game days, and the madness that must have occurred here during the Steelers' six Super Bowl wins. Actually, I live in Toronto, I don't think I can imagine such madness.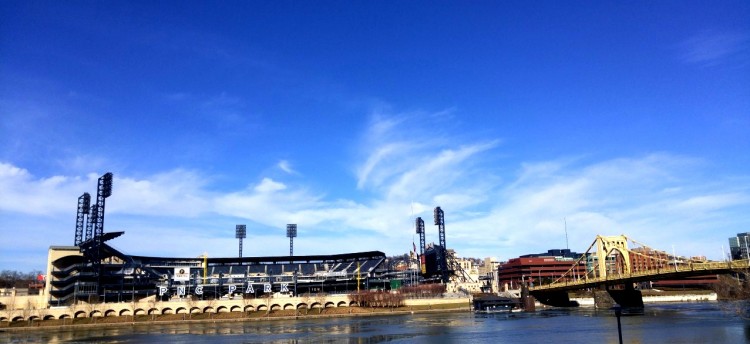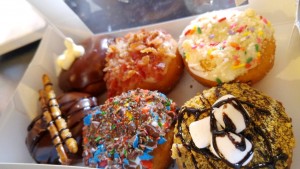 As we made our way East, we began to see some of the industrial remnants of Steel City, the moniker widely used to refer to Pittsburgh, and we decided to continue on to The Strip District, where one of Yashy's many desired stop-ins, Peace, Love, and Donuts, was located. Knowing  little about the area, we were surprised to see cars lining both sides of Smallman St., including a couple almost-full parking lots along the water. As we glanced up one of the side streets, we noticed hundreds of people on Penn Ave and made point of checking it out after securing our donuts. One of the shops we noticed was Primanti Brothers, a famous sandwich place Yashy had heard of and so we picked up a half dozen delicious looking donuts, gifts for the family back home, and made our way back down Penn Street towards Primanti Brothers where we shared a giant smoked meat sandwich stuffed with fries and slaw.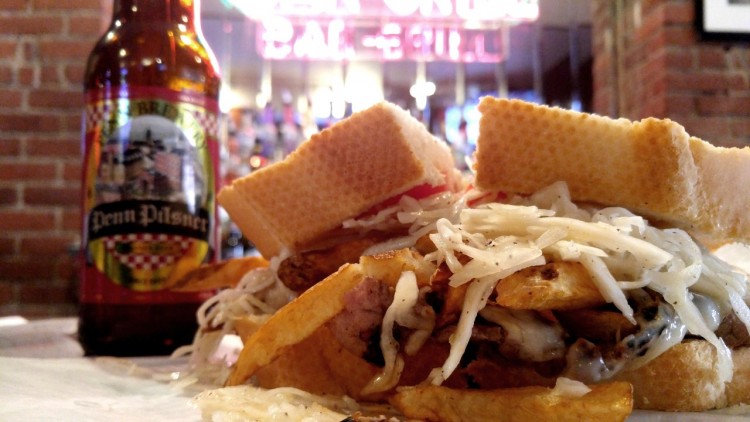 To those who are familiar with Toronto, the Strip District is a little similar to Kensington Market, with the artistic flair that pervades Kensington substituted for all-out sports mania. Every second vendor was hawking the gear of the the city's three major sports teams, the aforementioned Steelers and Pirates, as well as the Pittsburgh Penguins, a favorite of countless East Coasters because Nova Scotia native and Canadian Olympic hero Sidney Crosby is the team's star player. Anywhere else, Crosby jerseys might dominate the scene. In Pittsburgh, he is one of dozens of local sports heroes. More superstars have called Pittsburgh home than almost every other North American city outside of Boston and Los Angeles, and the locals seem to worship the stars of past and present. On the walk down Smallman St., we had past the Senator John Heinz History Center, in which Pittsburgh two most famous exports, Sports Legends and Heinz Ketchup, feature prominently.
As an added bonus, the Strip District ended up being the only place in downtown area where I was able to buy a few bottles of craft beer. Located near the end of the strip was the East End Brewing Growler Shop, inside the Pittsburgh Public Market. There, I was able to find a number of intriguing beers, including the Homewood Reserve Stout and the Fatter Gary American Brown Ale, both bourbon barrel aged, as well as Moonstomp, a Berliner Weissbier, which is a style that I love but am rarely able to find. The shop also has a small tasting station that was quite busy when we visited. With a number of other food shops inside the market, this is a great place to hang out if you're hungry and thirsty, which I always am.
We'd done a lot of walking, and I, a lot of beer shopping, and decided to take a UberX back to the hotel at this point. The fare ended up being only $5.60 for the 2 km trip, which we later found out was the minimum fare, and we rested up before dinner at the Grand Concourse. After being a little unsure how to spend our non-restaurant time in Pittsburgh, we were happy to have discovered the Strip District, which is filled with fresh produce, snack shops, pubs, and specialty shops. Walking over to the area turned out to be a great way to spend a Saturday afternoon in Pittsburgh and source some amazing foodie ingredients and treats. As for those donuts, we all finished them off in about 35 seconds when we arrived home on Sunday evening. Through they were a little stale by that time, no one complained.