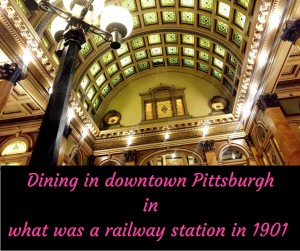 During our visit to Pittsburgh without the kids, we were invited to dine in an old railway station and of course, given my love for everything grandiose and oozing with historic charm, I said yes! The Pittsburgh & Lake Erie Railroad Station was built in 1901 and the 80,000 square foot historical landmark was a major transportation hub. It was only in 1978 that the space was renovated and Grand Concourse came to be a restaurant.
Disclosure : Our meal was hosted by Visit Pittsburgh, but as always, opinions are totally mine!
As the hubs and I arrived for our 7 p.m. dinner, we were welcomed and asked to wait for our seats. I had heard how reservations are highly encouraged as this is one busy spot, frequented by tourists and locals. As we waited, we explored the walls and popped into the Gandy Saloon but all too soon, we were escorted into the main dining room of the Grand Concourse and I was in awe. As I stood there I took in the marble arches and gorgeous Tiffany stained-glass ceiling and the grand staircase. It felt like being on a movie set. A bit titanic-esque even! The place is dripping with Edwardian splendor and it makes sense that many celebrations happen here. Several movies have also filmed scenes at The Grand Concourse, including Dogma, Promised Land, The Next Three Days, and Love & Other Drugs.
The hubs and I received a large booth to ourselves and so we cozied up and ordered a cocktail as we perused the menu and nibbled on the fresh warm rolls. We were seated in the main room and I loved people watching and taking in the gorgeous architecture and decor. There was also a glass-enclosed River Room with large windows where diners were taking in the dramatic riverfront views with their candle lit meals. After our meal, as we waited on our UberX we roamed through the dining rooms and spotted artwork depicting the original building and some preserved items through the year. I highly encourage you to walk around during your visit!
We had two servers and they were both lovely, our glasses were rarely empty, something I appreciated greatly once we ordered a bottle of wine (they have a stellar wine list!!).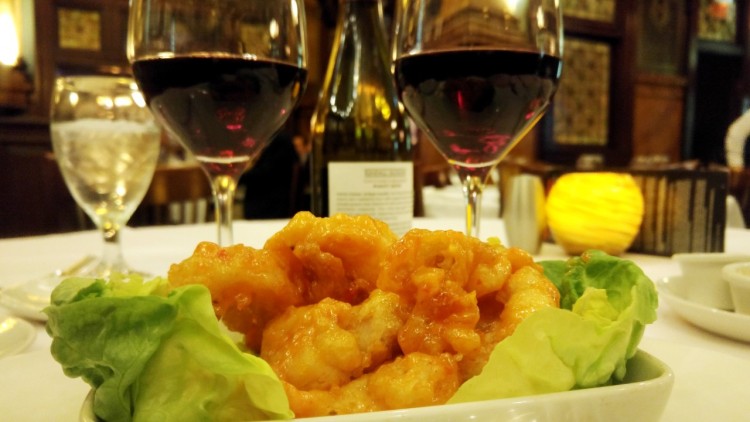 We started our meal with some Firecracker Shrimp our server recommended (and I loved!!). The creamy sweet chili glaze reminded me of a dish I love in Toronto. The New England Chowder while perfectly creamy and flavourful, was too chunky for our liking (with an East Coast husband and me having lived in Maine and Boston, let's just say we're the pickiest when it comes to Chowdah!). The hubs ordered the Wasabi Pea Encrusted Tuna which came with a soy-sriracha beurre blanc, quinoa-basmati rice and asparagus. It was the dish I first eyed and having tasted it, my only regret was that the peas weren't finely crushed. Everything else was darn delicious! I chose the Apple Jack Sea Bass which had granny smith apples, dried cherries and shallots in a sweet bourbon reduction and wild rice risotto on the side. Best choice ever and also super filling! The Grand Concourse is known for their seafood and so we didn't explore the meats but they seem like the place that would cook the meat to perfection.
The Grand Concourse is known for their Sunday brunches and given that they're right by the incline (not the one we went up!), I can see this being a great spot to watch the city from as you sip on your cocktails. For me, the architecture of the place is the real reason for stepping into the Grand Concourse!