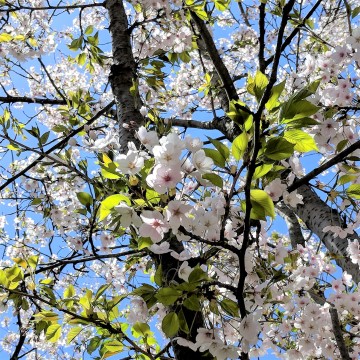 Toronto is home to many parks and gardens but one is particularly popular with Toronto families. If you're visiting Toronto with kids, High Park should be on your list of things to do in Toronto. Located near the High Park subway (and accessible by various streetcars such as the 506) this park is absolutely huge and you will want a stroller to explore. This past weekend we decided to brave it without a stroller and had to listen to a fair bit of whining by our 4 and 6 year old, especially since we entered from the opposite end to the playground we wanted! You see, the real reason we visited High Park this weekend was to see the famous Cherry Blossoms in person. I have lived in Toronto for nearly 13 years and this was the first time I was able to catch this auspicious bloom which takes place within the span of a couple days. Was it worth the crowds? Probably not as there's so many places in Toronto (including our roof top!) where you can see the bloom but it was quite magical to see that many Sakura trees blooming in one space. The crowds are crazy but the good thing is that everything was well marked and we knew exactly where to go thanks to the many signs and guides! Luckily for us, High Park in Toronto has so much on offer beyond the short lived Cherry Blossoms. High Park in Toronto spans 161 hectares and is a mixed recreational and natural park, with sporting facilities, gardens, playgrounds, pools and even a zoo. One third of the park remains in a natural state and is quite busy during the summer months but open all year round.
Update : It is now 2021 and we're living in a pandemic. We've visited the park numerous times for the free outdoor fun it affords us!
What to do in High Park with Kids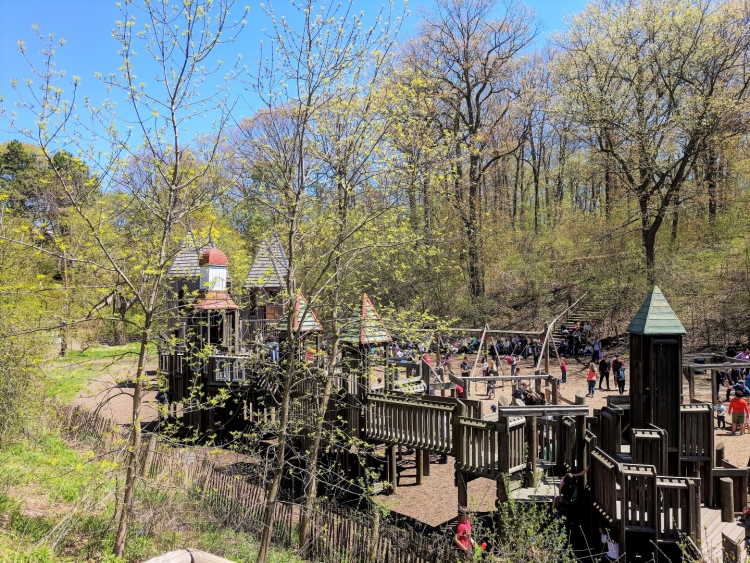 Playgrounds
Once could argue that the entire space is one big playground but my kids will say otherwise. They like to see slides and monkey bars and so they enjoy visiting the two main playgrounds. Without a doubt, the Jamie Bell Adventure Park (located by the Duck Pond, close to the High Park Blvd. entrance from Parkside Ave) is the kids' favourite. With plenty of seating areas for parents this "castle" structure is quite magnificent. Back in early 2012 the playground was sadly burned down by a suspected arsonist but some amazing companies we love supporting (like Canadian Tire) offered to help re-build the park and it was re-built by August of that year. It truly is a magical playground with so many different areas for the kids to test out their skills. Ours can easily spend two hours there until they remember the ice cream truck conveniently located nearby on hot days! There is a water fountain right by the playground so bring your refillable bottles but know that most of the bathrooms are porta potties.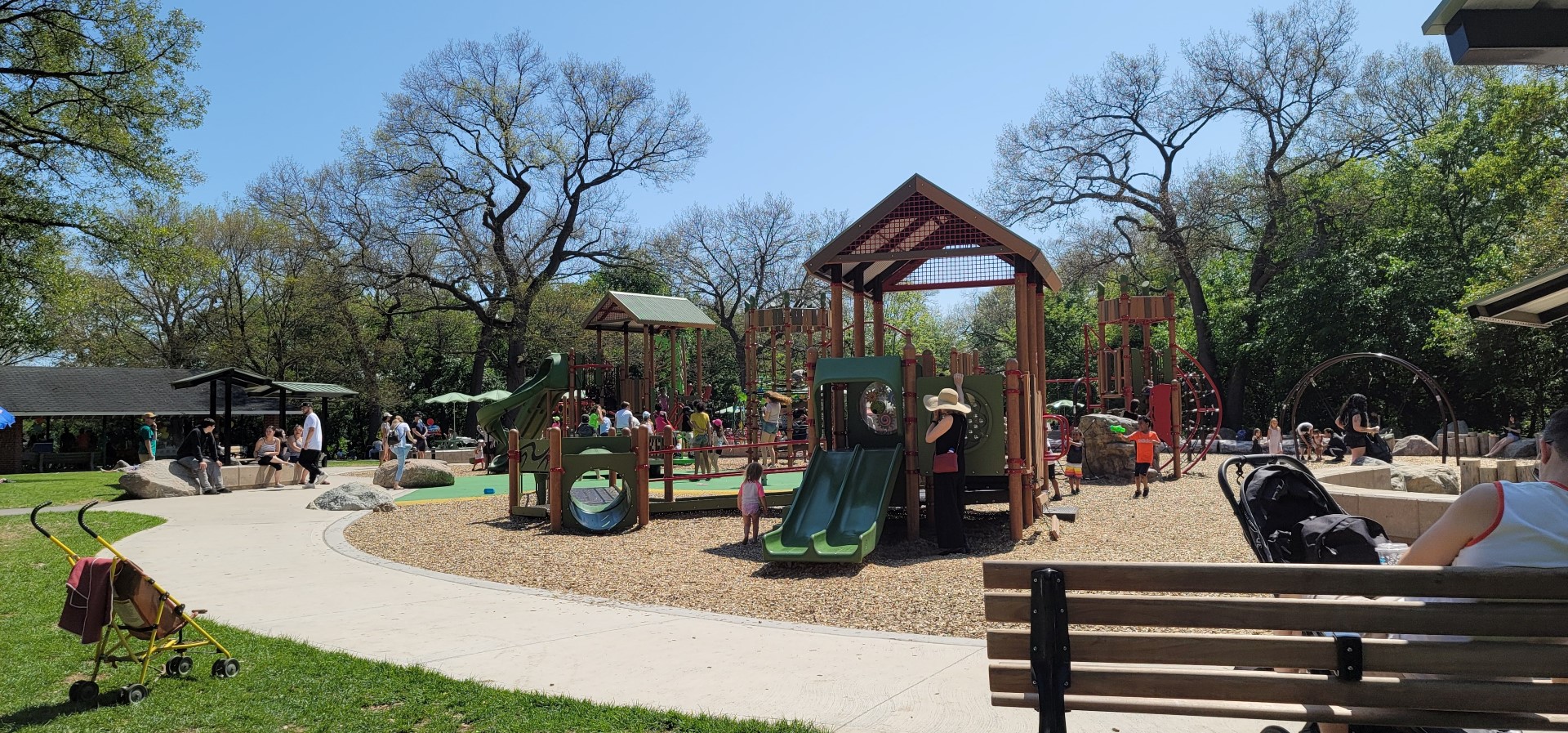 2021 update : There is an awesome new playground right by the main entrance (especially if you exit from the Parkview Gardens exit off the TTC). This playground is next to the wading pool and splash pad.
Trackless Train
If you're tired of walking, this 30-minute scenic ride weaves through the park during most weekend days from April to October. Picking up other passengers along the way tickets can be purchased from the train operator with one stop-over privilege.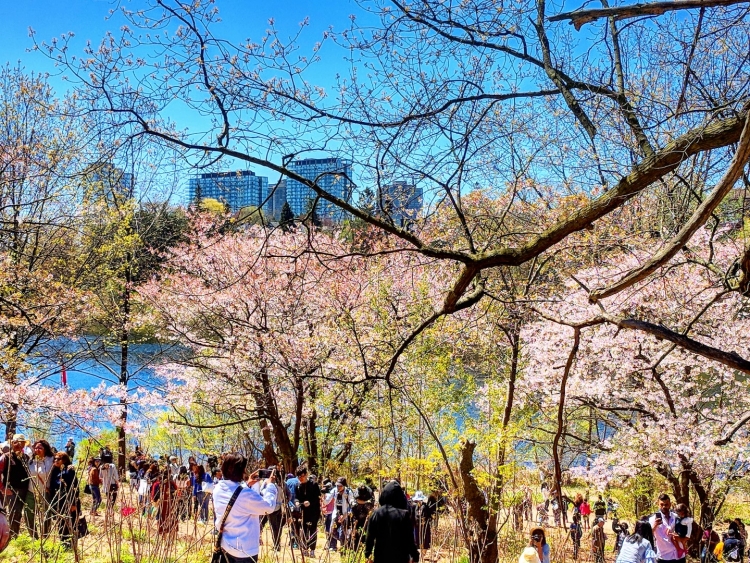 Pools and Splash Pads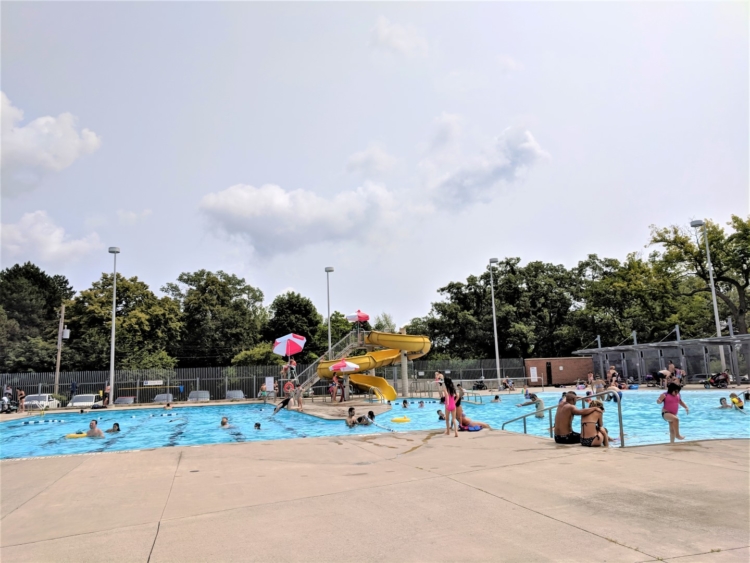 During summer months kids will want to play in the wading pool or outdoor swimming pool. The outdoor swimming pool is open during summer months from mid-June to Labour Day and there is a regular pool in addition to the kids' pool and slide. There is a shallow entry making it easy for families to enjoy the experience and there are family change rooms as well. Note that to use the slide kids do need to be able to swim a lap by themselves and prove it to the lifeguards.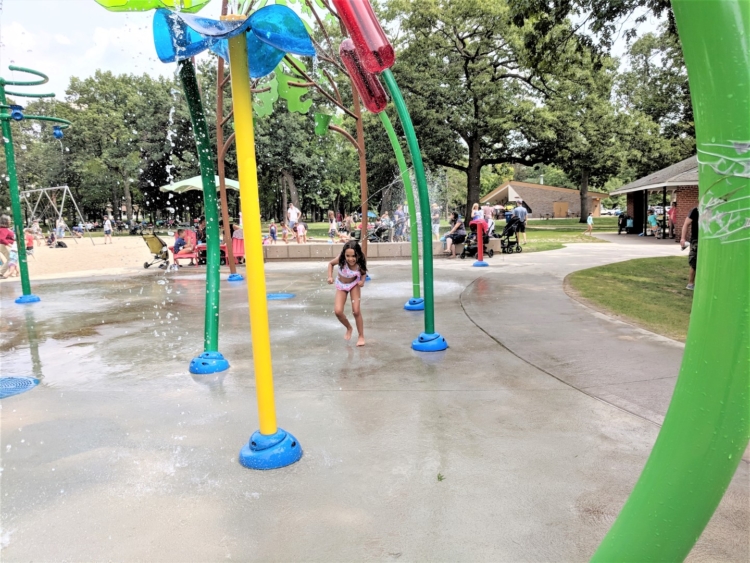 Our kids also love the splash pad that's there…perfect on a hot day!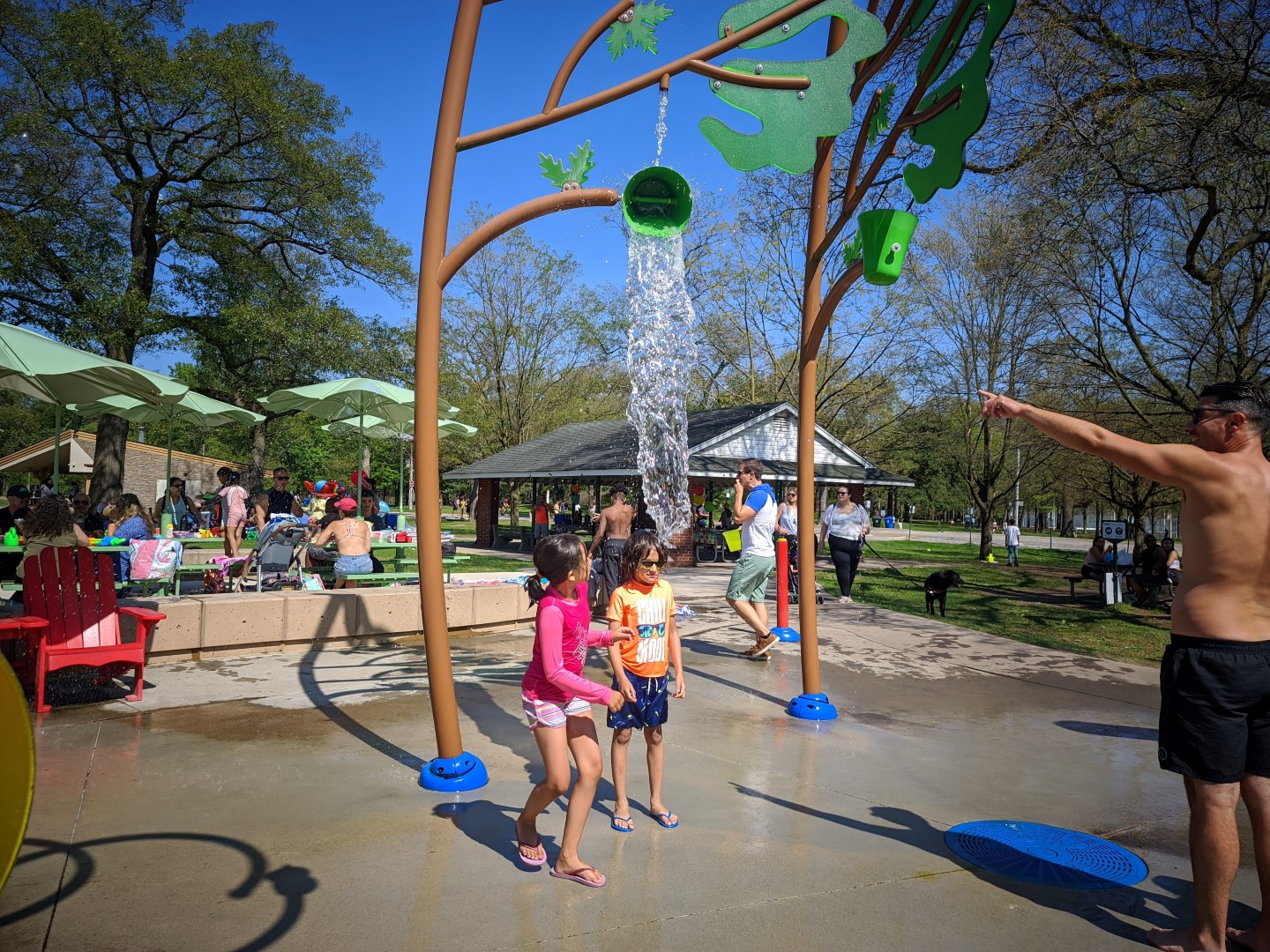 2021 update : The wading pool and splash pad has provided us with endless hours of fun this year!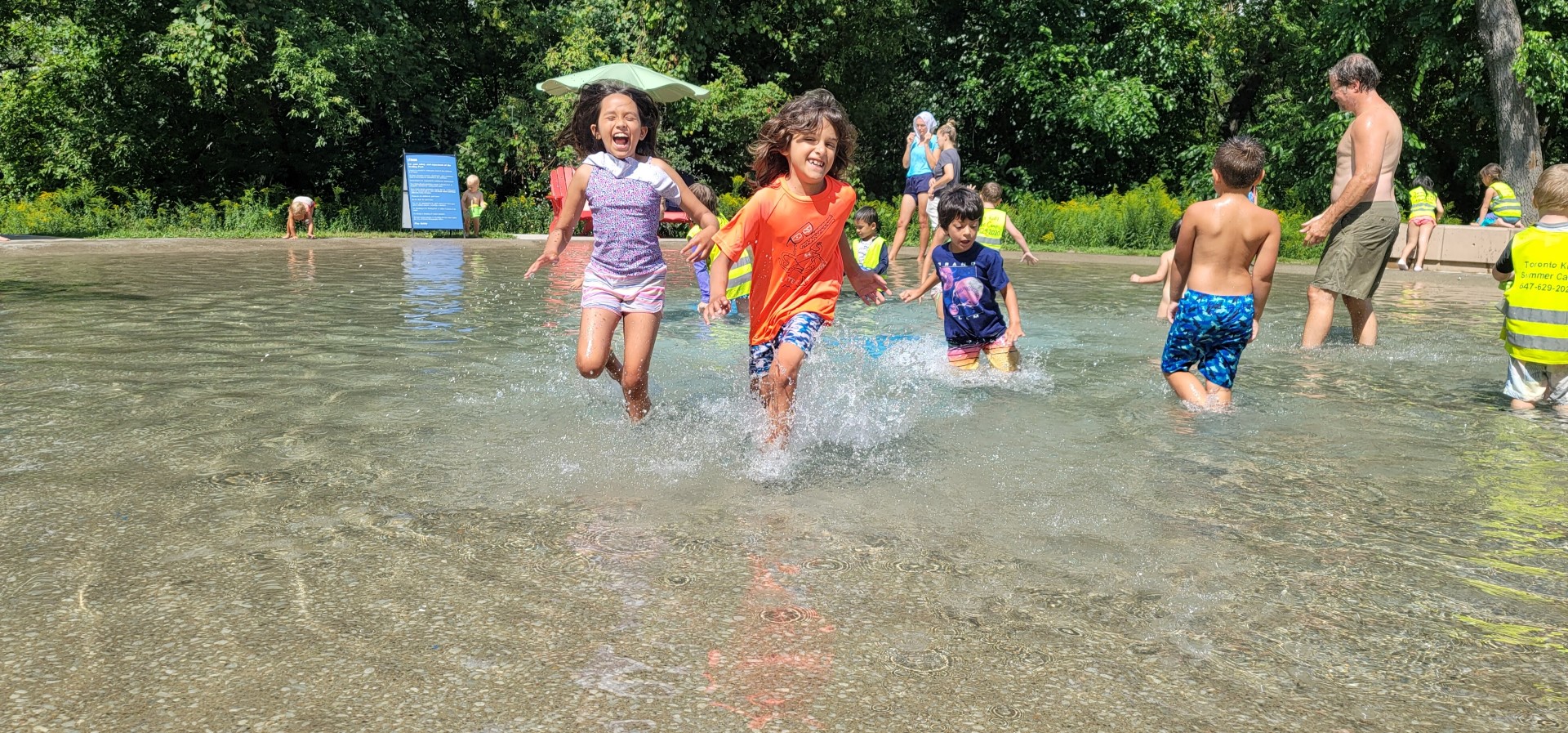 Active Sports – Cycling, Skiing, Skating Biking, Hiking, Fishing, Walking Trails
One can play many sports at High Park no matter the season. Cyclists enjoy roaming the paved roadways while families will flock to the 3 baseball diamonds and 2 soccer fields located on the west-side of Colborne Lodge Drive. There are also 3 public courts located on the east-side of Colborne Lodge Drive and 3 public courts on the artificial ice rink opposite the outdoor swimming pool. Grenadier Pond is a popular fishing spot however no boats are permitted on the pond and you do need a fishing permit. During the winter months you can get your skate on at the pond and while no trails are properly groomed, during the winter months cross-country skiing is permitted anywhere in the park. Click here for more details on how to book these facilities. If you're into exploring the trails, the High Park Nature Centre offers organized walks. The Spring Creek and West Ravine nature trails take you through the natural forest on clearly marked paths where you'll see a variety of wildlife, native plants and trees (some of which are clearly marked and yes, we spotted signs for Poison Ivy).

High Park Zoo
While this isn't a large zoo there is enough to keep our kids happy. Located on Deer Pen Road, the High Park Zoo has bison, llamas, peacocks, deer, highland cattle and sheep and is open year-round to visitors from 7 a.m. to dusk.
Shakespeare in High Park
During the summer season there is a pay what you can Shakespeare in High Park and we've tried our best to visit at least once a year. Click here to hear about our experience.
2021 update : There's new programing beyond Shakespeare and ones focused on families with young kids too! Worth checking out when looking for things to do in Toronto beyond attractions!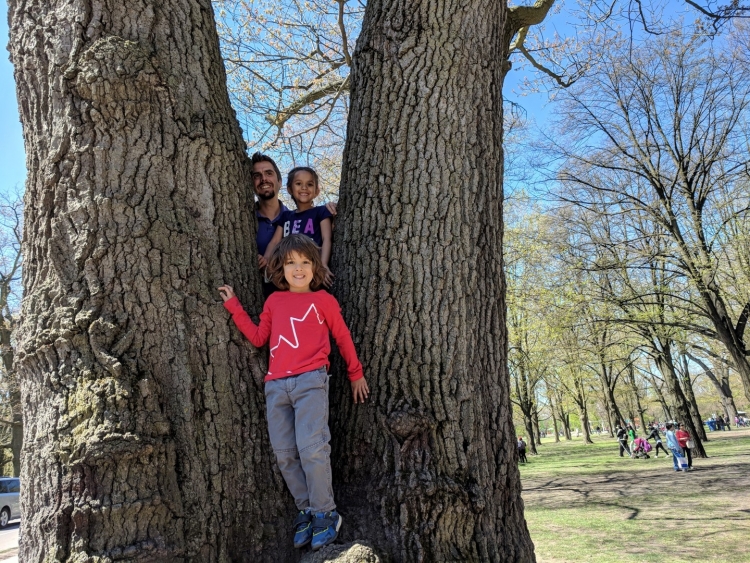 Tips
The park is massive so plan your visit and know which entrance works best for you ( I prefer the Parkview Gardens ttc exit and we cross the road to enter the park near the tuck shop and splash pad/wading pool)
Bring your own food and drink to keep young ones happy
There are few real bathrooms (and only open during certain times of the year) so be ready to do diaper changes on benches and on the grassy patches
Bring a change of clothes for young kids because there are plenty of ways to get dirty!