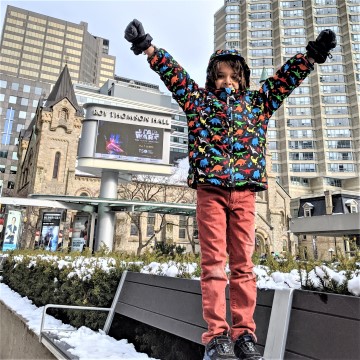 Chris and his dad thoroughly enjoys the Toronto Symphony Orchestra experience and took Akira to a Halloween Spooktacular a couple years. I on the other hand fell asleep during a performance MANY years ago (in my mid 20s). However, I know the benefits of exposing our kids to music and that's why I always encouraged Chris to continue exposing us to orchestral music at home. Today I want to share with you our Toronto Symphony Orchestra (TSO) with kids experience and how we're slowly introducing our children to the classical arts.
Disclosure : This post is in partnership with the TSO but, as always, opinions are TOTALLY ours! Our pictures were taken pre-pandemic in early 2020.
Current Policies at Toronto Symphony Orchestra
While our experience was pre-pandemic, there are new policies in place to keep in mind. A mask that snugly covers your nose, mouth, and chin must be worn at all times in the lobby and concert hall. Neck gaiters, open-chin triangle bandanas, and face coverings containing valves are not acceptable forms of face coverings.
Mandatory proof of vaccination for those 12 and above will be required for all TSO performances until at least March 14, 2022. Any patrons under the age of 12 must be accompanied by an adult who has proof of full vaccination and a government issued ID.
For a full list of safety practices and procedures click here.
Book your tickets now!! The next Young People's Concert coming up in April 2022 is Peter, the Wolf & the Kiwi .
Benefits of Introducing Your Kids to the Orchestra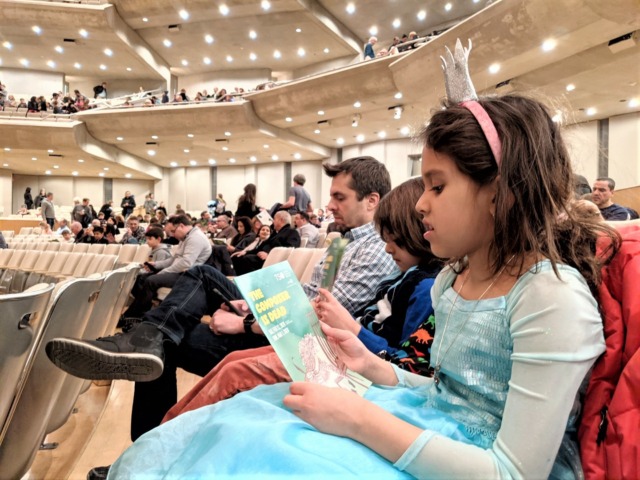 The reason I fell asleep at my very first TSO performance was because classical music has a calming effect on me. It's one of the many benefits your kids can experience if they're exposed to classical music. One of the (MANY) things we were told when we were pregnant with the kids was to listen to classical music and that's when I started realizing how my own body was reacting to music.
Listening to classical music not only reduces your blood pressure but it can also spark creativity and help improve sleep quality. Qualities that I can appreciate my kids having! The beauty of Orchestral music is that it doesn't have to be "sleepy" music, there are so many emotions that can be awoken depending on the tunes being played.
Toronto Kids Activities |Afternoon at Toronto Symphony Orchestra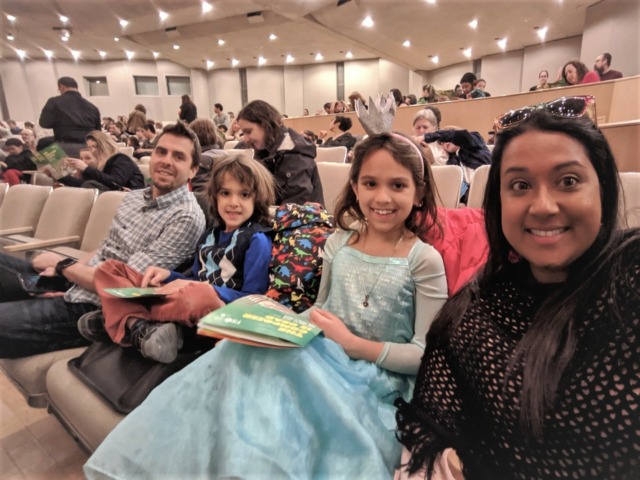 Since the kids were young we've made it our mission to expose them to as much culture as we can and living in downtown Toronto, there are so many opportunities for us to do so. The Toronto Symphony Orchestra may be seen by many to be a fancy spot but did you know that they have a Young People's Concerts Series? This series caters to kids aged 5 to 10 years and the goal of the series is to expose kids to orchestral music. Each one-hour concert is specially designed to keep kids engaged and having fun. Young People's Concerts take place on Sunday afternoons at 2 pm and 4 pm and makes it really easy for parents to bring the kids into what is often perceived as an "adults only" space in Toronto.
In early 2020 we took our kids to the Toronto Symphony Orchestra and they said they want to go again (if you're wondering, yes! Akira did say it was "boring" but she also wanted to go back soon- let's not over analyze how 8 to 10 year olds think). We attended a 2 p.m. performance of " The Composer is Dead" and although I initially thought it was a macabre topic for kids when I first heard of the title, Chris told me that it wouldn't be dark. He was right! It actually ended up being a fun mystery for the kids to solve (and there was a very witty ending which only the parents could appreciate).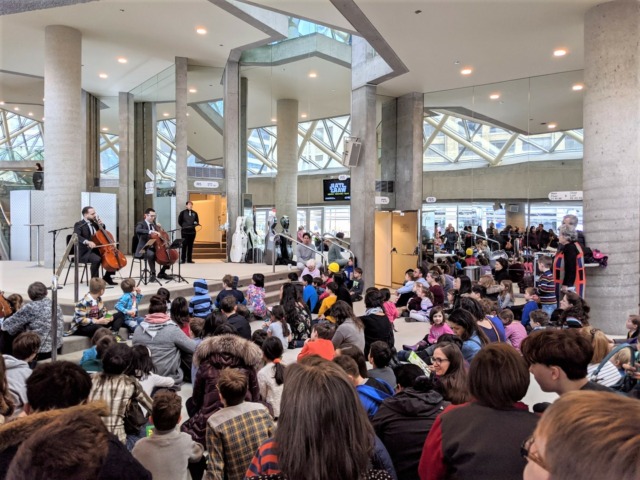 I highly encourage you to arrive at least 30 minutes before the one hour Young People's Concert Series performance because there are some fun activities for the kids to enjoy before the concert starts. During our visit we had the chance to hear a lobby performance by the Cello Fellows. They had a casual chat with the kids and spoke about a few instruments. This gave me the opportunity to show Apollo what he can expect to see and hear when we were inside the concert hall. While Akira had attended one before, this was his first TSO experience. I only kept the kids here for 10 minutes because I wanted to keep their interest going and moved over to the instruments sections. Here they had a chance to play violas, trumpets, tubas and many others (that even I didn't know the names of). This area can be busy but they ensure that the kids have a chance to play a couple instruments and ask as many questions as they want.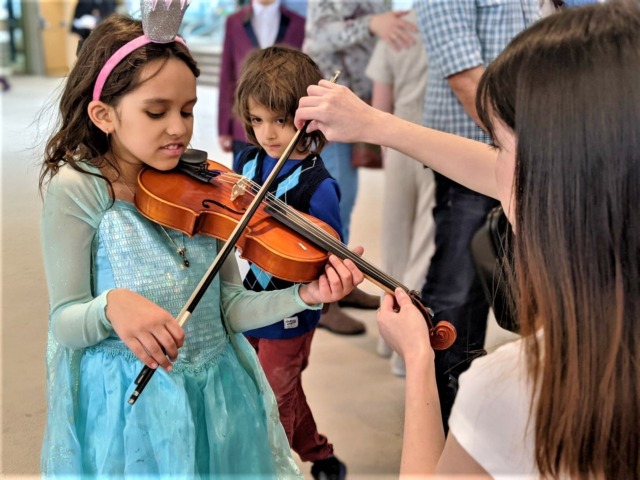 What I loved about the actual concert was how accessible it was. There was a lead detective who slowly took us through each section of the orchestra and even I learned a few things. It was refreshing how they wove in stories and musical scores in an engaging manner.
Family Friendly Tips for a Toronto Symphony Orchestra Visit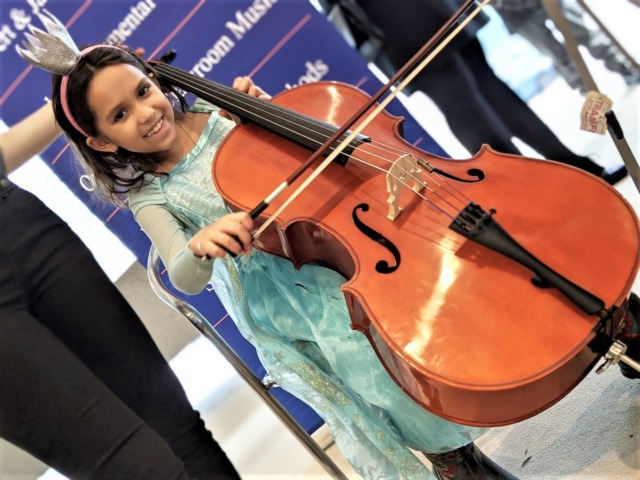 In addition to arriving early, be sure to pick up the booklets prior to going into the performance because it's filled with fun activities for the kids and can be used as additional entertainment if they get "bored" or during the intermission. Our kids attention span can be short and it's something I focus on paying attention to because I want them to focus on the live performances as they do with cartoons and movies. Our kids used the booklets during the intermission and I didn't have to entertain them or remind them to "talk quietly" so that's a win in my books!
I also highly recommend grabbing a booster seat from the coat check area because your kid will appreciate the experience a lot more if they can COMFORTABLY view the stage. You never know if a tall parent will be sitting in front of your child so always be prepared!
While outside food and drink isn't allowed and your bags are subjected to a quick search, you can bring unopened bottles of water. I recommend bringing a reusable bottle because there are water stations so you can easily fill up! There's also a bar selling snacks and drinks (including wine and beer for the parents).
Fret not because there are many things are starting back up in Toronto! The next Young People's Concert coming up in April 2022 is Peter, the Wolf & the Kiwi . The Toronto Symphony Orchestra is a gem of a spot in Toronto and I'm enjoying my own re-introduction to orchestral music through the kids' experiences.