November in Toronto can be an odd time when most fall activities have closed down and winter hasn't fully arrive yet. Luckily for us, booking a Communauto for a day trip was a brilliant idea last weekend because we found some fun things to do in the York Durham Headwaters region. We started our family day in Stouffville and made our way towards Caledon discovering late fall activities in Ontario and creating family memories. You'll certainly want to add this to your day trips from Toronto list!
Disclosure : This post is in partnership with Communauto but, as always, opinions are TOTALLY ours! Use promo code "YASHY20″, to receive a $20 driving credit when you sign up as a new customer!
As you know by now we don't own a car and live in downtown Toronto. When we do need a car, we use Toronto car share company Communauto. We have the free plan and book cars as needed. For our impromptu trips (like our winter trip to Brampton) we make use of the FLEX Commuanauto vehicles and have the ability to drop them off at a different location than pick up. For this day trip to Stouffville, we pre-booked a car and so drop off and pick up was from the same location on Queen Street West. The reason we use Communauto is because their Toronto car share rates are INSANELY well priced, starting at $15 per hour or $50 per day on the free plan (150 km included per trip + 25¢/km after 150 km). Keep in mind that all Communauto prices include gas, maintenance and insurance! And yes, yes YES!!! Communauto vehicles are covered by insurance, including collision and third-party liability. See, no brainer!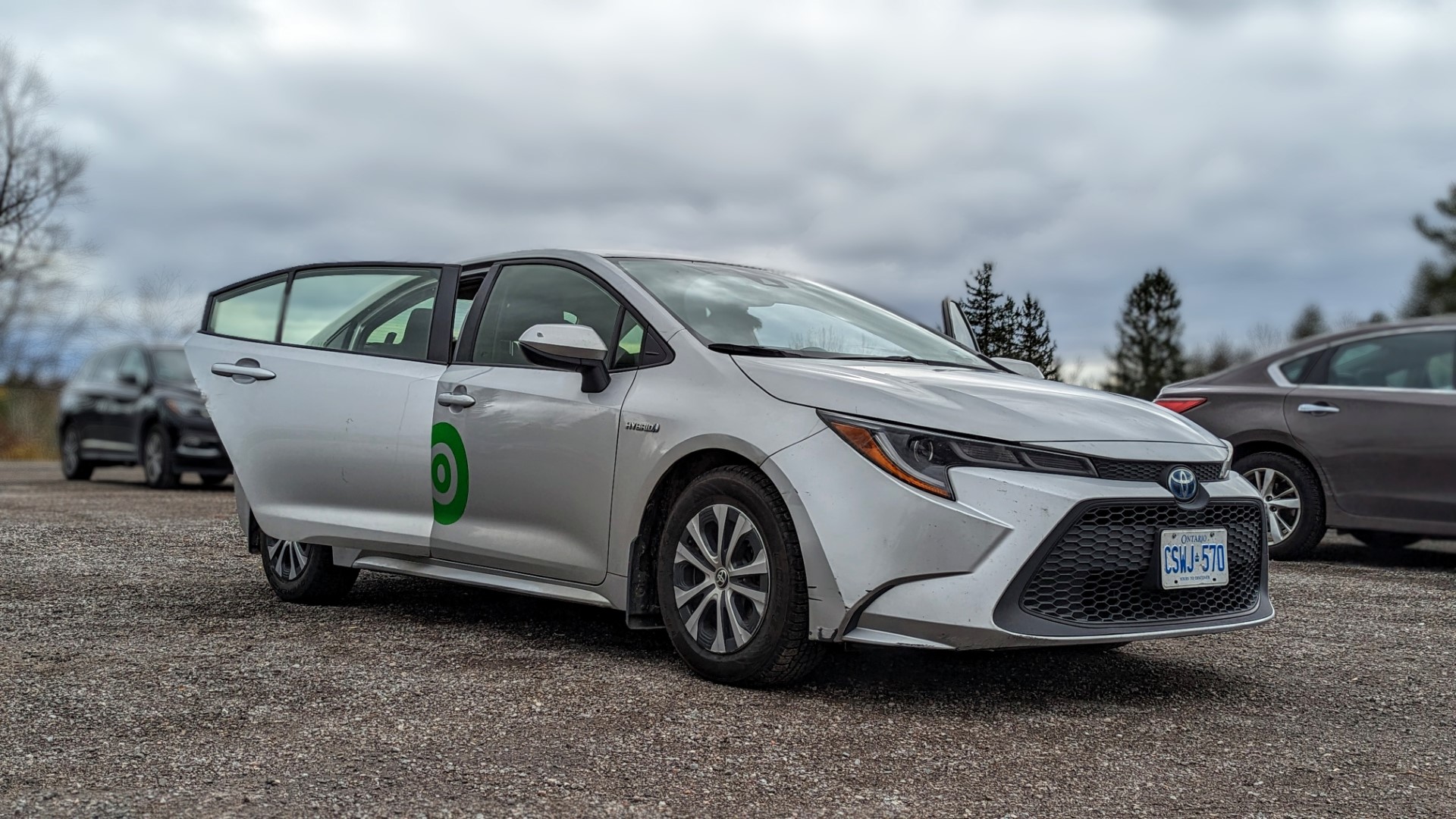 If your city has the Communauto car sharing service, you should look into it. It has been a better (and cheaper) option for our family versus renting a car for day trips from Toronto.
So, up until now we have always stayed under the 150km daily limit but on this day trip from Toronto to the York and Headwaters region, we went over that limit.. .and you know what? We paid $71.97 versus the $57.63 we usually pay (with taxes etc). The extra $14 was because of the extra mileage (at a rate of 25¢/km after 150 km) and it was a great financial decision because it was still cheaper than renting a car from a traditional spot like Enterprise.
Day Trip from Toronto to York Durham Headwaters Region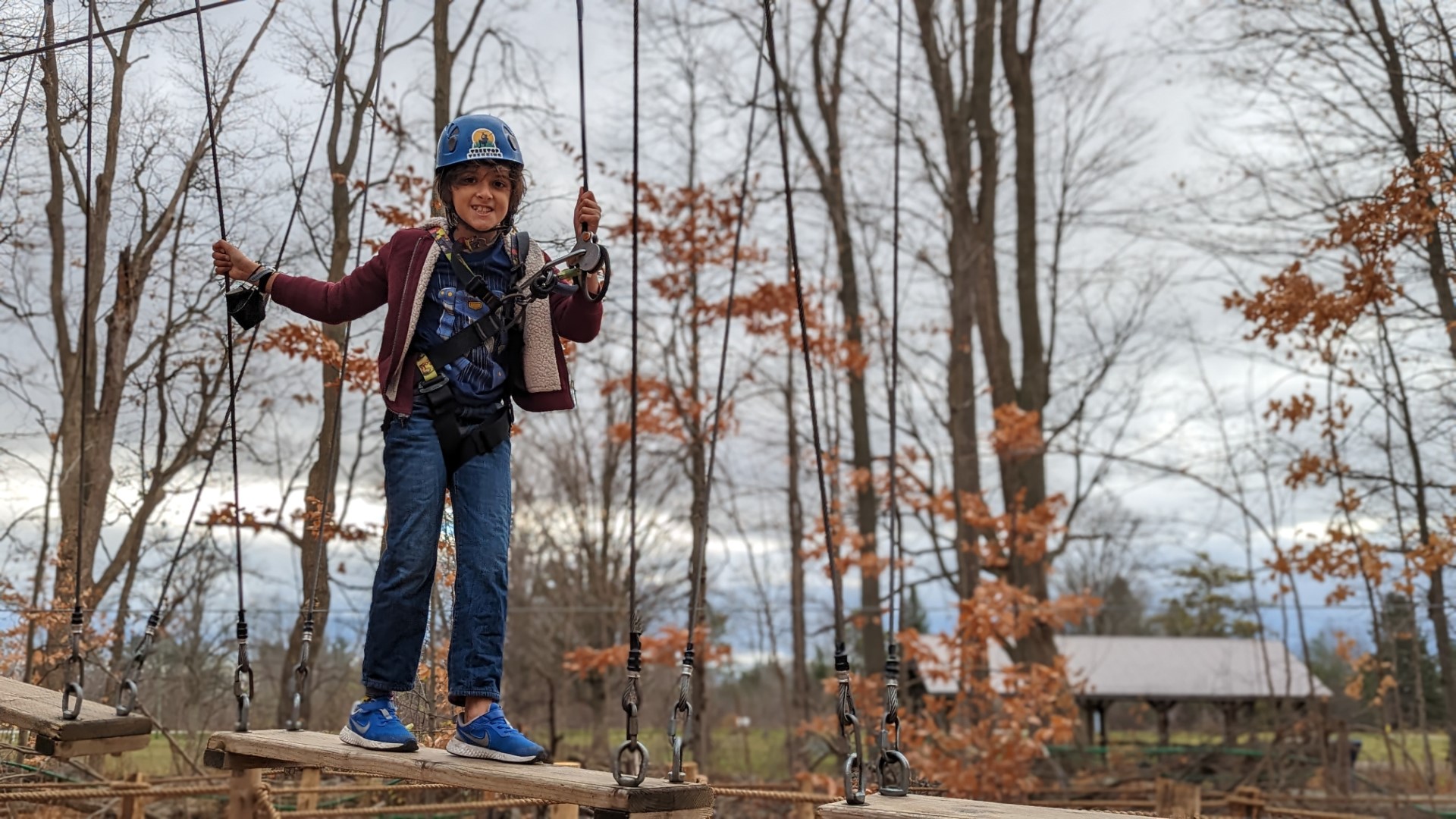 Just a short drive from Toronto, York Durham Headwaters is a solid road trip destination. It's a great spot to embrace nature at and partake in festive activities no matter which season you're visiting in. As I mentioned earlier, November is a tough month in many ways because all the fall farms have closed up after Halloween and the Christmas activities don't begin until the end of November. Luckily, we found a way to drag the kids away from their screens and enjoy the great outdoors without them whining (too much).
Things to do in Stouffville in November – Treetop Trekking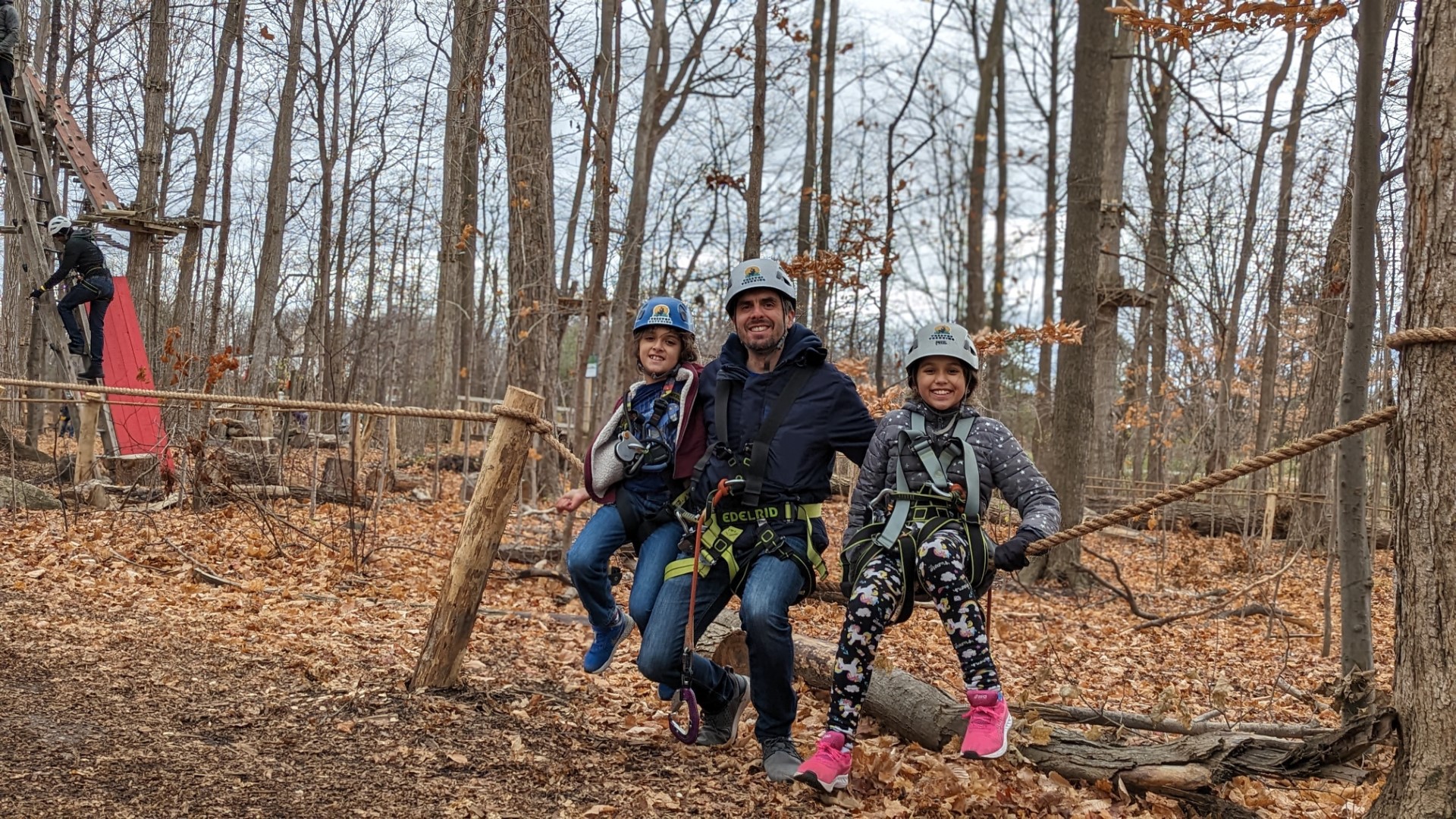 We have friends who live in Stouffville and keep hearing from them how awesome the Treetop Trekking park at Bruce's Mill Conservation Area is. On a slightly overcast Saturday, we drove an hour from downtown Toronto into Stouffville in our Communauto and enjoyed an afternoon outdoors. There are three options available at the Stoffville Treetop Trekking park- Treewalk Village for young kids (it's the only one open all winter long), Discovery course for those aged 5 to 8 (on average) and the Zipline & Aerial Game Trek for those aged 9+ and over 55″ (this is super fun for adults too).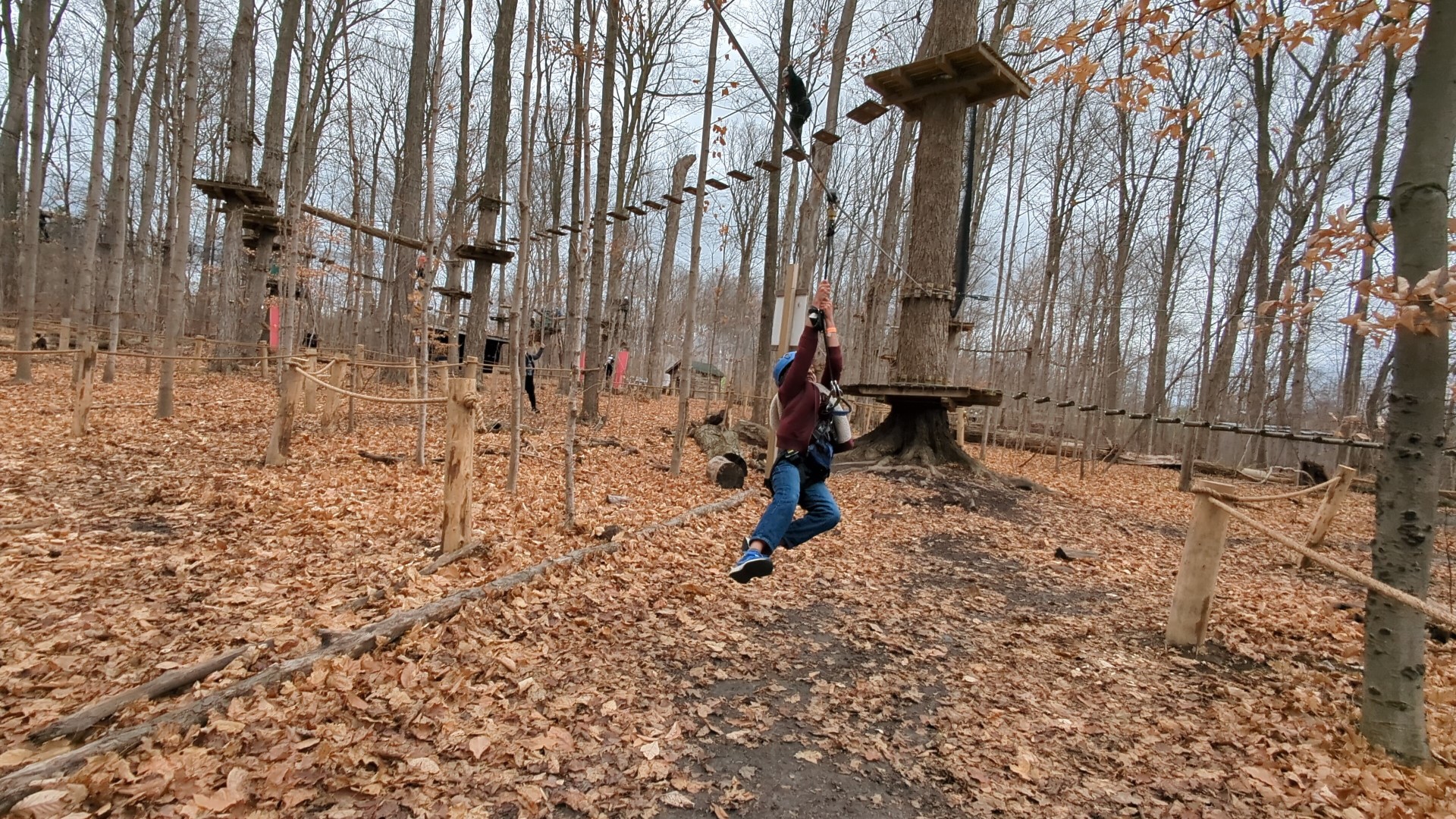 Our original plan was for all four of us to do the Zipline & Aerial Game Trek since Apollo had recently turned 9 years old and he was so excited for it. However, upon being measured on arrival, we soon learned that he was shy of the 55″ requirement. Chris and Akira did the Zipline and Aerial course while I escorted Apollo to the Discovery Course and watched as he jumped, climbed and ziplined. All three spots are located on the same site so I was able to watch Apollo and Akira easily. Everyone was given the harnesses and while Chris and Akira had their training, Apollo and I went into the Discovery Course. This took him 15 minutes to complete but it was challenging and he was able to keep doing the course as he was given 1.5 hours to spend there. Even though I was only walking alongside him, I enjoyed the crisp late fall air and being surrounded by nature did my heart and soul good!
As I mentioned, Chris and Akira did the more challenging course which had a 20 minute training session. After the training session they were allowed to go through the course which takes about 3 hours to complete. I watched them run through suspension bridges, act like Tarzan on swings, balance on logs and hold on to dear life on the ziplines. It's a fun activity that is suitable for a wide range of abilities but it will test your strength, balance and courage (in a safe and supportive environment). Within this course there's an advanced part which is for those who are 12+ years old and taller than 5 feet. We had a full day planned so we only spent an hour and half here but the kids have already requested a return visit next spring when Treetop Trekking Stouffville re-opens in the spring (and hopefully Apollo is a smidge taller).
If you're planning to visit in the fall, layer up – wear gloves, comfy long pants and a good jacket. Having something warm to drink when you get back into your car is also a great idea!
Using the Communauto app we unlocked the car when we first picked it up but there's a key in the glovebox so we used that for the rest of our day. On the drive to our next location, we made a quick stop for some warm soup and dumplings at Tangerine Asian Cuisine because being outdoors certainly makes you cold in the late fall!
Things to do in Caledon – Al things Apple!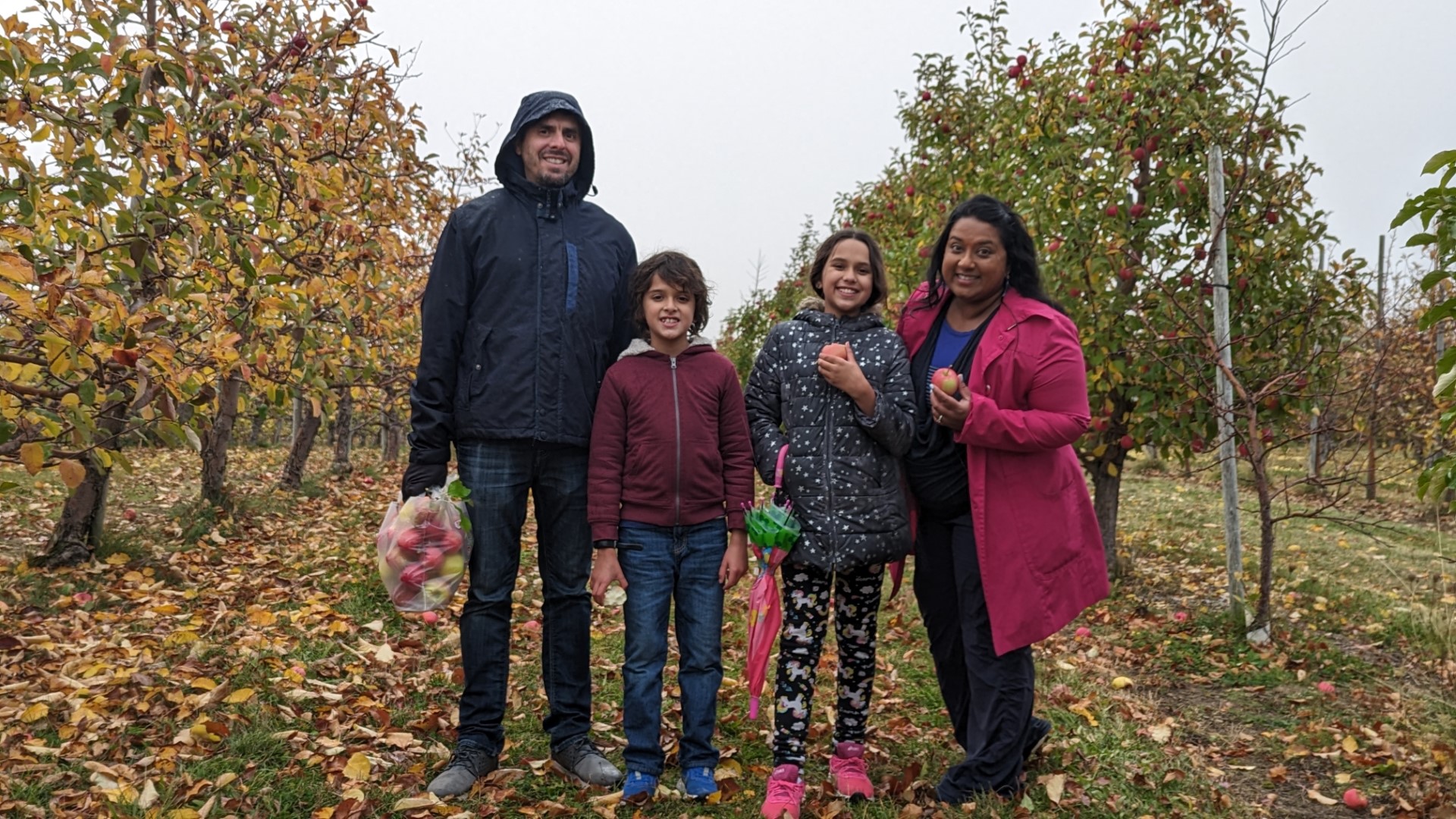 Apple Picking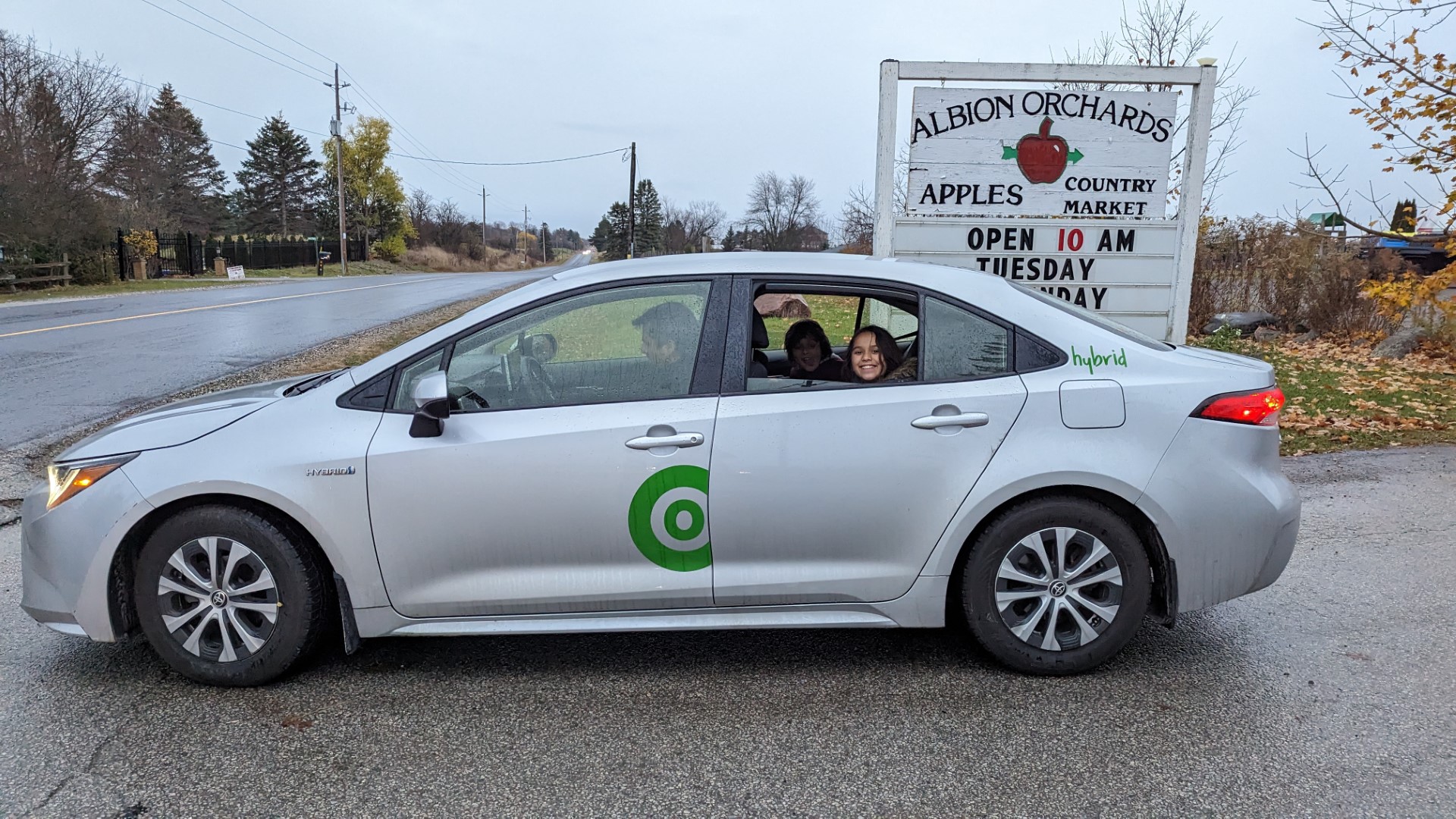 Caledon Ontario is your picture perfect Ontario spot for all things fall and so it should come as no surprise that the only farm we found open for apple picking was in Caledon! Albion Orchards is where you will want to visit if you're looking for a late fall apple picking experience. We parked our Communauto by the Country Store entrance and then went in and paid $20 for an empty bag that will fill 10lbs of apples. We took that bag through the fields and into the apple orchards where all four of us were amazed by the number of trees still bearing fruit in mid November! It is here at the Albion Orchards that the kids and I discovered our love for the Pink Lady apples. Move over Ambrosia (though it's still great in my Sri Lankan Apple Curry)… the Pink Lady has entered our lives!
As you can see, we were the only ones in the orchard on that misty November day and we had our umbrellas in hand because it was starting to drizzle. We still had a great time and embraced this fall activity with fervor. I can definitely see how fun this Ontario farm is for families in the fall because they had a pumpkin patch and neat props still on display during our visit.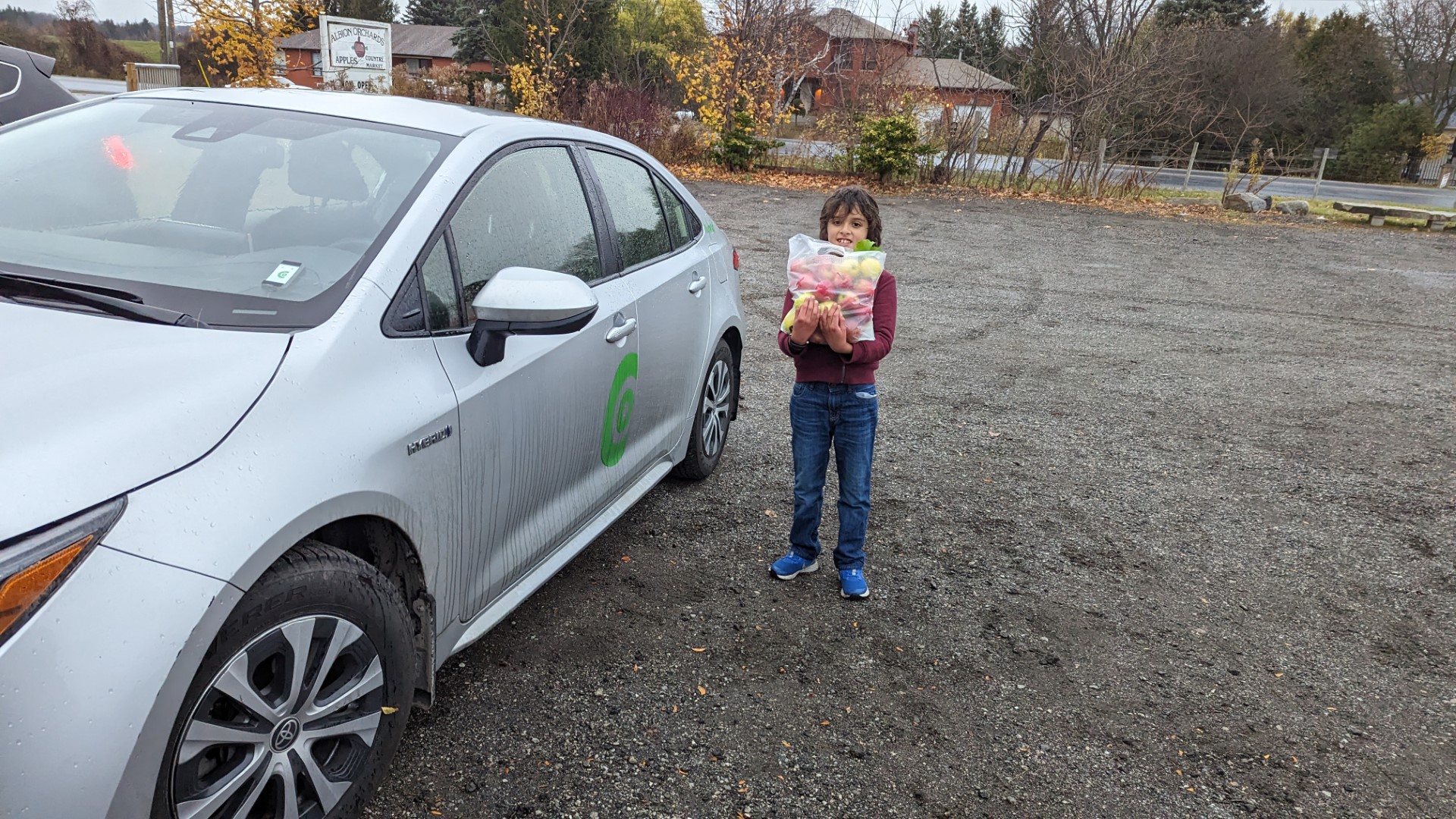 Definitely go back into the Country Store and peruse the many local goods on offer here. From sweet (non alcoholic) Apple Ciders to pickles…they have loads of food items ready to be purchased. The sparkling apple cider was a huge hit with the kids.
Drinking Apples at a Cidery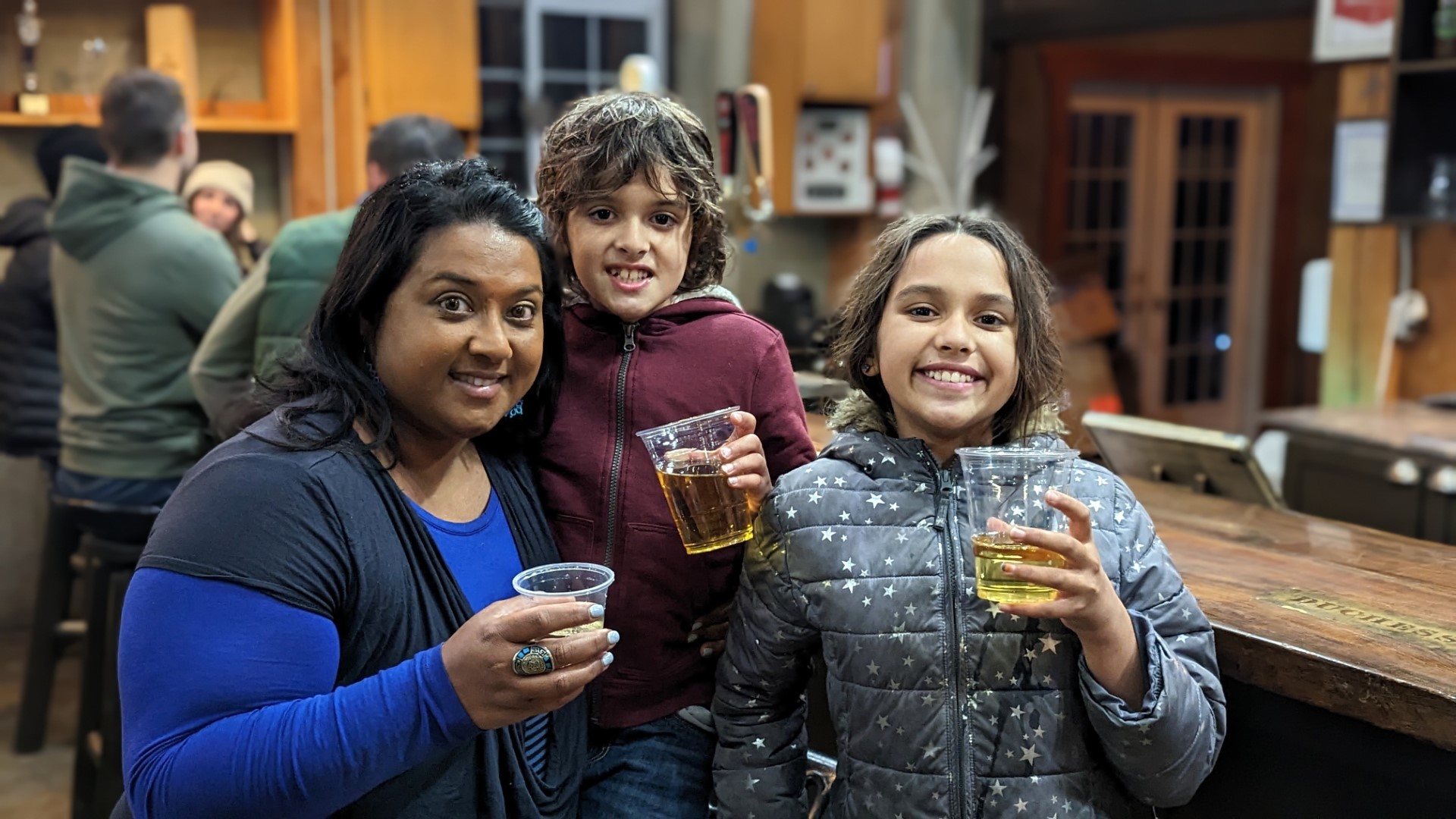 Spirit Tree Estate Cidery is a cozy spot to take refuge from the cold wind, as we found out. After treetop trekking and apple picking, we warmed our bones at this cidery that's also a bakery, bistro and farm shoppe. Given how cold it was, no one was sitting at the picnic tables outdoors. Instead everyone was huddled around the bar, tasting flights of cider or sipping coffee whilst waiting for their pipping hot pizza to come out of the wood-fired oven. This was such a friendly spot that I felt like a frequent visitor by the time we left!
The kids ordered non-alcoholic sparking wine while I ordered a flight of their ciders and Chris ordered a coffee. Spirit Tree has a mission to craft the highest quality artisan ciders, breads and other baked goods, using traditional methods and local products. As we chatted with the staff who were making our pizza, we realized that this was so very true. They told us about the local ingredients they source for their pizza and how they make many things in-house. We ordered the Wise Guy pizza for Chris, the kids shared the special of the day which was an apple and bacon pizza (they did no cheese on half for Apollo) and I ordered the Fungi one.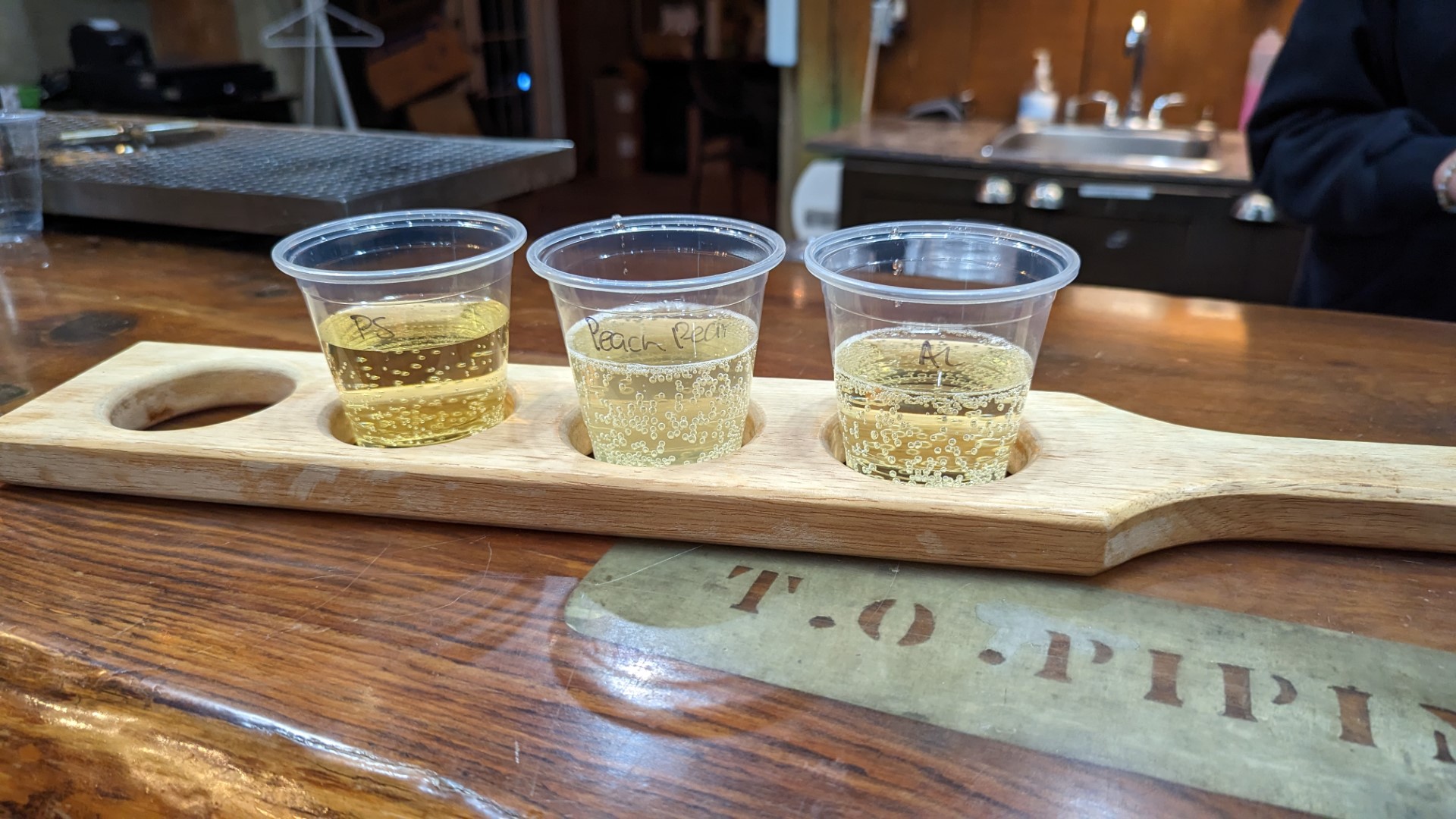 As you may know by now, I'm not a huge fan of hard ciders but I must admit that I enjoyed their Apple Larger and the Pumpkin Spice one was definitely unique enough for me to enjoy a glass annually!
This spot is also great if you're looking to stock up on local made pies, meats and cheese.
A Sweet Visit to Bolton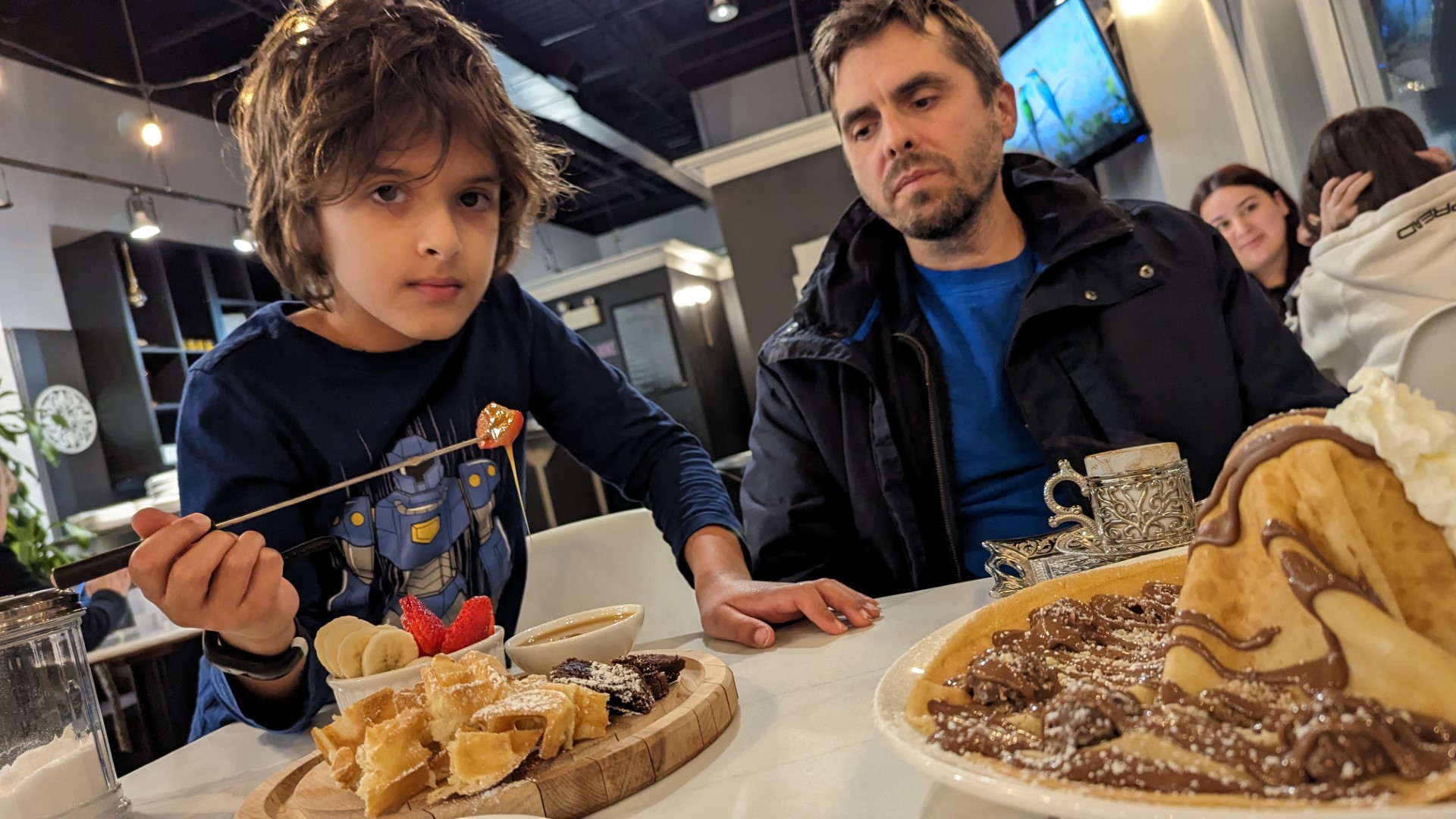 Back in the Communauto vehicle, we thought we'd add one more stop before heading home. We needed some dessert and the Caramel Café was the perfect spot to end our lovely day at. Yes you read right, a dessert café! This beautiful space has your traditional tables but also cozy couches and reminded me of the spots I used to frequent during my teenage years living in Karachi. The perfect hangout spot!
Sadly for us, Akira decided to have one of her epic meltdowns just as our treats arrived but Chris did enjoy a delicious Turkish coffee before the full on yell session that saw Chris and I dragging her out to the car to calm down. The Turkish coffee was an experience in itself and came with brownie bits. I ordered a Kashmiri Chai and though it was good, it certainly was the best I've had in Ontario. While Chris and Akira stayed in the car, I came back to join Apollo and enjoy the treats. The Ferrero Rocher crepe was absolutely wonderful. The crepes here are made perfectly with the right texture and mouthfeel.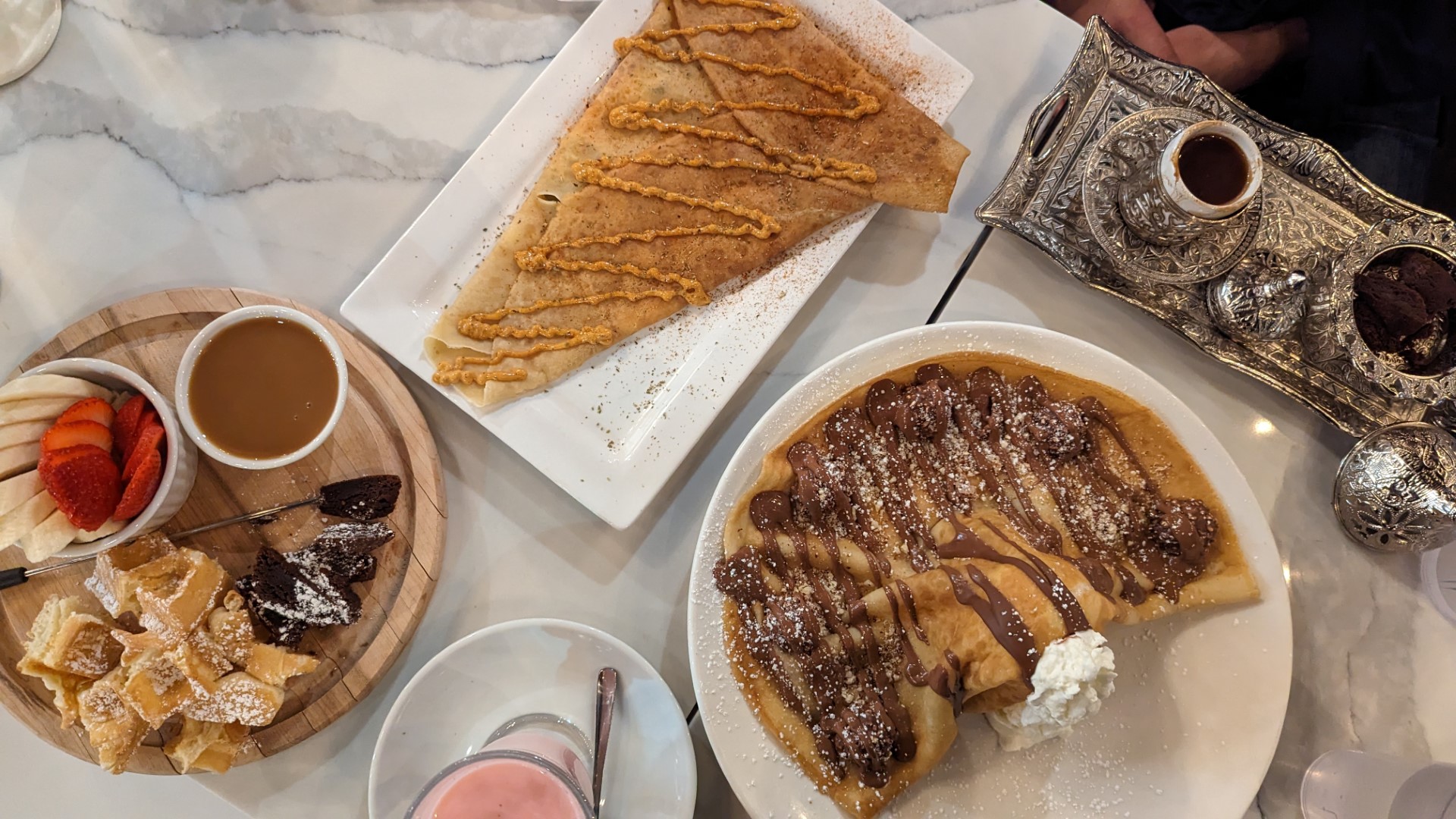 What was amazing though were the crepes and the Mango Shake. Apollo is lactose sensitive so they took extra steps to make the mango shake dairy free for him and we appreciated that greatly! This enabled him to cheat a bit and enjoy the crepes and dessert fondue we ordered.
If you don't have a sweet tooth, know that they also have savoury options. The Spicy Beef Crepe was really good!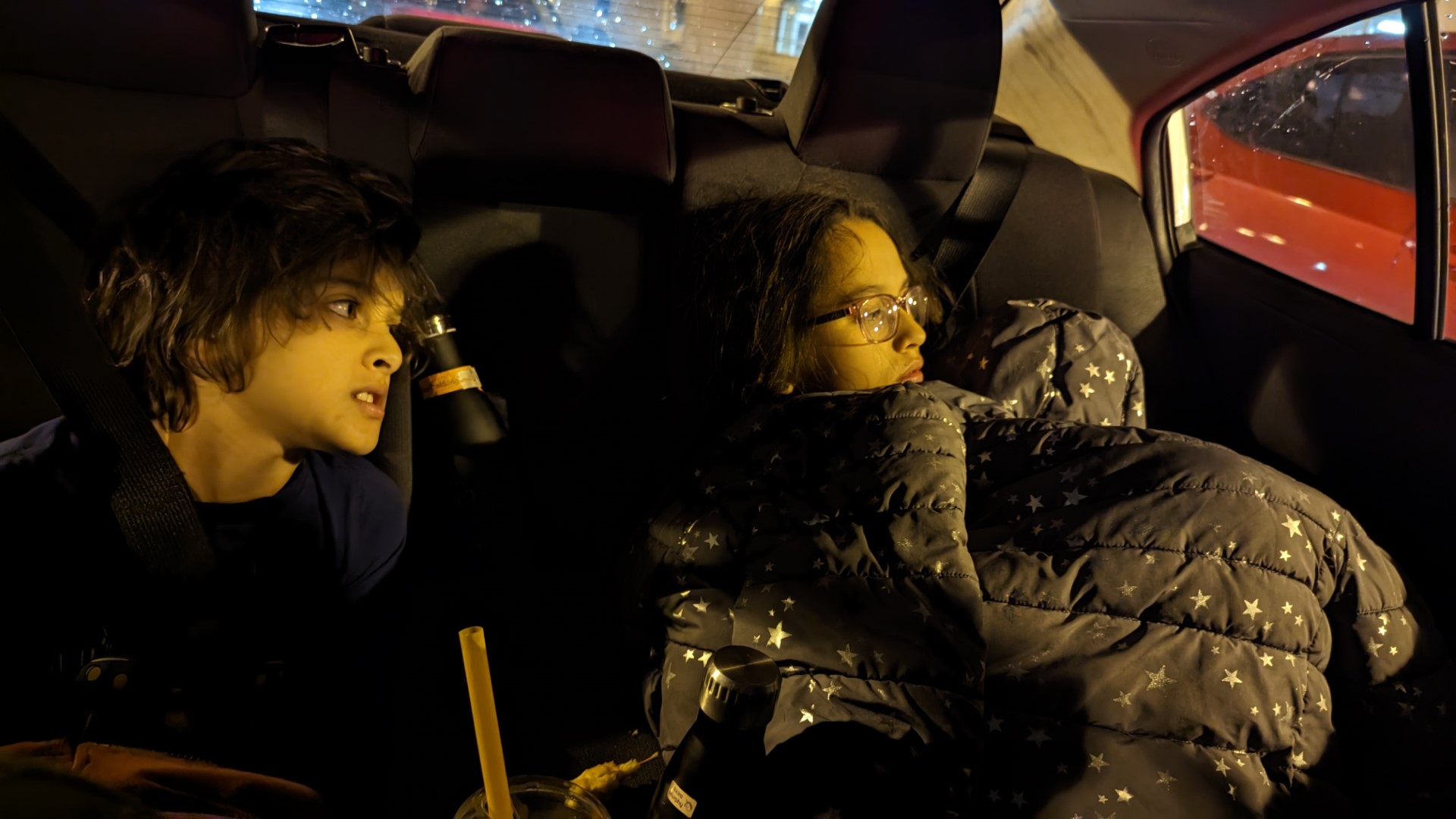 Akira calmed down on our drive back into the city and we were able to reflect on how great it was to be outdoors that day. Even though it was a cold and wet day, we were still able to enjoy a family outing by making good use of the Communauto vehicle. I've already booked a December one for some holiday charity work I plan to do!
I'm seeing more Communauto cars on the road and this is a great thing for our environment. Not only do they have Hybrid cars but car sharing also helps reduce our carbon footprint and increases the chance for green spaces to exist in the city. When we picked the car up, it had a full tank of gas and when it was time to drop the car off, we noticed that we'd barely used a quarter tank – hybrid cars are wonderful! This meant that we didn't need to top up the gas using the credit card in the glove box. We simply returned the keys to the glovebox and then locked the car using the app on our phone. That was it!