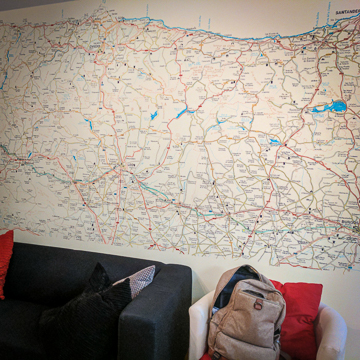 Recently, thanks to regulations that make it difficult to get a SIM card in Germany, we spent 19 days exploring the country without mobile Internet. Yashy adapted by spending half her day walking through downtown streets scanning for free hotspots, but that is something I never feel comfortable doing. I am not prepared to have anyone break into my phone, especially while travelling away from home. To be honest, having no Internet outside of the home was refreshing. I no longer felt addicted to my phone and was able to explore cities with a hint of the unknown.
While this did leave us a little blind and frustrated at points, this period in the offline world gave me a chance to brush up on my navigation skills. Well…not really. You see, even though my phone had no internet connection, the GPS worked fine. In fact, GPS in Germany seems to reach every corner of the country. Deep inside Berlin's extensive subway system, where some trains run dozens of feet below the surface, I still had no problem getting a signal. With a little preparation before leaving the house, I could mark everywhere I wanted to go and get there in no time.
Tips for navigating a city using Google Maps offline
Step 1 – Download the maps for everywhere you plan to be
Google Maps allows users to download detailed city maps to use offline. Depending on how much storage room you have on your phone, there's really no limit to the amount of detail you can download. I added a pretty extensive collection of maps in Germany that allowed me to zoom in and view almost every street name in the cities we visited. By pre-downloading maps, I can arrive in a new area, pull out my phone and navigate my surroundings without needing an Internet connection. It's virtually impossible to get lost. The only thing I always need to remember is to delete the map when I am finished with it, freeing up storage space for more maps, of course.
The video below provides step by step instructions for downloading maps to your phone. Starting with a search, I am able to pin point a location, reverse pinch the screen to expand the viewed area, and download a complete city map of Berlin.
Step 2 – Mark off areas of interest
Using the Your Places feature, you can mark locations that you want to visit. When you do save a place, the details for that destination, including its hours of operation if available, will download to your phone. To use this feature, simply type in the name of the place you want to visit into Google Maps, and when the location is pinned, click the name at the bottom of your screen. Hit the Save button on the subsequent screen. You can save the place in 'Favorites', 'Want to Go', or 'Starred Places'. Use more than one list if you need to, or place the area in a custom list (more on this below).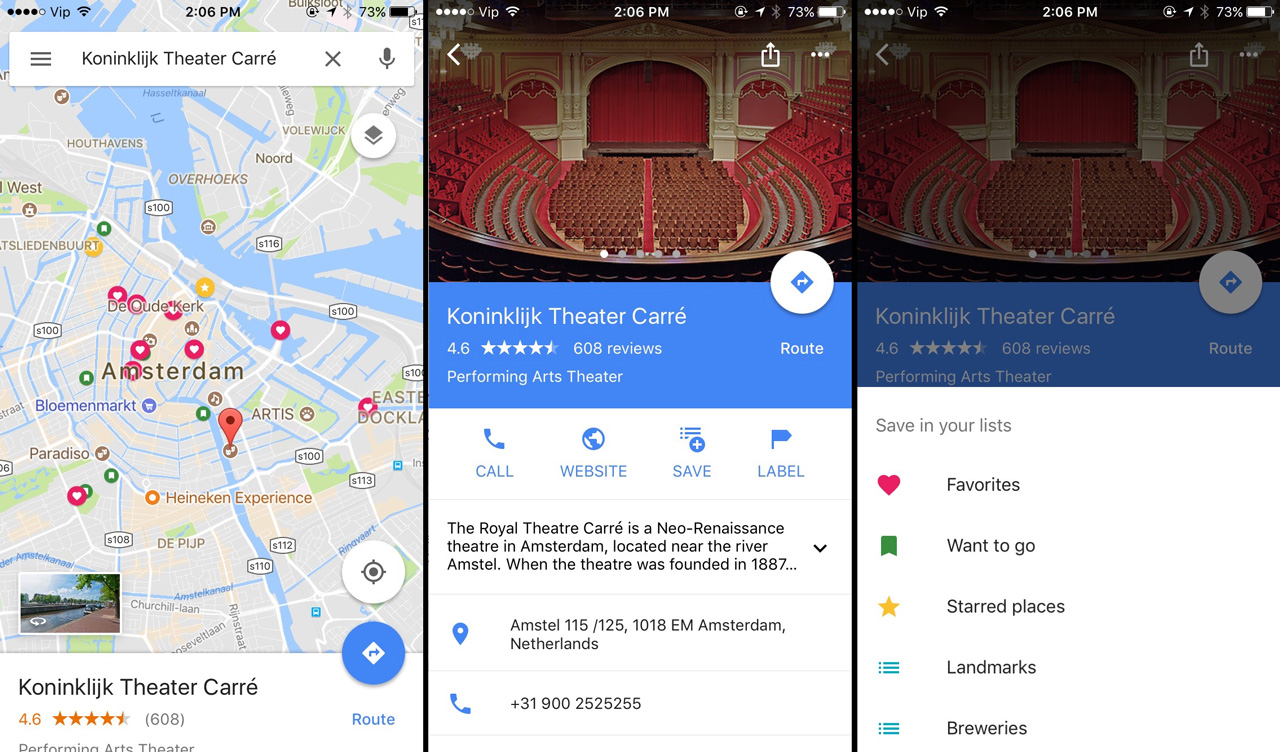 I usually put a star on important destinations, such as where we are staying and the location of the train station or airport. I use the "Want to Go" label to mark off restaurants, beer places, and museums that I want to visit. Once I have visited a place, I mark it as a favourite. You can also create your own lists, but unfortunately, the little icon for each list isn't customizable, and so all customized lists use a blue circle with a square. The "Landmarks" and "Breweries" lists in the photo above (right) are custom lists. Hopefully, Google will soon come out with customizable icons. Having a small beer icon on all my beer spots would ensure I never miss a brewery again!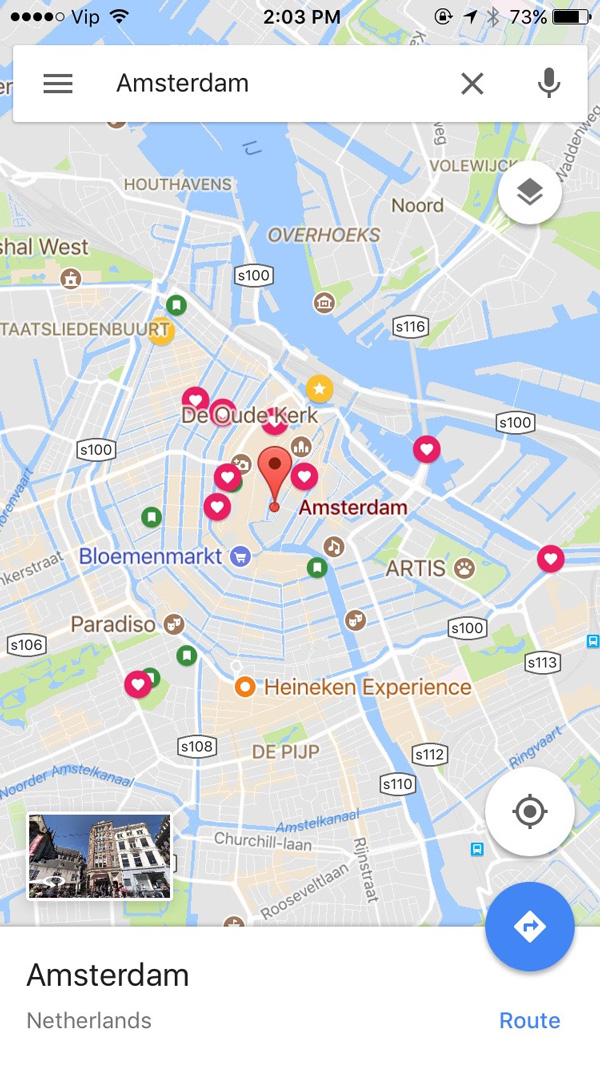 Step 3 – Set up your public transit directions
Public transit directions on Google Maps are not always completely integrated, but we found that most cities have schedules in the system. Unfortunately, only driving directions work offline. If you plan on taking public transit, planning ahead is key. When you are leaving from an area with Wifi, navigation is easy. After entering your destination and choosing a transport method, whether it be by car, on foot, or via public transit, Google Maps offline will use your phone's built-in GPS to guide you to your destination. However, if you are trying to get back home and don't have WiFi, navigation only works if you are driving. For that reason, I always set up guidance for a return trip by adjusting the departure time before starting the guidance.
Once the guidance is loaded, take screen shots. The map generated will tell you the bus, tram or subway numbers you'll need, along with the initial direction and each of the stops you will pass on the route. You won't be able to save these details and so taking screenshots of the route makes navigation easy.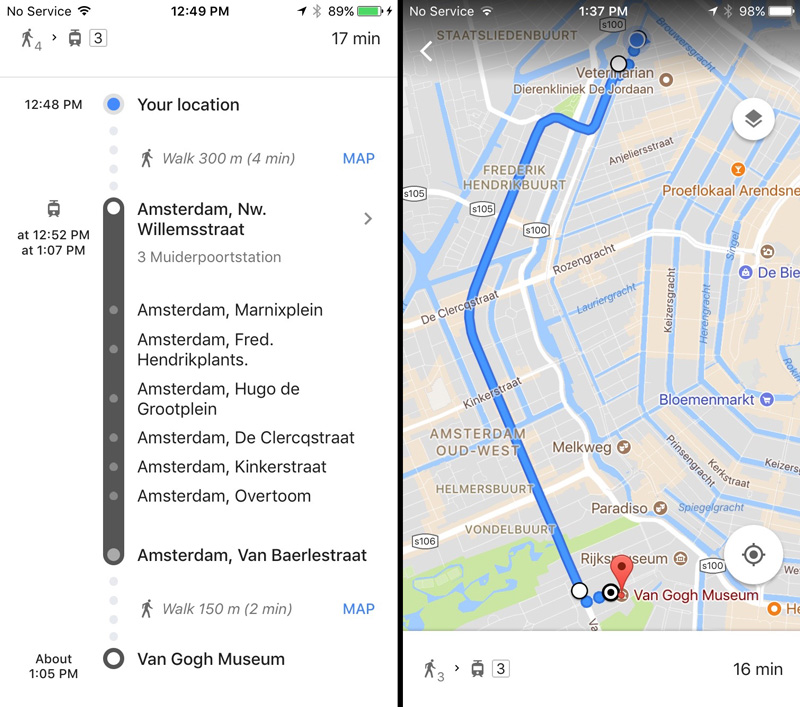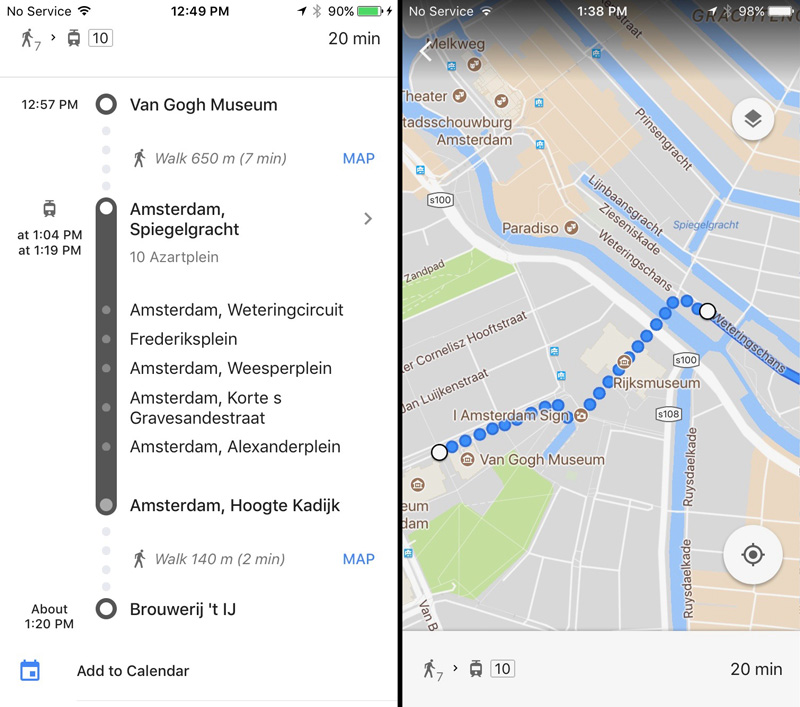 I have navigated most of Europe this way. In Spain, I had limited data with my mobile package and needed to conserve as many MBs as I could. I had no data in Germany and was completely reliant on Google Maps offline to get me anywhere. Berlin is a pretty big city. Even if you have a great sense of direction, using Google Maps offline will help you to ensure that you visit all the places you want to see and know which public transit routes will get you to those places.