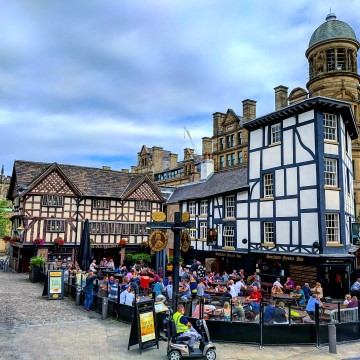 We actually spent a week in Manchester with our kids in August but we took the slow life and enjoyed the comforts of our GuestToGuest home, which is why we have put together a itinerary for those looking to spend a weekend in Manchester. I honestly didn't know much about Manchester prior to spending a week there and my biggest take away is that Manchester is a food lovers delight! We didn't have one bad meal there and Chris was thrilled to find REAL craft beer everywhere we went. 3 year old Baby Boy and 5 year old Little Monkey found many delights in the city of Manchester though it was Casper the cat at our GuestToGuest home that they remember the most. That's kids for ya! The video below will show you exactly what we got up to and read on for a 3 day itinerary. We should highlight that Manchester is an easy city to walk around and so most places are within a 15 minute walk from each other. If you're looking for a list of things to do in Manchester with kids, we've got you!
 Disclosure : This post is in partnership with various Manchester partners but, as always, opinions are TOTALLY ours! 
Where to Stay in Manchester with Kids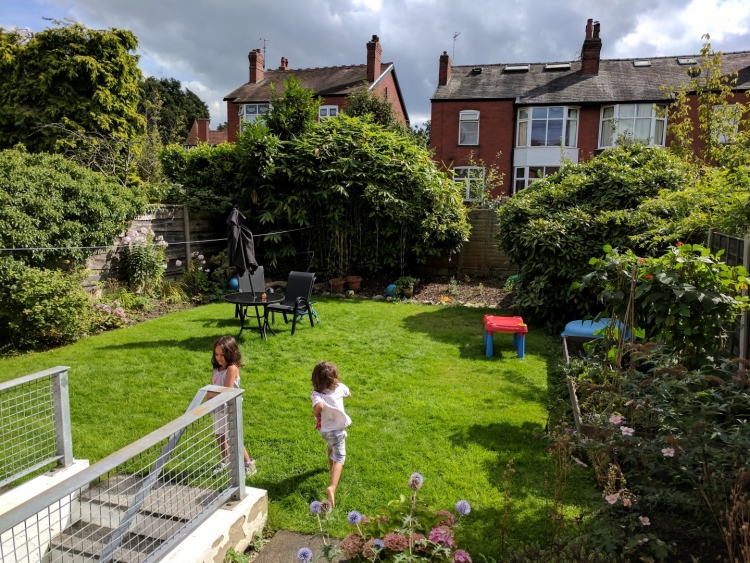 We absolutely loved our GuestToGuest home in  the Greater Manchester area of Heaten Moore which was located a 10 minute train ride from the city centre. This spot was fabulous for us because it gave us the comforts we were missing. It reminded us of our own home but with so much more space! If a home exchange in Manchester isn't an option for you (click here for our honest Guest To Guest review) and if you're only visiting for a day or two, staying closer to the downtown core makes sense as the city centre is quite compact and everything is easily explored by food.  From the bohemian chic Northern Quarter to the mostly pedestrian only Deansgate area, there is no area that won't have restaurants, bars and attractions nearby. There are also free Metroshuttle buses that operate around the city centre  during the summer for those days when the kids are extra cranky. The city of Manchester is well connected by trains and purchasing tickets with your credit card is easy as there are many machines at the stations. We also found plenty of WiFi spots throughout the city and I'm sure the many students who call the city home are grateful for that!
Things to do in Manchester with Kids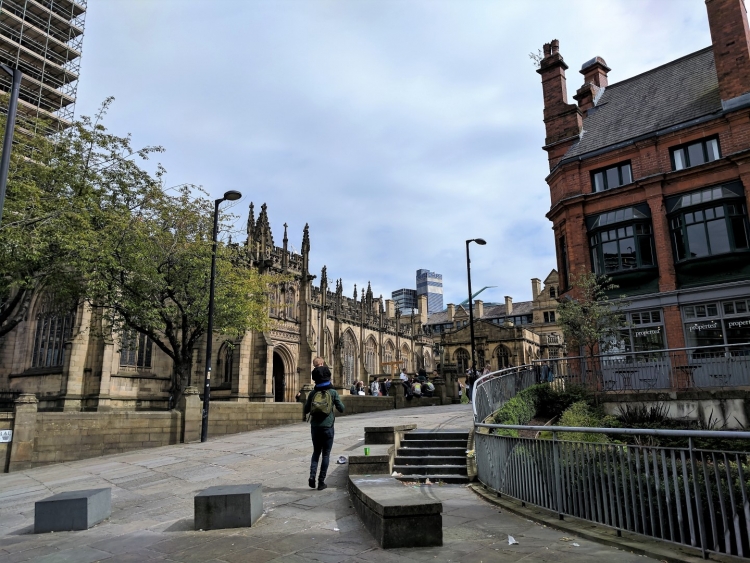 We were surprised by how much there was to do in Manchester. Each day we found something new to keep us amused and because we spent an entire week, we made it a point to do one thing each day though you could do all this over three day easily! Given that we're late risers, we made it a point to have breakfast at our GuestToGuest home before starting our day so we could save some money and also, have more time to explore. One of the first things we did was rush to the grocery store so I could stock up on my cheese, chocolates and cooking basics. We were surprised by how much cheaper the fresh produce was in Manchester (We visited ASDA) compared to the other European cities we had lived in last summer and needless to say, we stocked up big time. Of course we quickly discovered that my ambition to cook at home was dismissed because the city of Manchester has some amazing restaurants!
Day 1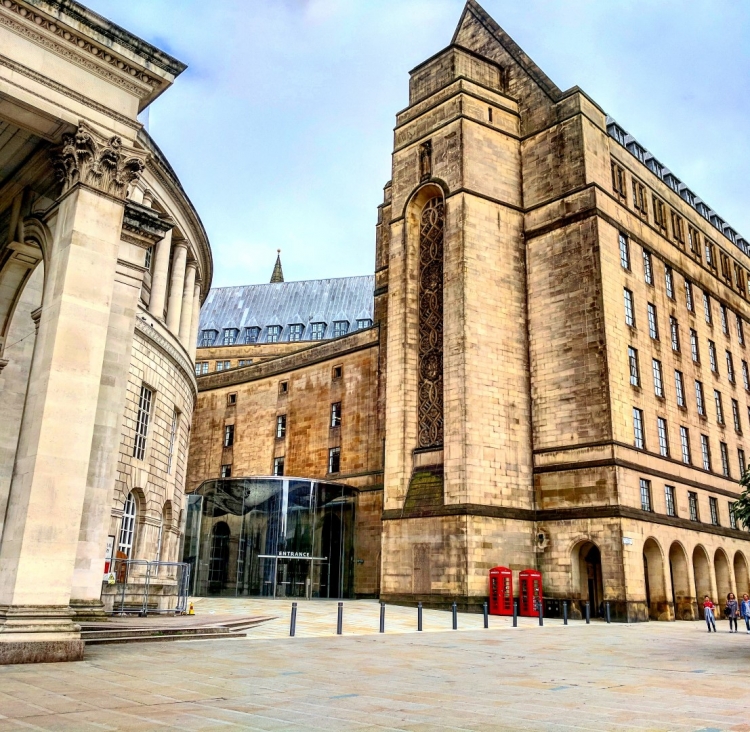 Manchester Guided Tours : I recommend starting your visit with this £8 tour (kids were free) because it gave us a good historic background. We also lucked out by having well known local author, Jonathan Schofield as our tour guide and he knows the food scene very well. As you may know, we love walking tours and having our kids strapped in the stroller with plenty of snacks in their backpacks meant that we were able to keep up with the group and the kids didn't whine too much. We were taken into places like the old stock exchange which is now a theatre and would never have discovered that on our own. The three hour tour ended around 1 p.m. near by the Proper Tea room and the Manchester Cathedral.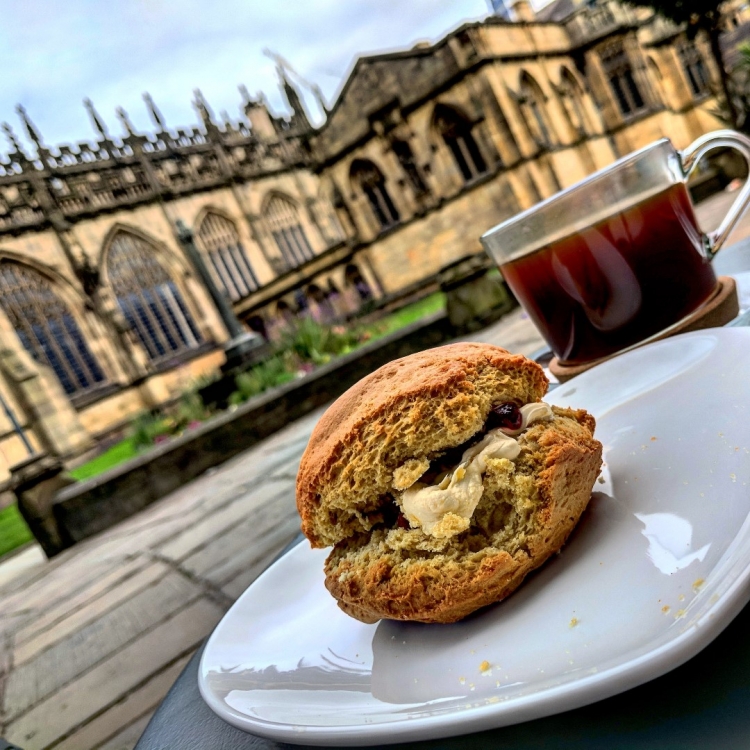 Proper Tea Room : Grabbing a scone and  tea here is highly recommended. We sat outdoors while the kids ran round the grassy patch near the Cathedral next door.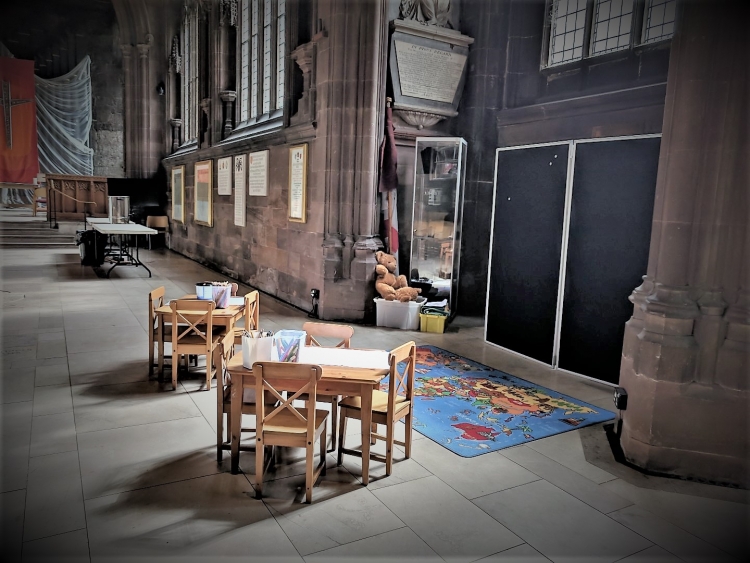 Manchester Cathedral : Since you're right across the street duck inside and take a quick peek. There's a little craft corner for kids so they can keep busy while you roam around and take your pictures or say a quick prayer!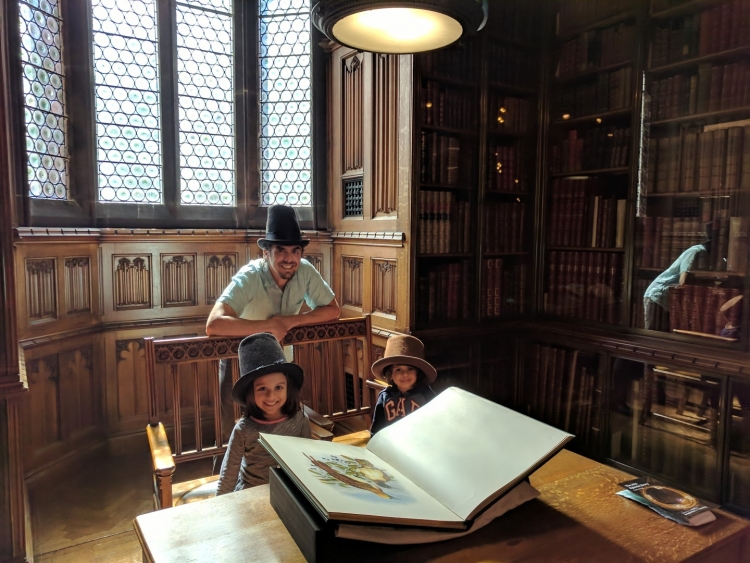 John Rylands Library : After the tour and tea, walk over to the Library. This Neo Gothic structure is hard to miss when you're in Manchester and we were amazed by how much it looked like Hogwarts! Harry Potter fans can take delight in exploring this library and there was enough to keep our kids entertained for the half an hour visit. Be sure to drop a coin into the rather odd looking tea party contraption (watch the video above!).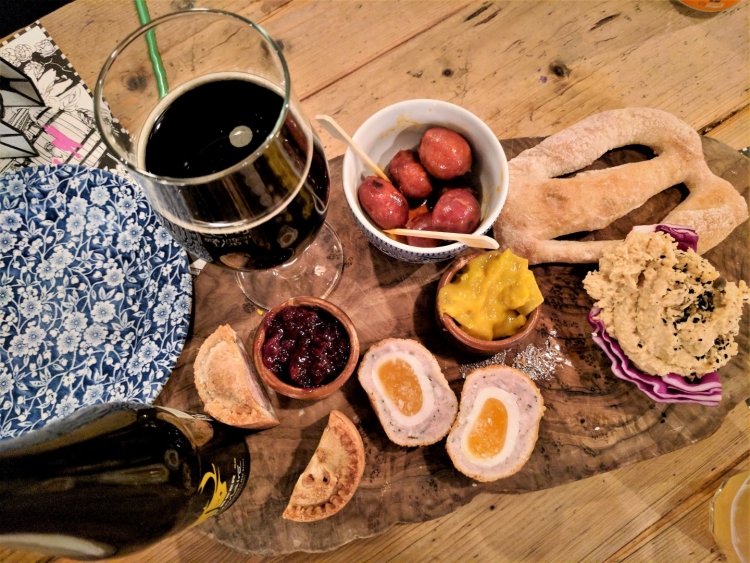 Oast House :  A short walk away dinner awaits! This is a lively pub and we enjoyed our meal here. We secured a spot inside and the kids enjoyed the park bench table setup and the colouring sheets they were given. The place is loud and perfect to wind down your day at. As the sun was setting and we were leaving, the band was just kicking things out on patio and though Chris and I wanted to hang around for one more beer, we knew it was time to get the kids home so they could relax and feed Casper!
Day 2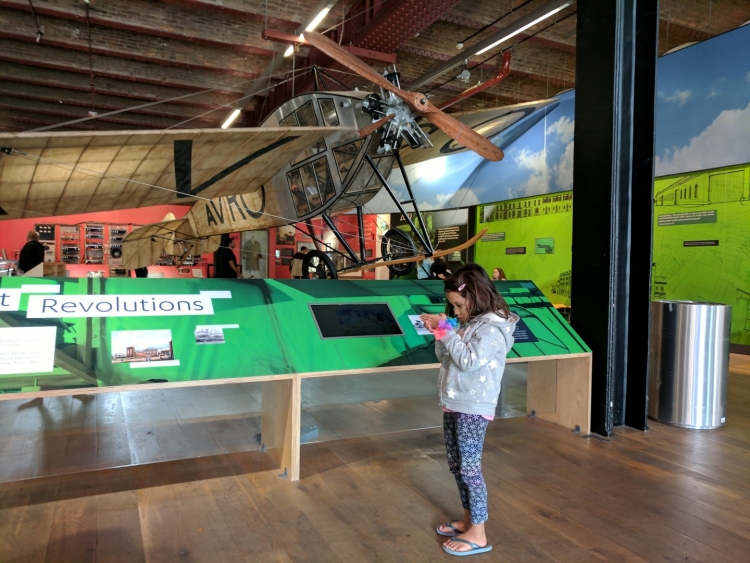 Museum of Science and Industry : We spent two hours here and that was sufficient for us. The most fascinating part for us was the  Air and Space hall which was located across the street from the main museum. Stroller parking is available and the museum has free entry! We spotted a fish and chips joint down the street and totally regretted not getting some during our visit. You will most likely need to take a train to and from here as it's not in the downtown core and an hour visit was sufficient for us.
Dog Bowl : Kids are going to love it here and so will the adults but you'll need to take the train back into the city if you're heading from the Museum. Get your bowling on and enjoy some amazing cocktails and food. You have to get here before 7 p.m. if you have kids, which makes it a great spot for lunch and a bowl. Speaking of bowls, they offer breakfast bowls on the weekends! North American comfort food can be found on the menu and of course the kids loved the tiny donuts and mac n cheese bites….and the colouring menu. Be sure to enjoy a couple cocktails here (responsibly) as they make some fun concoctions.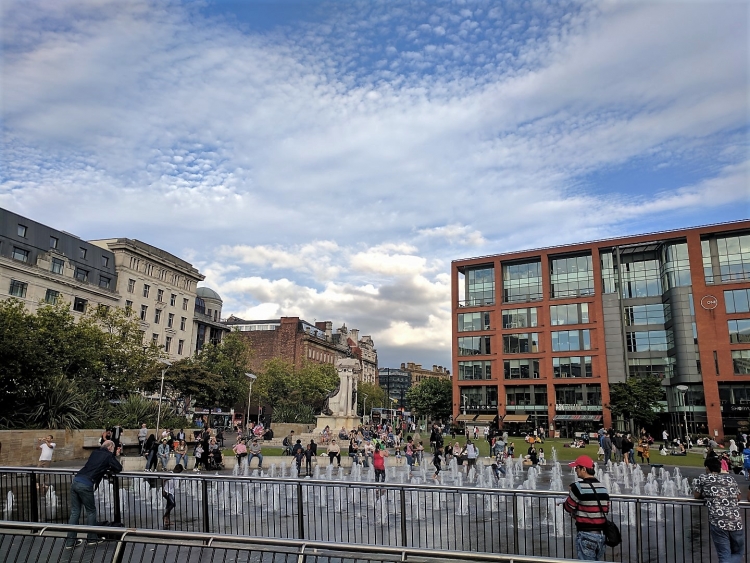 Piccadilly Gardens : Best way to burn that energy is to run around here. On a hot day kids can run through the fountains but remember to bring a change of clothes! We encountered warm but overcast days and Little Monkey wanted to run straight into the water!
Beermoth Bottle Shop : If you're a craft beer lover you may want to walk over to this bottle shop and grab a few brews to enjoy once you're in your hotel room or home.
Shopping : The local shopping mall was a good spot for us to grab some gifts and treats at. There are small shops throughout the city too so you can find some artisan products if that's what you're after.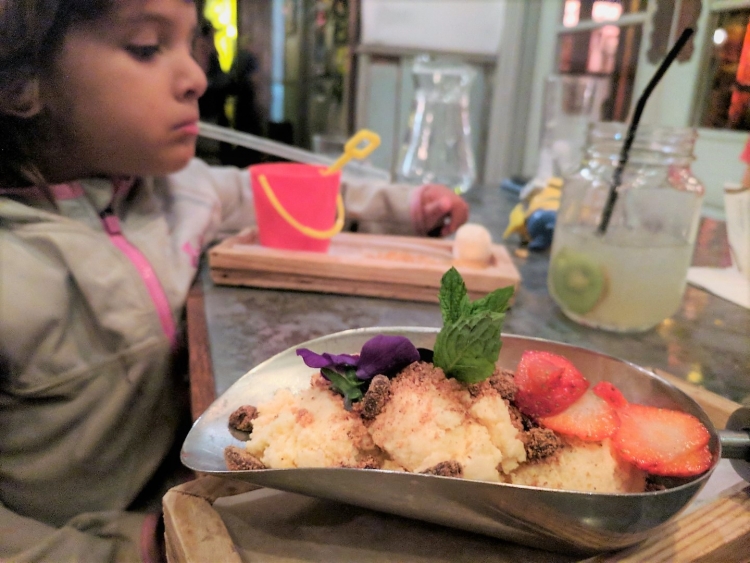 The Botanist : Hopefully you walked around and took in the evening views working up an appetite because you want to be hungry before you visit the Botanist. I love the quirky charm here and the kids loved eating out of buckets and watching me drink out of plant pots! The cocktails were amazing and every dish we ordered hit the spot. There seriously is no going wrong here and they have a wicked kids menu too!
Day 3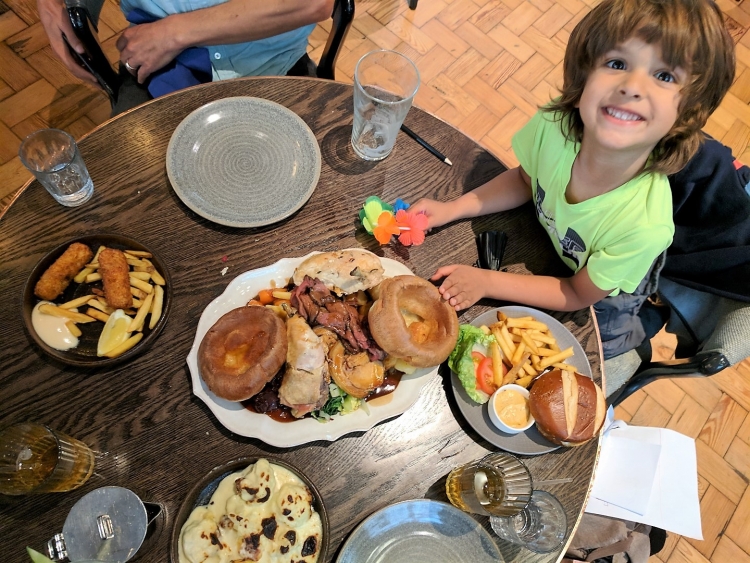 The Refuge : Sleep in and then wander over for Sunday brunch at noon. The space is stunning and there's a DJ spinning but kids are welcomed with smiles. We polished off a Sunday roast platter and the kids insisted on ordering the dessert fondue but from what I noticed, you'll be happy with whatever you order to eat and drink here. This spot is perfect for a Sunday hang and get that British Sunday Brunch checked off your list.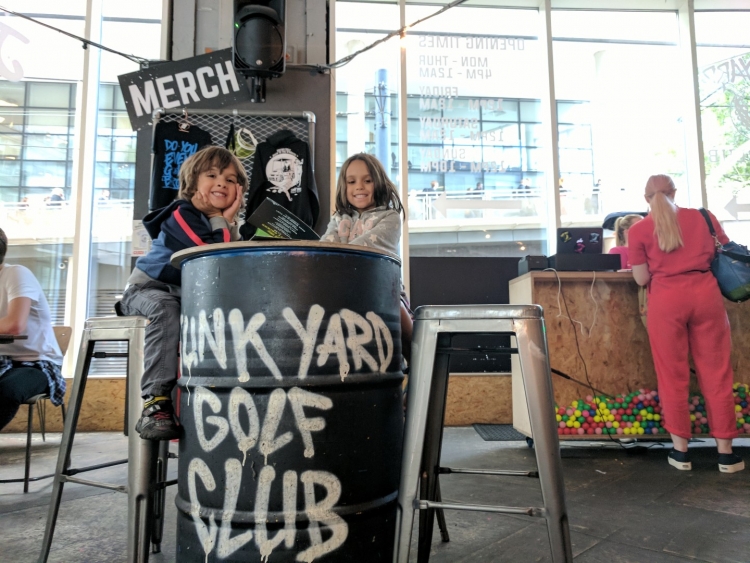 Junkyard Mini Golf : Glow in the dark bowling anyone? This place is awesome but only allows kids Sunday to Wednesday before 7 p.m. so plan accordingly. We enjoyed our time here and ended it with a couple drinks while the kids had some hot dogs and nachos. Drinks and mini golf is the focus here.
You're probably heading out of the city that evening but if you have time and want to explore, we have a few more food and drink suggestions.
Where to Eat and Drink in Manchester with Kids
Manchester is a food lovers dream because there's a great mix of cuisines on offer. Authentic versions at that too! We were shocked to discover that Manchester not only had a thriving food scene but their craft beer options were the best we found during our 148 day journey. As you know, we're spoiled in Toronto when it comes to craft beer options and so we struggled a bit during our travels. While we always found craft beer in each city, we didn't have to invest as much time to find the options in Manchester and that was something that pleased Chris greatly!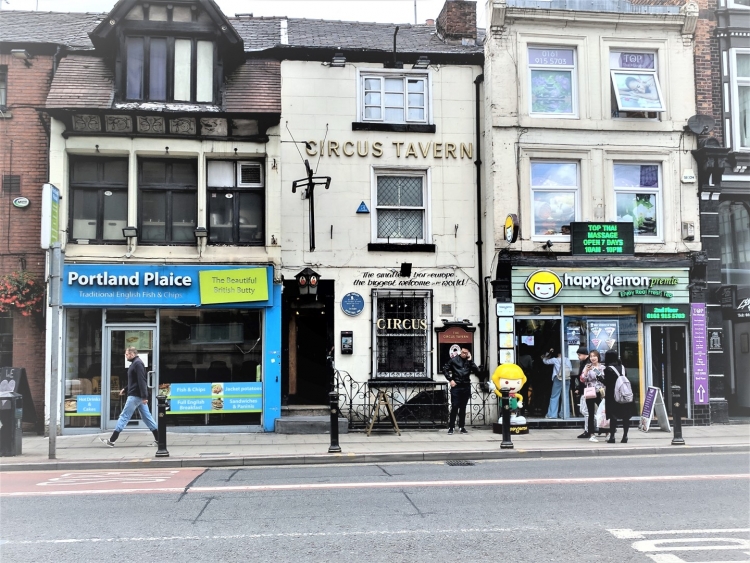 Circus Bar : Europe's smallest bar can be found in Manchester but I didn't have a chance to go inside when I spotted it one day during our walk!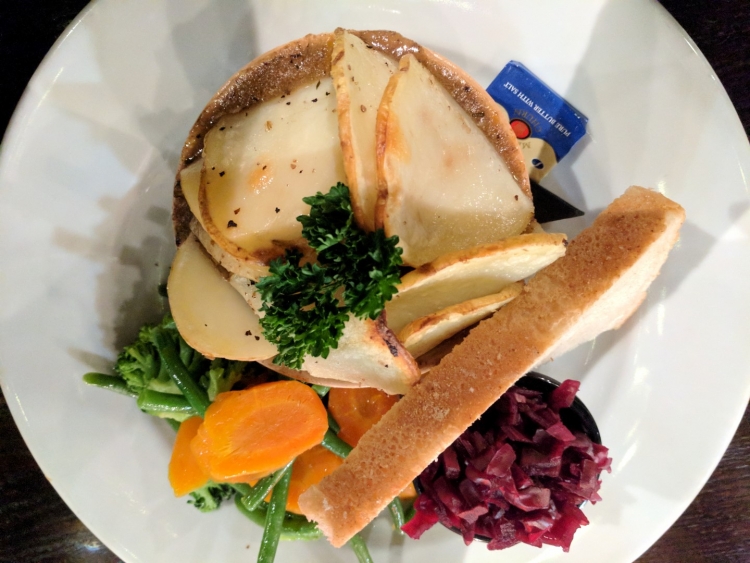 Annies : If you're looking for a cute tea room, this space is actually quite huge and I met a friend for a quick lunch here. We were escorted to the basement and coming back into daylight after lunch was quite the surprise! I had a traditional pie but would love to return for tea one day.
Port Street Beer House : Chris loved this cute little pub and wanted to hang out for longer but  the kids were getting cranky so we left after a quick pint.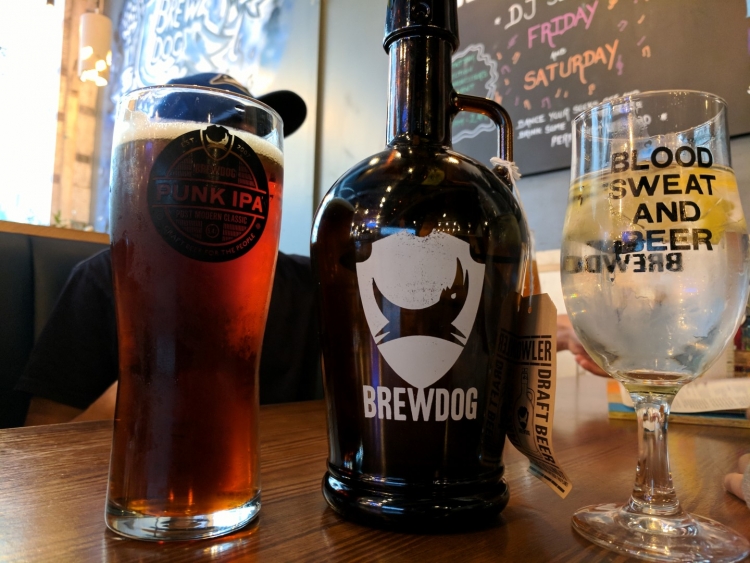 Brew Dog : A casual bar, this is a good one for an afternoon pit stop so kids can rest their legs and saddle up into a booth. I didn't know they were known for a Mango beer, please have one for me if you visit!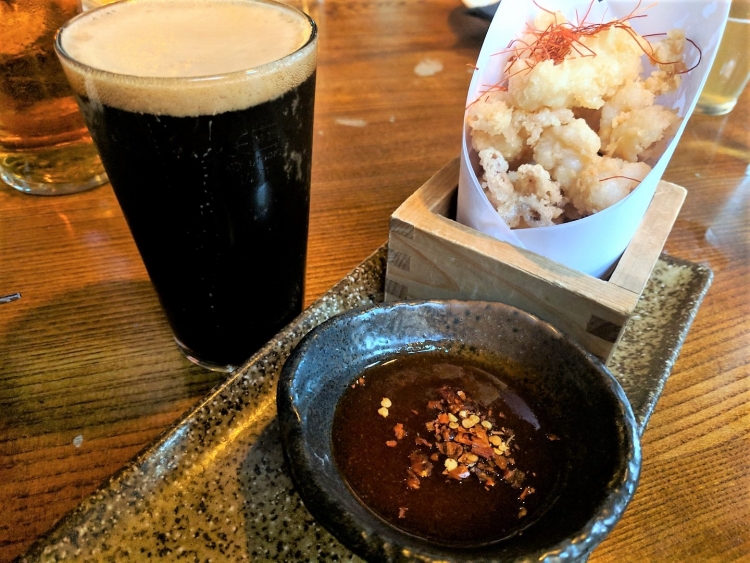 CottonoPolis : Totally wish we had more room in our bellies to try the amazing dishes we spotted on the menu but we only managed to squeeze in 2 or 3 dishes. The Japanese menu items looked very good and because we swung by in the afternoon, the kids were able to relax as we got a couch area table.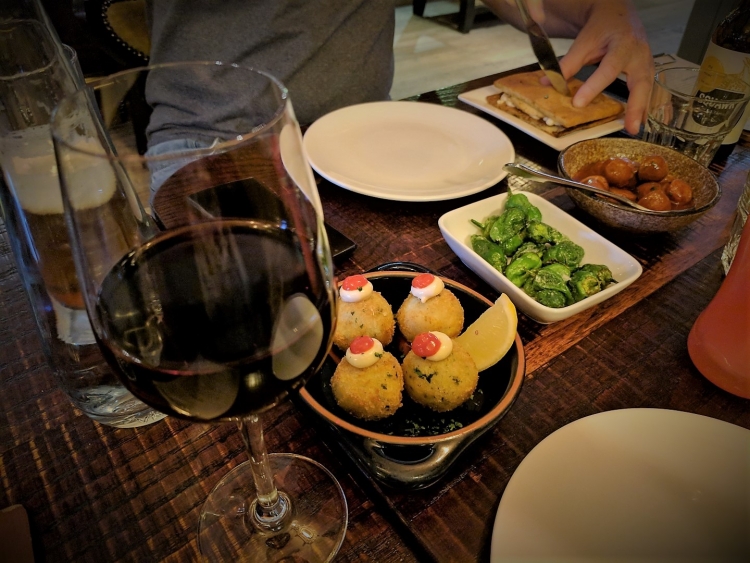 El Gato Negro Tapas : This Spanish tapas bar took us back to our days in Spain and while I didn't fully love EVERYTHING I ate here, it's a lovely spot for an evening hang session.
Manchester has loads more to do but we took it slow. If you're looking for some fun family activities like a visit to the Zoo, the football museum and an indoor trampoline park, click here.