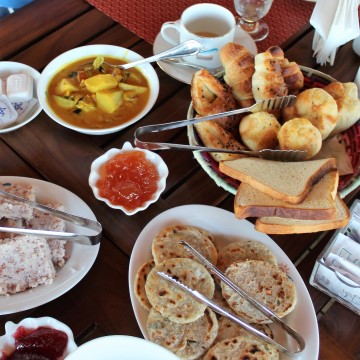 "Where is Sri Lanka? What do you eat in Sri Lanka? Is it like Indian food?"
Those are pretty much the first set of questions I get asked when I tell people I'm originally Sri Lankan. Luckily for me, many North Americans have recently discovered, and loved, the Pearl of the Indian Ocean. "Where is Sri Lanka?" is now slowly being replaced with, "Oh, I know someone who visited there", as tourists from all over the world have been flocking to the island. Sri Lankan food, on the other hand, is still hard to come by in most North American cities. While we have seen a few restaurants popping up in downtown Toronto, many of our friends haven't tried Sri Lankan food until we introduce it them.
Sri Lankan Food
So, what does one eat in Sri Lanka and is it easy to find non spicy food? We have the answers! Sri Lankan spices are VERY different than spices found in India and Pakistan. Our curry powder is unique. Its odor is so distinct  that I can wear a blindfold and sniff out a Sri Lankan curry! We love our spicy dishes (as much as we love coconuts). Adding a few chilies into every dish is the norm. We even put chilies into our rotis and eggs, which was quite the issue when we visited Sri Lanka with a 3 and 5 year old, as you can imagine. Despite speaking Sinhala, I still struggled when I told restaurants NOT to put chilies in certain dishes. You wouldn't believe the number of times I received the response "we only put a few". EYEROLL!! So remember this phrase " Miris A-pa" because you'll want to use that, or "No miris", to say no chilies.
One thing I must warn you about is that we have this really odd habit of eating curries for breakfast. Half of our popular dishes can be enjoyed as breakfast, lunch or dinner! We're an eclectic and versatile bunch, clearly!
What to Eat in Sri Lanka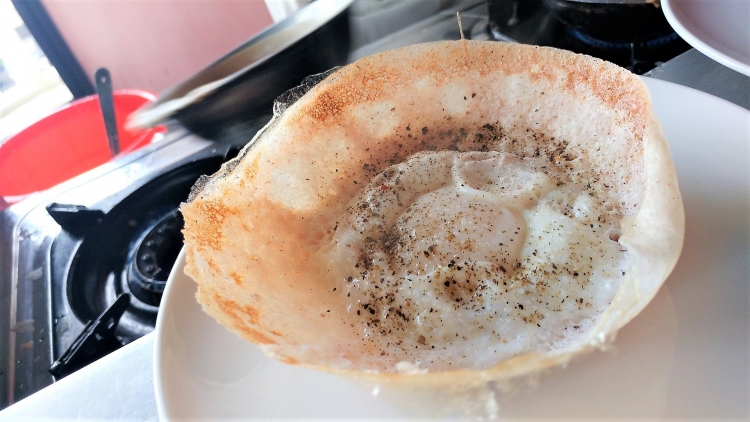 Hoppers are great for breakfast. You can have them with an egg in the middle or just plain. The milky ones are the best and I love eating them sprinkled with sugar and plantain (the smaller, sweeter versions of bananas). You can of course enjoy Hoppers for lunch or dinner as well, because they taste quite good dipped in curry!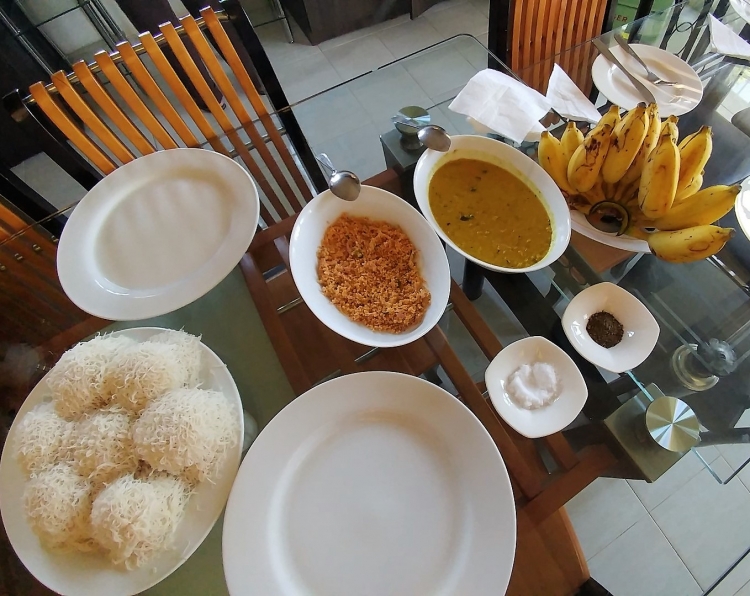 String Hoppers are not to be confused with Hoppers as these look and taste very different. Think of String Hoppers as small noodles packed together to form a small flat circle. Confusing, I know. They're delicious though and my kids love them. It's another one of those dishes that us Sri Lankans enjoy for breakfast, lunch or dinner! The picture here is a breakfast that was served to us at a guest house in Kandy and as you can see, we're eating the string hoppers with Paripu (dahl/lentil curry), Coconut Sambol (a spicy combination of spices, chilies and coconut flesh) and plantains. I personally love it best with chicken curry. For dessert (or breakfast), I like to pour milk over the string hoppers and sprinkle some sugar. My friends give me odd looks when I slurp the left over milk off my plate as if I were a cat.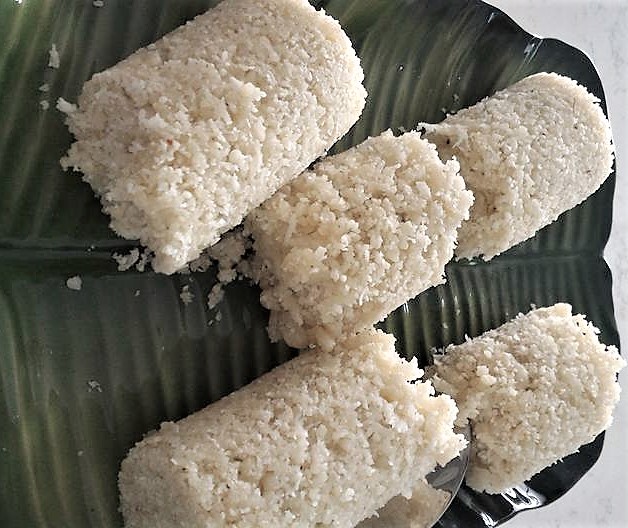 Pittu is a dish from the north of the country and you can find this version made with red flour as well. You guessed it! Breakfast, lunch or dinner… mix it with milk and sugar or with curries. There's a very different version called "mani pittu"  which is my favourite but it's hard to find even in Colombo. Instead of flour and coconut, like the pictured Pittu here, that one is formed with thick noodle like pieces.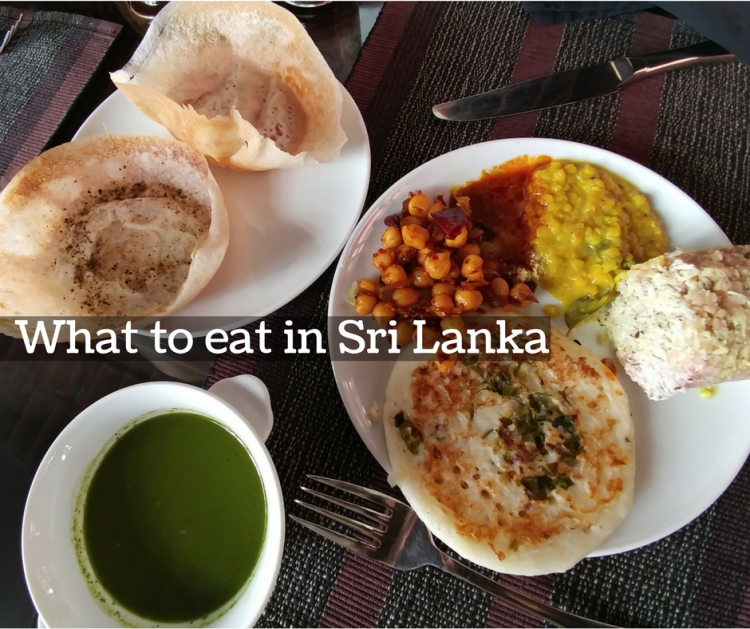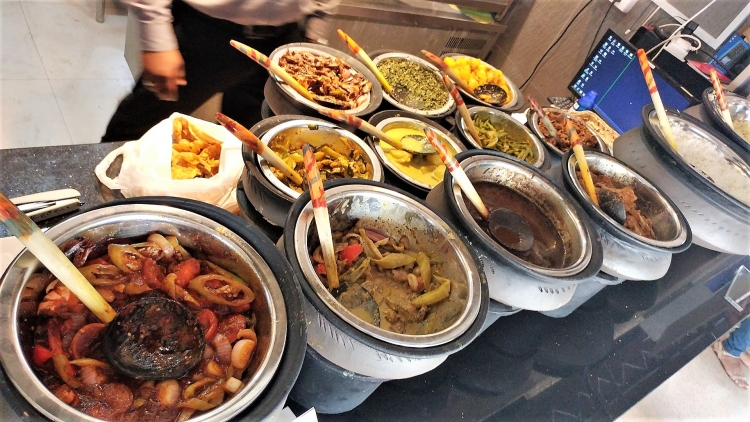 Sri Lankan curries can be spicy and milky. Coconut milk is used in nearly all curies and you can find every vegetable and meat dish made in curry form. One of my favourites is actually cashew curry! If you're looking to sample a variety of curries, just order the "rice and curry" special that can be found at most food courts throughout Colombo. A traditional meal at home sees my mom making one meat dish and 4 or 5 veggie dishes to accompany the rice, string hoppers or pittu. Vegetarians will love visiting Sri Lanka. You'll be amazed by the number of vegetable curries at a casual meal.
---
---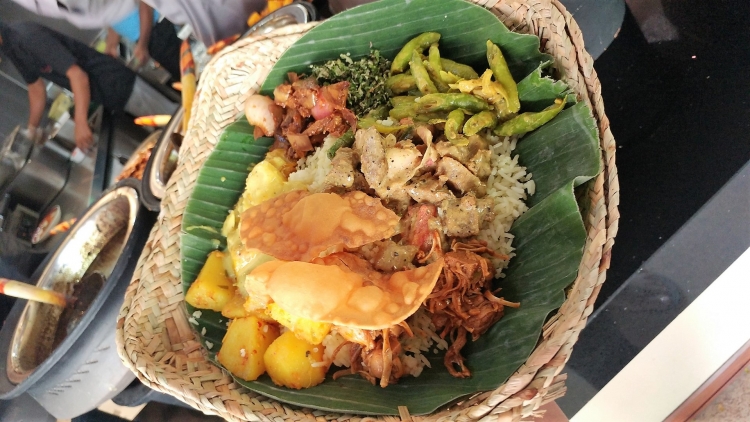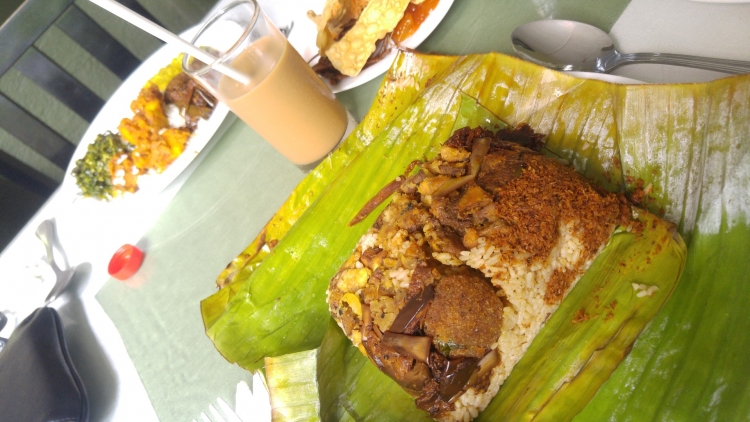 Lamprais is one of my favourite dishes and we can totally thank the dutch for their influence on this dish. It's an entire meal that is neatly wrapped in banana leaves and cooked – so you have your rice, your curries, your cutlet and even an egg – all cooking/steaming/baking together. So amazing! Lamprais travels well so my mom often stocks our freezer with frozen ones from Sri Lanka whenever she returns from a trip home!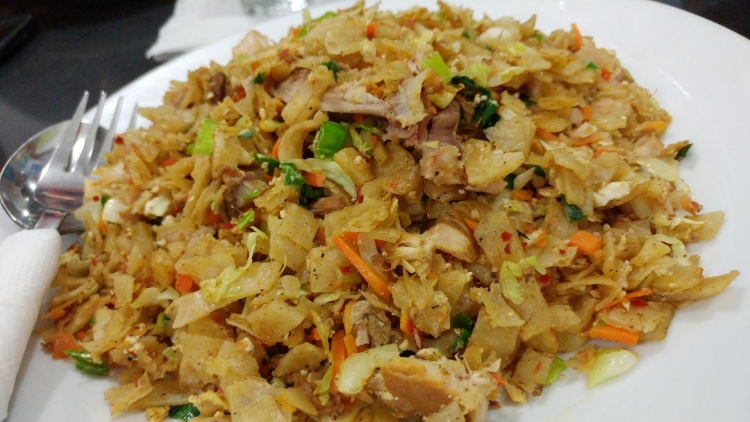 Kothu Roti can be found at nearly every street corner in Colombo and is a very "throw what's in your fridge' kinda dish. It's roti chopped up with meat and veggies tossed in. You can find everything from egg and cheese to spicy chicken Kottu, so it works well for everyone. My kids love to eat this dish as long as there's "NO MIRIS".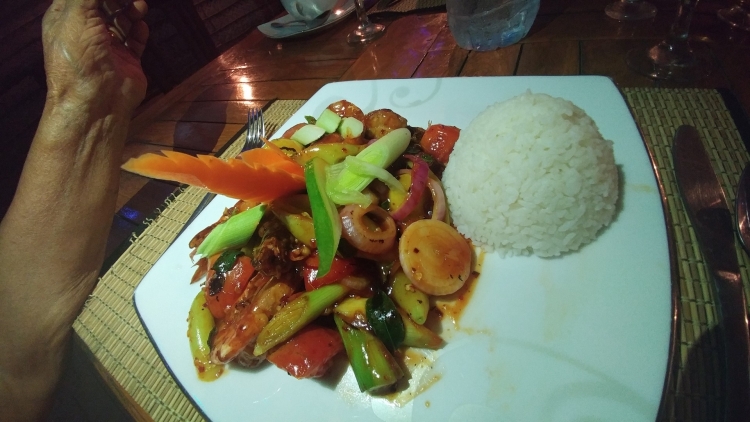 Seafood curries are amazing in Sri Lanka and if you have a chance to try a crab curry or devilled fish dish, go for it! Especially if you love your spicy food.  Devilled dishes are usually crispy and have loads of onions and banana peppers. If you're enjoying a cocktail, devilled beef and chicken are popular snacks for a night out.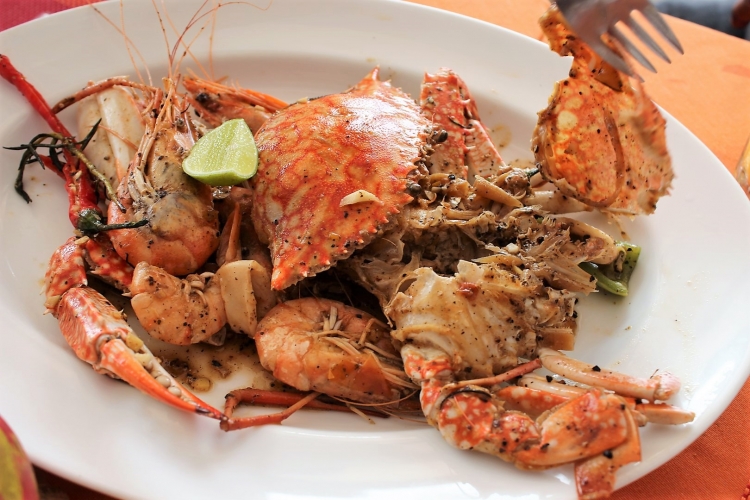 Sambols and Chutneys will accompany every meal you eat in Sri Lanka and there's a variety so be sure to experiment. Popular choices are Seeni Sambol (onions sauteed), Katta Sambol (loads of chilies!), Ambarella Chutney (think of it like a sweet and spicy mango chutney), Pol Sambol (coconut side dish) and chili flakes with dried fish. You can find most of these at the local grocery store if you wish to bring some back home with you ( I do!).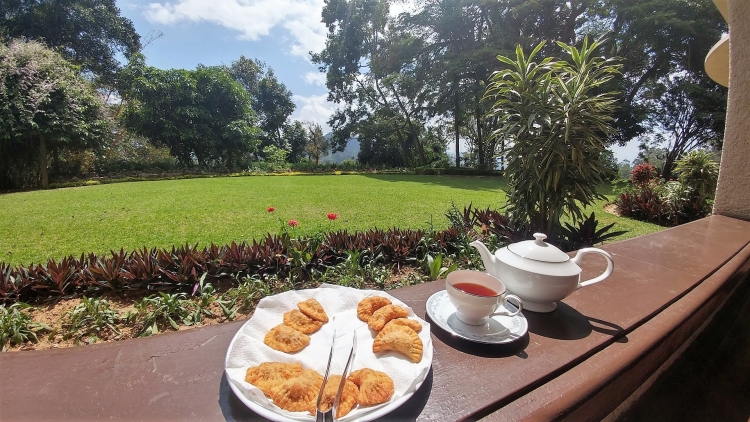 Short Eats are also a popular snack especially when you're looking for something to tie you over. You'll find all sorts of short eats (it's a basically a category of food) at local cafeterias and street side vendors. Chinese Rolls and Cutlets are my go to snacks but one can find fish patties and veggie buns as well.
Desserts are of course quite popular too and while cakes (I love Coffee cake) and eclairs are favourites, traditional dishes like curd with treacle (molasses honey if you will), Wattalapam (think of it as Sri Lankan Flan) and Love Cake can easily be found as well. Click here for our Breudher recipe!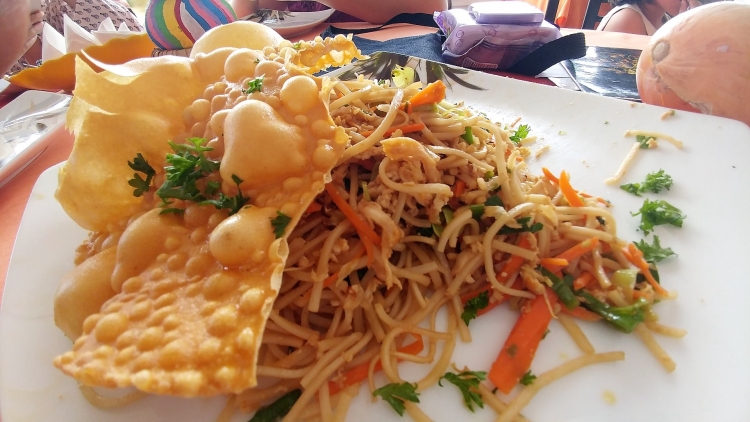 Quick note about some dishes my kids loved…as long as it didn't have chilies they were okay with rice and roti. We found ourselves giving them fruits often and egg stuffed rotis. They also enjoyed Sri Lankan noodles, which comes with veggies mixed in. If you have the chance, definitely try Sri Lankan Chinese. The dishes are very spicy but we managed to get the noodles with ZERO chili on a couple occasions.
There are so many other dishes you could explore of course (I'm thinking about fresh bread, pani pol, lavaria, kaung and kokis) but the above dishes will be a great introduction to anyone visiting Sri Lanka or thinking about having a Sri Lankan friend cook them something. I'll end it by saying that there are some drinks you should try as well. Cold Coffee can be found at various spots in Sri Lanka and is absolutely delicious, as is our Ginger Beer. No, it isn't alcoholic but the pop/soda has a nice ginger kick. I don't need to remind you to enjoy Ceylon Tea and while our Lion Beer is good enough, Arrack is the spirit of choice you should try when you're in Sri Lanka. If you aren't into all the curies and dishes mentioned above, don't fret too much. Sri Lankan chefs can be found in kitchens all over world, which means they've brought back dishes from their travels as well. You can find restaurants featuring cuisines from North America, Europe and East Asia fairly easily.
Let me know which dish excites you most!