One of my favourite Sri Lankan recipes is Mani Pittu and it's what I request every time I see my grandmother. She's 94 years old now mind you, so it's getting even harder for her to make the Mani Pittu recipe for me. On my most recent visit to Dubai I got in the kitchen and actually took notes on how to make it (versus when I was 25 and thought I would remember it all on my own!) so I thought I'd share this Sri Lankan Manni Pittu recipe with you. I am sure there are ways to use modern kitchen gadgets to speed things along and I will experiment with them this year but for now, I share a traditional way of cooking this Sri Lankan ManiPittu!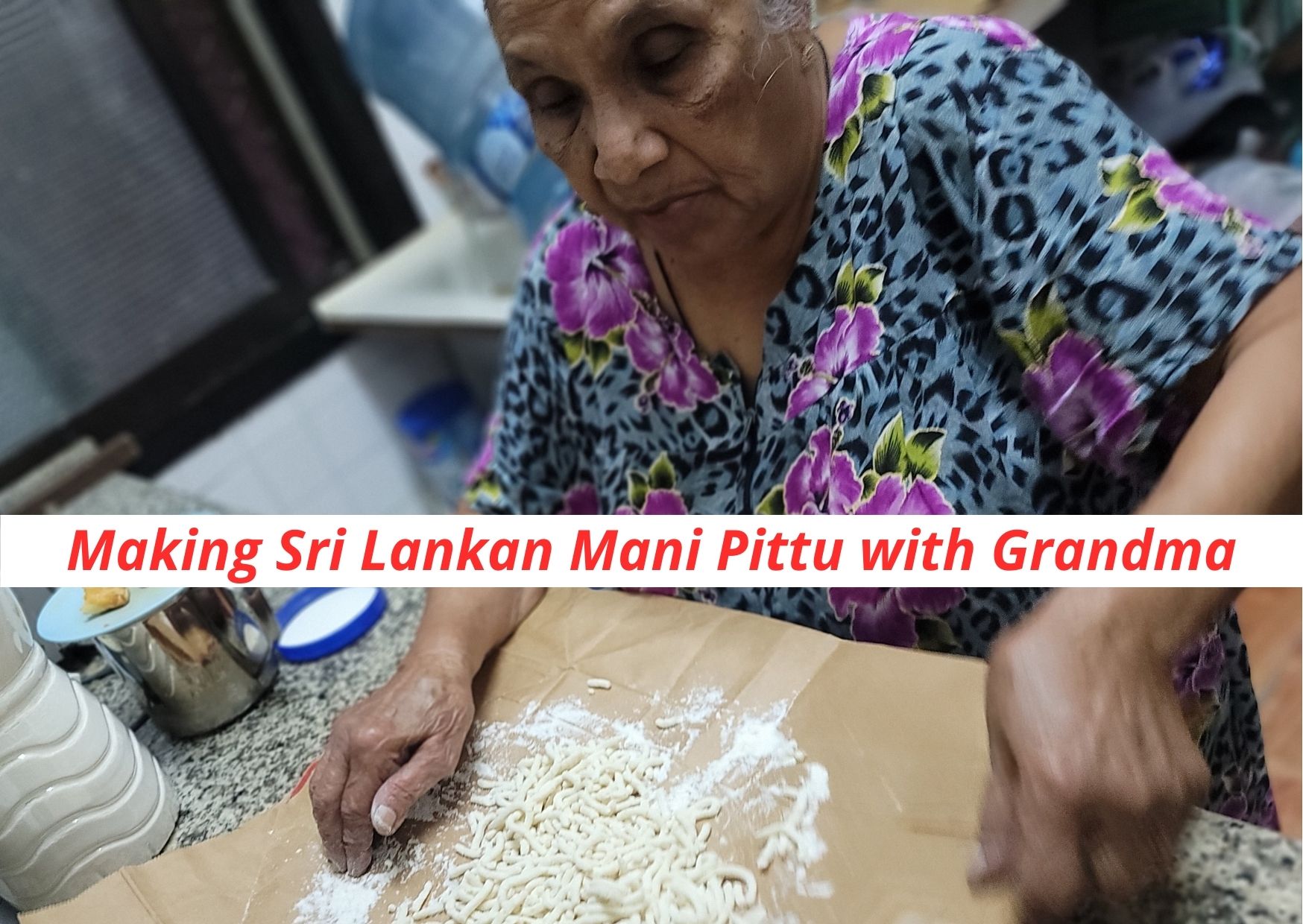 What is Mani Pittu?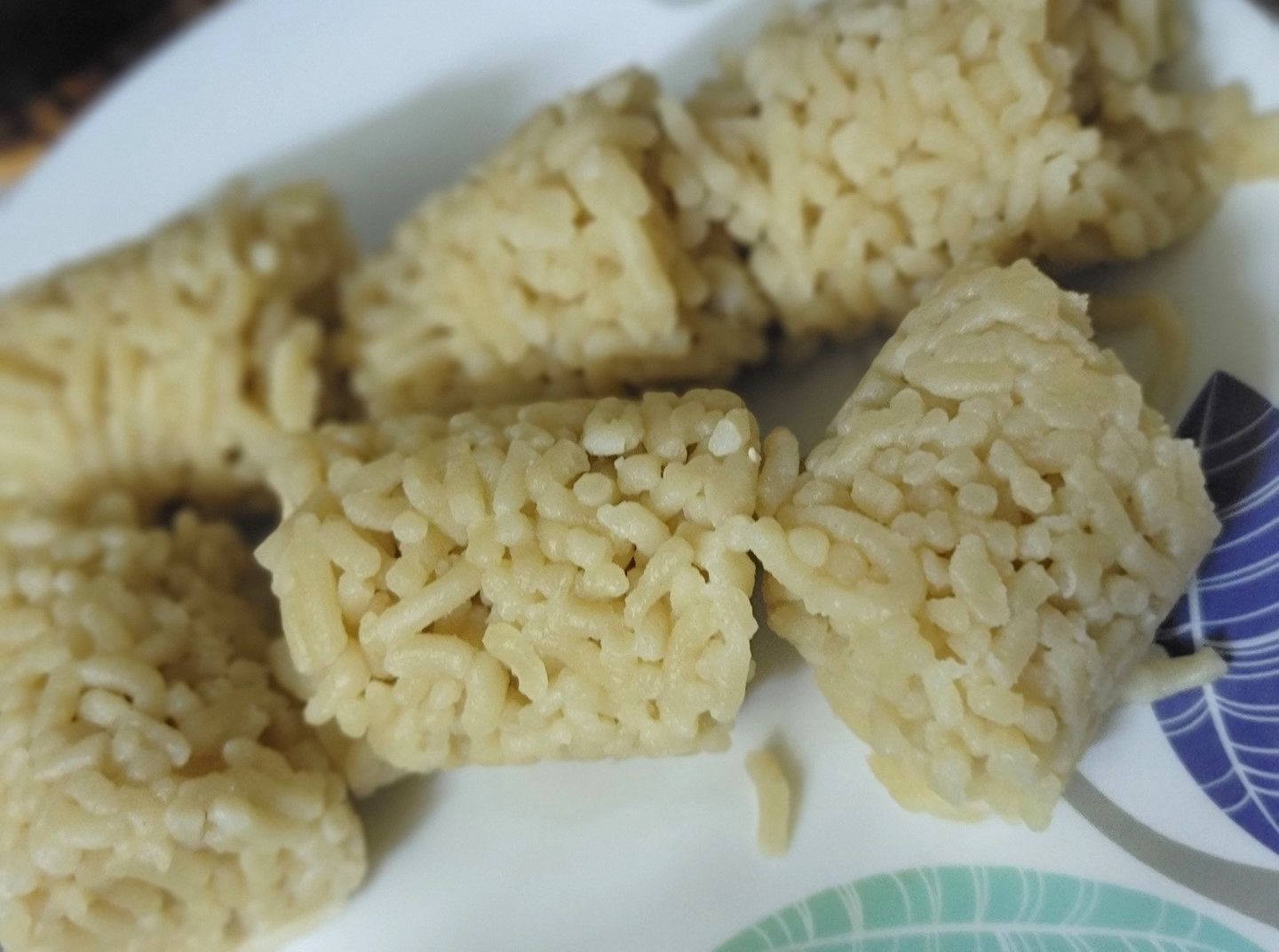 Many South Asians are familiar with Pittu (or Puttu) which are cylinders of ground rice and coconut. Mani Pittu (or Manni Pittu) is similar in shape and uses flour as well but that's where the similarities end. Manni Pittu has little worm like flour shapes that form the cylinder and the texture and taste is quite different. It's similar to trofie pasta or cavatelli pasta when it comes to mouth feel.
You can enjoy Manni Pittu for breakfast, lunch or dinner and you can add savoury or sweet side dishes to round up the meal. Trust me, it's delicious and if you can find it near you, I encourage you to try it!
What do you Need to make this Sri Lanka Pittu/Puttu?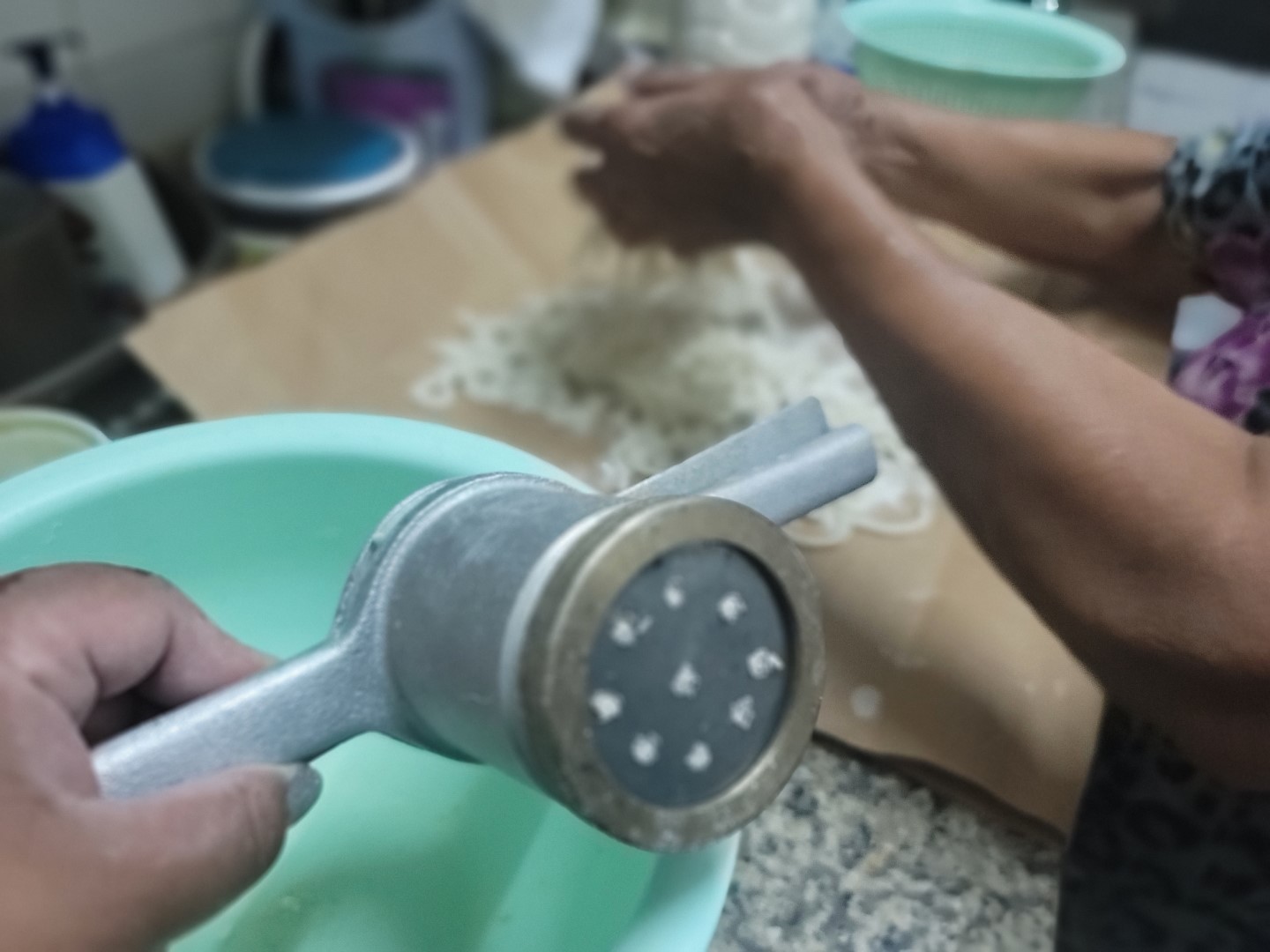 If you're familiar with string hoppers or Indiyappam/Idiyappam and have the moulds to make them at home, your life will be much easier! To make mani pittu you certainly need some kitchen gadgets that aren't your every day items, especially if you don't make traditional South Asian dishes, so be warned. That said, I will mention some hacks I THINK would work, but can't guarantee until I experiment at a later date and report back!
Ingredients wise you don't really need much since it all boils down to flour, salt and water. Seriously, 3 ingredients! It's quite mind boggling how these three ingredients alone can produce so many different things in the kitchen! If you have some coconut milk, that will be handy as well.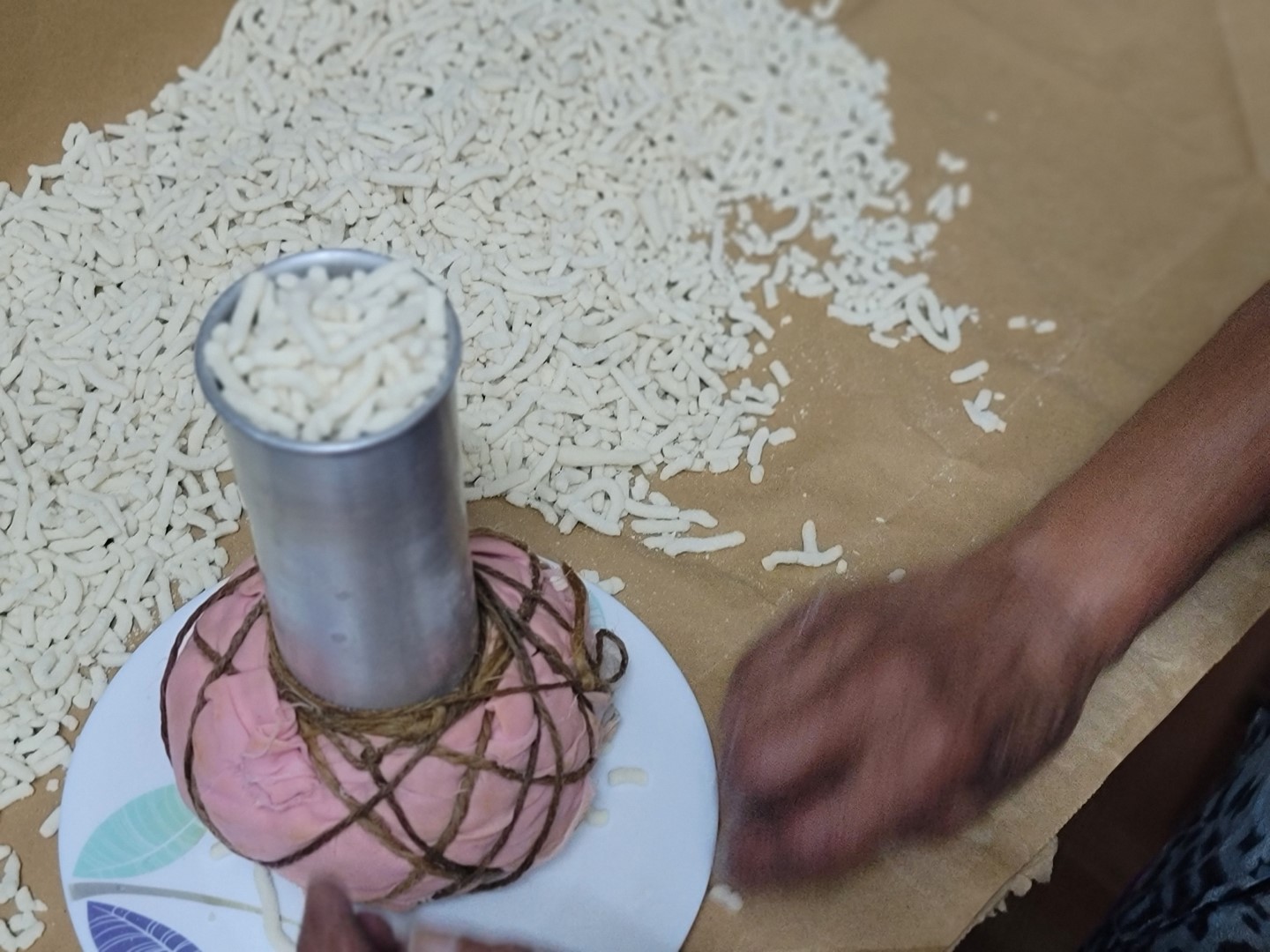 Gadget wise you need a pittu maker (same as Indiyappam/Idiyappam maker – I've linked to some below if you want to buy an indiyappam wangediya ), a pittu steamer (pittu bambuwa), a bowl, spoon or spatula and a colander. Oh and some paper or a sheet to squeeze the dough onto.
How to Make Sri Lankan Manni Pittu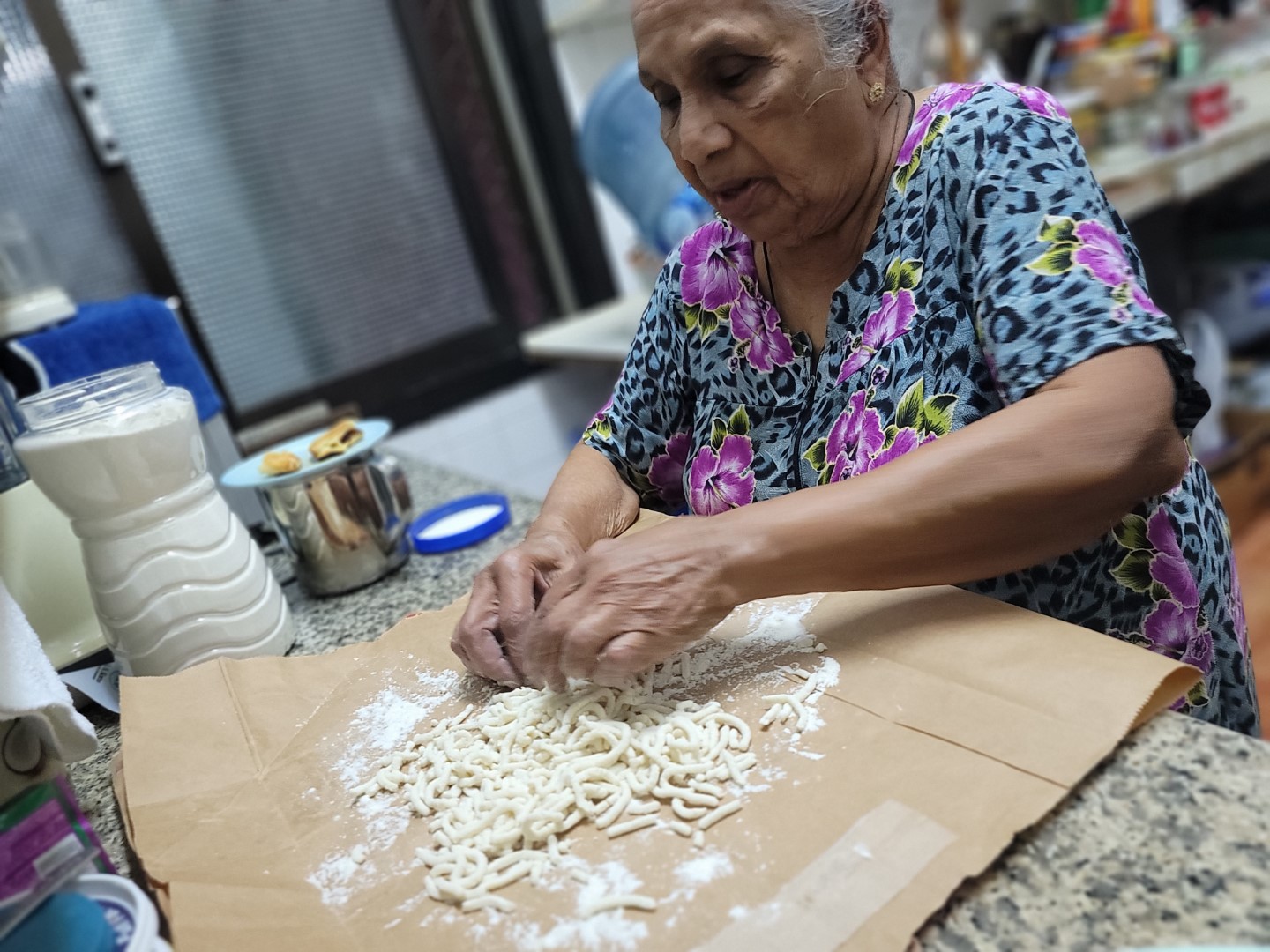 I have heard it mention that in some countries you can purchase "Indiyappam/Idiyappam flour" which means you can skip the first step. However if rice flour is hard to find, you can easily use "American flour" or what is more popularly known as all purpose flour in North America! This is what my grandmother has been using to make manni pittu even when she lived in Colombo and so the all purpose flour is what we use in our ManiPittu recipe.
Similar to dumplings, you steam flour by placing flour in a cheese cloth and putting it in a closed pan over a pot of boiling water. If you have steamer pans or those pasta making pans with holes in them you can easily use those and place the cloth wrapped flour into that before placing it on top of a boiling water pan. You steam the flour for an hour over medium heat and then let the flour cool. I was surprised that the flour didn't clump up and felt "normal" to touch once dried. If you have the indiyappam flour you have no need to do this step!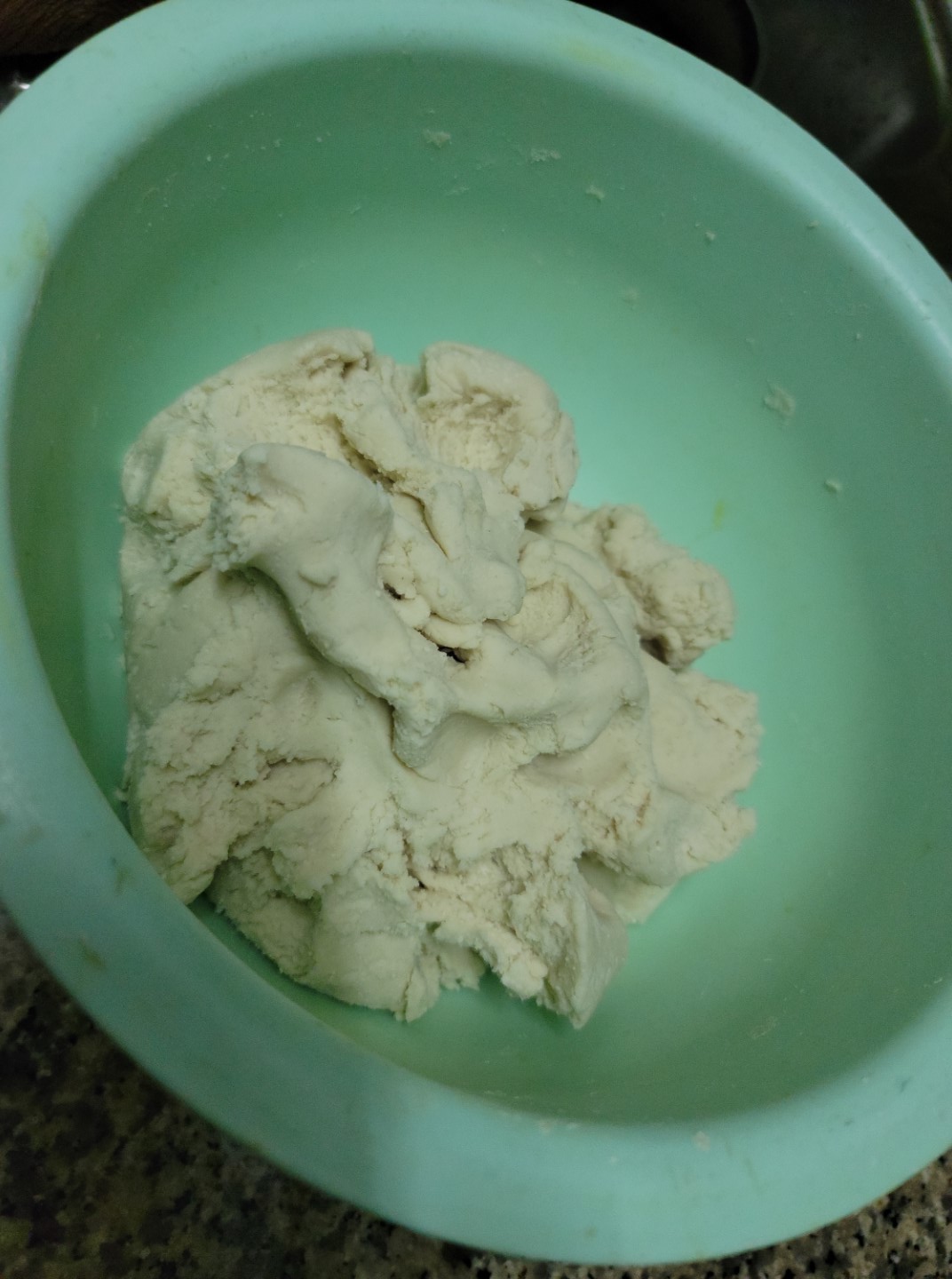 Next step requires you to rely on your touch to figure out the amount of warm water required to make the mani pittu. You take the flour, sprinkle some salt and slowly add warm water. Please note that the water should not be boiling or room temperature. You want it hot and steamy and you mix it all up until it gets to the consistency of children's play doh.
Now comes the fun part! You plop that dough into the indiyyapam maker and use the stencil/cutter with larger holes. As you would have noticed, the "worms" are much thicker than regular Sri Lankan string hoppers. Now one hack I can think of is using a pasta maker similar to the KitchenAid attachment. That should technically work!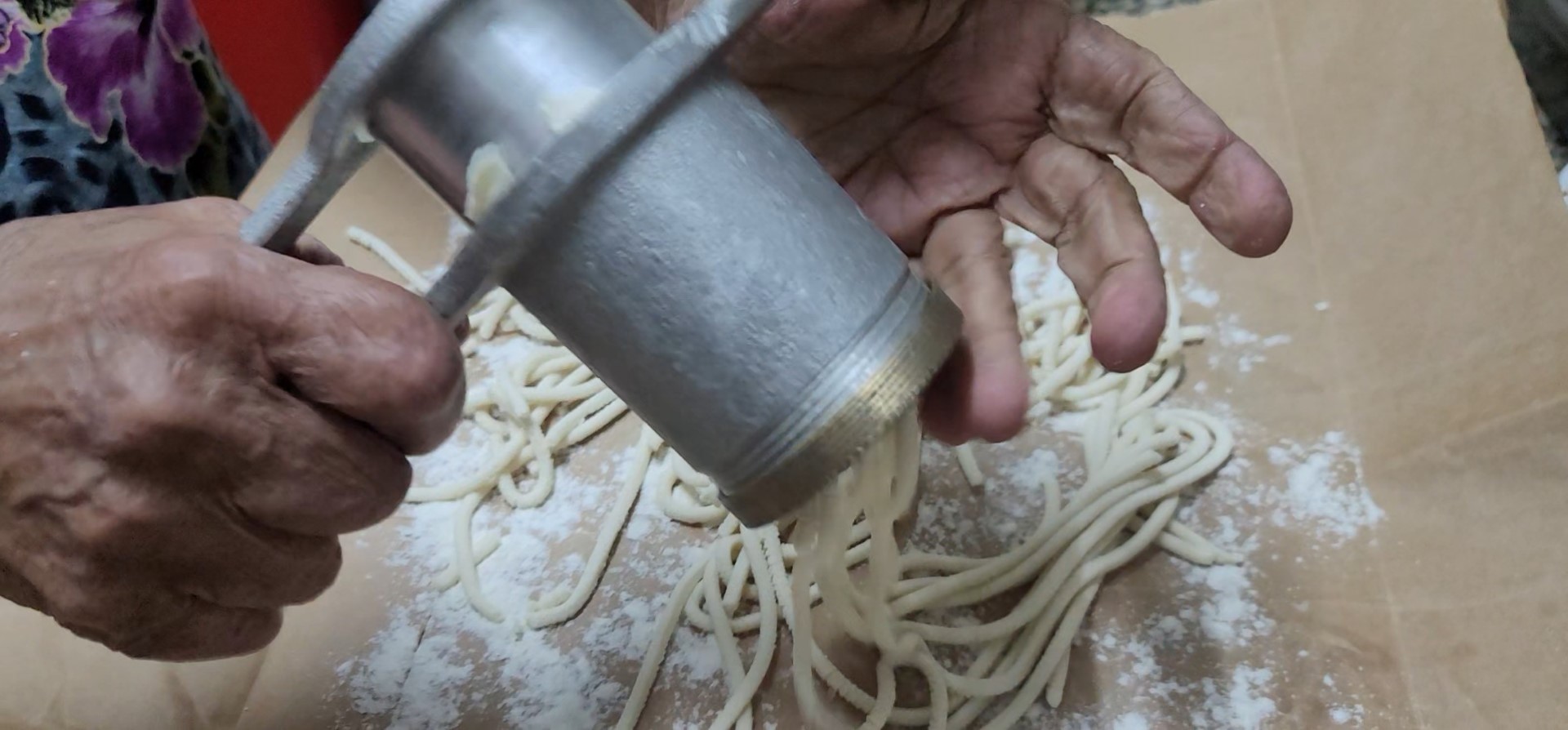 Once the worm like flour strings are pushed out on to a flour dusted surface, sprinkle more flour and use your hands to gently break the longer strings/worms into smaller pieces.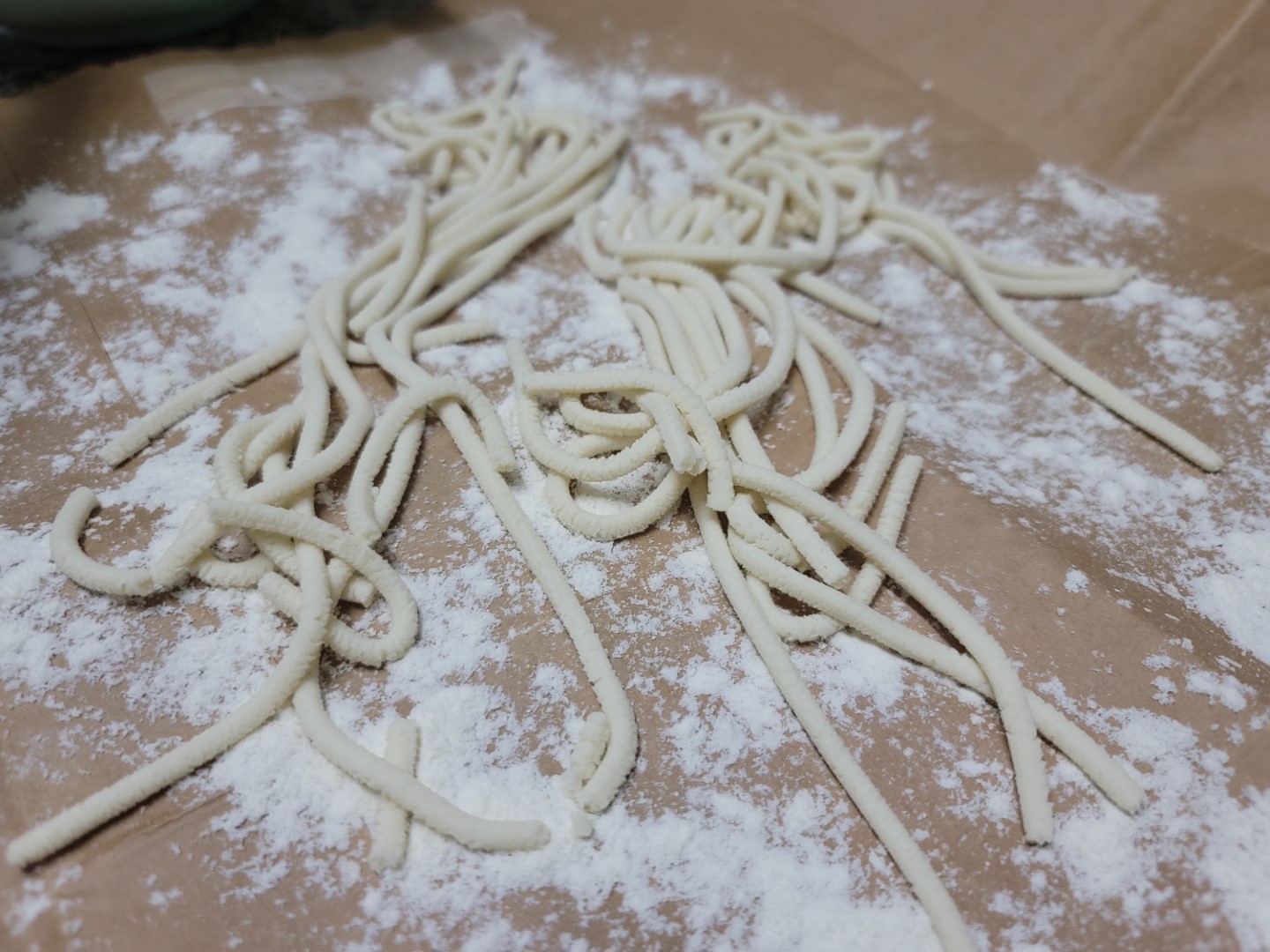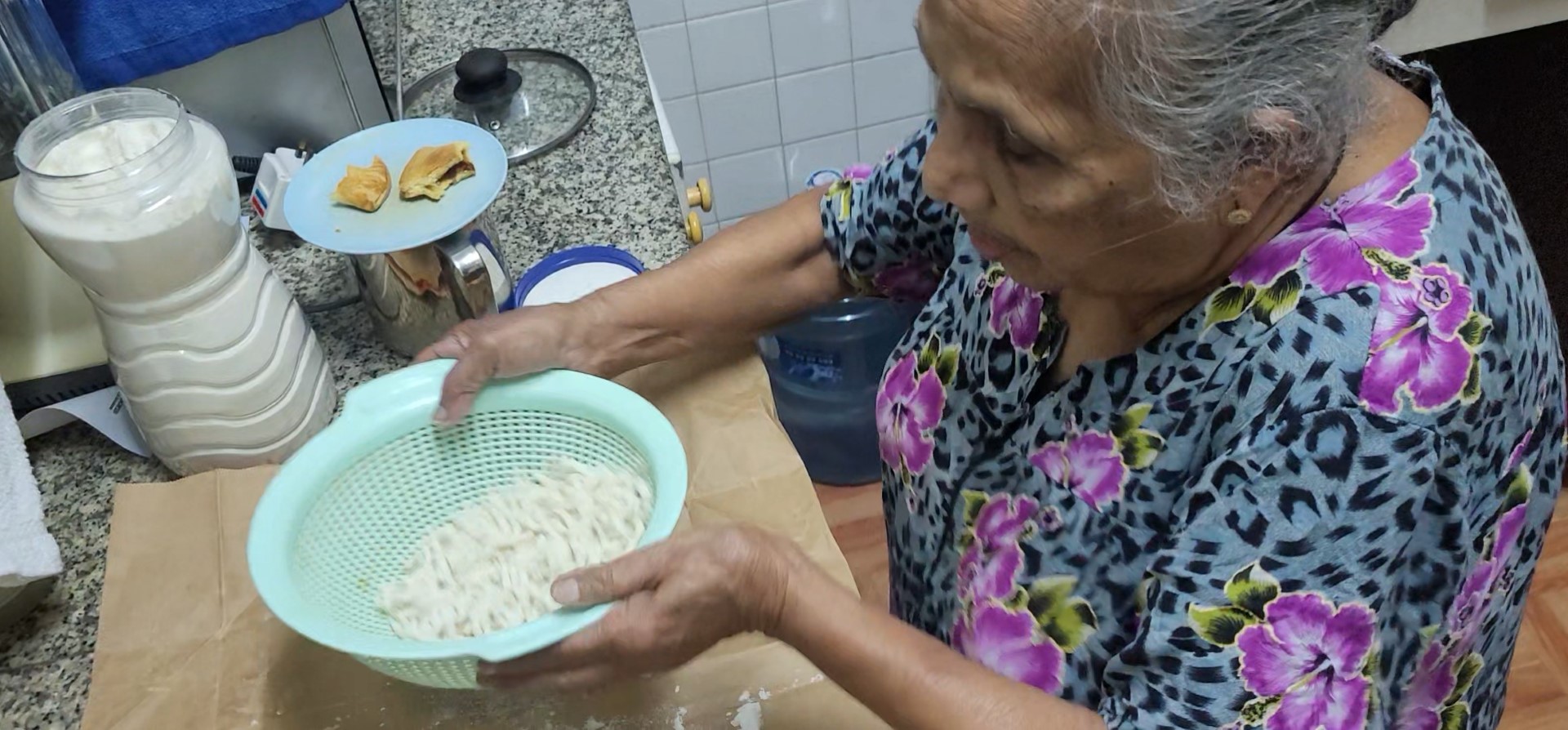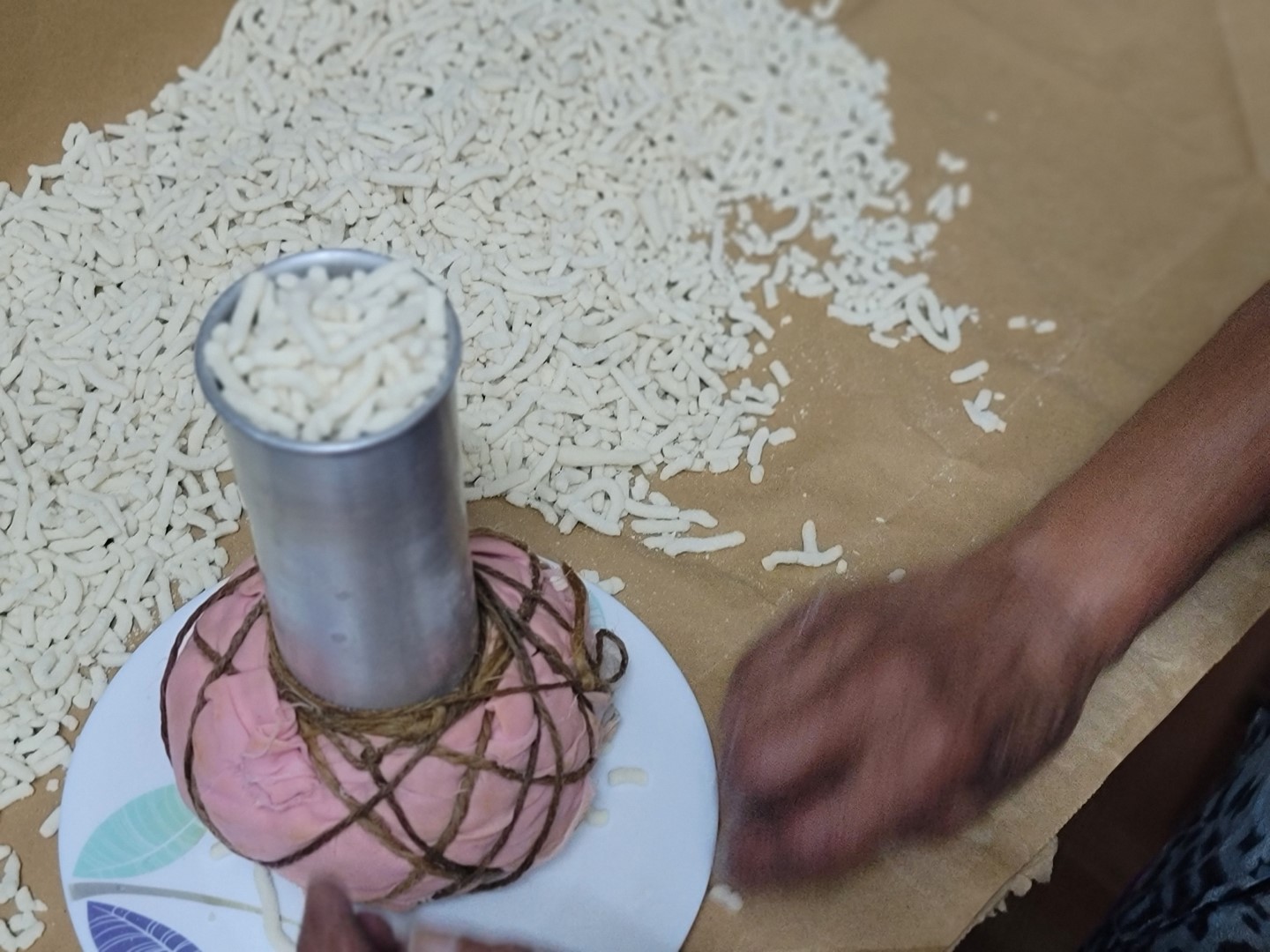 These are then sifted in a colander. Then gently place the pieces into the Pittu steamer/coooker.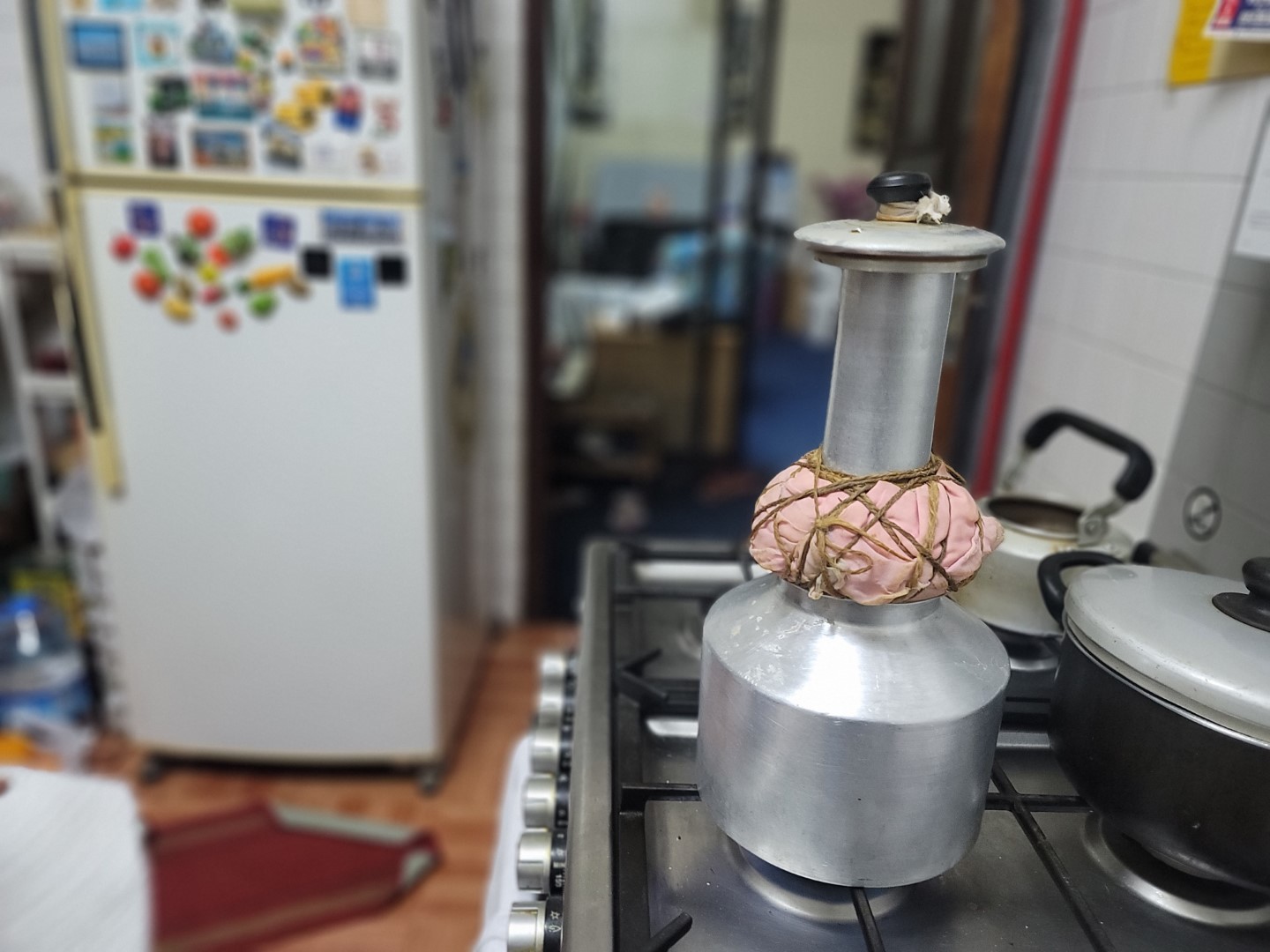 Place this on the top of the bottom part which is filled with water. Let it boil on a stove top for 3-5 minutes. Now here's the secret, when you take the steamer filled with the cooked manni pittu out…. drizzle some coconut milk (if you're planning to use the canned version, we don't want the cream.. we want the watery part). This is to ensure that the mani pittu cools down and that it doesn't dry out either.
Now slowly poke the manni pittu log out on to a plate. REPEAT!! I personally can eat 3 full logs in a sitting but I have a large appetite…this is a very filling dish and I think most people will eat 1 or 2 full logs.
If you're looking to buy some of these kitchen gadgets here's a Pittu steamer and a pittu maker if you live in Canada. Please note that these are affiliate links and I will receive a small commission at no cost to you. Feel free to check out my Amazon storefront for more Sri Lankan and South Asian kitchen gadgets.
What do you eat Mani Pittu with?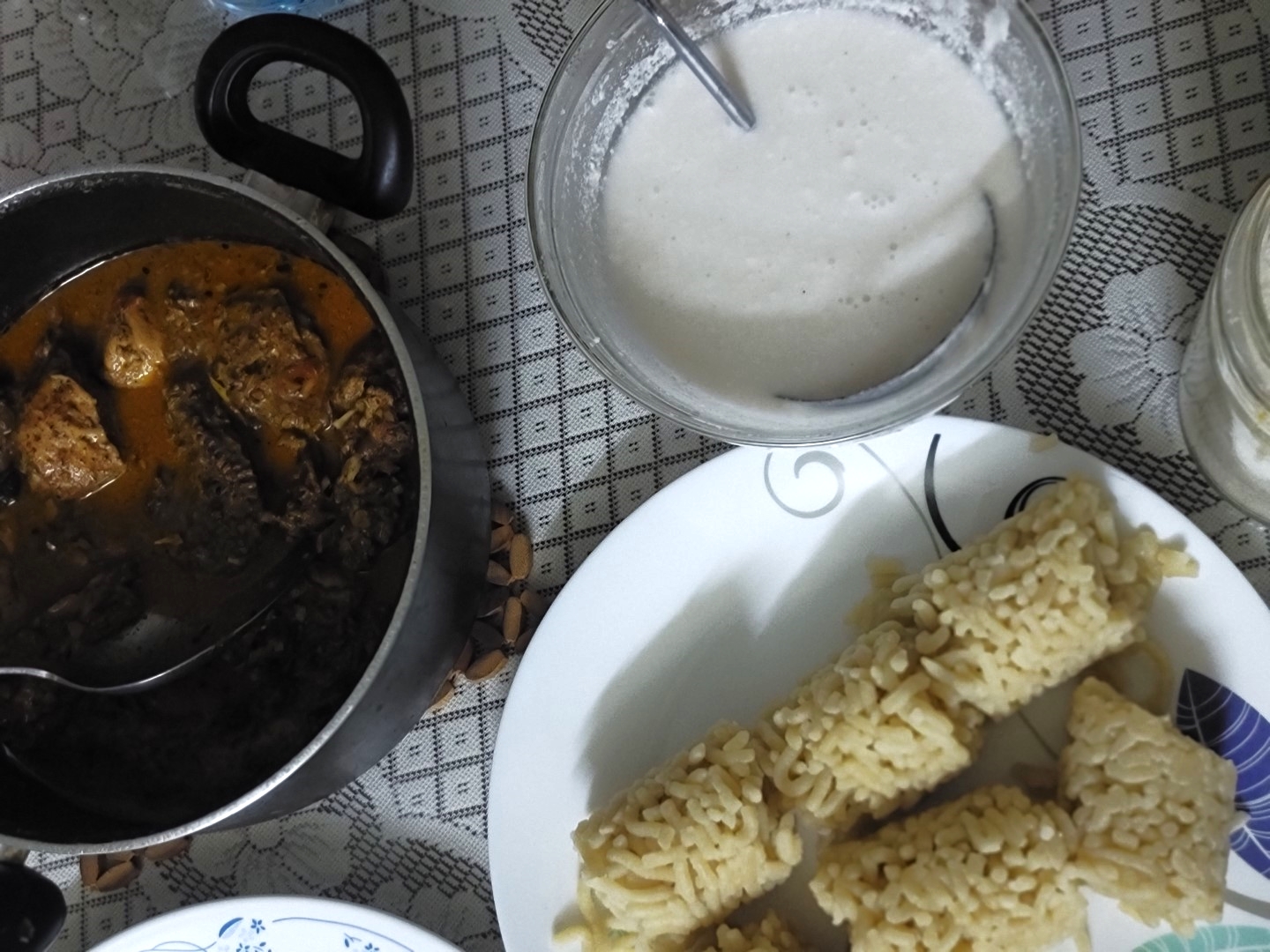 As I mentioned earlier, you can enjoy Manni Pittu as a savoury or sweet dish. I personally start my meal with a log that's drenched in curry and then bring in some lunu mirris (a spicy sambol paste of red chilis). Many people enjoy it with tripe curry (babath) and that's definitely my go to but once again, it's not something that everyone enjoys so it's not made too often in our home. I'll settle for beef or chicken curry happily. It also pairs well with other curries such as potato curry , egg curry, kiri hodhi (plain curry)… the list goes on! Even bananas!
Now to end my meal, I pour a cup of milk (ideally fresh coconut milk) and sprinkle some sugar into the mani pittu. Slurping the leftover milk is highly recommended!
Manni Pittu Recipe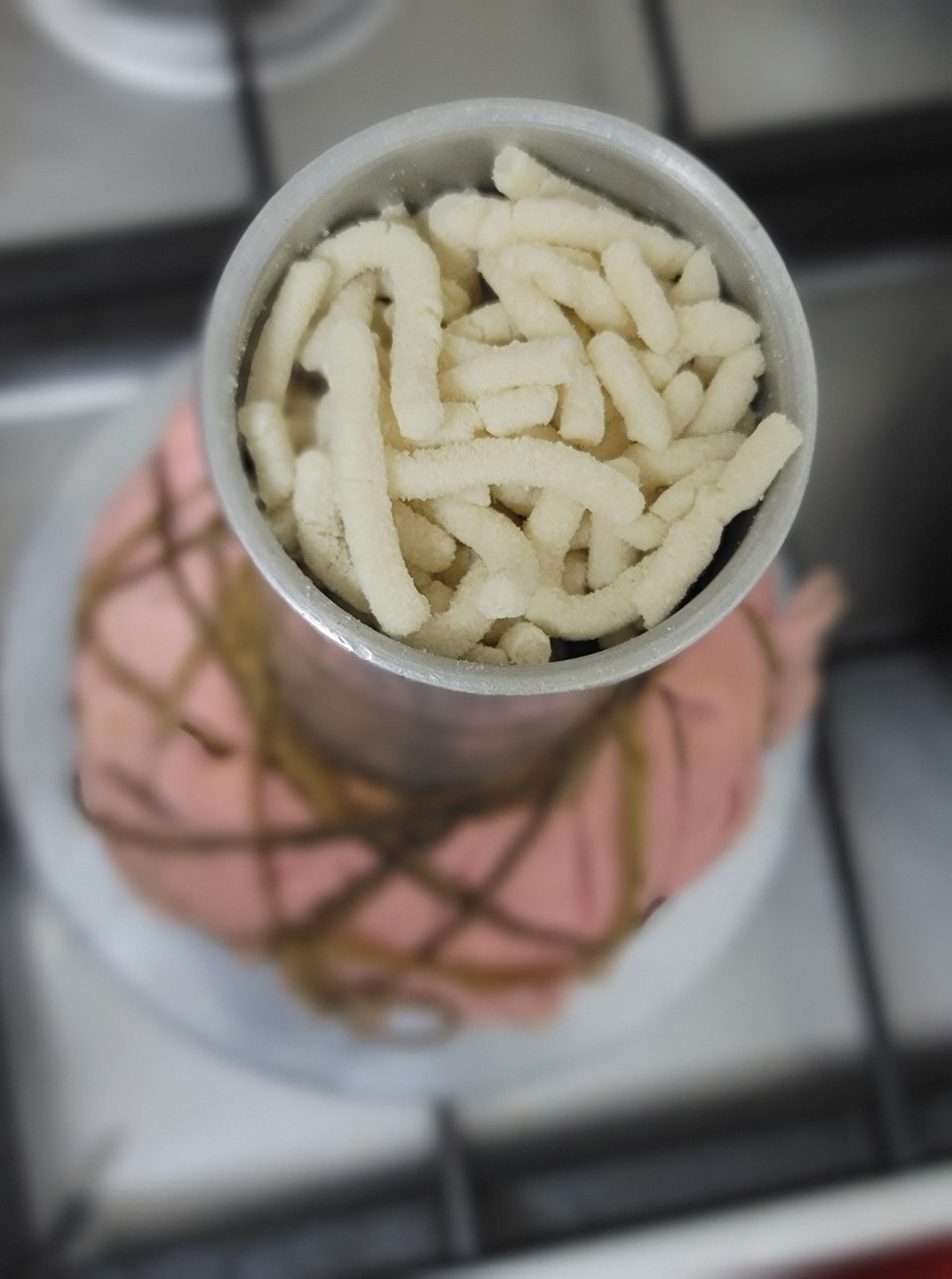 If you're looking to make Manni Pittu at hope this Mani Pittu recipe brings these Sri Lankan flavours to your home!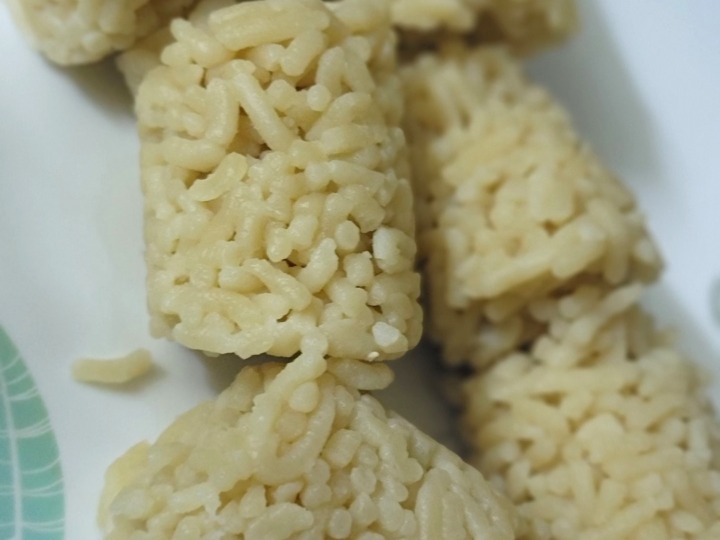 Yield:

10
Sri Lankan Mani Pittu Recipe
Delicious Sri Lankan Mani Pittu is a perfect vegetarian (and vegan) main dish for your next meal!
Ingredients
1 KG All Purpose Flour
1 Cup Coconut Milk
3-5 Cups Warm Water (or as needed)
1 Teaspoon Salt
Instructions
Steam all purpose flour for an hour
Add salt to steamed and cooled flour
Take a cup of flour and set aside for dusting needs
Slowly add warm water to remaining salted flour until you get a doughy texture
Add dough to mani pittu maker
Squeeze pittu strings/worms on to flour dusted surface
Gently break the longer strings by hands, sprinkling additional flour as needed
Take a collander and sift the small pittu pieces to get the extra flour out
Place pittu pieces into the metal tube of the pittu steamer
Place stuffed tube on to mani pittu steamer (ensure there is water in the bottom of the steamer)
Let the pittu steam for 3-5 minutes (or until steam comes out from the top)
Carefully remove the tube from steamer, drizzle a couple spoons of coconut milk and let it rest for a minute
Using the back of a wooden spoon gently push the mani pittu log out
Repeat until all dough has been cooked
Nutrition Information
Yield
10
Serving Size
1
Amount Per Serving
Calories

409
Total Fat

6g
Saturated Fat

4g
Trans Fat

0g
Unsaturated Fat

1g
Cholesterol

0mg
Sodium

231mg
Carbohydrates

77g
Fiber

3g
Sugar

0g
Protein

11g