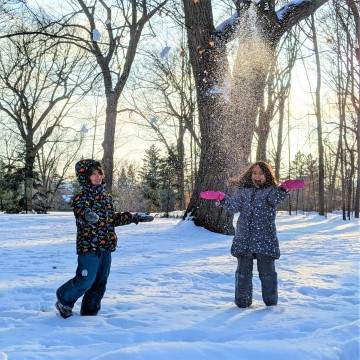 As some of you are aware, I have a Canadian Immigrant bucket list and experiencing Winterlude was on that list of mine. Last weekend Chris and I took the kids to Ottawa for Winterlude and we ticked that quintessential Canadian winter experience off my list. For those visiting Canada and wondering how to embrace a Canadian winter, Winterlude is a great way to appreciate the northern climate. As cityslickers, we're yet to embrace winter sports and I was worried that it would be insanely cold in Ottawa but we lucked out with great weather and I was truly impressed by how many free activities were on offer for those visiting Winterlude with young kids (ours were 6 and 8 years old on this visit). Winterlude is an annual winter festival held in Ottawa, Ontario and Gatineau, Quebec (collectively known as the National Capital Region). Since 1979, Winterlude has been going on for 3 weekends in February each year and there's a good mix of culinary, cultural and outdoor activities that families can partake in. I feel like I appreciate Winterlude a lot more having experienced it with children in tow than I would have prior to having kids. If you're looking for a winter wonderland experience, Winterlude in Ottawa will not disappoint!
Disclosure : We were guests of Ottawa Tourism but, as always, opinions are TOTALLY ours! 
Getting to Winterlude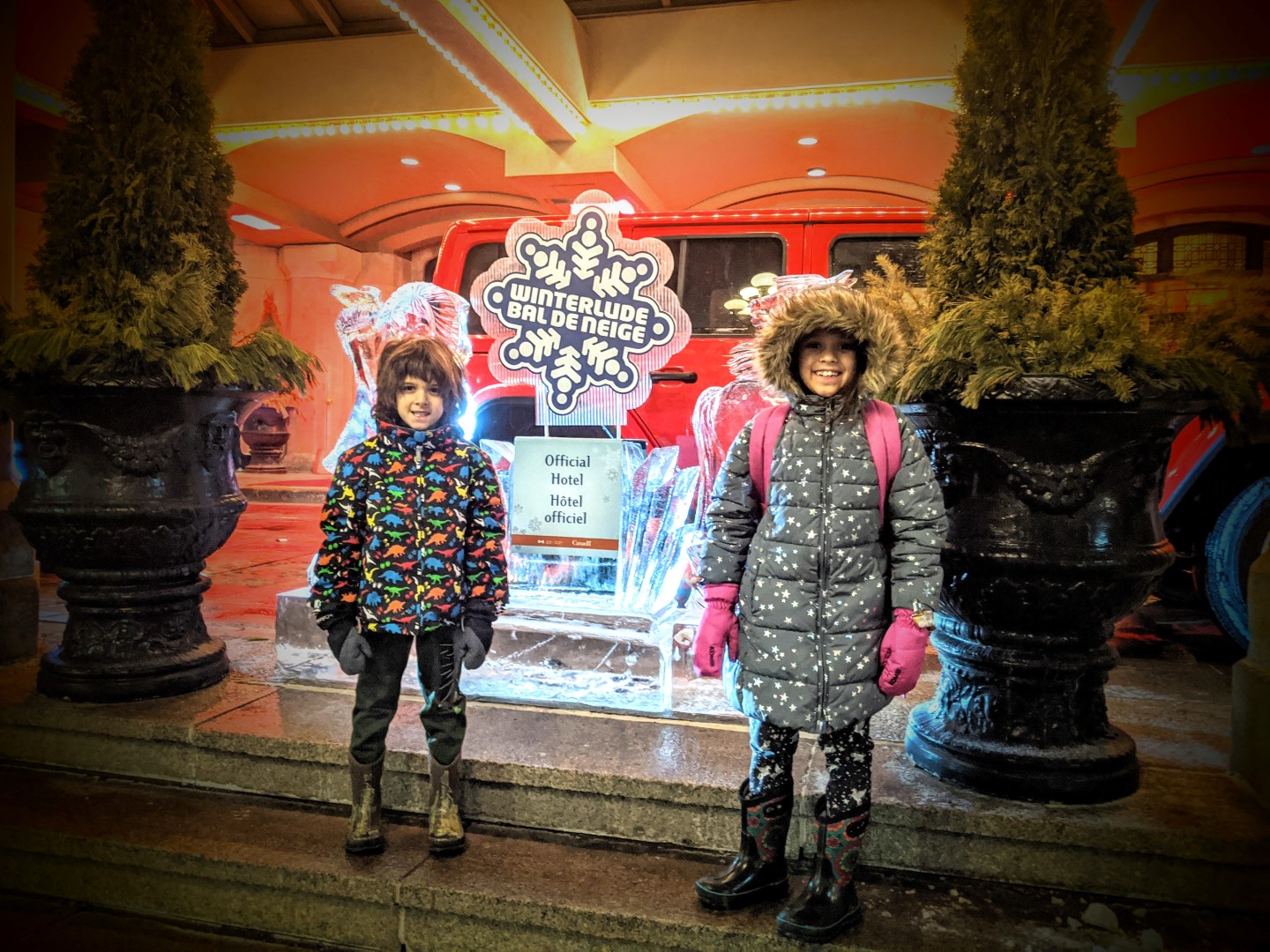 Canada's capital, Ottawa, is fairly easy to get to as families can drive from major cities like Toronto and Montreal. We mostly take a train to Ottawa and that's what we did this time. Our Via Rail journey was stress-free and we all were able to unwind and enjoy the 5 hour Canadian train ride from Toronto to Ottawa with our kids. Opting for Business Class seats meant that we were also fed during our journey and I was able to enjoy a couple glasses of wine while the kids had juice galore. Via Rail is great for families (here are my tips for taking Via Rail with a baby) as they ensure that we're always seated together with an assigned table and there are change tables in the washrooms. In addition to kids meals (ensure you pre-order these) there are also activity kits (you may need to ask for them as we don't always receive them). If train or car isn't your thing, you can easily fly into the international airport in Ottawa.
Once you're in Ottawa, it's easy enough to navigate the city via public transit or ride share options. When visiting for Winterlude you have the additional free Sno Bus service which takes you between the major Winterlude attractions. We used this bus on numerous occasions as it runs every 15 minutes (be sure to check the schedule as the first buses are only every 30 minutes) and we didn't need to fumble with car seats as they aren't required on public transit in Ottawa. There might be a line up but we always got on the first bus we tried for.
Beyond public transit, we also used Uber and Lyft to get around and of course there are taxis as well. If you are planning on taking Uber or Lyft, remember to bring your car seats (or mifold boosters) with you and know that while you can take it into Gatineau, there are none available for your return as the Quebec side does not allow for ride-share programs and so you must call a taxi for your return trip.
Where to Stay in Ottawa for Winterlude with Kids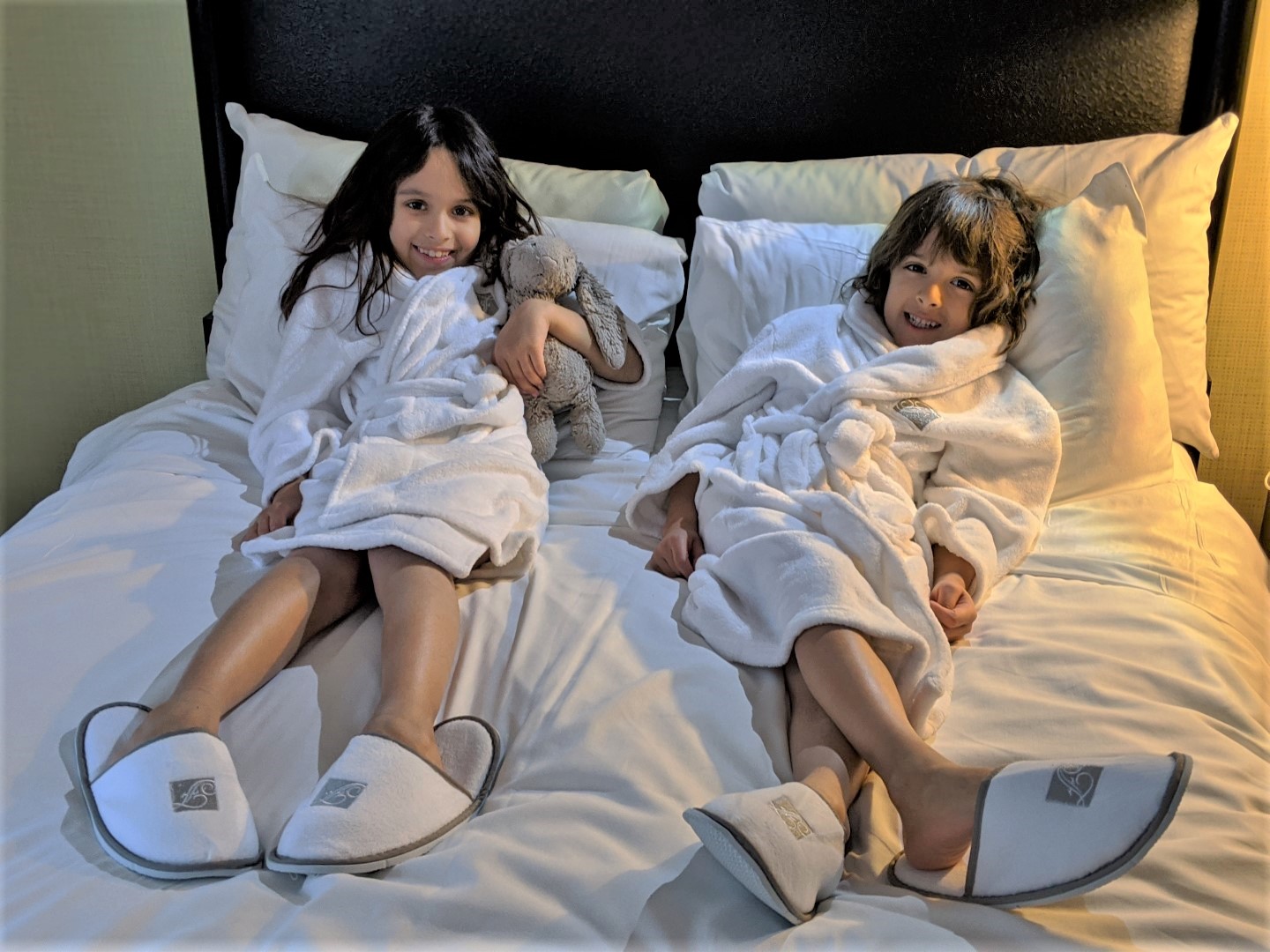 Having visited Ottawa numerous times, we've stayed at a couple different places but high on our list of things to do in Ottawa was spending a night in a castle. YUP! A castle!!! Fairmont Château Laurier is perfectly located nearby many Winterlude activities that it was the perfect home base for our two nights in Ottawa with the kids. In addition to offering Winterlude packages, there was also a dedicated Winterlude help desk on site to help us navigate the city before we even stepped out into the cold!
The Fairmont Château Laurier is steeping with history and has had many famous heads sleep on their pillows but kids won't care about that. They will care about the pool on-site (which was a tad too cold for me but Akira and Apollo didn't mind one bit), the cute kids' bathrobes and (maybe) the kids under 5 eat free and kids aged 5 to 12 eat at 50% off programs at the restaurants on-site. Oh and be sure to mention the Prince & Princess afternoon tea option as well! We loved having indoor access to various restaurants especially after a long day of having fun at Winterlude.
In the next few weeks we'll tell you more about our enchanting stay in Ottawa's castle, but for now, let me tell you that the Fairmont Chateau Laurier is the magical experience you need to cap off your Winterlude experience as a family! Wherever you decide to sleep at, remember to book early because Winterlude is one of the busiest tourist seasons in Ottawa.
Best Things to Do at Winterlude with Children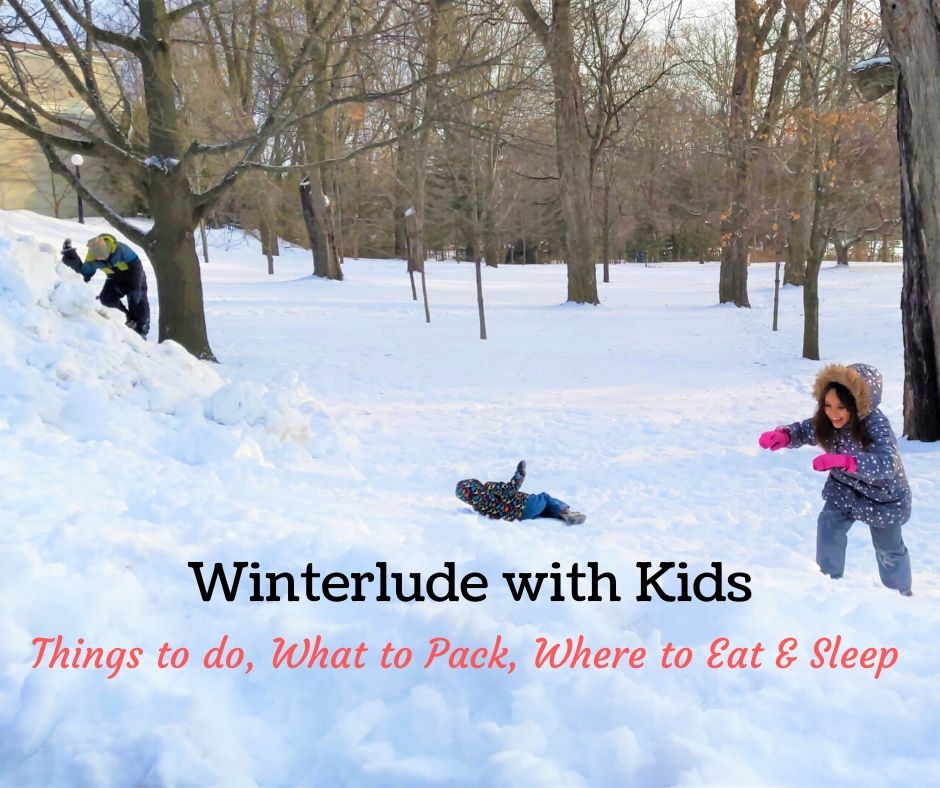 I was afraid that the kids would whine about being outdoors in the cold but they surprised us by embracing all the free play options available during Winterlude. I loved that nearly all of the activities we did for Winterlude with the kids were free for the public and that they have made it easy for families to enjoy the festival by thinking about activities for kids of all ages. Since our kids are only 6 and  8, I wasn't expecting to participate in as many activities as we did. It was truly lovely to see us all embrace the winter, marvel at the amount of snow around us and be able to jump in and join the fun. Winterlude is a busy time in Ottawa but we only encountered a crowd on one occasion, read on and hear our tips for visiting during Winterlude!
Sparks Street : Given that Sparks Street was just across the street from the Fairmont Hotel, we were able to swing by here a couple time. The street spans a couple blocks and is peppered with various activities. This year, famous snow sculptors from around the world were chiseling away at their designs for the Winterlude International Ice Carving Challenge during our weekend visit. It was truly amazing to see them at work and then pop in throughout the day to see their progress. At night their sculptures were lit up and there was a full on party scene as Djs were spinning and there were ice thrones for picture opportunities. It was a great way for us to end our Saturday night. I will mention that each weekend there are different activities throughout the day. During our visit there were jugglers, live bands and free hot chocolate samples thanks to a Tim Hortons truck on site. There are quite a few pubs and restaurants along the pedestrian only street and the kids will want Maple Taffy and BeaverTails without a doubt! I heard that during the Fire and Ice festival there's a Silent Disco that takes place as well! If you're looking for some entertainment Sparks Street has you covered with a good mix of offerings.
Byward Market : Byward Market is a spot I always tend to swing by when we visit Ottawa and honestly, I don't plan for it but it just happens. Whether it's for a quick pint or to grab something from the farmer's market, something will take me there. On this visit we popped by for dinner at The Grand Pizzeria and enjoyed hanging out at The Grand Ice Bar while we waited for our reservation. It was a cozy setup for us to warm by by the fire while enjoying live music as Chris and I sipped on whiskey samples and the kids enjoyed some hot chocolate. There are quite a few restaurants in Byward Market (last time we ate in a Chicken Bus!!) and on this visit our Italian dinner at The Grand Pizzeria was just what we needed after a busy day of exploring Winterlude. The wood-fired pizzas were amazing and came in gluten and dairy free options for those with food sensitivities. They offer a kids menus with colouring sheets and have high chairs as well. They offer a range of craft beers and cocktails so I enjoyed an Aperol Spritz and a Maple Manhattan while Chris enjoyed Calabogie Watermelon Sour beer. As I'm writing this I wish I was enjoying that Burata dish with pesto….I pretty much licked the bowl clean on that one and Akira loved her lasagna dish (she ordered off the adult menu).
Snowflake Kingdom at Jacques Cartier Park : Located in Gatineau, this was probably our favourite spot of all. It was truly a winter playground and the moment we got off the Sno Bus, the kids were able to run around to their heart's content. My advice is to get here as early as possible as it does get busy towards the afternoon. You can spend anywhere from an hour to three hours here, depending on the number of winter activities you want to do at the Snowflake Kingdom. Our kids enjoyed taking free ski lessons (there were snowboarding lessons too) where the instructors would pull them down small hills, ensuring that they were learning to be comfortable on skis. This is a popular spot and you do have to go in and sign up for your skis after you measure your kids feet and key in the info into a tablet onsite. It took us about 20 minutes to sign and boot up but the kids loved the experience so I was glad we did it.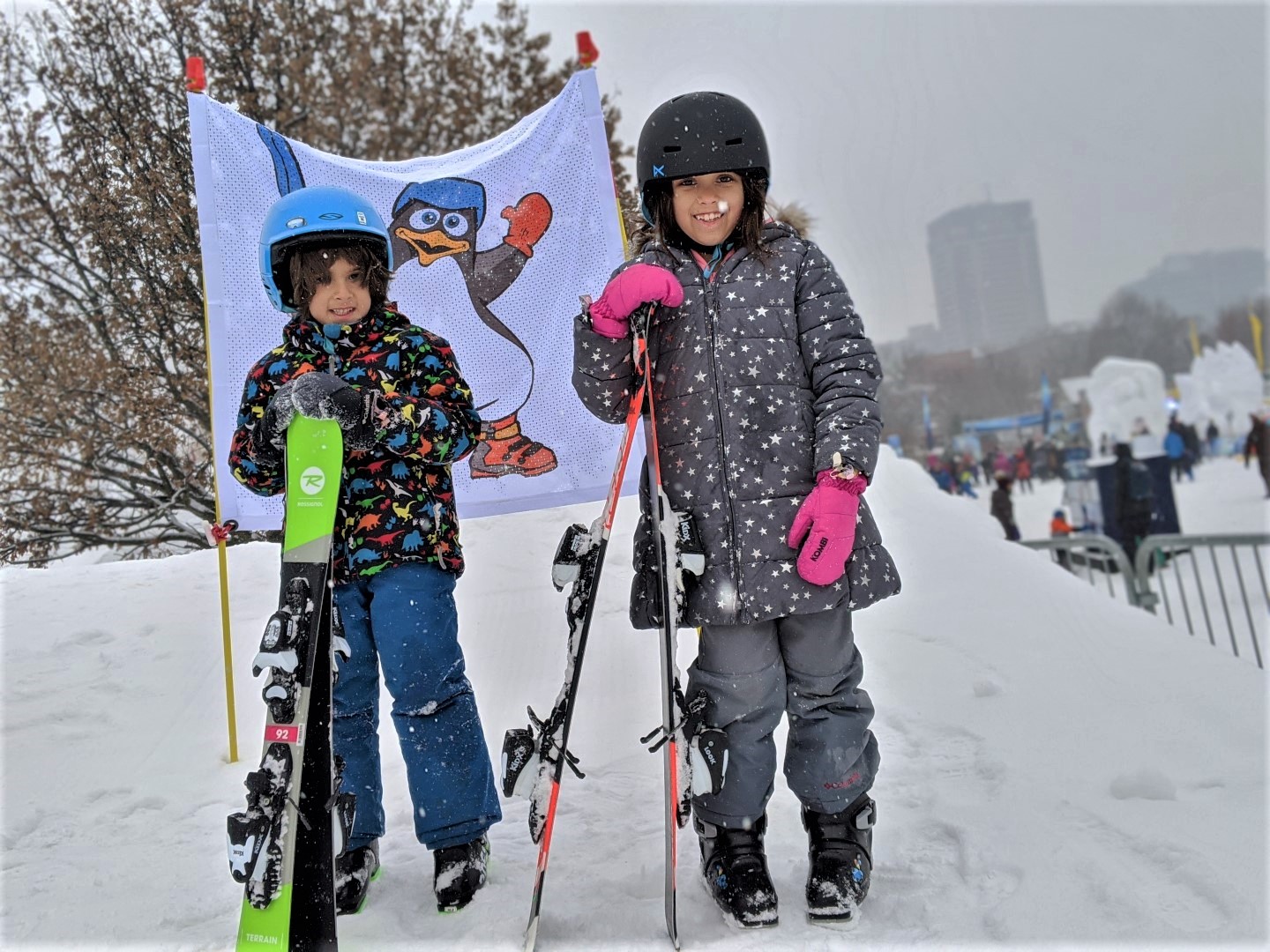 We also went tubing and there are three hills to choose from. We did two and went down with the kids on the largest one. Definitely an easy activity for lazy ones like myself! The lines can be long here as well but they move very quickly as there are 4 to 6 lanes at each of the three hills.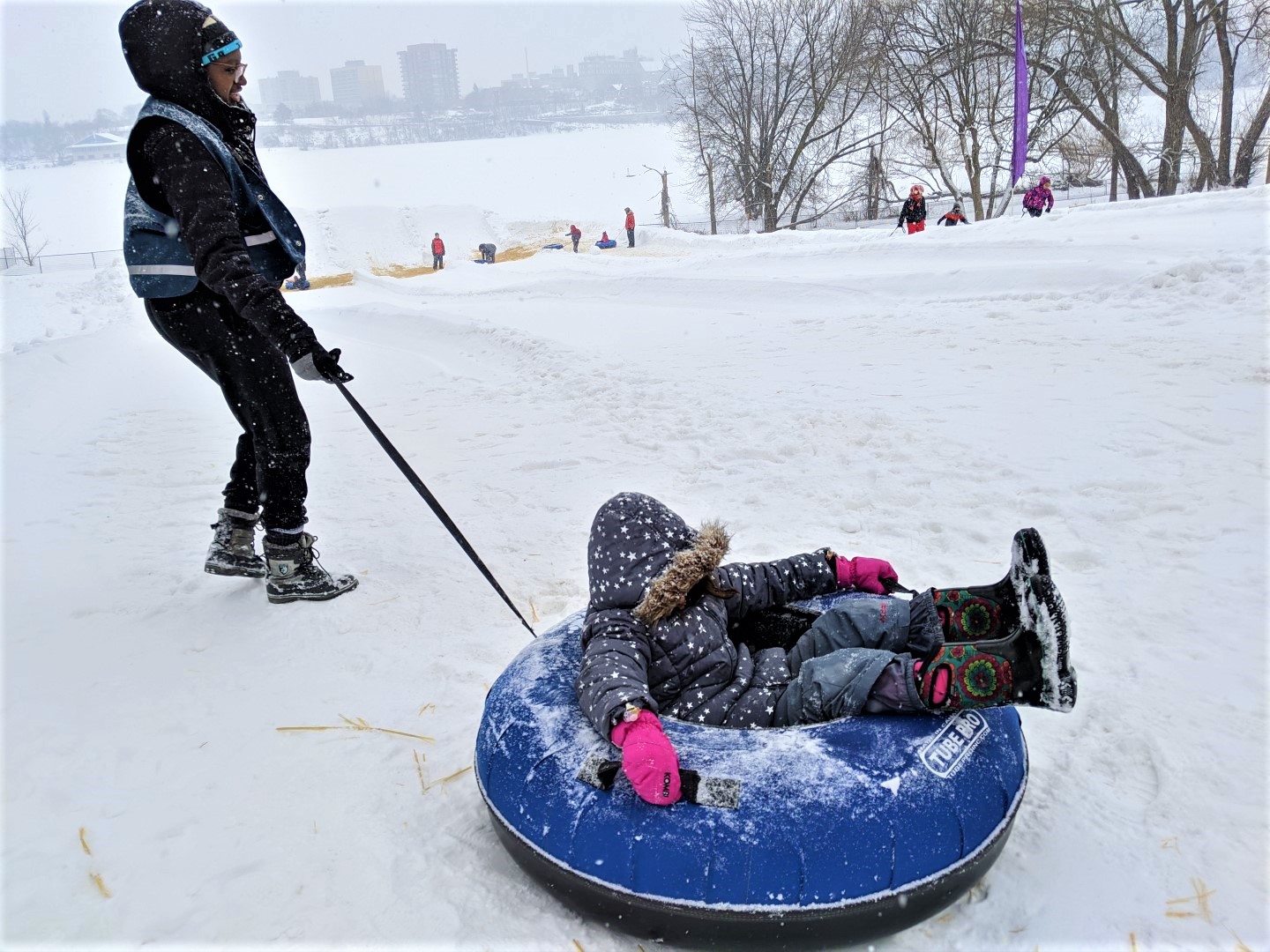 When you want to warm up, grab a Beaver Tail and head into the warming tent. The entire area is very stroller friendly and we spotted many families with wagons and sleds.
In addition to the ski lesson and snow tubing, we attempted to get the kids on the Zipline (this was the only paid activity we spotted as all the others were free of charge) but had to give up as we had a train to catch and it would have been an hour long wait at noon. It was definitely something that was high on Akira's list as she loves to zipline and we ended up giving her another BeaverTail to make up for our error. Oops!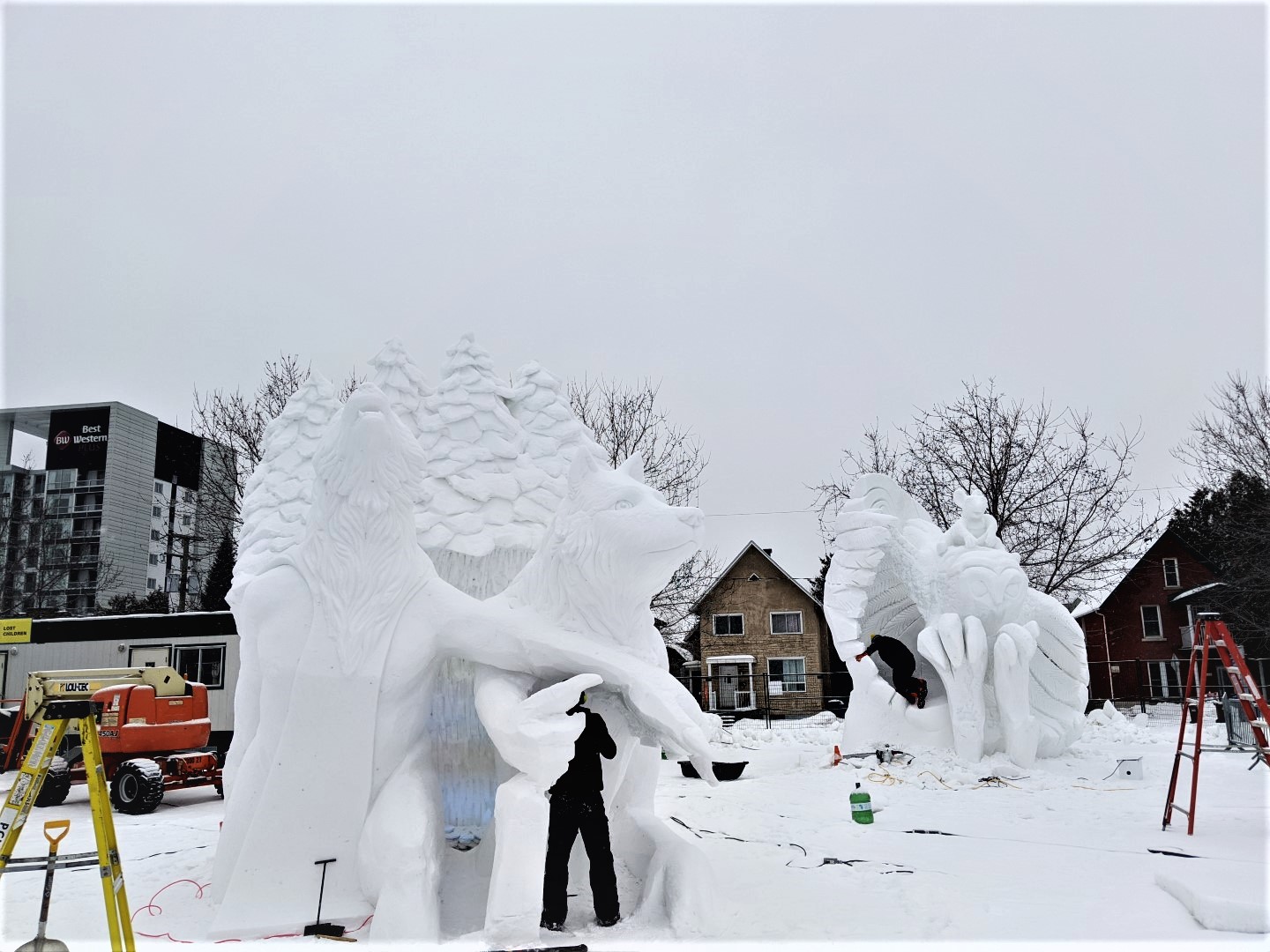 There used to be giant ice slides and that was what I was excited about but sadly I was informed that in 2020 they did not bring them back. There were very cool giant snow sculptures and a dragon dance during our visit. We spent 2 hours here and if we were not rushing back to catch a train, we may have spent another two hours I reckon. Definitely bundle up and wear snow pants as the kids will want to roll around any chance they get!
Rideau Hall : Outside of the downtown core, Rideau Hall is open all year long and is open to the public. I definitely want to return and picnic there in the summer. We happen to be visiting during the Winter Celebration which is hosted once a year and so there were extra Winterlude activities for families. There were tents from various countries sampling a local dish and kids were able to roast marshmallows and make S'mores (okay, adults too). Most of all, I loved clicking pics of the kids enjoying themselves in the snow here. We visited around 3 p.m. and the light was perfect for capturing them in their finest moments. As you roam around, be sure to  take a closer look at the trees because some of them have plaques telling you which politicians from around the world help plant them. There is also an ice rink if you have your own skates and there are free tours if you want to see the State Rooms where the Governor General hosts dignitaries (be sure to book your tour ahead of your visit).
Skating on the World's Largest Ice Rink : Alright, you cannot visit Ottawa for Winterlude and not go skating on the world's largest ice rink. IMPOSSIBLE! We didn't want to carry our skates so we decided to rent them which was a bit of a disaster as it was so busy during our visit (mainly because the temperature wasn't low enough to freeze the entire length of the canal and so only small very busy sections were open which is why you should always check the conditions before you head out) and it took us over 45 minutes to get our skates and lace up. I had visions of us eating BeaverTails and attempting to skate (kids and I are not very good at skating but we keep trying in the hopes of being good like Chris) but in the end, we were all exhausted after 10 minutes of being on the ice. My advice is to bring your own skates as the ones we rented weren't in the best conditions but I did like that they offered free helmets for kids. Next time I'd be more likely to rent one of the sleighs and just push the kids around as I saw many parents doing that (parents were wearing their regular snow boots). Skating the Rideau Canal looks so magical but if you aren't a good skater, it might be tough so plan to do a small section and come prepared for long rental lines if it's a busy Winterlude weekend. There are a couple areas with food shacks and pop up activities so even if you're not skating, you can still enjoy being outdoors watching others get their skate on. The Fifth Avenue and Dow'  Lake sections were the only open ones during our visit (those warm temperatures were great in some ways and not so great in others) and the Sno bus takes you  to all the stops, so fret not. Just remember to ask the conductor when your stop is because the bus doesn't always announce all the stops.
Indoor Activities : Ottawa is home to some amazing museums and with each visit we keep trying to discover new ones. On this trip we checked out the Canada Science and Technology Museum which was fun for the kids AND educational. Obviously if you have young kids, the Children's Museum is your best bet but every time we visit, it's hard to drag the kids away so if you're in town for Winterlude remember than you might need two hours here for them to really play with everything. The Ottawa Art Gallery is another great spot as they have dedicated kids activities and scavenger hunts, including dress up options. We were hoping to get to the Bank of Canada Museum (free entrance) as it's on Sparks Street but sadly the kids opted for a swim that afternoon and I couldn't blame them!
On this visit we also did a Parliament Tour. Keep in mind that our Canadian Parliament is housed temporarily in the West Block and so it's kinda neat to do this 30 minute tour as it's only available for a "short period of time (10 years)". Kids didn't LOVE it but they knew to be good in order to get their BeaverTails at the Snowflake Kingdom! You should pre-book your tours if possible and arrive 15 minutes early to go through security (they are strict about bag sizes so read up on that).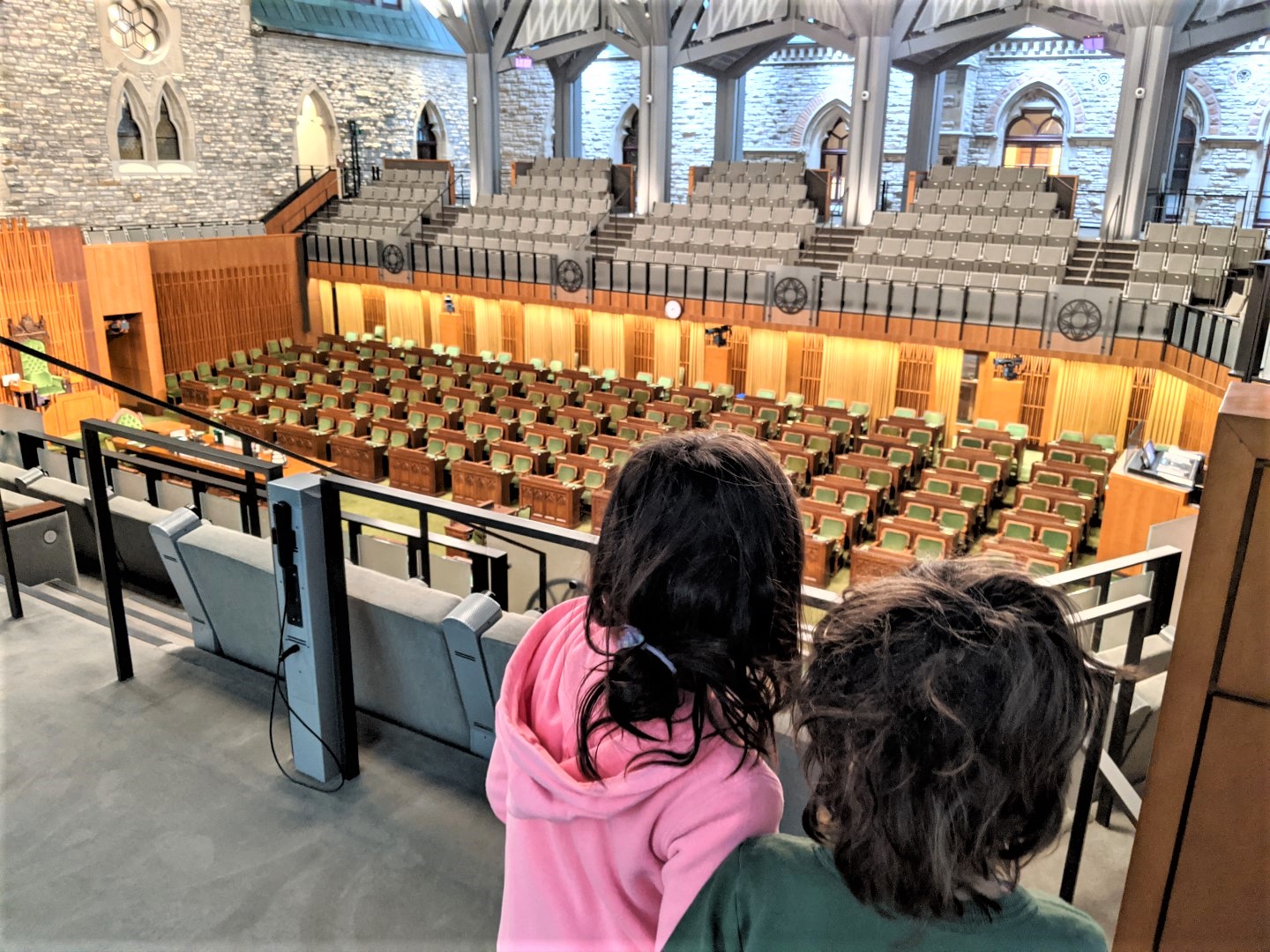 Each weekend there are different activities so be sure to check the schedule because as I write this, the next weekend there's a hospital bed race and an Ice Dragon Boat festival too! How COOL!
Winterlude Itinerary with Kids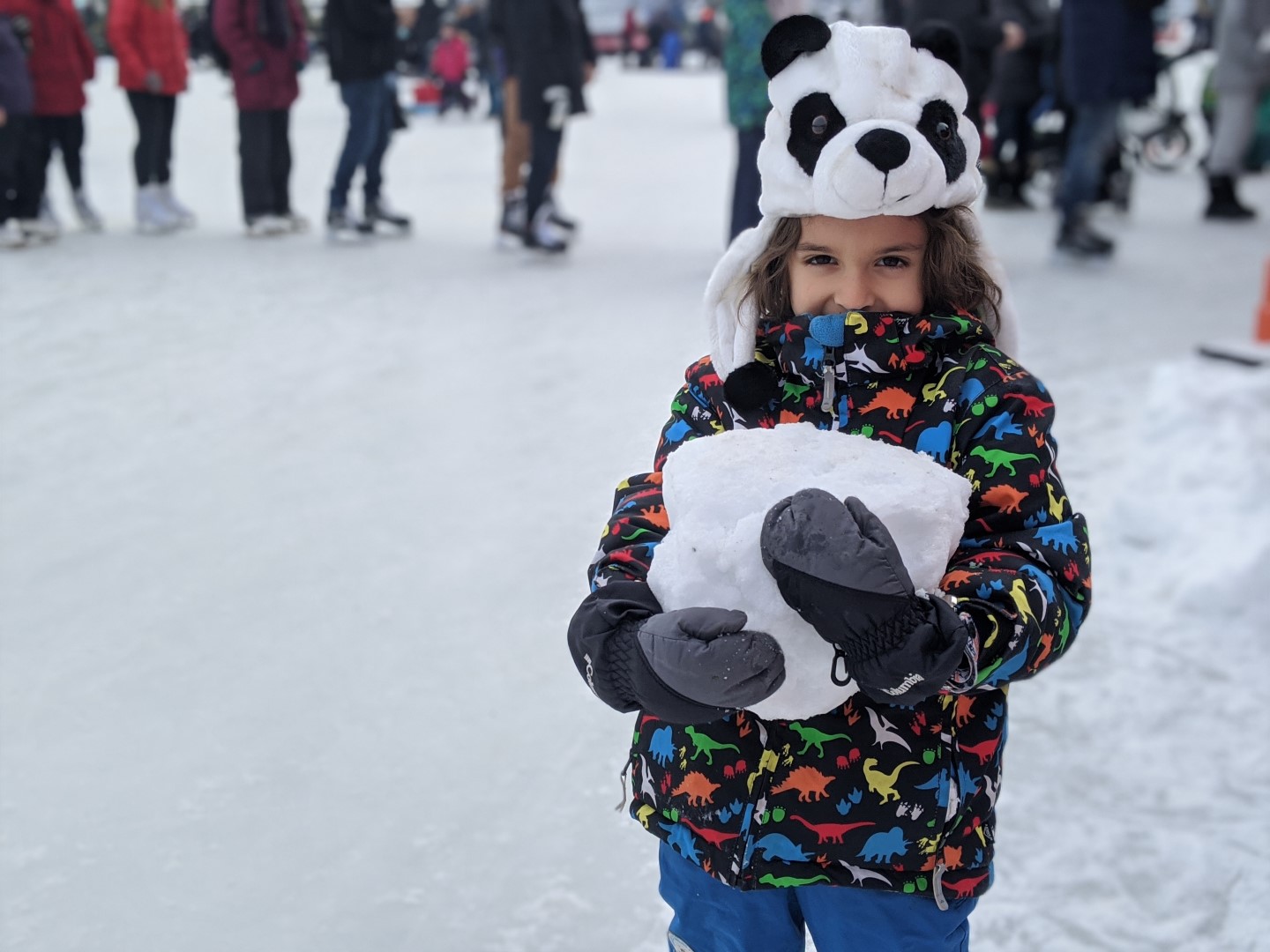 What I loved about Winterlude was how fairly unstructured we could be. There was always something happening and if we were cold, the option to go to a museum was always nearby. Here's how we spent our 3 nights in Ottawa for Winterlude with kids in tow.
Friday – Boarded an evening train so the kids wouldn't miss school and we checked into the Fairmont Hotel at 11 p.m.
Saturday – Breakfast at Wilfrid's in the hotel (8:30 a.m.), visited Sparks Street and then boarded the Sno Bus to go skating. To ease some of the skating frustrations we took a Lyft from Fifth Avenue to the Canada Science and Technology Museum  (but you can visit many others nearby and avoid a taxi). Rideau Hall was next on the list before heading back to the Fairmont for a swim. Swim was followed by a visit to ByWard Market for dinner and then a walk down Sparks Street to enjoy the nightlife. We had the kids in bed by 9:30 p.m. so Chris and I could enjoy a drink at Zoe's downstairs in the hotel while the kids slept in our room.
Sunday – Ordered room service so we could make our 9 a.m. Parliament Hill tour and then took the Sno Bus to Snowflake Kingdom. For lunch we decided to do the afternoon tea at Zoe's in the Fairmont and then took a 4 p.m. train back to Toronto.
What to Pack for Winterlude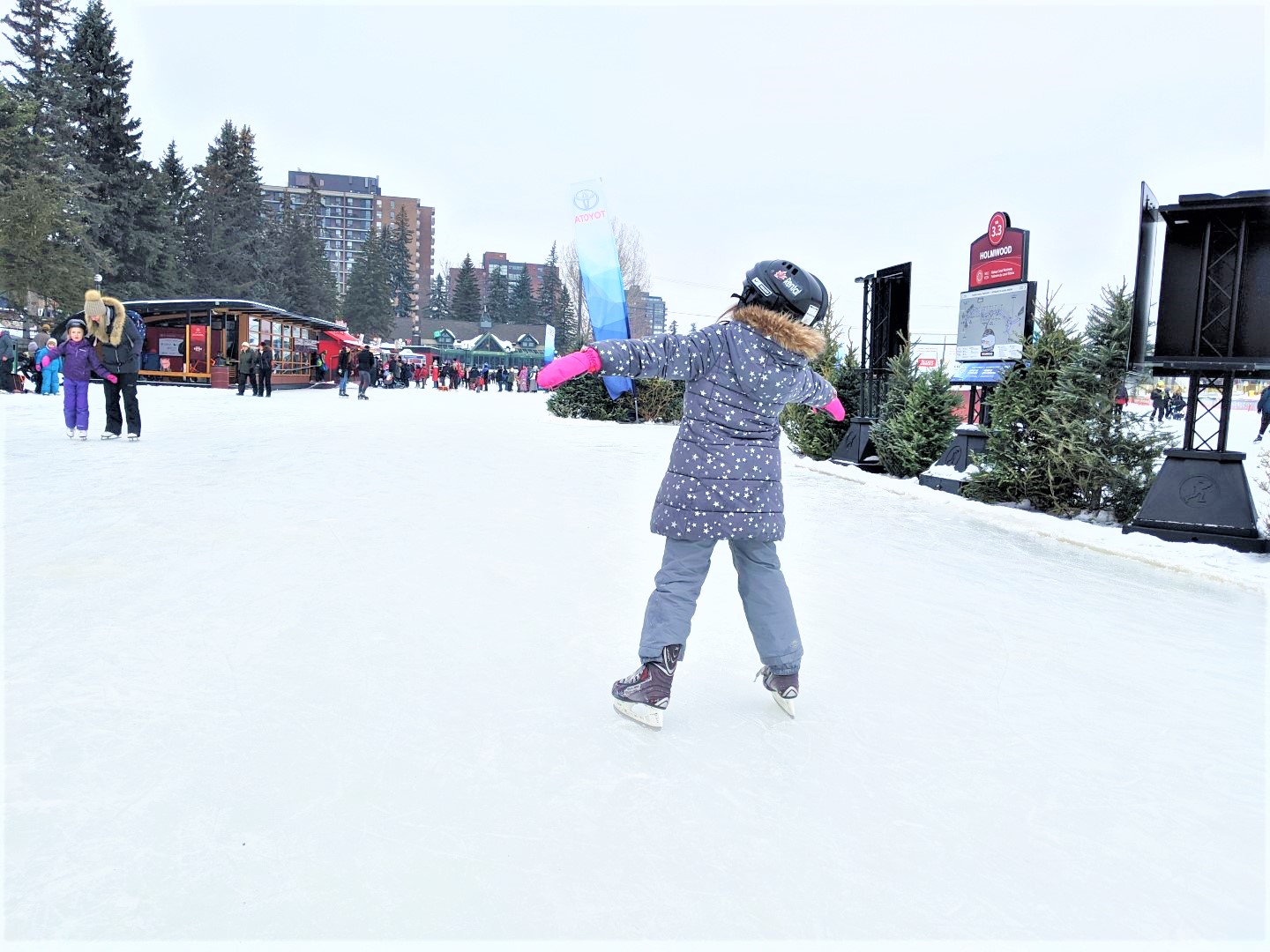 We have visited Ottawa in the spring, summer and fall and had avoided the winter because it can get REALLY REALLY cold. I mean CRAZY cold and windy. However, as luck would have it, it wasn't that cold during our visit (it was still cold mind you) and parts of the canal weren't even frozen to requirements. I did however go well prepared to brave the harsh winter conditions and got some tips from Ottawa Tourism's list of things to pack for Winterlude. Since we live in the city and don't partake in winter sports, we don't really have too many heavy winter clothes so my strategy was to layer up. Below are a list of items to bring with you to Ottawa for Winterlude.
Mix of short and long sleeve t-shirts that can be layered easily
Fleece
Hoody
Snow pants (for kids)
Winter jacket
Winter mittens with clips (clips will prevent kids from losing the gloves when playing outdoors)
Winter boots
Thick socks (also be sure to pack an extra pair in your back pack each day in case they soak through by putting snow in their boots!)
Ear warmers or winter headbands (sometimes it's easier to use them to keep ears warm)
We found spots to warm up at when things got too cold (and there was always hot chocolate samples nearby) and on occasion had to even peel off some layers if it got warmer in the afternoons. The rule to having fun during a Canadian winter is to be adequately dressed. If you're dressed for the weather, you truly can be outdoors all day long and continue to have fun. We're lucky that Ottawa is also home to some great shopping and so if you forget things, you can always buy it upon arrival.
I hope our tips and stories have inspired you to plan a Winterlude themed visit to Ottawa! It truly is a magical experience and the kids had smiles on their faces for most of the activities. It's a winter playground for parents and kids to enjoy together and definitely worth putting on your list of things to do in Canada!
Pin it if you'd like to save it for your future Winterlude trip!