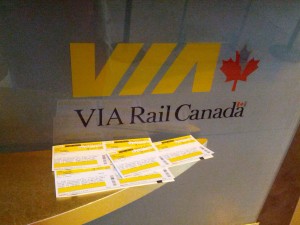 As many of you know we love to travel and we've chosen flights over road trips any chance we've been given. We were planning to visit Ottawa with the toddler to spend some quality time with friends and soak in the  bounties that only Ottawa can share and a five hour road trip was looming ahead of us. The hubs wasn't thrilled about being on the road again after the 12 day tour in Ireland just a couple weeks ago and when we were invited to VIA Rail our way to Ottawa our curiosity was peaked! Rail? Oh yea… forgot about the train and the many journeys I had taken as a kid exploring North America coast to coast with the family when we visited from the Middle East. I recall it being fun but long and tiring. Do we dare?
Disclaimer : We received complimentary VIA Rail tickets for our Ottawa trip, but as always opinions are completely ours! 
Well we did and let me tell you… there's simply no better way to travel stress free with a toddler! It was shockingly the best method of travel for us. From the very start of our journey to the very end, the staff went beyond our expectations. First of all nothing beats rolling in at noon for a 12:15 train and being promptly whisked away to our Business Class seats. There was no need to get there an hour early, deal with security, remove our laptops, stand in long queues… ah!! How we loved that! The VIA Rail attendants were friendly and even helped us carry our stroller, car seat and suitcase on board without even being asked! We were quite shocked about that! They ensured that we were settled and comfortable and that the Little Monkey was all set for the journey. They even kept refilling her milk bottle throughout the 4.5 hour journey. She was pleased as punch! The beer and wine were flowing as well! Our attendants going to Ottawa during a weekday (we went on a Thursday) were definitely more engaging and less stressed out than the attendants on the Sunday return. Travelling during the less busy hours during the weekday may mean more attentive service (our empty water cups were swiped 2 seconds after they were empty).
I highly recommend paying the few extra dollar for Business class, if the option exists. While I'm sure you will receive the same fabulous service and comfortable seats in Economy, the meal, unlimited drinks (alcoholic beverages included!) and access to the Business Class lounge with priority boarding will definitely make your experience tenfold better! We loved that we didn't have to pack away our electronics and were able to get some work done. Ironically the Wifi was perfect on our trip to Ottawa but the Little Monkey insisted on not sleeping so I didn't get much done. On the return she slept as soon as we settled in and ofcourse the Wifi was a bit choppy – I took it as a sign to relax and took a nap myself! I was shocked that the menu onboard VIA Rail is Canadian sourced and that the meals were actually quite delicious. They even had fish offerings and I'm not talking boring old fish and chips! Check out the video for details on our menu! 
The Toronto-Ottawa corridor doesn't have as scenic a view as I'd expect from say the Toronto – Vancouver or Montreal – Halifax legs but it was still quite serene passing through the fields with bursts of water views in between. I found the hubby extremely relaxed on our arrival and not stressed out after having battled traffic or dealt with a crying baby stuck in the back seat. As for the Little Monkey, as the video clearly illustrates, she loved everything about it and having a change station in the  bathroom made it easy for us to handle even the trickiest messiest of diaper changes (why do those always happen when we're travelling?).
As you know I'm a sucker for social media and am constantly yapping on line, so I love it when we engage with brands that are socially active as well. Be sure to check out the VIA Rail Twitter account if you're looking to interact with a brand that 'gets it'.
Some tips :
Recommend the front seats when travelling with a baby (seats 4C, 4D, 3C and 3D have space in the middle for the little ones to play or even take a nap)

Recommend the end of the cart if you're looking for a table to work on or have a big belly (seats 14B, 14A, 15 A and 15 B have a neat little table to get some work done and has more room to fit a pregnant (or beer) belly)
Sitting at the back of the compartment can be extra bumpy, we didn't mind it but some may. You also may miss out on your first meal preference as they can run out of options for the last passengers. If you're a picky eater, beware!
Plenty of legroom and space to recline means that you can bring your car seat on board though ofcourse it isn't strapped in (no seat belts) but the additional height means the little one can enjoy the scenic views and can fall asleep easily as well
If you're travelling from Toronto, there is construction currently happening and will continue into 2014 from what I can see… give yourself a ten extra minutes to navigate through the right doors to avoid taking the stairs. Know that there is stroller friendly access easily onto the VIA Rail trains
Totally looking forward to our next VIA Rail journey!