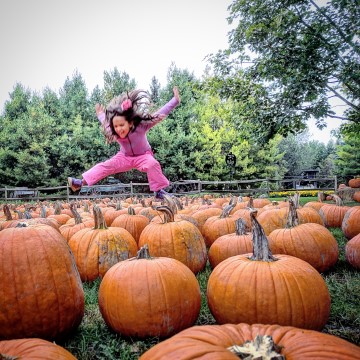 You guys, I just returned from my first solo trip with the kids!!! While Chris was on a boys trip in San Diego, I spent our thanksgiving weekend in Ottawa and it was FUN! Whether you call it fall or autumn, this is by far my favourite season because it brings delicious treats, cozy fashion, outdoor fun and the promise of celebrations like Thanksgiving, Halloween and (dare, I say it?) Christmas. We love taking fall themed road trips from Toronto because it enables us to make pit stops at farms where kids can run around, see the changing colours of the trees and enjoy the harvest treats. With Chris away, I knew I'd have to be a bit creative when it came to choosing a fall road trip destination and Ottawa was actually the perfect spot for some fall fun. As I don't drive, I took the super convenient Via Rail from Toronto to Ottawa with Baby Boy and Little Monkey and then relied on taxis to get us around. That said, if you want to keep it economical and want to explore the many fall activities in Ottawa with young kids, I recommend driving or hiring a car once you arrive in Ottawa. I know I said this was my first solo trip but I totally cheated because a friend of mine met us in Ottawa for the weekend and helped me with the kids (hah!). I mean, if I can't rely on my maid of honor/BFF/college roommate/godmother to my first born and aunty to both, what good is she? Right? The four of us enjoyed a very busy weekend in Ottawa and created memories even the kids are going to be remember for years to come. If you're looking to spend  a weekend in Ottawa with young kids this fall, I have you covered!
Disclosure : We were guests of Ottawa Tourism but, as always, opinions are TOTALLY ours! 
Where to Stay in Ottawa with Kids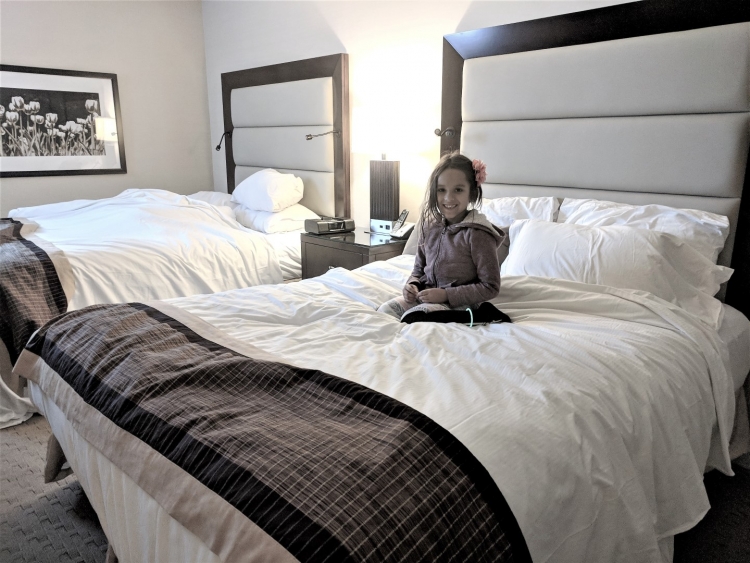 We have been visiting Ottawa since Little Monkey was merely a year old and while we frequently stay with friends and family, we have also stayed at the Ottawa Marriott on Kent street (amazing for those with young kids as they have a play room). This trip we stayed at the Albert at Bay Suite Hotel which has some of the largest suites in Ottawa and is centrally located to major attractions. Given that my friend and I wanted to unwind once the kids went to bed, I totally loved the large living room we had at our disposal. With two comfy queen beds, we were able to sleep well (even with kids who like to kick us in their sleep) and enjoy a couple glasses of wine in the living room, once the kids went to bed. We also had a full kitchen that not only had a large fridge, stove and microwave, but also a dishwasher to wash the kids lunchboxes which I travel with for daily snack requests. Beyond the staff who would go out of their way to find answers to our questions, my favourite feature was the ability to make requests via an online portal. I didn't have to speak to anyone when requesting one of the complimentary custom pillows (they have over 6 varieties to choose from and we enjoyed the body pillow to buffer ourselves from the kids and I ordered a foam one to reduce any snoring as well!). The suite are spacious and clean but if you're used to the finer modern touches, this may not be the spot for you. As you know, I'm a huge fan of the NEW Fairmont Hotels and the Albert on Bay wouldn't compare to them in terms of design or decor. That said, the Albert at Bay Suite Hotel was exactly what I needed on this trip after a busy day exploring Ottawa with kids in tow. We had the space to spread out and not be on top of each other and even though I didn't make use of the rooftop, there is ample room for kids to stretch and run if they need to burn some energy before bedtime! We enjoy staying in downtown Ottawa but if you are planning to visit the fall themed attractions, you may want to map things out so that you're not driving as much as we did. Most of the attractions were about 30 to 60 minutes from downtown Ottawa, so it's something to keep in mind.
Fun Fall Activities in Ottawa with Kids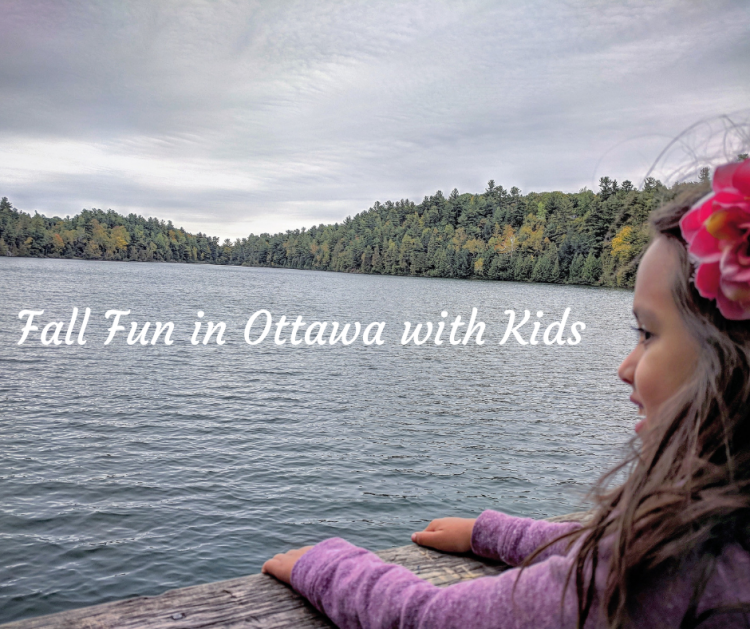 The leaves are changing colours and thoughts of warm apple cider and (despite not being a fan of the flavour) pumpkin EVERYTHING are on my mind. I'm most active during the fall and love being outdoors which is why I wanted to explore some of the fun things to do in Ottawa during the fall season. We discovered many family friendly things to do and below are some of my favourite outdoor activities in Ottawa from our most recent trip.
Get Active Outdoors and See the Foliage at Gatineau Park
We visited Gatineau Park this summer and swam at Meech Lake (it was absolutely perfect!) and knew it would be the perfect spot to see the trees changing colours. We spent an hour and a half at Pink Lake (don't get overly excited, the water is a beautiful aqua green there and the lake is named after the Pink family who settled the land in 1862) and enjoyed the fresh air while getting a small workout in. There are many steps you have to navigate and because we walked left (instead of right/anti-clockwise) we  encountered quite a few steps.  The kids didn't whine because they were concentrating on collecting fallen leaves to dump on their aunt and because we only took them to the main lookout and not the whole way around. They say it takes 60 to 90 minutes to walk around Pink Lake but we spent an hour and a half with a 4 and 6 year old and only got a quarter of the way and back (so if I'm doing the math right, we might have been able to do the full loop in 3 hours).We spotted many families with young kids and they told us that the other side was much flatter and would be an easy end to the trail if decided to  do the full loop. The colours were just starting to change during the first weekend of October and in the next couple of weeks, Pink Lake will be one of the best places to see the fall colours near Ottawa. Be sure to drive by Champlain lookout for a a great view and group picture! Pack a light picnic and ensure the kids take a bathroom break before venturing in (mine decided to give back to mother nature 20 minutes into our walk!).
Visit Saunders Farm for a Frightful Good Time
Fall equals farm visits for our family and though we've visited quite a few over the last seven years, Saunders Farm totally blew me away. It is absolutely massive and there was so much to do that I almost wished we had planned to spend an entire day there versus two hours. Saunders Farm is a working farm and they currently grow pumpkins, corn, vegetables, herbs and rhubarb. This family run farm has come up with the perfect way for families (and adults) to enjoy the outdoor fall activities in Ottawa. During the day time in October, they enable families to bring their kids and roam through the largest collection of hedge mazes in the world, climb through fun play structures, ride on a haunted wagon ride (our kids loved it and it was the perfect amount of scary) and so much more. Saunders Farm hosts Haunting Season during the daytime and Frightfest at night du. Kids under 2 years of age are free and it costs $22 per adult or child (small discounts available if you purchase online) for the Haunting Season daytime pass. I'd love to experience Frightfest at night but they do not recommend it for kids under 10 years of age so we didn't dare explore that on this trip. The farm was covered in fog during our visit and it was the perfect backdrop for some spooky Halloween fun. You'll have to check my instastories to see the various displays and attractions we tried out (including losing Baby Boy in the maze -oops!). With over 35 attractions, live shows, a parade, 9 hedge zazes, pedal carts, multiple food booths, a giant corn maze and ample room for kids to run around, this is by far the best farm I've visited to date! The washrooms have change tables and there are plenty of seating available. Your ticket gives you unlimited access to most activities onsite so kids can keep going on the same ride, if they wish to do so. We arrived at 3 p.m. on a misty, foggy Saturday of a long weekend and it wasn't busy but local friends have told me that this is a popular spot and that there can be line ups, so just a heads up! Haunting Season and Frightfest kicked off on September 22nd and goes on until October 31st, run over there while you can or visit in the summer when they have their summer programs.
Get Inspired at Pumpkinferno in Upper Canada Village
Did you know that Pumpinferno features a trail of over 7000 carved pumpkins (they aren't REAL pumpkins but they are shaped like pumpkins) along a one kilometer trail in Upper Canada Village?I had heard about Upper Canada Village but this was my very first visit to one of the largest living-history sites in Canada. During the daytime they endeavor to depict life in a rural English Canadian setting during the year 1866 but on select weekends in September and October, it turns into a magical pumpkin filled place where young and old will be enthralled. Truth be told, Pumpkinferno was the REAL reason I wanted to visit Ottawa during the fall. We had 6 p.m. dinner reservations at the Harvest Barn and on arrival we spotted quite an energetic bunch waiting for the gates to open. Things were very well organized and they quickly called for those with dinner reservations (you have to call and make a reservation to get a timed slot). The kids ate burgers and chicken nuggets while my friend and I had Shepherds Pie. I didn't love the food here BUT I' highly recommend making a 6 p.m. reservation to get early access to Pumpkinferno. Instead of a full dinner I suggest grabbing a hot cider with rum for yourself and hot chocolate for the kids and if you're hungry, a salad, sandwich or freshly baked treat. You pay for the items you purchase (think cafeteria style) and they have a table reserved so you can enjoy the food before venturing out to see the over 7000 pumpkins on display. I was truly amazed by the collection and artistry. All pumpkins are carved by local eastern Ontario artists and you're in for a fun stroll. A little past the midway point you will find an area to buy some additional snacks and drinks but most importantly, there are washrooms and an activity area for kids (think corn hole, shadow puppets, chalkboards). We spent an hour and a half walking around Pumpkinferno with my kids and luckily it wasn't an overly cold night. They did get a bit whinny towards the end but it was easy to distract them with a newer shinier display. I think the Pumpkin Planetarium was my favourite display but the Psychedelic Sixties were a close second. Oh wait, the Night at the Gallery featuring renditions of famous works of art (Van Gogh, Mona Lisa…) was intricate and so huge. See, it's hard to narrow down!
Pro Tips : It is dark and it can be crowded so deck your kids with glow in the dark gear and easily identifiable lights so you can spot them if they run away. Get there early (getting a reservation at Harvest Barn so you have early access in a no-brainer) because the line up at 8:30 p.m. were insane. Bundle up and wear comfy shoes. I saw quite a few strollers but if you can baby wear, I'd recommend you doing so.
Explore ByWard Market's Harvest Bounty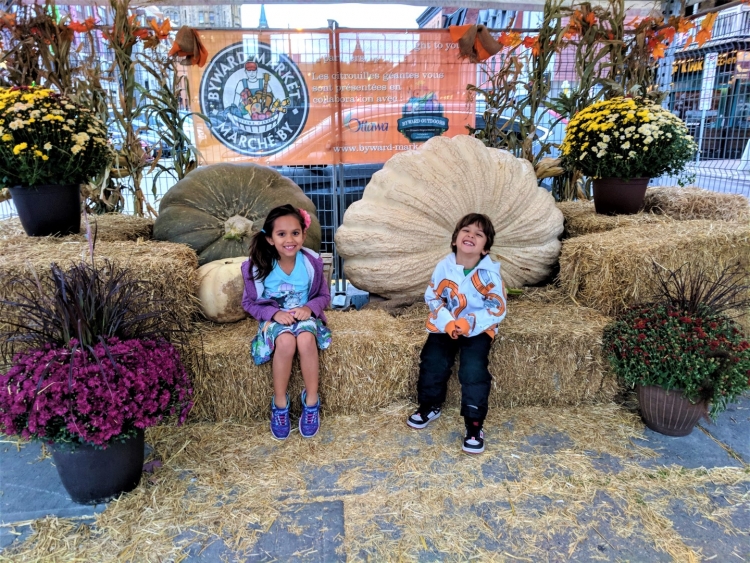 ByWard Market in the fall is probably my favourite (having visited during every season). There are less crowds and you can roam around the vendors picking fall themed treats and snacks for your hotel room. During our recent visit the kids spotted a giant pumpkin display and requested that we enjoy some BeaverTails. The BeaverTail hut was decked out with lights and it was easy for me to start thinking ahead to Christmas! Just strolling through ByWard Market usually puts me us in a happy mood and having treats in my belly made things event better!
Where to Have Fun Indoors in Ottawa with Kids
Sometimes the weather just doesn't cooperate and so you need to have some back up plans. Luckily, Ottawa is home to some amazing museums which are also fun for kids. There's no shortage of fun activities no matter which season you visit Ottawa with your kids, so remember that!
Get in Touch with Canada's Cold Past at Diefenbunker, Canada's Cold War Museum
Built in secrecy at the height of the Cold War, Diefenbunker is about a 30 minute drive from downtown Ottawa and will take you through a 4 story underground bunker that was meant to house Canada's government in the event of a nuclear war. I didn't even know this existed until our most recent visit and I figured we'd pop in for a few minutes so I could check it out. We ended up spending 2 hours here because we received a private tour and our guide was totally focused on the kids. My friend and I read as many displays as we could and the guide shared kid friendly stories about the various rooms and engaged the kids on a scavenger hunt. While I would have definitely learned more during the public tour, my kids would have been utterly bored on that one so it was great that we were on a private tour. There was even an arts and crafts station set up for the kids to make 'turkey hands' so Little Monkey may have spent a little too much time there! On select nights in October there's a Zombie adventure for those older than 12 years of age and this spooky event will lead guests on an interactive adventure with the undead, deep inside the labyrinth that is the Cold War Museum. Also, Diefenbunker houses the largest escape room in the world, if that's something you're into!
Get Upclose and Personal with Butterflies at the Canadian Museum of Nature
My kids would have gladly spent an entire day here had we allowed them to do so. There are various activities taking place at the Museum of Nature and you should spend some time planning your visit. The big attraction right now is the Butterflies in Flight exhibit which  goes on until April 22nd 20019. A timed entry ticket gives you access to be in an enclosed area with butterflies. None of them sat on us (unfortunately) but we blame Little Monkey who is obsessed with butterflies despite being afraid when they come near her (just picture her squealing)! In addition to that, every gallery we swung by had something that was of interest to the kids. Baby Boy was obsessed with the life sized dinosaurs and whales while Little Monkey was all about the minerals and gems. I loved the Arctic gallery where there was a small light show projected on slabs of ice!
Travel Around the World at the Children's Museum in Ottawa
Housed in the Canadian Museum of History, the Children's Museum is the perfect spot no matter what the weather is like. I last visited when Little Monkey was a year and a half and was excited to return. Everything was just the same as we had left and even more fun now that the kids are a bit older. The bus from Pakistan and the Sri Lankan road sign that greets you on arrival warms the cockles of my heart but what I love the most is that kids are given a passport to go around the world collecting stamps as they partake in various activities that are linked to that country. Learning about hieroglyphics in Egypt, folding origami in Japan and playing on drums in Nigeria, are just some of the educational experiences at the Children's Museum in Ottawa.
Get Artsy at the National Gallery of Canada 
We visited the National Gallery of Canada this summer and the kids loved it. Unlike most art galleries we take them to, this one had fun activities for the kids as well. Instead of whining that we were taking too long to look at "boring art", they were on a mission themselves. We stopped in at Artissimo where the kids not only had a chance to make their own paintings and play with games, but Little Monkey was given a costume to wear through the museum and her mission was to find the painting with her character in it. Baby Boy decided to pick up an Art Buddy and he had to find a painting with his art buddy in it. Obviously this kept the kids entertained and we were able to visit the galleries without them whining. Be sure to ask the team at Artissimo where your child's painting is and plan to visit it at the end of your tour so they don't lose interest (hah!).
Tasty Kid Friendly Restaurants in Ottawa 
Between all the exploring we also took a bite out of Ottawa's restaurant scene and visited some new-to-us spots. If you are looking for inspiration on where to eat with kids in Ottawa, the below are some fantastic options and you'll find more suggestions for family friendly Ottawa restaurants here as well.
Zak's Cantina : For some delicious Mexican street food and the best thick milkshakes EVER, you want to visit Zak's Cantina and since it's right in ByWard Market and near the popular Ottawa sign, you can tick those off your list as well! I absolutely loved the decor at this Cantina and dining in a Chicken Bus was super neat! The kids were entertained and when Little Monkey was bored, she swung by the driver's seat to play with the wheel. Every dish we had here was well made and I don't think you can go wrong by picking any of their dishes! Stay tuned for a detailed blog post very soon!
Kasbah Village : Ottawa is home to some amazing Middle Eastern restaurants (remember date night at Fairouz?) and when I saw that there was an authentic Moroccan restaurant near our Ottawa hotel, my friend and I were eager to re-live our Moroccan adventures from last summer. Spoiler alert, the food was just as authentic as what we ate in Morocco and the ambiance transported us to the streets of Marrakech.  The couple running the restaurant has been in business for over 20 years and the Lamb Tagine and Chicken Couscous was licked clean by the adults while the Keftas  and Moroccan Soup were popular with the kids. Stay tuned for a detailed blog post very soon!
Gibson's on Queen : I wasn't really expecting much when our hotel provided us with breakfast vouchers to be redeemed at Gibson's on Queen but they continued to impress us each morning. The kids wolfed down Pancakes and French Toast while I enjoyed Breakfast Tacos, Eggs Benny and a Breakfast Bowl during my three visits. I have a feeling that lunch and dinner would probably be pretty good here too.
Well there you go! There's plenty of fun fall activities to keep families busy and entertained in Ottawa. Each weekend leading up to Halloween there are events throughout the city so be sure to keep an eye out on this events listing site to learn more about the pop up events taking place during your visit!