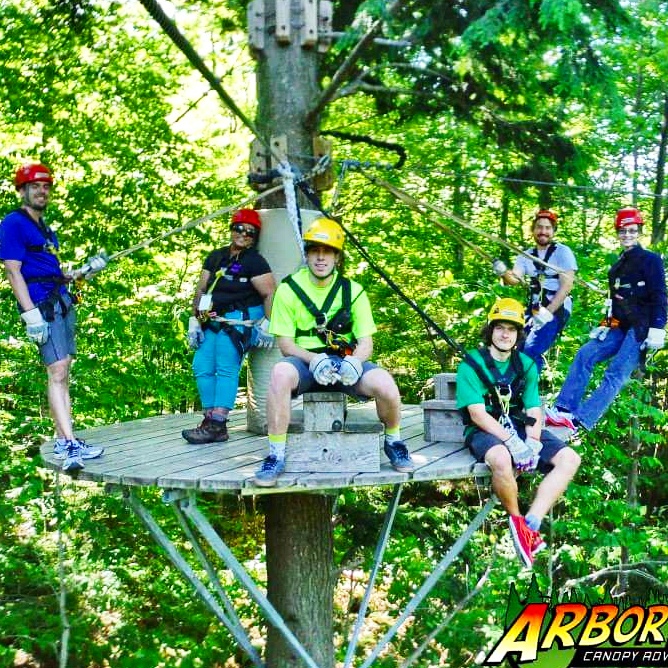 I used to be quite adventurous and loved trying new things and yet lately I find myself exploring cities and countries within a very comfortable framework. Part of this is because we have two kids under the age of 4 with us and part of this is because I have stopped pushing myself to go beyond my comfort levels. During our recent travels in Vermont, I decided to change things up. We dropped the kids at the lovely day care centre at Smugglers' Notch Resort and the hubs and I drove our Hybrid Ford Fusion to the ArborTrek Canopy Adventures centre. I had a smile on my face by the time we pulled in but that smile soon disappeared!!
I've always loved roller-coasters ( I'm petrified while I'm actually on them but love the thrill and the 'high' at the end of it all) and the hubs and I have chatted about Bungee Jumping and Zip Lining on numerous occasions over the years. Since Smugglers' Notch made us feel so welcomed and relaxed and had an amazing child care service on site, we figured this was our chance! I ignored the nagging voice in my head singing ' Seriously? YOU want to do THIS?" and booked an early session for the next day. I figured earlier in the day would work best because I wouldn't have much time to mull over my decision and would ensure I didn't back out of it.
On arrival at ArborTrek we were weighed and our group was taken into a shed where they took one look at my shoes (the Vibrants with toes) and told me that I needed REAL shoes. UH OH! Maybe this was a sign to back out? The folks there were so lovely that some one lent me their shoes and another, their socks. I ignored the unhygienic-ness of it all, put them on and listened carefully to our guides who strapped us in. Our group was divided in two and we, along with another couple (an adventurous couple where one of them loves climbing and jumping and all sorts of crazy outdoorsy stuff!), made our way to a van with our three guides.
I must tell you right now that there's no way I would have been able to combat the 4,500 feet of zip lines, cross sky bridges high above the forest floor, and rappel from trees if it weren't for our guides. One was a bit quieter as he was in training mode but the other two were oh so very patient with me and great at confidence building. Having the hubs along was also helpful but truth be told, the guides were the main motivators. They were patient with me as I took triple the time others needed to take off and were waiting to pull me to the platform when I braked too short and didn't have the muscle strength required to pull myself to safety. I really was a disgrace! Every time I stepped up on the footstool, it would take me numerous tries before I had the courage to jump off the ledge. Silly notions like ' oh no I don't have an official will' and ' so who would look after the kids when I end up in the hospital?' came to mind with each and every jump. In true Canadian style I did apologize profusely for holding the group up and also laughed at my silliness but the fear was real! I did not trust any of the buckles or clips I was strapped on to and I think that's where the fear stemmed from.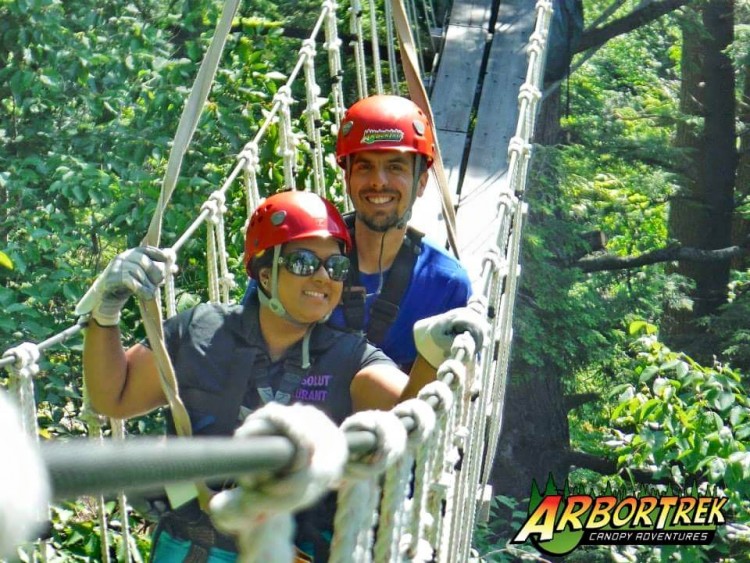 We started at one end and made our way through 8 Zip Lines in the scenic Vermont valley. I was promised stunning views as I rappelled through the forest but for the life of me, I couldn't enjoy any of it. Instead I held my breath from one end to another and was counting down to the very last Zip Line. I could have aborted mission after the first two when I discovered that there was no thrill like there is with roller-coasters, but I'm not one to give up easily. I pushed through but I know that Zip Lining is not for me. The hubs and everyone else enjoyed it immensely and I can definitely see the team building efforts and skills one learns from activities such as these. For me… I learned that I have major trust issues and that I am no longer my younger, adventurous self. Though I must admit that I did enjoy one Zip Line and that was half way through the course and was aptly called 'Goldilocks'. The reason I enjoyed this was because it was fairly quick and more importantly, the ledge had a platform that didn't suffocate me (short people problems) and take off was only a foot above ground level. Being short I did struggle quite a bit when we would be clipped on to the Zip Line and made to stand on the footstool… it honestly felt like being hung! I'm glad I pushed myself to do this but seriously….never again!! My notions of zipping through jungles and bodies of water, ever so gracefully, were all crushed that day in the forests of Vermont but I'm okay with that. At least I tried and that's what's important – right? RIGHT?
ArborTrek has many adventures on site and most of them are kid approved (though I'm sure most kids have better fear thresholds than I currently do!). I probably should have stuck to the family programs and not ventured towards the adults only treks!
Have you pushed yourself to try new things lately? Are you a fan of Zip Lining?