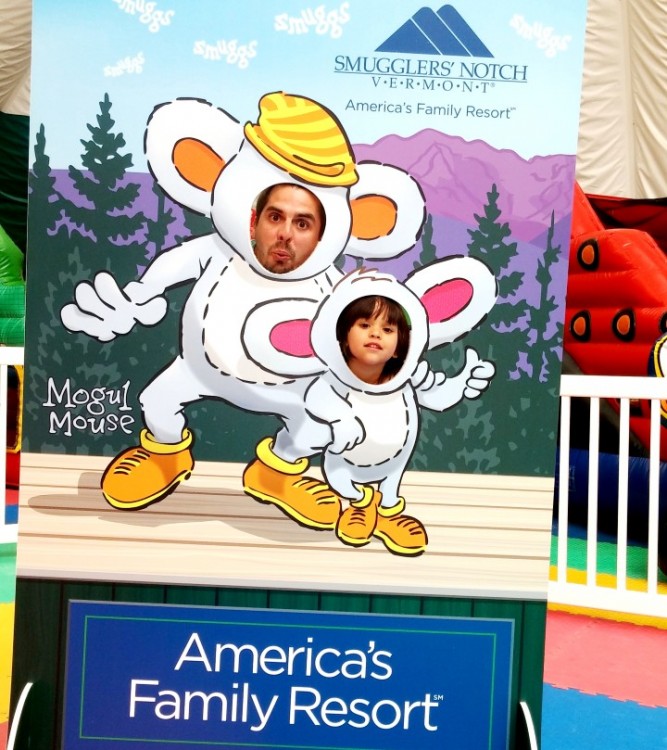 We stayed three glorious nights at Smugglers' Notch Resort earlier this month and can't stop recommending the place to every family we meet. Smuggs' (as they're endearingly called!) is a haven for many ski bunnies but it's such a glorious place in the summer as well and Baby Boy and Little Monkey had a blast and have been asking when we'll return next! Situated in Jeffersonville county, about 30 minutes from Stowe (and 8 hours from Toronto!), the resort will keep parents, kids, grandparents and even aunts and uncles happy with the activities, amenities, lush views and genuine services on offer.
Once you book your stay you receive a detailed booklet mailed to your home where you can pick and choose the various activities you'd like to part take in. They even tell you what all to bring with you (things like sunscreen!) and get you excited for your visit.
Disclosure : We received a complimentary stay but, as always, opinions are totally mine! 
Accommodations
No matter what you're looking for, you will find the perfect spot to rest and unwind at. Smugglers' Notch Resort has everything from rustic one bedroom options to condo style 5 bedroom units that come with steam rooms and a Jacuzzi! We stayed at Kestrels in a 3 bedroom apartment  and had plenty of room for each of us to enjoy our own space. The kids and I woke up and enjoyed the screened-in porch as the hubs was out hunting for his craft beer and we were amazed by the green green mountains greeting us. Little Monkey and her princesses could have stayed there all day! Baby Boy decided he'd like to chill on the couch and could often be found playing with the remotes in the main living area and I even had access to a dishwasher, laundry machine, a full fridge and plenty of tools to clean up after the kids with. Anything I wanted was there in our condo, including a coffee machine for the hubs! They even had a crib and a double stroller for us when we walked in. Click here to see what our layout was like. The kids' bedroom had 4 single beds and I can see this being great for large families. In fact Little Monkey kept mentioning 'oh my friends would like this! We should bring my friends next time' and I couldn't help but think how much the grand parents would have enjoyed joining us on this trip. I'm not one for roughing it and Smugglers' Notch Resort enabled me to enjoy the rugged outdoors and yet retire to comfortable settings at the end of the day. One thing to keep in mind is that many families actually own the condos and rent them out during the year, so while most will look alike, do expect some design and aesthetic differences between the various units. The resort is quite large and yet there were plenty of things within walking distance to our complex and we could have driven around to the places as well. We didn't have to though because there's a free shuttle that will pick and drop you off whenever you want. By the way.. don't call for the shuttle until you're packed, the kids have have finished peeing, put their shoes on for the tenth time and you're ready to close the door behind you! Yes the shuttle always came within 2 minutes of us calling them and they even drive you off resort to the pubs and cafes in the area and so you can enjoy a pint or two! 
Activities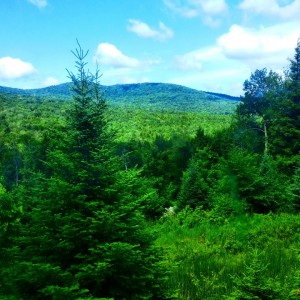 There is SO much to do here that I now know why families return year after year. I don't think I can even attempt to tell you about half the programs they offer during each season! There is a full daycare on site with the kindest people watching over the kids and we dropped Baby Boy and Little Monkey off one morning without any worries. This was Baby Boy's first daycare stint and you'd think we'd have been more anxious! Nope… I dropped them off with their favourite bottles, diapers for Baby Boy and change of clothes for both and off the hubs and I went! I even spotted some newborns in there who were being gently rocked to sleep. Treasures, the child care centre, accepts kids from 6 weeks up to 3 years and they even teach kids how to ski there! Outdoor play area, numerous sleep spots and class rooms equipped with age appropriate toys, were all on offer here.
In addition they have organized all day programs and camps that are broken into groups by age and had we had a few more days (back to work we go!), I know Little Monkey would have enjoyed attending these. From water play to outdoor exploration and soft adventure there's everything in between, including song, dance and even tennis! There's also plenty of fun for adults like water and wine tours which I really wanted to do but ran out of time. They allow kids above the age of 6 to join in on these and had Little Monkey and Baby Boy been just a bit older, we wouldn't have hesitated on taking them on this winery tour.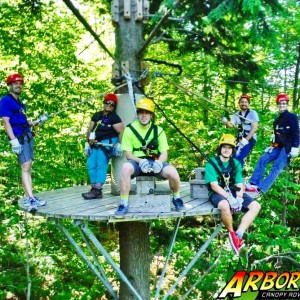 Anyone who loves the great outdoors will love the organized hikes, wikes and the many family activities on offer. There's pizza parties to Llama treks and even good old family Foosball sessions. If you want to venture out on your own there's even a rental shop on site where you can rent out bikes, helmets and skateboards. The hubs and I even snuck out one day to try our hand at Zip lining ! During our walk we found out that many families with kids as young as 4 partake in the Treetop obstacle courses. The guides we met were not only encouraging but also great at teaching young kids and building their self-confidence, which I thought was truly fantastic. At Smuggs' the kids not only play and stay active, but they foster new relationships, grow as a person and learn new skills. 
FUN!!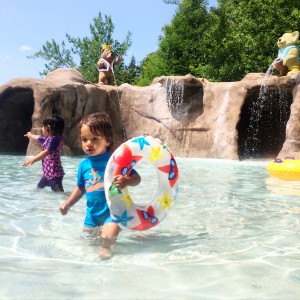 For us the highlight were the 8 heated pools and 4 slides on offer. These were spread out across the resort and we took the shuttle to test each of them out (remember to carry your own towels!!). We had two that we loved,  the Little Smugglers' Lagoon where the water was only up to Baby Boy's waist so he was able to play with confidence and the Notchville Park which had a splash pad and 3 feet deep water house. There were many pools that were deep enough for adults but also quite a few that catered especially to the under 5 crowd, which I LOVED! They even had life jackets on offer if we needed them but we had brought our own swim tubes so we were set for the most part.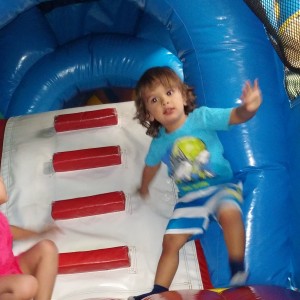 There was also a FunZone which we popped by one drizzly afternoon. You see, Smuggs' has plenty of things to do rain, snow or shine! The FunZone was bouncy castle heaven! Unfortunately Little Monkey was  a bit too short for the slide which she REALLY want to go on, but there were other giant castles and ships she and Baby Boy was able to bounce in. The hubs went by and shot some hoops and played some mini golf as well. All this was included in the package, so all we had to do was flash our badges and show them our socks (which the hubs ran back to the condo for!) when we walked in. Yes kids need socks to go bounce away! 
NOTE : The FunZone has shutdown for the summer of 2016 as they're expanding it to be even bigger and better!! I can't wait to visit again and check out the new spot!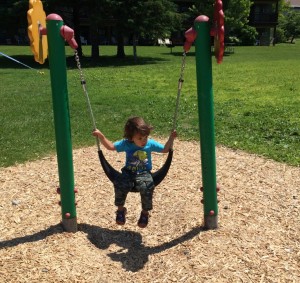 Every corner we looked at there was either a large grassy area, a playground or a friendly group of counselors and guides entertaining kids. This is a truly a spot for families and we didn't even notice any meltdowns anywhere!!
I knew there was a full service spa on site and how I wish I had time for that! I didn't but the next time we visit, I'll be taking my mom there for an afternoon of relaxation. There are numerous restaurants on site and night time events, parties and bonfires but we missed them all because we were exploring the nearby area (no shortage of scenic drives, good beer and cheese to explore nearby). More to do on our next visit, especially as their pizza spot smelled OH SO good!
This was a long post and yet I know that I wasn't able to share even half of the activities on offer. For those living within driving distance (looking at you Ontario and Quebec!!), Smugglers' Notch Resort is the PERFECT spot for families who enjoy the outdoors in North America! They guarantee fun and have been deemed America's Best Family Resort! Grabbing a time share here isn't a bad idea at all, especially if your family likes to vacation in the great outdoors. Little Monkey must miss her stay here as she's asking us to download the free colouring pages from the Smuggs' site!