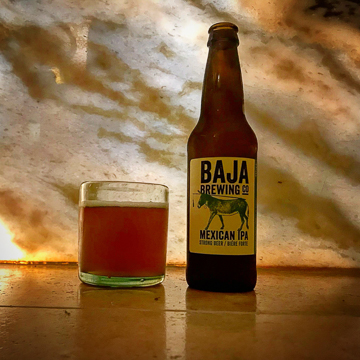 Last November, when I first heard about the Craft BeerAdvent Calendar, I grew cautiously optimistic. I had previously experimented with a number of beer clubs in the past. Some were great, while others were little more than a sampling from breweries in my neighbourhood. The BeerAdvent Calendar looked to be among the best beer clubs in Canada. I mean, who doesn't love a great advent calendar, and if you are a beer lover like me, there is a good chance that a beer advent calendar is the best kind of advent calendar.
Last year, the package arrived at an opportune time, just as we were heading to Mexico, and so I made sure to take along the beers corresponding to the days I would be down south. Upon my return, I had many more beers to sample. You might say I had a great December.
So what makes the Craft BeerAdvent Calendar one of the best beer clubs in Canada?
For me, it was the variety. The calendar has been offered since 2012 and each year, a new theme emerges. When I received the 2018 version of the BeerAdvent Calendar, I had the opportunity to sample beers from more than 10 different countries. Most intriguingly, the club featured a collaboration theme for 2018. Each of the 12 breweries that participated in the calendar offered one beer from their own brewery plus one collaborative effort with another brewery. The result was a range of beers that covered a wide range of styles from all over the world.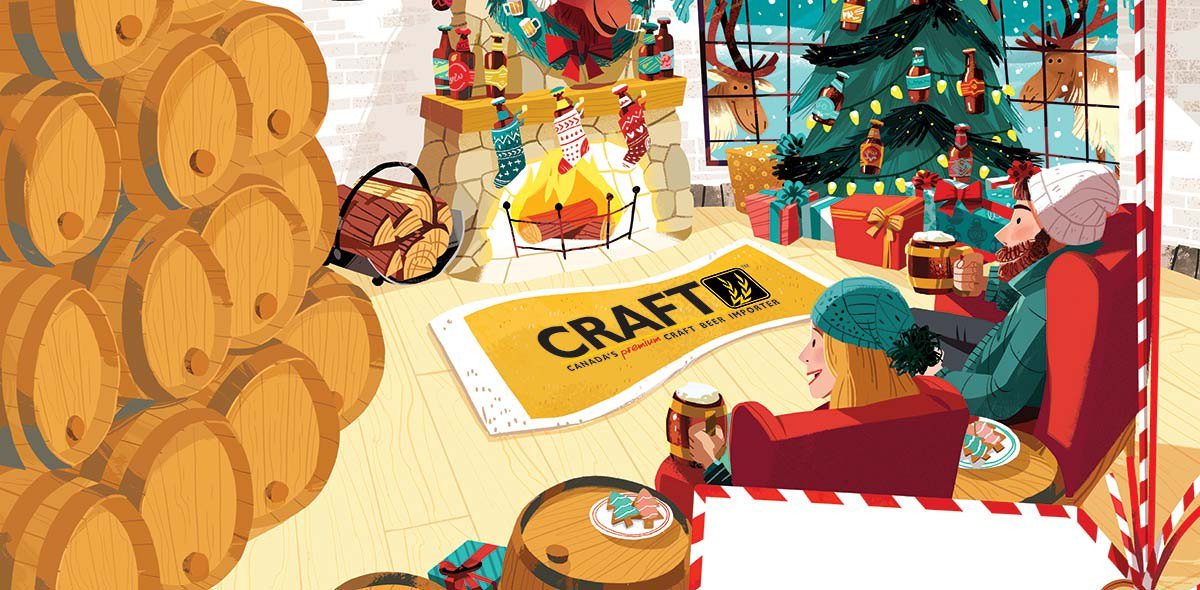 Which breweries were featured in 2018?
The Craft BeerAdvent calendar featured offerings from the following breweries in their 2018 advent calendar:
Tiny Rebel (South Wales)

Baja Brewing Co (Mexico)

Yukon Brewing (Canada)

Evil Twin Brewing (USA)

8 Wired Brewing (New Zealand)

8 Degrees Brewing (Ireland)

Yankee&Kraut (Germany)

Hoppebräu (Germany)

Nøgne Ø – Det Kompromissløse Bryggeri (Norway)

White Pony Brewery (Italy)

Brouwerij Frontaal (The Netherlands)

Ugly Duck Brewing (Denmark)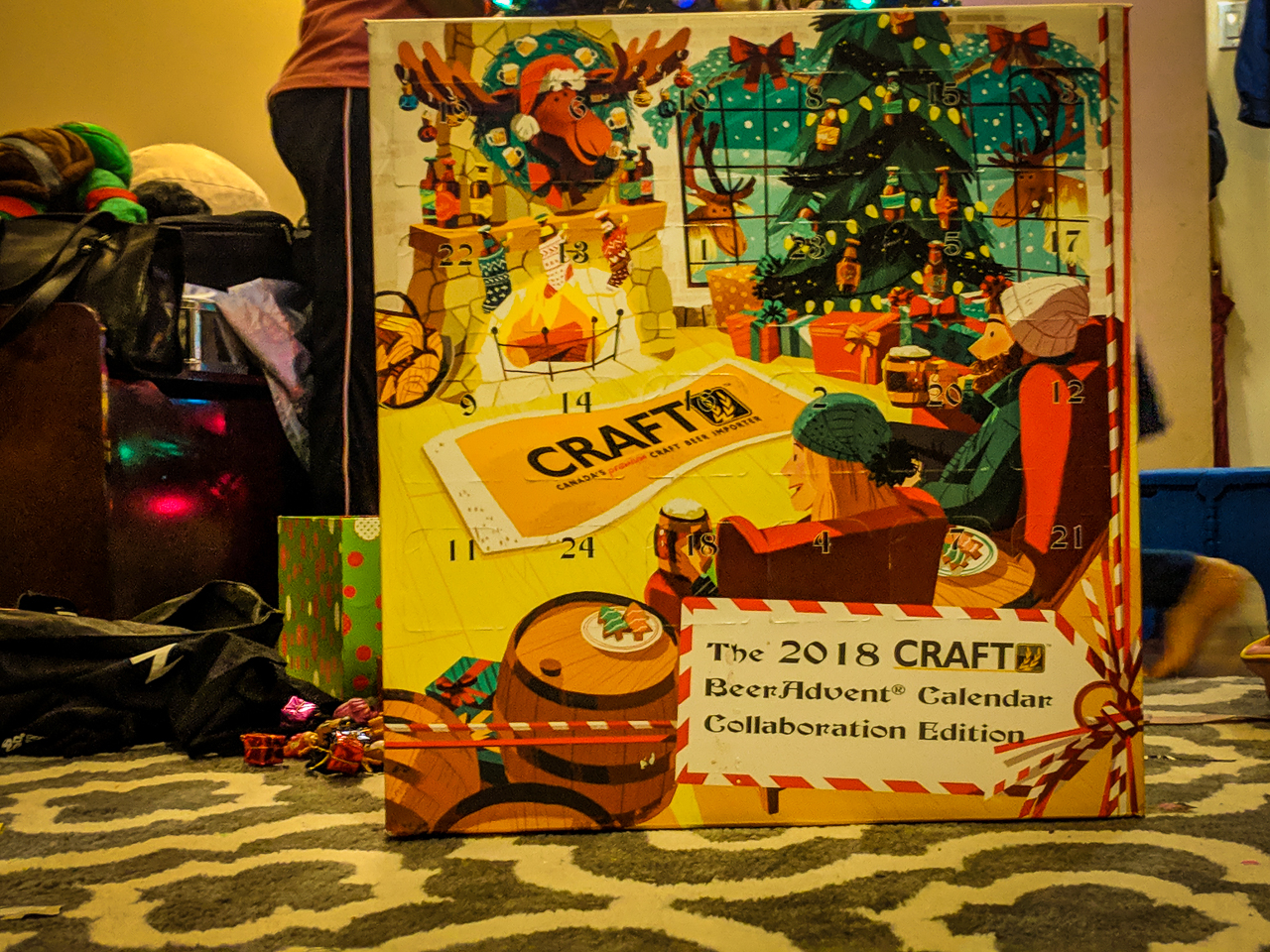 What styles were featured in 2018?
All kinds. The calendar featured a Pale Ale, an Orange Mocha Frapp Stout, a Mexican IPA, a Session IPA, a Tamarack & Spruce Tip IPA, an Imperial Stout, an India Pale Ale (with Grapefruit, Mango, Raspberry, and Blueberry), a Black IPA, a Belgian-style Blonde Ale, a Lager, a Milk Stout, a Scotch Ale, a Bavavian Saison, an American Stout, a Belgian Strong Ale, a Passionfruit Hefweizen, a Farmhouse Porter, a Belgian Tripel, a Red Ale, an Irish Stout, a Kettle Sour fermented on Apricots, and an Australian Lager (but no Partridge in a Pear Tree)
And so you can see the appeal of the calendar. I admit a preference for Lambics and Milkshake IPAs these days but the chance to sample such a wide range of styles from breweries across the globe was the best Christmas present I received in 2018.
Were there any White Whales in the 2018 Craft BeerAdvent Calendar?
No, but a beer club is not the place to find white whales. If you are looking for one of your bucket lists beers, like a Heady Topper or a Cantillon Fou 'foune, the best place to find them remains the source (or through online trades). I had my first Heady Topper in Vermont and my first Fou 'foune from a beer shop in Brussels. Beer Clubs are more about discovery. There was not one beer in the 2018 Beer Advent Calendar that I had tasted before, and I have tasted a lot of beers.
How was the beer in the 2018 Craft BeerAdvent Calendar?
Varied, as you can imagine. I found most of the beers to be quite good, the stouts in particular, and you can never go wrong with a Belgian Tripel. I wouldn't say that any of the beers were outstanding, but there were no duds in the bunch either. The best part of the calendar was the chance to try a new flavour every day, which for me, is the main reason I like to drink craft beer. Each beer offers a new taste of something new.
What beers will be featured in 2019?
That will remain a mystery for now. The Craft BeerAdvent calendar website indicates that 11 Belgian beers and 13 Belgian-inspired beers will be featured in 2019. That sounds like great news to me. Though Canada, the United States, and the UK have made great strides with their craft beer production over the past decade, in my opinion, Belgium, the OG, remains at the top. 2019 sounds like it will be another great year for the Craft BeerAdvent Calendar.  
If you're looking for a Christmas gift for a beer lover, getting an early gift is sure to put you in their good books!