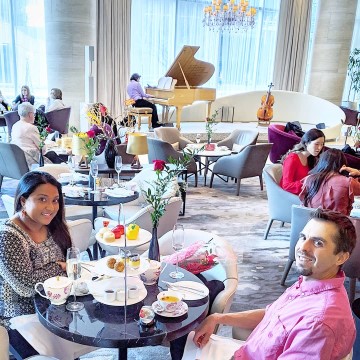 Would you book a romantic and luxurious night away at a Toronto hotel? I don't do it often enough. There's a big difference when you enjoy a kid free night at home versus at your favourite downtown Toronto hotel. Chris and I have been lucky to enjoy a couple kid free nights recently thanks to my parents but we always opted to stayed at home and enjoy the peace. While we weren't yelling at kids who didn't listen to us or trying to parent during those days, we were still trying to sneak in some errands (from laundry to dishwasher) and that's why I decided to whisk Chris away for a night at our favourite romantic hotel Toronto, the Shangri-La. You may recall that five years ago we stayed there during our babymoon in Toronto, so I was pumped to surprise him with an early birthday gift.
Disclosure : We were guests of the Shangri-La Hotel but, as always, opinions are TOTALLY ours.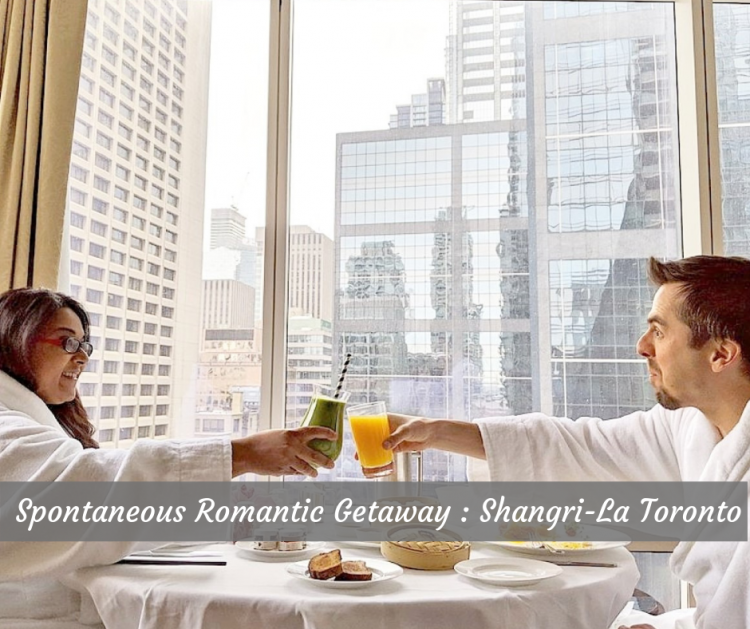 We had a very busy few weeks and were running on fumes so the night before his birthday, I figured a night away would do us both good. I was right (obviously). On Wednesday unknown to Chris, I booked our stay at the Shangri-La  Hotel in downtown Toronto and while I was hesitant to do so, I decided to take that leap of faith and hope he had nothing booked for that Friday. I knew we were linking up with friends on Saturday for his birthday celebrations but Friday was a free for all. On Thursday I told him that I needed him to pack a bag for a night away and that I wouldn't answer any other questions. Luckily he obliged and once he came home after work on Friday, we bid the kids and my parents farewell.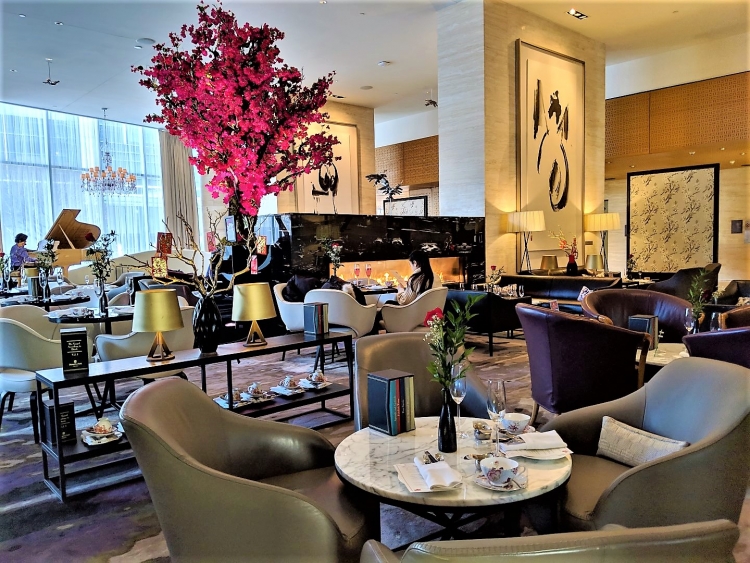 As our cab pulled up to Shangri-La Hotel Toronto he quickly realized what my plan was and was thrilled. If you followed our Instastories you'd have heard his thoughts. I frequently visit the Shangri-La Hotel Lobby Lounge because I love the cocktails they serve and sitting in front of that fireplace being surrounded by their hotel scent is pure bliss. However, Chris has other reasons for loving the Shangri-La Hotel, Toronto and I was so thrilled to see that the hotel is even better than I remembered.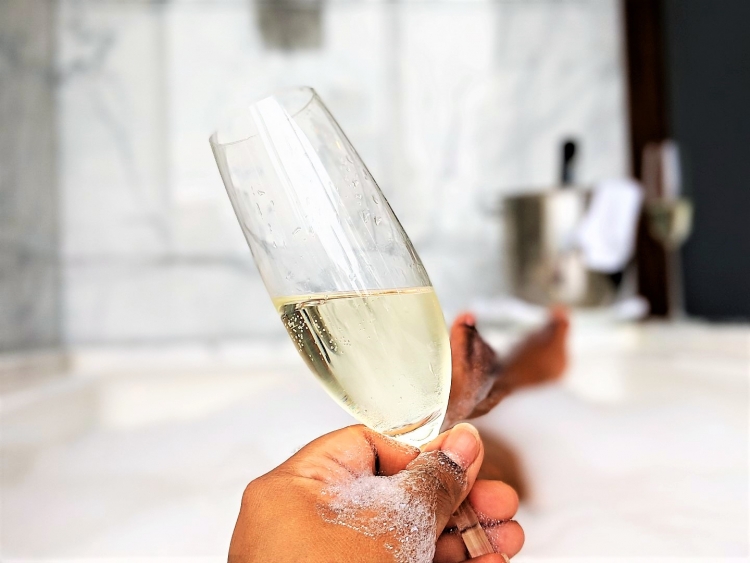 In addition to being a modern hotel, the service here is attentive without being over the top or stuffy. At check in they remembered our previous visit and casually chatted with us about our plans for the night before gifting us with birthday flowers. Since we live in the area we had no plans to leave the hotel, our goal was to relax, sleep in and connect with each other.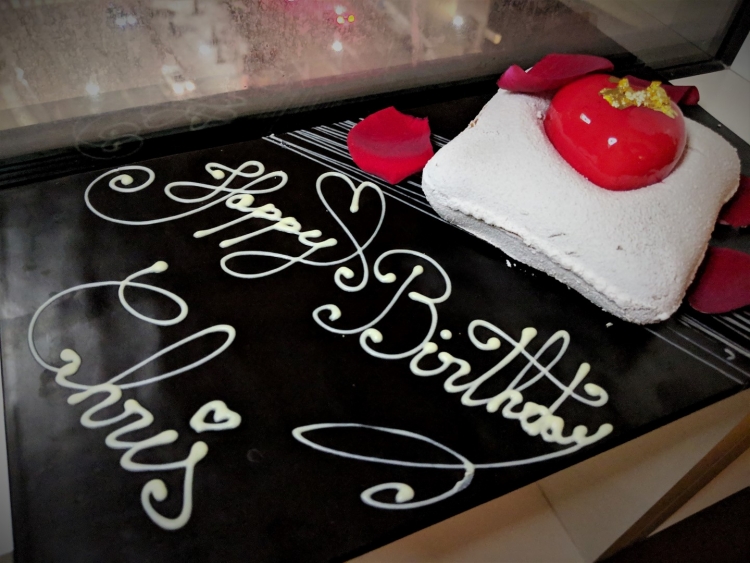 We were in a premium room with  a king bed, heated bathroom floors and a gorgeous single person tub overlooking University Avenue. A special treat awaited Chris in the room and we enjoyed the bottle of bubbly and cake before our dinner at Bosk. The moment we entered the room, there was a huge sigh of relief. As parents we're constantly on the go, rushing from one mishap to another and doing our utmost to parent the best we can. This night was for us, we wanted to focus on each other and not even think about the kids. The Shangri-La Hotel, Toronto made it easy for us to do just that!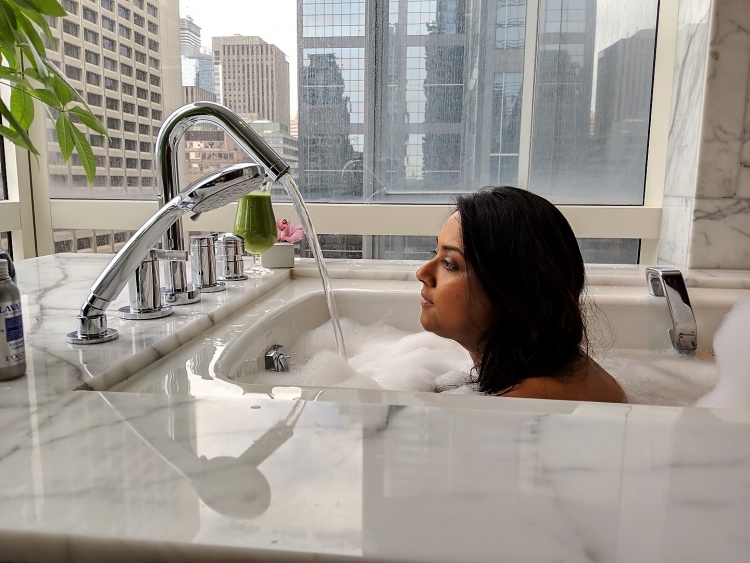 In addition to the modern touches and attentive service, what Chris enjoys about the Shangri-La properties are the techy touches. He was able to find plenty of outlets to charge his screens at and the in-room iPad enabled us to not only control the lights and shutters but we were also able to order breakfast the next day via the app. The beds are also super comfy and they offer a pillow menu which as you know, is very important to us. They even left a pillow spray and night cream during turn down service!
Culinary Delights at the Toronto Shangri-La Hotel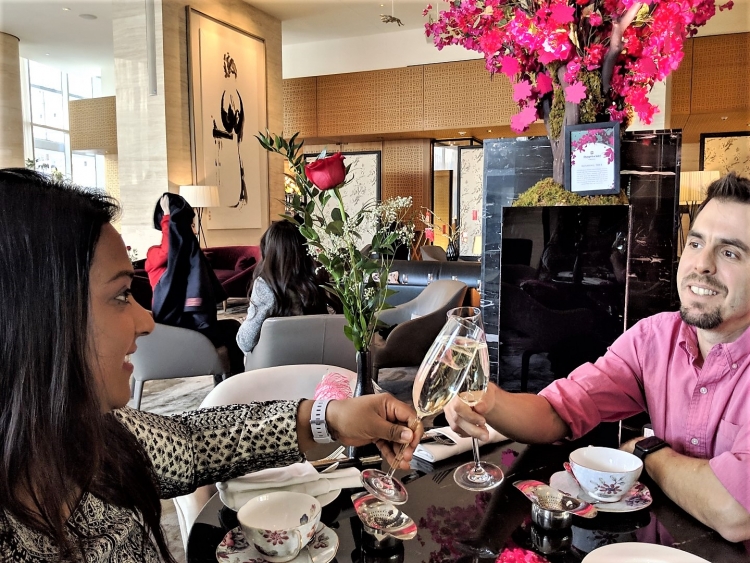 Given that most of our vacations revolve around food, it should be no surprise that I had planned to enjoy dinner, breakfast and brunch at the Shangri-La hotel. We were not going to step foot outside the hotel during our one night stay because we didn't have to. The Shangri-La Toronto offers quite a few options whether you want to laze around in your robes or if you want to dress up!
Dinner at Bosk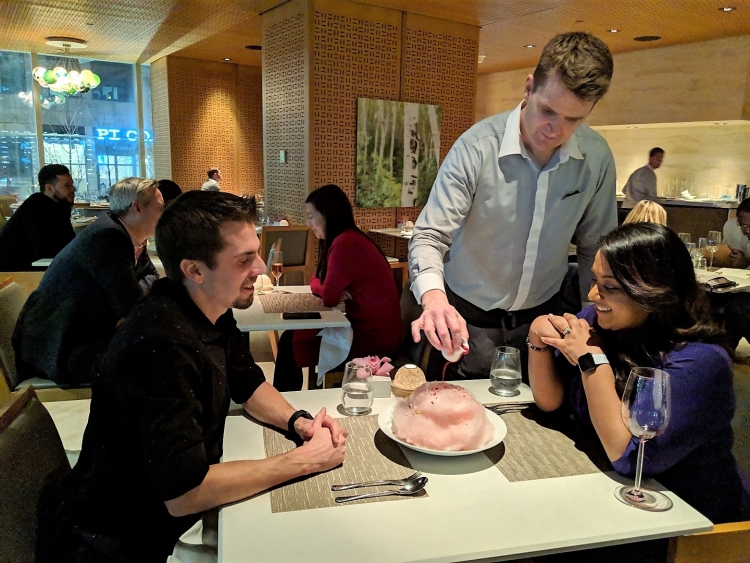 One of my favourite food experiences in Toronto was our meal at Bosk during our Babymoon in Toronto and so I was very excited to try the tasting menu available. As expected, we had a marvelous server who had us smiling and learning throughout the evening and he ensured that Chris had a magnificent pre-birthday dinner. We enjoyed 6 courses and a few surprises in the end as well. While not every course was a favourite, we definitely have a few that stood out for us.
Our first of six courses was an ever so pretty dish of Dungeness Crab with hen yolk and bonito broth. The second course was a Nova Scotia Scallop with beet and leeks but my favourite was course three. This gluten free and vegan Carnaroli Risotto had Truffles, Crispy Artichokes and a Parmesan Crisp. The fourth course was our main and we had the option of choosing a New Zealand Mandai (fish) or an Aged Striploin with bone marrow jus. so we got one of each to split and the striploin was definitely our favourite of the two.
Before dessert (which is so large that it is to be shared between two people) we had a Frozen Torchon of Quebec Foie Gras and it was definitely unique. However the real star was the dessert. Our server told us we had two options for dessert but given my desire for over the top pretty dishes, I should choose the Cupid's Cloud.   This large cloud of Cotton Candy was hiding a Lemon Hibiscus Cake and a Black Cherry Sorbet. The gold flakes were purely over the top and I absolutely loved it ALL! If that wasn't decadent enough, just as we were about to leave we received a tray of handcrafted chocolates and gummies. It all paired so nicely with our Ridge Vineyards Zinfandel and we were ready to head to bed!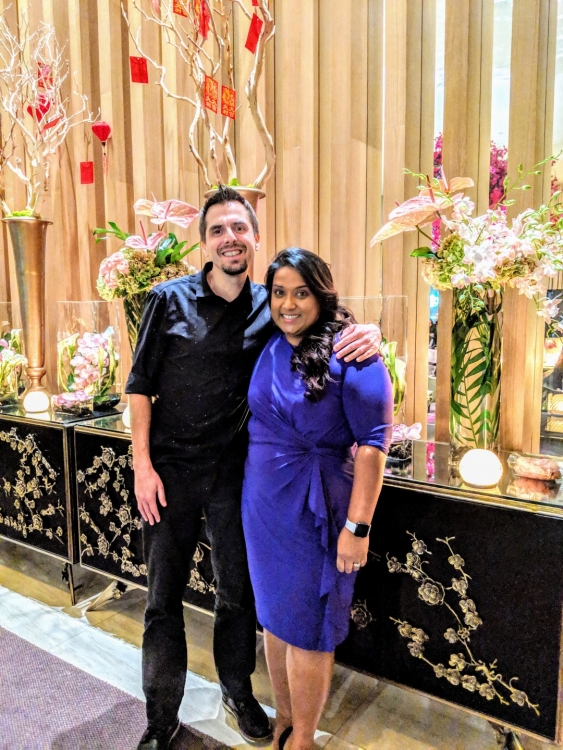 Over dinner we chatted about future plans and I even managed to convince Chris that we needed a March Break getaway (wohoo, yay me!). So needless to say, we enjoyed our meal and our conversations. As we stepped into the lobby to head back to our room we were amazed by how lively it was. There was live music (singing and piano playing) and people were dressed up enjoying cocktails and bites. I grew up in the Middle East where hotel lobbies were popular hangout spots and the one at the Shangri-La always reminds me of those energetic ones I grew up with. Definitely a spot worth swinging by the next time you're looking to enjoy a cocktail with your friends on a Friday night.
In-Room Breakfast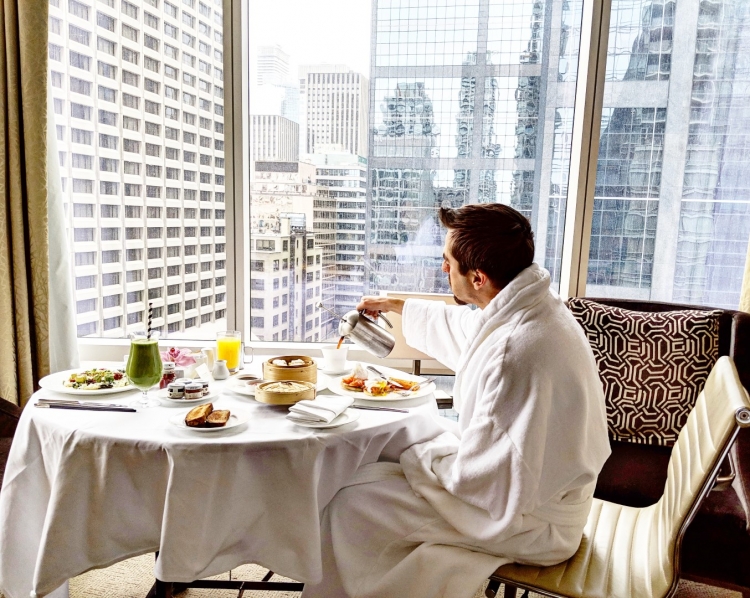 Lounging around in comfy bathrobes are one of my favourite things to do and being able to order our breakfast from the comfort of our bed via the iPad was amazing. Chris ordered the Smoked Salmon Eggs Benny (with the holandaise sauce on the side) and I ordered Dim Sum for us to share and an Egg White Fritata (see how healthy I am!!). We were also able to order green smoothies and coffee. Everything was arranged beautifully in our room and this is how we enjoyed our breakfast overlooking downtown Toronto.
Afternoon Tea at the Lobby Lounge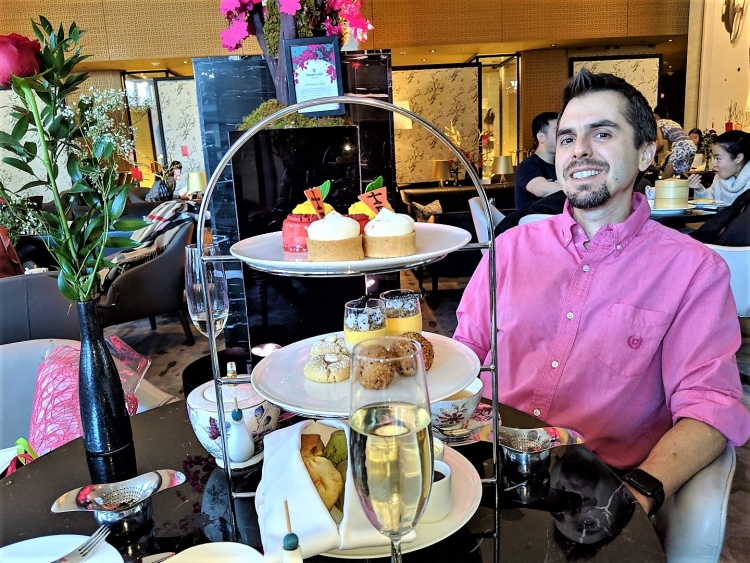 I am a huge fan of High Tea and have been making it my mission to enjoy the many afternoon tea options in Toronto so I have enjoyed the ones at the Shangri-La on a couple occasions. Sitting in the Lobby Lounge serenaded by live music played on the piano, makes for such a relaxing and sophisticated experience. The Afternoon Tea at the Shangri-La changes with each season and during our February visit, we enjoyed the Chinese New Year menu which had a decadent combination of savoury and sweet options. Now, Chris isn't a huge fan of tea experiences because he isn't big on sweets but he does love craft teas and the selection at the Shangri-La cannot be beat. I mean, they have a tea Sommelier and over 60 different types of tea! What more could you want?
Our menu featured Chinese dim sum: crystal shrimp dumpling; siu mai; crispy fried tofu; open-purse dumpling (minced scallop, shrimp and bokchoy); and barbeque pork and pineapple turnovers.
There were also masterfully crafted pastries: lychee moon cake; warm sesame and ginger balls; egg tart with mandarin compote and vanilla; as well as mango pudding and matcha green tea scones with English clotted cream and fruit compote.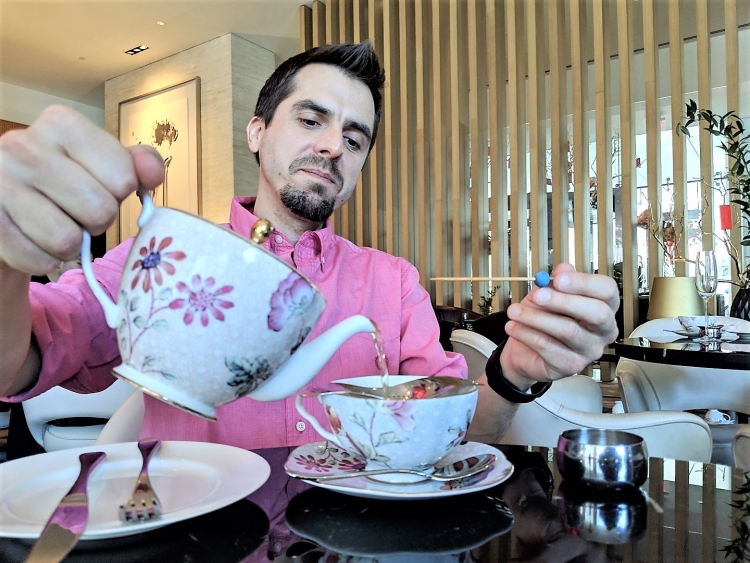 We were so full that we ended up taking some of the treats home for the kids! I hear that there's a gin themed Botanical Afternoon Tea coming up so definitely keep an eye out for that, I know a couple girlfriends I MUST take for that one!
Moments of Zen at the Shangri-La Hotel, Toronto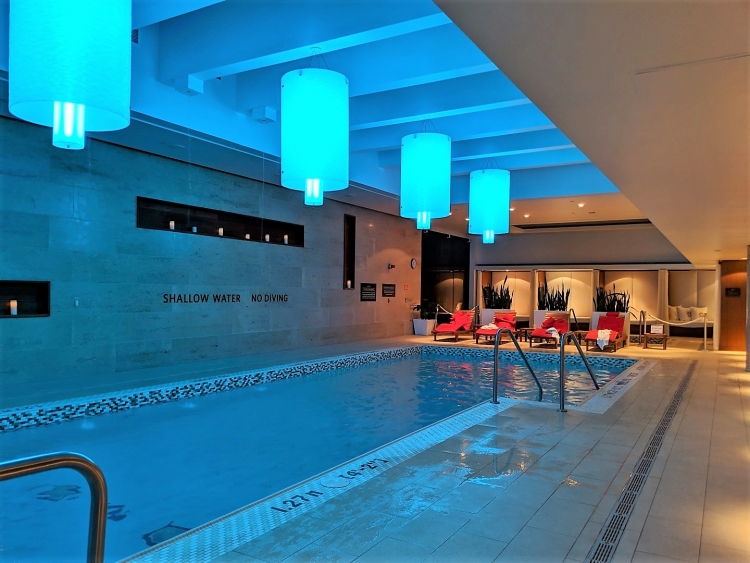 As I mentioned earlier, the moment you step into the Shangri-La lobby, you feel a sense of peace and you quickly relax. At least I do! We were able to take that relaxation up a notch by enjoying the sauna, whirlpool and pool at this downtown Toronto hotel. Chris and I tend to avoid hotel pools when the kids aren't with us, but I'm glad Chris agreed to a dip between breakfast and afternoon tea…we needed to burn off some calories! Did you know that there are semi-private cabanas right by the Shangri-La Toronto pool? You can take a nap, enjoy the complimentary bottles of water and even watch some TV. The area was warm and the air humid, making it so easy for us to pretend that we were somewhere tropical and not in freezing Toronto.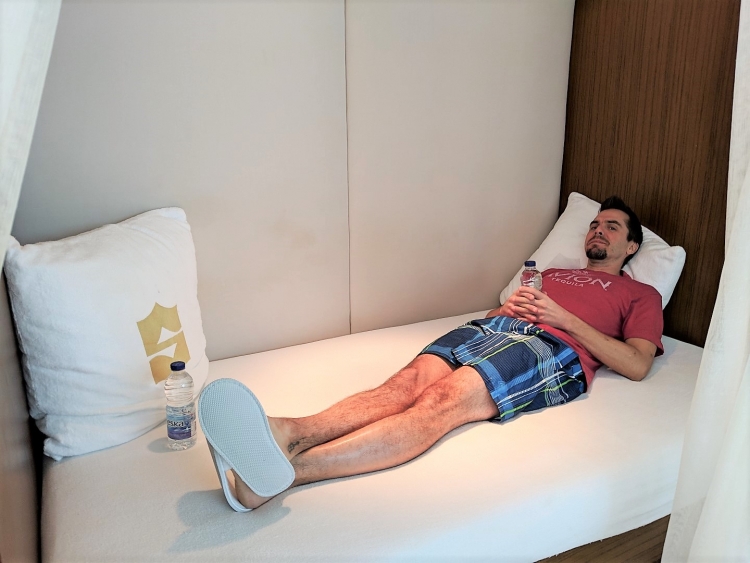 There is a spa, yoga studio and a gym at the hotel but we did not make use of those amenities on this visit.  Instead, we went back to our room and I called housekeeping to see if they had any bubble bath options…which they did! I enjoyed a luxuriously relaxing bubble bath as Chris took a snooze and it was pure perfection.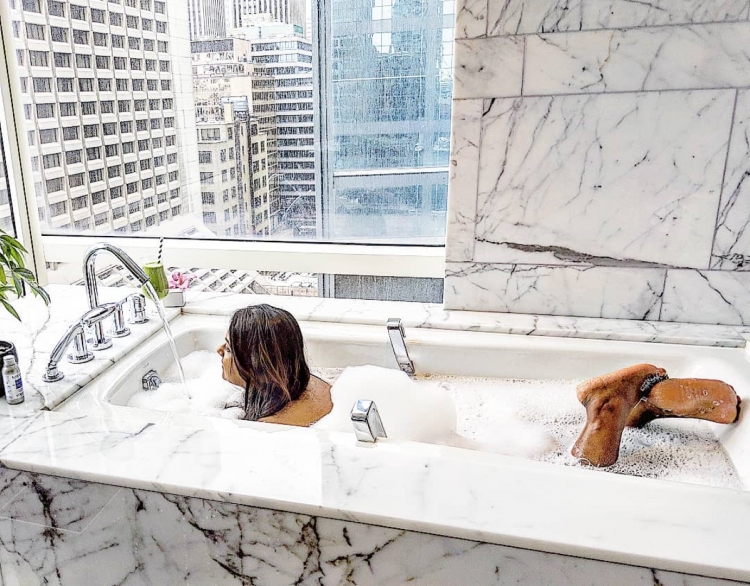 For parents looking to reconnect or rekindle that flame, we truly recommend stepping into the Shangri-La for  aToronto staycation, even if it's just for one night. Get ready to leave all your troubles behind for a night at a truly magnificent and romantic hotel in Toronto. You deserve a luxury stay in Toronto!