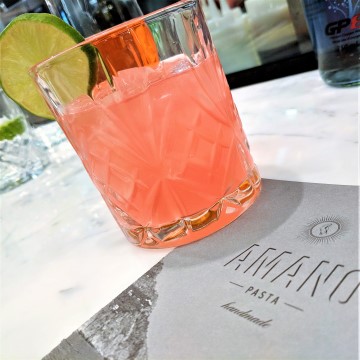 Leading up to the Christmas holidays I kept finding myself at Union Station for various reasons. Oddly enough, I wasn't taking the train anywhere! The main reason I kept venturing that way was because I had client meetings and then one day I discovered that the underground path which has been under construction prior to our 148 day adventure was now open and filled with shops that were perfect for those on my Christmas gift list. One afternoon as I was grabbing a few items from Peace Collective I noticed that there were some restaurants that were already opened and Chris had told me a couple weeks ago that beer spot Wvrst would also be opening a location there. What had caught my eye was Amano Pasta and I mentally filed it away as a spot worth visiting when we'd be taking the GO train to visit out of town friends and family. A day or two after my explorations a friend reached out and asked if I'd like to catch up over lunch and invited me to join her at Amano Pasta and that my friends is how I ended up discovering my favourite pasta dish! We used to struggle when friends asked us "where to eat near Union Station" and would default to Loose Moose but now we have another option to add into the mix!
Honestly, I was never a pasta lover but Chris and the kids have changed my ways. At the time of my visit to Amano Pasta I had been gluten free for 6 weeks and was WAITING for my cheat meal. The idea of fresh pasta made daily on site seemed like the gluten splurge worthy experience. Boy was I right! While Chris was working the afternoon away and the kids were in school, I enjoyed a leisurely lunch with my friend as we caught up on all the happenings from the last year and our plans for 2018.
Given that this is a full service restaurant in what is technically a train station, you might expect some quick service style meals but I'm here to tell you that you should give yourself some time to really savour the delicious fare on offer here. It took me a while to realize that some of the brains behind a few of my favourite Toronto spots (Nota Bene and Carbon Bar) are actually behind Amano Pasta as well. No wonder I fell in love with the spot!! While the kids weren't with me on this visit, I spotted quite a few kids in there during the lunch hour and would definitely take mine there the next time we need to enjoy a meal in that area.
I started our afternoon with a Paloma Italiana cocktail featuring one of my favourites, Altos Tequila.  You know how picky I am with my cocktails and so I wasn't expecting anything special and was thus surprised by how well balanced the grapefruit cocktail was. As soon as I looked at the menu I noticed that the dishes had interesting names (Pope's hat for example) and our server told us that the goal was to serve authentic Italian dishes ( some of which were inspired by Chef Michael Angeloni's Nonna) but without the intimidation factor of trying to pronounce all those various names. I know I often have to google the pastas I see on the menu just so that I don't end up ordering something I'm not a fan of, and this just made it so much easier for me! Brilliant!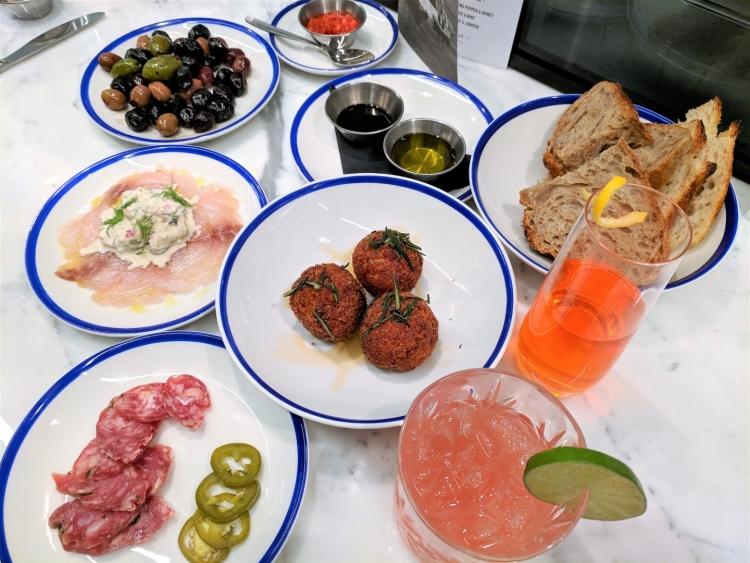 Goes without saying that I ate ALL the black olives in the Rapid Fire dish they placed in front of me as soon as we sat down! Opps!!! The Arancini with smoked cheese, pear, burnt honey and pancetta was really good but there is one dish that has my mouth watering the moment I think about it. My favourite dish, the one that has me yearning to visit again, was the Black Trumpets (Campanile) with Dungenous Crab and Pancetta. I usually prefer my pasta with meat but this crab version was divine and not overly "Seafood-ey" on the nose. Of course the menu did mention "Don't get too attached, pasta's change often" so I guess I should head back sooner rather than later!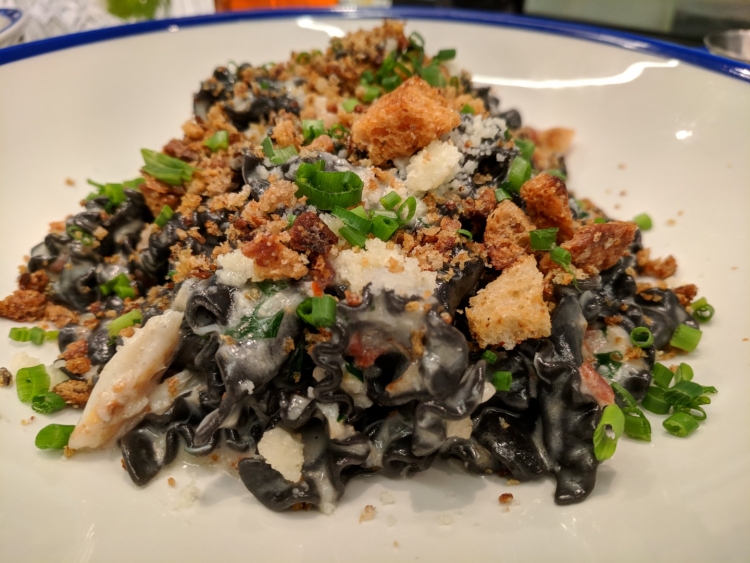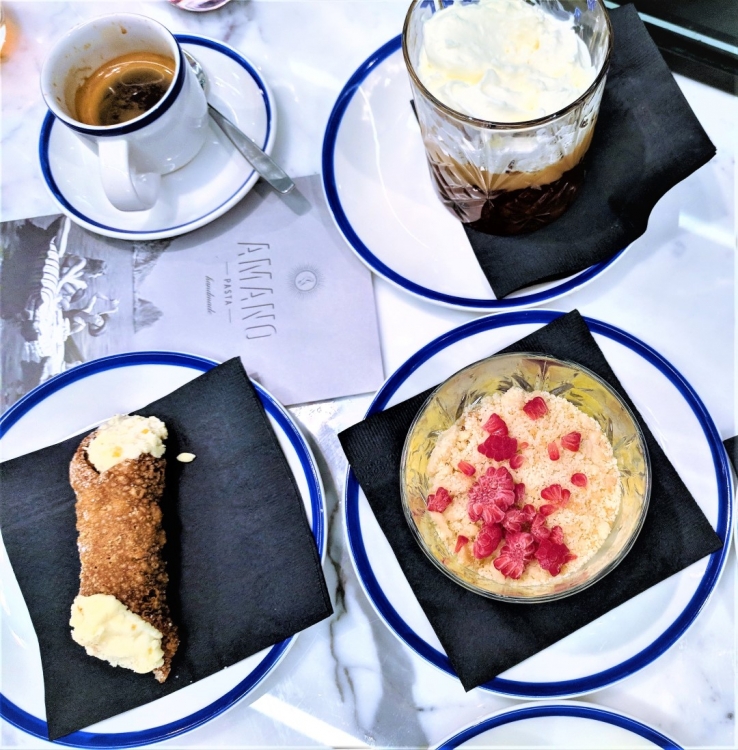 Save room for dessert (ALWAYS!) because they have some great options. The Cannoli is hand filled when you order it but my favourite was the Panna Cotta with lemon curd, buttermilk, almond butter curds and frozen raspberries. So tart, creamy and refreshing.
I definitely want to head back and try out the brunch menu mainly because the cocktails sound deeeeeeelish!  Union Station is finally turning into the destination it should be and I'm eager to try out all the spots that open up there. Next time I guess I should take the kids and Chris along too!