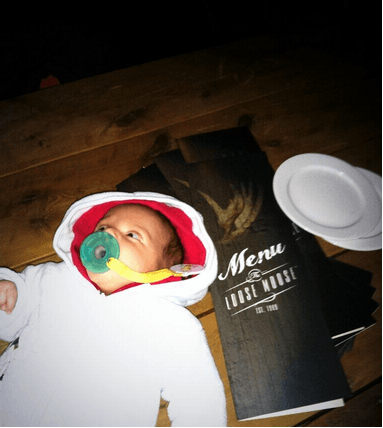 Recently after our visit to the Ripley's Aquarium of Canada we decided  to swing by The Loose Moose with the toddler, baby and the entire clan. It was an impromptu decision based on the fact that the hubs loves The Loose Moose's stellar line up of craft brews. He had beer on his mind and there was only one way to satisfy that thought!
It was a Monday and the lovely bouncer made me think that kids wouldn't be allowed in but he smiled and welcomed us in. We were thrilled! Once inside the music was pumping and given that we'd already had a full evening at the Aquarium I was grateful for the loud music as it drowned any of the Little Monkey's tantrums. She wasn't too bad surprisingly to be honest. Oh and yes… they do have high chairs! And there was plenty of space for us to park our stroller.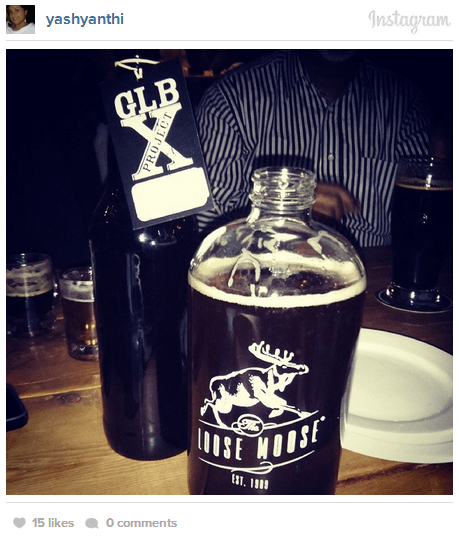 Our hostess was extremely baby loving and doted on both kids. Little Monkey got her glass of milk with a straw ( a straw that was replace thrice with a smile before we switched to the sippy cup!). The highlight was the Great Lakes Project X Bourbon Barrel aged Porter. I'm still dreaming of it! It's definitely beer haven here and I really need to go back for some of their beer cocktails.
The Little Monkey loved the Fish and Chips,  jalapeno buttermilk slaw and all! My bro's Bacon and Bison Meatloaf was my favourite! I ordered the Avocado and Brie BLT which was totally a "lunch" option for me. Their sandwich and burgers are fresh with a surprise ingredient thrown in here and there. Love it! The hub's Fish tacos were also quite good and we really enjoyed the array of items on offer in a pub setting. Who says good food and fab beers can't mix?
I was obsessed with their decor. Check it out! From boxing gloves and old school telephones to ice skates and a wall that says F U! On our way out the bouncer was very concerned about me wrapping Baby Boy up properly … it was cold after all! We'll be back no doubt…thrilled to learn that one of our favourite beer spots are kid friendly! These guys will have to be added to our baby friendly downtown Toronto bars list!