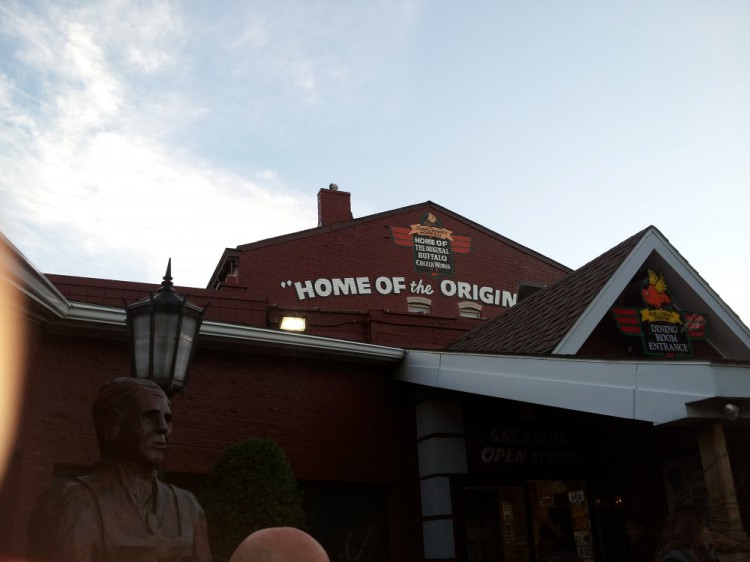 No trip south of the border to catch a football game is complete without a visit to Anchor Bar and I'd hear many a tale of this spot when the hubs came back from his guys' trips. However, I had never been to the home of the original wings. As you can imagine I corrected that wrong pretty quickly! During our visit to Niagara Falls U.S.A our first stop as we crossed the border was to Anchor Bar with Baby Boy and Little Monkey along. A far cry from the visits with the boys!
Over the years the hubs had brought back wings for me but I was eager to try them fresh out of their kitchen! From what I've gathered Anchor Bar was opened in 1935 and the owner decided to try something new in 1965. Apparently Chicken wings were previously only used for soup or simply thrown away but she served them with hot sauce and blue cheese dip as hors d'oeuvres at the bar and it was a hit. Can you believe she offered them as free bar snacks?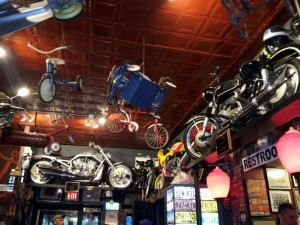 There's plenty going on when it comes to the decor, including baby prams hanging from the ceiling and a statue of Lady Liberty holding a plate of wings. It's all quirky and very retro once you're inside the restaurant. I expected line ups on a Friday evening at 8 p.m. but we got in quickly and while service was okay, it wasn't the speediest. Takes time to make good wings and pour those pints I reckon. The menu is quite large and there's plenty more than wings on offer but … I got stuck at the wings!
We're huge wing fans (remember our Wing off and all you can eat wings?) and we like things spicy! The hubs and I shared a bucket of  50 wings and got two flavours (Suicide and Hot) while Baby Boy and Little Monkey shared some Spaghetti and meatballs from the kids menu. Sure I can eat 32 wings on a good day, but  half way through our bucket we were stuffed and luckily our hotel The Giacomo had a fridge and we were able to enjoy these wings after our drive back to Toronto two days later! Yes.. they were still good. Hussh… don't tell the hubs,  I ate some cold wings one afternoon at the hotel too!
Baby Boy was pleased as punch in his high chair and we even got a diaper change in as the Anchor Bar has a change table in the women's washroom. The space is large, the music is loud and the vibe is super casual. Perfect spot for grabbing a bite after a long drive even if you have cranky kids. The wings were good, very thick and very saucy but I'm not sure it's the best wings in the world. Though it is the home of the original wing and they do have some great sauces for sale at the shop in the restaurant!