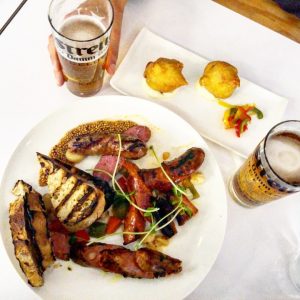 While Yashy and I are not shy about taking the kids to a nice restaurant, on many occasions, we are eager to have a night to ourselves. Following a recent Travel Massive meet-up near St. Lawrence Market, we seized the opportunity to discover a new restaurant. Naturally, we conducted some quick research at the meet-up, and the place that we found most intriguing was named Barsa Taberna, which had some solid online reviews and was described as a "bright, artsy Spanish eatery serving Barcelona-inspired tapas", exactly the type of place we sought. This spot is by far one of Toronto's coziest restaurants!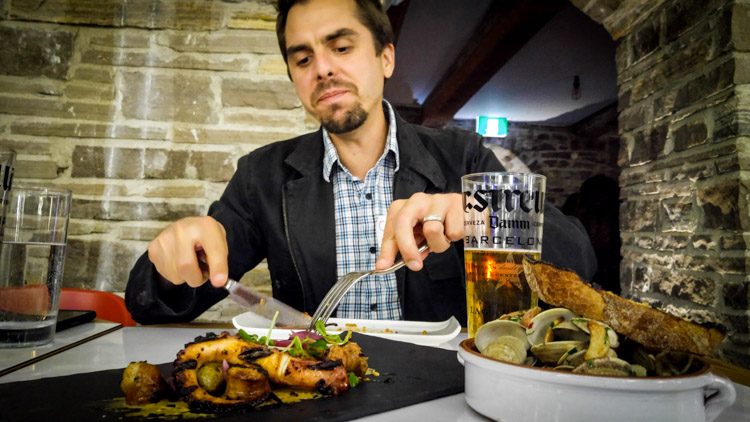 The two of us walked in at 9 pm on a Thursday night with no reservation and were fortunate to get a seat in a charming section along the brick-lined back wall, which was well lit but not bright and was filled with diners who appeared to be having a great time. One lady seated near us was laughing so hard throughout much of our meal we thought she might keel over drunk, but the restaurant was just as suited for boisterous conversation as it was for those looking to relax and enjoy tapas and a few drinks.
Beer snob that I am, I was quite disappointed that the only real option was Estrella, essentially a Spanish Budweiser, but we had just come from a cocktail event and so I settled on the beer (in hindsight, sangria would have been the better choice). As we sipped our brew and reviewed the menu, we found quite a few delicious looking options. The dinner menu had over 30 tapas options broken into three sections:  Curados, mainly cured meats and cheeses; Del Mar, a selection of seafood based tapas; and Del Campo, which literally means "from the countryside" and consisted of an intriguing range of meat and veggie dishes.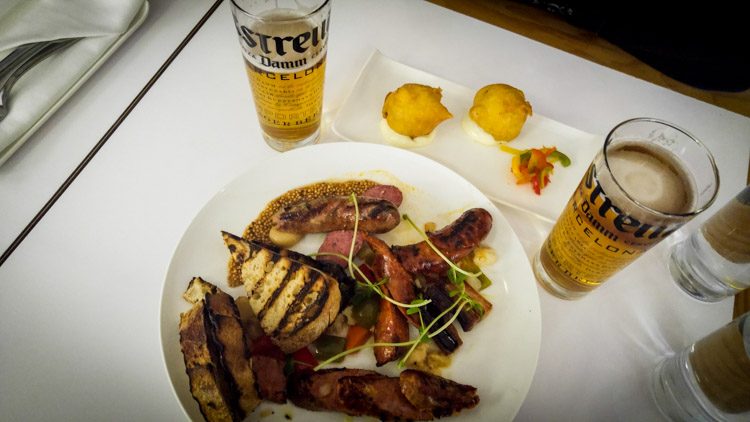 We faced some difficult choices, eventually settling on the Pulpo Ezpeleta, grilled octopus with charred potatoes, chorizo and espelette alioli; the Almejas con Chorizo, clams with garlic, white beans and chili; and the Table de Chorizo, a chorizo platter with garnishes. Have you guessed how much we love Spanish chorizo?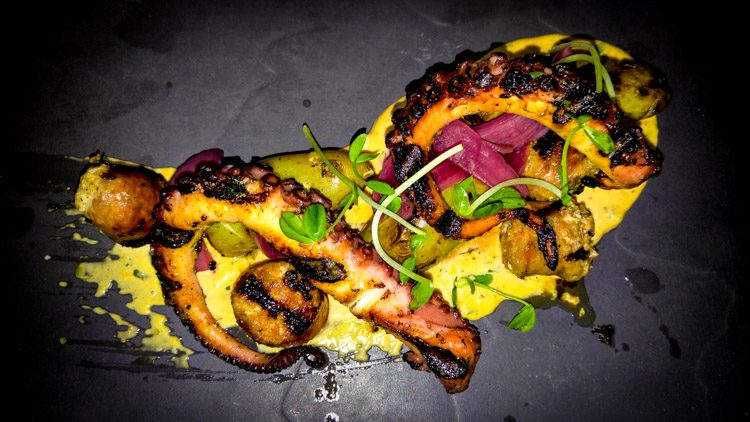 I loved the chorizo plate, which featured several different styles of chorizo and a great mustard sauce to accompany the meat. I have occasionally found chorizo to be a little too fatty, but the arrangement served by Barsa Taberna was high quality. The octopus, by far the most delectable-looking dish we ordered, didn't disappoint. Perfectly prepared, with the octopus having the right texture (not too chewy) and the alioli bringing out the flavours. The clams were great too, and on a tip from our waitress, we dipped the toasted bread provided into the into the garlic sauce to create a delicious concoction.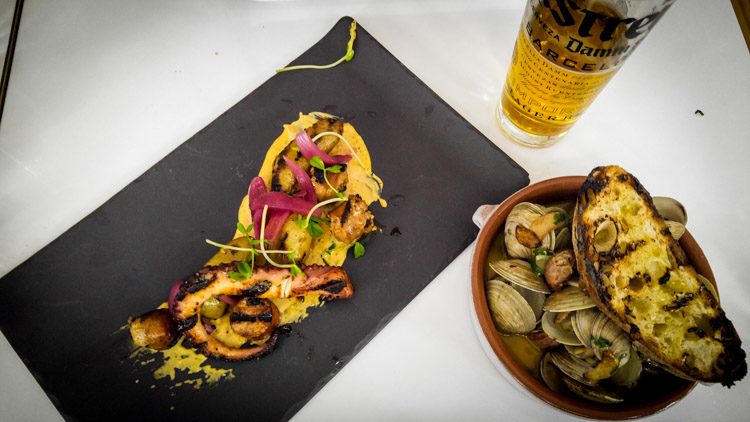 Located on Market Street, which runs along the West wall of St. Lawrence Market, Barsa Taberna is located inside a 19th century heritage protected building, providing it with one of the best restaurant settings I have seen in Toronto. It is an ideal stop for some late night eats and a few drinks, and the restaurant also offers private dining opportunities. I would recommend making reservations, given how busy it was late on a Thursday night. With brunch and lunch menus also available, I look forward to revisiting Barsa Taberna in the future.