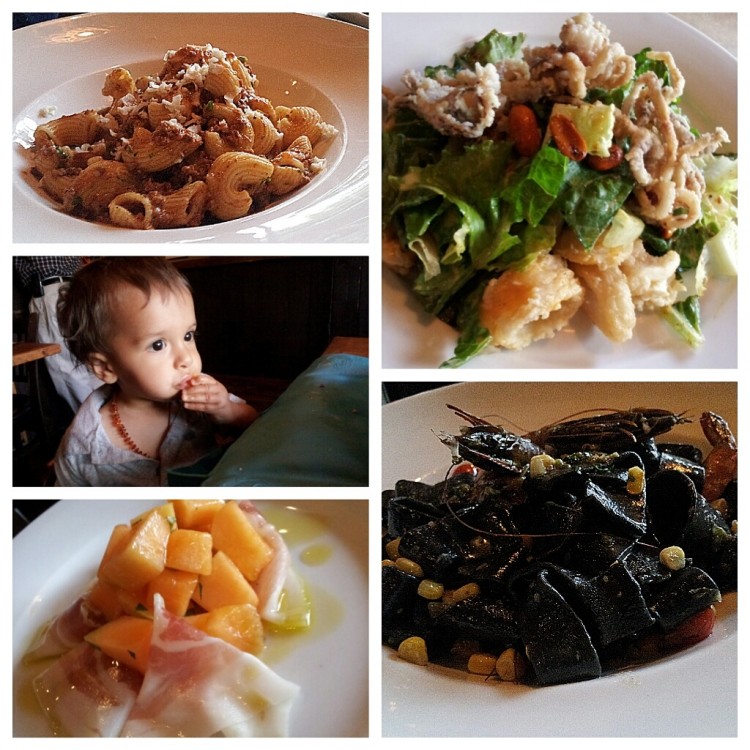 During our visit to Niagara U.S.A we took a bit of a turn and explored the Lewiston area of New York which is how we ended up eating out with baby at Carmelo's. We were hosted by Niagara U.S.A so we had high expectations for our dinner here on a Saturday evening. As usual we arrived around 6 p.m. to avoid the dinner rush but could tell that this was one happening spot because there were locals by the bar and a chic, bistro meets neighbourhood hangout vibe at the place.
The menu is one that constantly rotates as Chef Carmelo relies on local produce to curate his seasonal menus. This restaurant has been in Lewiston since 1980 and many a famous Iron Chef can be found dining here from what I've read. This is most definitely a family owned and loved restaurant where son and mom are the driving forces. Rustic Italian fare with a modern twist is what you can expect at Carmelo's. Kids were welcomed with a smile and we were given a corner booth-table where Little Monkey was able to walk by the window without being in anyone's way and of course she enjoyed the booth setup. Baby Boy was comfy in his high chair and enjoyed every morsel of food that came his way!
I started with a Bourbon Cocktail and the hubs enjoyed a local craft brew, The Whale. The kids had their own cups so we were all set as we sat back and enjoyed the town of Lewiston bustle around us. As we perused the menu we noshed on fresh bread and some delicious EVOO and decided on a bunch of appys to get us started.
Baby Boy loved the T-Meadow Culatello because he got to enjoy the minty melon that accompanied the dish. Definitely a simple dish that I should replicate at home! Little Monkey is a calamari fan so the Crispy Squid Salad was her choice…. the dish came with smoked peanuts so it was a double win for her! My favourite was the Arancini rice balls which were stuffed with mortadella and sprinkled with a pistachio pesto. Why haven't I had a pistachio pesto before? Ridiculously good! You notice straight away that the ingredients shine in these dishes, everything was fresh and locally sourced.
The hubs and I each ordered a main and we ordered a couple sides to help fill the little ones' bellies. That's our latest strategy because Baby Boy has a voracious appetite and we never know what sort of mood Little Monkey will be in. We ordered a Squash Stew and some Grilled Broccoli which Baby Boy piled through and because the pasta is made in house we both obviously ordered pasta dishes for our mains. I enjoyed my Squid Ink Calamarata and enjoyed the corn and Jalapeno pesto but the full shrimp definitely threw me off a bit. Wasn't expecting that! The hubs ordered the Lumache but it was Little Monkey who enjoyed that dish the most.
Our server was attentive and our meal was fabulous. Italian isn't always on the top of our list when we dine but our visit to Carmelo's reminded us why we like Italian fare. When it's done well the simplest ingredients come together in such a beautiful manner that leaves you feeling all warm and cuddly. There's something about a well made Italian meal that's got a hint of love and TLC mixed in. I now realize why many a chef wants to dine here as they drive through New York!