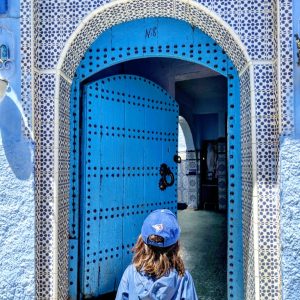 I heard about the Blue City long before I knew we were heading to Morocco with the kids and so when I realized that Chefchaouan was just an hour drive away from our GuestToGuest home in Martil, Morocco, I made it my mission to get us there for a day. Friends had mentioned that we should spend a night or two there but that wasn't in the books for us. There also didn't seem much to do besides roam the old town and eat…which was exactly what we would be doing in Fez and Marrakesh. So a day trip to Chefchaouen it was.
Excitedly we went to pick up a rental car in Martil only to realize that their credit card machine hadn't been used in years and the two sisters who owned the car rental spot didn't know how to get it working. We tried our best and sadly had to give up. Even though it was only 200 dirhams (about 20 USD), the hubs refused to drive the vehicle without the option of having our car covered with additional insurance or credit card insurance. His logic was that while our Nomad life insurance would cover damage to the vehicle and ourselves, it would not cover expenses for the other party (in the case it was our fault). A risk he wasn't willing to take. I was pretty disappointed as there wasn't much to do in Martil and I had been looking forward to that day for a while. Luckily for us, the property manager found a driver for us who took us out for the day for 700 dirhams. Much more than the car rental but an expense the hubs was willing to take on instead of him driving through the Rif Mountains in Northwest Morocco.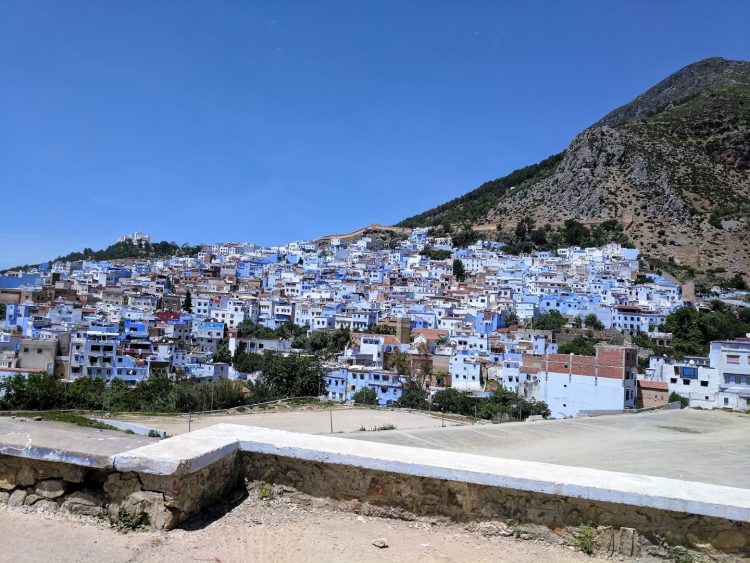 Sometimes you look back and reflect if it was all worth the effort and Chefchaouen was. Not only did we encounter car issues but both kids puked non stop on our drive to Chefchaouen. It wasn't a pretty sight and I felt so sorry for them. Not sorry enough to turn around mind you! Luckily they only got car sick on the way there and the return journey wasn't too bad (only one of them puked once). I don't think it was food related because Little Monkey has started getting car sick since we arrived in Spain. It may have something to do with the altitude is our guess (she was fine during the crazy drive through the Atlas Mountains!).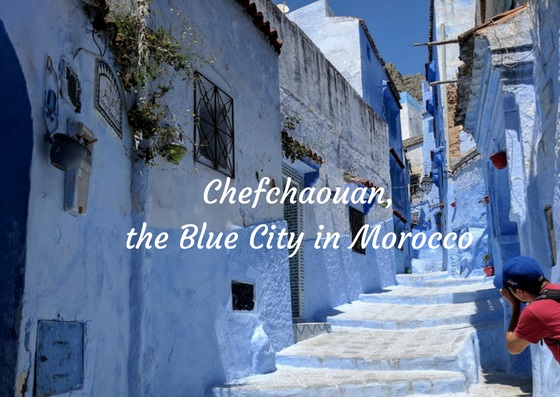 A visit to Chefchaoen will leave you with numerous pictures of the blue buildings and the alleyways. The name Chefchaoen refers to the shape of the mountain tops above the town, that look like the two horns (chaoua) of a goat. "Chef Chaouen" is a derivative of the Berber word for horns, Ichawen. They say the blue colours keep the mosquitos away (hah!) and other say the city is blue because of the Jewish heritage and as a reminder of the heavens and the skies…who knows which theory (if any) are true. They're calmingly beautiful.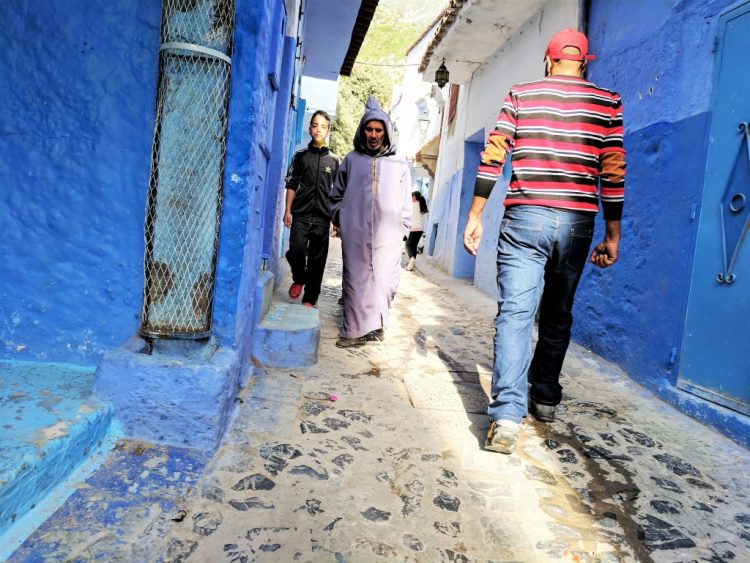 There's many restaurants to dine at and I highly recommend visiting Bab Ssour for a meal (or dessert at least). It's quaint and very local a big difference from Aladdin in the main square where we also dined at. That said, you get some great views and decor at Aladdin. We didn't buy any goat cheese or leather that the area is famous for and despite being warned about the peddlers pushing drugs, no one bothered us. The kids enjoyed running around and walking into random houses (they seem to welcome kids doing that!) and we have some awesome pictures of us from our visit there. It was definitely worth the vomiting and struggles getting there!