Looking for a girls trip filled with adventure and fun road trips? Then a girls getaway in Ireland should certainly be on your radar. August 2022 saw me join a couple creator friends and fly into Dublin to embark on a week long road trip along the Wild Atlantic Way. Our Ireland getaway was filled with laughs, plenty of time for banter in the car and soaking in Irish culture. If you're looking for a relaxing and lounging vacation, this isn't it (a Momcation in Kissimmee or Miami might be a solid option?) but if you're looking to explore new places, try new things and being open to adventures, you should continue reading to learn more about our girls getaway road trip through the north part of Ireland along the Wild Atlantic Way.
This wasn't my first trip to Ireland but it was my first time exploring some of the counties in the north of the country. This was very exciting for me as I love roaming around new places! Back in 2013 I visited Ireland for the first time and despite being five months pregnant with Apollo, our family had a wonderful multi-generational vacation in Ireland. On that trip we had 1.5 year old Akira, Chris' parents and two of his aunts along with us for the trip and our 10 days were spent mostly roaming around the southern part of Ireland, hitting up the traditional tourist route of Dublin to Kilkenny, Blarney, Kinsale, Killarney, Dingle and Doolin. This time I had other plans! Be sure to pack a light rain jacket, comfy walking shoes and bring plenty of layers as the weather in Ireland is truly all over the place!
Disclosure : We were guests of Tourism Ireland and Fáilte Ireland but, as always, opinions are TOTALLY ours!
Things to do in Ireland on a Girls Trip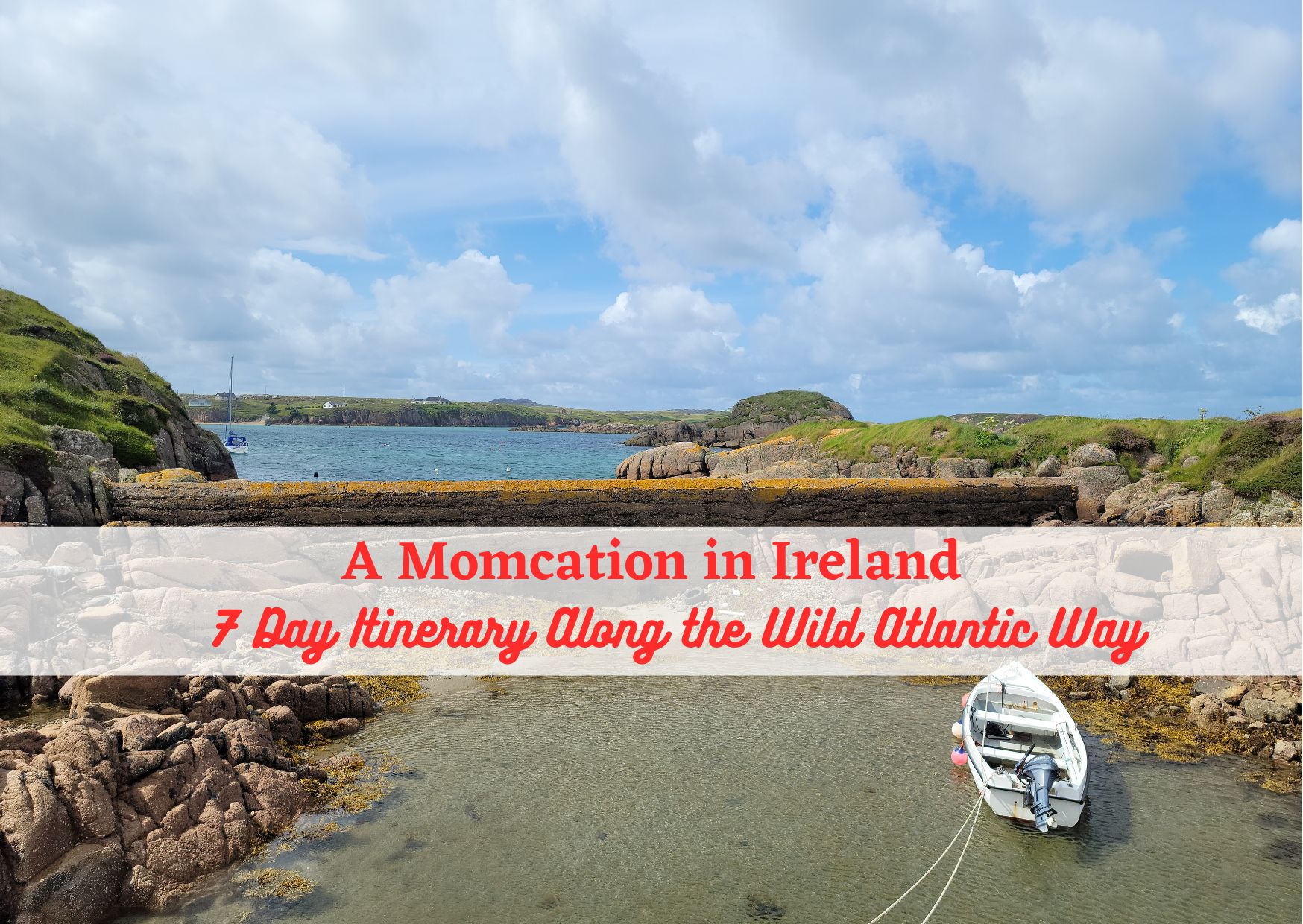 During our 7 days we covered a lot of ground and experienced many things but I'm going to narrow things down focusing on the spots that I plan to return to on a future girls trip (or with Chris because I know he would love these towns too). If you're looking for good food, nature and castles, read on!! Oh and by the way, if you're looking for a faster paced itinerary or for more hard core adventures like stack climbing and surfing, check out my friend Mommygearest's 7 day Ireland itinerary!
Day 1 : Arrive and Recharge in Galway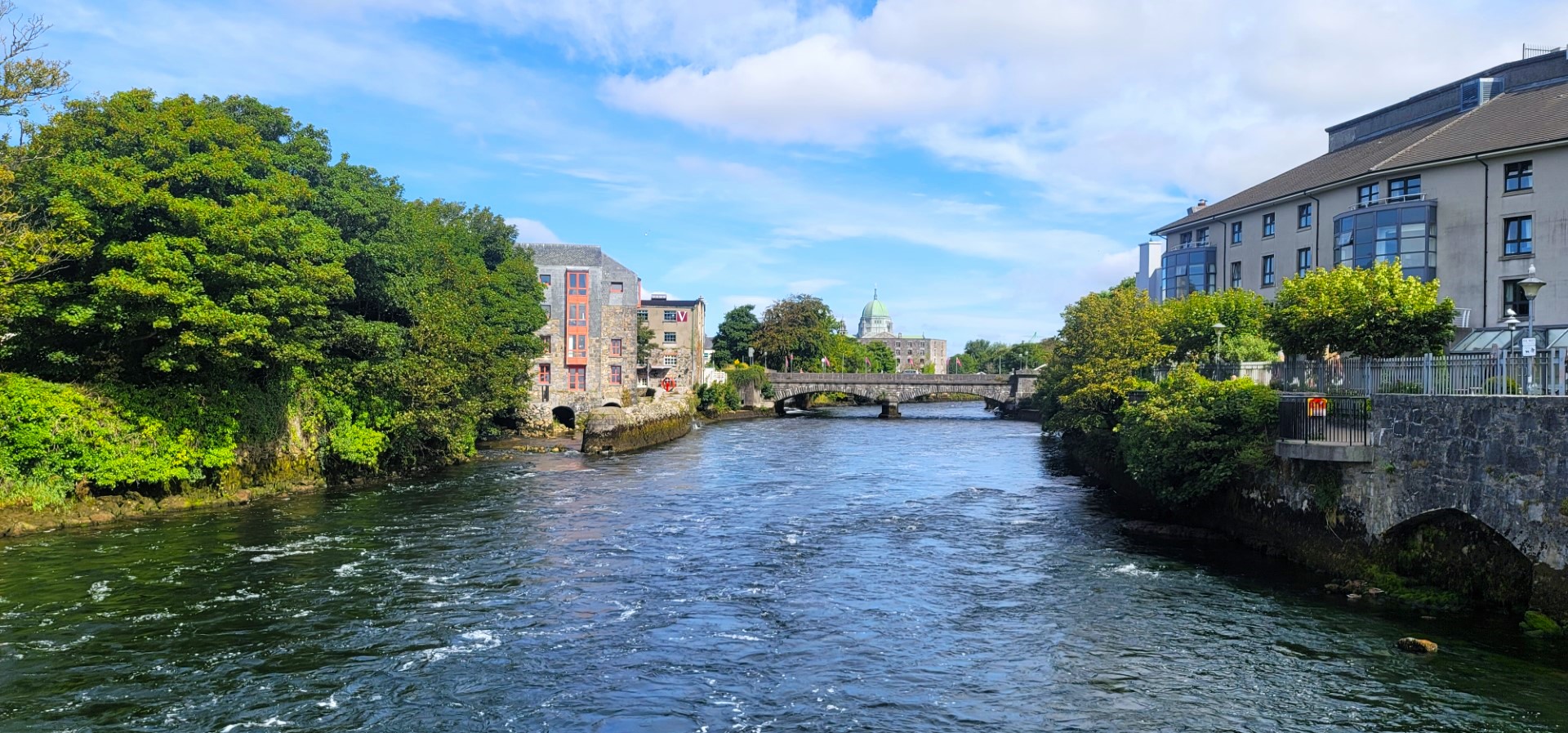 You're most likely landing in Dublin or Galway and either is fine to be honest. Better yet fly into one and fly out the other! Let's assume you fly into Galway and fly out of Dublin, shall we? I would assume that you've had a fairly long travel day (especially if you're based in North America) so take this day to recharge and soak in some of the fun stuff Galway has to offer. A weekend girls getaway in Galway is certainly something I'd return for!
Unwind at the Dean Hotel Galway
I only spent a few hours in Galway but know that I want to return because I would have a stellar time spending a few days in Galway with Chris or on another girls trip. If you're looking for a Galway hotel to stay at the Dean Hotel is a great choice. Located just off of Eyre Square and offering a beauty view from Prospect Hill, this contemporary hotel is only a 15 minute walk from the downtown action and is within a short driving distance of some of the highlights of the Wild Atlantic Way.
My friends and I enjoyed a lovely lunch at Sophies, their on-site rooftop restaurant, and got a tour of the rooms because we were so curious. Yes I'm staying here the next time I visit! Not only had they just opened during the summer of 2022, but this boutique hotel is design led and you certainly notice that as you look at the finishes in the rooms and throughout their lobby. The interior is adorned with murals, sculptures and other works of art from local and international artists. And yes, they had plugs for all the gadgets! You know Chris makes me look for that every time I book a hotel for us!
They also have a hydrotherapy pool (which we saw being completed during our visit) and given the pink and turquoise hues here, it's perfect for those Instagram worthy group shots you'll be taking! Trust me, you'll want these boutique luxe vibes because not all hotels in Ireland (or Europe for that matter) can provide the creature comforts the way we're used to in North America (mainly because most properties were built way back when and have those charming old timey vibes that modern builds lack).
Roam Around Galway City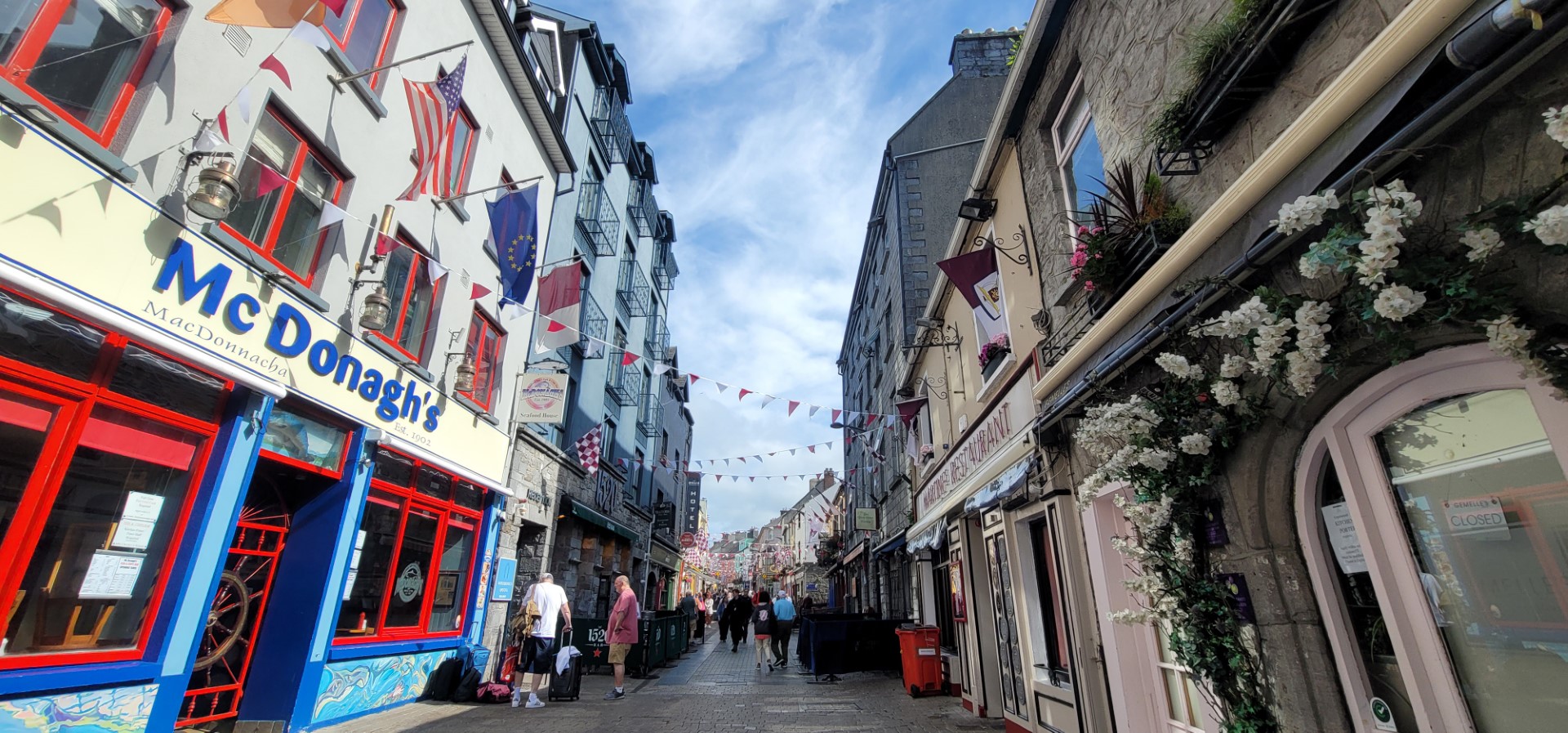 Obviously you must make your way to the Latin Quarter and Quay street. Yes even if you have only an hour, do it! I loved my unplanned meanderings through the cobblestoned lanes with my friend Solmaz here. You'll find stores selling Irish crafts, jewelry, high end candles (definitely walk into Cloon Keen), and so much more here. We visited around 11 a.m. on a Monday and it was relatively quite when we arrived but an hour later it started getting busy. The energy at night must be something!! Can you please go experience the traditional music and buskers here on an evening? Come back and tell me all about it! Be sure to dine at Éan (they are closed on Mondays and Tuesday – boooo for my visit!). Nearly all the locals we chatted with told us to go here for amazing baked goods. By night this bakery turns into a wine bar and restaurant, specializing in natural, biodynamic and organic wines and offers a selection of seasonal sharing plates. Obviously swing by the pubs, eat some Murphys Ice Cream and if you're a theatre lover like me, see if anything's happening at the Druid theatre!
If you're a distillery lover like myself, be sure to visit Galway City Distillery. They take inspiration from the landscape of Galway and astrological cycles when preparing their spirits and curating their cocktail list. Definitely chat with the staff and owners onsite because it's a fascinating process. They have classes at their on-site Flavour Academy if time permits or else, just saddle up to the bar and order yourself one of their fantastic craft cocktails. The vibe here is bang on for a lovely, relaxing yet upbeat evening.
If time permits you can take a day trip to the Aran Islands as well! I visited the Islands from Doolin but it can be done easily from Galway too. Although our ride was a bumpy one, it is one of my most memorable travel days. The Aran Islands are truly unique.
Note : You can certainly self-drive through Ireland (it's how we got around in 2013) but for a truly enjoyable experience, I highly recommend hiring a car service. During our 2022 Ireland girls trip, we had the pleasure of being driven around the Emerald Isle by Tom Glynn ([email protected]) who you can contact directly or via By Appointment DMC.
Day 2 : Take in the Abbey views, bike through the country side and enjoy a night out!
Get ready for a scenic day filled with visits to an Abbey, a bike ride through the railway route in County Mayo and a fun night out in Sligo city! There's a little bit of everything here for you and your gals today.
Visit a Victorian Castle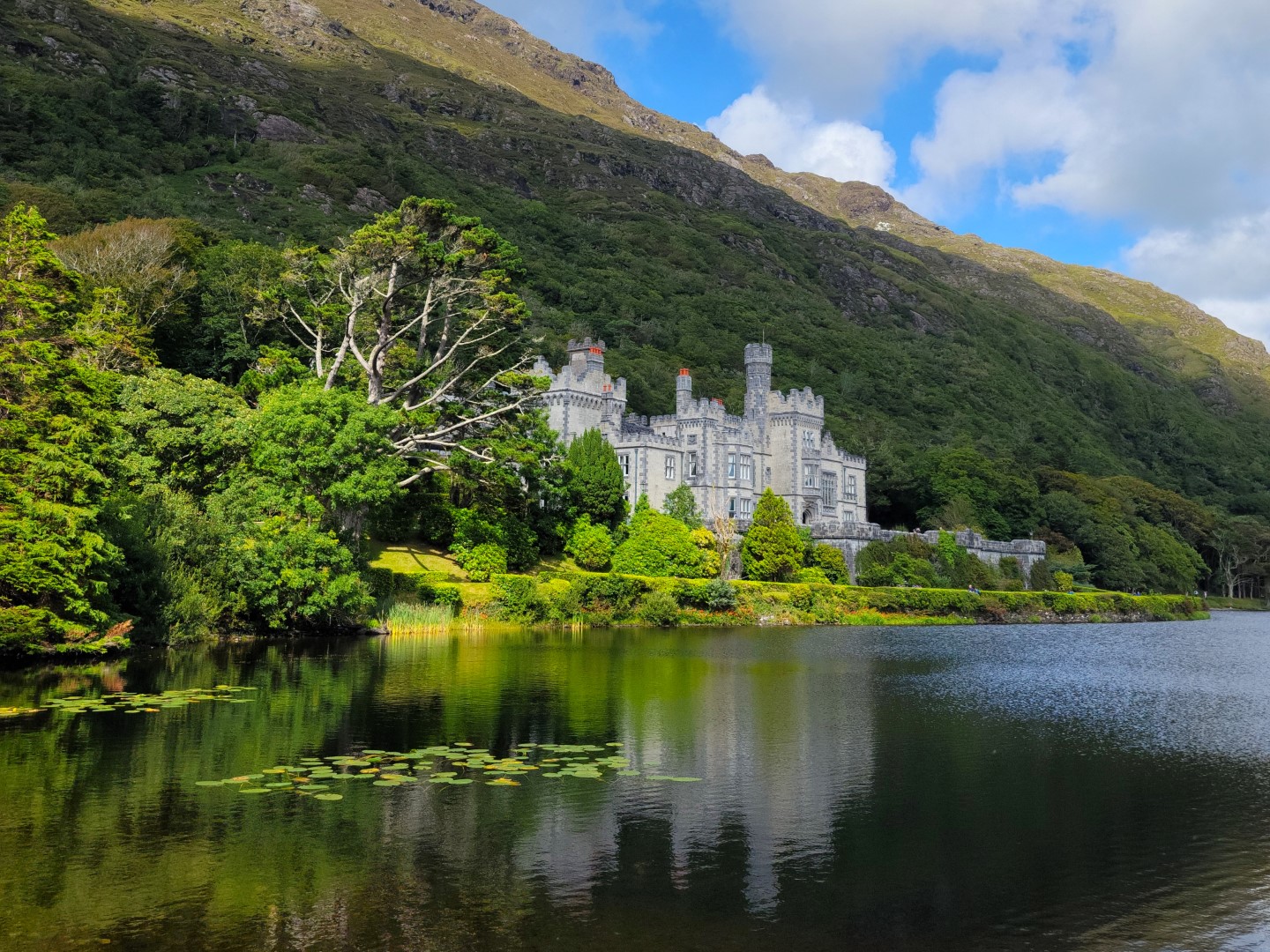 Wake up, have breakfast at your hotel (or any of the nearby spots you've scoped out during your walks yesterday) and get ready to leave Galway City but not County Galway! Your first stop is an hour and a half drive away in Connemara. The Kylemore Abbey is worth a visit for the pristine views. As with most famous buildings, this Abbey in Ireland was built in the name of love and the recipient died before it was completed… if Chris ever tells me he's building me a castle, I'll tell him not to because it surely signals my demise!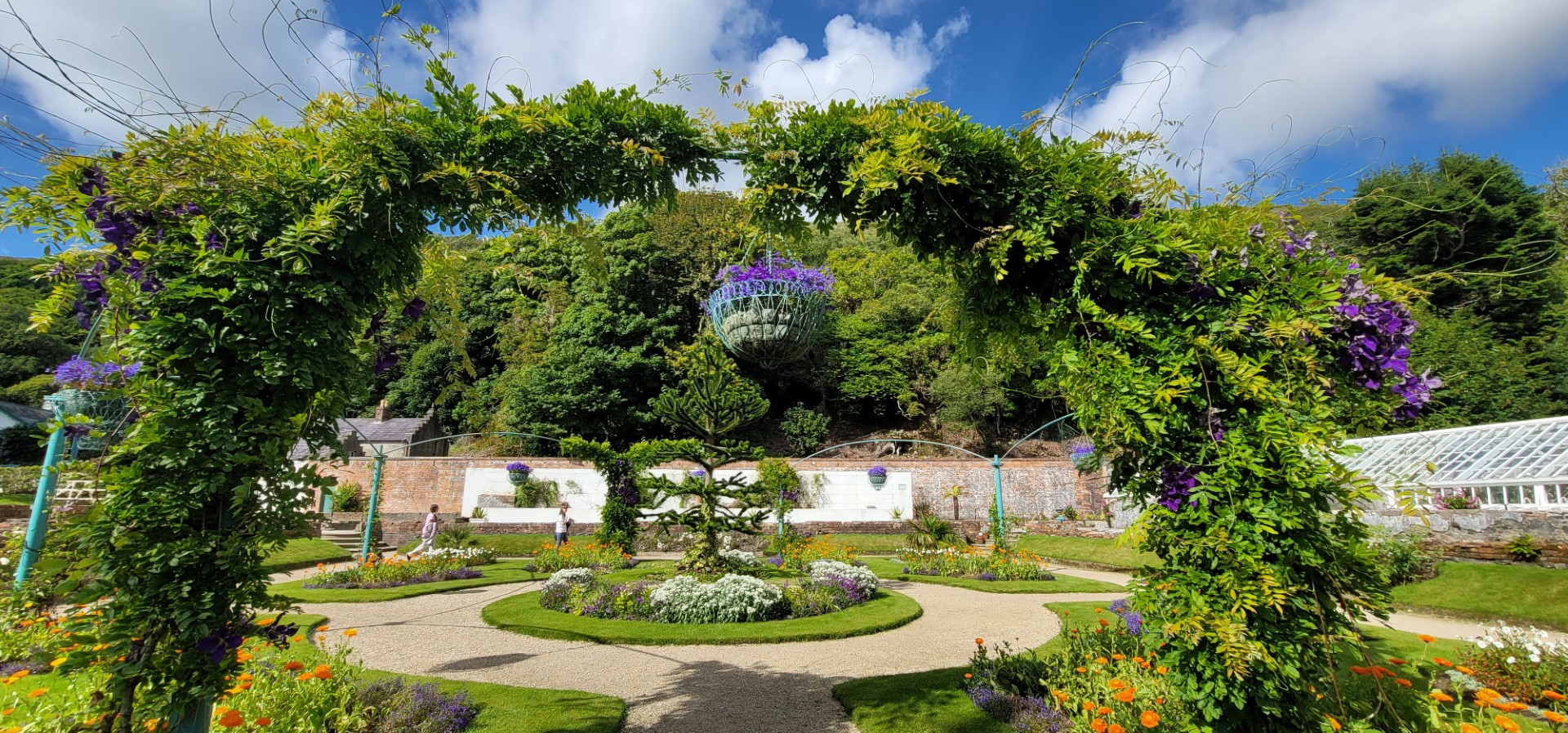 Anyways, back to Kylemore Abbey… it was built in the late 1800s by a wealthy businessman who had modern day visions. Today, the Abbey is owned and run by the Benedictine community who have been in residence here since 1920. There are nuns still present today and they have a chocolate kitchen on site (closed on Sundays, which was coincidentally the day I visited- whomp whomp.) You can still purchase chocolate goodness from Sister Genevieve's Chocolate Kitchen at the gift shop, so not to worry if it's not open! There are hiking trails around but we opted to take a tour of the Victorian Castle and then wandered through the Victorian walled gardens (perfect for those pictures!). The Heritage Garden displays plant varieties from the Victorian era and nothing else so it's quite fascinating. There is a Neo-Gothic Church onsite as well and if you're feeling peckish, there's a lovely tearoom that's open spring to fall. Definitely grab a bite or visit the snack shop for some treats for the car ride. Oh and don't forget to pet the Connamara ponies who call Kylemore Abbey home!
Bike the Great Western Greenway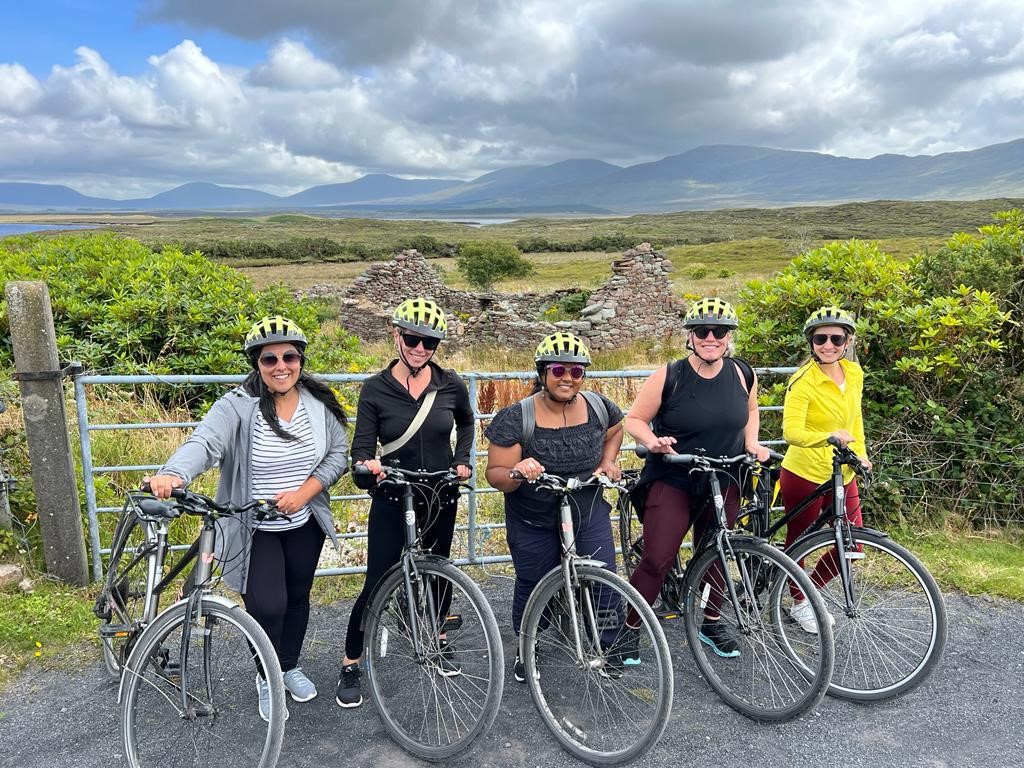 Now it's time to sit back, relax and soak in the views as you head into County Mayo. If you have n biking enthusiasts on your girls trip to Ireland, be sure to chat with the team at Clew Bay Bike Hire because they make it easy to explore the Great Western Greenway (Ireland's first greenway) by providing a guide, bike and helmet rentals and anything else you and your friends may want. The full route is 44km and begins at the seaside town of Westport and goes through quaint towns and villages of Newport and Mulranny before finishing at Achill Sound. Obviously we customized it for a shorter one hour ride and it was perfect for the likes of me! Honestly, I wasn't sure I'd be able to do it and didn't want to hold the rest of the ladies back but they were all good champs and allowed me to come at my own pace. The views were epic as we saw everything from green green mountains, bogs and woodlands. We only did 14 km and got a taste of the country life along the Wild Atlantic Way. If this isn't what you're looking for on a girls getaway to Ireland, maybe look at the Gourmet Greenway which takes you through a food trail filled with culinary stops along the way.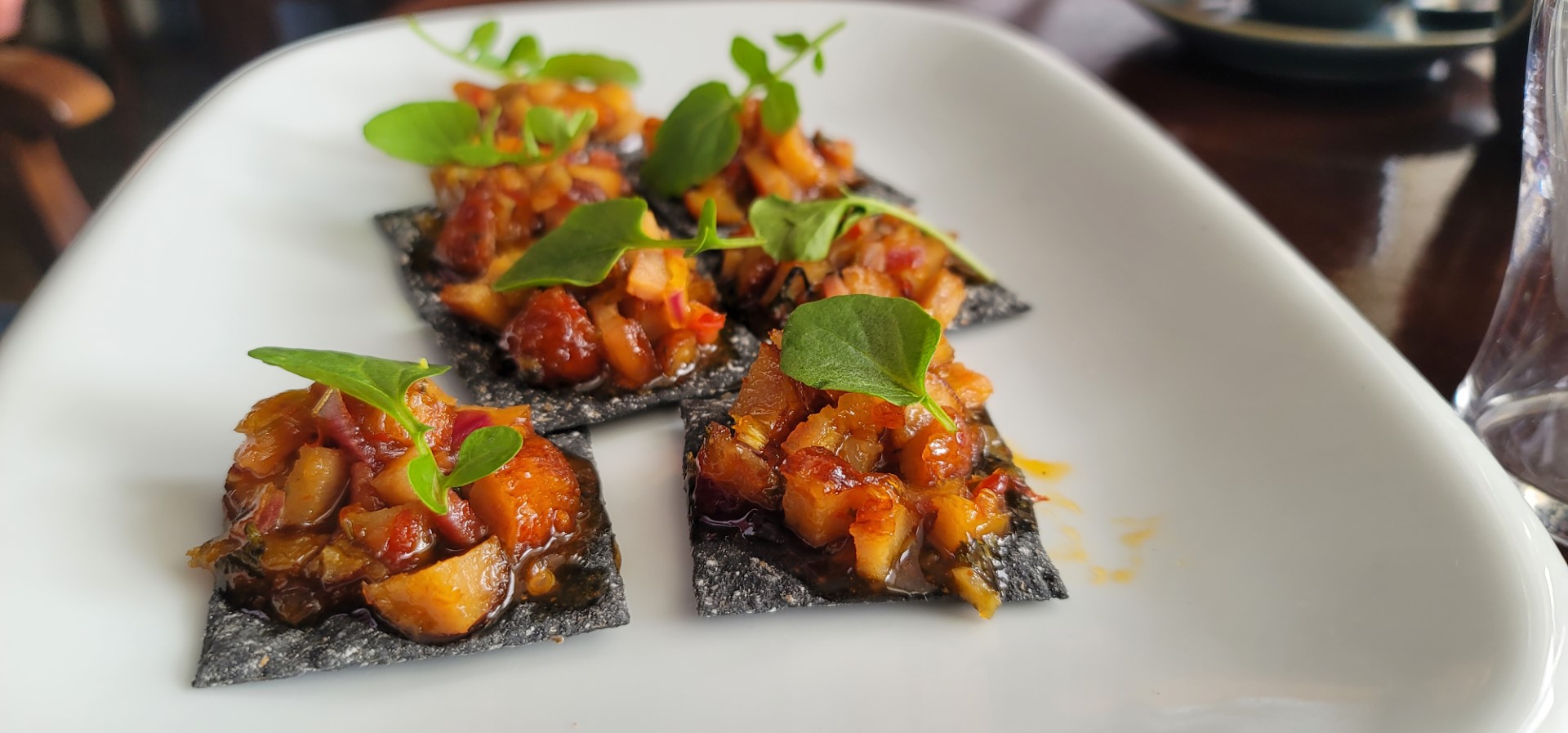 We ended our bike ride at the Mulranny Park Hotel and had our driver pick us up here… I recommend you do the same because it was a lovely spot for a late lunch/afternoon tea. The hotel has two restaurants onsite and the Nephin restaurant receives great reviews. Based on our afternoon meal, I would certainly dine here again to savour the meal whilst looking at Clew Bay.
Alright, with full bellies and tired legs, it's time to visit your third county for the day. Not to worry, it's only an hour away! Yes you've been driving for about 4 hours today but that's what Ireland is all about. It's a country that's perfect for road trips!
Things to do in Sligo
Sligo caught me by surprise. I absolutely loved our night here and wanted to stay another…so I think this should be where you could spend two nights if you desire. After that bike ride you'll get to relax your legs on your nearly two hour drive into Sligo town where you'll be spending the night.
Experience the Best Hotels in Sligo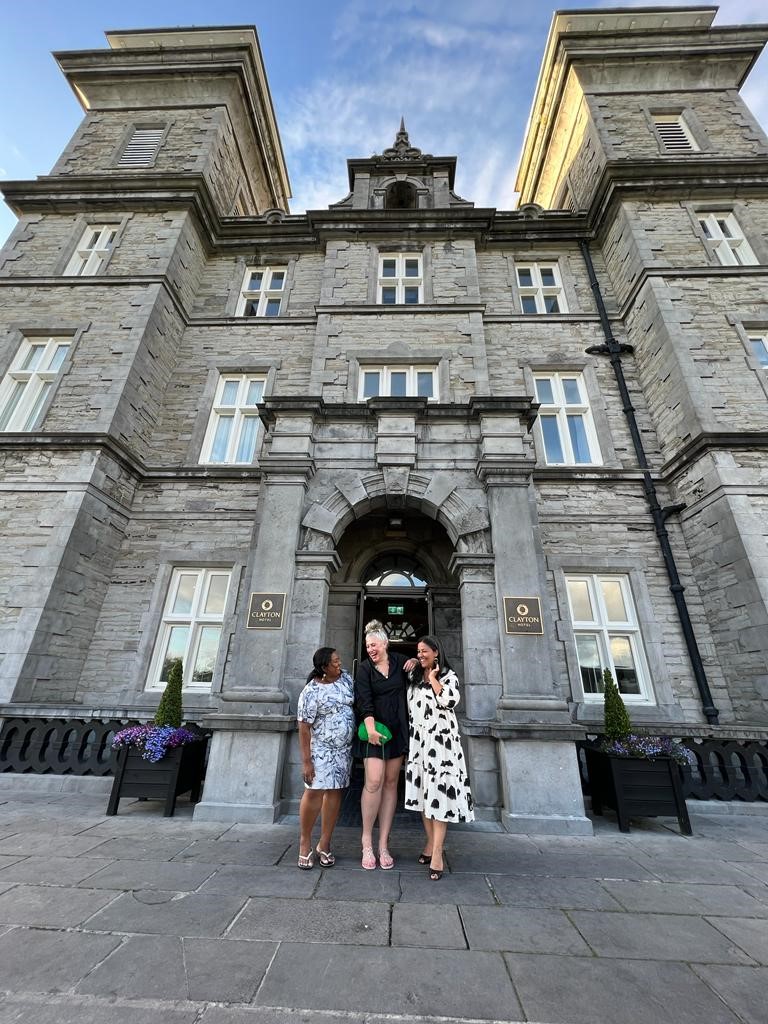 Check into the absolutely fabulous Clayton Hotel and get ready for a night out in Sligo town. The Clayton Hotel was quite lovely and certainly the best place to stay in Sligo! Out of their 162 rooms, 66 are suites giving plenty of room to spread out (especially if you're sharing rooms). The hotel is quite grand and the moment you pull up (especially if it's around sunset), you'll be in awe.
The property used to be an asylum which turned into a mental hospital in the 1920s and a regular hospital in the 1950s. In 2005 it opened as a hotel after being shut down in the late 1980s. Today it's a 4 star property with a spa, pool and gym onsite. We rushed our stay here and didn't have time to enjoy the amenities but if you're looking to take it easy and enjoy the spa and pool, this is certainly a good spot to do so!
I know I'm talking about a girls getaway in Ireland but I couldn't help noticing how family friendly the Clayton Hotel is, they had a kids play area and hourly activities for kids during the summer months. If you're travelling with little ones, it's definitely the spot to stay at when visiting the Galway area! They even have a fairy trail for kids (no matter how old you are – because my friends and I were more than happy to go look for the fairies!).
Enjoy a Night on the Town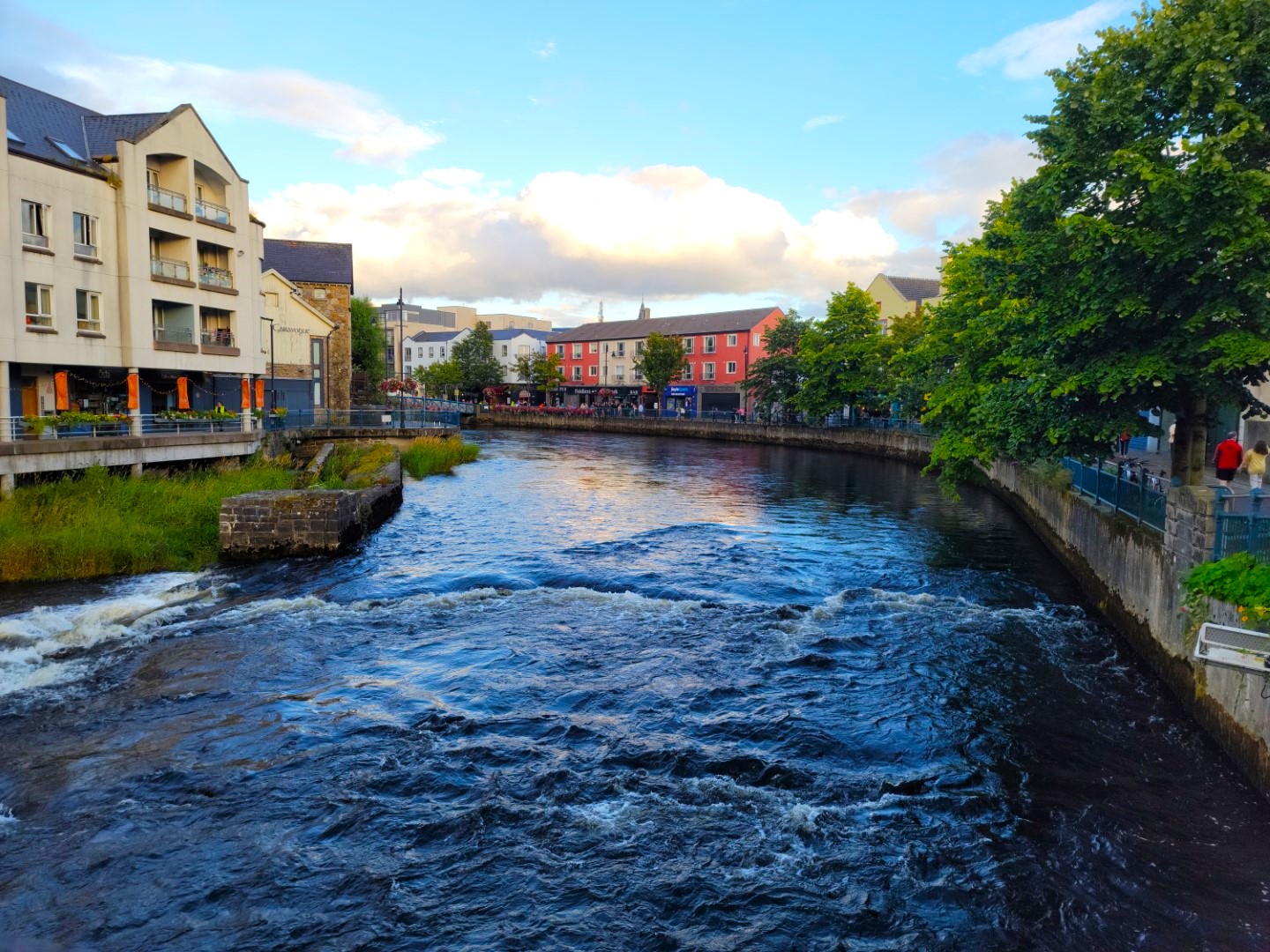 The hotel is conveniently less than a 10 minute drive from the main town (we took a taxi back and it cost us 7 Euros – cash only) and I highly recommend taking a stroll here. I only had half an hour to spare before our dinner reservation but the vibe was electric. I was told that this is a college town and there's many festivals and concerts that pop up throughout the year. So it's quite possible that the vibrant energy was mainly due to the country music festival that was taking place during my girls trip in Ireland.
We enjoyed a fantastic dinner at Bridgefoot House in town. This restaurant is the brainchild of two brothers and their mission is to use locally sourced items to produce tasty, affordable food. Grilled peach and burrata, smoked salmon and the coconut sorbet with elderflower soaked pineapple were divine! This was certainly one of the best meals I've had in Ireland and so you now see why I said to spend two nights here! I want to return to Sligo to experience the night life (we heard there's Karaoke in town on certain nights) and plenty of bars and restaurants.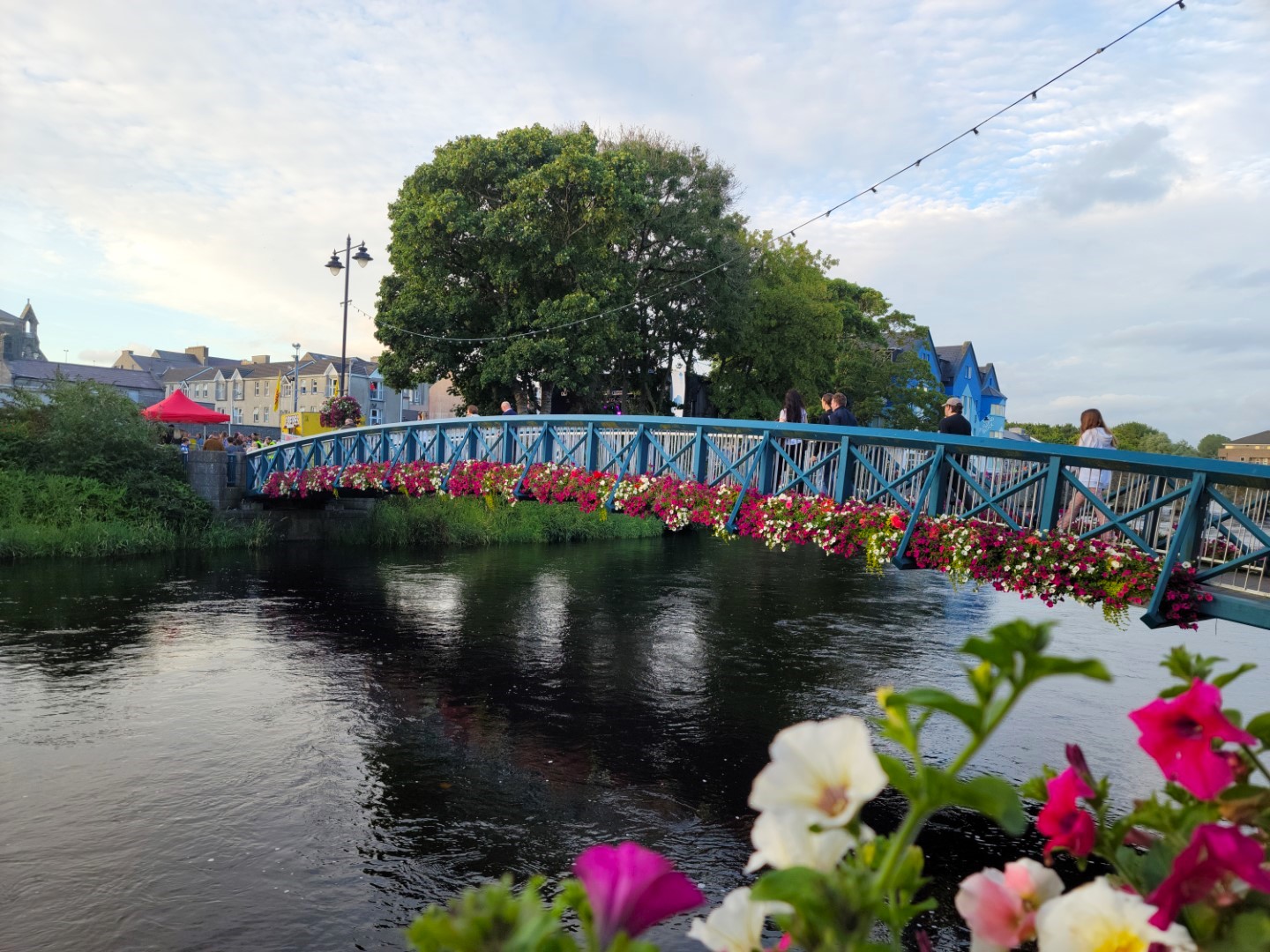 If you're looking for more things to do in Sligo (hikes, beaches, abbeys…) check out this article. Listen if you don't want to spend two nights here, you don't have to…because there's plenty more to do and perhaps you'll like to spend an extra night at the Irish beachtown you're heading to tomorrow!
Day 3 : Visit Yeat's Country and Enjoy Beachtown Vibes in Sligo County
You're spending the day exploring more of County Sligo today. Get ready for majestic views and hopefully, if timing is right, some time by the warm Irish shores. There's a lot of William Butler Yeats inspired stops today so hope you've brushed up on some of his poetry! About two hours from Galway is Ben Bulbin, also spelled as Benbulbin (and Benbulben) but luckily for you, it's much closer from Sligo town where you would be waking up on day 3 (unless you spent an extra night in Sligo town and you're on day 4 now). Before you arrive at Benbulben we have two quick stops for you.
Go Chasing Waterfalls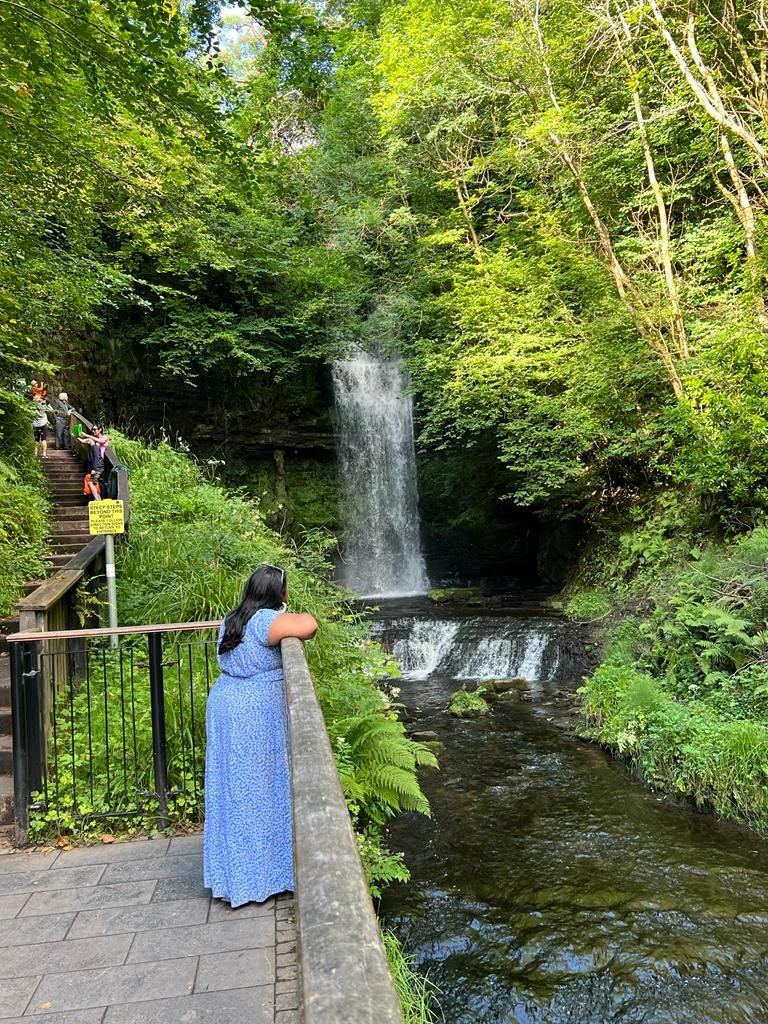 Glencar waterfall is only a 15 minute drive away from the Clayton Hotel and this 50 foot tiered waterfall is worth a pop into. There's a playground here if you have little kids in tow and the walk into Glencar falls (yes the very same one mentioned in "Stolen Child") is an easy one. What better way to start your morning than with a peaceful waterfall walk? A 15 minute stop is quite sufficient here.
Pay Your Respects to Yeats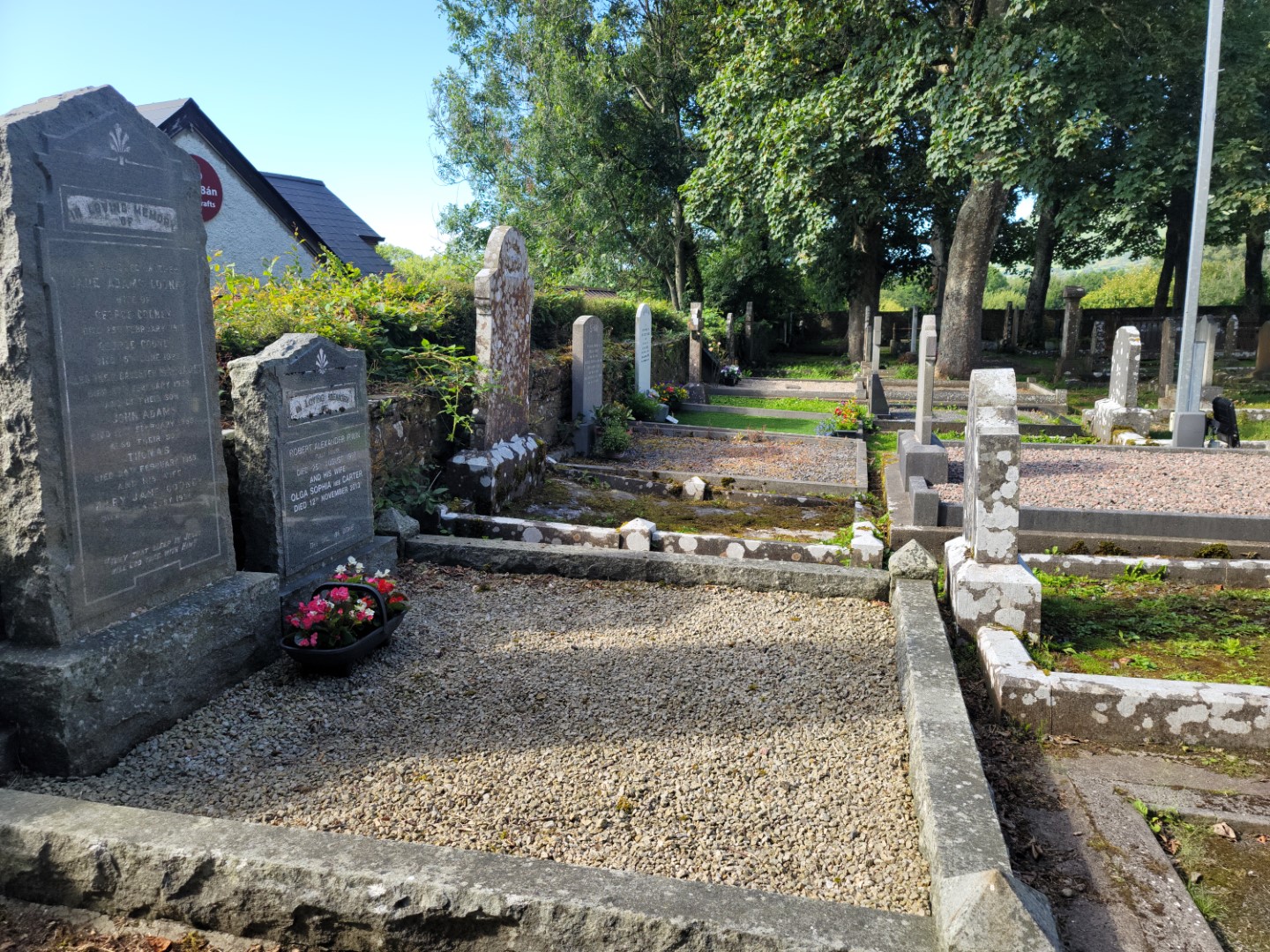 Another 15 minute drive will bring you to Drumcliffee Church and you'll be able to wander through the gardens to see where Yeats is buried. If you're not a Yeats fan, you can easily omit this stop of course.
Stand in Awe of Benbulben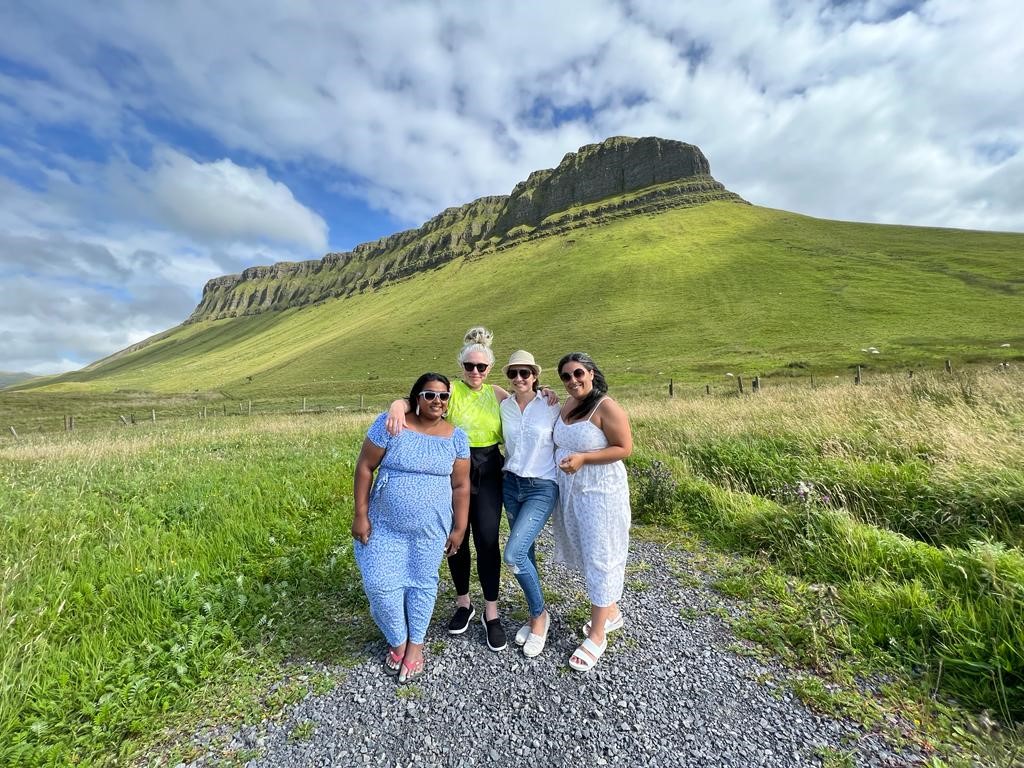 I had not heard of Benbulbin mountain before this Ireland girls trip but walking around here is a forever memory in my books. As you drive around Sligo County you would have noticed the mountainscape from afar but getting close to it is worth the while. This large flat-topped nunatak rock formation was formed during the Ice Age by massive glaciers and today it stands majestically, ready to greet you as you turn around the corner, passing a thatch-roofed cottage after parking the car.
If you're an avid hiker, there are long hikes that will get you to the top of Sligo's Table Mountain but of course we only spent half an hour here and didn't do a full 4 hour trek. No matter what time of day you visit, you'll enjoy the views here as you walk along the pebbled pathways.
Prance Around Mullaghmore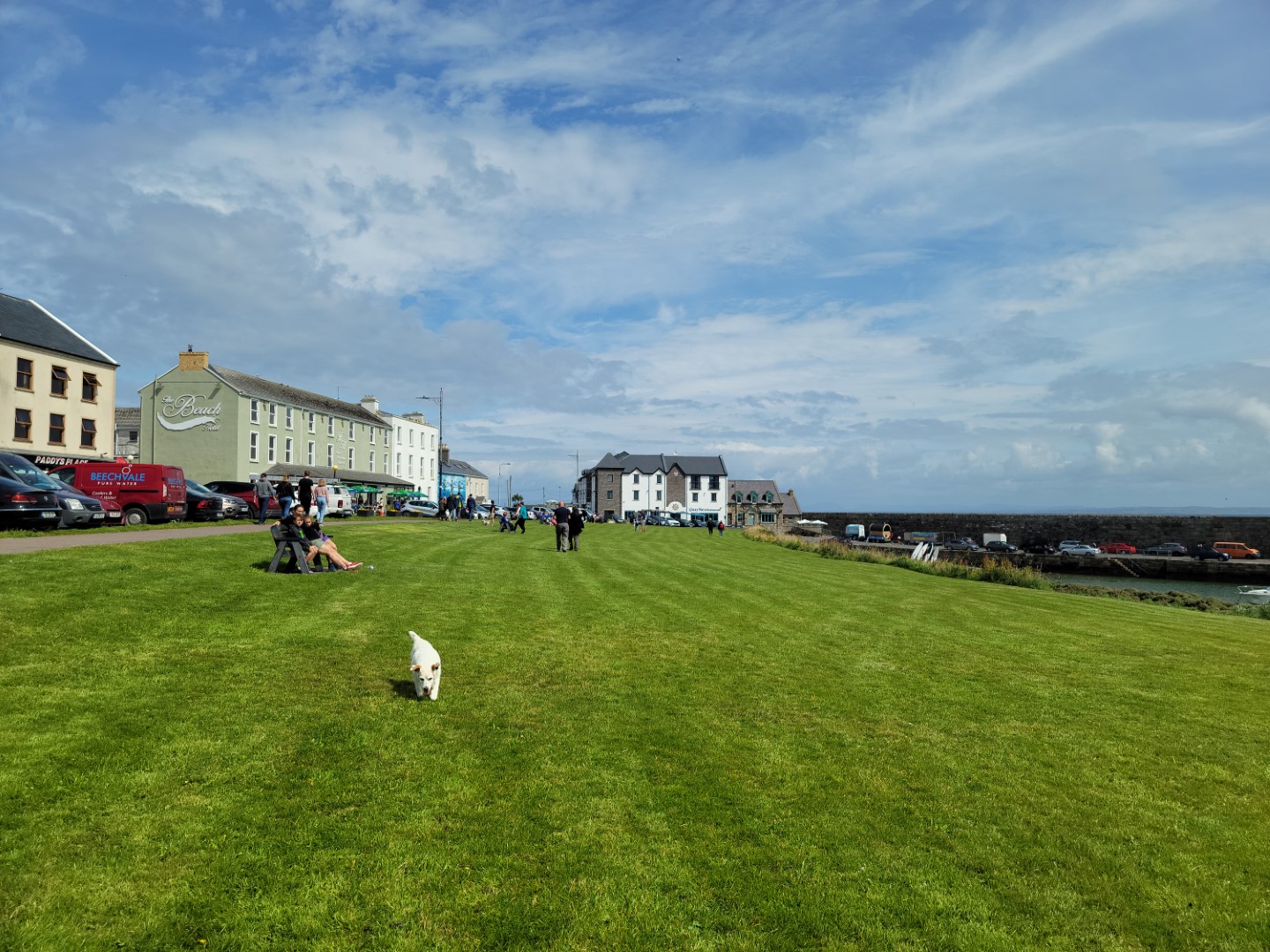 It's time to bid farewell to Yeat's Country and drive 20 minutes to Mullaghmore which was a total surprise to us. I absolutely loved our afternoon at this beach town and would love to return on a future Ireland holiday with kids. Since ours was a girls trip we let our hair down and splashed away without a care in the world!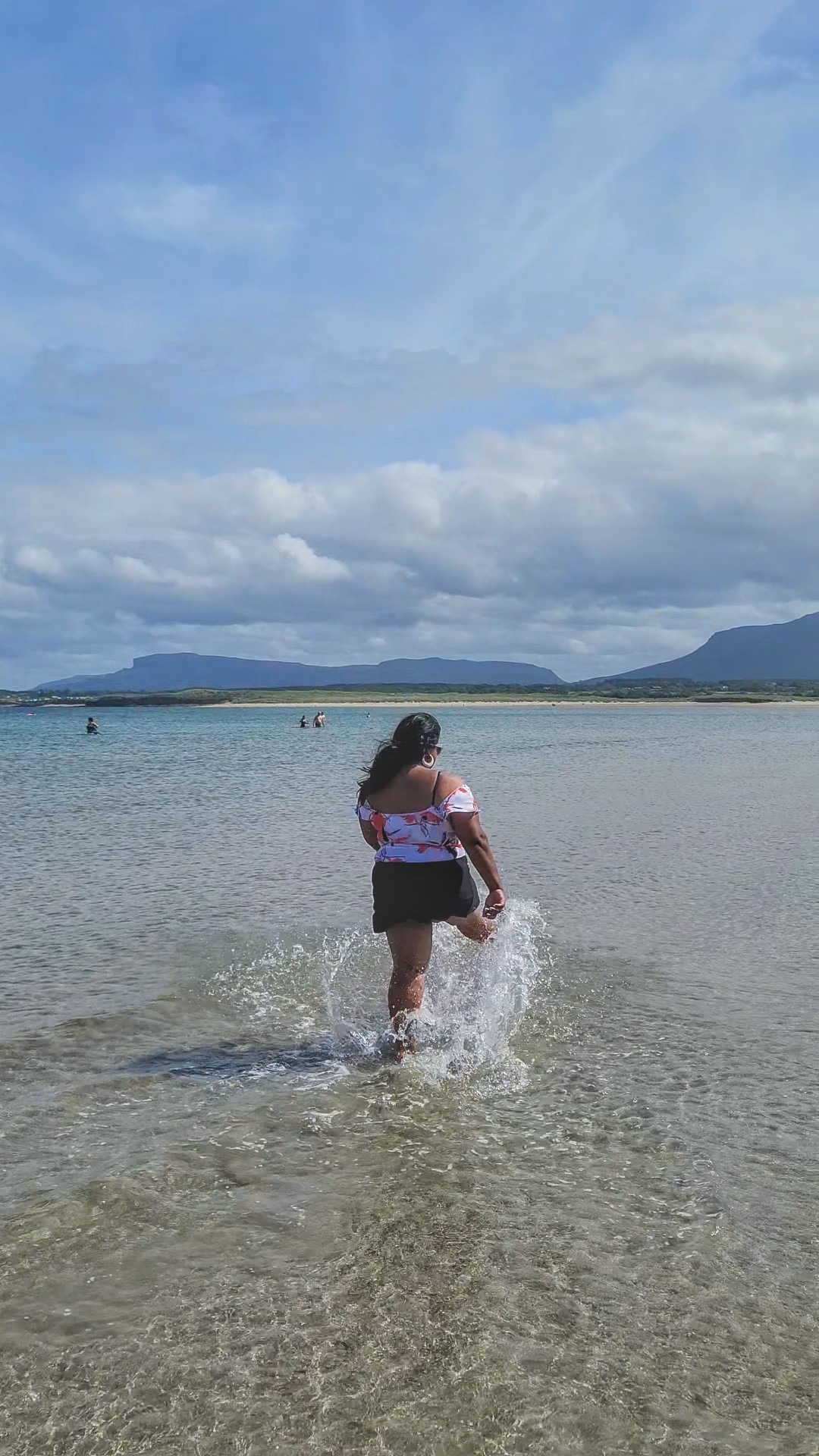 Mullaghmore is certainly a popular beach destination for Irish families and I can see why! If you're a fan of water sports like scuba diving, boating, fishing and surfing, this is the spot to do it! I opted for a leisurely stroll along the Pier and Mullaghmore's Green Flag Beach. I was amazed that the water was warm and yes, I was on the look out for jellyfish, just as I am in Nova Scotia! Couple of the girls even enjoyed a sauna by the beach here so that's certainly something you can add to your list of things to do in Mullaghmore!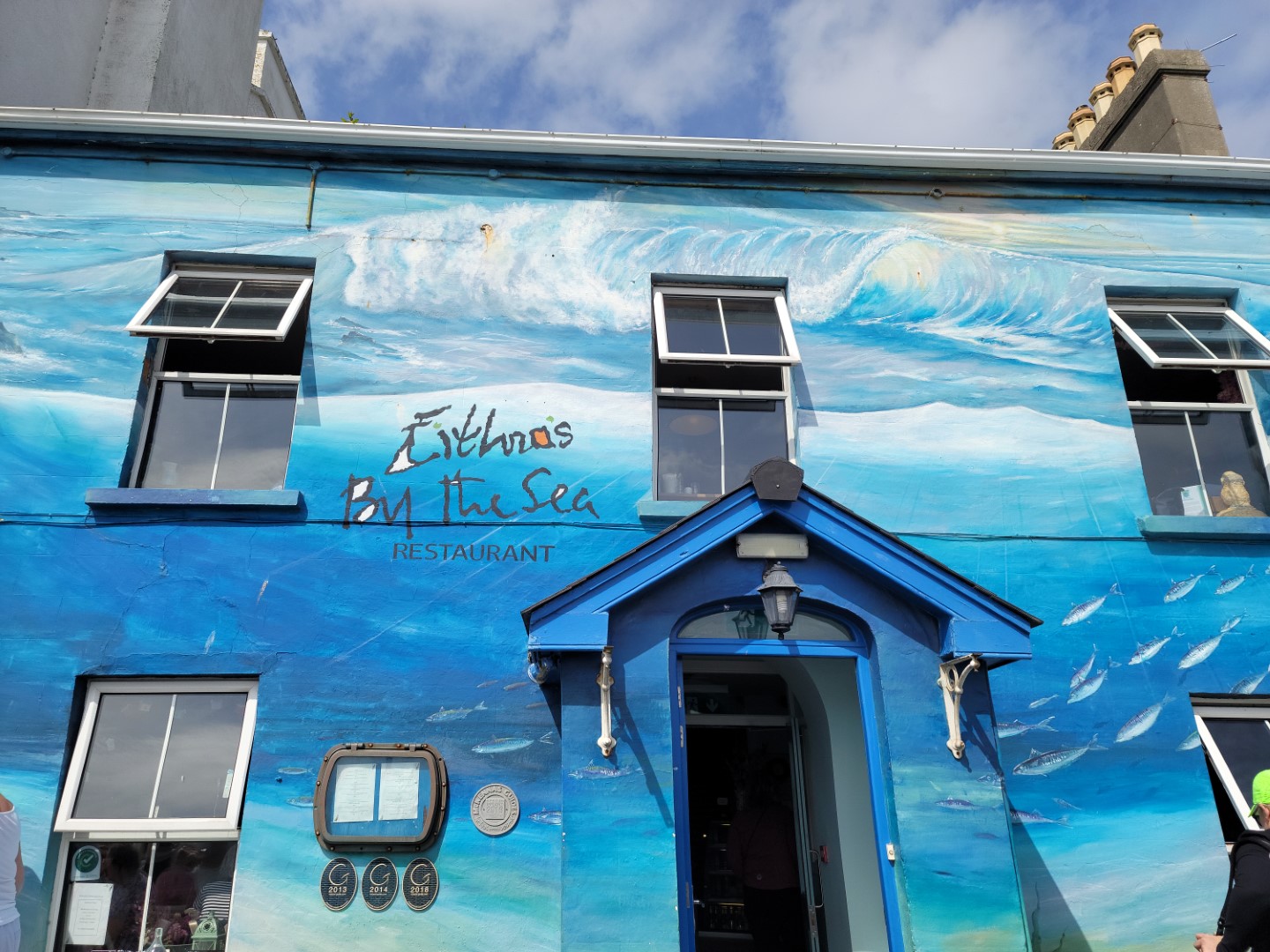 Dining at Eithna's By the Sea is good enough reason to visit to Mullaghmore because the seafood served at this family owned and run beachfront restaurant in Ireland was fresh and delicious! This Mullaghmore restaurant is only open in the summer months and there's no way you'll miss the brightly coloured sea mural on the building as you drive into this coastal town. Order the seafood platter and sample Mullaghmore lobster and yes order the seaweed bread!! Oh and yes there's plenty of menu options if you're not a fan of seafood. As the sun shone down on us, we sipped our wine and enjoyed a leisurely lunch as we overlooked the harbour and spotted fishing boats in the distance.
Enjoy a relaxing afternoon here and then get ready for a 40 minute drive into Donegal.
Things to do in Donegal
Eat and Drink in Donegal
Arrive into Donegal and check into the Abbey Hotel. Each room here is quite different and their suite had a fancy deep tub that's perfect for relaxing in. While I didn't stay in the suite, one person in our group did and so we got a tour of her room. My room was a standard one so remember to ask for the room type you want – there's something for every budget!
What I enjoyed about our night in Donegal is how there's a great mix of shopping, great restaurants and fun bars, all of which are walkable from the central location of the Abbey Hotel. We had dinner at the Market House restaurant at the hotel and enjoyed some fun cocktails, great service and some delectable dishes.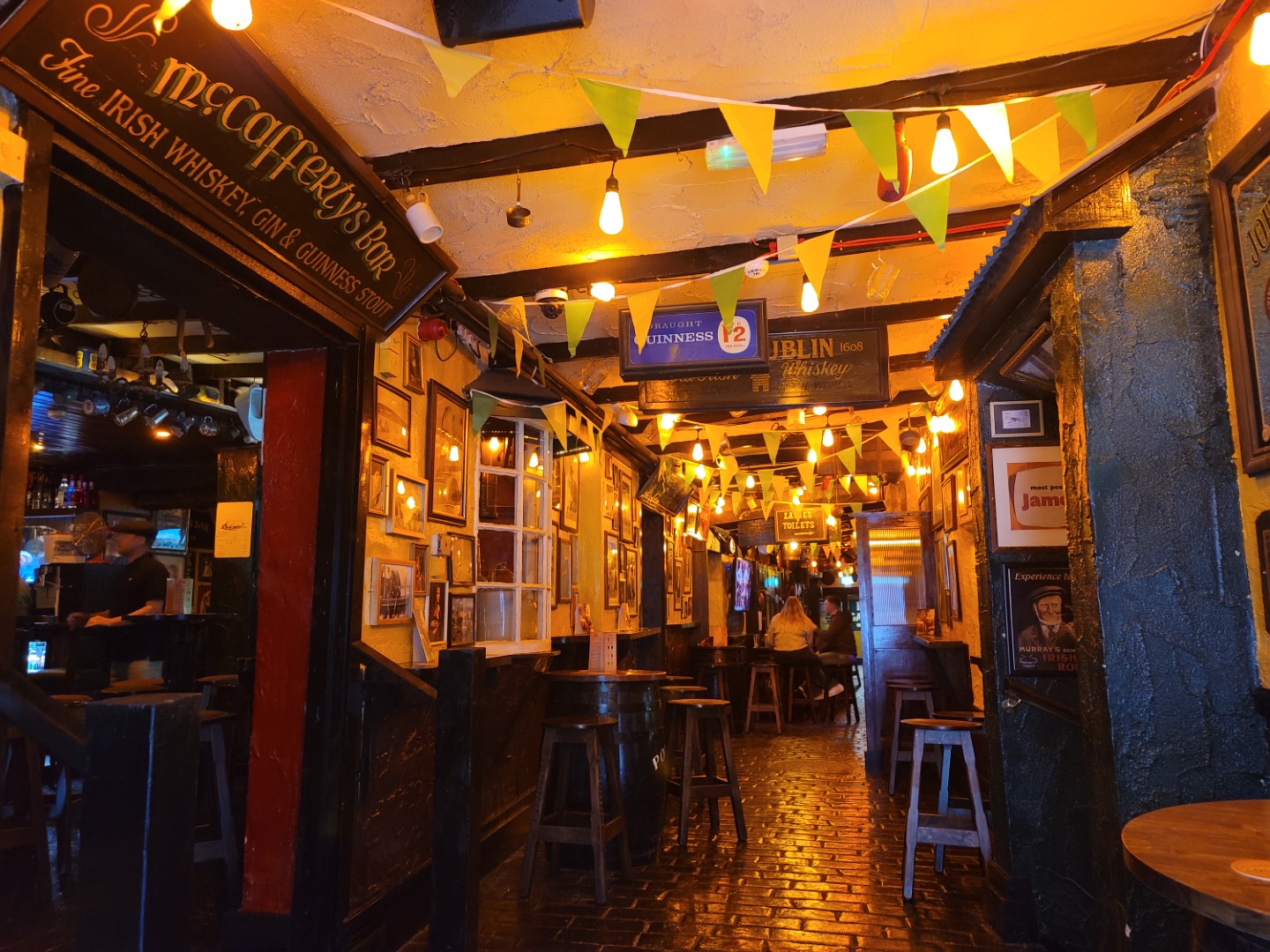 It was a great primer for the evening that followed. A couple gals and I popped into the Reel Inn for some traditional Irish music (trad) and witnessed the formation of the circle and locals popping for a pint and a tune. This place got packed quickly and had a mix of all ages. We decided it was too packed for our liking and made our way to McCafferty's which had many rooms (some with live music) for us to space out at and people watch whilst sipping cocktails and dancing to the good tunes. If you've travelled around, you may have been to McCafferty's in Dubai, Spain and Abu Dhabi (to name a few) but the location in Donegal is the original one!
Day 4 : Castle Hopping
Today is all about reveling in the fresh air and twirling around castles as you explore County Donegal. If you're looking for more scenic views and wind swept hair, today is your day!
Prance Around Donegal Castle
Wake up and enjoy a quick breakfast at the Abbey Hotel before walking over to Donegal Castle. This is certainly a great castle to take some pictures at and I definitely recommend doing the tour. Be mindful that the Donegal Castle is closed on certain days, so plan your visit accordingly! Towering over the River Eske, this castle was built as a personal fortress in the fifteenth century and passed through a couple hands before falling into ruin in the twentieth century. Luckily it was brought back to its former glory in the 1990s and is a heritage property today.
Take in the Slieve League Views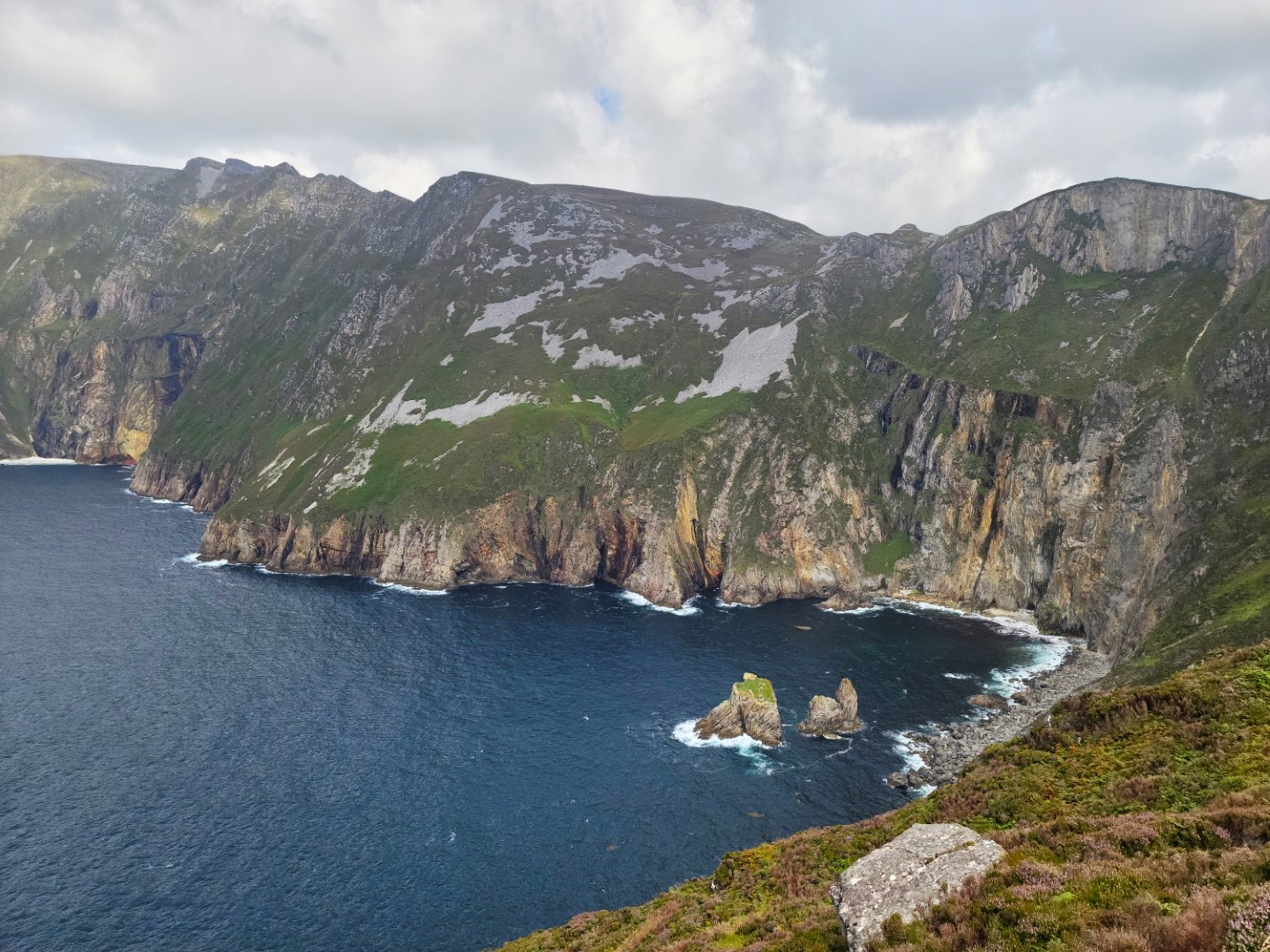 With your bags all packed you'll drive 40 minutes towards Slieve League (or Slieve Liag) where you'll be greeted by the second-highest sea cliffs in Ireland (I was shocked to learn that these mountains are three times the height of Cliffs of Mohr!). We lucked out with blue skies, green pastures and sunshine peeking out at us during our visit and I hope the same for you.
There are two ways I recommend to experience the magic of Slieve League. First up, one of the best things to do in Ireland is to get on the water and so, I recommend a quick boat ride to see the mountains from below. We joined Sliabh League Boat Tour on one of their daily tours and enjoyed an hour and 45 minutes on the water. I don't do well on small boats but this was large enough and didn't have any gas blowing our way, so I had no issues at all. I sat outside and enjoyed the fresh air and the majestic views of Europe's highest accessible sea cliffs. Our Skipper had plenty of tales to share and was able to answer our many questions as well.
Once the boat ride was completed we could have hiked up the mountain but we opted to drive up to the Slieve League Cliffs' Centre. Here we enjoyed a cup of tea and some scones before exploring more of Slieve League. You can roam around, taking in the rugged landscape, admiring the views and marveling at the beaty of nature. All the way to the top and back will take you at least three hours but we opted to spend an hour walking around as much as our knees allowed! As you walk around Slieve League, know that you walk in the footsteps of pilgrims and monks: the mountains hold the remains of an early Christian monastic site, including a chapel and beehive huts.
Once you're done, you're definitely going to be hungry so head over to the Rusty Mackerel where you will find some of the freshest seafood in the country! The local fishermen catch the fish overnight and deliver them first thing in the morning. I enjoyed the creamy seafood chowder, mussles and the crispy mackerel.
Learn About Traditional Tweed and Pubs in Ardara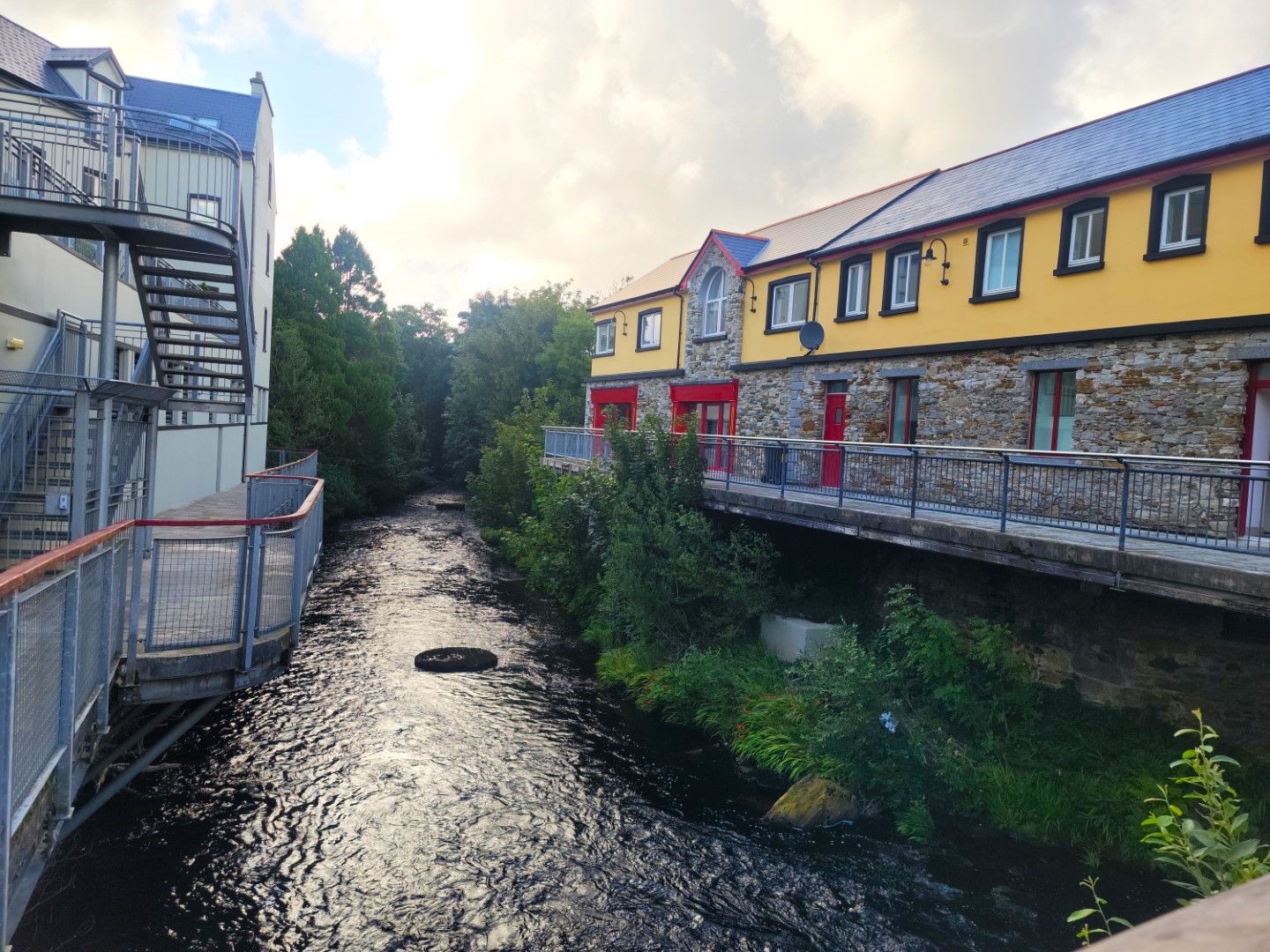 Sure you're ready to relax and unwind this evening so head towards Ardara. 4o minutes away this cute little town (with a population of about 700 people) was named the best village to live in Ireland by the Irish Times! Having spend just a night here, I get the charm!
Check into the Nestbitt Arms Boutique Hotel and if energy permits, walk around and explore the area. This area is known for it's Donegal Tweed and if you're lucky you may spot Eddie Doherty spinning away at his shop. He learned to weave by hand at the age of 16 and luckily for us, he was happy to chat with my friends and I about the process and show us how he weaves. A very neat experience! There's also the Sliabhliag Distillery nearby and although I didn't have time to pop in for a tasting or tour, I really hope you do!!
Ardara is home to one of my favourite pubs – Nancy's. One night here and you'll realize why I found it so charming. This family run pub has a fascinating story. Nancy's husband was the original owner of the pub but when he passed away leaving her to look after the family, she renamed the pub and today her great x 7 grandchildren are running the place. We came here for dinner where we enjoyed fresh oysters and crab claws. When it comes to drinks, Nancy's received a nod from Dead Rabbit in NYC so you know this is a legit bar! Half of our group retired back to the hotel while some us hung out for a couple more pints, meeting locals and learning about Donegal County. It was the quintessential pub experience you would expect in Ireland! I was also told that I had to visit Doherty's Pub and enjoy some pizza but alas, I shall have to do that with Chris when I return one day.
Day 5 : More Castles to be Explored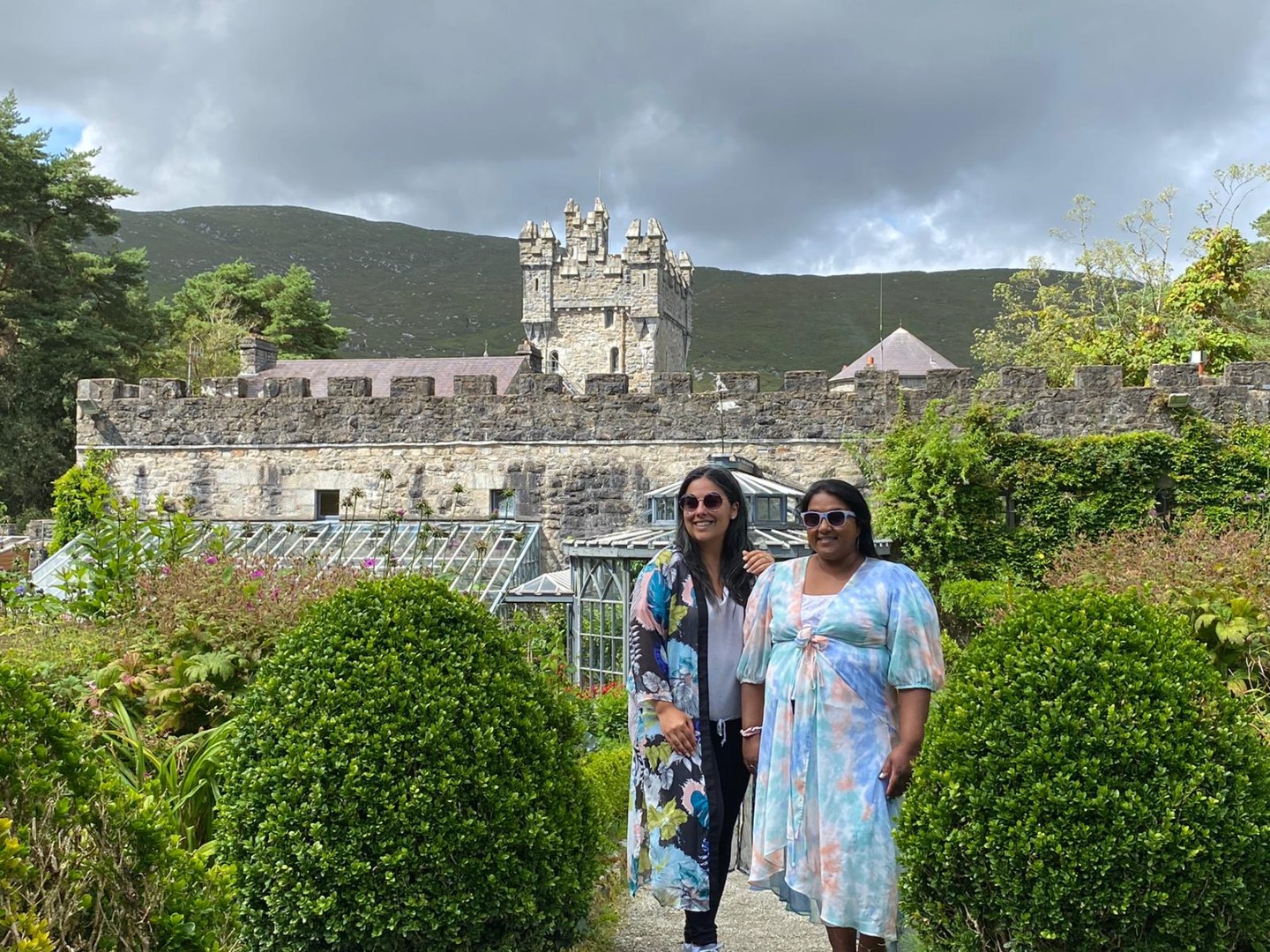 Wake up to a traditional Irish breakfast at the Nesbitt Arms Hotels in Donegal County and get ready for another day of exploring Castles along the Wild Atlantic Way on your girls getaway in Ireland. If you're lucky, you may even sleep in a Castle tonight!
Explore Glenveagh Castle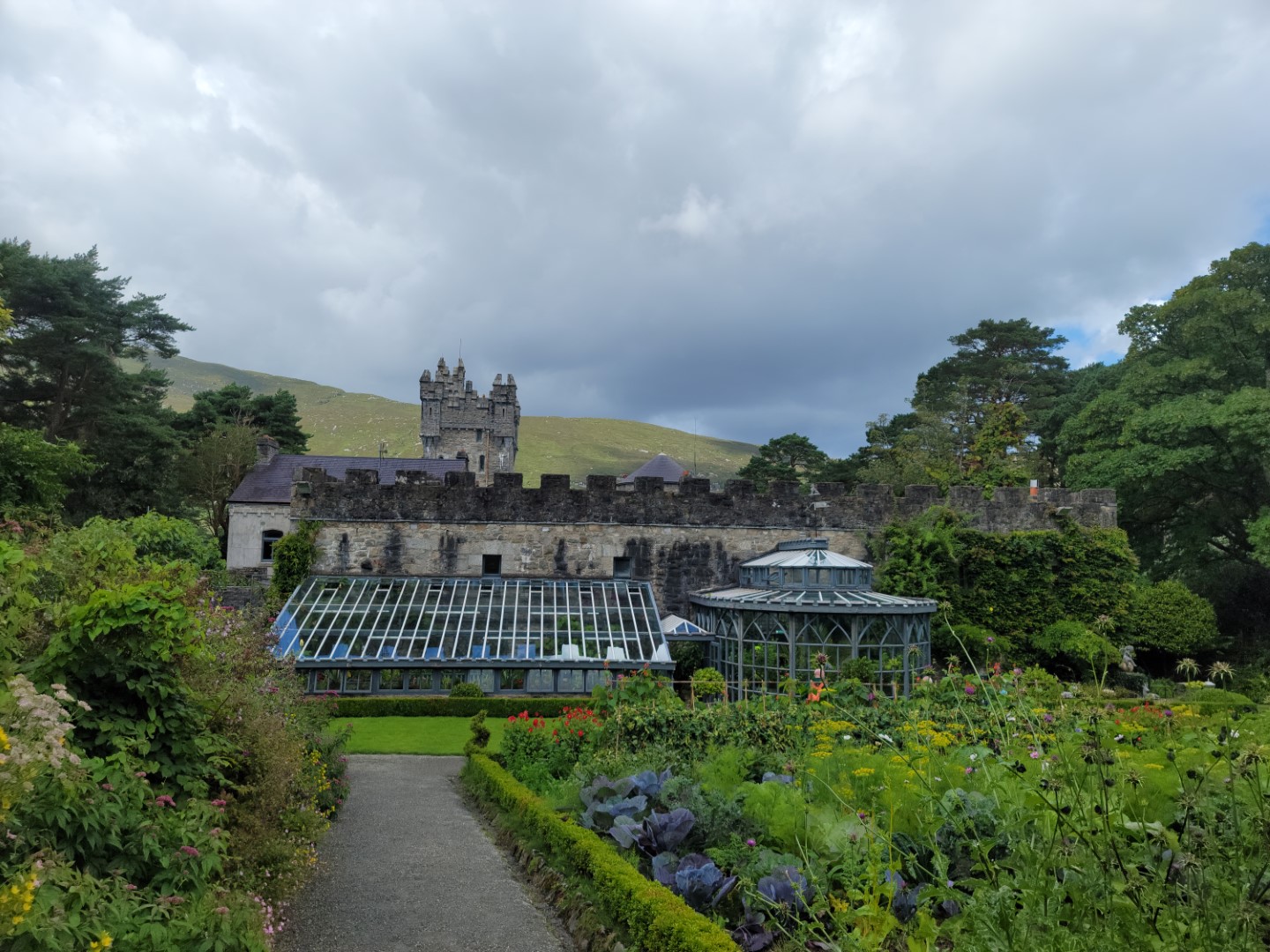 An hour's drive away from Adrara is the second-largest national park in Ireland and you'll definitely want to spend a few hours here. Of all the castles we toured, this one certainly piqued my interest the most. This national park has a castle, a magnificent garden and many a hiking trail that will give you views of Derryveagh Mountain. IF you're planning to hike around, this site gives you a great overview of the various routes you can embark on. A bus takes you up to the main castle and garden area so you don't need to hike it from the parking lot – phew!
We stuck to Glenveagh Castle and the gardens encircling it during our visit and still spent two and a half hours here. We lucked out by getting a tour of the castle and what was most fascinating was the fact that our private tour guide, Mary, had not only worked in Glenveagh Castle for decades, but she also raised her children here! We heard about how her kids grew up, taking the school bus and running around the gardens. And sure enough, as we were leaving the Castle, we bumped into one of Mary's kids who was also working in the Castle during the summer term!
The gardens are stunning and perfect for your girls getaway in Ireland photoshoots! This is also a lovely spot to enjoy lunch at because you have a long drive ahead of you as you wind down your Ireland road trip with your gals. We enjoyed the Halloumi toast, sausage rolls and the cakes here. If the weather is on your side, you can sit in the courtyard and enjoy your lunch but be mindful of the birds that may swoop in! We opted to dine indoors and were happy with our decision.
Check into Baberstown Castle Like the Queens You Are!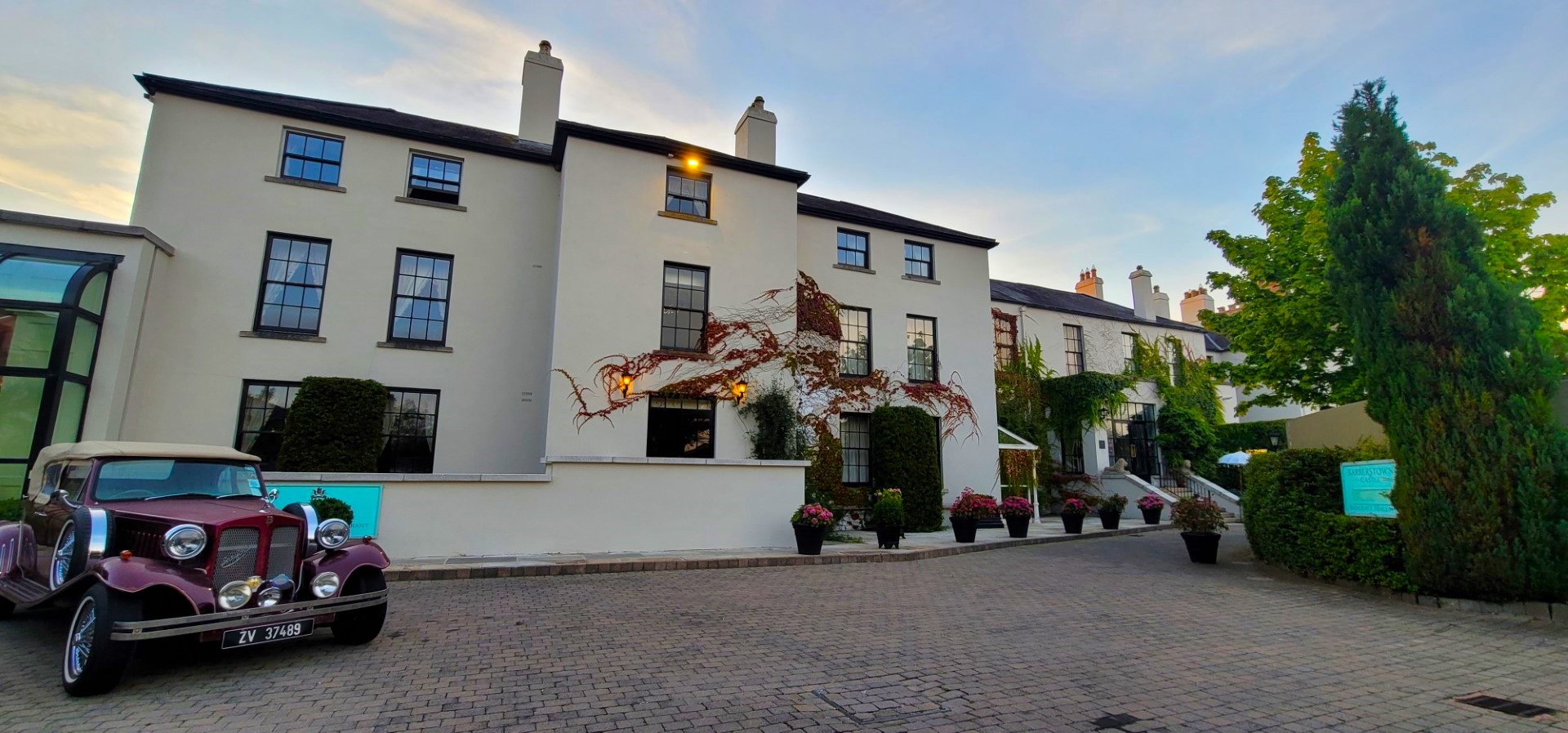 Alright, don't get angry. Hear me out. For your last two nights (if you didn't spend any extra nights elsewhere) I highly recommend staying at Baberstown Castle which is a three hour drive away. I know it's a long drive but honestly, this is a stunning spot to end your girls holiday in Ireland. TRUST ME! This Castle Hotel is a joy to experience and you're far away from the hustle and bustle so you get to truly relax and unwind. Also because I know you're already wondering what this may cost you… know that it's incredibly reasonable to stay at this Irish Castle. Shockingly reasonable even!!
Barberstown Castle is a four-star country house and historic 13th Century Castle that was once musician Eric Clapton's home. From 1979 to 1987 famous rockstars came to stay and play music into the early hours here and today it's 55 bedroom hotel. I mean, look at that bathroom in my room!!!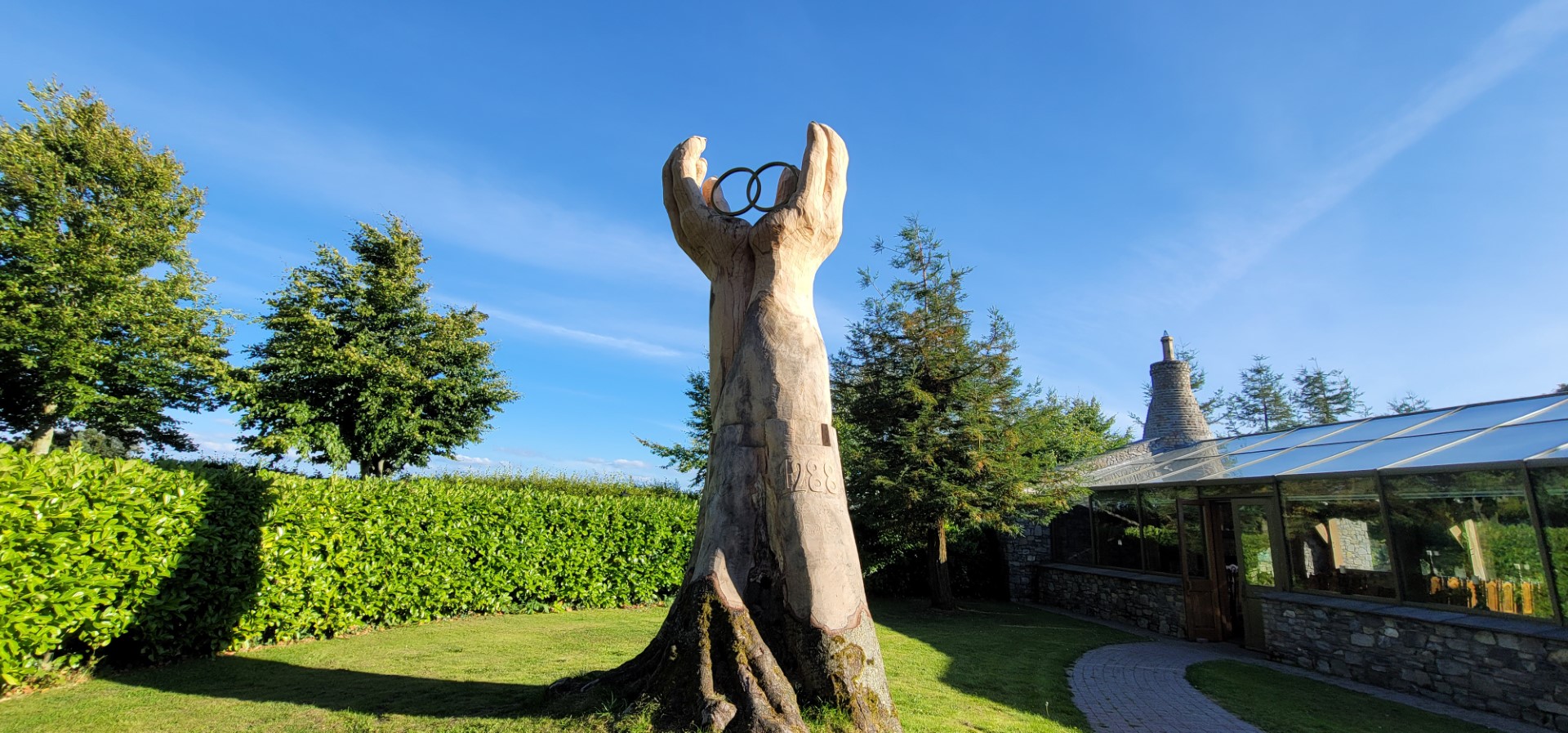 The grounds are lush, the rooms ornate and having restaurants on-site means you don't have to leave your castle at all. The new owners of the property have done an amazing job with the building and have plans for more expansions. For those with a penchant for otherworldly realms, an unused section is said to be haunted but luckily for us, we had no dealings with ghosts of any kind during our stay here.
Day 6 : Take it Slow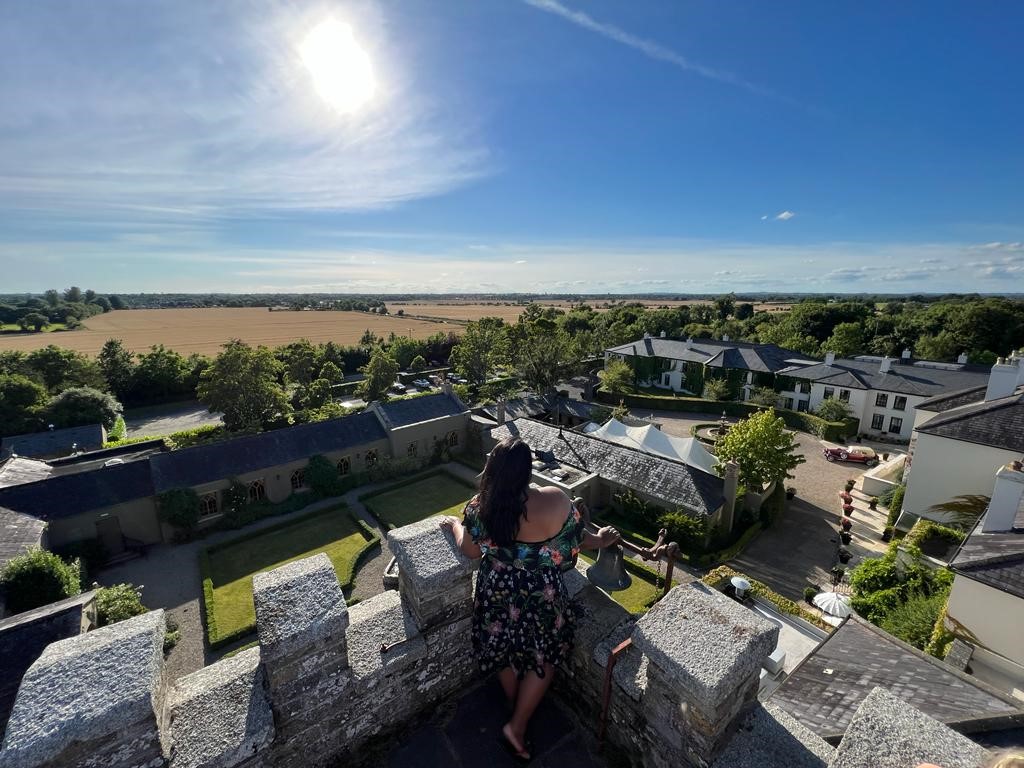 If you didn't take an extra day anywhere along the way, you're in luck. I highly recommend staying two nights at the Baberstown Castle. Sleep in, order room service, promenade in the gardens and enjoy some late night bevvies. You need to relax before your day of travel! Of course if you would much rather be on the go, make your way back to Galway or head to nearby Dublin!
Day 7 : Slán!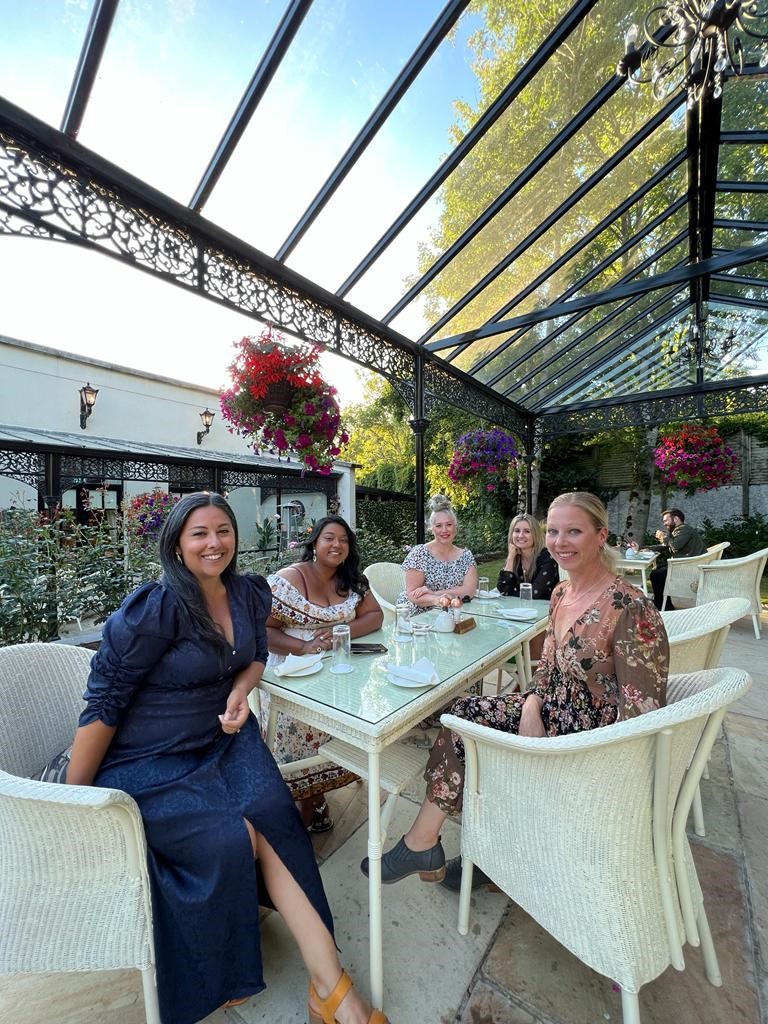 Your final day has arrived and you can either head back to Galway which is a 2 hour drive away or head towards Dublin which is half an hour away (depending on how you booked your flights of course). If you're flying out of Dublin and have some hours to spare, I have some ideas obviously. During our 2013 trip we spent a few days in Dublin and you can read all about our family trip to Dublin here. My suggestions is to take it easy. Maybe visit the Guinness Storehouse or the Jameson Distillery and pop by Temple Bar for a drink and take in the River Liffey views or go shopping being sure to weave through the alleys of Grafton Street and Henry Street. If time and energy permits, a Sandemans walking tour or a visit to Trinity College could also be on the Momcation in Ireland itinerary for you. Heck, just add another day to your itinerary and spend a night in Dublin before your flight. I mean, why not?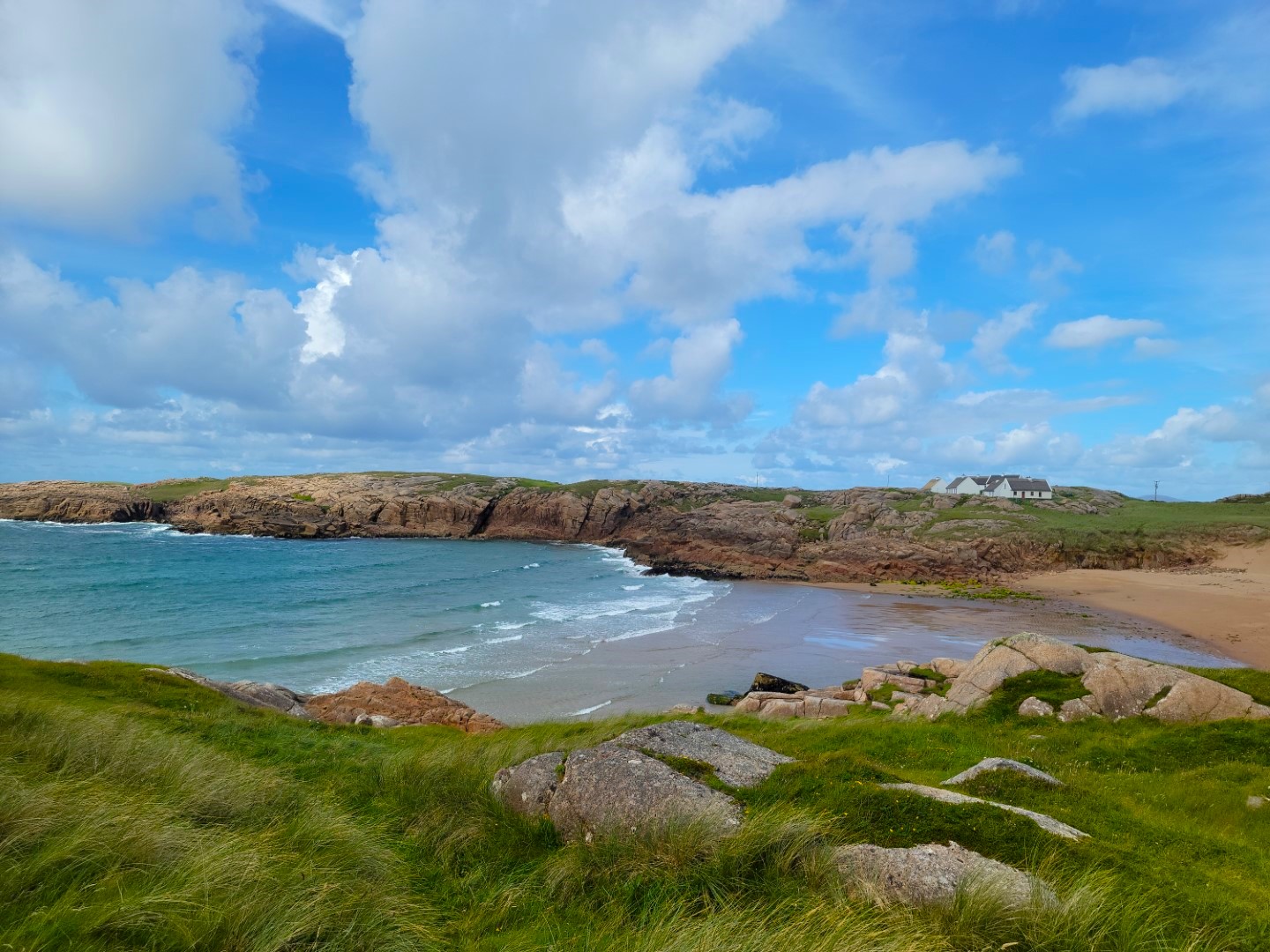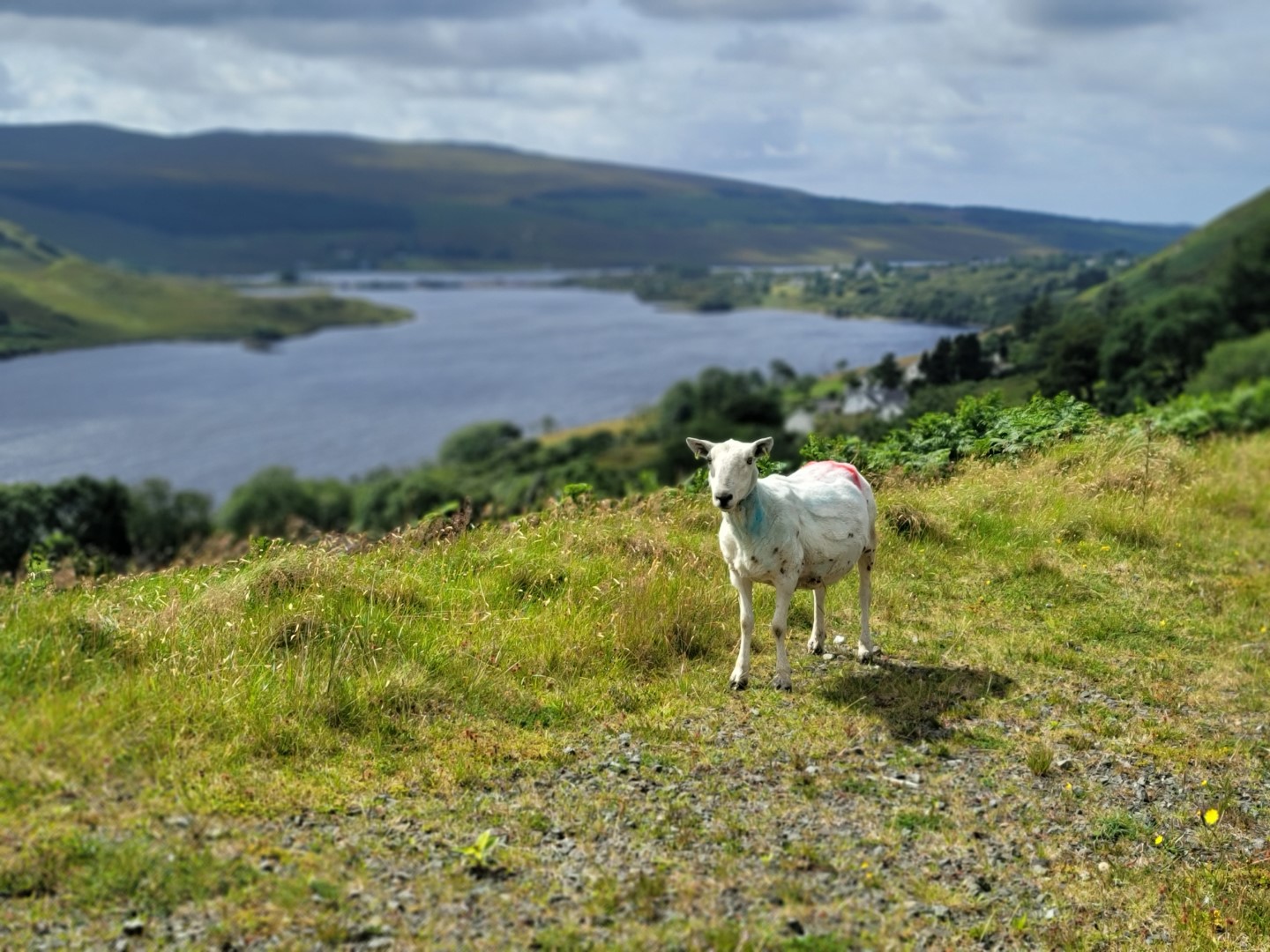 I hope I've inspired you to book that trip with your gals and head off on an adventure. Ireland is calling! Answer!