Ontario in the fall (Autumn) months is absolutely gorgeous and a Muskoka fall colours drive had been on my list for a few years. This year I finally had the chance to experience the magic of a Muskoka cranberry farm and Muskoka beer spa on a quick girls getaway. Our Ontario fall road trip was quite last minute and luckily for me, I found two friends who were up for a mid-week one night stay in Muskoka to experience their cranberry route. I honestly feel that Muskoka is one the best fall drives near Toronto and this year, mother nature was showing off her true colours!
Please note that there is a popular Bala Cranberry Festival that takes place in mid October but we are yet to experience that. It promises midway rides, live music entertainment, busker entertainment, art exhibitions and so much more. We were looking for an easy and relatively quiet and low key getaway so we went mid week.
Things to do in Muskoka During a Fall Drive on a Momcation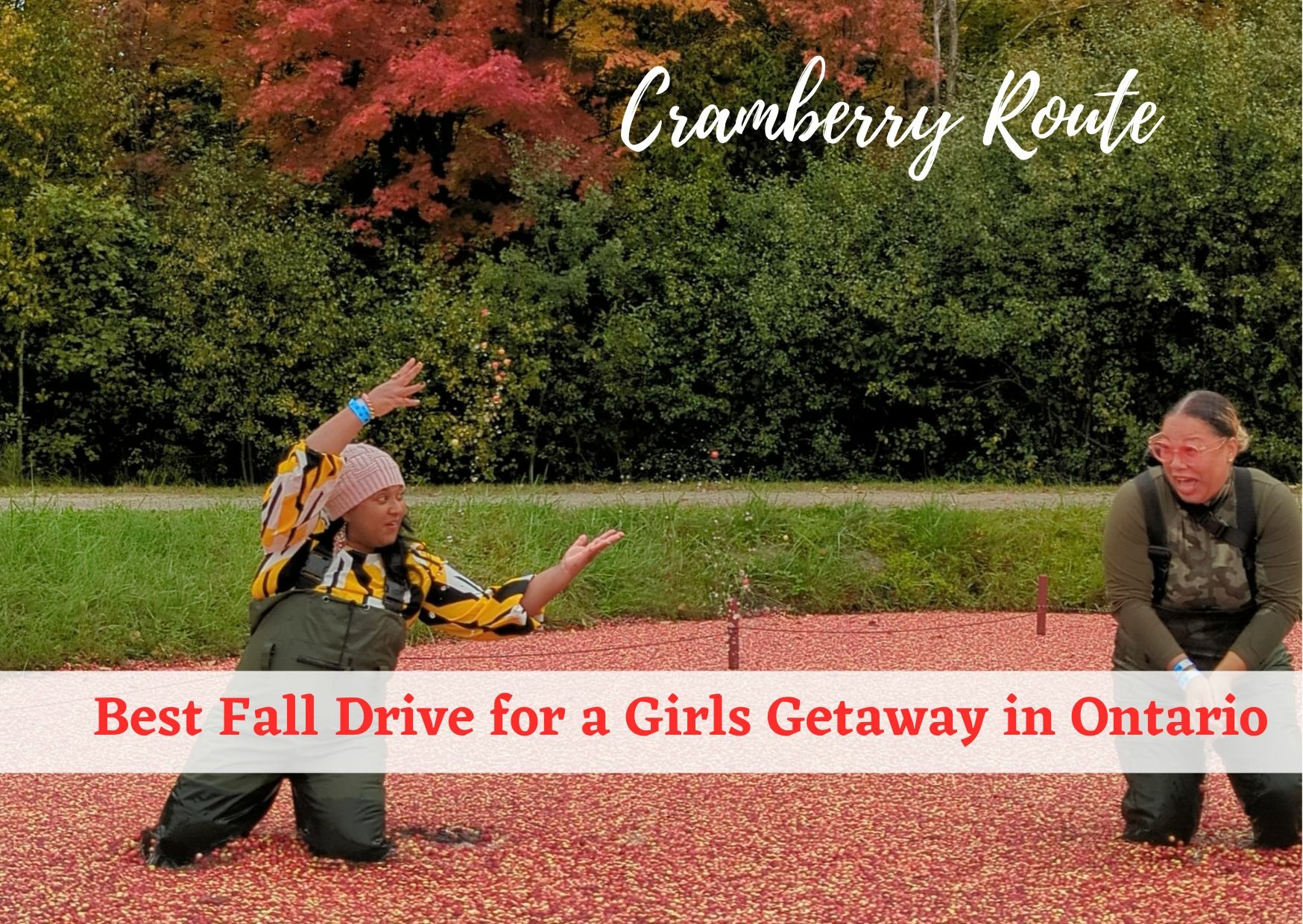 What is the Muskoka Cranberry Route?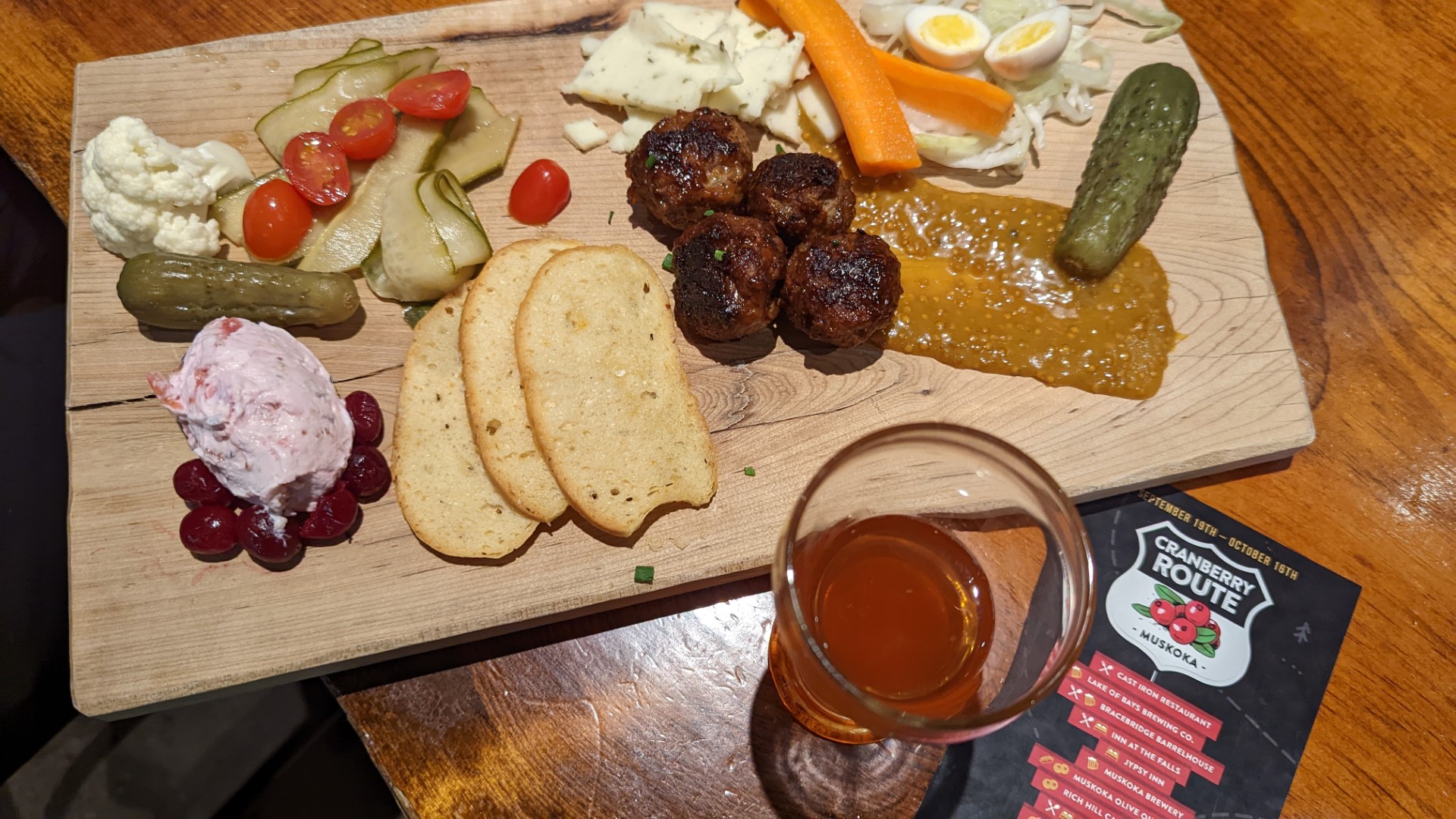 Honestly, having gone on many Ontario road trips, this was the first time I heard of this Ontario culinary route. You know I love my Ontario cheese trail and the kids were all about the chocolate trail in Stratford, so now we have the momcation cranberry route! HaH! Each year in towards the end of September, Muskoka kicks off the cranberry season and it's not just cranberry farms in Muskoka that awaits you on this Muskoka fall colours drive, you also have breweries, wineries, resorts like JW Marriott Muskoka and even Muskoka spas like the Muskoka BeerSpa!
–
There's over 30 stops on the cranberry route and they're spread out, so where you decide to stop will depend on your route. Since we were heading towards Bala for the Muskoka cranberry farm and plunge, we stuck to spots closer to that end of the trail. On this self-guided trail you'll find restaurants, shops, attractions and so much more- there's something for everyone!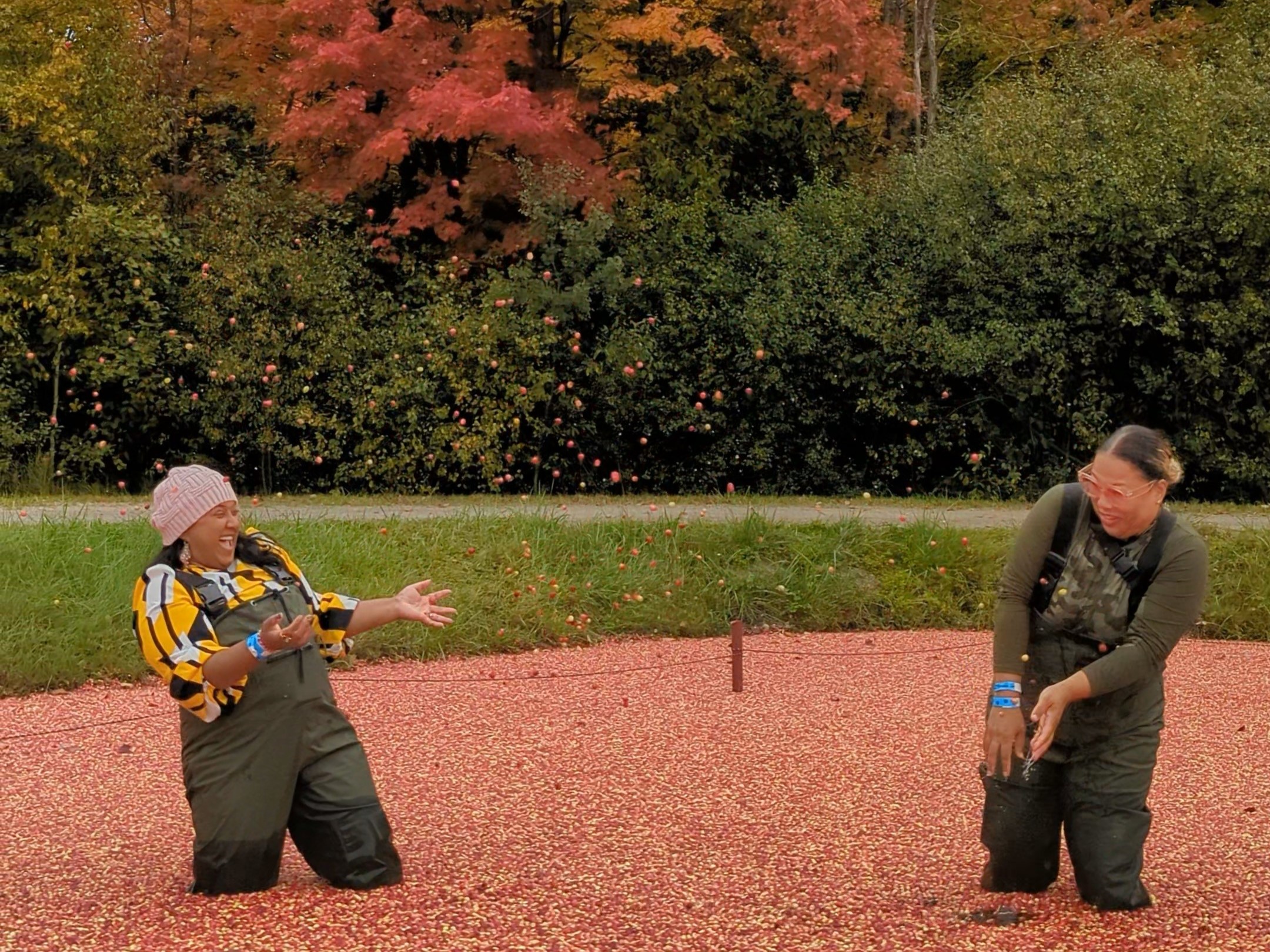 I will also mention that not everyone knows about the Muskoka cranberry route, not even some of the vendors promoted on the trail!! For example when we visited Sawdust City Brewing Company, our server had no idea why I kept asking about cranberry items. Once we clued them in, they loved the concept and quickly told me that while the cranberry beer wasn't "available right now" they did have some cranberry items on the food menu. VOILA!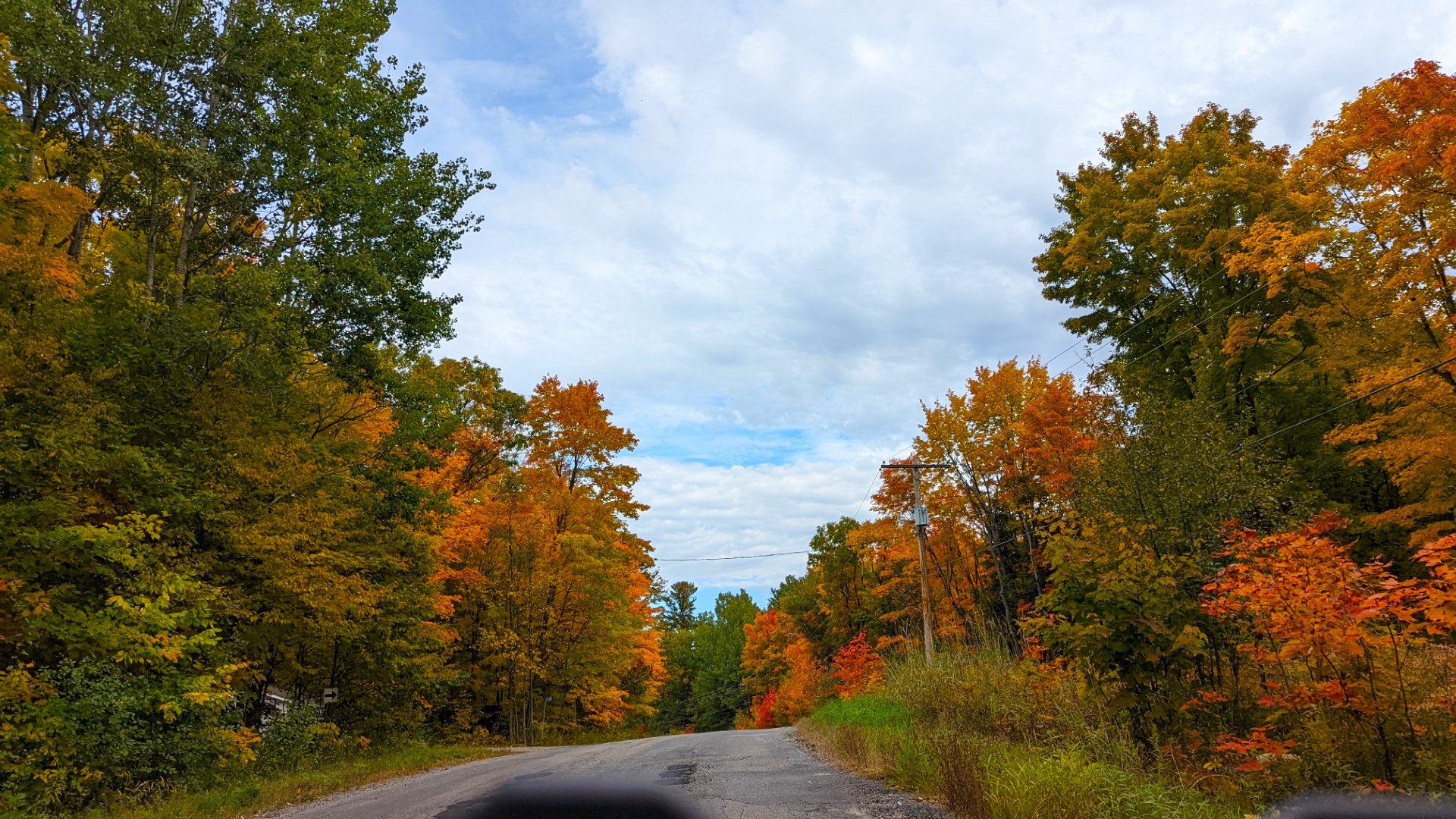 Muskoka is the cranberry capital of Ontario and this is surely one of the best fall drives in Ontario, so load that car and get exploring!!
Muskoka BeerSpa Review and Experience – Perfect Destination on a Muskoka fall Colours Drive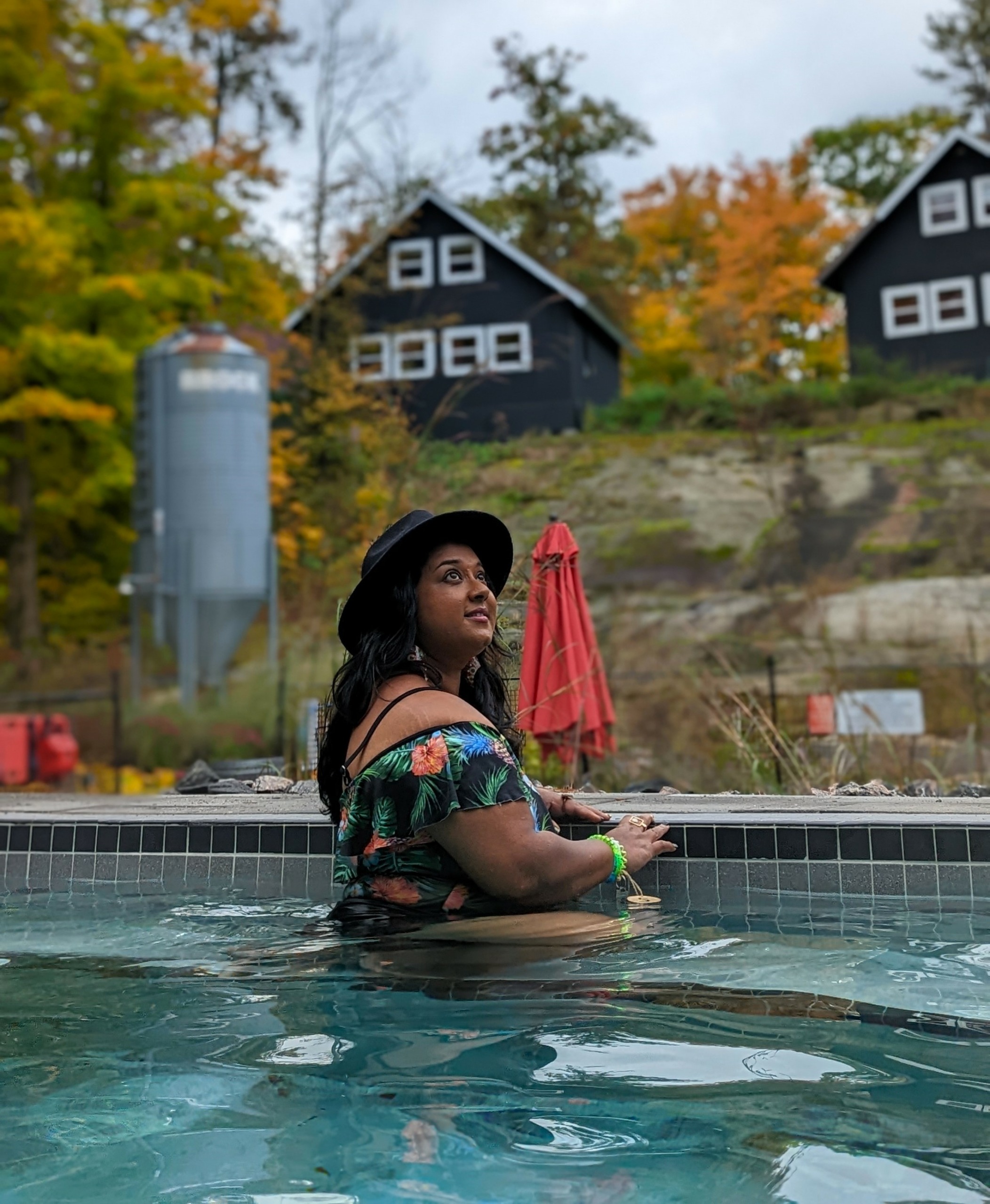 We've visited Bracebridge twice in the last year and discovered a fabulous list of things to do in Bracebridge. As you may recall, earlier this summer we visited the Torrance Barrens dark sky preserve and during that road trip from Toronto, I noticed that the Ontario beer spa I had been wanting to visit for the last few years, was around that area!
I knew a fall visit to this Ontario spa with some girlfriends would be a fabulous ideas so when Muskoka BeerSpa agreed to host us, I knew exactly which gal pals to call for this overnight adventure!
What is the Muskoka BeerSpa?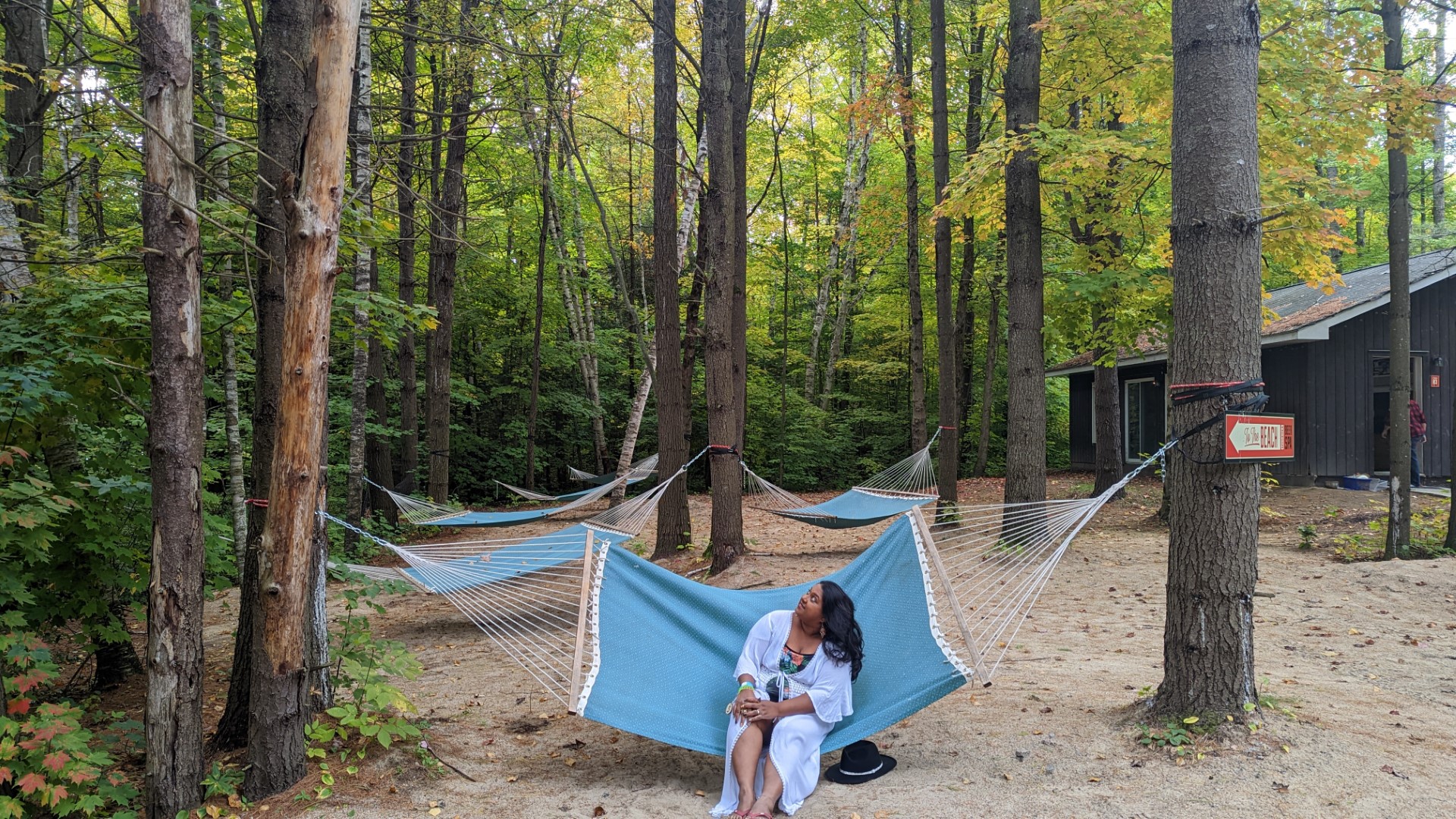 This Ontario spa located in Torrance is an outdoor spa that's similar to Nordic style spas. You have your cold and hot pools as well as saunas and steam rooms. You can also tag on a massage if you wish. Now, it's called a beer spa because you can purchase drinks on-site and there's a brewery just across the road (as well as Cottage Springs vodka beverages). During our visit, we didn't notice any spa treatments using beer, though that would be cool (they can't due to legal reasons).
We did enjoy some great tacos from the El Gringo food truck though! Highly recommend asking for their hot sauce too!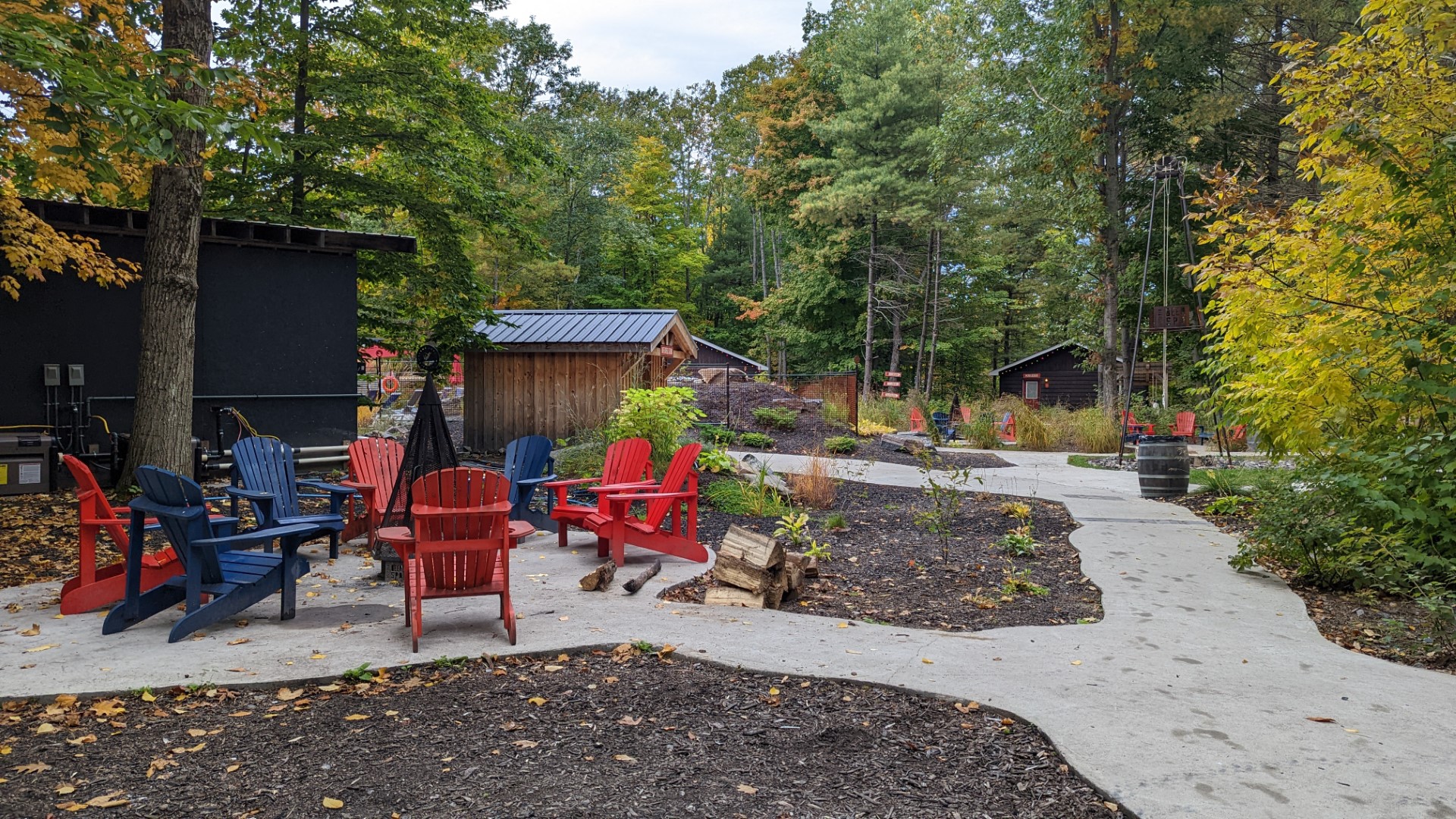 So you can visit this Muskoka spa for a day visit or spend a night in the overnight cabins and enjoy private beach/lake access as well. If you're doing a day visit, it's super reasonable and priced at $60 during the peak season. One of our local friends lucked out because there was a special promotion on during our visit where spa guests only paid $20 if they arrived after 3:30 p.m – be sure to check their seasonal specials! This Ontario beer spa is open from 9 a.m. until sunset. We visited in early October and got there for 3 p.m. and felt so relaxed hoping between the pools. As much as I love steam rooms, the one I went into wasn't to my liking as it reminded me of a gym bag but the infra red sauna which allowed us to play our own tunes via Bluetooth was PERFECTION (don't worry, it was just me and my gals in there so no one else was subjected to our old school hip hop and R&B).
In addition the pools and saunas, there's also seating areas in various corners and even swings! So you can relax around a firepit or lay on a lounger and take a nap, if you wish! It's oh so very zen here and a wonderful opportunity to immerse yourself in nature during your Muskoka fall colours drive.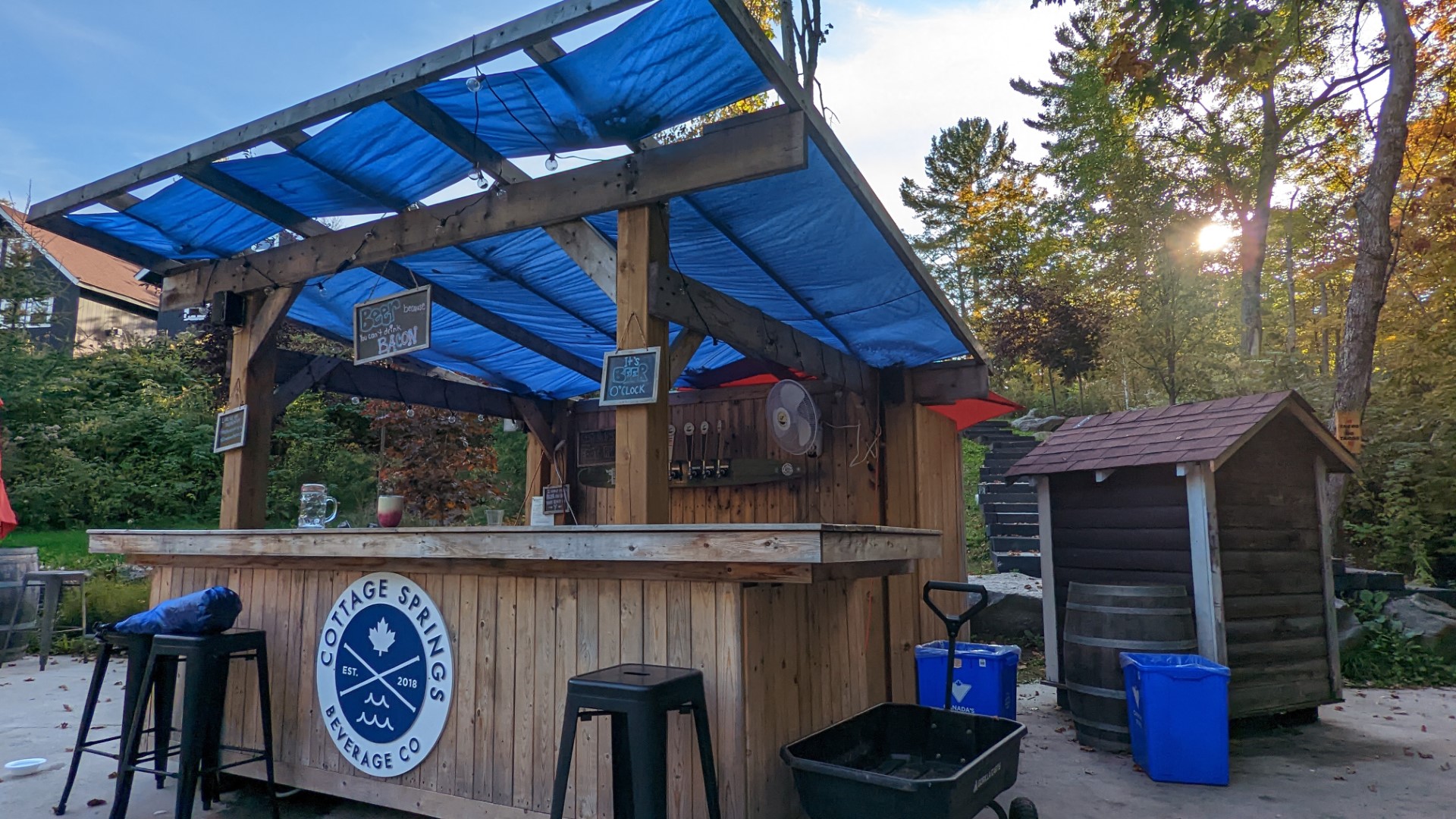 Now, I want you to remember that this isn't a fancy experience. It's a way for you to be outdoors in nature and enjoy the spa facilities. If you're expecting 5 star attention to detail, you're better off giving this a miss and maybe heading to the JW Marriott Muskoka resort. My friends and I loved this experience and will return in the spring for sure but I also know that I have some girlfriends who would not have enjoyed it because they only appreciate luxury spas.
How's the Overnight Muskoka BeerSpa Experience?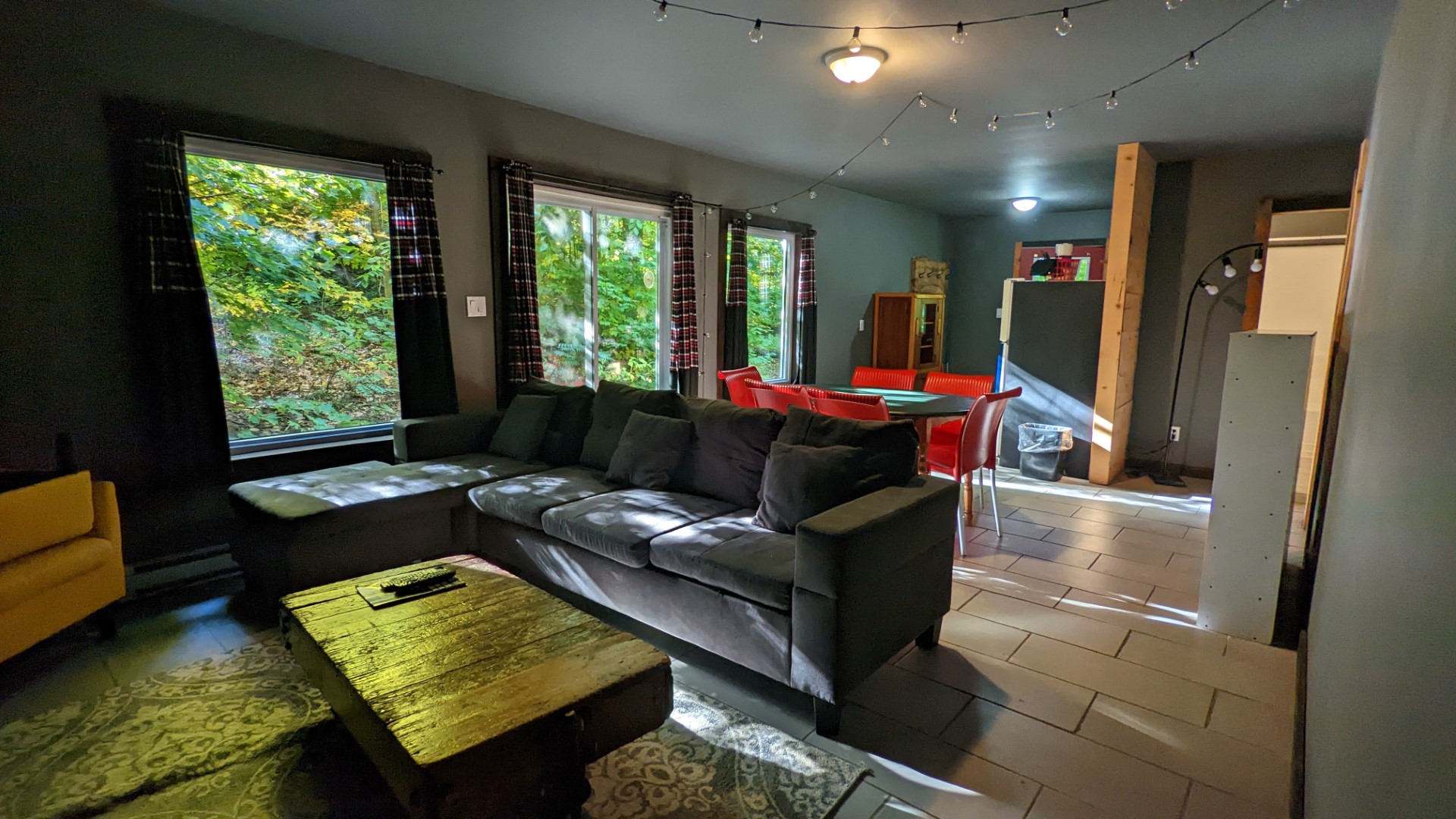 I told you all about how you can spend a day at this Ontario spa but you can also enjoy an overnight stay in one of their rustic cabins! This is what we decided to do during our Muskoka fall colours drive and I'm so glad we extended our day trip into an overnight girls getaway in Ontario.
They offer four season 3 bedroom cabins as well as seasonal 1 & 2 bedroom cabins (from mid May to end of October). Unlike traditional Muskoka cottage rentals, you pay per person for these cabins. Kids under 5 stay for free but I personally think you should save this experience for an adults getaway in Ontario! I say this because the spa facilities are for those 19 and above and I know if I had Akira and Apollo in the cabins, they'd whine about not being able to use the pools and saunas. They fancy like that, after all! When it comes to the per person cost, it ranges from $110 to $200 depending on when you visit (week days are cheaper) and which cabin you're staying in. You can fit up to 6 people in the larger cabins so plan that getaway now!
The cabins are rustic as I mentioned but they have a Canadiana charm which I appreciated. All the décor is woodsy and even the doors are made from planks of wood (which means that when you're in the bathroom, there's a gap and kids can peek in through the planks – so leave them at home- lol). The cabin comes stocked with pillows, linens and towels so you don't need to pack those but you will have to bring your own water, plates, cutlery and any hard plastic cups you may want/need.
There are so many fun elements in the cabins! First of all, you get unlimited snacks!! YES!! Chips, chocolates and candy! We didn't call for a second batch but we totally could have had we got through it all. You can also have a keg in your cabin fridge (for an extra charge). I know Chris would have totally loved that! Another highlight is the crazy cool selection of VHS tapes. My friend made us watch a chick flick that was quite sad, so next time I'll pick the movie to watch (yes there's a VCR too). Oh also, the eucalyptus tabs in the shower were awesome!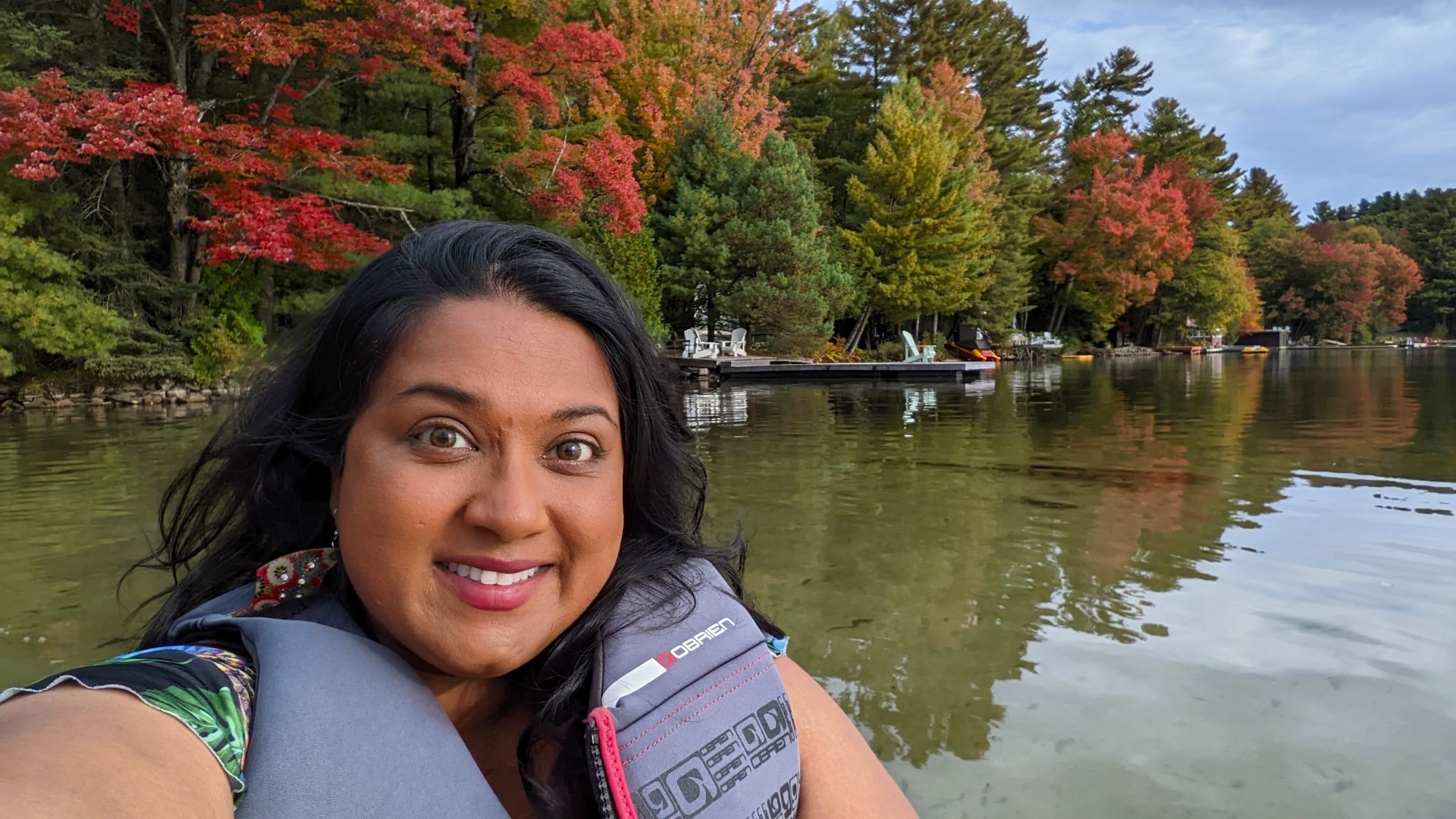 For your evening pleasures there's campfire wood, a fire starter kit and a lighter provided. Oh and overnight cabin guests have access to the Clear Lake beachfront. Whether you're looking for a sunset paddle or a sunrise kayak, there are life jackets, SUPs, Kayaks and Canoes for you to use at no extra charge. It's all quite chill and I liked the fact that we were able to walk up at any time and use these water toys. Oh and did I mention that there's freshly baked pastries delivered to your front door each morning?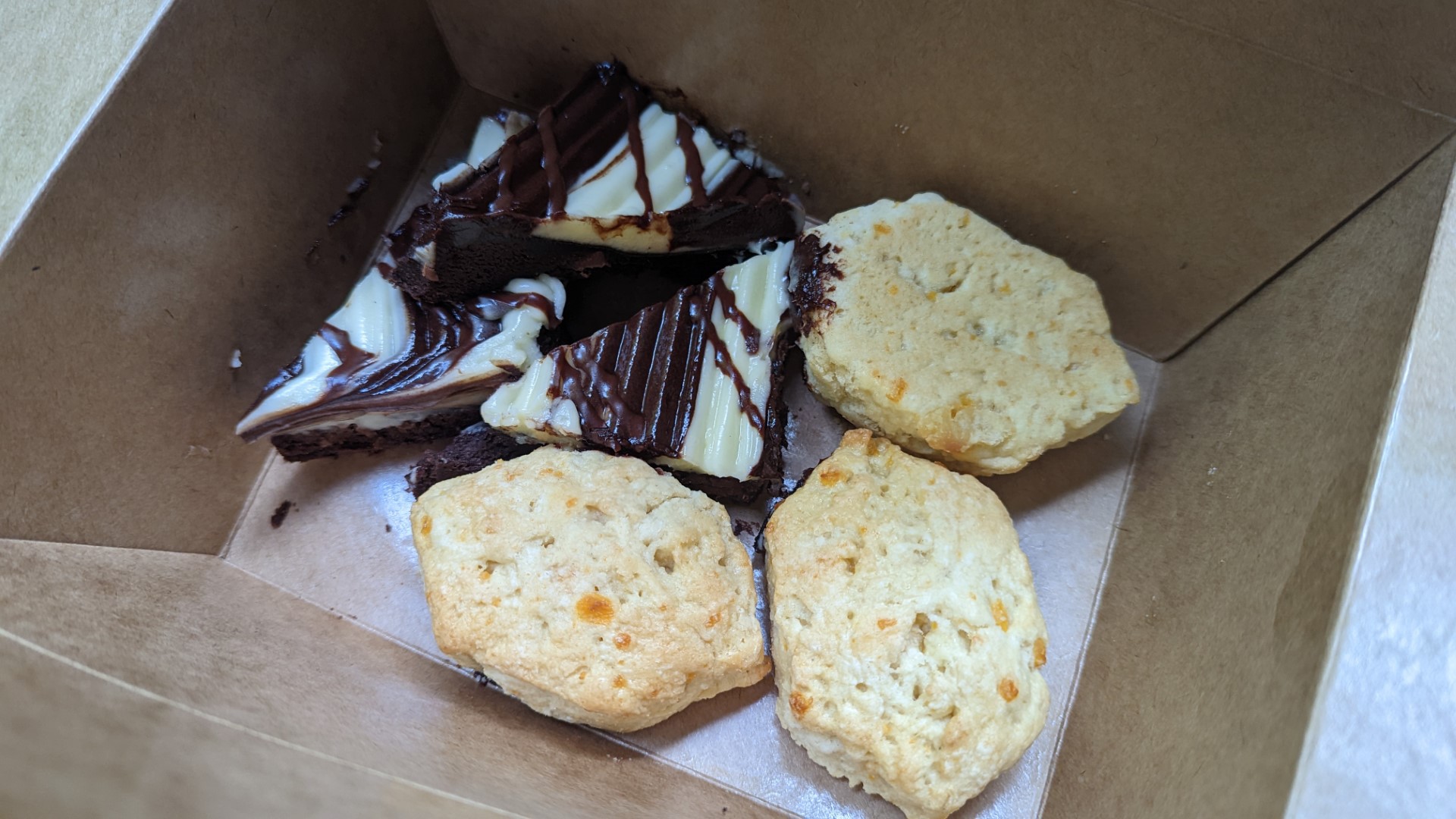 The next day at 9 a.m. there were some baked good waiting at our doorstep and that was a lovely touch! All guests receive breakfast treats.
We only spent one night so we enjoyed dinner at the Clear Lake Brewery and picked up some Cottage Springs cans for our evening beverages. If we were staying longer I would have brought cutlery and plates because the cabin only has some paper cups for single use. We opted to dine at the brewery on site and enjoyed a cranberry beer with our dinner! The staff were friendly and the portions were so huge that we took leftovers back to the cabin for midnight snacks. I know I said to leave the kids at home but if you're driving by this area with little ones, know that Clear Lake Brewing Company has an awesome playground onsite and they host concerts in the summer.
My friends and I chatted about the fact that it was a good thing we're so comfortable with each other because even though we had our own rooms, there was minimal privacy. The room and bathroom doors had gaps which meant sound travelled through. Just keep this in mind when you gather your group for your Muskoka spa getaway in Ontario!
Tips to Keep in Mind when Visiting Muskoka BeerSpa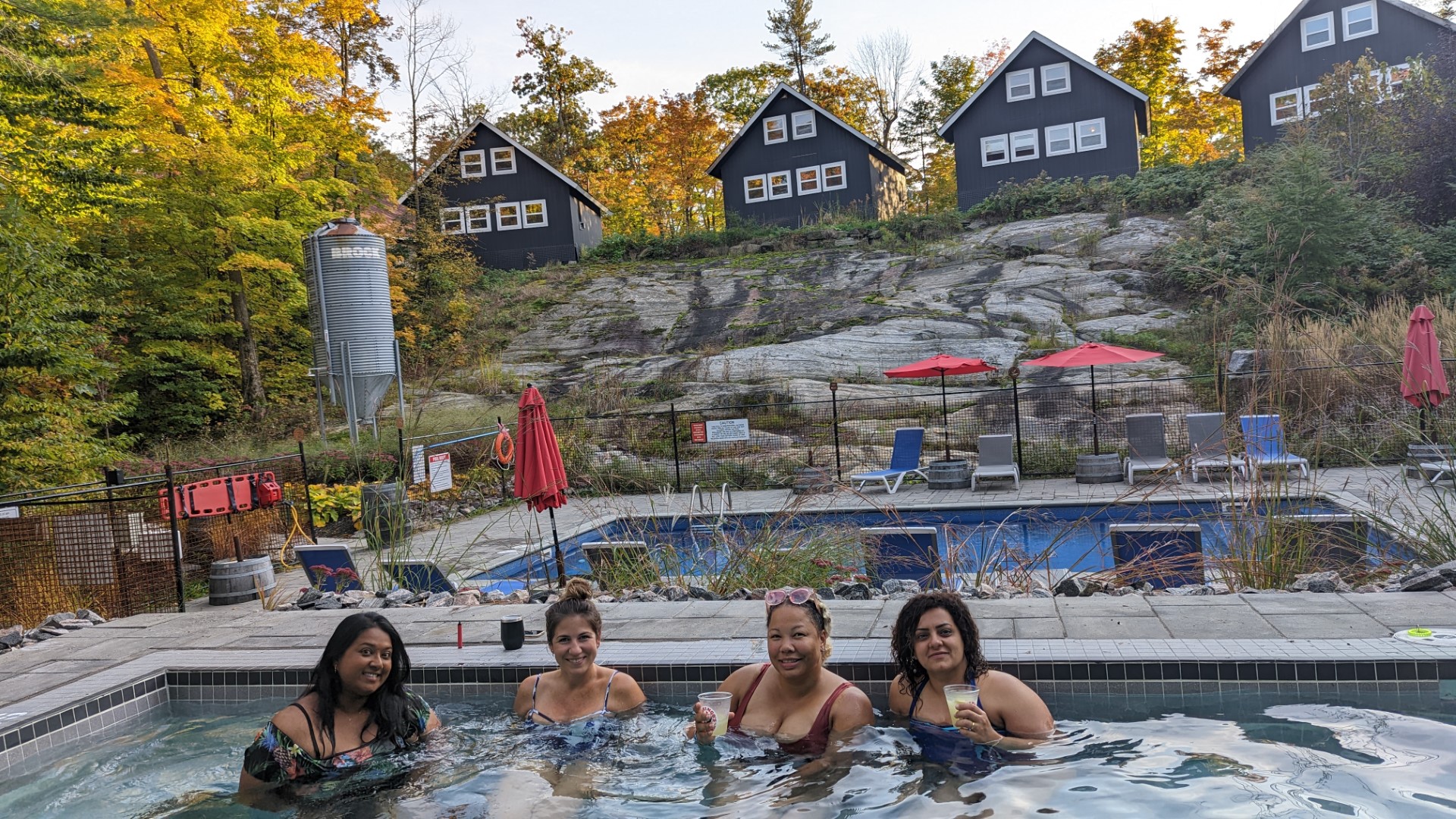 If you're spending the night at the spa, definitely bring a cozy blanket.
If you're staying overnight, remember that you have free spa access on the day you check in as well as on the day you check out!
If you're not into disposable cups, bring your own (hard plastic works best, especially if you plan to roam around the property). A sturdy water bottle also works great.
Buy water to drink because the water needs to be boiled – grab a gallon or two on your fall drive from Toronto into Muskoka.
It gets very dark at night and because you're on a dark sky preserve, lights are kept to a minimal so you may want to use your phone flashlight (or bring some red flashlights if you want to keep light pollution low) to get from your cabin to the beach area for an evening paddle.
The cabin comes stocked with towels, pillows, linens etc but you may want to bring a beach towel or a robe for your spa activities.
The Muskoka BeerSpa has a gift shop onsite and it has some cute cozy items if you forget anything!
Know that the pools are only open from spring to fall. In the winter time the saunas and steam rooms operate and there's an ice rink onsite.
Places to Eat Nearby Muskoka Beer Spa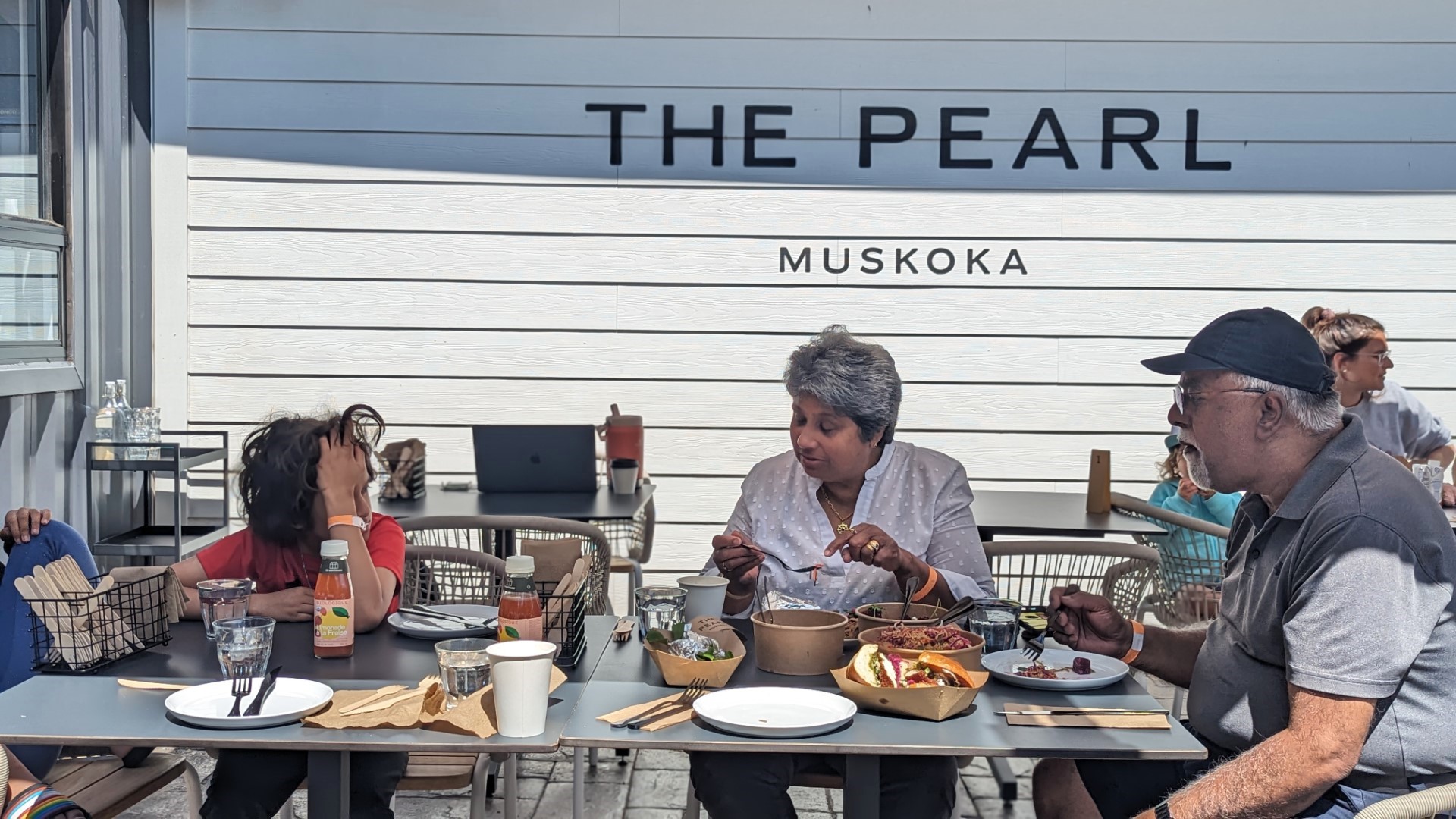 The Muskoka Beer Spa has restaurants onsite so you can certainly stay there all day but if you fancy a great cup of coffee or a spot for a delicious lunch, I highly recommend the newly opened The Pearl Muskoka located in Bala, Ontariow hich is a mere 5 minute drive from the beer spa. This cute café offers some great to-go options on their market side but they also offer dine in options. Be sure to check their hours before visiting and trust me when I tell you that there's no going wrong with any of their dishes. Their White Lasagna is a dish my vegetarian mom will be thinking about for years to come and they have a variety of items, including kids meals. I'm sure they'll have some cranberry themed goodies this fall! Keep in mind that The Pearl is seasonal – open May to October.
Muskoka Cranberry Farm Plunge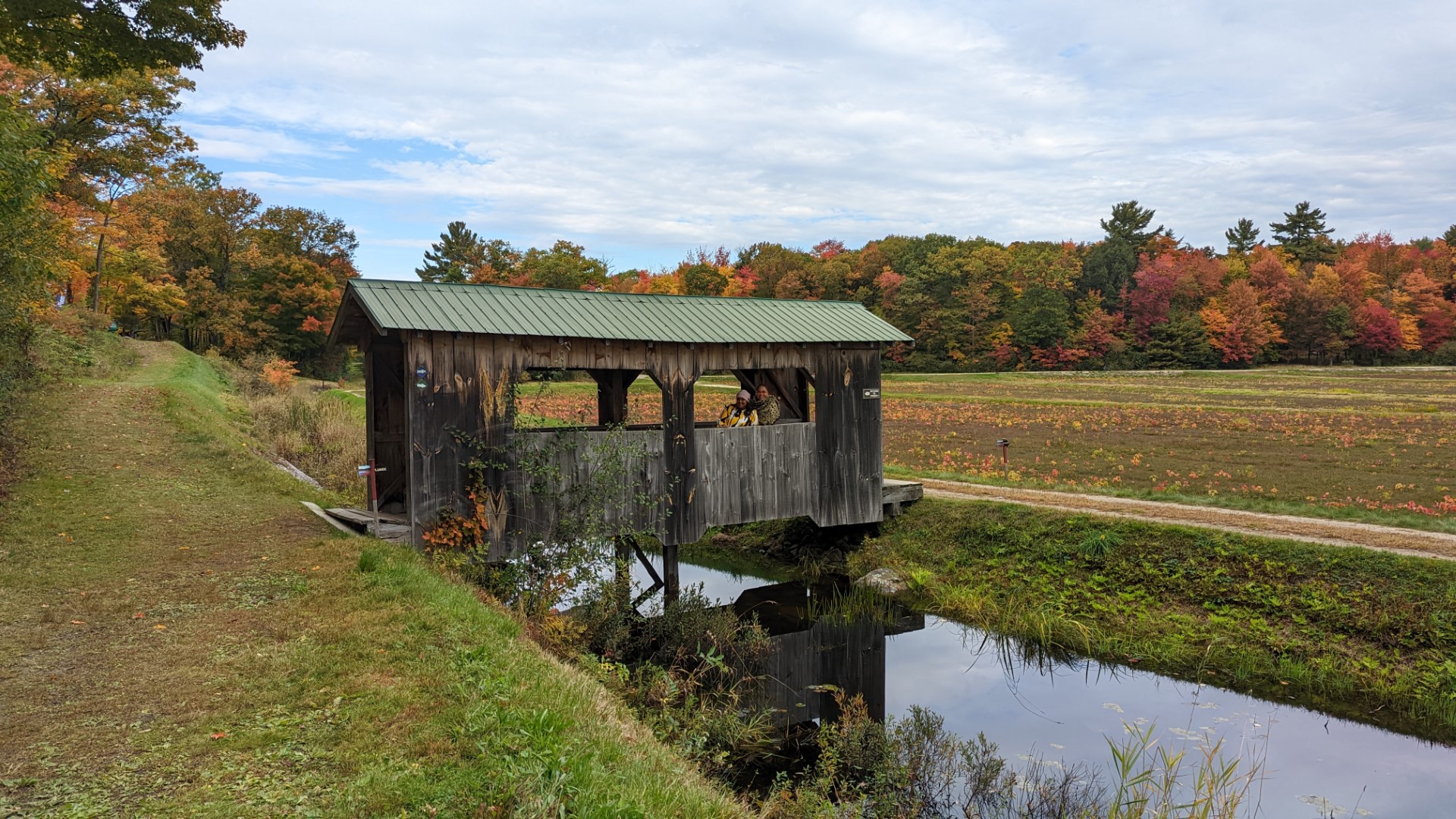 Ever since I saw the Oceans Spray commercial a couple decades ago, I've wanted to do a cranberry plunge. When I learned a few years ago that Muskoka is not only one of the best fall drives near Toronto, but also home to a cranberry farm, I tried my best to get out for a visit. This year I gave up waiting for our family schedules to align and booked tickets for a mid-week visit for a friend and I and it was the BEST thing to do in Muskoka during our fall colours drive.
The Muskoka Lakes Farms and Winery in Bala, Ontario offers a very organized cranberry plunge between end of September to mid October. This family run farm is open all year long and cranberry growing has been a Johnston family tradition since 1950. They're employ responsible growing practices for a sustainable future and even during our quick one hour visit, we saw this first hand.
There's a bakery and winery on site so you can not only purchase goods to take home but also enjoy on site. We were on a time crunch so we didn't linger too long but we did buy a few things and the cranberry apple cider was delicious! They also offer full harvest activities on the weekend that include wagon tours, wine tasting, cranberry plunge, hiking trails and more. We only bought the $20 plunge tickets but if I had kids along I may have done some additional things.
I highly recommend arriving at least 30 minutes before your timed entry because you will want to walk over leisurely from the parking lot to the cranberry marsh and take some pictures along the way. Wearing pants would make your life easier when it comes to wearing the waterproof chest waders they give you. These overalls also have boots built in so you will be taking your shoes off for this activity. I wore flip flops but luckily remembered to bring a pair of socks with me!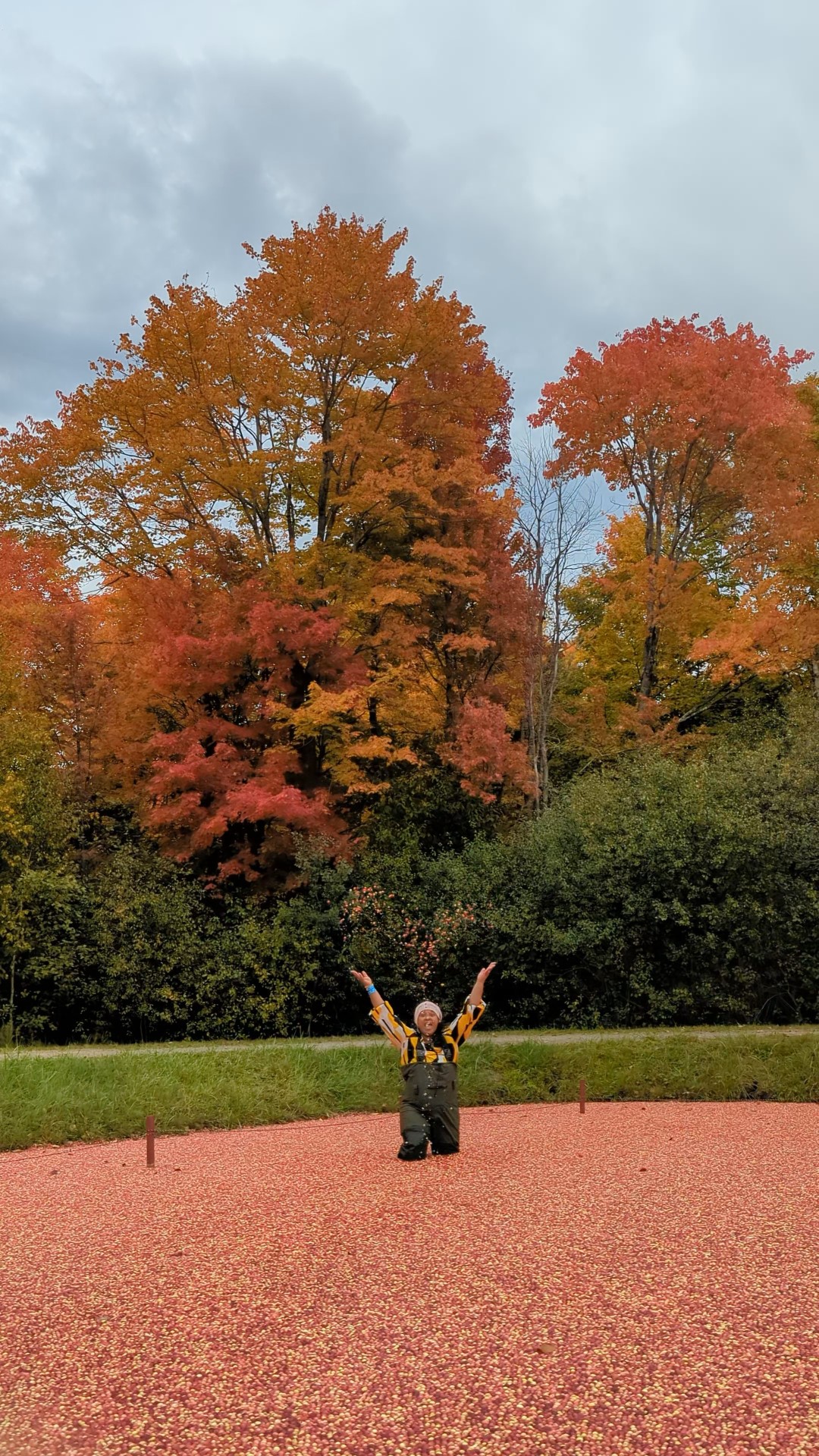 I was kid free on this girls getaway to Muskoka but we did see some kids during our visit. There is a minimum height requirement so if your child is less than 4'6″ they will have to sit on the sidelines and watch while you go in and wade around. Like I said, we had the best time here even though we were only in the cranberry marsh for 20 of the 30 minutes since we got there a bit late. You're not allowed to swim in the pool of cranberries but you can walk around. Just be careful though because there are muddy parts where you may get stuck – so always keep moving and be prepared if you go into a random hole. A change of clothes for younger ones or one of those full body rain suits are great to have on hand for young kids! I highly recommend taking in this bucket list experience in Ontario and adding it your list of things to do in the Ontario in the fall! Weekend tickets for the Muskoka cranberry plunge can sell out so buy them as soon as they go on sale and make this Muskoka fall colours drive happen!
This one night getaway was just what our souls needed and the fall road trip from Toronto was a chance for my friend and I to reconnect and catch up without kids interrupting either of us. Between the Muskoka BeerSpa and the Muskoka cranberry farm, we were both able to try new things and quench our thirst for travel and new experiences.