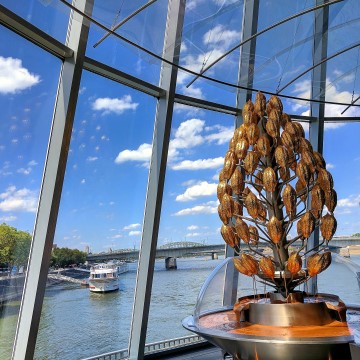 When we heard there was a chocolate museum in Cologne, we knew we HAD to visit. I mean, how could we not? The Schokoladen Museum is located in downtown Cologne by the waterfront and it was a nice stroll over on a sunny day. No matter where you are, you can easily spot the Chocolate Museum as it is located on the riverbank of Cologne's old town. There were kids of all ages and of course plenty of adults exploring the museum during our visit.
It is an easy museum to navigate but I'd recommend not bringing a stroller inside (there is a parking area) as there are steps and a fair number of small corners. We toured through nine exhibitions and got to sample at three spots  which ensured we were all very energized! What I loved about the museum are the many educational components. They've made it so that there's simplified explanations parents can share with the kids but there's also all these details for adults to learn about the entire chocolate production process. We learned all about ancient Mayan and Aztecs discoveries and followed the chocolate trail into modern times and even had the chance to venture into a rain forest!
The Chocolate Museum in Cologne received Swiss collector E. Gschwind's historical collection of chocolate moulds as a donation and this collection provides the framework for this exhibition which traces the historical development of chocolate moulds from its origins at the end of the 19th century up to the present day. Little Monkey enjoyed seeing those! ALMOST as much as she enjoyed the three-metre-high chocolate fountain decorated with 40 Golden cocoa fruits where she got to sample fresh Lindt milk.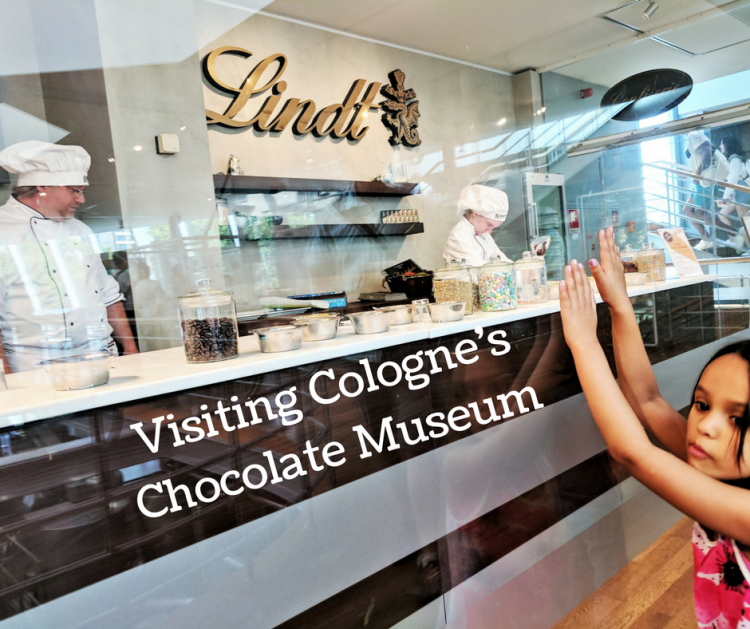 Children under 6 years of age don't need tickets and it's a great spot to spend an hour or two at, especially if it's a rainy day. We did spot a delicious looking CHOCOLAT Cafe but did not tempt ourselves by wandering in there. The moment we entered the museum our senses were awaken to chocolate and the place smelled AMAZING, so definitely don't visit the museum hungry!