We spent our March break in San Francisco with our kids and had a very fun time. With only three days to explore San Francisco, we kept our days busy and discovered many things to do in San Francisco with tweens. This is a fun city no matter what age your kids are and I remember visiting the city as a teen myself (oh how cold it was that July when we travelled from Dubai to San Fran). If you're looking to plan a weekend in San Francisco we have some helpful tips and 3 day itinerary suggestions!
If you want to see what each of these places look like, I've saved my live instastories here.
Covid Rules for Visiting San Francisco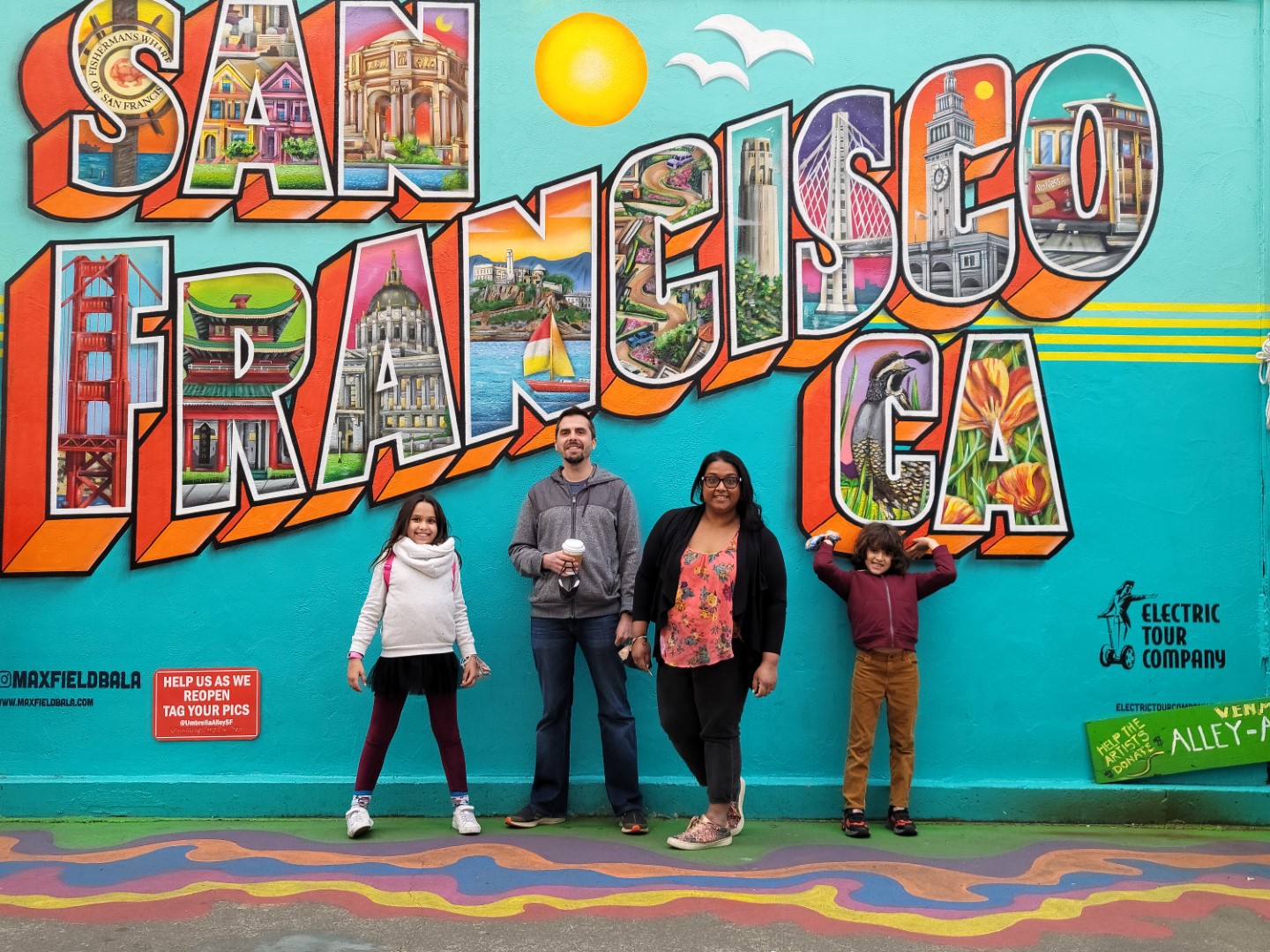 We visited in March 2022 because we had airline credit that was going to expire (from a Texas trip we cancelled in March 2020) and we initially chose San Francisco because of their high vaccination rates and masking policies. Things changed a bit between us booking the trip and landing at SFO but we still felt very comfortable during our travels. There was no checking of vaccine passports in most spots ( a few like the Exploratium did) and indoor masking mandates were dropped (but about 50% were still in masks).
Leaving from Canada we needed an Antigen test and we opted to use the Switch Health antigen kits because we knew how convenient they are. I was able to do our tests the morning before departure day and we had it all done before the kids' school bus arrived. Similar to the RT Lamp kits we used in December, we had everything laid out and then scanned the QR code and logged into our account. As we had used the system before, our details were all in there and this time I remembered to add everyone onto the same call. Our telehealth nurse jumped on quickly and walked us through the steps. Apollo and Akira even did the swabs themselves! Within 15 minutes we had our results! Each kit came with two tests so we were able to use them for the return into Canada as well. That said, there was a long wait on a Friday night close to midnight compared to the no wait on the Friday 7 a.m. session. Luckily the website holds your spot even if you refresh your browser.
Oh and if you're flying American Airlines like we did, know that there's no food available for purchase on board. We struggled hard on our Toronto to San Francisco flight because we had a tight connection and didn't eat until dinner time even though we left home at 5 a.m.!
Best Places to Stay in San Francisco with Kids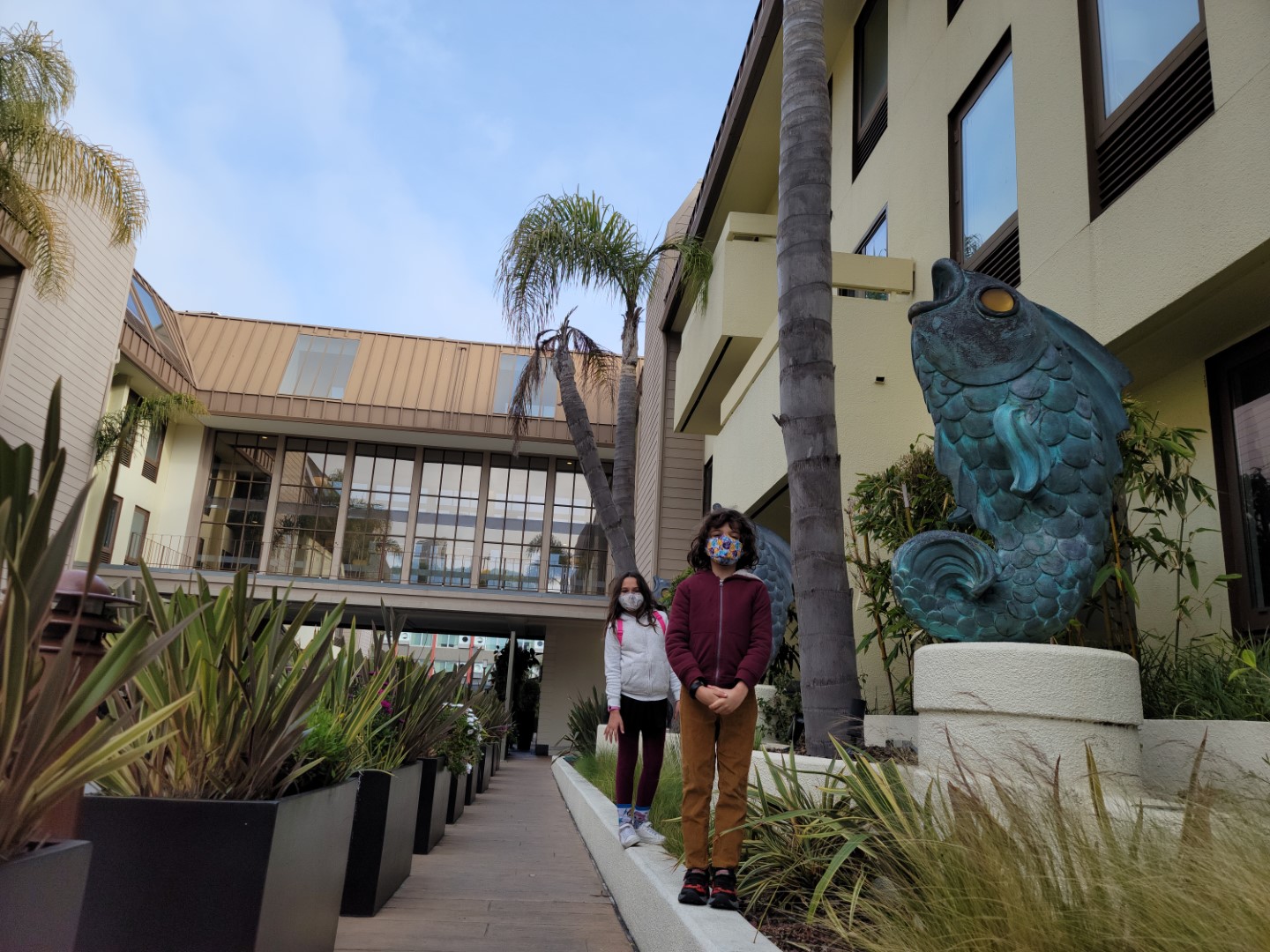 San Francisco has many neighbourhoods, each with its own charm. The popular areas for tourists tend to be Fisherman's Wharf, Union Square, Mission District and Nob Hill. Having done the hop on hop off tour, I feel like Haight Ashbury would be a cool spot to do a HomeExchange at on a future visit.
However, in my opinion, the best place to stay in San Francisco with kids is Fisherman's Wharf. Sure the locals say it's very touristy, but honestly, it's so convenient and jam packed with many attractions. We were guests of the RIU Fisherman's Wharf and found this San Francisco hotel to be conveniently located to some of the biggest attractions in the city. We stayed in a suite but each and every room has a fridge which is so very helpful for families. Our suite had a king bed and an ensuite with a separate living room that housed a pull out couch, a dining table and a mini kitchenette (no microwave or any appliances beyond a coffee machine). The staff are extremely kind and their busy buffet breakfast has a wide range of traditional items to set you up for a day of exploring, but the main draw is that they have a pool!! Yes they also have a gym but the outdoor pool is open all year long.
Mind you, it was too cold to dive in during our early March visit (though Apollo did brave it in for a minute) but I bet it's super lovely in the spring, summer and into the fall. The hotel also has plenty of lounge areas (including outdoor fire tables) to enjoy an evening cocktail at, making this a very relaxing hotel for families visiting San Francisco. I walked back one night by myself (with In and Out Burger in hand) and felt safe as this is a happening area.
Since I was curious about what it would be like in a different neighbourhood, we also booked ourselves a night at Union Square's Hotel Bijou. When we first pulled up, I was anxious as it looked a bit shady and had two tent shelters outside the front door. But the moment you step in, you're transported to the roaring 20s. The rooms were on the small side but the bathroom was spacious and the staff were very attentive. This boutique hotel also has a speakeasy style bar which was sadly closed on Mondays during our visit but it would be fun to saddle up and enjoy a few drinks at while the tweens are in the room upstairs, that's for sure! I will mention that although the hotel is right by Union Square, it's also fairly close to Tenderloin which was a San Francisco neighbourhood we were told to avoid due to high crime rates. During our stay in San Francisco we did not witness any ill happenings or feel unsafe. We did get back around 10 p.m. after dinner and felt safe but thought I'd mention it. The elevator was being repaired during our visit so we received complimentary breakfast and had a chance to enjoy their art deco styled dining room before we departed for Sonoma Valley.
I'll also mention very quickly that we needed a few hours sleep for an early morning flight on our way out of San Francisco and so we opted for a night at a SFO hotel. Four Points by Sheration San Francisco SFO had a great deal and so that's where we booked. Unfortunately they didn't have an airport shuttle but we did have our budget car rental (we did a pick up in the city for our Sonoma road trip and then dropped it off at the airport) so we paid $14 for overnight parking. The hotel was pretty no frills but clean and the reception staff were friendly. That's all we needed for a few hours of sleep to be honest!

Things to do in San Francisco with Tweens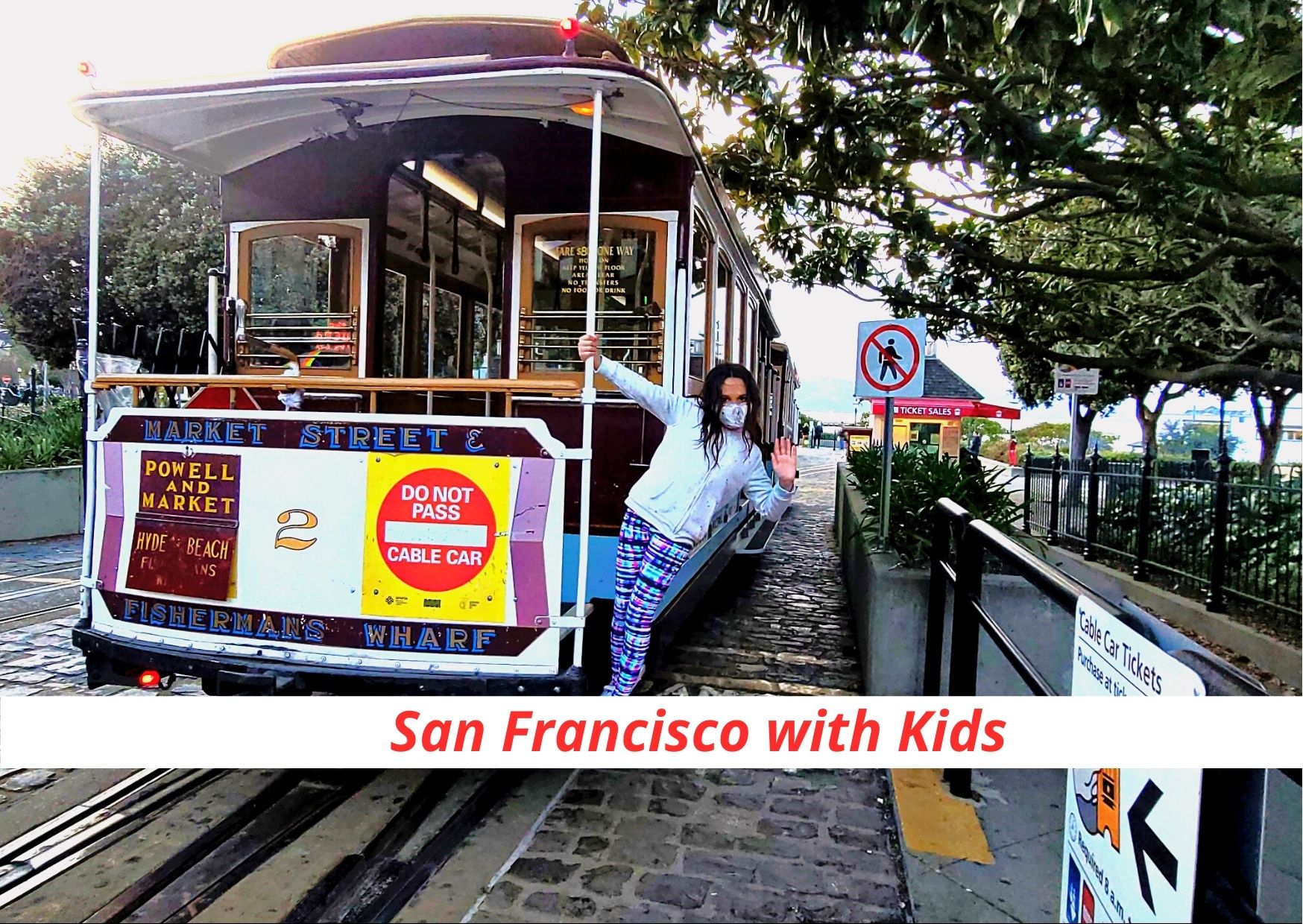 San Francisco is a bustling city with attractions and events for everyone. Visiting from Toronto, I embraced the sea and mountain views and appreciated the laid back vibe of the city. San Francisco is a perfect mix of big city hustle layered with seaside town charm. We only spent 2 full days running around and got a good taste of what's on offer and had we stayed longer, I have no doubt that we'd have kept discovering more of the best things to do in San Francisco!
Things for Kids to Do in San Francisco : A Day at the Fisherman's Wharf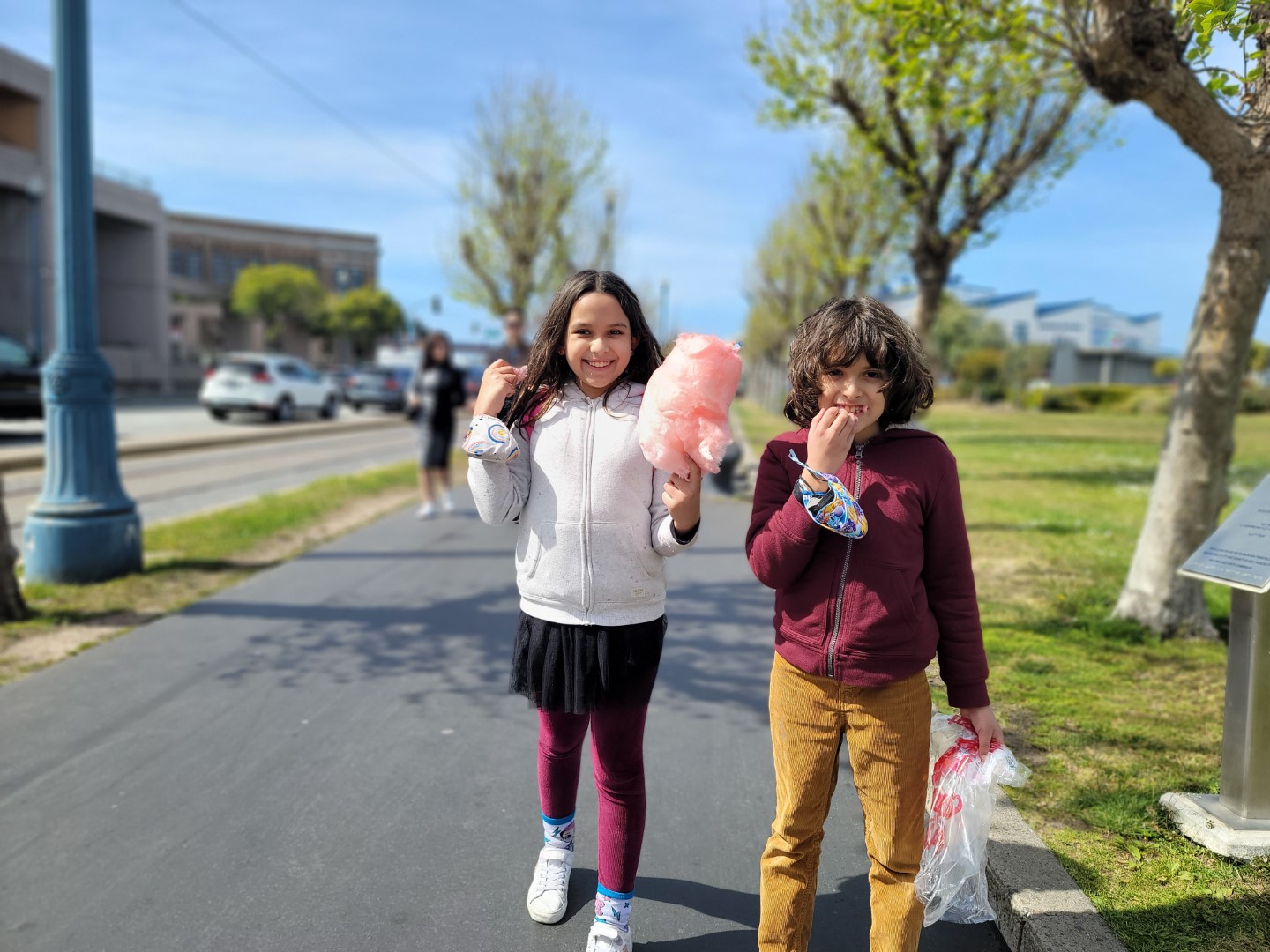 As I mentioned earlier, as touristy as this area is, it's a fun way to spend an entire day, taking in the San Francisco attractions. With Pier 39, Ghirardelli Square, a Ripley's Believe it or Not museum, the Musée Mécanique, a Wax Museum and the San Francisco Maritime National Historical Park, all nearby, it's no surprise families flock here!
Start your day getting onboard the City Experiences Alcatraz Cruise (be sure to purchase tickets directly from them as they are the only legal service provider). We spent 2.5 hours at this famous San Francisco attraction, including the 15 minute ferry ride each way. Chris and I enjoyed listening to the guide via the free head sets provided ( I tried to use the app via my phone but it did not work). Given that the kids are 8 and 10 years old and that Akira tends to whine at attractions like this, we knew we were doing this mainly for ourselves. As soon as you get off the ferry there is a park ranger who will welcome you and direct you to the window if you want to grab a free activity book. Apollo enjoyed the activity book and made it his mission to fill it out. Sadly we didn't want to delay our return into the city so I wasn't able to have the ranger verify that he did it all correctly and give him his badge. We can mail it in and that's still on my long post trip to do list (hah). The fresh breeze, historic tales and the views to and from Alcatraz Island made us listening to Akira whine worthwhile!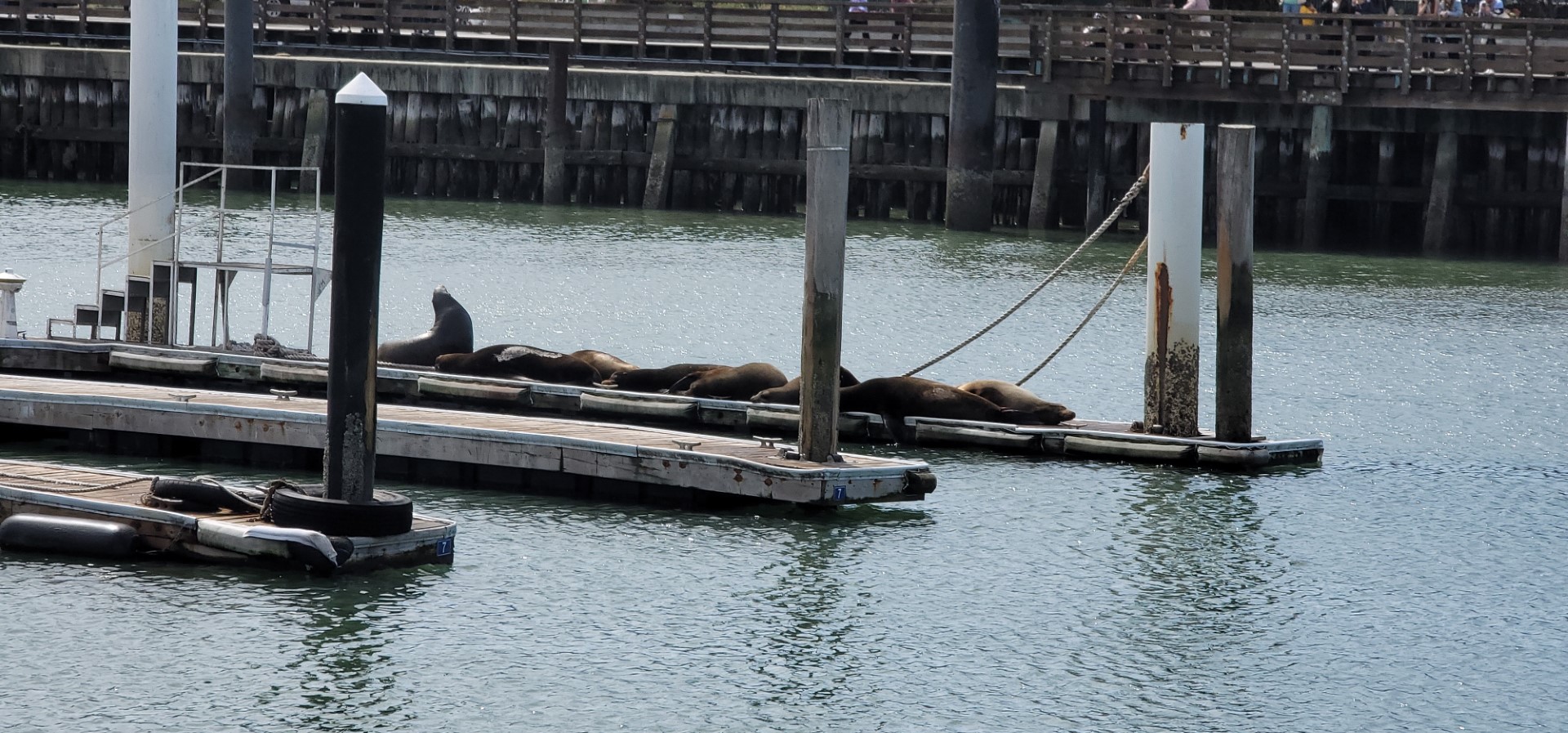 You're right by Pier 39 which is not only home to the famous San Francisco sea lions (we only spotted a few during our mid March visit as they tend to be fewer in number as we approach the summer months) but also gaming arcades and loads of food stalls. If you wanted to spend an entire day at Pier 39 you could easily do so but with only two full days, I was on a mission to keep exploring as many areas as we could, making this a 2 hour visit for us.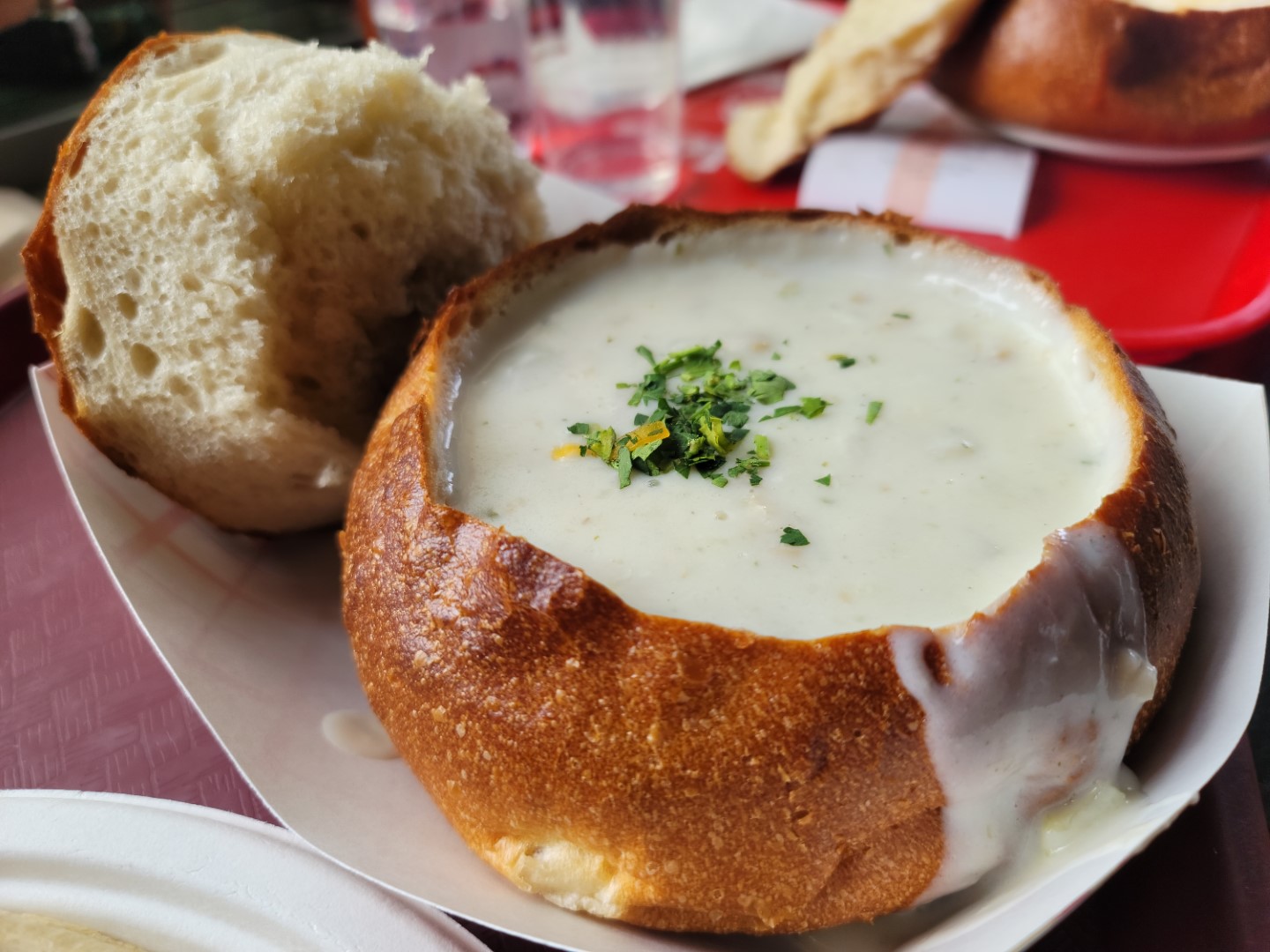 We decided to stick to the famous chowder bowls instead of hitting up the famous food hall or visiting the many dessert stalls. While Chris and I preferred the New England style one from Boudin Bakery, Apollo liked the thicker Chowders version.
Musée Mécanique at Fisherman's Wharf is worth walking into. Admission is free to one of the world's largest privately owned collections of coin-operated mechanical musical instruments and antique arcade artifacts. We gave the kids a dollar each (there are machines to convert bills into quarters) and told them they had 20 mins to spend them. It takes a while to walk around and determine which of the 300+ funky antique games they may want to play (I kept telling them to walk away from the newer looking machines like the pacman game we can still play at arcades) so if you wanted to spend more time here, it's easy to do. The story of this family owned San Francisco attraction is a feel good one and I highly recommend you taking a read here, especially if you have a budding entrepreneur in your family.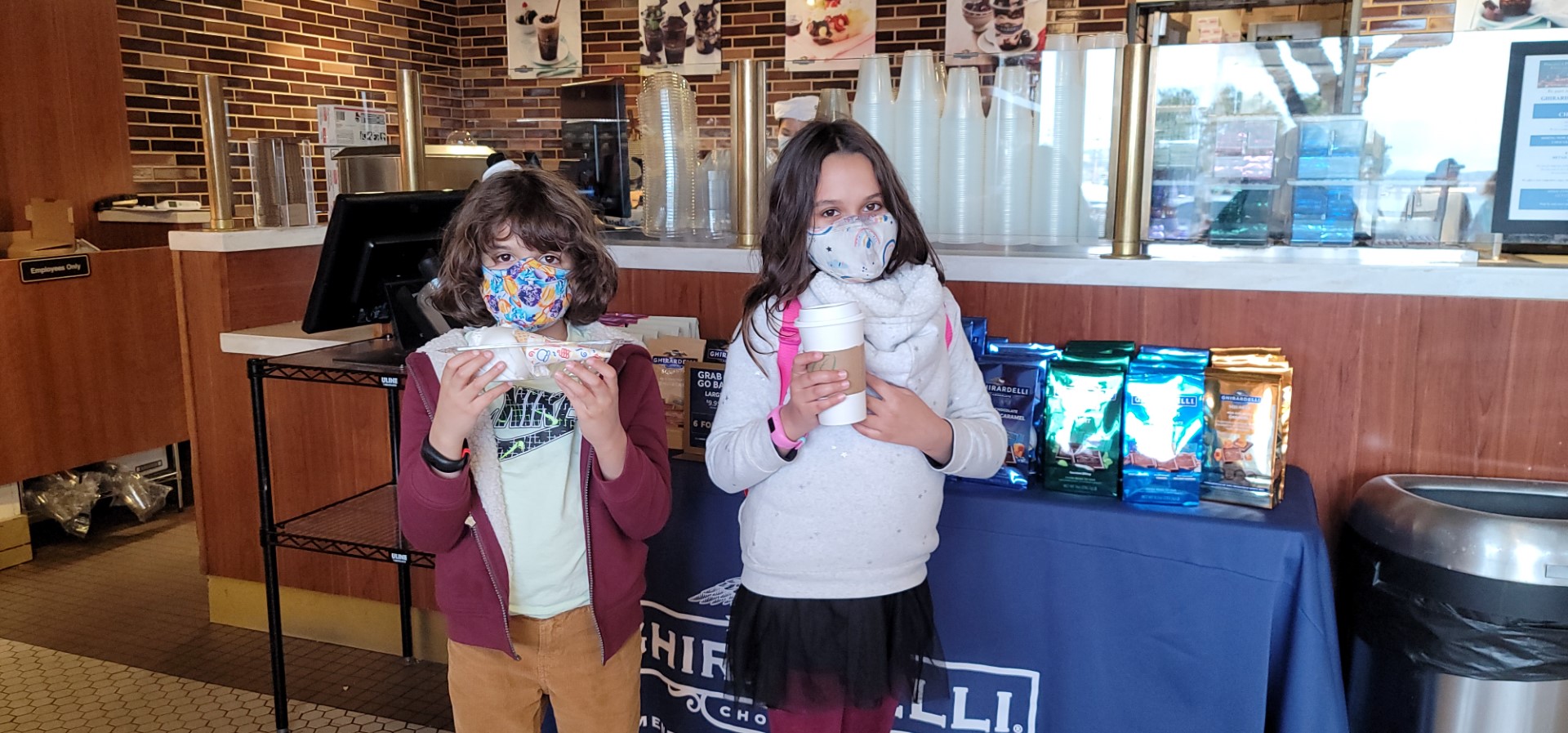 When you're at Fisherman's Wharf, you're also close by to Ghirardelli Square so take a wander over.
Maybe let the kids grab shakes from the Ghirardelli shop while the adults get an Irish Coffee from the birth place of the cocktail, Buena Vista. The Irish Coffee was really good and we got it "to go" which means that we had to drop our shot into the coffee once we were outside, which was extra theatrics that brought smiles to our faces.
You can sip your drinks whilst standing line for the Cable Car at the turnaround nearby or you could wander towards Umbrella Alley and take in the latest artwork. Be sure to get a family pic here! It was quite cool to see how the cable cars were spun for the turnaround and although we did stand in line for a long time here, there was space for the kids to run around and play. It does cost $8 per person (kids under 4 years of age are free) but we found this to be a thrilling ride and highly recommend doing it! If the ticket booth is closed you can easily buy tickets online via the MuniMobile app.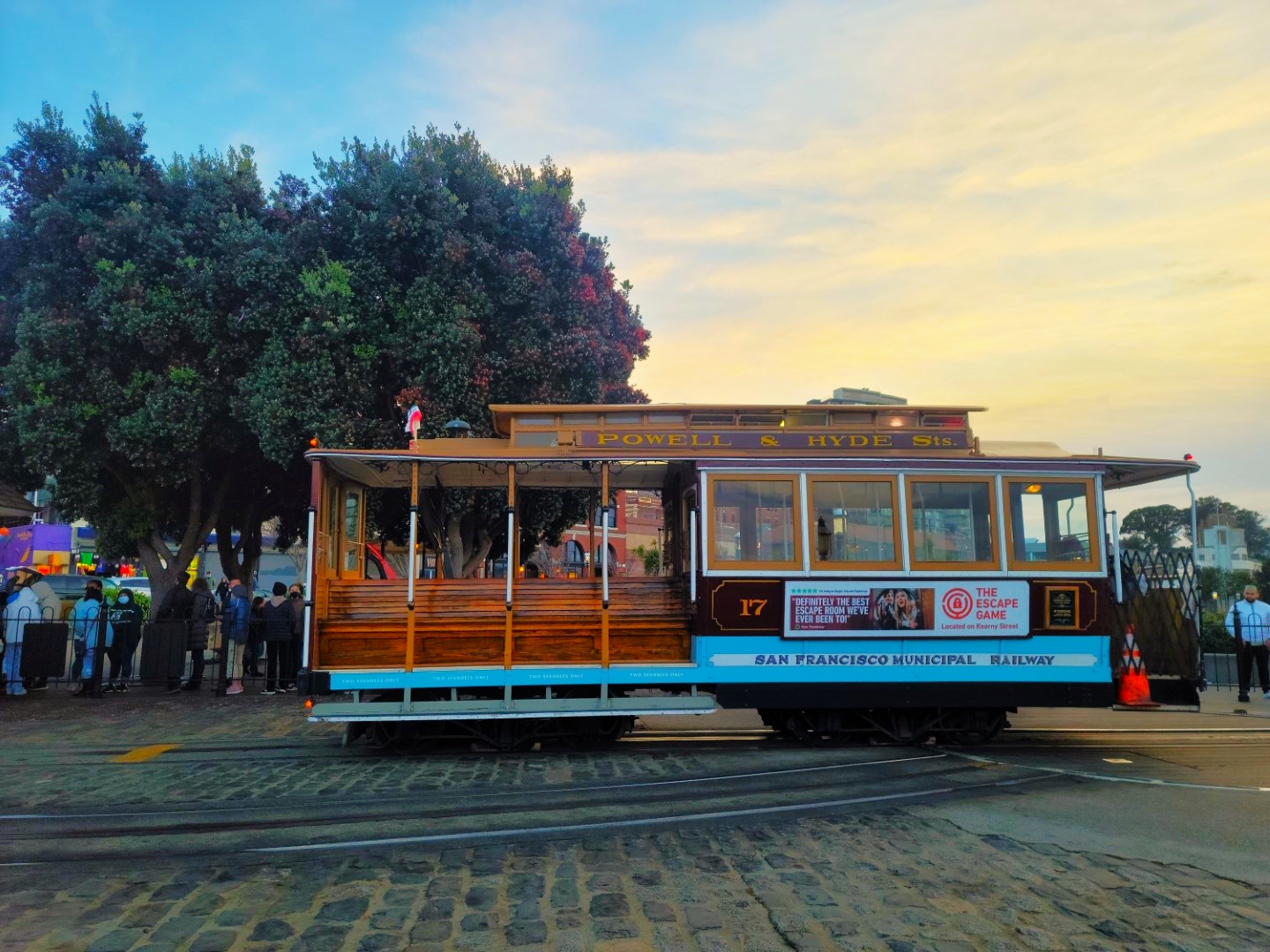 Also, should I mention that there's an In and Out Burger (if you live in Canada you'll appreciate knowing this I figure) and an awesome candy store nearby? There's a bunch of eclectic art stores in the area that were quite fun to explore as well.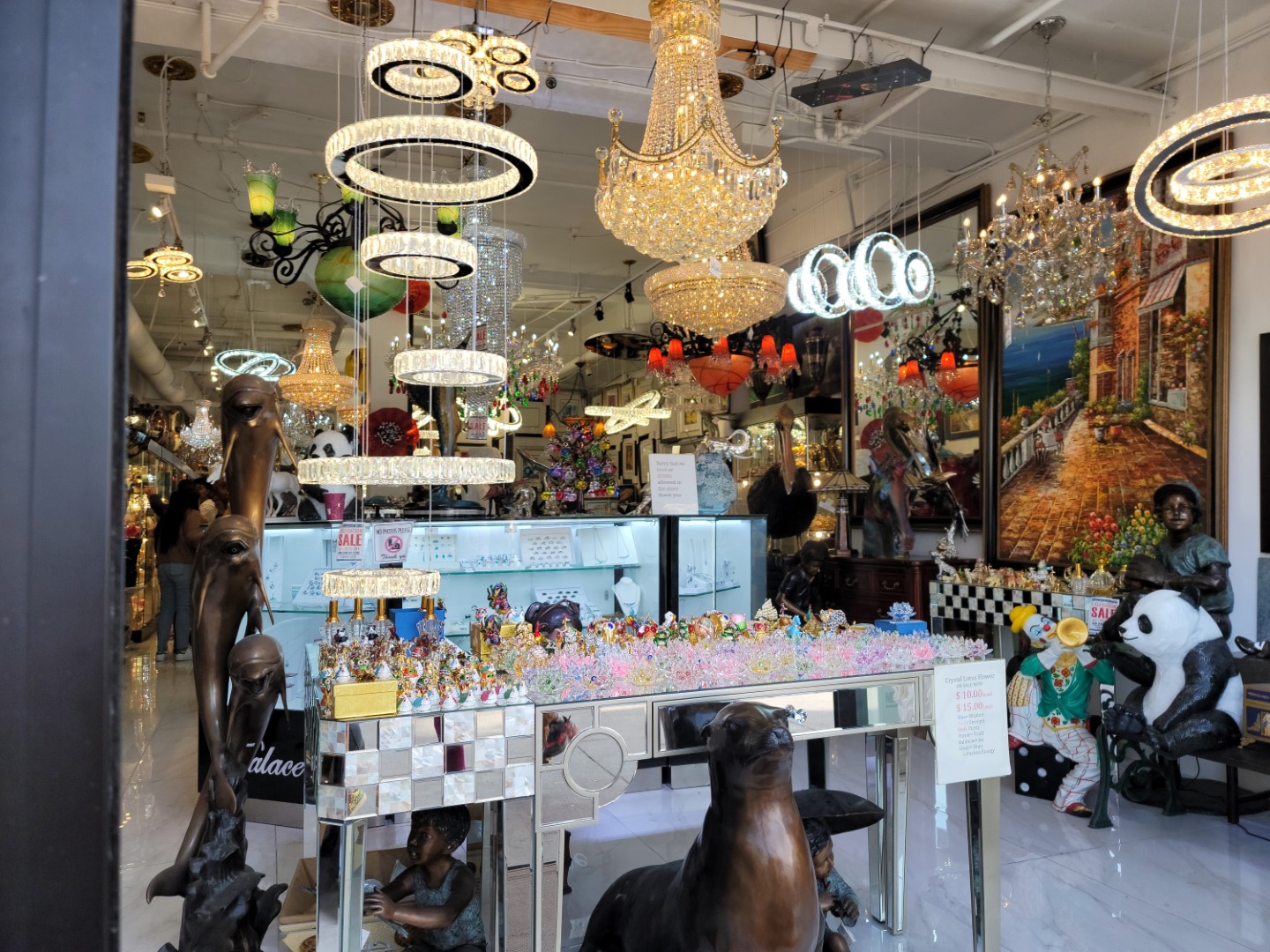 San Francisco Tourist Attractions : Exploratium and CityPASS
As with any big city, San Francisco is home to some amazing attractions. Purchasing a CityPASS is worthwhile if you plan to visit a couple spots during your visit. When we visited the Exploratium, it was as easy as scanning our pass on arrival. Given that the kids are now entering the tween stage, I felt that the Exploratium was a better option (and easily located near Fisherman's Wharf). This was one place where they still continue with mask (for 2 and above) and vaccination (for 12 and above) mandates There's so much on offer here but our kids spent most of their time with the hands-on activities near the tinkering studio. We also caught a session where a cow's heart was being dissected and that was very cool! If we lived in the city we would certainly have an annual membership to what is undeniably one of the best San Francisco attractions for kids!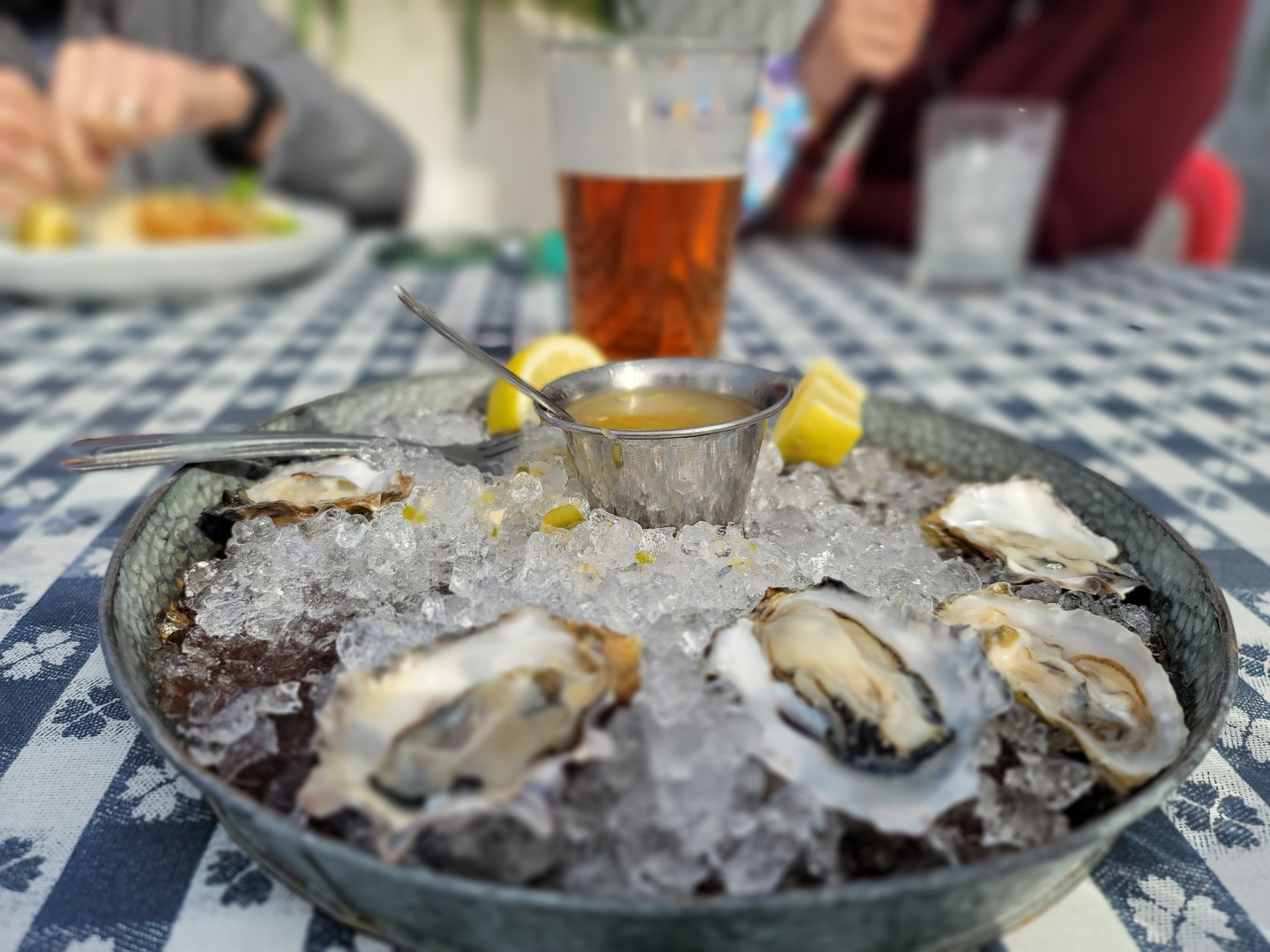 Either before or after, swing by Pier 23 Cafe for some drinks and nibbles whilst enjoying that fresh sea breeze. Apollo got his oyster fix here whilst Chris and I enjoyed some local brews.
Roam Around a POPO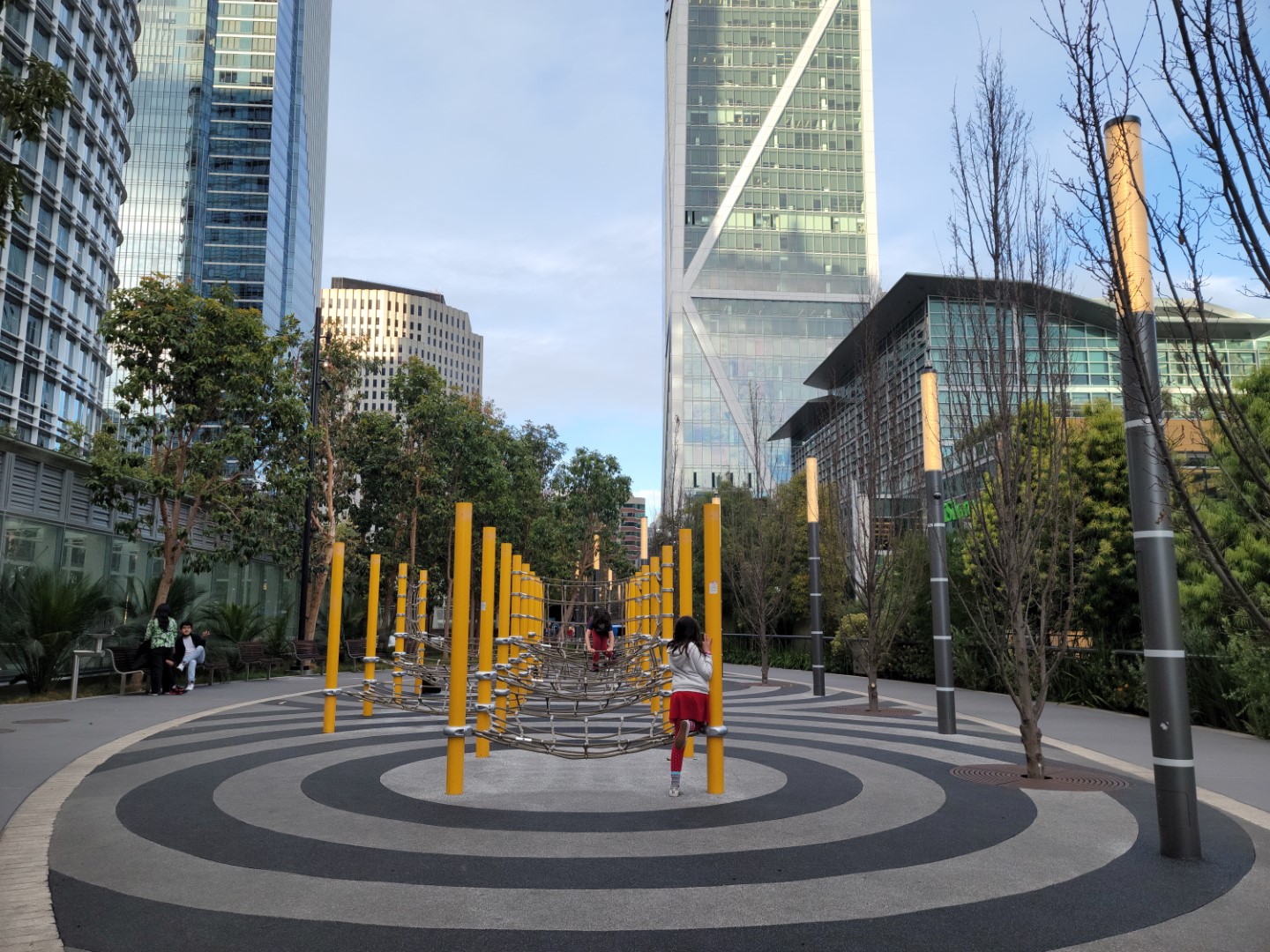 When contemplating what to do in San Francisco in between the attractions and dining out, think about the privately owned public spaces called "POPOs". These gardens, terraces and plazas can be found mostly in the downtown office district area. We swung by the one at the Sales Force Park and it was a nice way to unwind and let the kids run freely around the living roof where a curved walking trail lined with benches were surrounded by grassy lawns, dancing fountains, a children's play area, and an amphitheater. Seventy feet above the Grand Hall, the Park runs the entire length of the Transit Center's nearly four-block stretch and is home to 600 trees and 16,000 plants arranged in 13 different botanical feature areas.
Eat Dim Sum and Fortune Cookies at San Francisco Chinatown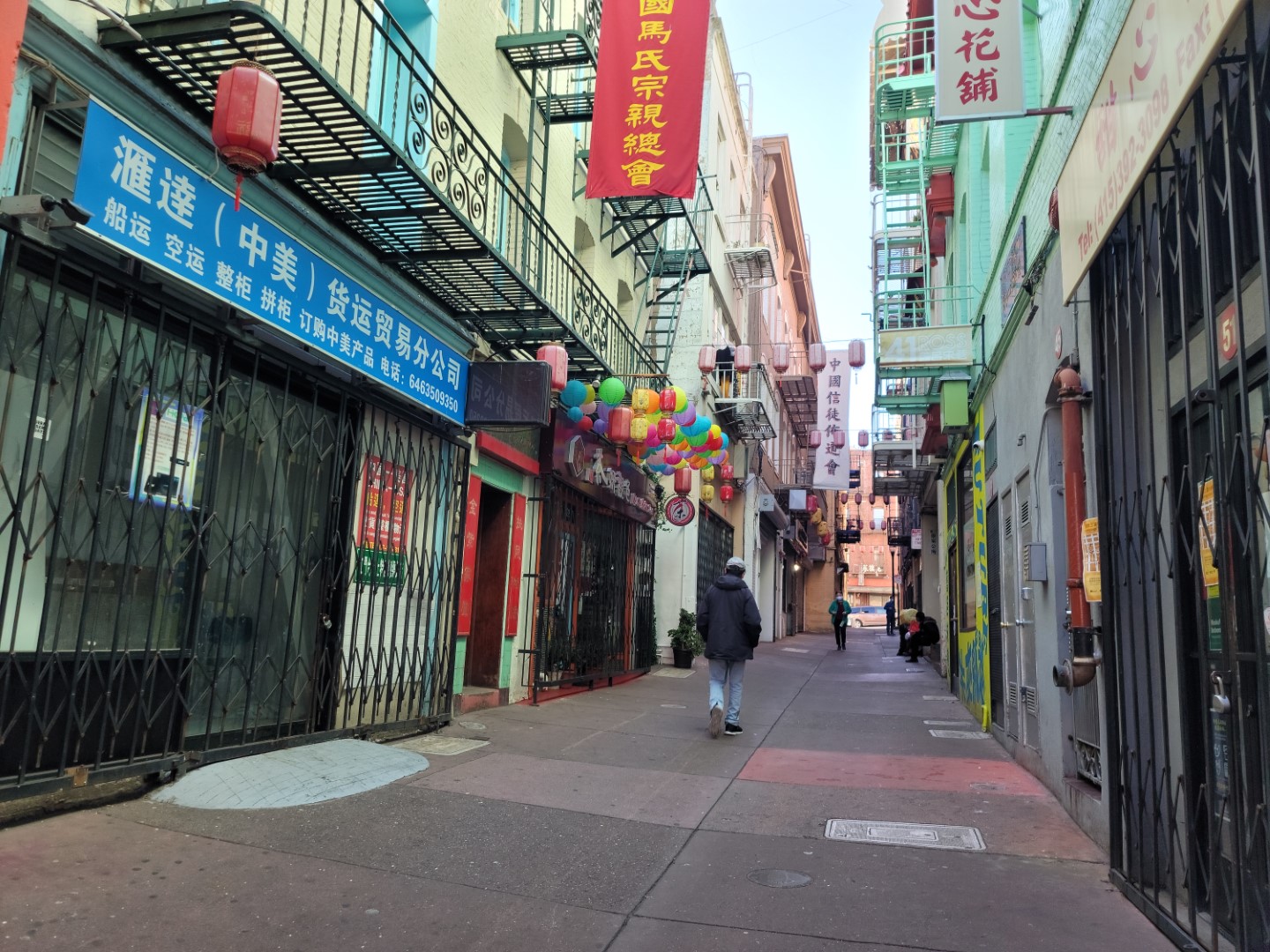 San Francisco's Chinatown is one the oldest and most established Chinatowns in the U.S. Unfortunately for us we didn't get to spend an evening here as planned (because we took a nap upon landing and things had closed) but we did enjoy dim sum breakfast on the go one morning from Goog Mong Kok Bakery.
We also made it a point to visit the Fortune Cookie Factory first thing the morning around 9 a.m. and were the only ones there!
We got to watch them make the fortune cookies and even received a free sample each! Of course we purchased some for our road trip to Sonoma Valley the next day. I did not get to Tin How Temple so it'll be saved for a future visit. If you're looking for more ideas on what to do in San Francisco's Chinatown, this website has all the local details!
Hop on to Presidio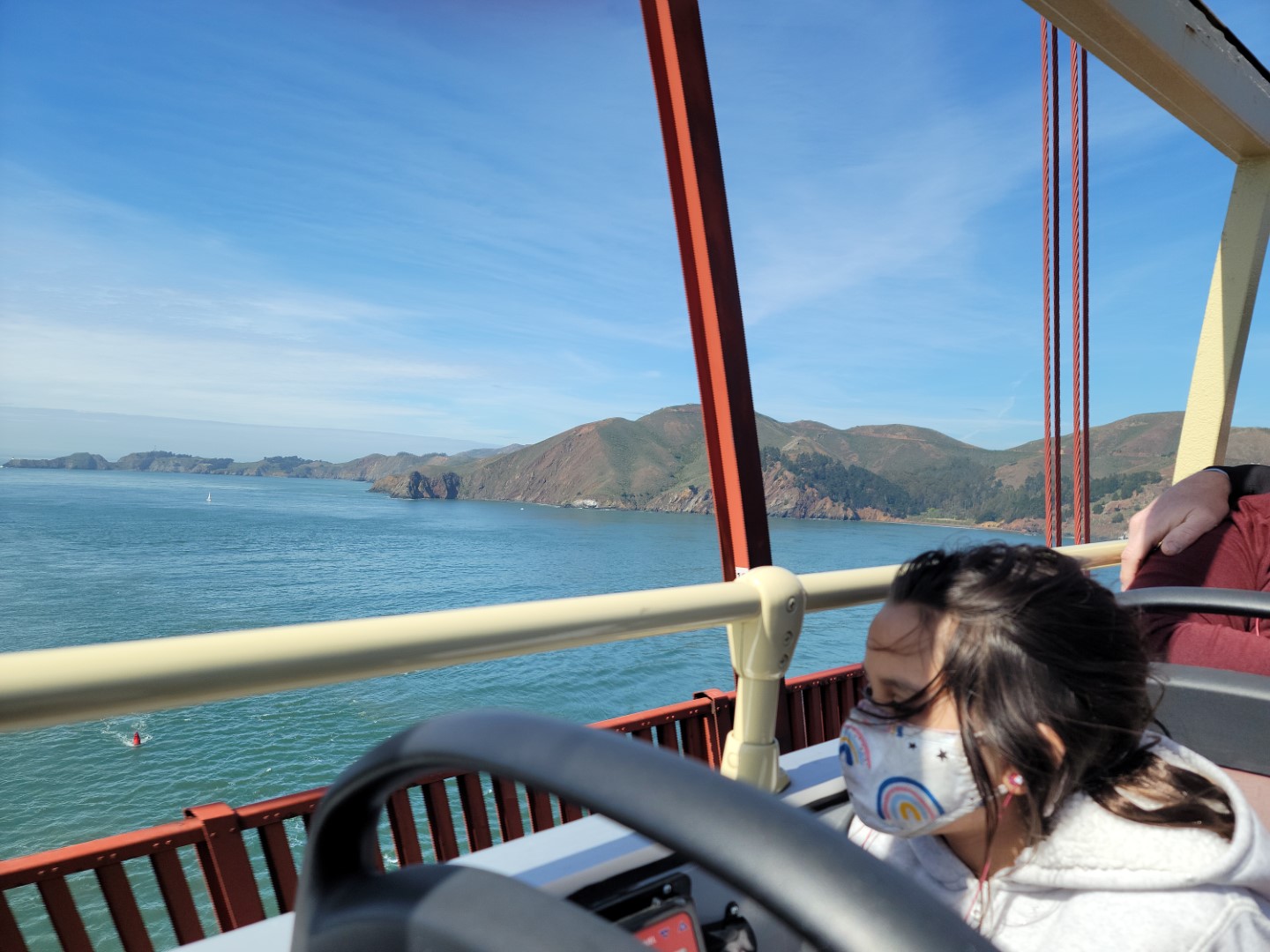 We took the Big Bus over to Presidio accidentally to be honest. However, it was a charming neighbourhood to enjoy a lazy afternoon at. The Big Bus tour took us across the Golden Gate Bridge and through Sausalito when we noticed that Presido was the next stop and we were getting hungry! The whole district is part of the Golden Gate National Recreation Area and offers hiking and biking trails. Chris and I both felt like were on a university campus as we roamed around here.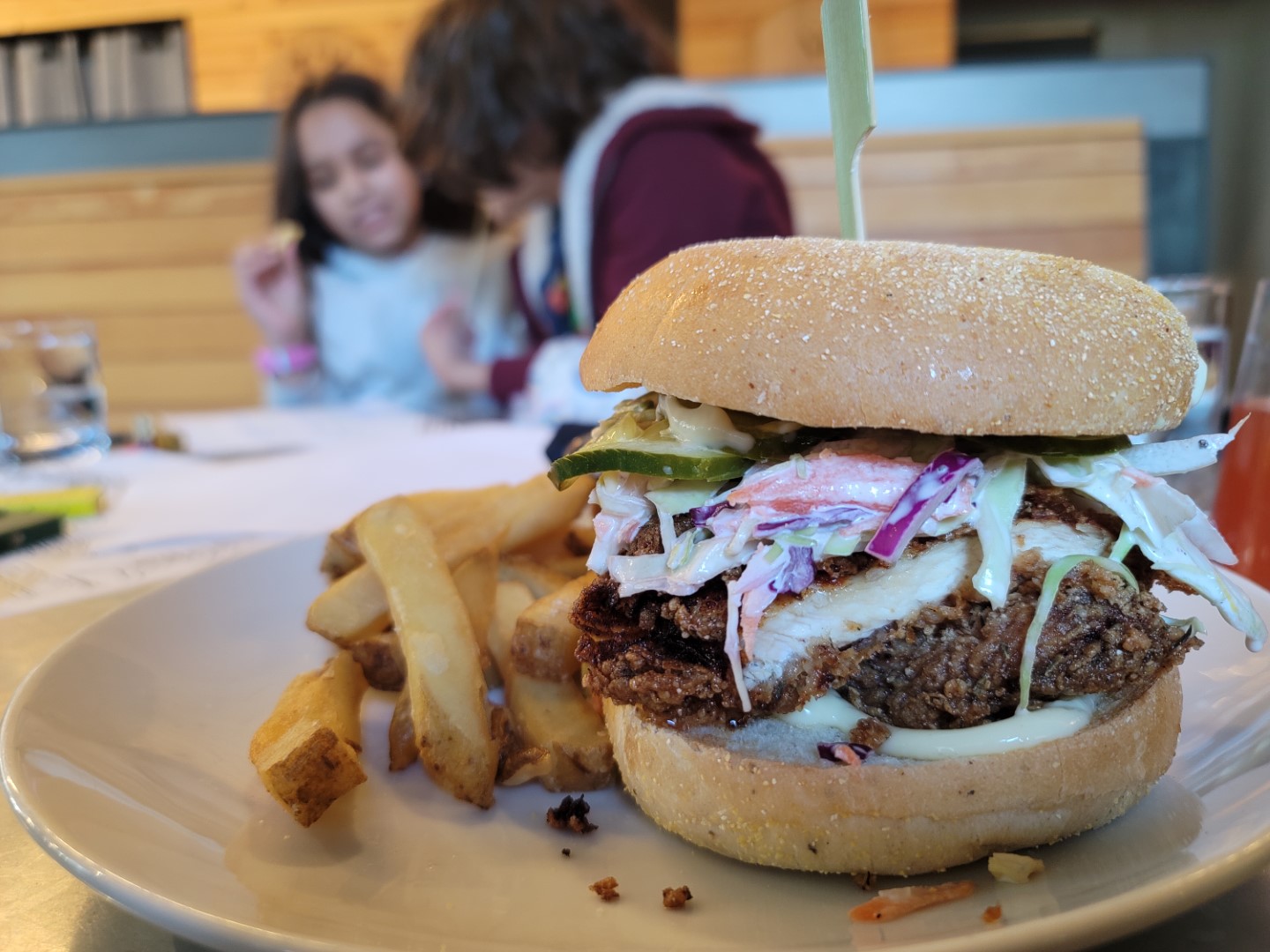 We enjoyed a pub style lunch from Sessions at the Presidio, a gastro pub paying homage to the munition workers who used take breaks (called sessions) between double shifts. Chris and I both enjoyed some brews here and most of us had burgers too! Fried chicken one was amazing.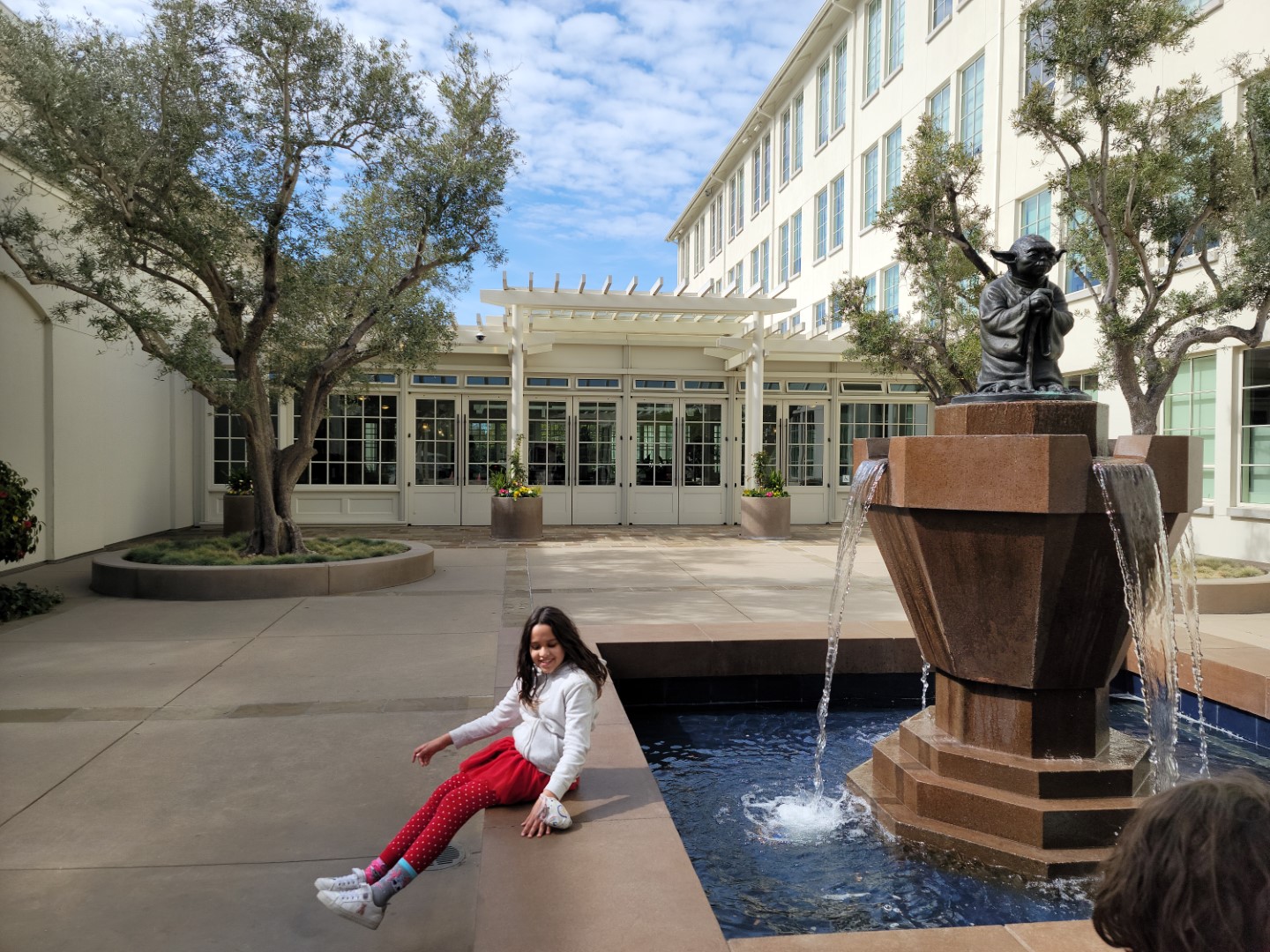 There is a cute Yoda Fountain here so we knew we had to take Star Wars crazed Apollo. The connection here is that this is the headquarters of LucasFilm (home to the legendary Star Wars and Indiana Jones franchises). Sadly it was only after we left the area that I was informed about the lobby that's free to visit. Apparently there are statues of R2D2 and Darth Vader which can be seen here and is free for the public to access.
If you're a fan of military history, this is an area you'll want to spend a couple hours at and be sure to swing by the visitor's centre and grab a guide or map. The Walt Disney Museum in San Francisco can also be found in this neighbourhood but keep in mind that many museums are closed on Mondays and Tuesdays. I was excited to use the City Pass to visit this museum to learn about Walt's life and history of the brand but unfortunately for us this museum is only open Thursday to Sunday.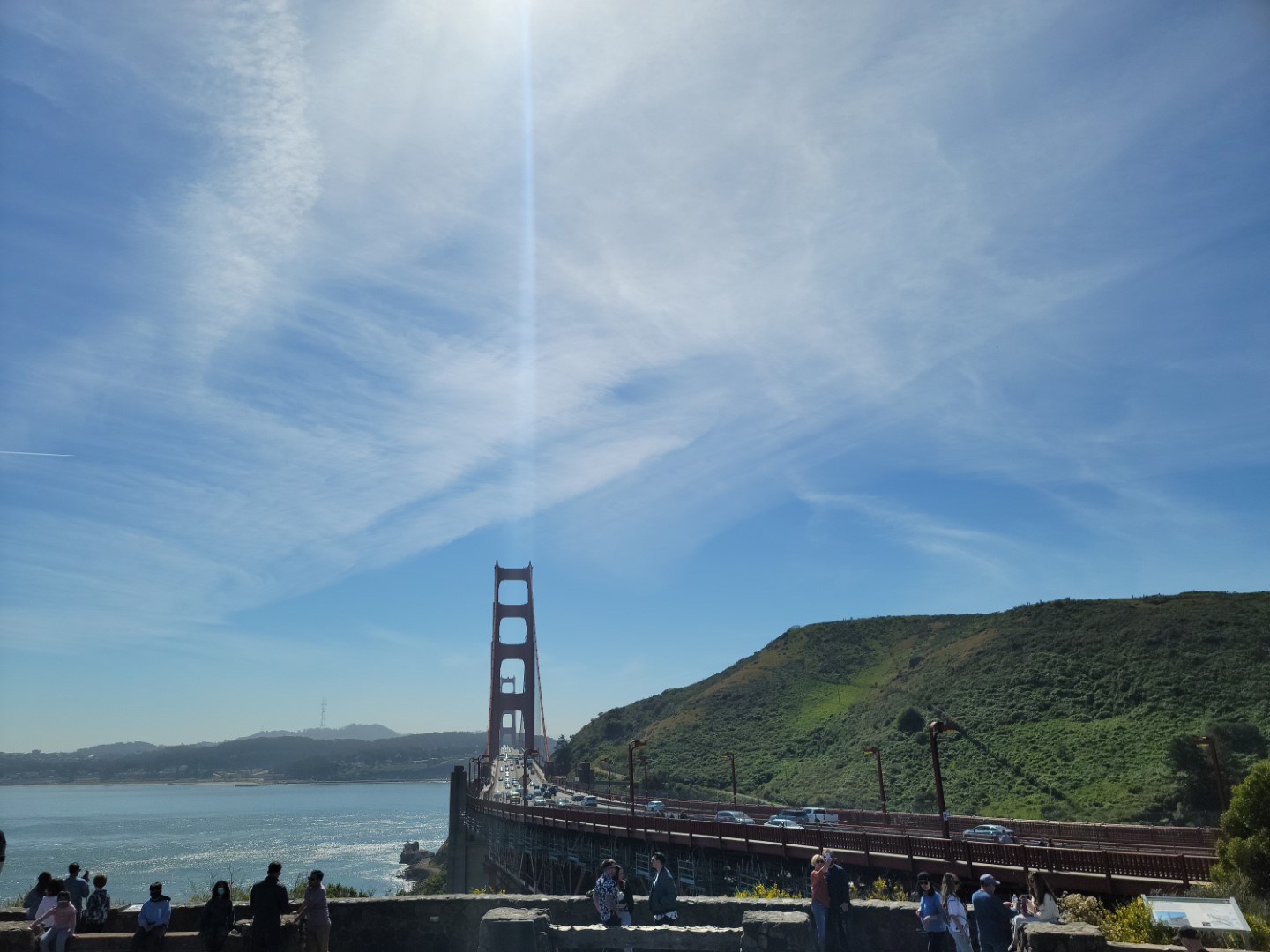 Also for epic views of the Golden Gate Bridge, head over to Baker Beach (not recommended to swim here though).
I went in search of Lover's Lane but sadly the kids and Chris were getting cranky so we aborted mission half way and made our way back to the Big Bus stop. You'll want to note that there is a free Presidio shuttle that can transport you through the neighbourhood too.
Explore Golden Gate Park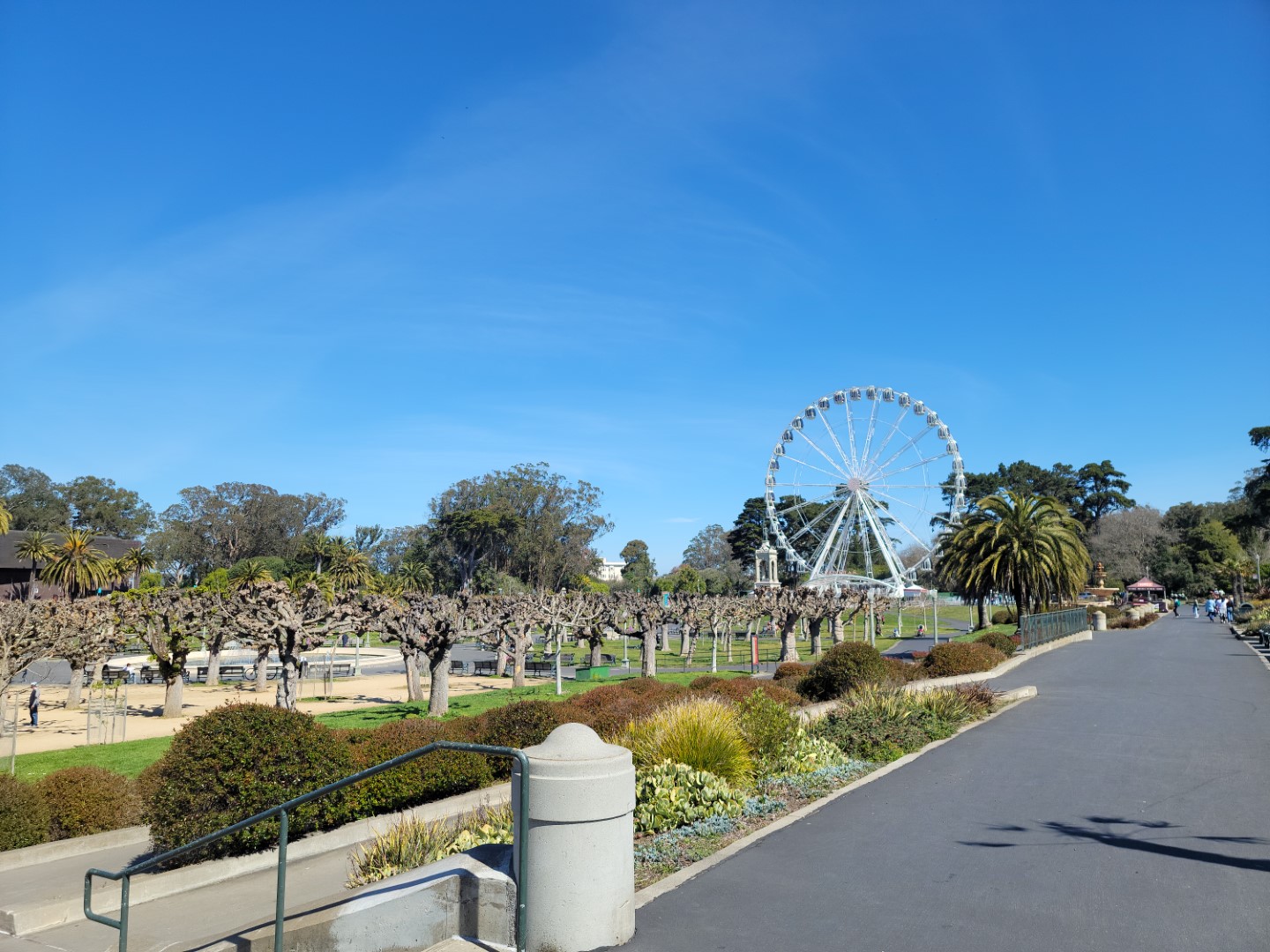 Our original plan was to explore Haught Ashbury and make our way to the Golden Gate Park because it was said to have some great cafes and bars but sadly we ended up getting off at the very edge of the neighbourhood and we knew our kids would be too cranky if we made them walk an hour up and down. So we got off and crossed the street to the Golden Gate Park. This park was once sand dunes but is a lush oasis today. Sadly many of the animals that once roamed here are no longer around but this is a fabulous spot for families to hang out and enjoy the outdoors and cultural offerings at.
With no coffee in hand we started out at Koret Playground. This was a small but fun playground for Akira and Apollo. March in San Francisco can be a bit cold but it was rather warm on this day and we peeled our layers off and went in search of the gardens. It wasn't spring and so the tulips and roses weren't in bloom but we visited Shakespeare's Garden for some family pictures. This garden only feature flowers and plants mentioned in Shakespeare's work!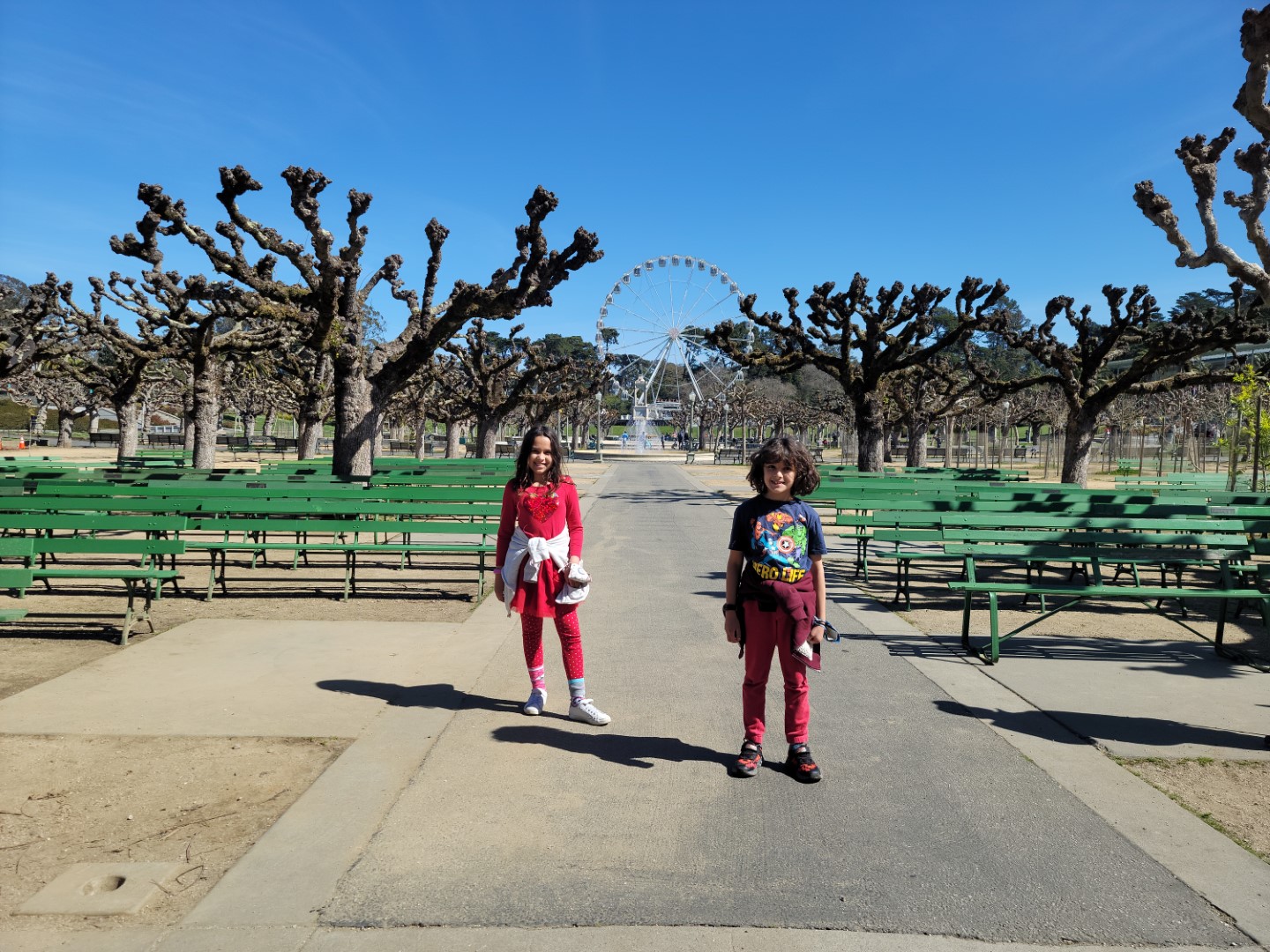 Golden Gate Park is home to some popular San Francisco tourist attractions such as the California Academy of Sciences (which is on the CityPASS and friends HIGHLY recommend) , Japanese Tea Garden and the deYoung fine arts museum. We'd had a pretty long day at this point and even though I wanted to pop by the Academy of Sciences, we opted to run around Rideout fountain and the bandstand instead.
Honestly, travelling with kids means you have to be flexible and be armed with a list of potential activities. We had jammed a lot into our two and a half days so we knew we had to take it easy by the time late afternoon rolled around.
Best Views of Golden Gate Bridge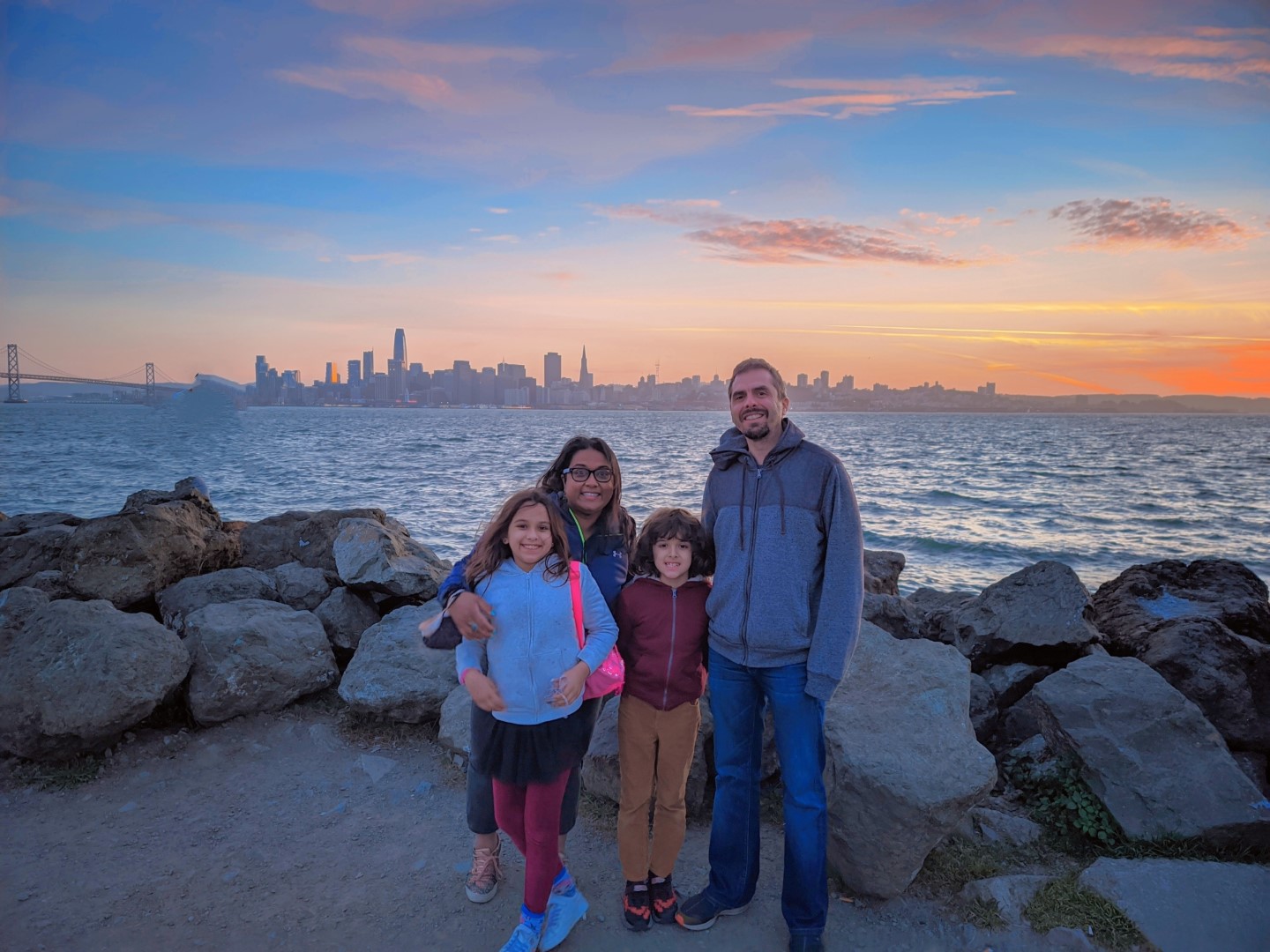 San Francisco locals have their favourite spots for viewing the Golden Gate Bridge and we had a tough time narrowing down where we wanted to take in the views. So we did a mix of it! Taking the sunset Big Bus Tour was a great start on our first day and activating the premium pass at 6 p.m. meant we had until 6 p.m. the next day to enjoy the whole package. Our guide was hilarious and although it was a bit scarry (I get pangs of anxiety doing random adventures like this now but it doesn't stop me from doing family friendly activities) being on the top on a windy evening crossing the Golden Gate Bridge, it was also quite thrilling. The sunset spot for pics were truly epic!
Of course the next day we were back on the bridge but this time it wasn't as windy and we didn't need the many layers as we did the night before.
We also enjoyed views of the Golden Gate Bridge with Irish Coffees in hand one day whilst waiting for the Cable Cars right across the road from Umbrella Alley and Buena Vista.
Land's End was another spot that was recommended to us for some family pictures with the famous San Francisco bridge in the backdrop but when we drove to Sutro Baths (on our way to Sonoma) it was a foggy morning so we aborted mission that day. Sutro Baths was a nice and easy walk though!
Fun Places in San Francisco with Kids | Dinner and Show with Kids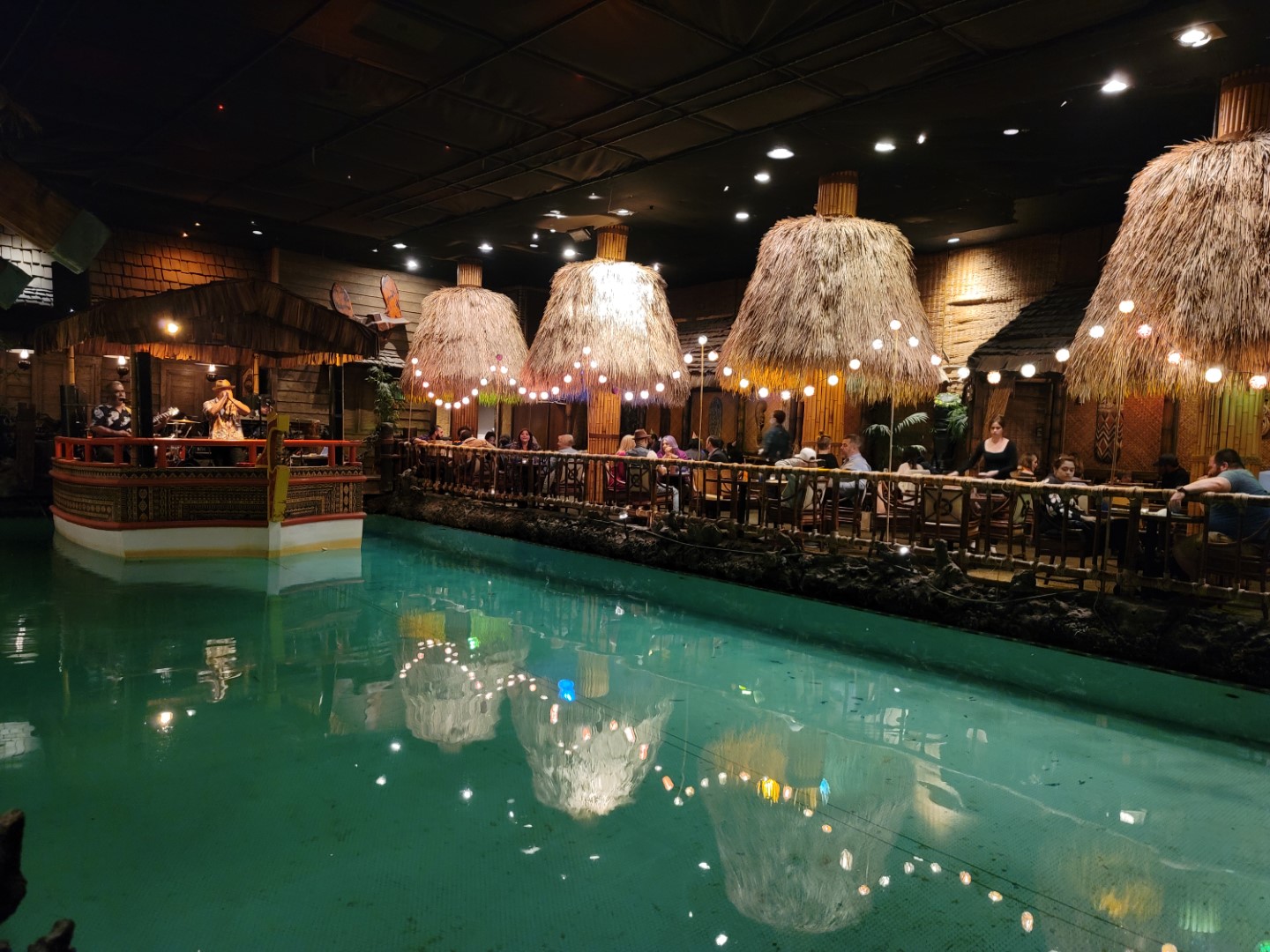 We love live music but with action packed days we knew our kids wouldn't be on their best behaviour come night time. Which is why we opted for dinner and a show at the Tonga Room in the Fairmont San Francisco.
This is one of the coolest tiki bars I've been to… if not THE best! The space was designed by a Hollywood set designer and everything is focused around a "lagoon," which was once the hotel's indoor swimming pool. Tropical rain, thunder and lightning storms blow through from time to time, while a band plays from a floating boat. It was very cool and I LOVED it!
It's busy and things get loud but until 10 p.m. kids are welcomed to join in on the fun. After our travel day, this was the perfect way to kick off our holiday in San Francisco. Cocktails and mocktails in hand, I swayed to the music and enjoyed the Pupu platter filled with Fried Vegetable Spring Rolls, Ahi Tuna Poke Tostadas, Garlic Chicken Wings, and House Made Spam (which I really enjoyed much to Chris' surprise).
Visiting San Francisco | Taxi and Transportation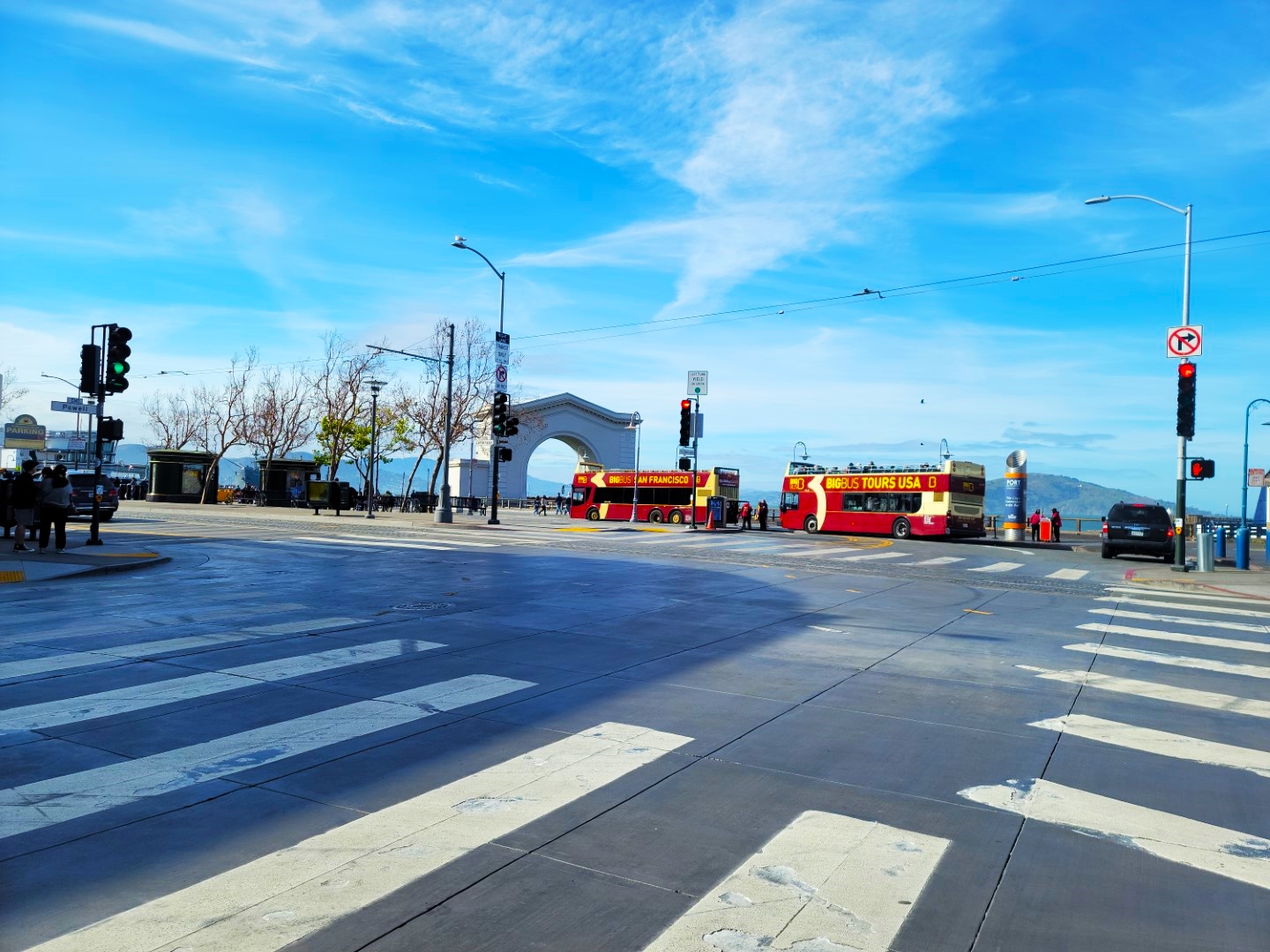 It's easy to clock those steps in hilly San Francisco but with young kids who tend to whine, we used a mix of public and private transportation. Upon arrival at SFO we took a taxi but regretted it because an UBER would have been a bit cheaper given the traffic we got caught to.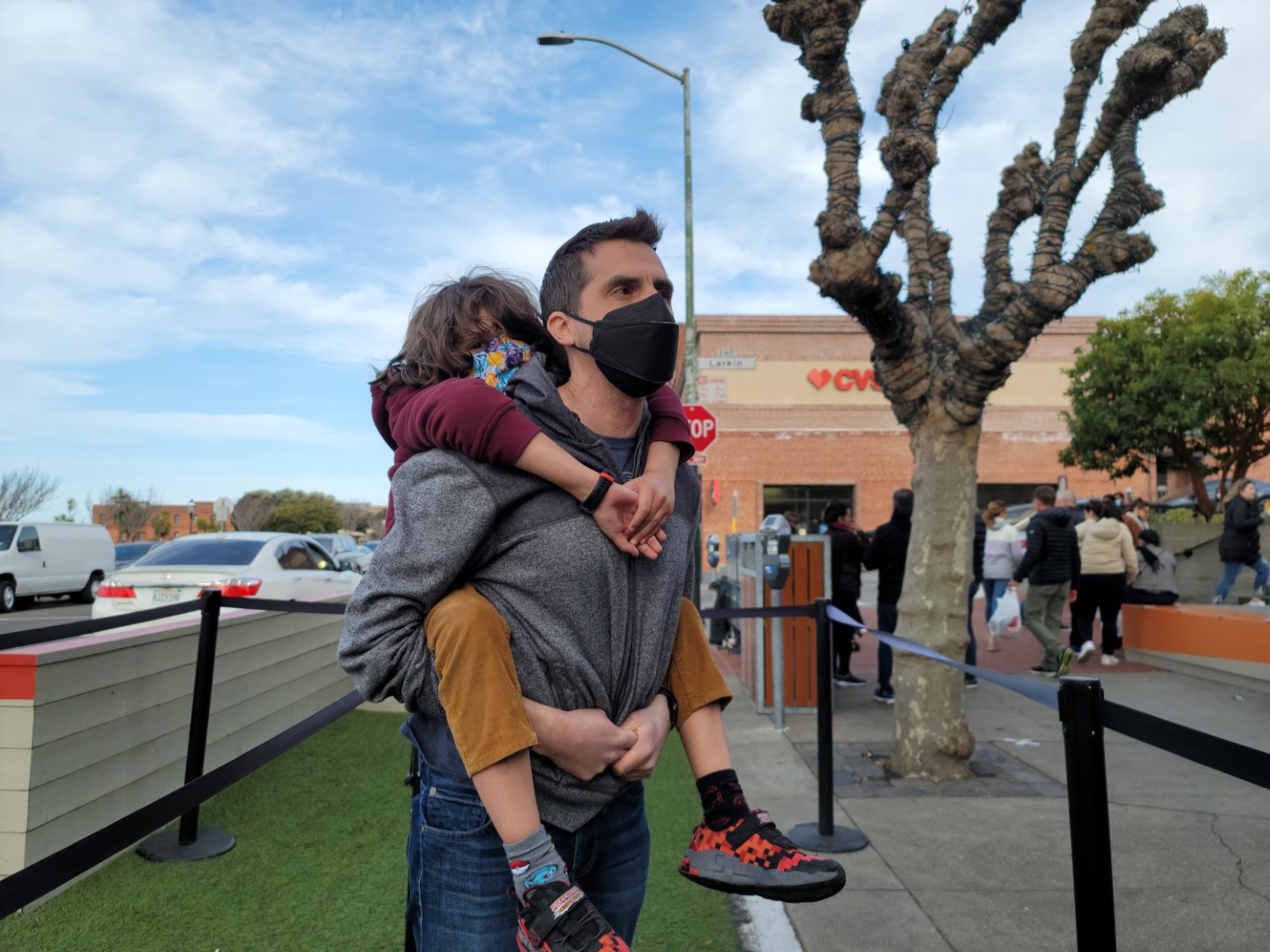 The Big Bus Tours Hop on Hop off Bus was awesome and we used it for an entire day of transportation. Most stops are conveniently located to explore a neighbourhood and return back for pick up. Of course the last bus would be between 5 and 6 p.m. so you'll probably want to take an alternate route back to your San Francisco hotel if you're in a different neighbourhood for dinner. We did spot some line ups at various stops but we got on easily when we needed.
UBER and LYFT are both available in San Francisco and given the current rules, if you're a family of 4 you need the premium cars (it's the same in Toronto too). Even with the premium options we found it to be quite reasonable to travel between the various neighbourhoods on the few occasions we did so.
What to do in San Francisco : 3 Day Itinerary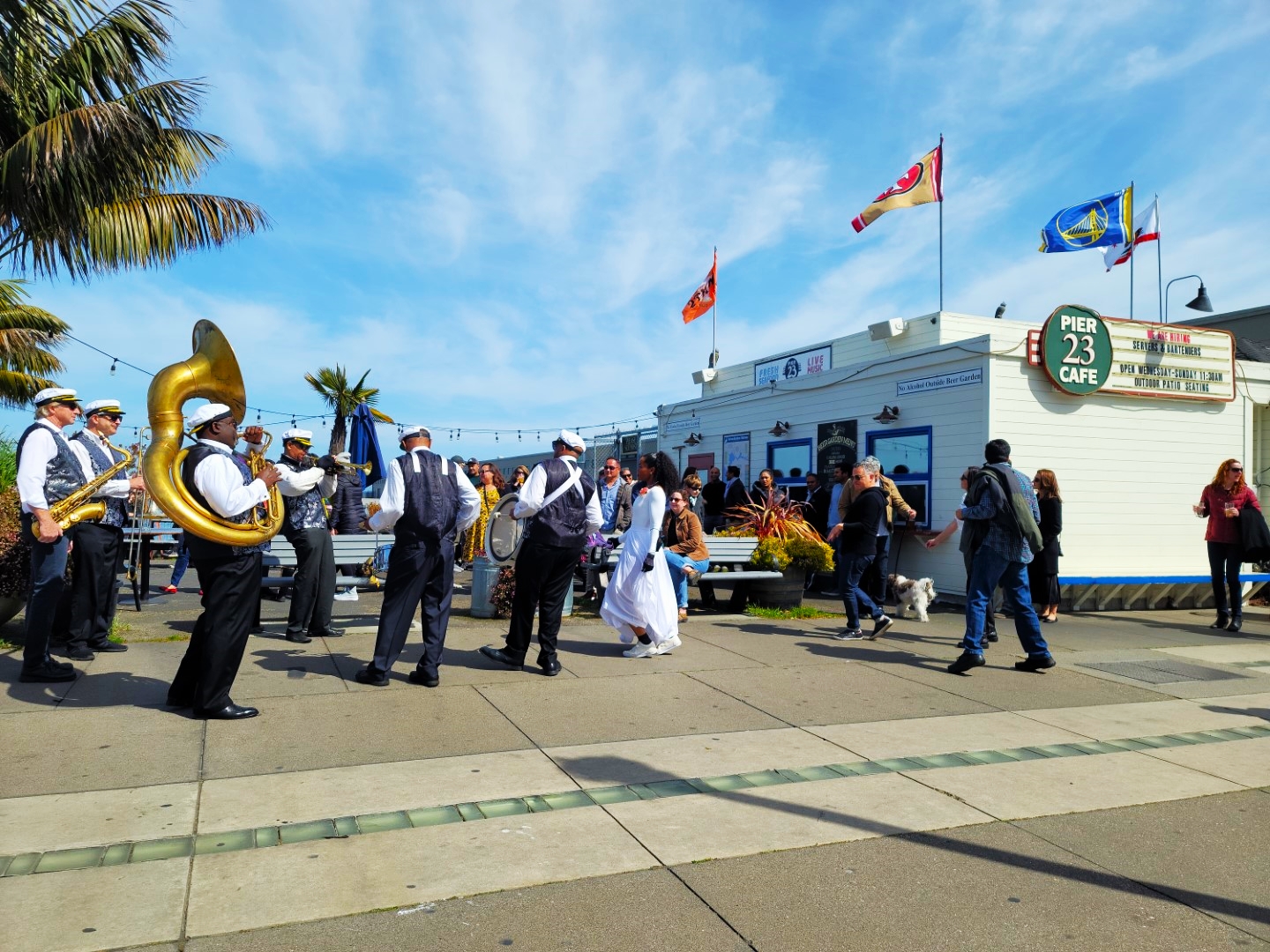 Day 1 – Travel and Arrival
Afternoon : Check into RIU hotel
Evening : Take Powell Hyde Cable Car from the Jefferson turnaround and make your way to Chinatown. Cookie Factory closes at 6 p.m. as do many shops. Optoins: Li poh lounge for drink, Tin How temple, Bakeries – Eastern, Golden Gate, Good Mong Kok. Hang ah alley for dinner.
Night : Drinks and nibbles or dessert at Tonga Room (kids allowed until 10 p.m.)
Day 2 – Fisherman's Wharf and Sunset Bus Tour
Morning : Alcatraz
Early Afternoon : Exploratium and Per 23 for lunch and drinks (Ferry building would be a great alternative)
Mid Afternoon : Fisherman's Wharf explorations – Sea Lions, Chowders
Early Evening : Musee Mechanique, Ghieradelli Square, Umbrella Alley, Buena Vista
Evening : 6 p.m. Big Bus Sunset Tour
Night : Dinner at Embarcadero (Options : Blue Bottle Coffee, Humphry Slocombe Ice Cream (Secret Breakfast Ice Cream with the caramel sauce), Gott's Roadside, Coqueta, Pier 23)
Day 3 – Neighbourhood hops
Use Big Bus tour to get around and see the neighbourhoods
Mid Morning : Chinatown breakfast then hop back on the bus and stop to see Painted Ladies, Haught Ashbury, etc)
Afternoon : Golden Gate Park (Walt Disney, Academy of Sciences, Japanese Gardens etc), Presido, Union Square (could also take an UBER from Golden Gate to Sutro Baths)
Early evening : Visit a Popo to let kids release some energy and grab dinner nearby
Evening : Depart