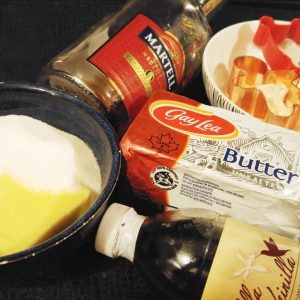 Christmas definitely arrived early this year and I've been ALL about getting in the mood. Toronto has many events and the Christmas trees have been popping up at every corner so the urge to get our Christmas tree up early was strong. As you may recall, we usually wait until December and because we're spending most of December in Sri Lanka this year, the hubs was on my case to NOT decorate the tree. HAH! It's like he doesn't know me! As we pulled our tree out from storage last weekend I remember an empty promise I had made last year to Little Monkey. Luckily she had forgotten about it and so I channeled my inner Martha Stewart and decided to bake edible decorations.
Disclosure : I am part of the PTPA Brand Ambassador Program with Gay Lea and I received compensation as part of my affiliation with this group. The opinions on this blog, as always, are TOTALLY ours! 
We had made some cinnamon decorations  four years ago and they still smell amazing. Little Monkey loves sniffing the "good smelling" ones (as she calls them) and I must admit that the homemade ones do have a place dear to my heart. I still love my sparkly ones, especially the ones I've picked up during our travels but I also like the tradition of making one or two each year at home.
This is how I was inspired to bake some Cognac Butter Cookies this year which will hang on our tree and also be served to guests who visit us. You really can't go wrong with a recipe that involves Gay Lea Butter and Cognac, right? I love that the unsalted Gay Lea's butter has just ONE ingredient (cream) and that it is preservative-free.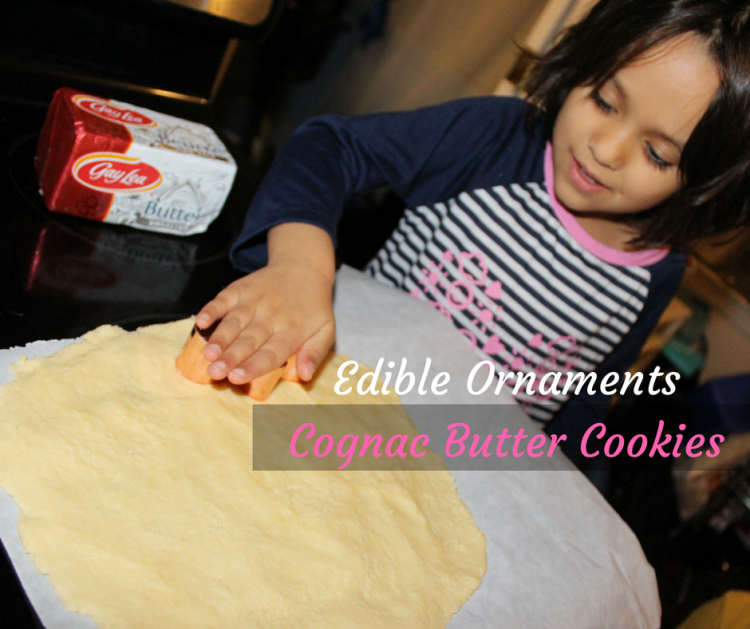 The cookies are of course best enjoyed fresh but they work really well as decorations as well. Butter Cookies are surprisingly easy to make and best of all, the kids can join in the fun.  Be warned, you'll probably want to make these weekly!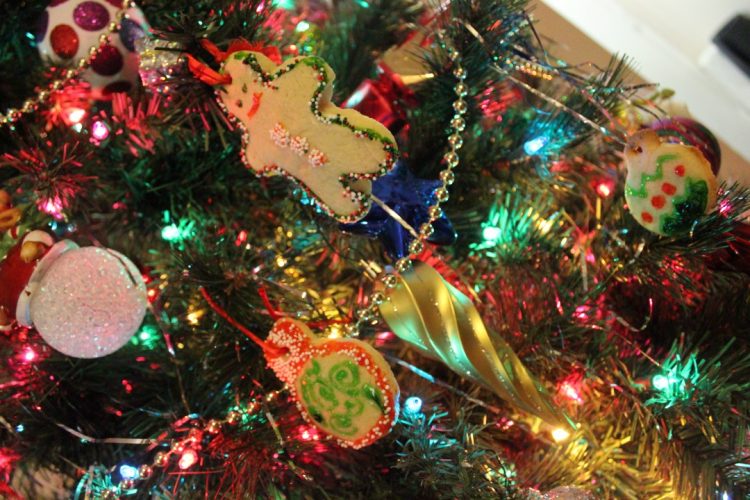 Ingredients
110 g Gay Lea unsalted butter
100 g sugar
150 g flour
2 tsp Cognac (or vanilla essence if you want it to be alcohol free)
1 egg
1 tsp fresh milk
In a bowl, cream the butter and sugar together. Add one egg, mix well and add cognac/vanilla essence and milk. To that add in the flour. Rest the dough for 5 minutes in the fridge. Flatten the dough and cut out the desired shapes. Remember to use a straw to cut out the holes required for the hanging portion. Feel free to suck out the dough if it doesn't "cut" easily.

I should mention here that the raw dough is absolutely delicious and I MAY have eaten half of it raw.

I know. Don't judge me, okay?
Toss the cut shapes into a pre-heated oven (350F) and keep a close eye on them. You don't want them to burn! I baked ours for 15 minutes and then let them cool down on our dinning table (while the kids watched eagerly). While they're cooling down ensure the holes you cut are still in place as you'll want to thread your ribbon through that later. While the cookies are warm you can adjust any holes as needed. Once fully cooled, get decorating!
As you can see, Little Monkey and Baby Boy really enjoyed this portion. I let them have fun with it and it's safe to say that a few edible ornaments made it on to our tree, many ended up in our bellies!