In the two days I spent walking around downtown Pittsburgh, I came to the slow realization that it was next to impossible to find a good beer shop. In fact, I didn't see one place where a bottle of beer could be purchased, outside of the occasional 7-Eleven. I found a few Wine & Spirit stores, one of substantial size about two minutes from our hotel, the Omni William Penn, but there was not a single beer to be had in any of these shops. Had it not been for an unplanned visit to the Strip District, a 20 minute walk from the downtown area, where I discovered the East End Brewery Growler Shop in the Strip, who carry bottles too, I might have come pack from the trip with a much lighter suitcase.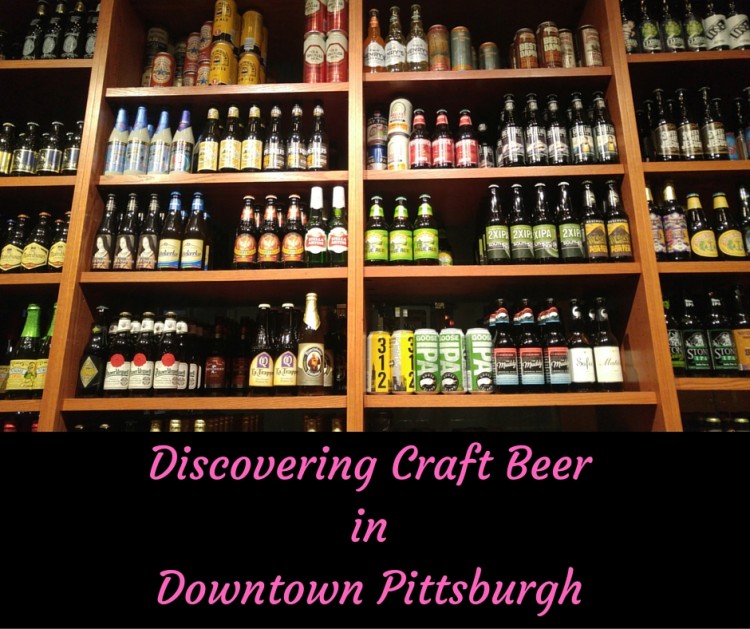 Luckily, I was able to get a strong grasp of the beer scene in the downtown area and discovered a few gems. On our first night, we walked down to our preplanned dinner destination, Meat & Potatoes, and I noticed on Google Maps that a place called the Proper Brick Oven and Tap Room was a mere 50 meters up the road. When we learned that securing a table at Meat & Potatoes would take over an hour, we put our name on the list and strolled over to the Tap Room, only to find it was just as busy. This gave us a little time to explore and when we arrived back at Meat & Potatoes, we were lucky to find a place at the bar, which turned out to be the best seat in the place, giving us easy access to the very attentive bartenders. Despite being limited to 5 taps, the selection available was excellent, and I greatly enjoyed the Serrano Chili Imperial Stout I had from Green Flash Brewery as well the Schloppy Monster Imperial IPA from Pennsylvania based Rivertowne Brewery. The restaurant also had a bottle list of roughly 30 beers, which were mainly craft beers. Though Meat & Potatoes is more known for its exquisite eats and great cocktails, I was quite happy eating here as a beer lover.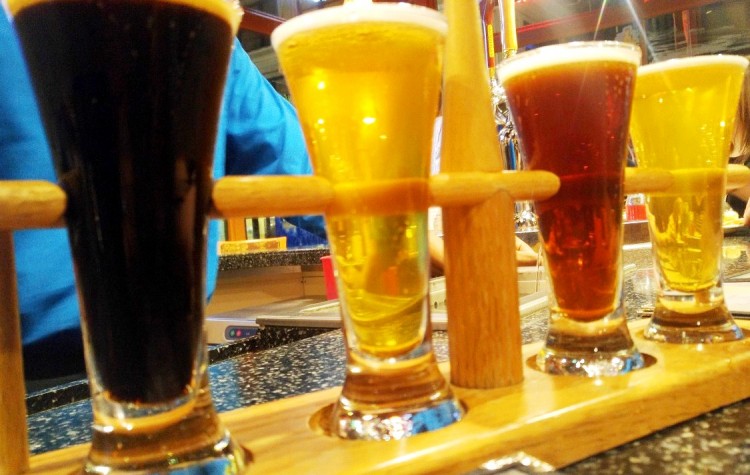 On Saturday, after a fancy dinner at the Grand Concourse restaurant, located inside an ornate, old train station, we made our way to the Sharp Edge Bistro on Penn. Sharp Edge has a number of locations in Pittsburgh, the most widely known being the Sharp Edge Beer Emporium in an area of the city called Friendship, but we noticed that the Bistro advertised 36 taps and over 200 bottles and so we figured we'd find a couple good selections there, which was pretty close to our hotel. I grew excited walking through the door when I noticed what looked to be a small bottle shop in the restaurant but was quickly disappointed when I inquired on the pricing. The beers were sold 'to go', as were growlers and mason jars full of any beer on tap, but the prices were the same as those paid when drinking in the restaurant, which were already quite high. Over the weekend, I began to notice more signs in restaurants offering beers to go, a strange phenomenon in downtown Pittsburgh which seems to take advantage of the fact that there are no beer shops in the area. We had a couple good beers at the Sharp Edge Bistro, including the Brooklyn Black Chocolate Stout and the Nugget Nectar from Tröegs, another Pennsylvania Brewery, but I would have hoped for a bigger selection of brews from the state. Sharp Edge is more focused on Belgium Beer than local fare, but since it's hard to go wrong with Belgian Beer, the Sharp Edge Bistro is a good spot to visit if you're looking for a wide range of beer in the downtown area.
We made sure to get back to the Proper Brick Oven and Tap Room after failing to secure a seat on Friday night and decided to stop in for lunch on Sunday. The beer selection at the Tap Room was exactly what I had been seeking all weekend. This statement on their website says it all:
PROPER OFFERS 30 CRAFT BEERS ON TAP WITH AN EMPHASIS ON LOCAL AND REGIONAL BREWS. OUR BEER LIST CHANGES DAILY (SOMETIMES HOURLY!)
Sign me up!
I went with Green Flash's Tangerine Soul Style IPA, admittedly not regional, but it was the perfect pairing for the Sopressata Pizza Yashy and I shared. I was disappointed to have visited the tap room mere hours before our Sunday afternoon flight, but was encouraged to find a place focusing on regional beer. For anyone looking to sample a range of Pennsylvania beer, this is the place to visit in the downtown area.
In talking to locals, I learned of one other place that we were unable to squeeze into our all too short visit, The Beerhead Bar & Eatery, referred to as the Beer Market and located next to PNC Park where the Pirates play. Perhaps if the Blue Jays and Pirates play in next year's World Series, I'll have a good excuse to get back to the city to check the place out. Here's hoping!
So despite the odd experience of not being able to find anywhere to buy beer in downtown Pittsburgh, the three great places we discovered kept me hydrated. Before leaving on Sunday, I walked by one of the many places selling Steelers gear around town and saw a bumper sticker that read,
"Pittsburgh is a drinking city with a football problem"
– my kind of place.